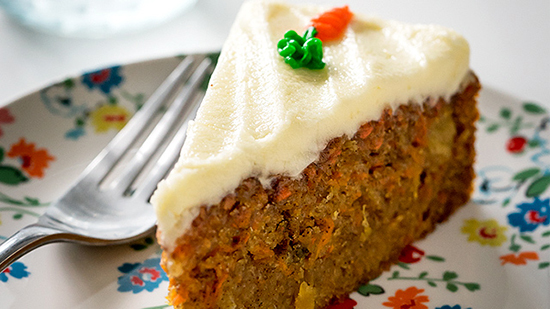 (SPOT.ph) A pleasant work-around for those who are hell-bent on kicking their sugar fix for good, carrot cake offers a faint glimmer of hope. While still loaded with sugar, especially those laden with thick, cream cheese frosting, you can talk your way out of your dietary restrictions by fixing your focus instead on the fact that its base is relatively "healthy."
While most assume that every coffee shop and restaurant has a variant of this classic treat, people in the city have to look a little harder to find the gems as far as carrot cakes go. One surefire winner, Joconde Cakes & Pastries, comes all the way from Bulacan and requires you to purchase at least P3,000 worth of their goodies to get a Bonifacio Global City or Makati delivery. Another favorite is Homemade Carrot Cake—known mostly through their upside-down signage—along Gilmore and White Plains. Unfortunately, both branches have remained perennially closed (at least for the duration of the research done for this article).
ADVERTISEMENT - CONTINUE READING BELOW
We've picked out your best bets—slices and cupcakes you can get to satisfy that craving from places that won't require you to buy the whole cake to take home. We repeat, this list was made for quick carrot cake fixes and not made-to-order delicacies. 
All SPOT.ph Top 10 lists are researched, paid for, tested, and selected by the writers and editors. They are discreetly conducted without any notice made to the restaurants or their owners. Hotel-run restaurants were not considered for this list.
Also read: Top 10 Carrot Cakes (2013 Edition)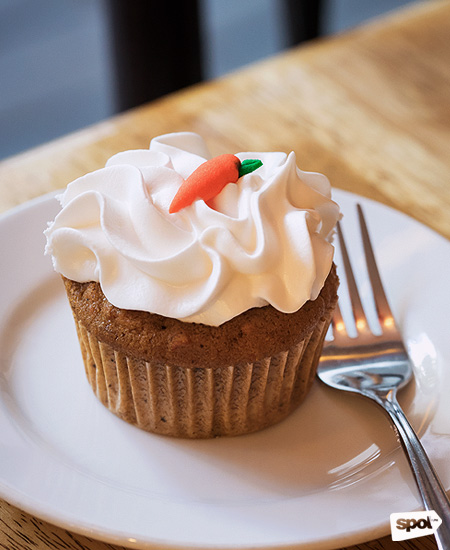 10. Carrot Cupcake (P65) from Mom & Tina's Bakery Café 
It's pretty surprising how much oomph a tiny cupcake has to offer. Mom & Tina's carrot cupcake is dense and heavy. It takes some effort to dig your fork through it. If you're looking for substantial taste for a relatively inexpensive price point, you'll be happy with this bakery's take on the carrot cake. It comes with a whipped icing and a sugar carrot topper—a cute touch for the kids. For adults who can't resist walnuts, this cupcake will get you your fix too.
CONTINUE READING BELOW
Recommended Videos
Click here for a list of Mom & Tina's Bakery Café.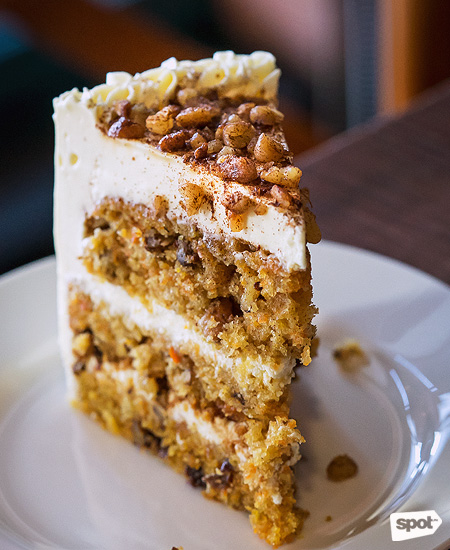 9. Epic Café's Carrot Cake (P135) 
Epic offers a huge variety of cakes, but you'd do well to choose their carrot cake if you're looking for something not-too-sweet. Their slice is big enough to be shared. With two layers of cake, thick icing, and an almost overwhelming smattering of nuts on top, this cake will leave you extremely satisfied. The icing is so-so—in fact, enjoy the cake without digging into the extra sugar. The experience will end up the same—maybe even better.
Epic Café is at 7th East Building, 102 East Capitol Drive corner Santa Rosa Street, Kapitolyo, Pasig City. Read more about Epic Café.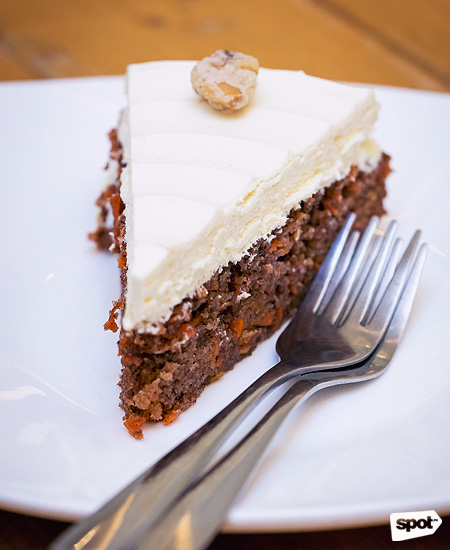 ADVERTISEMENT - CONTINUE READING BELOW
8. Craft Coffee Revolution's Carrot Cake (P180) 
If you're after a cake that won't leave your throat feeling dry, this is your best bet. Extremely moist and paired with a light, almost mousse-like icing, Craft's take on carrot cake is well worth a taste. Topped with a substantial amount of walnuts, you get a cake that melds textures and flavors quite impressively. Large strips of carrot are laced throughout the cake—always a pretty sight while amping up the flavor.
Click here for a list of Craft Coffee Revolution branches.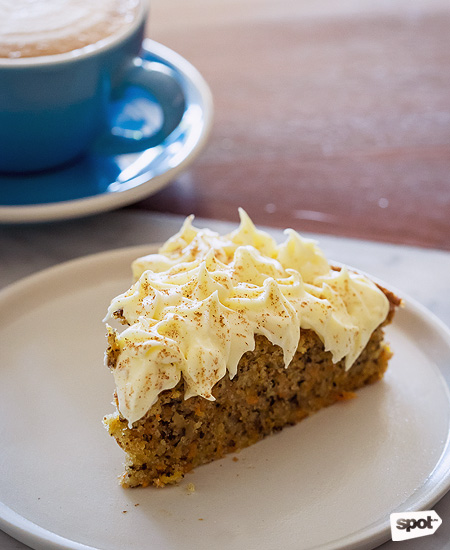 7. Precynct's Carrot Cake (P164) 
If a cup of Precynct's famous coffee isn't enough for you, pair it with a slice of their cake. You get a hefty, cinnamon-topped serving, which will satisfy customers who are particular about their icing. The cake base is all right—not too dry but not entirely moist, either. The icing, however, is rich and creamy without being too tangy or strong. All in all, this one is a well-balanced treat for those who want to dip their fingers into some icing.
ADVERTISEMENT - CONTINUE READING BELOW
Precynct is at G/F The Grove Retail Row, E. Rodriguez Jr. Avenue, Ugong, Pasig City. Read more about Precynct.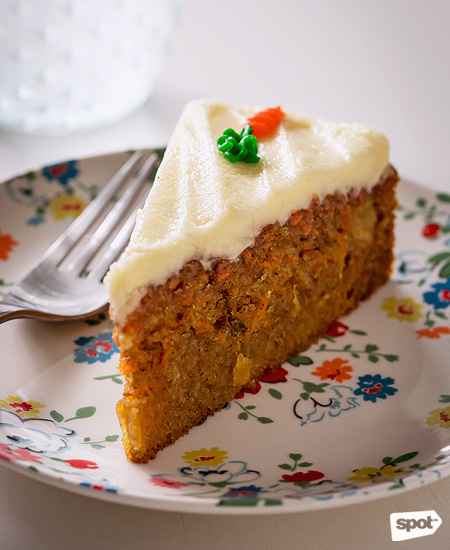 6. The Chocolate Kiss Café's Carrot Cake (P80)
This campus restaurant is known for casual dining and its huge selection of desserts. Their carrot cake holds up pretty well against its cake competition (i.e., the other items in the display case). The cake is both dense and moist—a rare feat as carrot cakes have a tendency to go dry. There's also nothing more satisfying than seeing tiny threads of actual carrot in your cake. Chocolate Kiss uses sugar icing instead of cream cheese, which still provides a satisfying coating of sweetness. You can't beat the value for money either.
The Chocolate Kiss Café is at G/F Ang Bahay ng Alumni, R. Magsaysay Street, UP Diliman, Quezon City.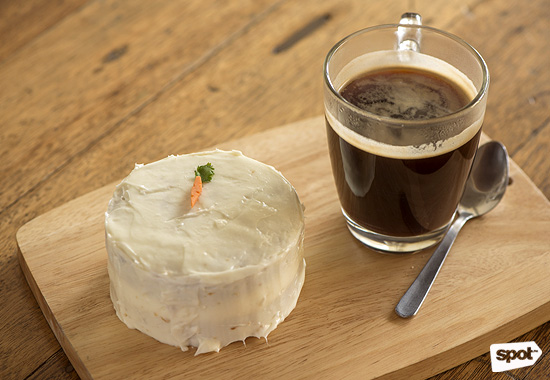 ADVERTISEMENT - CONTINUE READING BELOW
5. Carrot Cake (P295) from Runner's Kitchen
The price of this carrot cake may seem steep, but it's for good reason. Not only do you get a whole mini-cake, you also get a gluten-free version that may actually taste better than your standard gluten-filled ones. Runner's Kitchen doesn't scrimp on icing, either. You get a substantial layer of it between two soft and moist layers of cake. Not bad for a healthy treat. (Make sure to give them a call before you run to the restaurant—the carrot cake isn't available 24/7.)
Runner's Kitchen is at G/F Creekside Square, Tomas Morato Avenue, Kamuning, Quezon City. Read more about Runner's Kitchen.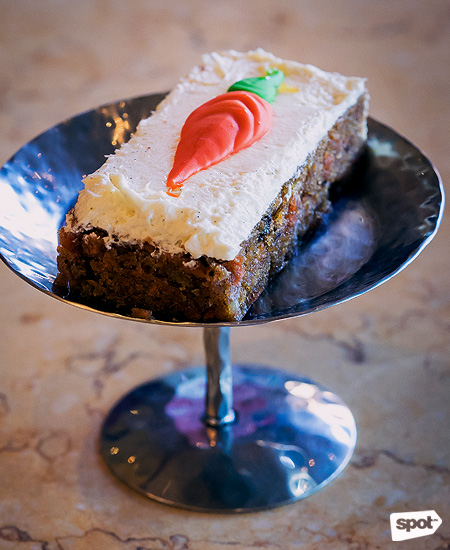 4. Bizu's Carrot Cake (P75) 
Skip this patisserie's usual macarons and pretty cakes and go straight for the nondescript slice of carrot cake. A lesson to never judge a book by its cover, this version comes in a slim, decandently moist slice that packs a whole lot of flavor. There are a lot of spices mixed in Bizu's blend—so much that you get a distinct Christmas flavor that will please most fruitcake enthusiasts. If you loved sugar icing as a kid, you'll get an extra treat biting into the carrot topper on this pretty inexpensive slice.
ADVERTISEMENT - CONTINUE READING BELOW
Click here for a list of Bizu branches. Read more about Bizu.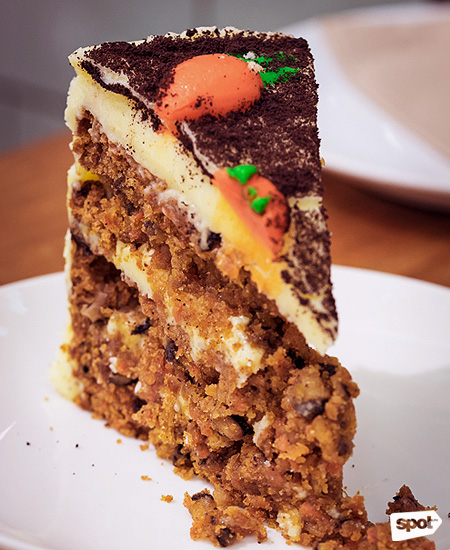 3. Wildflour's Carrot Cake (P240) 
Definitely the mother of all carrot cakes, this slice is almost a whole cake in itself. Meant for sharing, Wildflour's version of the carrot cake offers crumbly goodness—it's almost a feat to watch the servers slice a piece and get it onto the plate without it falling apart. The cake gives you a good view of all its hearty ingredients—strips of carrot, raisins, and walnuts. You get a gritty and textured bite that's complemented with substantial icing. If you're more a fan of cake than cream cheese, this one's your go-to.
Click here for a list of Wildflour branches. Read more about Wildflour.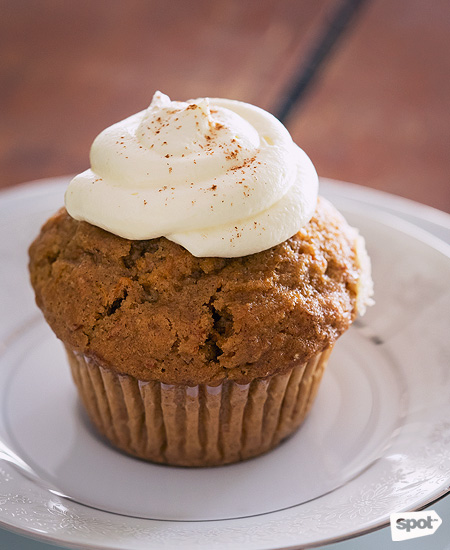 ADVERTISEMENT - CONTINUE READING BELOW
2. Cupcakes by Sonja's Carrot Cake (P95)
The Bunny Hugger may not be Sonja Ocampo's most popular creation, but it's definitely not inferior compared to the other offerings in this cupcake joint. Everything about this carrot cupcake is just right—the consistency of its spiced carrot pound cake base is soft and moist enough. You can bite into it without the whole thing crumbling apart, and the size is enough to, again, hold you over till your next craving. The best part about the Bunny Hugger is the cream cheese frosting. Topped with cinnamon, every bite leaves you relishing the taste and texture of real cream cheese.
Click here for a list of Cupcakes by Sonja branches.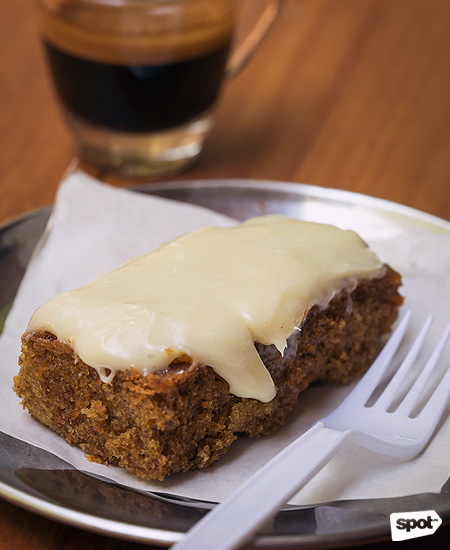 1. Local Edition's Carrot Cake (P70)
All you need is a small slice of carrot cake to get your taste buds happy, as far as Local Edition goes. With an excellent cream cheese frosting (so velvety, you can see the swirls on top), this little café gives you an extremely moist cake. If you're walking around Legazpi Village, make sure to give this a try—you won't get a better tasting cake for this good a price anywhere else.
ADVERTISEMENT - CONTINUE READING BELOW
Local Edition is at 116 Perea Street, Legazpi Village, Makati City. Read more about Local Edition.
Photos by Toto Labrador and Hans Fausto (Runner's Kitchen)
For other Top 10 lists, check out SPOT.ph's Top 10 Everything Food Lists 3rd Edition. Co-presented with C2 Cool and Clean, it's priced at P195, available at major bookstores.
Share this story with your friends!
---
Help us make Spot.ph better!
Take the short survey
Load More Stories