New Restaurant Alert: Sigekiya Ramen at Alabang, Muntinlupa
Why you should turn your heads towards this underrated ramen joint
Sigekiya Ramen
G/F Commercenter, East Asia Drive corner Commerce Avenue, Filinvest Corporate City, Alabang, Muntinlupa City
Contact: 0917-533-0818
Open daily from 11 a.m. to 10 p.m.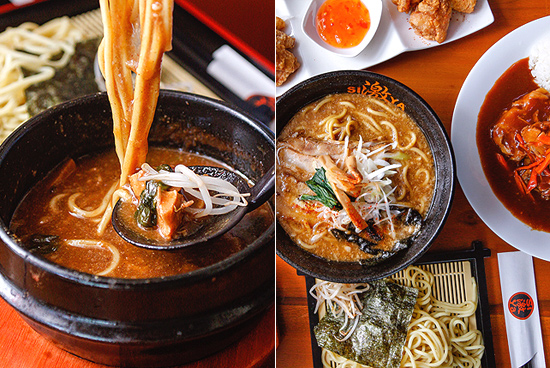 (SPOT.ph) Here's a true story: ramen holds a special place in every Filipino's heart. The craze may have peaked a couple of years ago, but the dust has settled yet we're still slurping. It has only confirmed that our love for soup and noodles is real.  
ADVERTISEMENT - CONTINUE READING BELOW
CONTINUE READING BELOW
Recommended Videos
Sigekiya Ramen knocks on our affections quietly but assuredly. There are no grand displays of courtship nor are there explosions of promos. What they have is a quiet promise and determination to be good. Ramen master Mamori Sugizaki opened Sigekiya Ramen in Yokohama, Japan, back in 2010. It was a 10-seater izakaya that became a huge hit especially for Filipinos in the area. 
Miguel Illescas, who brought Sigekiya to Manila, recounts how his brother-in-law stumbled into the Yokohama diner during a work trip. At that time, he had actually been looking for another ramen restaurant, but he found himself back two years later, befriended Mamori, and decided to open a branch in the Philippines.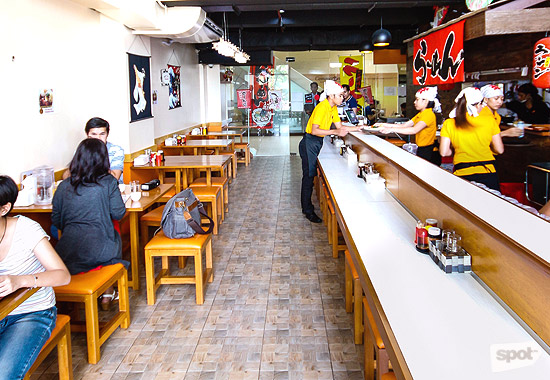 ADVERTISEMENT - CONTINUE READING BELOW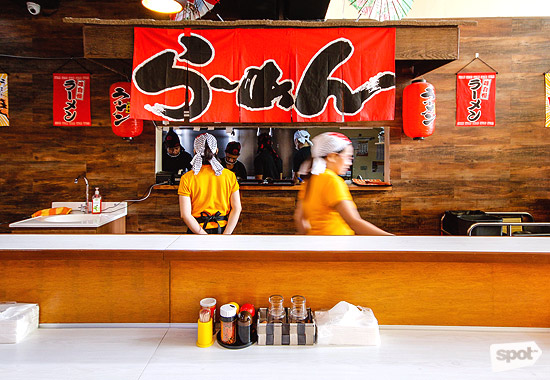 The ramen bar inspired from Sigekiya's Yokohama counterpart
The local Sigekiya follows the look of the Japan original. Vibrant posters are plastered all over the place, while kawaii fixtures keep things casual. A ramen bar on one side allows customers to get a peek at their food as it's being prepped. It's important to understand that Sigekiya is all about simplicity. Even the menu is refreshingly tight. The owners like to return to basics and they know exactly what they want to serve—and that's only the very best. 
ADVERTISEMENT - CONTINUE READING BELOW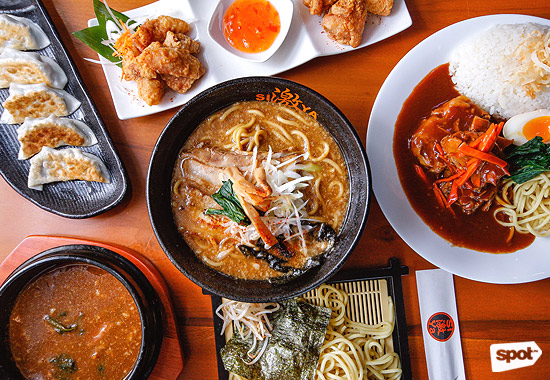 The must-tries
The signature Sigekiya Ramen (P290/small, P360/regular, P400/medium) leads the pack. It's a take on shoyu ramen, but instead of simmering down pork bones, they use pork meat. This revision leaves a nuanced, rich umami profile that lingers on the taste buds. Sigekiya lets customers personalize their spice level and daring diners could go as far as Level 10. (By the way, they have a secret Level 100 that apparently people have survived). Their noodles are thicker than usual and the charsiu or barbecued pork that they add is nicely smoky and tender. 
ADVERTISEMENT - CONTINUE READING BELOW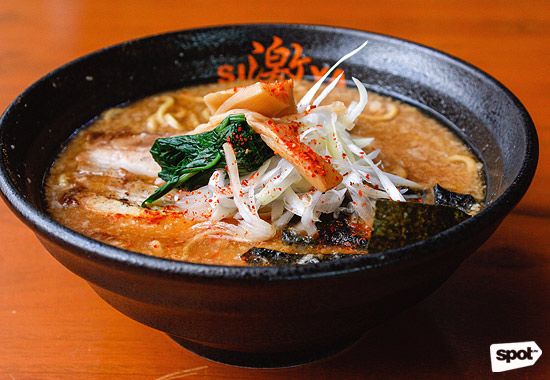 Love at first slurp? Have a bowl of their signature Sigekiya Ramen.
Some noodle lovers prefer the more engaging Tsukumen (P360/regular, P400/medium, P490/large). In this dipping ramen, cold noodles are separated from the piping hot broth. You dunk the former in the latter and enjoy the contrast. Pair your meal with some side dishes like gyoza (P90/three pieces, P130/five pieces). A recipe concocted by Miguel himself, the crisp exterior of the potsticker breaks away for the succulent and tender filling. The karaage (P180), meanwhile, is crunchy enough to give you the change of pace you need as you go through your ramen. 
ADVERTISEMENT - CONTINUE READING BELOW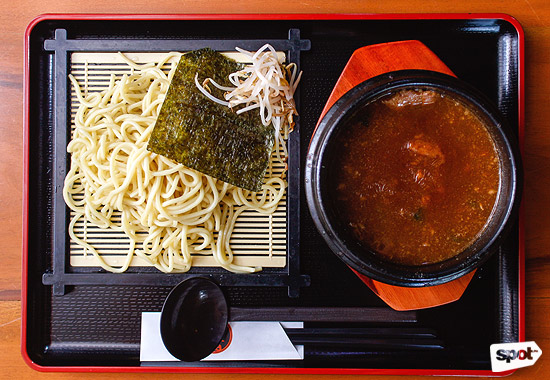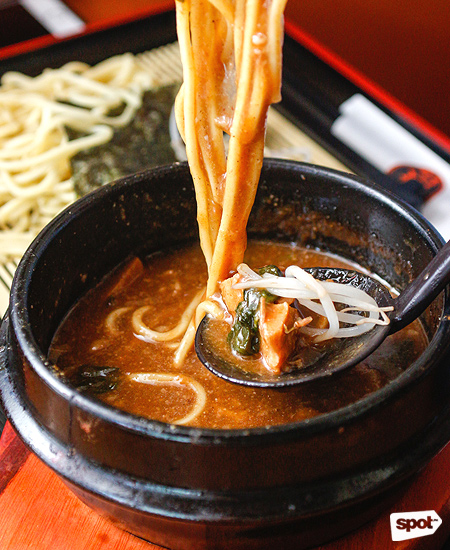 ADVERTISEMENT - CONTINUE READING BELOW
The Tsukumen a.k.a. "the dipping ramen"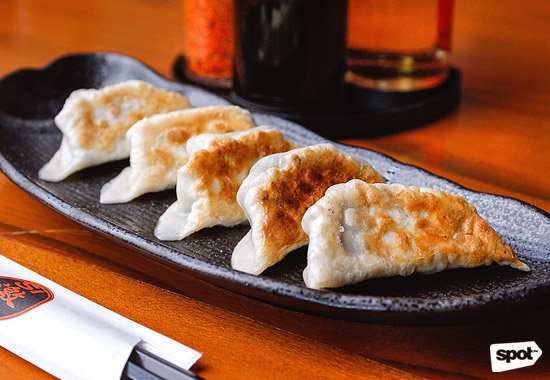 Pair your steaming bowl of ramen with some gyoza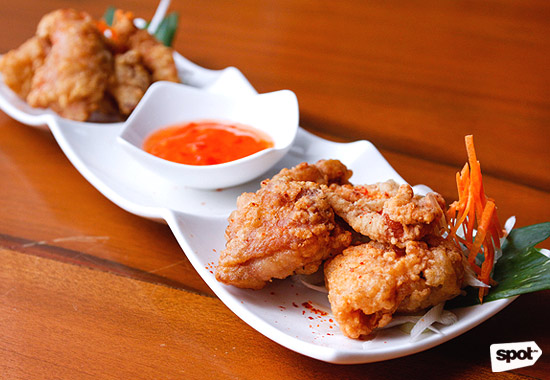 ADVERTISEMENT - CONTINUE READING BELOW
Bite-sized karaage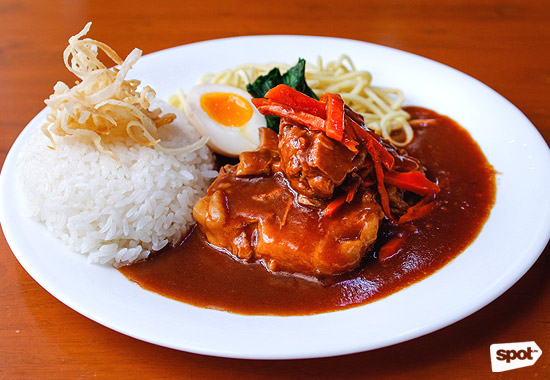 New item on the menu! How about some pork stew in textbook demiglace sauce (P250)?
Nearly everything is made on site, even the noodles. Sigekiya Ramen Alabang tries its best to take you to Yokohama, but we're just glad that it's here. 
Photos by Jericho San Miguel
Load More Stories