New Restaurant Alert: The Wild Poppy in Poblacion, Makati
The red light district's getting a whiff of whimsy and a whole lot of Asian flavor in this charming hangout.
The Wild Poppy
5666 Don Pedro Street, Poblacion, Makati City
Open from 5 p.m. to 2 a.m. (Friday to Saturday) and 5 p.m. to 12 a.m. (Sunday to Thursday)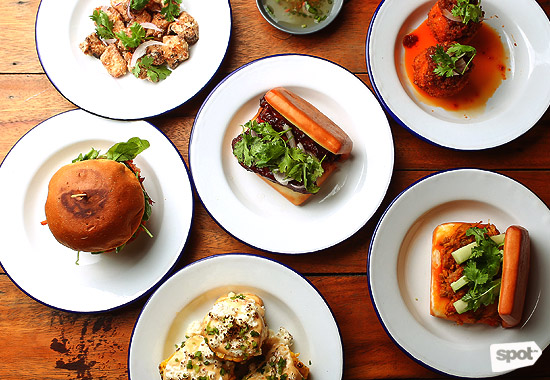 (SPOT.ph) The "back-well" area is getting a lot of buzz thanks to the unexpected holes-in-the-wall that are popping up, offering everything from street-cart tacos to Filipino street food. Don Pedro Street, in particular, is gaining momentum. It was initially a trove for Korean eats until it gained new relevance, first with Z Hostel and now with a host of new spots. The latest one to open is The Wild Poppy—a restaurant on the second floor of an old, converted house that features both indoor and al fresco seating.
"Wild, because of the area, and Poppy for our rooftop," laughs co-owner Kaity Chua. "It's not what most people think it means." Kaity and her high school friends came together to set up the colorful rooftop restaurant, which was inspired by their individual travels abroad. "It's always uso, having a rooftop place to chill outdoors. Of course, it's not popular here in Manila because it's always raining," she says.
ADVERTISEMENT - CONTINUE READING BELOW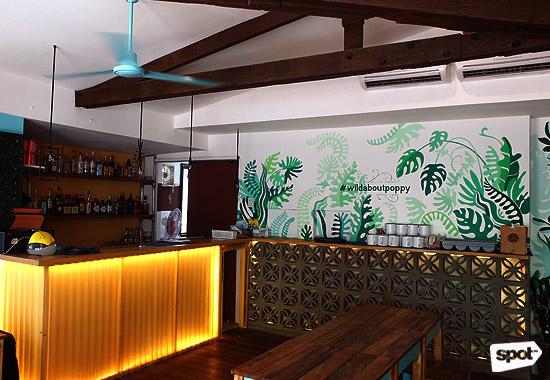 CONTINUE READING BELOW
Recommended Videos
Only the ocean is missing.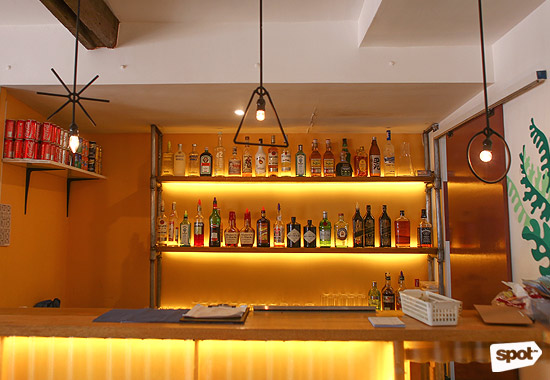 A little tipple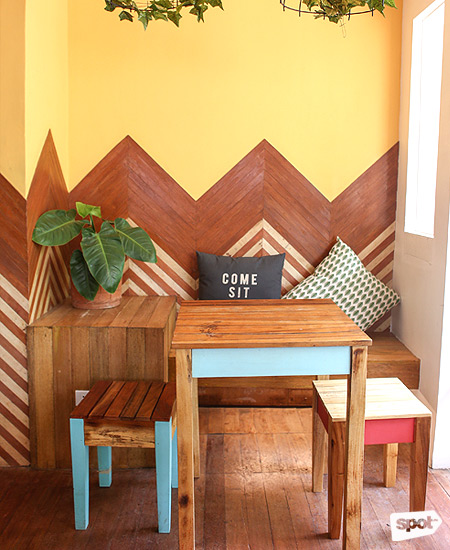 ADVERTISEMENT - CONTINUE READING BELOW
There's a sunny, beach vibe.
Though they opened during the rainy season, The Wild Poppy soldiered on, breathing brand-new flavor into Poblacion. The interiors are a vibrant and warm contrast to the rain outside (guests don't have to worry—a tent structure is being built to protect the outdoor area). "It's all thanks to our helpful interior decorator, Pinterest," says Kaity. Chevron wood patterns on the walls partnered with contrasting aqua and bright yellow tones, indoor plants, mid-century-inspired concrete blocks, and a lively mural of plants (by John Ed de Vera, @battery_full) welcome guests and comprise a pretty preface to the al fresco dining outside.
The Wild Poppy's vibe is homey and relaxed, a perfect complement to the neighborhood. "It took us two years to set everything up because we always wanted it to be in Poblacion. We tried looking in BF (Parañaque) and Kapitolyo, but nothing felt right," explains Kaity. The wait was worth it, however, as they have become part of Don Pedro's evolution into a fun food haven away from the pretentiousness of busier Makati spots.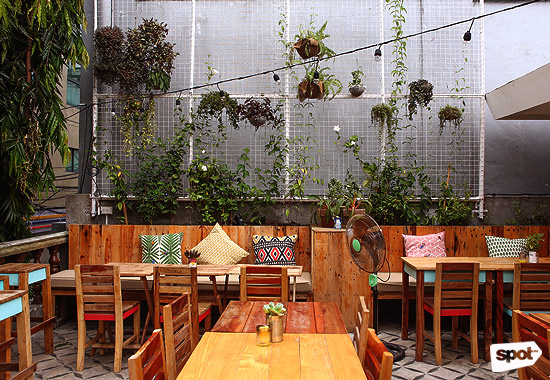 ADVERTISEMENT - CONTINUE READING BELOW
Coveted spots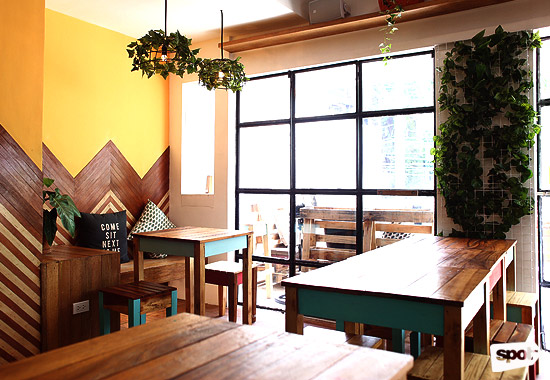 The sunny vibe changes at night.
The food and cocktail menus are short, simple, and uncomplicated. "We wanted it to be a place where you could order the entire menu and just share it with friends," she says. The group collaborated with Your Local's Nicco Santos, who initiated recipe development and eventually passed on operation and kitchen duties to The Wild Poppy team.
The food is all-Asian, with a distinct preference for spice (nothing too wild for those who are sensitive to chili—the menu is also rated to warn those who are avoiding anything too hot). "Not one city is a star, so we have everything from Thai to Indonesian, Korean to Japanese," adds Kaity.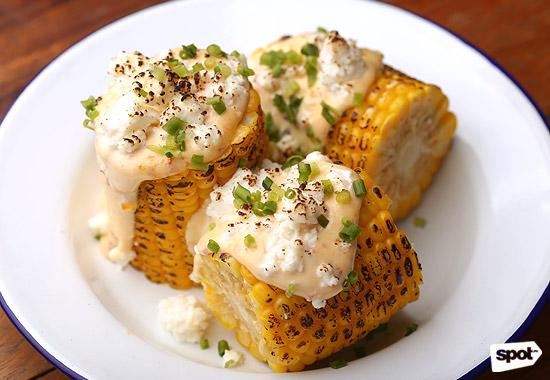 ADVERTISEMENT - CONTINUE READING BELOW
Yaki Tomorokoshi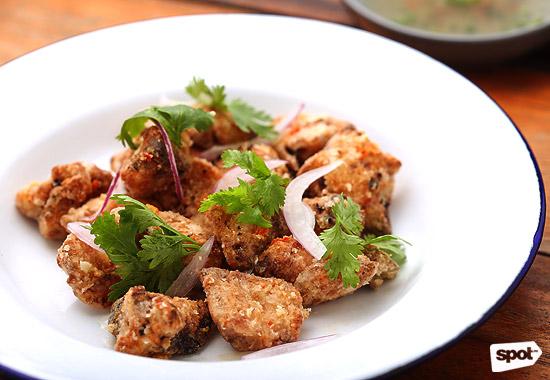 Pokpok Bites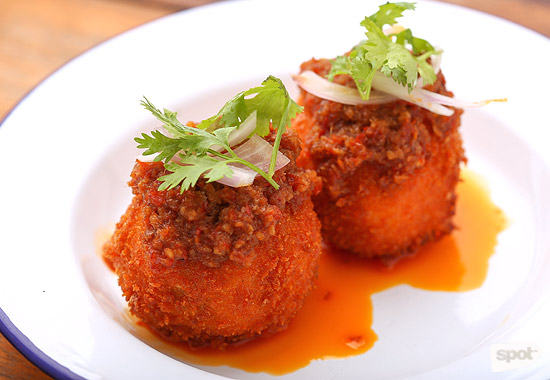 Ping Pongs
For those interested in tapas-style small plates, the Yaki Tomorokoshi (P150) is a crowd-pleaser—grilled yellow corn is topped with yuzu-smoked aioli and a surprise smattering of kesong puti. The Pokpok Bites (P160) are also a once-you-pop-you-can't-stop experience—bite-sized fried chicken fillets get a mild Asian flavor thanks to shallots and laksa leaves. It also comes with an optional sweet vinegar sauce. More adventurous eaters will want to go for Ping Pongs (P110/good for two). They're an Indonesian take on croquettes, filled with dilis and fried peanuts, then mixed with coconut cream and sambal sauce.
ADVERTISEMENT - CONTINUE READING BELOW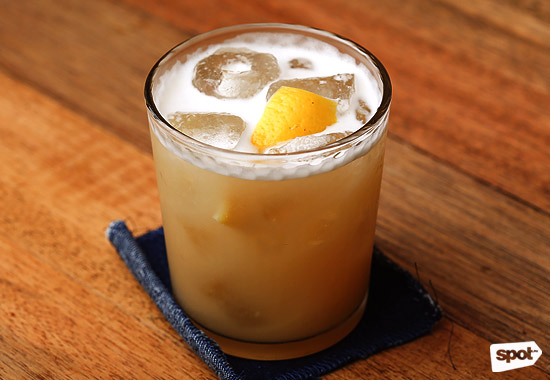 Naughty Pirate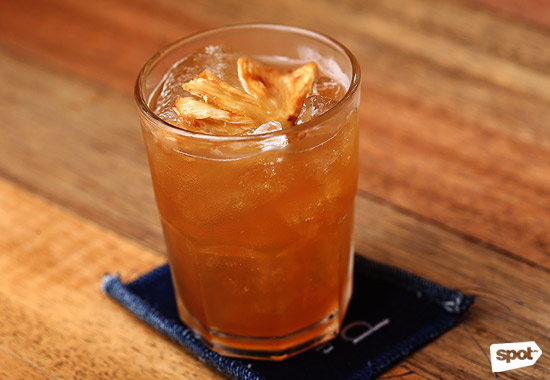 Lazy Lemons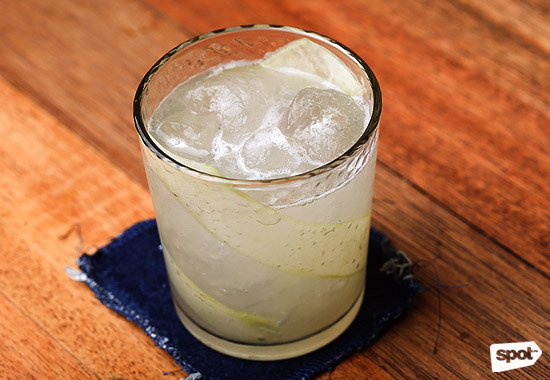 ADVERTISEMENT - CONTINUE READING BELOW
Cucumber Frost
The small plates are wonderful when paired with The Wild Poppy's mix of cocktails. An early favorite is the Lazy Lemons (P180), bourbon infused with lemongrass, plus lemon juice, ginger, and chili; the kick that trails at the end of a sip is pretty subtle and the drink overall is light and refreshing. The Naughty Pirate (P190) is a fun option for those looking for a headier flavor—dark rum, pineapple juice, and lemon juice are mixed with boldly flavored macadamia nut syrup. Our personal pick is the Cucumber Frost (P170) which is ideal when you decide to hang out in the al fresco area. This refreshing blend of gin, lemon juice, and fresh cucumber is wonderful for an early start to the night or during a hot summer evening.
If you're looking for a meal that offers more substance, The Wild Poppy does not disappoint either. The Kim and Reuben (P260) fuses smoked corned beef, Swiss cheese, and rocket with truffle oil, as well as kimchi (instead of sauerkraut) sandwiched inside a delicious curry slider bun. This offers value for money—it's a pretty significant serving that delivers on flavor without overwhelming your palate.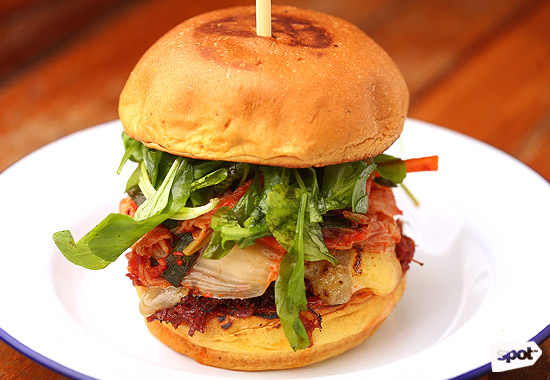 ADVERTISEMENT - CONTINUE READING BELOW
Kim and Reuben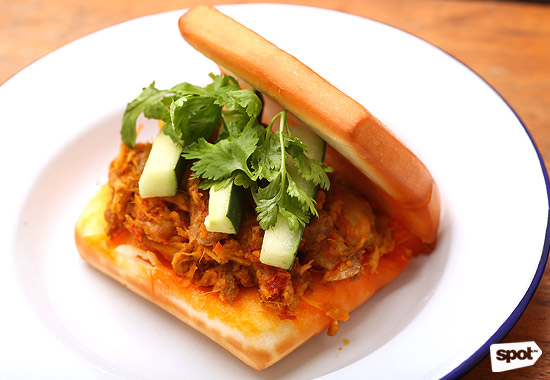 Chicken Red Damn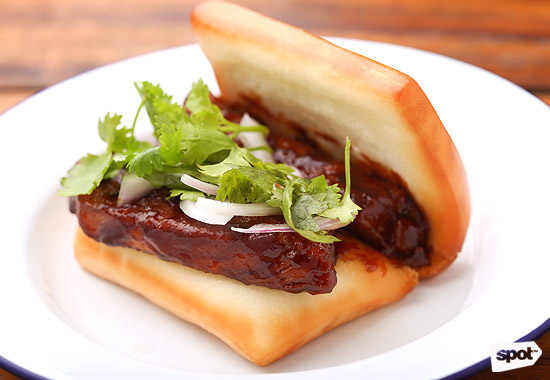 Hoi, Belly!
Bun enthusiasts should also check out the Chicken Red Damn (sweet and spicy chicken rendang in a fried mantao bun) and the Hoi, Belly! (a must for first-timers!), which pairs the same fried bun with braised and pan-seared hoisin-glazed pork belly. The menu offers these buns at P115, but guests also have the option of pairing them with The Wild Poppy's version of Hainanese chicken rice instead (P220/chicken, P265/pork belly).
ADVERTISEMENT - CONTINUE READING BELOW
"In keeping with the spirit of the neighborhood, we wanted to keep everything affordable," says Kaity. "The Wild Poppy caters to people like us...people who don't want to spend too much to leave happy and with a tummy that's filled!"
Good food, good drinks, and a vibe where you don't have to think twice about the crowd, every visit to the wild—The Wild Poppy, that is—is always likely to be worth your time.
Photos by Majoy Siason
---
Help us make Spot.ph better!
Take the short survey
Load More Stories