New Restaurant Alert: La La fun Land on P. Guevarra Street, San Juan
American comfort food meets Asian flavors at this hip restaurant in San Juan.
La La fun land
2/F Wilson Square Building, 199 Wilson Street corner P. Guevarra Street, San Juan City
Contact: 656-7613
Open daily from 11 a.m. to 10 p.m.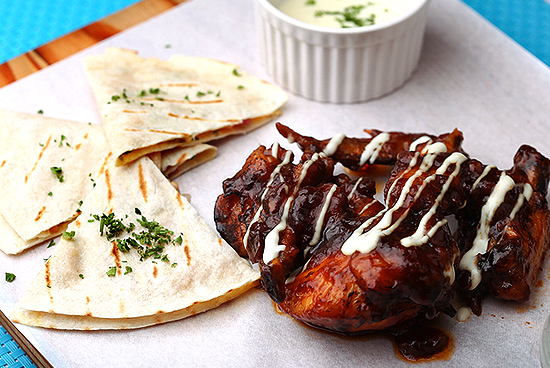 (SPOT.ph) When sisters Sharlene and Haydee Go opened their restaurant in October 2015, people wondered about the name. A friend kept asking them if they were sure and Sharlene thought he meant that their choice of "La La Land" was "baduy." Apparently, it was the name of another place in Pasay, and to avoid confusion, they decided to rechristen their happy space La La fun Land.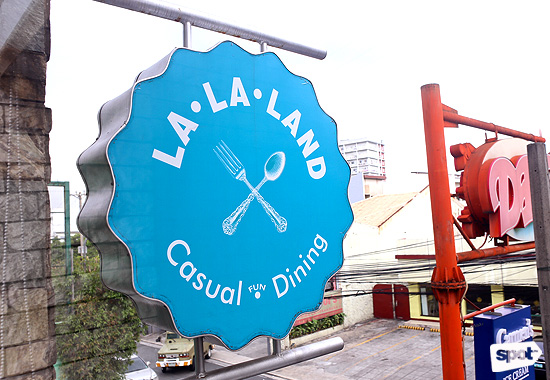 ADVERTISEMENT - CONTINUE READING BELOW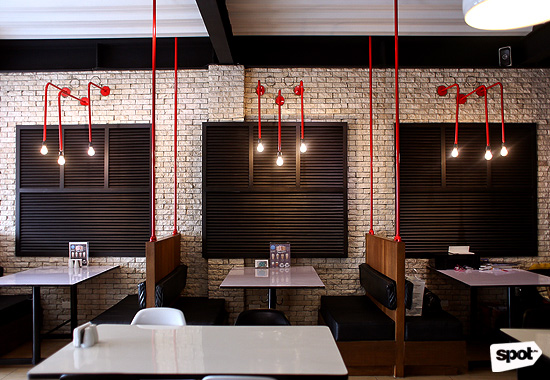 The interiors are verybright, airy, and hip. Simply put, it's very much like a friendly L.A. neighborhood eatery. 
Growing up, the pair spent a lot of time in Los Angeles. L.A., if you didn't get it right away, is the inspiration behind the name, as well as the menu. Sharlene specializes in all-American comfort food so it dominated their initial menu. La La fun Land is a favorite for a triple-patty burger nicknamed the Jawcrusher (P395) and Buttermilk Fried Chicken with Waffle (P295).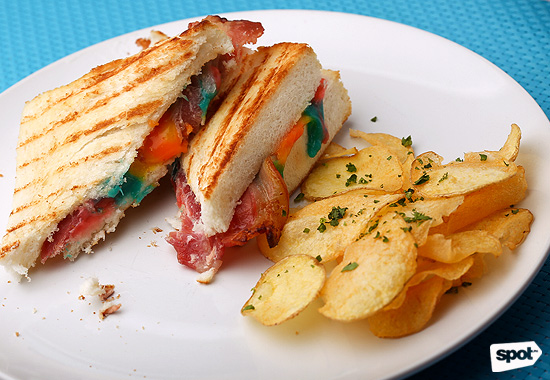 ADVERTISEMENT - CONTINUE READING BELOW
Grilled Rainbow Cheese Sandwich with Bacon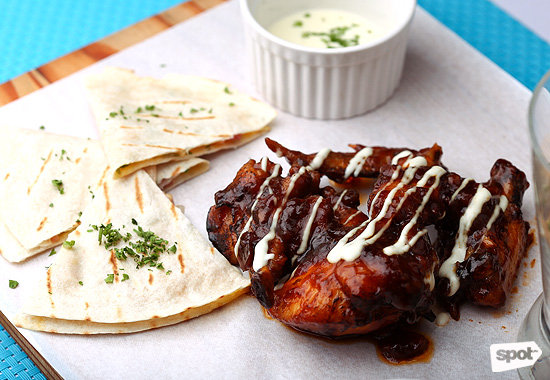 Dragon Wings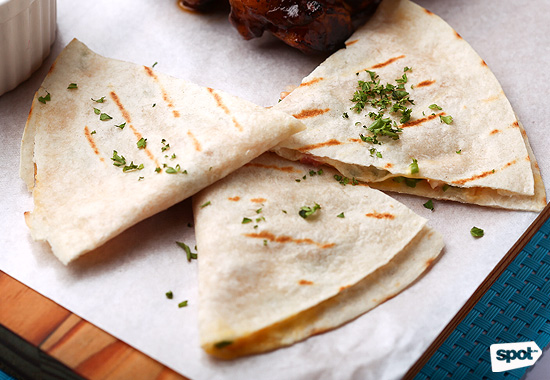 Bacon Quesadilla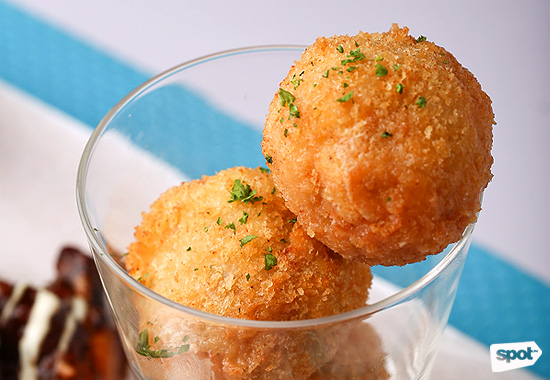 ADVERTISEMENT - CONTINUE READING BELOW
Buffalo Poppers
The Grilled Rainbow Cheese Sandwich with Bacon (P235) is a gooey, pure, all-American comfort. The bacon gives each creamy, rich bite the diversity in texture and flavor that prevents it from being cloying. La La fun Land clearly has a way with crowd-pleasers; Buffalo Poppers (P195), Dragon Wings (P195), and the Bacon Quesadilla (P195) are must-tries. They even offer unlimited milkshakes.
"When we started out, it was purely American and people would go, 'Oh! Chicken and Waffle...wala bang rice?'  So we bargained with what our customers wanted. Okay, we'll take away the waffle and give you rice," says Haydee.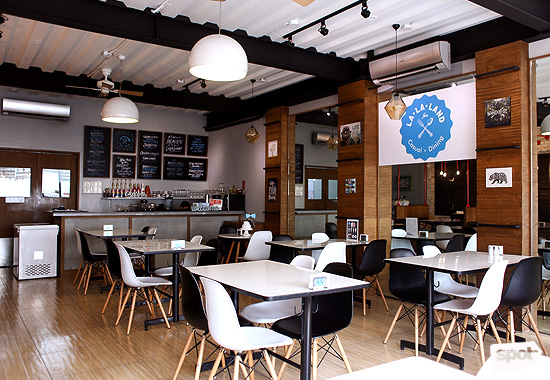 Also very much another L.A. thing is how they're also trying to save the planet in their own little way. The restaurant uses an AC inverter and is being lit by LED bulbs, keeping their energy consumption low.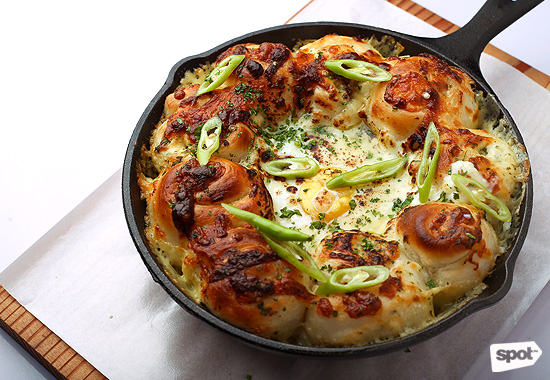 ADVERTISEMENT - CONTINUE READING BELOW
Sisig Pull-up Pizza
"We aim to please our guests and to offer them something new," says Sharlene. Now, La La fun Land decidedly marries their American specialties with other flavors. "We are putting in some Pan-Asian influences, which can be seen in the Hawaiian Loco-Moco (P245)," says Haydee, mentioning a beloved rice dish of two beef patties and an egg. As for their tacos, they come with fillings like Korean barbecue (P250) and Kung Pao chicken (P235).
Pinoys, of course, would instantly say yes to the Sisig Pull-up Pizza (P250/good for four), another successful demonstration of their turn towards fusion cuisine.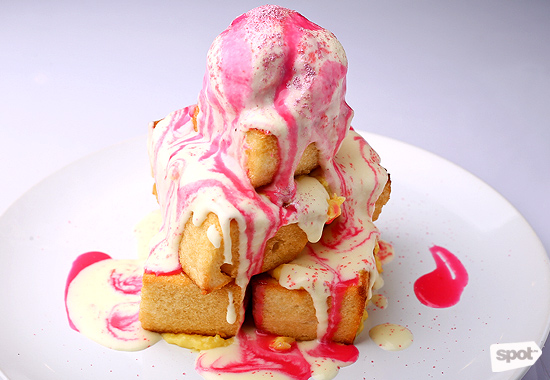 Cherry Blossom Toast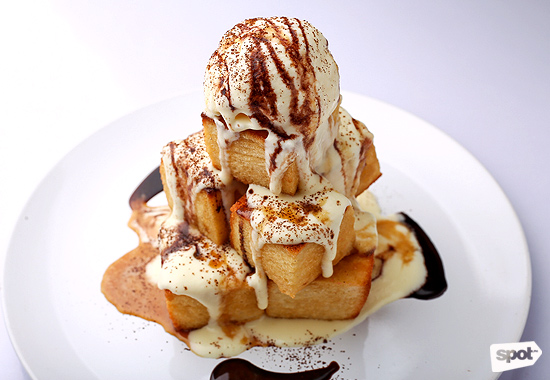 ADVERTISEMENT - CONTINUE READING BELOW
Peach Cobbler
As the menu veers towards Asian, the half-Taiwanese sisters are also tapping into their roots with Taiwanese-inspired desserts. The maiden offering for this plan is the Cherry Blossom Toast (P280), which is an easy-to-love ensemble of toast, custard, whipped cream, all topped with ice cream.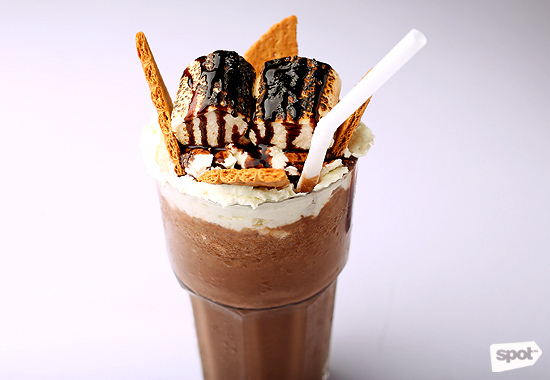 Campfire S'mores drink (P165)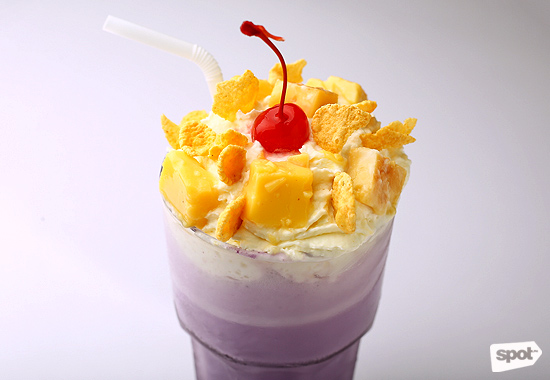 ADVERTISEMENT - CONTINUE READING BELOW
Ube-riffic Milkshake (P170)
Sharlene and Haydee take more from Taiwan's food culture than dishes: They place a high standard for even the simplest type of dish. "We don't scrimp on ingredients. We make sure that there's no MSG. We make sure that the quality of food is spot on," explains Haydee.  "In Taiwan, even their street food is restaurant quality."
To emphasize the "fun" aspect of their restaurant, La La fun Land has started hosting game nights every Saturday at 7:30 p.m. Sharlene and Haydee also want to feature musical entertainment. More than gastronomy, these determined sisters are definitely working hard to give you a great dining experience. 
Photos by Majoy Siason
Load More Stories