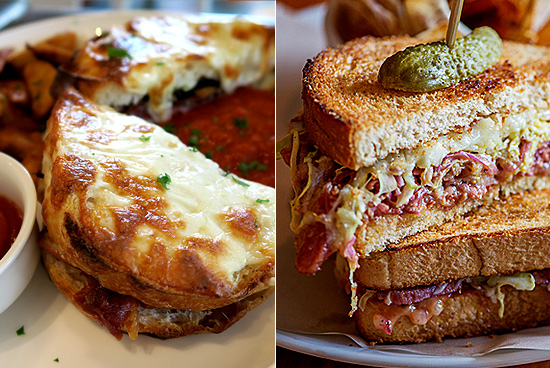 (SPOT.ph) The current stars of the sandwich world are Cubanos, grilled cheese, and banh mis. Let's not forget our own local pan de sals, stuffed with the likes Cheese Whiz, Eden, or canned tuna. But the world of hand-held dining is vast, and there are so many other sandwiches waiting to be discovered—and loved—by your taste buds. We list 10 that you should definitely try.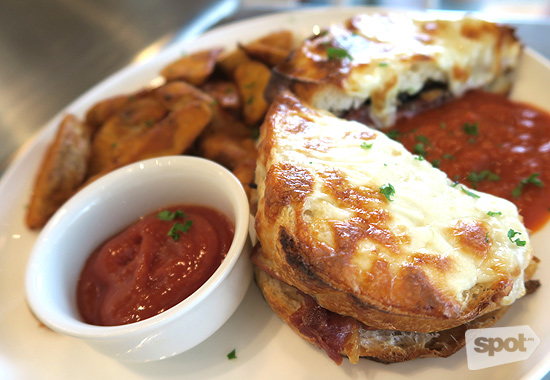 ADVERTISEMENT - CONTINUE READING BELOW
Francesinha
This rich Portuguese sandwich is very closely related to the grilled cheese. So, if you're a cheese lover, you might want to check it out. It's stuffed with ham, sausage, and other smoked meats, then covered with gorgeous melted cheese.
Get it at: Cafe Sanso has a stunning Francesinha (P350), with rye bread hugging chipolata sausages, jamon Serrano, chive cream cheese, and wild mushrooms. That ensemble is then coated in a combo of mozzarella and Asiago cheeses.
Cafe Sanso is at 32 V. Cruz Street, San Juan City.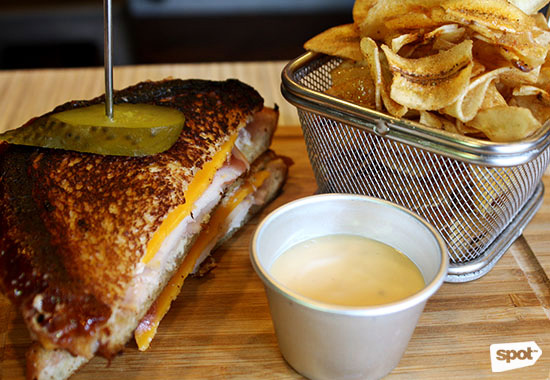 ADVERTISEMENT - CONTINUE READING BELOW
Recommended Videos
Elena Ruz
By now, you've probably tried some variation of the Chef-famous Cubano, but there's another Cuban sandwich that deserves your attention. The Elena Ruz is named after a Cuban socialite who requested this very specific combination—cheese, strawberry preserves, and turkey slices—in a griddle-flattened roll. 
Get it at: Empingao! has a version of the Elena Ruz (P480). Instead of a flattened roll, this sandwich uses fluffy brioche filled with turkey ham, cream cheese, and strawberry jam. It's hand-pressed so as not to squeeze the goodness out. The entire thing is toasted lightly enough to provide a nice crispiness to the rich medley. 
Empingao! is at San Lucas Street corner P. Burgos Street, Poblacion, Makati City.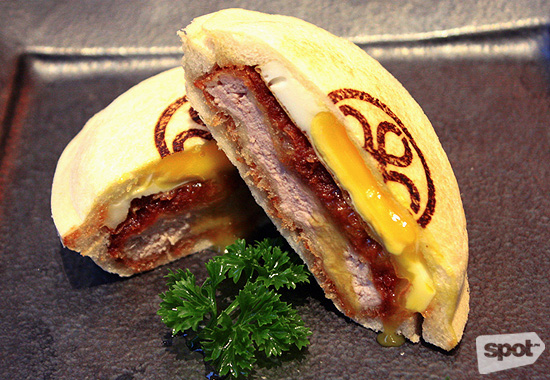 ADVERTISEMENT - CONTINUE READING BELOW
Katsu Sando
Metro Manila is packed with katsu restaurants and most of them have their own take on this sandwich. Two layer of ultra soft white bread embrace the kewpie-brushed, panko-coated meat (others add more embellishment). The sandwich is then sliced to friendly, bite-sized strips. 
Get it at: Tonkatsu Maisen has a different way of presenting the katsu sandwich (P275). Theirs comes in the traditional white bread, but it's shaped like a circular pocket. Maisen uses tenderloin for extra succulence, then stuffs the sandwich with a fried egg. The surprise golden yolk that gushes out is a delicious blessing.
Tonkatsu Maisen has branches at Greenbelt 5, Makati City; SM North EDSA, Quezon City; and SM Megamall, Mandaluyong City.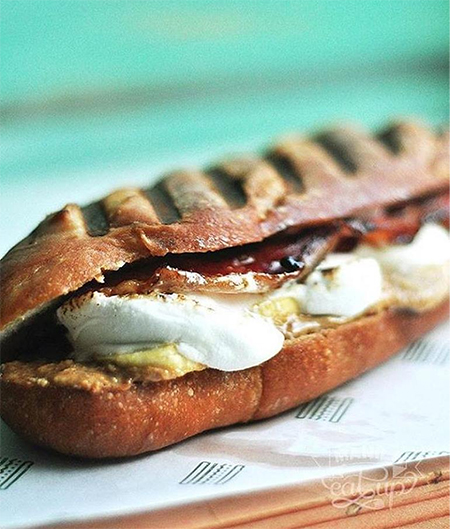 ADVERTISEMENT - CONTINUE READING BELOW
Elvis
The Elvis sandwich is actually called Fool's Gold Loaf. Created by the Denver-based Colorado Mine Company, a loaf of bread is hollowed out then refilled with peanut butter, grape jelly, and crispy bacon. Elvis Presley supposedly loved it so much that he and his friends rode his private jet fly to the area, ordered 30 loaves, then ate them for two hours—all without leaving the aircraft. Other variations add some banana into the mix. 
Get it at: Mr. Graham's Sandwich Shop is known for their brawny ensembles, so it seemed only a matter of time before they would come up with their interpretation of this sandwich. Not only do they upgrade it by using Jacob's Peanut Praline Butter, they also toss in toasted marshmallows, making it part Fluffernutter! The bacon is cured in honey to layer another sweet note. 
Mr. Graham's Sandwich Shop is at 51D Scout Rallos Street, Quezon City. 
ADVERTISEMENT - CONTINUE READING BELOW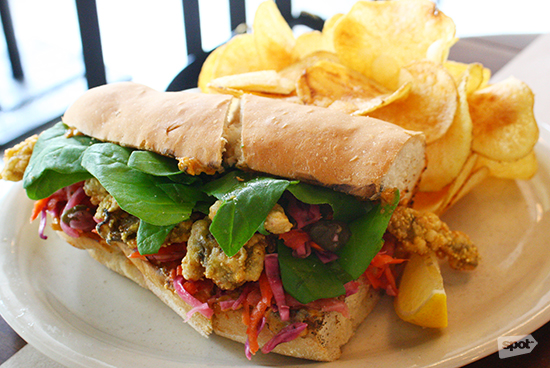 Peacemaker
According to Food and Wine, the Peacemaker is the delicious ancestor of the po'boy, a New Orleans original that is essentially crisp, baguette-like bread filled with, well, soul food. The Peacemaker is named so because husbands would bring it as a sign of peace when they came home to aggrieved wives. What makes it distinct is the filling: fried oysters. 
ADVERTISEMENT - CONTINUE READING BELOW
Get it at: The Bowery still calls their Peacemaker the more relatable Po'Boy (P480), but replaces the traditional New Orleans bread with a freshly baked, flattened hoagie. Chef Cuit Kaufman dresses this sandwich up with spicy remoulade, apple coleslaw, arugula, and cornmeal-crusted fried oysters. 
The Bowery is at Burgos Circle, Taguig City.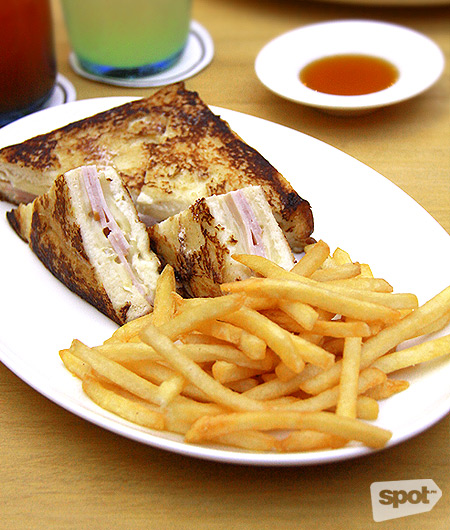 ADVERTISEMENT - CONTINUE READING BELOW
Croque Monsieur and Monte Cristo
The Croque Monsieur and Monte Cristo are pretty much the same hammy beasts. They're fancy ham and cheese sandwiches that use pan de mie instead of regular sliced bread. The top is sprinkled with cheese, dipped in an egg wash, then baked or fried. 
Get it at: New York Pinoy Deli takes a straightforward approach. The Rainbow Room Monte Cristo (P490) is perfectly balanced. The Croque Monsieur tends to overwhelm, but they make the ham relevant enough to break the rich flavor.
New York Pinoy Deli is at G/F Casino Area, Resorts World Manila, Pasay City.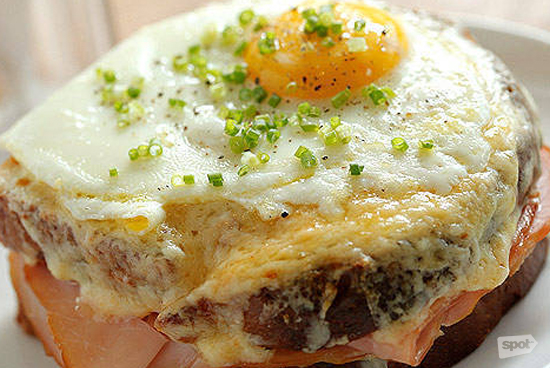 ADVERTISEMENT - CONTINUE READING BELOW
Croque Madame
This foxy lady takes everything you love about a Croque Monsieur then adds a fried egg on top. 
Get it at: Wildflour brought the Croque Madame (P420) to everyone's consciousness. Country ham, Gruyere, and velvety béchamel are squeezed in between thick slices of buttery, toasted brioche. The fried egg is runny and just plain perfect.
Wildflour has branches at Net Lima Building, 4th Avenue corner 26th Street, Bonifacio Global City; 125 L.P. Leviste Street, Salcedo Village, Makati City; 111 Rada Street, Legazpi Village, Makati City; and The Podium, Mandaluyong City.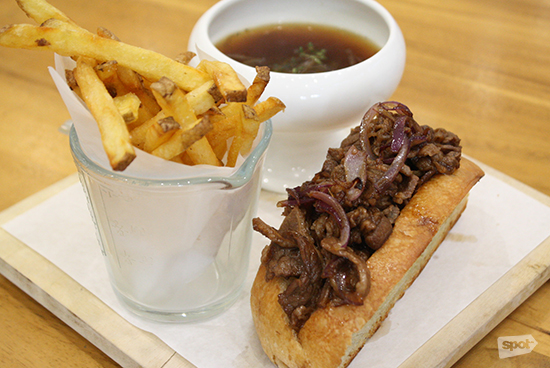 ADVERTISEMENT - CONTINUE READING BELOW
French Dip
This sandwich is a bit of a performance. A roast beef sandwich is served with a dipping bowl of beef jus—usually the liquid leftover from cooking the meat, but it could also be substituted with a separately prepared beef consomme or other beef-oriented soups. 
Get it at: Chelsea Kitchen recreates the French Dip Sandwich with their Hot Tapa French Dip (P350). The in-house baked baguette is crammed with strips of sweetish tapa. On the side, Chef Kalel Chan creates a delicious bowl of French Onion Soup, emphasizing that sweet tone. 
Chelsea Kitchen has branches at SM Mega Fashion Hall, Mandaluyong City; and Eastwood, Quezon City.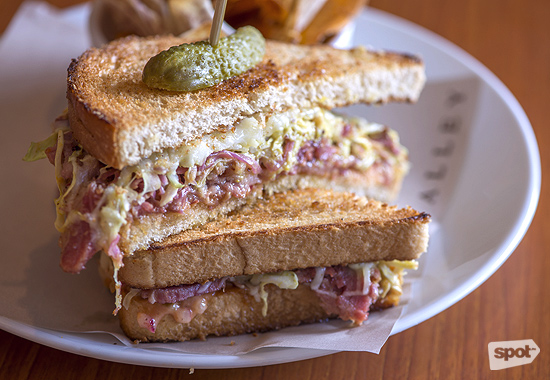 ADVERTISEMENT - CONTINUE READING BELOW
Reuben
Two words: corned beef. The Reuben's history is a bit muddled, with many kitchens claiming to have developed the foolproof formula of corned beef, Swiss cheese, and sauerkraut. Just like the Croque Monsieur, it has a "female" counterpart. The Rachel replaces the corned beef with pastrami and the sauerkraut with coleslaw.
Get it at: Alley Restaurant! This sandwich haven makes their corned beef from scratch (curing it for six days). A thick layer of the ruddy filling is then wedged in between molasses bread. You could say it takes after the Rachel, too. Instead of sauerkraut, Chef Thirdy Dolatre softens the tartness by using his own pickled coleslaw.
Alley Restaurant is at Retail Row, The Grove by Rockwell, Pasig City.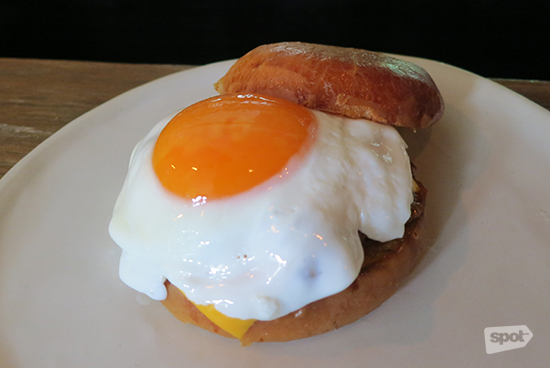 ADVERTISEMENT - CONTINUE READING BELOW
Sloppy Joe
For people from New Jersey, a sloppy joe is a sandwich bursting with deli meats. For others, however, it's a delightfully messy bun dripping with tomato sauce-laden ground meat. It's as simple as that. It's as satisfying as that.
Get it at: The Girl + The Bull's Sloppy Joe (P360) is neatly tucked under a beautiful fried egg. The runny yolk from the organic egg dances wonderfully with the sweet-tart flavor of the tomato sauce. We love that it comes with a slice of cheese, too.
The Girl + The Bull operates at 12/10, 7635 Guijo Street, Makati City.
Photo from the SPOT.ph archives and courtesy of Manila Eat Up (Mr. Graham's)
Share this story with your friends!
---
Help us make Spot.ph better!
Take the short survey
Load More Stories