Mando's Wing Shack
1158 Antipolo Street, Poblacion, Makati City
Contact: 0917-541-7165
Open from 11 a.m. to 10:30 p.m. (Monday to Thursday), 12 p.m. to 2 a.m. (Friday to Saturday), and 12 p.m. to 12 a.m. (Sunday)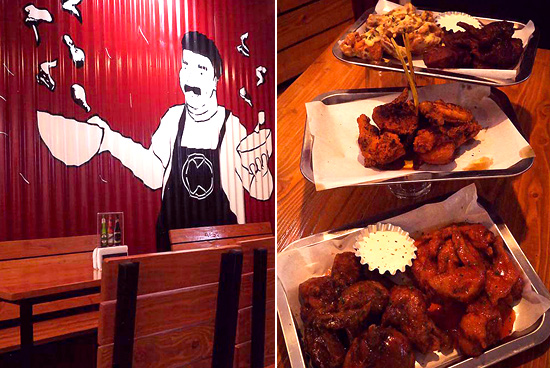 (SPOT.ph) The lone restaurant on a street lined with houses may just be Poblacion's newest best-kept secret—not that the bright superhero-esque sigil on the black gate is trying to be coy. At Mando's Wing Shack, which is comfortably away from the rest of the beloved foodie neighborhood, you'll find super cheap wings in one-of-a-kind flavors. 
ADVERTISEMENT - CONTINUE READING BELOW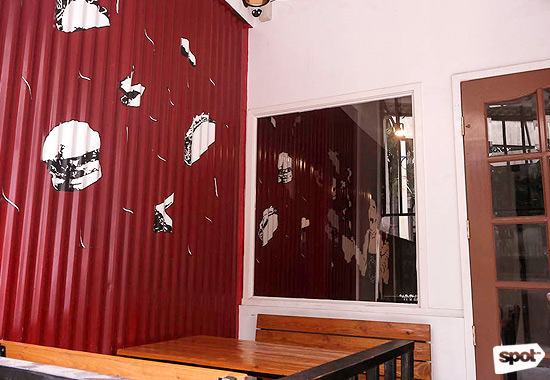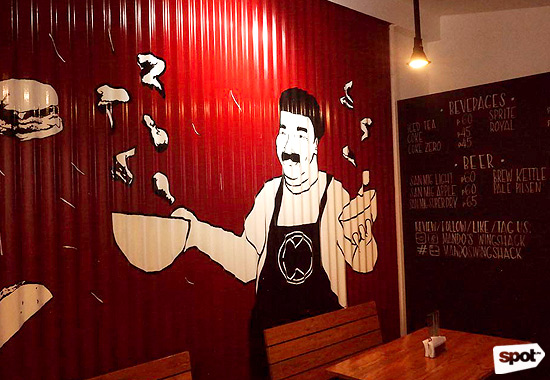 ADVERTISEMENT - CONTINUE READING BELOW
Recommended Videos
Mando's Wing Shack is proof that you can get by with a dream and some ingenuity. Young owner Armand Cendana, his fiancée Mich Buri, and their friend Reinier Loresto decorated the place themselves. Reinier, for example, painted the mascot "Mando" on the wall of galvanized iron, while Mich, known on Instagram as @piescribbles, did the framed calligraphy. It's easy to notice the charming details. Mando's has a strict no-WiFi policy so you can better appreciate the food, the venue, and the company.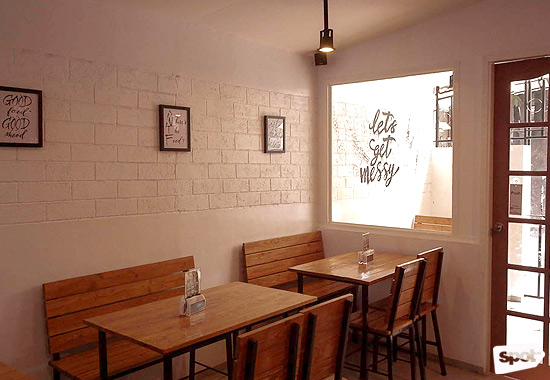 ADVERTISEMENT - CONTINUE READING BELOW
They also hand you gloves before eating, so that you can really enjoy the restaurant's motto: "Let's get messy." The menu is a slew of wings, tacos, fries, and burgers—all meant to be enjoyed with your hands.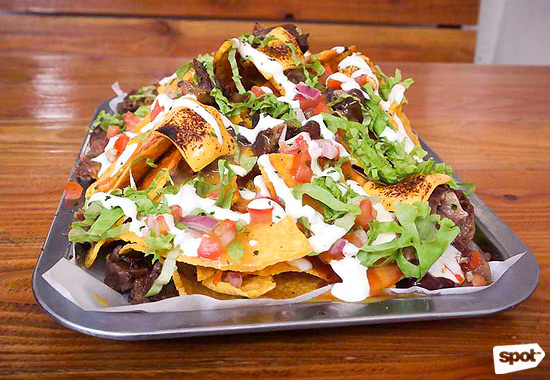 To get you started, you can order their Loaded Mando Nachos (P180), a towering masterpiece that's as delicious as it is filling. It has chunks of sweetish beef brisket, shredded lettuce, shoestring potatoes, pico de gallo, chili, aioli sauce, and thick slices of torched homemade cheese. 
ADVERTISEMENT - CONTINUE READING BELOW
Mando's likes to overload their snacks. Their Bimchi Fries (P160) has beef bulgogi chunks mixed with a kimchi slaw, gochujang (that delectable, spicy Korean paste), bulgogi sauce, and their special homemade cheese sauce. There's also the Gra'beef (P140), which is especially fitting for the rainy season. Inspired by Canada's poutine, big chunks of beef brisket and fries swim in Mando's special gravy. It's served with a default crown of sunny side-up eggs, but you can have your eggs any way you want.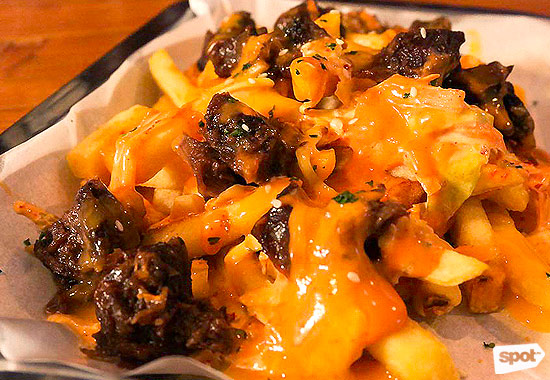 ADVERTISEMENT - CONTINUE READING BELOW
 Bimchi Fries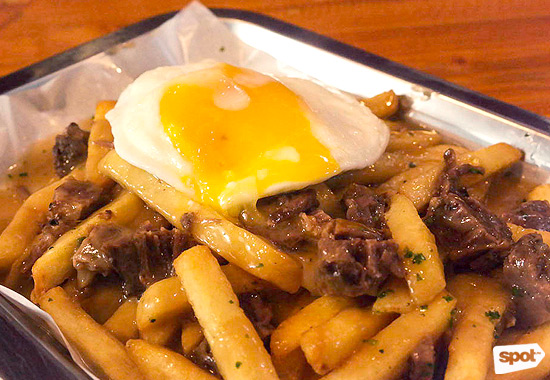 Gra'beef
If you want to start strong, the tacos might be the answer to your cravings. The Shoryuken (P110) is an unconventional roll-up that puts together Sriracha-glazed chicken, pico de gallo, lettuce, and aioli sauce. The Beef Shawarma'ando (P120) might feel more familiar. Thin and tender slices of sirloin beef are drizzled generously with cumin-infused mayo and the usual pico de gallo. Each big bite is just an explosion of flavor. For lovers of cheese, there's the Cheesesteak (P120), which uses sirloin beef, caramelized onions, sliced homemade cheese, and (more) cheese sauce. 
ADVERTISEMENT - CONTINUE READING BELOW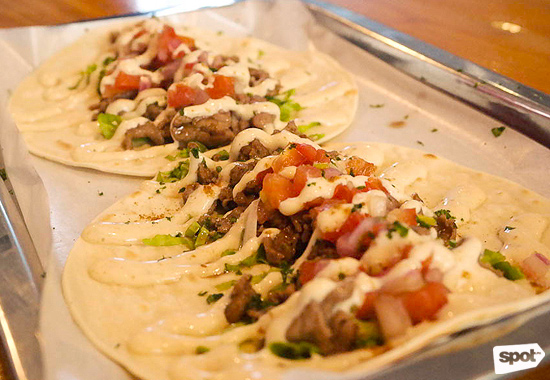 The Shoryuken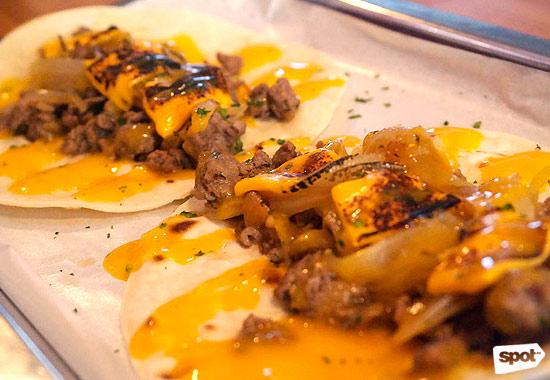 ADVERTISEMENT - CONTINUE READING BELOW
 Cheesesteak 
Wings always have that mouthwatering appeal. No matter how full you are, you'll always still reach out for those tasty, habit-forming things. At Mando's, six to seven pieces set you back P155 (half order), while 10 to 12 pieces cost P300 (full order). The breading is thin so you can taste the full impact of the meat and sauces. 
The library of sauces is interesting to note. It covers flavors from the United States to Mexico to the Philippines. The bestseller is the Filipino Pride. The wings are kept in an inasal marinade, then painted with inasal sauce after.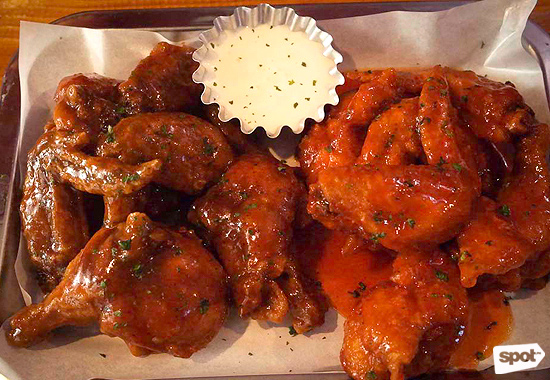 ADVERTISEMENT - CONTINUE READING BELOW
The Beer Barbecue Sauce automatically signals a great time. It's sweet and smoky, with just a hint of beer. If you want to taste Mando's creativity, go for the Sweeracha. It's your spicy condiment made a bit more special with honey.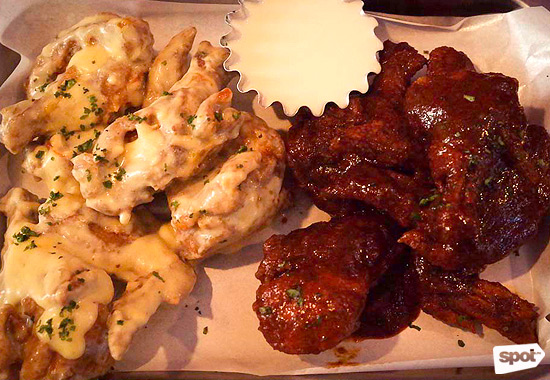 Wings are always receptive to spicy flavors, so you might want to try the tear-jerking Scorching Sili. Here, the chicken is treated to a red-hot chili garlic pepper rub. Soothe your taste buds with the off-menu Salted Egg sauce, or you can fall back on the dependables, like G-Parm (Parmesan), Buffalo, or Pacific Asian (sweet and savory).
ADVERTISEMENT - CONTINUE READING BELOW
Mando's customers can level up the wings with dips. The Bleu Cheese (P25) is perfect with the Buffalo and Sweeracha (that rich flavor toning down the heat). You can also go crazy with the Gochujang Mayo or spicy Korean Mayo (P20/each). Either of the three is a lip-smacking adventure.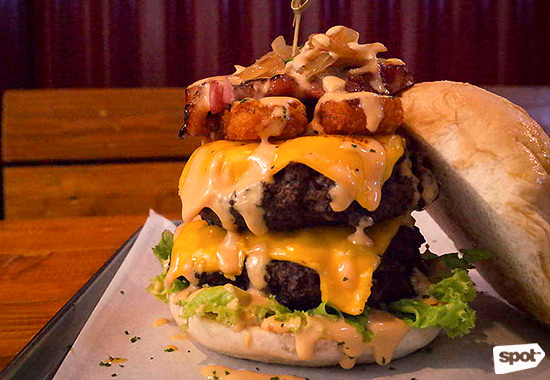 If you're on a date, try the Super Mando Burger (P270), which is good to share between two people. It comes with a double beef patty, a hash brown, and a candied slab of bacon—on top of the usual suspects of cheese, lettuce, tomatoes, caramelized onions, and their special sauce.
ADVERTISEMENT - CONTINUE READING BELOW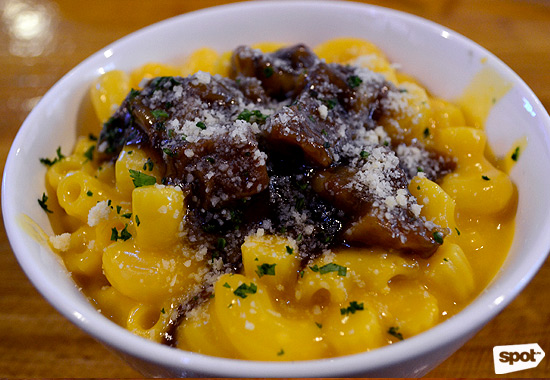 The comfort food parade continues with the Pares Mac and Cheese (P85). This Pinoy reinvention is a small side dish—with salty, cheesy macaroni contrasting against the sweet beef brisket.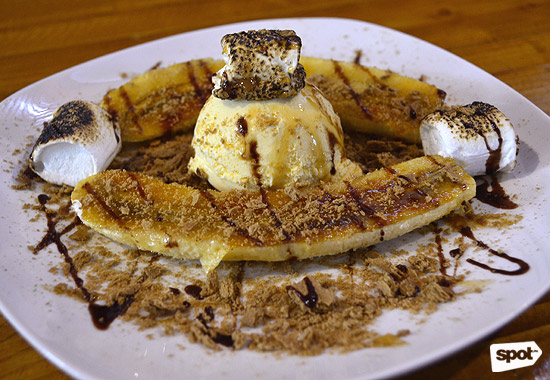 ADVERTISEMENT - CONTINUE READING BELOW
Dessert is a special treat on its own. Mando's has a Banana S'mores Split (P130) that marries two sweet favorites. Caramel banana slices mingle with toasted marshmallows and a scoop of vanilla ice cream, before they're all drizzled with chocolate sauce and crushed grahams.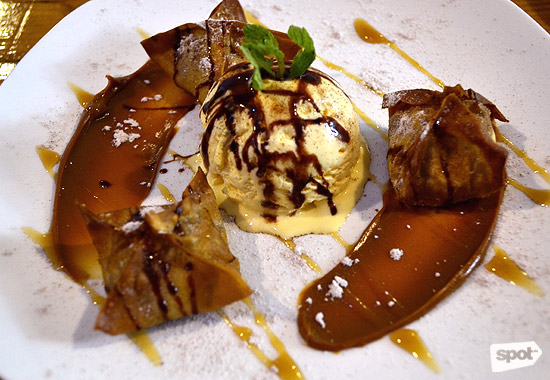 If you're not yet stuffed from the tacos and wings, they also have the Apple Fry (P125). They're apple pie dumplings with salted caramel sauce with vanilla ice cream. Scratch that. These babies are fried, which make them ultra delectable. These and the wings? We surrender. 
ADVERTISEMENT - CONTINUE READING BELOW
Photos by Juan Sinag Cano
Share this story with your friends!
---
Help us make Spot.ph better!
Take the short survey
Load More Stories