Cafe Naya at The Palace
11th Avenue corner 38th Street, Uptown Bonifacio
Contact: 0917-550-9999
Open from 11 a.m. to 1 a.m. (Sunday to Tuesday) and 11 a.m. to 3 a.m. (Wednesday to Saturday)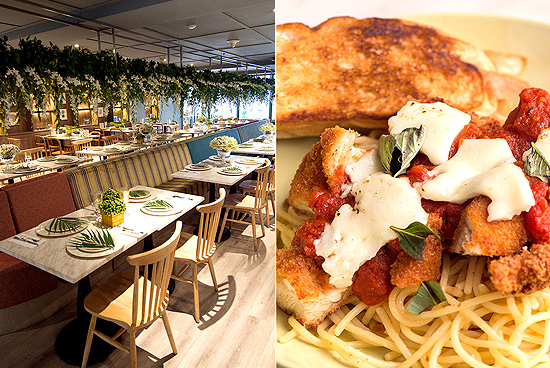 (SPOT.ph) Cafe Naya at The Palace celebrated its first year with a new menu. From its initial seafood-heavy selection, culinary wunderkind chef Mikko Reyes has begun to introduce more meat (hello, duck!), as well as small plates (let's welcome the foie gras hummus), into the line-up.
The first year had been a learning experience. The owners discovered that Café Naya wasn't just a pre-party dinner ground for the Valkyrie and Pool Club folk. It also served as something of a pit stop, a place for people to hang out and catch a breather when the partying gets too intense.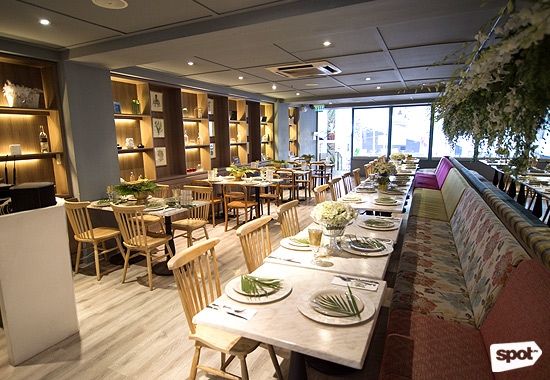 ADVERTISEMENT - CONTINUE READING BELOW
The new menu gives Café Naya a chance to stamp their Asian-meets-Mediterranean style of cuisine. They're introducing items like the Steak and Bulgur Wheat Salad (P389)—steak flavored with Middle Eastern spices, bulgur mixed with tomato, onion, and parsley, all brightened with lemon, salad topped with arugula—and the Seared Foie and Hummus (P398). The latter is particularly interesting. Hummus has a similar texture to foie gras, which makes it an easy ingredient to adapt. Make sure not to pair too much hummus with foie, though. The dip tends to mute the flavor of the liver.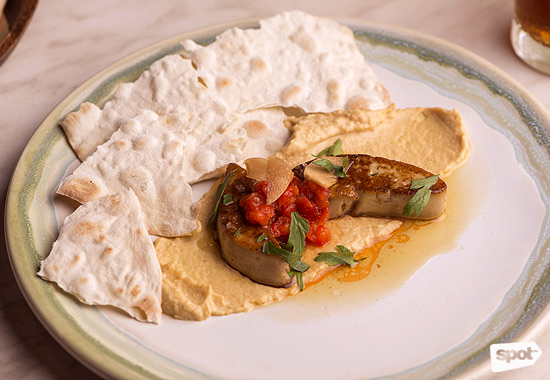 Seared Foie and Hummus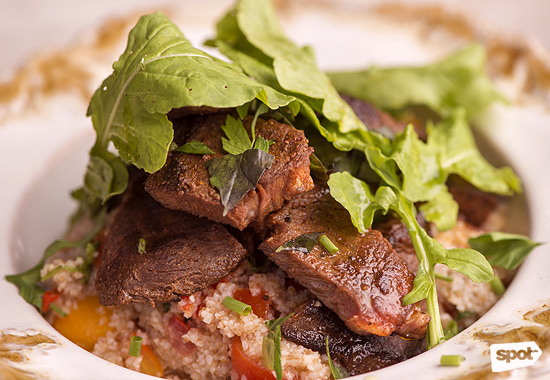 CONTINUE READING BELOW
Recommended Videos
Steak and Bulgur Wheat Salad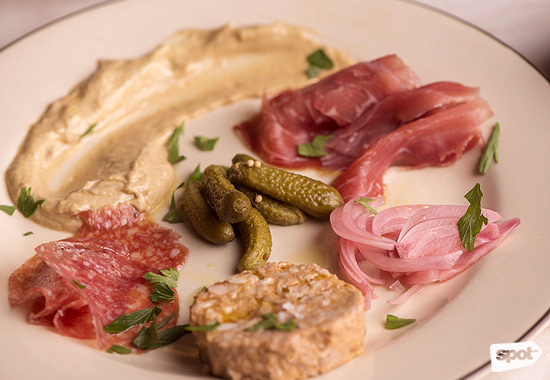 Cured Meat and Pate
There's also the Cured Meat and Pate (P598). Served with bread, gherkins, and pickled onions, it's not a hard-core charcuterie plate, making it a good, light start to the meal.
The Truffled Mushroom Pizza (P389) is a safe and delicious bet. The thin-crust pizza is topped with arugula and its bitterness provides a stark, but lovely contrast to the truffles' fragrance.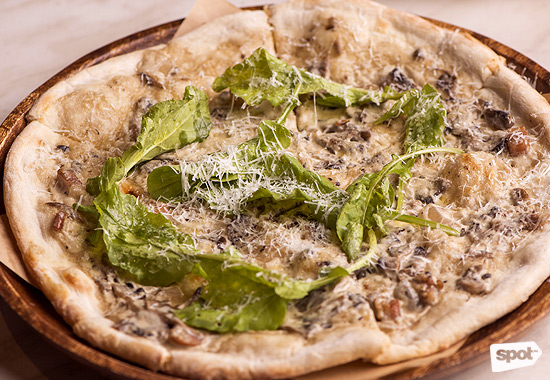 ADVERTISEMENT - CONTINUE READING BELOW
Truffled Mushroom Pizza
For mains, Café Naya has been making waves with the Glazed Duck Rice (P1,497). Served with cucumber-flavored yogurt sauce and a side of chickpeas and dried cranberries, the duck is soft and slightly spicy, with a bit of sweetness to it. Eaten together, everything on the plate forms a soft harmony that sings happily on the palate.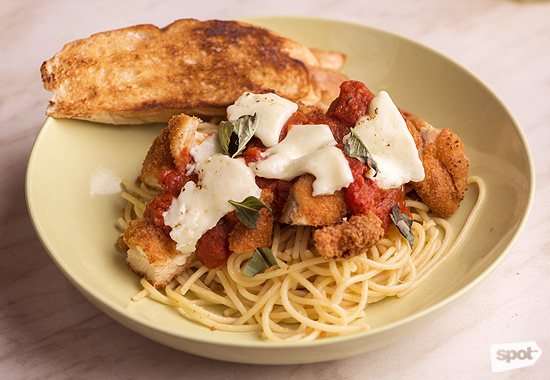 Chopped Chicken Parm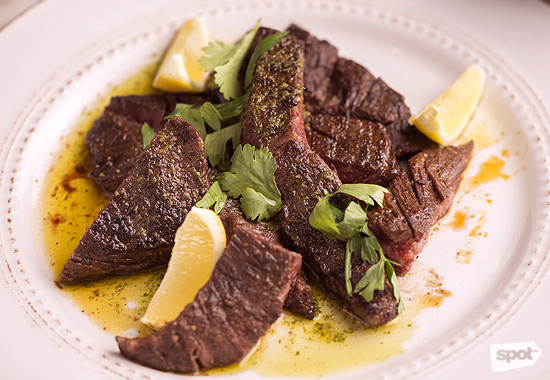 ADVERTISEMENT - CONTINUE READING BELOW
Grilled Skirt Steak
The Chopped Chicken Parm (P369) is where flavorful chicken covered in thin, crispy breading is served over spaghetti pomodoro; the sauce coating the pasta leaves a nice oily sheen. The Grilled Skirt Steak (P1,598), meanwhile, is cooked just right. This leaner cut of meat benefits from being left a bit red inside and that's exactly how Chef Mikko does his. Fresh lemon squeezed over it adds brightness and releases flavor. Another heavyweight, the Glazed Pork Belly (P398) is soft in parts and tough in others. It is pork-sweet, served with a warm kang kong salad topped with bits of chicharon. The vegetables dampen the pork's flavor, but they go well together.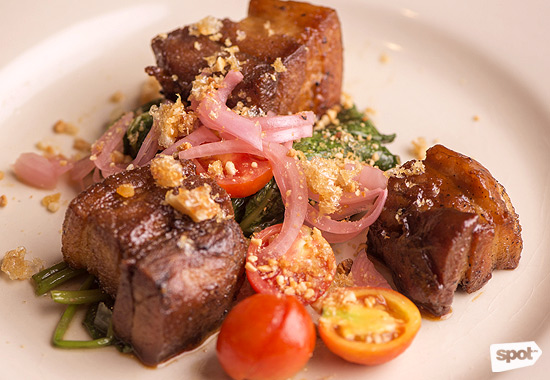 Glazed Pork Belly
The desserts are tiny, just the right size to end the meal on a sweet note—or perhaps to keep diners wanting more. The Chocolate Mousse (P267) is a dark smear on a wooden bowl, the pudding is slightly burnt (on purpose), which perfectly contrasts with the tart sauce.
ADVERTISEMENT - CONTINUE READING BELOW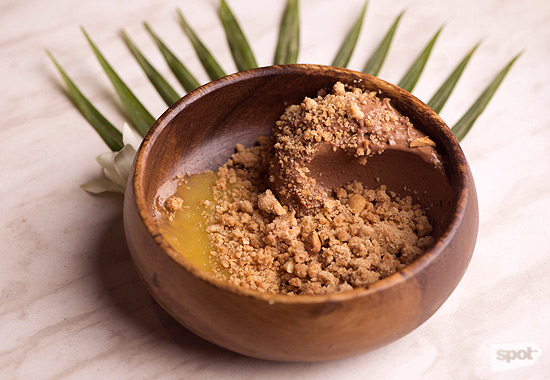 Chocolate Mousse
The Almond "Tart" (P298) is a delicious deconstruction. The almond flavor is strong but doesn't overpower. It's very much representative of Chef Mikko's style—big, in-your-face, straightforward, but not intrusive.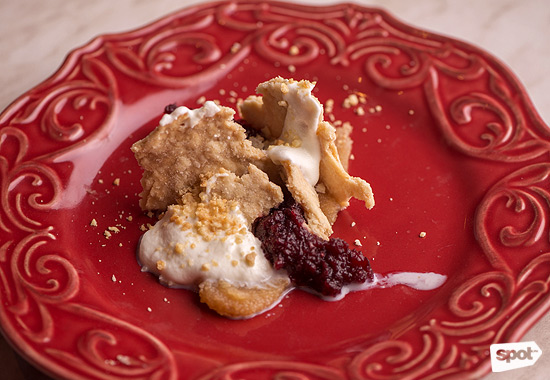 Almond "Tart"
There are new additions to the bar list as well: the Spiked Lavender Lemonade cocktail is tangy and refreshing, while the Ye Old Punch is a potent drink with more than a hint of muscovado.
ADVERTISEMENT - CONTINUE READING BELOW
Café Naya was one of the first restaurants to open in the now-blossoming complex, but the group is hardly settling down. There are plans for a smokehouse, a dive bar, and a cocktail shack. In the nightlife world, you always have to evolve. Looks like Café Naya is doing just that.
Photos by Hans Fausto
Share this story with your friends!
---
Help us make Spot.ph better!
Take the short survey
Load More Stories