Botejyu
G/F North Wing, Entertainment Mall, SM Mall of Asia, Pasay City
Open daily from 10 a.m. to 10 p.m.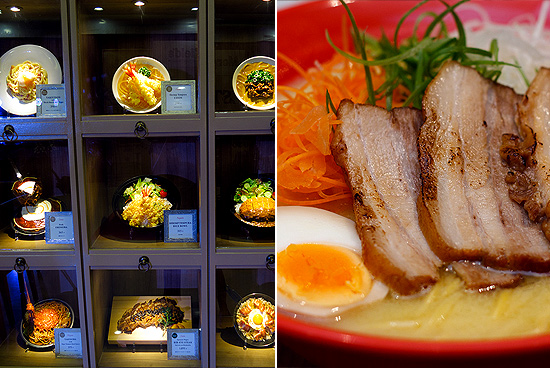 (SPOT.ph) Botejyu isn't a word you'll find in the Japanese dictionary. 
It refers to the onomatopoetic sound of okonomiyaki being flipped ("bote") and the glorious sizzle that follows when it hits the hot teppan ("jyu"). Botejyu is also the newest Japanese franchise to open on Philippine shores. 
ADVERTISEMENT - CONTINUE READING BELOW
Botejyu began as a specialty okonomiyaki restaurant in Tamade, Osaka, in 1946. Post-war Japan had been struggling to start anew and the enterprising Japanese needed to be innovative in stretching the ingredients they had. Okonomiyaki, hence, was the result of an overabundance of flour and, well, throwing in whatever was available.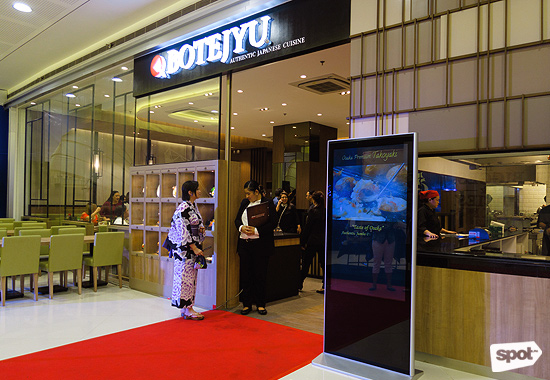 ADVERTISEMENT - CONTINUE READING BELOW
Recommended Videos
Botejyu Group President and CEO Hideto Kurita can't pick a favorite from his restaurant's selection of Japanese omelets. With a twinkle in his eye, he replies, "All of them." Mr. Kurita explains that he loves what they stand for—each dish represents prefectures in Japan, curated and brought to different countries to give the rest of the world that authentic Japanese flavor. He assures us that everything tastes exactly as they would in the motherland.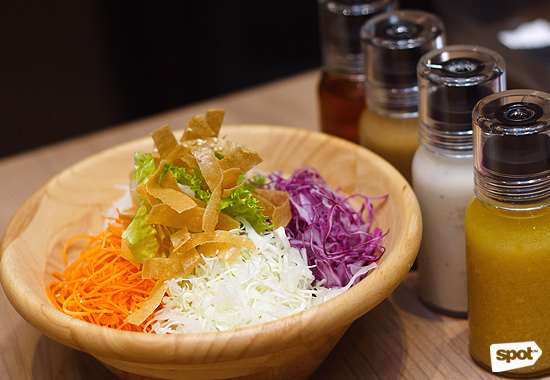 ADVERTISEMENT - CONTINUE READING BELOW
Crispy Salad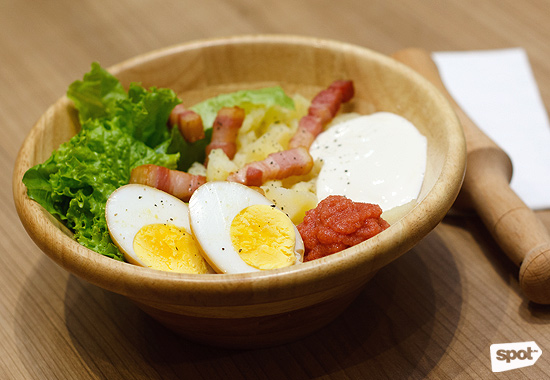 Potato Salad
It's best start to your meal with a salad before digging into their carb-heavy mains. Botejyu's Crispy Salad (P175/regular, P295/large) utilizes crispy, crunchy vegetables that you can toss with either of their four specialty dressings—caesar, corn, sesame, and anchovy and garlic. For something more traditional, opt for the Caesar Salad with Thick Bacon and Onsen Tamago (P175/regular, P295/large). The Homemade Potato Salad with Hakata Mentai (P295) is also worth a try. This Fukuoka specialty is a deconstructed potato salad that comes with a pestle so you can mash together the ingredients yourself. The addition of spicy cod roe makes it uniquely Botejyu.
ADVERTISEMENT - CONTINUE READING BELOW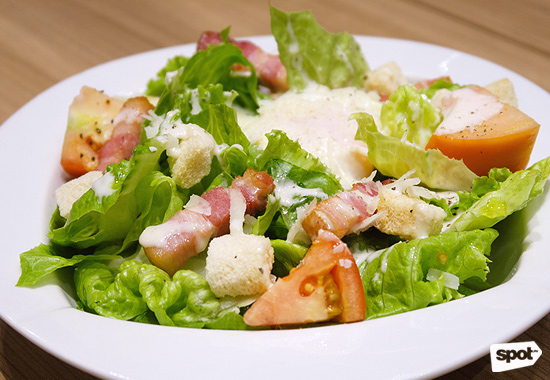 Caesar Salad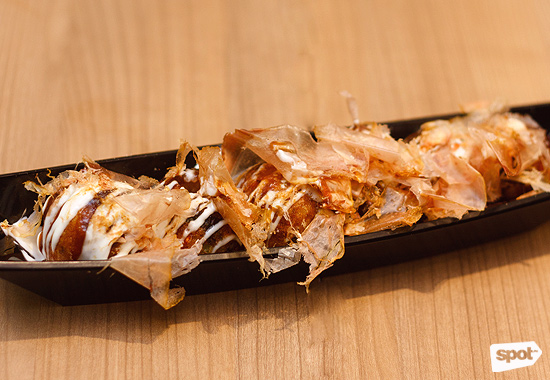 ADVERTISEMENT - CONTINUE READING BELOW
Takoyaki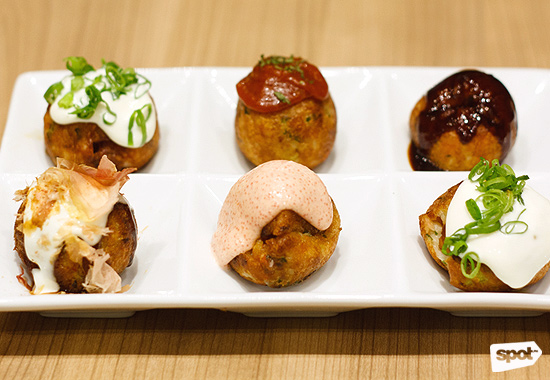 All-Star Takoyaki
The All-Star Takoyaki (P245) is your best bet when craving octopus. Six pieces of takoyaki are topped with umami sauce and mayo, tomato sauce, spicy mentai mayo, thick spicy sauce, and salt and garlic sauce.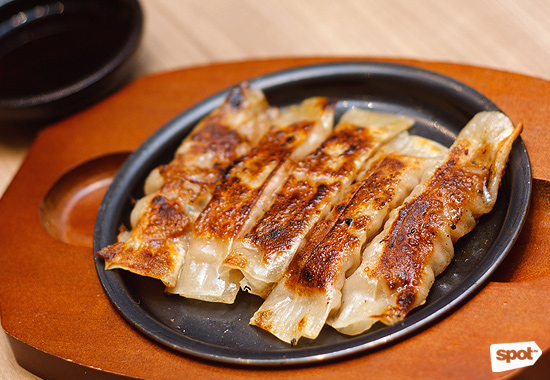 ADVERTISEMENT - CONTINUE READING BELOW
Teppan Pork Gyoza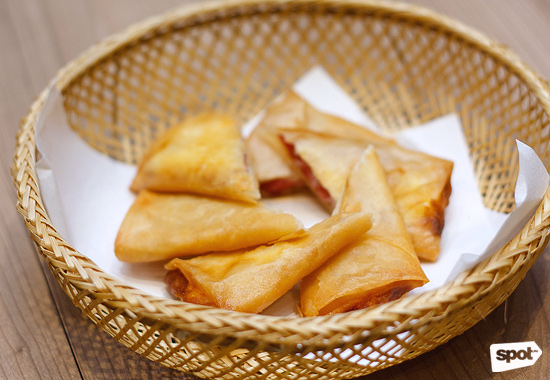 Spring Rolls
Other appetizers to enjoy are the Bacon and Cream Cheese Spring Rolls (P150), flaky little pockets of salty-creamy goodness. The Teppan Pork Gyoza (P200) comes to you golden and crispy on the outside and perfectly seared for just the right crunch. 
The one thing you cannot leave without having is, of course, the Japanese omelet. Botejyu is the first okonomiyaki restaurant to introduce mayonnaise into the recipe and they've only perfected it in their 70-year history. You can definitely taste it in the Premium Moonlight Okonomiyaki (P360), made with pork, shrimp, squid, and covered in their special Osaka mayonnaise. 
ADVERTISEMENT - CONTINUE READING BELOW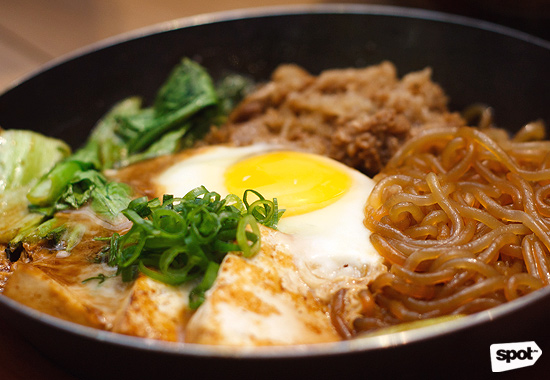 Premium Moonlight Okonomiyaki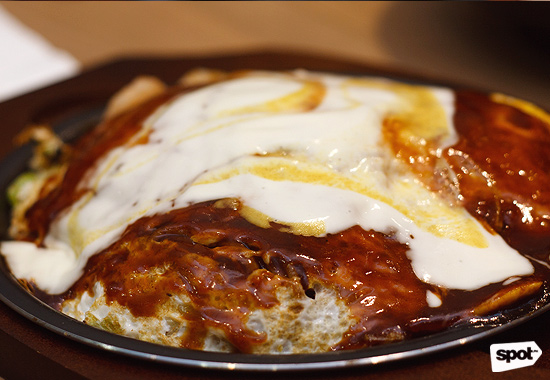 ADVERTISEMENT - CONTINUE READING BELOW
Omusoba
They're also the inventors of Okosoba (P435), a hearty dish made with thick yakisoba noodles and cabbage sandwiched between batter and egg. Called the modern-yaki, this is possibly the most filling dish on the menu and it offers great value for money given its hefty size.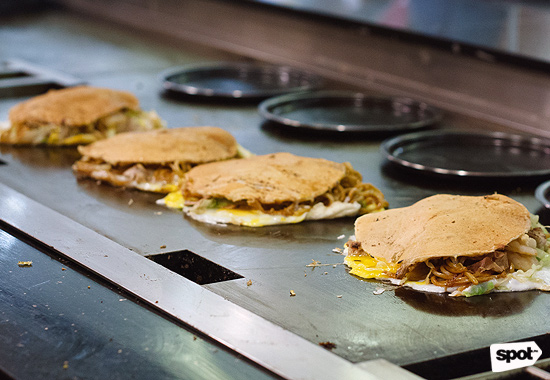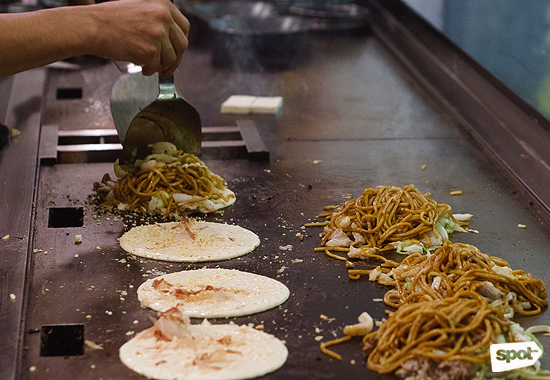 ADVERTISEMENT - CONTINUE READING BELOW
Performance cooking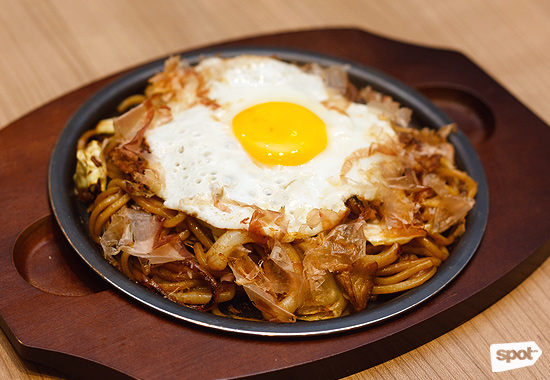 Okosoba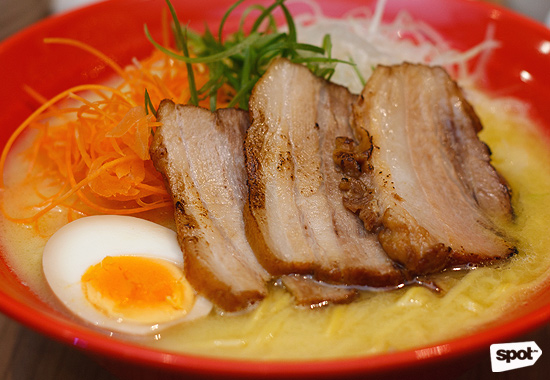 ADVERTISEMENT - CONTINUE READING BELOW
Kyoto Paitan Ramen
The Kyoto Paitan Ramen (P395) is the perfect dish to have on a rainy day if you find yourself feeling under the weather. Served with charsiu but in a chicken broth, it is a cool Japanese twist on chicken noodle soup. 
For those who cannot do without rice, be sure to have the Grilled Pork Rice Bowl (P325), a dish that originated from Obihiro in the Tokachi region of Hokkaido. The pork is finely marbled and grilled to a great tenderness before it's covered in a sweet soy-based sauce, similar to the one used in unadon or eel rice bowls. The Beef Sukiyaki Rice Set (P395) is another interesting option: the sukiyaki beef is served deconstructed on a little pan with rice and a side salad.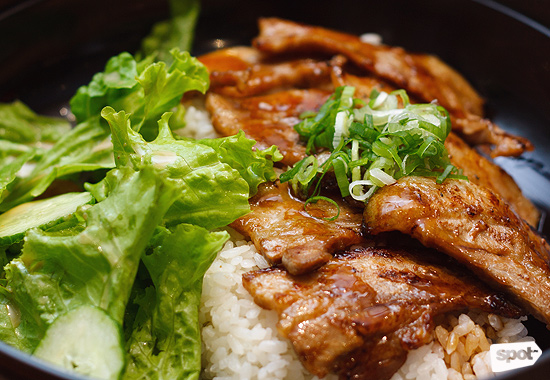 ADVERTISEMENT - CONTINUE READING BELOW
Japanese-style Beef Curry Udon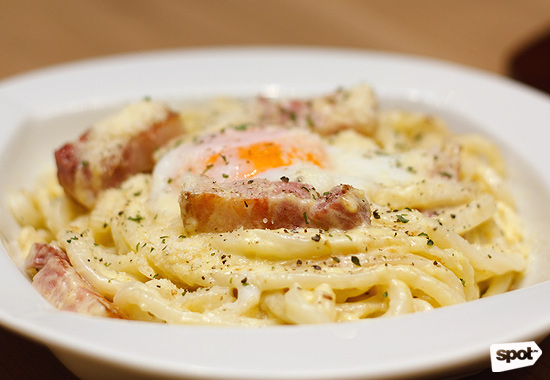 Carbonara Yakiudon
Amid Botejyu's traditional choices, two modern ones really stand out. The Carbonara Yakiudon (P390) is exactly what it sounds like—traditional carbonara made from bacon, Gouda cheese, and soft-boiled eggs, but with thick udon noodles. There's also the Japanese-style Beef Curry Udon (P395), which is rich and flavorful without that imposing flavor. 
ADVERTISEMENT - CONTINUE READING BELOW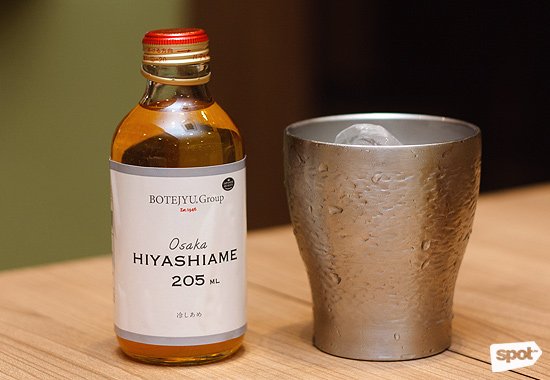 Hiyashiame (Honey Drink)
Botejyu. It's a fun word to say, but there's really nothing like hearing it for yourself where it all began—on the grill.
Photos by Pia Babao Guballa
Share this story with your friends!
---
Help us make Spot.ph better!
Take the short survey
Load More Stories