Xiu Fine Cantonese Dining
Connecticut Street, Greenhills, San Juan City
Contact: 650-7189, 0947-707-0228
Open from 11:30 a.m. to 2:30 p.m. and 6 p.m. to 10 p.m. (Monday to Friday); 11 a.m. to 2:30 p.m. and 6 p.m. to 10 p.m. (Saturday to Sunday)*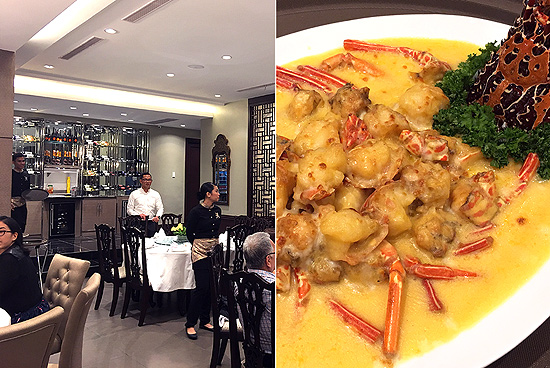 (SPOT.ph) Chinese food in the Philippines deserves more than a few books' worth of discussion. Where and how do you start talking about Chinese food? From the manong with siomai around the corner to the opulent gilded eatery down the street, this unofficial secondary national cuisine has reached a level of ubiquity that makes it impossible to ignore.
While other cuisines would go to great lengths to be noticed, Chinese food has relatively stayed put. If lessons could be learned from the sorely missed Chow Fun and American favorite P.F. Chang's, Filipinos want their hakaw and steamed garoupa as is. Maybe with extra soy sauce.
The newly opened Xiu Fine Cantonese Dining is not necessarily innovative, but it certainly is different. This chic Cantonese paradise—a welcome break from the usual gold and red—replaces the Lugang on Connecticut. HTCG's Annabelle Chua tells us that when they were given the chance to partner with Hong Kong's West Villa, they decided that the flagship Lugang would be the best location. Apart from Lugang, HTCG also owns Tuan Tuan Chinese Brasserie and The Dessert Kitchen.
ADVERTISEMENT - CONTINUE READING BELOW
Xiu knows to serve up the hits: Shark's Fin Soup (P1,480) and Salted Egg Prawns (P180/piece) will satisfy the hardest to please of grandparents, while walls delicately painted with birds, intricate chandeliers, and floors that offer different levels of sophistication make it an ideal Sunday celebration spot.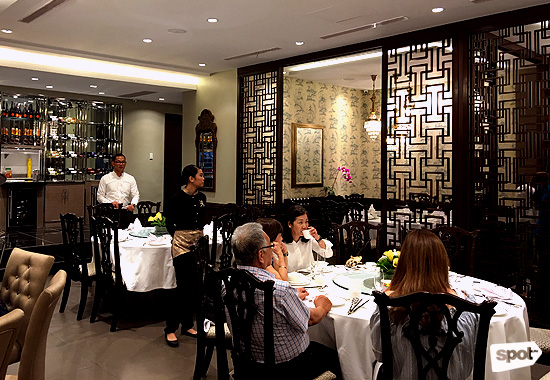 Complete makeover
But Xiu succeeds not because their Cantonese Style Crispy Pork (P680) is crispier and tastier (seriously, the amount of salt they put on the crackling skin is flawless) than everyone else's lechon kawali; not because the Honey Glazed Prime Cut Char Siu (P680) is well above the average asado; not because the Sweet and Sour Pork is strangely and impressively crunchier even minutes after it's served. In a country where Chinese food has languished in terms of creativity, Xiu offers a different path. It challenges you, tests you, makes you try things you never thought you would. What's more, you'll like it.
CONTINUE READING BELOW
Recommended Videos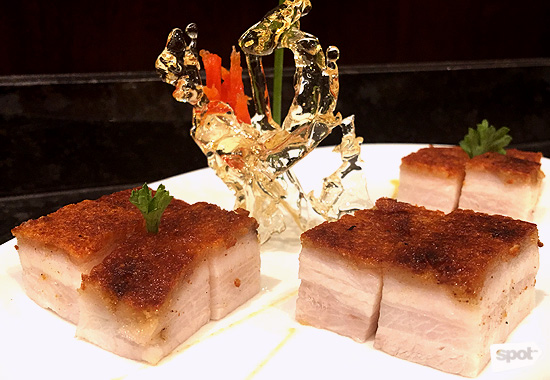 Cantonese Style Crispy Pork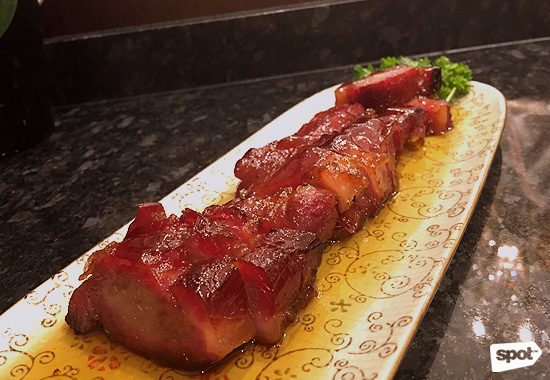 Honey Glazed Prime Cut Char Siu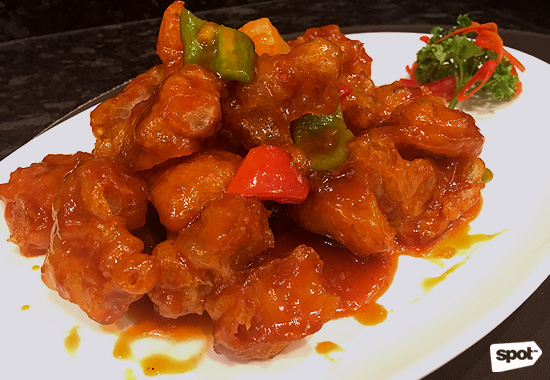 ADVERTISEMENT - CONTINUE READING BELOW
Sweet and Sour Pork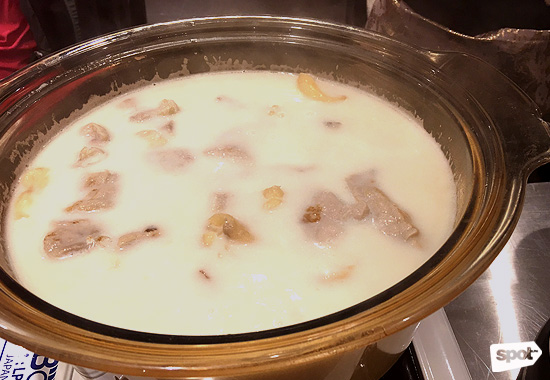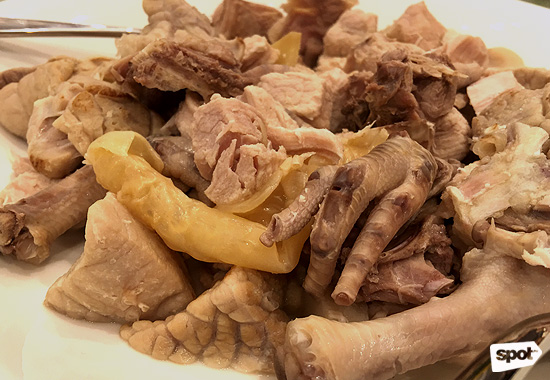 Double Boiled Fish Maw
The Double Boiled Fish Maw and Almond Soup (P680) is one such an example. Hardly a first choice next to oldies like Birthday Noodles, it's double-boiled for six hours to carefully coax out the flavor of chicken, chicken feet, ginger, fish lungs, and fish bladder and transfer them to a milky, mild but deeply flavorful soup. Finished tableside, only the soup is consumed in Hong Kong, but a light dip in soy sauce gives the fish maw and other ingredients renewed flavor. Those averse to the complex appeal of innards might be surprised to find themselves relishing the chewy textures.
ADVERTISEMENT - CONTINUE READING BELOW
Even simple Chinese lettuce (P480) seems more interesting at Xiu. It's stewed but still wonderfully crispy, and cooked in a bagoong sauce that paints it with just the right amount of saltiness to make anybody love their vegetables.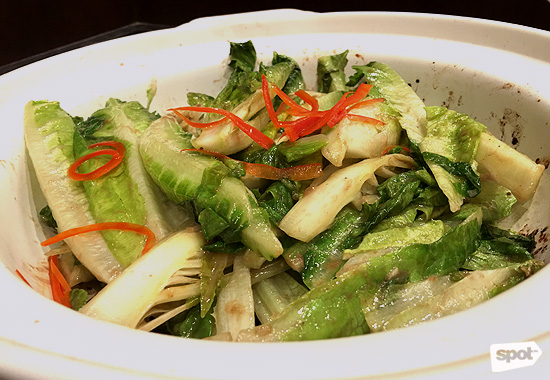 Chinese Lettuce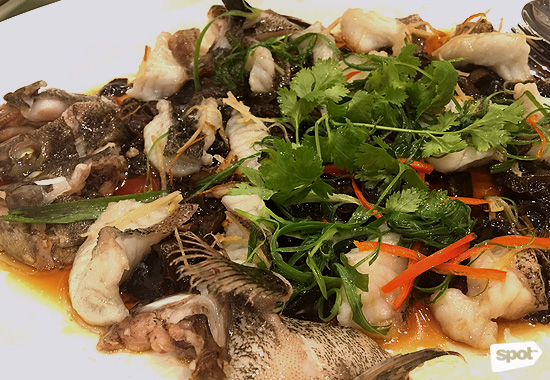 Steamed Garoupa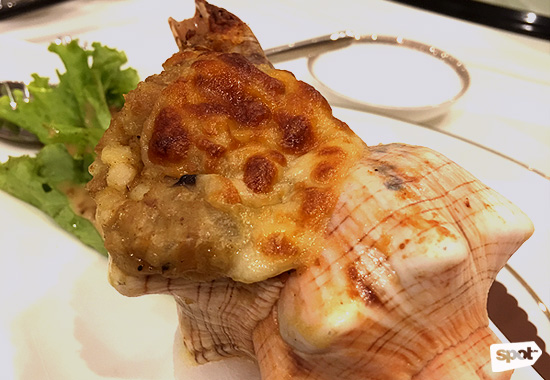 ADVERTISEMENT - CONTINUE READING BELOW
Baked Stuffed Sea Conch
Good seafood always does it for a good Chinese restaurant. Xiu easily shifts from the crowd-favorite Steamed Garoupa (market price)—thoughtfully deboned and portioned for your convenience—to a stunning Baked Stuffed Sea Conch (P480) that's handily a meal in itself. Far from your usual baked shellfish, the picture-perfect shell is stuffed with minced conch meat, ginger, scallions, and mashed potatoes. Curry heats up every creamy spoonful.
For all its reserved elegance, Xiu knows how to show off, too. The Baked Tiger Lobster with Cheese (market price), a foot-long beauty lounging in a sticky cheese bath, is their Instagram trump card. The one that will make everybody ask, "Where?!" Fortunately, the cheese-coated balls of fresh lobster are worth enjoying beyond digital walls. More importantly, it's worth coming back for again and again.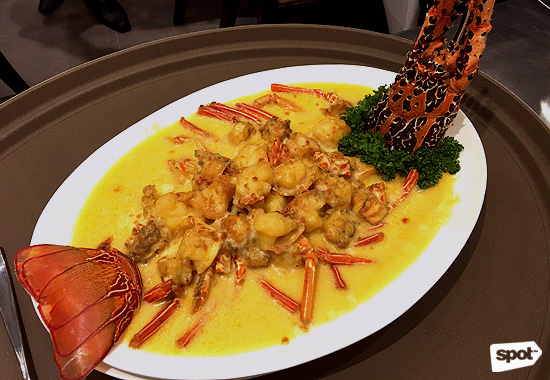 Baked Tiger Lobster with Cheese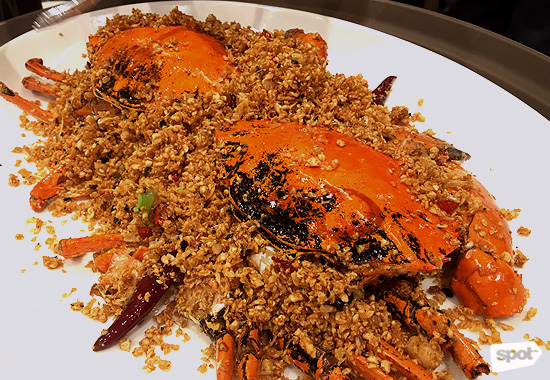 ADVERTISEMENT - CONTINUE READING BELOW
Crab, Typhoon Style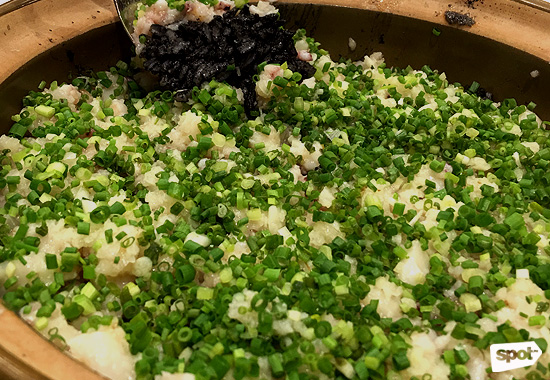 Baked Black Ink Rice with Seafood
The crab (market price) is its main competition. They're large things, concealed under a mound of garlic. Customs must be observed in a restaurant like Xiu, but this dish will make you ask for the rice right away. It's the Baked Black Ink Rice with Seafood (P580) that you're looking for. This paella-like dish does a terrific job on its own, but it's also a great jumping off point for more garlic—garlic, that is, from the crab.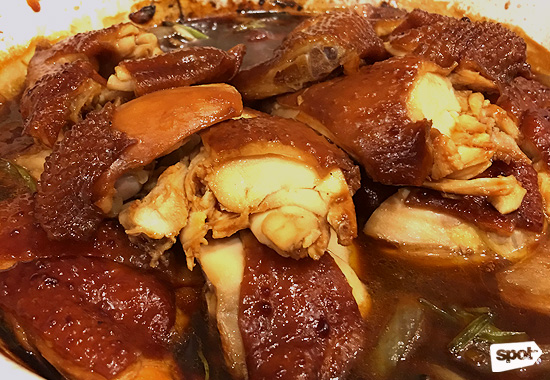 ADVERTISEMENT - CONTINUE READING BELOW
Premium Soy Sauce HK Chicken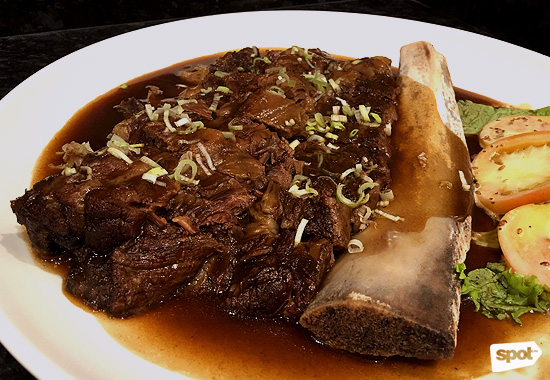 Stewed U.S. Beef Short Ribs
Something about Xiu makes their dishes seem...more. More beefy. More meaty. More umami. How it's supposed to taste, but more. In the Premium Soy Sauce HK Chicken (P980/half, P1,880/whole), for instance, soy sauce manages to snake through every fiber of meat, yet it still tastes so distinctly chicken. It's the same story for the Stewed U.S. Beef Short Ribs (P2,280). It's as if the sauce is there only to amplify the natural juiciness and brawniness of the tender, pull-apart beef. It will melt in your mouth as quickly as your tablemates finish off the plate. Both dishes are stunning.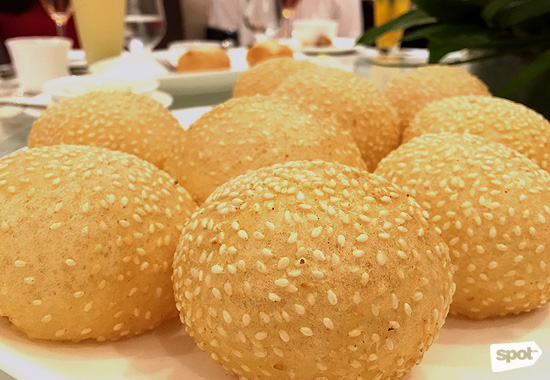 ADVERTISEMENT - CONTINUE READING BELOW
Longevity Balls
The desserts are equally playful takes on tradition. The Longevity Balls (P28/piece) are a classic ending, but these globes are puffed up to be twice the size of the average buchi. Hollow, light, and probably more rewarding with the much-missed red bean or chocolate filling, it is another great demonstration of Xiu's rather remarkable ability to be different without changing anything.
It is an even bigger challenge for a Chinese restaurant to stand out in Greenhills, but Xiu is more than up for it.
*Opens to the public on Friday, July 29
Share this story with your friends!
---
Help us make Spot.ph better!
Take the short survey
Load More Stories