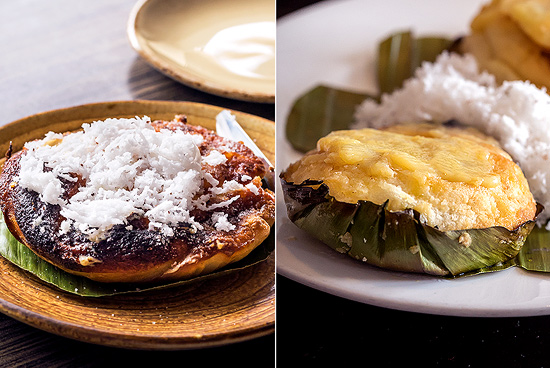 (SPOT.ph) Filipino food is peppered with all sorts of kakanin. These native delicacies, typically a combination of ubiquitous Pinoy ingredients like rice flour, coconut, sugar, and cassava, are found in markets, at street stalls, or outside churches on a busy Sunday. The restaurant scene has easily caught on to the appeal of these comforting snacks, particularly with local rice cake or bibingka. With a plethora of classic flavors and modern reinterpretations of one the most popular of all the kakanin available, you're sure to find an impeccable treat from all corners of the Metro.
All SPOT.ph Top 10 lists are researched, paid for, tested, and selected by the writers and editors. They are discreetly conducted without any notice made to the restaurants or their owners. Hotel-run restaurants were not considered for this list.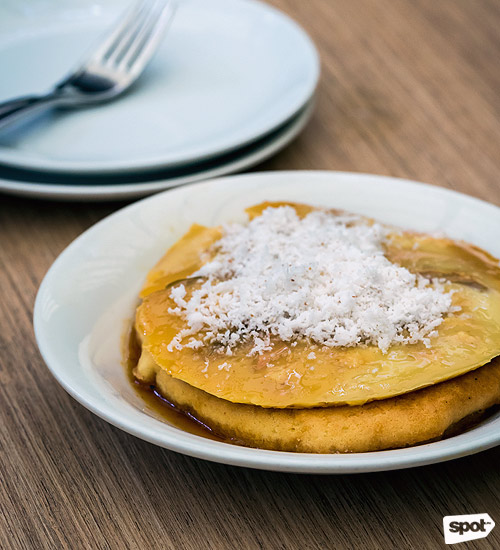 ADVERTISEMENT - CONTINUE READING BELOW
10. Manam's Bibingka de Leche (P240/medium)
Filipino inventiveness rings true in Manam's interesting halo-halo-ish take on the standard bibingka. The Bibingka de Leche brings a thin layer of leche flan on top of a slightly undercooked, pancake-like rice cake for the ultimate winning combination of Pinoy flavors. The pancake-like consistency of the bibingka is surprising, but goes very well with the smooth texture of the flan. Share this dish—it can get quite overwhelming. P.S. Manam also offers a plain bibingkang galapong and salted egg and bibingkang ube.
Manam has branches at G/F Greenbelt 2, Ayala Center, Greenbelt, Makati City; Net Park Building, 4th Avenue corner 27th Street, Bonifacio Global City; G/F South Wing, Main Mall, Pasay City; and G/F Ayala Fairview Terraces, Quezon City.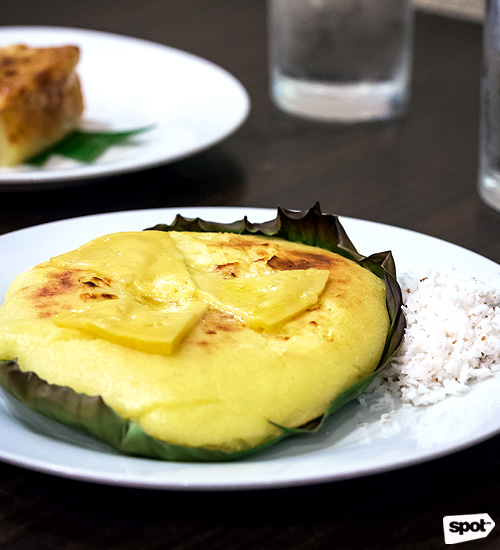 9. Via Mare's Bibingka (P160)
Every tita of Manila knows to go to Via Mare when attacked by a sudden bibingka craving. This standard, beloved by the ladies who lunch set and titas in training, is an old faithful. There's a reason why their bibingka is the first item on their menu—they've earned a reputation as the restaurant to go to when you're looking for some comfort kakanin. The Via Mare bibingka mixes Laguna cheese and quezo de bola. The saltiness it offers is mild and not overpowering. The cheese flavor comes out strong towards the end of your meal—proof that even a dish as simple as bibingka can give you a multi-dimensional, multi-textural taste experience.
CONTINUE READING BELOW
Recommended Videos
See a list of Via Mare branches.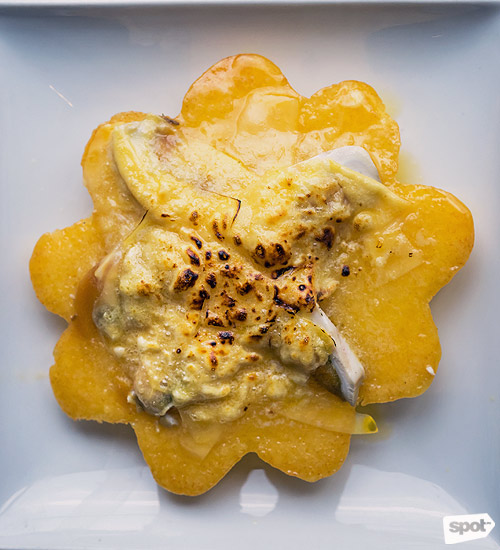 8. Maximo's Bibingka Mamon (P148)
Who doesn't love the fluffy eggy goodness of mamon? Merge that with the classic taste of bibingka and you get this Quezon City haunt's salty-sweet take on two beloved Filipino snacks. Best taken with a cup of coffee, the bibingka is a dessert all its own. Leaning towards the sweet, syrupy goodness of a tocino del cielo, it is light, fluffy, and best shared so you split the calories and sugar!
Maximo is at 173 Katipunan Extension, Blue Ridge, Quezon City (437-7661).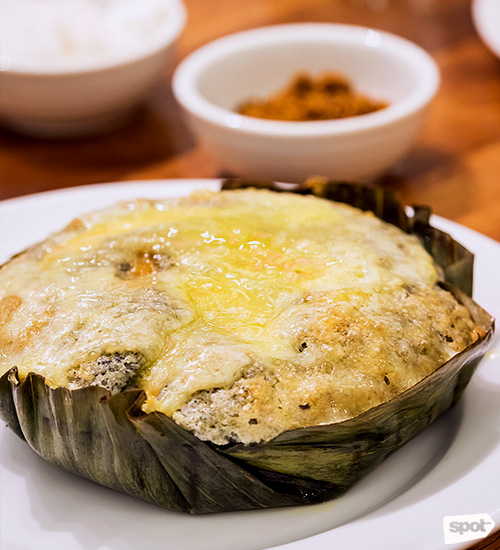 ADVERTISEMENT - CONTINUE READING BELOW
7. Purple Yam's Bibingka (P150) 
The folks at Purple Yam are big on heirloom ingredients and you're sure to find that in their bibingka rendition. Created with ominio heirloom rice topped with salted duck egg and local Asiago cheese from Casa del Formaggio, you get a gritty but soft textured rice cake with easily the best-tasting, most fragrant cheese you'll ever find on bibingka. Don't forget to dip your bites into the budbod that they provide—it'll make an already substantially delicious treat even better. Looking for something different? Purple Yam offers a savory bibingka with mushroom and Asiago cheese.
Purple Yam is at LG/F Estancia Mall, Capitol Commons, Pasig City; and 603 Nakpil Street corner Bocobo Street, Malate, Manila.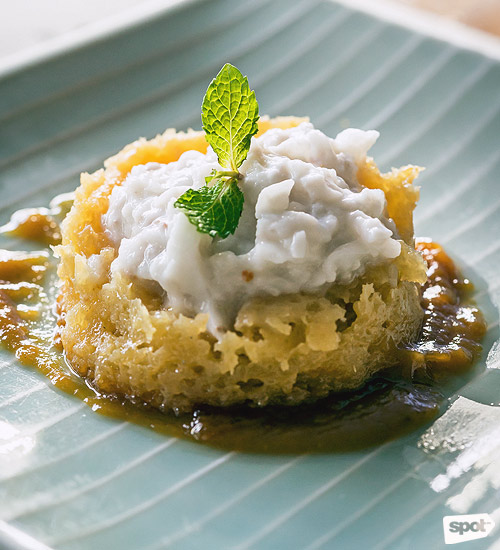 6. Fely J's Cassava Bibingka with Buko (P120)
Another variation of bibingka, the cassava bibingka incorporates the cassava crop with a rich, creamy coconut topping. The LJC group has always been a go-to when it comes to Filipino food and Fely J's merienda and kakanin offerings do not disappoint. This "homemade tapioca cake with young coconut" has a lovely, rich coconut topping that tastes extra fresh. The gooey-textured cassava bibingka sits in a sauce that resembles latik or coco jam, infusing it with even more native delicacy goodness. You'll want to keep one order all to yourself.
ADVERTISEMENT - CONTINUE READING BELOW
Fely J's is at 2/F Greenbelt 5, Ayala Center, Greenbelt, Makati City; and Uptown Place Mall, Uptown Bonifacio.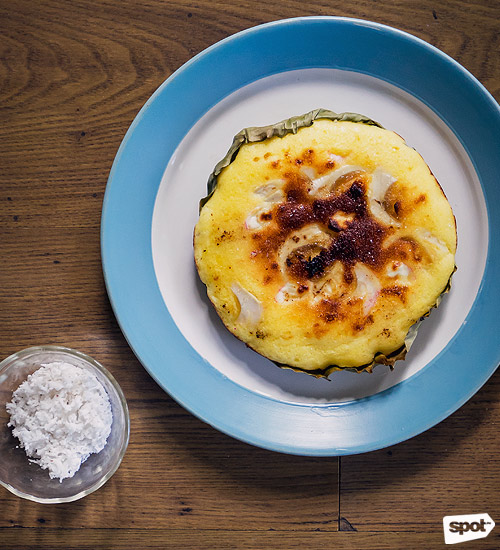 5. Ferino's Bibingka Extra Super (P125)
Was there ever any doubt that this classic would make the list? Ferino's presents itself as the country's best rice cake and they have the bibingkas to prove it. A trusted brand that is as old as our grandmothers, you get your bibingkas in any number of ways—one or two eggs, salted egg, with kesong puti, et cetera. The Extra Super version has two eggs, salted egg and kesong puti (i.e., the works). Get it to go and they'll offer to slather an extra serving of butter and sprinkle it with sugar (don't say no). Ferino's has earned its reputation for its perfect, consistent taste and a texture that's as comforting as old family traditions.
ADVERTISEMENT - CONTINUE READING BELOW
Ferino's is at Gilmore Avenue, Valencia, Quezon City (470-6493).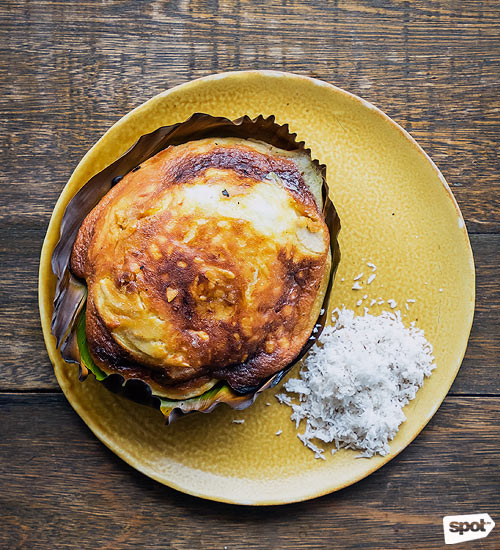 4. Roast's Kesong Puti, Queso de Bola, Salted Egg Bibingka (P140) 
This neighborhood café in White Plains (look for the building with a letter L on the façade) offers a huge selection when it comes to bibingka—salted egg, kesong puti, a combination of the two, quezo de bola, are all available. This version has everything on top and ordering it will definitely give you a kakanin high. Made fresh (be ready to wait for 10 to 15 minutes), this bibingka is so light you'll easily finish the whole cake in one sitting. It melds all the best parts of a bibingka—fluff, parts with a wonderful tostado crunch, and a sweet salty flavor your taste buds will thank you for. Roast also offers bibingka carts for parties so get on that for your next gathering.
ADVERTISEMENT - CONTINUE READING BELOW
Roast is at 2/F Linear Building, 142 Katipunan Avenue Extension, White Plains, Quezon City (362-6334).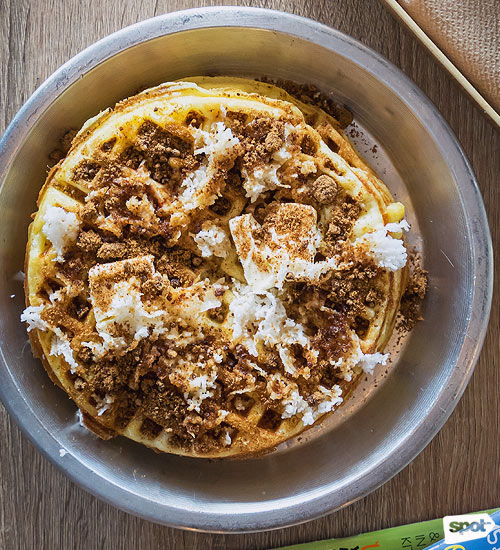 3. Catabolic Café's Bibingka Waffle (P200)
This reinterpretation of the classic bibingka has "breakfast of champions" written all over it. Extremely fluffy, this dish delivers a generous serving of two full-sized waffles slathered with butter and your usual bibingka budbod. Whether you're a bibingka fan or a waffle fan, Catabolic will not do your favorite a disservice at all—it melds the perfect fluffiness of a bibingka with the full-bodied size of a waffle. No other restaurant will deliver more value for your kakanin money, seriously.
Catabolic Café is at 22 Malingap Street, Teachers Village, Quezon City (366-8822).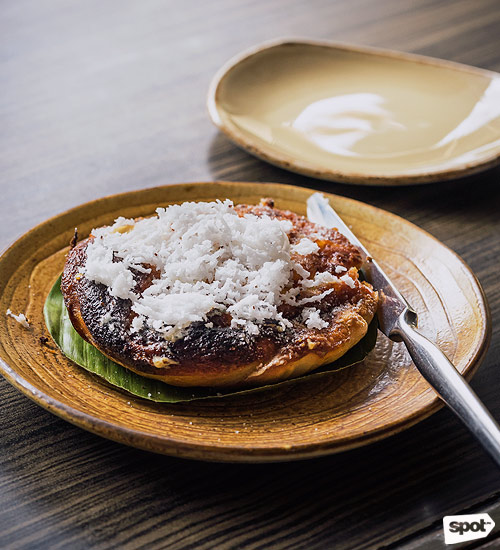 ADVERTISEMENT - CONTINUE READING BELOW
2. Sentro 1771's Bibingka (P130)
Oddly enough, Sentro's bibingka is not on its current menu—but insiders know that it's available to order only at the Greenbelt and Capitol Commons branches (Capitol Commons' oven, however, is on the fritz so Makati is the only spot that offers it at the moment). The first thing you will notice when you bite into this piece of bibingka heaven is how fluffy it is. If you're a lover of all things eggy, this will be a special treat for you. Cooked with kesong puti and served with the budbod already sprinkled over it (saving you the hassle of spooning sugar and coconut over the cake), it gives your taste buds a great combination of crunch and softness. For adventure seekers who want the bibingka taste, try the Keso Flan (P220)—"parang bibingka na hindi!"
See a list of Sentro 1771 branches.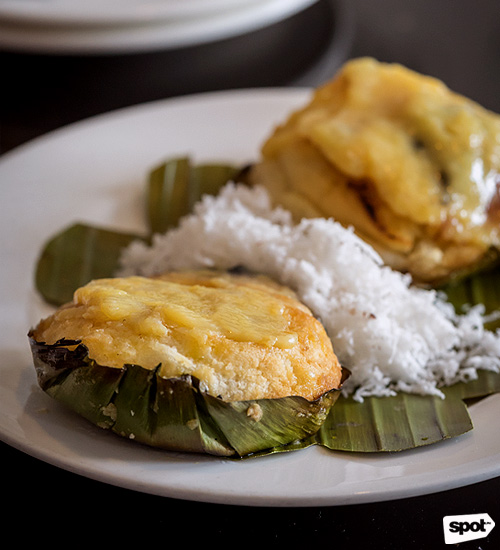 ADVERTISEMENT - CONTINUE READING BELOW
1. Pamana's Pampanga Bibingka (P155)
The Ongpauco family's heirloom recipes have satisfied our Pinoy food cravings for years. As far as merienda goes, their Tagaytay-based Pamana, which has finally hit Manila, definitely delivers. Pamana's bibingka is created by Ate Cila Reyes, the clan's great-grandmother. Employing kesong puti and itlog na maalat, their super moist bibingka packs the rice cake into small, puto-sized servings that make them easy to share and friendly on the tummy (you may want the entire dish after your first bite, though). The best part about Pamana's bibingka is its salted egg paste—ensuring you get an even serving of salty, smooth flavor in absolutely every bite.
Pamana is at Mother Ignacia Avenue near Tomas Morato Avenue, South Triangle, Quezon City.
Photos by Toto Labrador
For other Top 10 lists, check out SPOT.ph's Top 10 Everything Food Lists 3rd Edition. Co-presented with C2 Cool and Clean, it's priced at P195, available at major bookstores.
Share this story with your friends!
---
Help us make Spot.ph better!
Take the short survey
Load More Stories