Huma Mediterranean Cuisine
S Maison, Seaside Boulevard, Pasay City
Contact: 772-4573
Open daily from 10 a.m. to 10 p.m.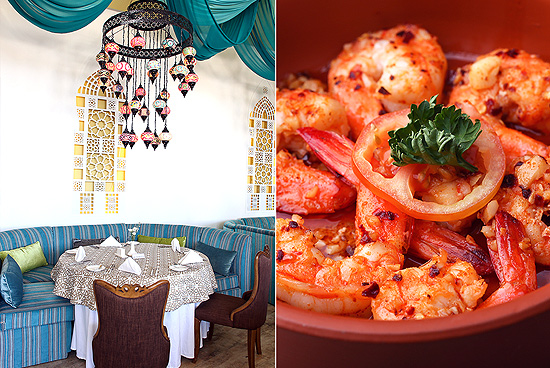 (SPOT.ph) Eating at Huma is both a taste of Lebanese cuisine and a peak into a family's history. First, it's the restaurant's name. Huma is actually a nickname for the restaurant manager, Aphrodite Al Shaer, and executive chef, Elias Al Shaer's nephew, Brahim. With Huma's opening at S Maison, we get a taste of their mother's cooking. The dishes served are all the concoctions of their mother, who puts her own special twist on Lebanese food. "People put fresh coriander? No, she puts dried coriander," Aphrodite explained, brimming with pride and excitement. "I assure you, my mom is the best cook in the world."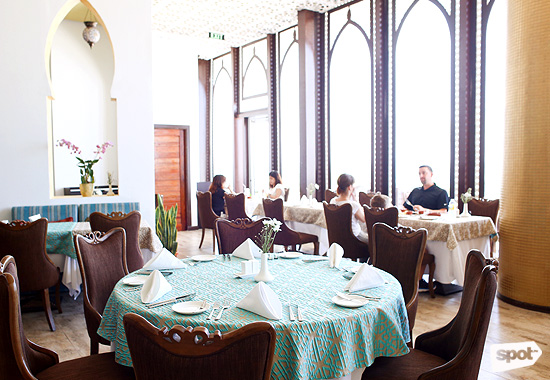 ADVERTISEMENT - CONTINUE READING BELOW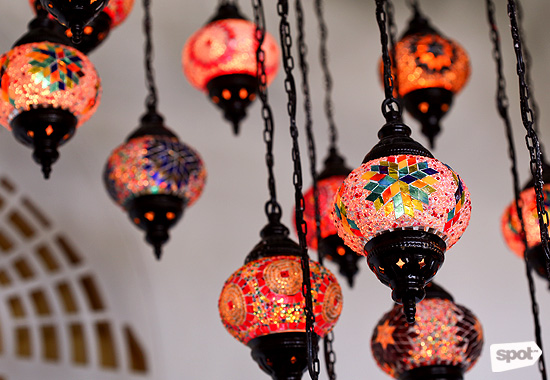 Decorations were brought in from Kuwait
While Huma isn't the only Lebanese restaurant in the Metro, the market is hardly saturated when it comes to Mediterranean food. At Huma, Filipinos can have a taste of a cuisine very much unexplored by the vast majority, as well as a taste of a loving mother's cooking. To keep the dishes as authentic is possible, all the ingredients are imported from Kuwait—even the cinnamon.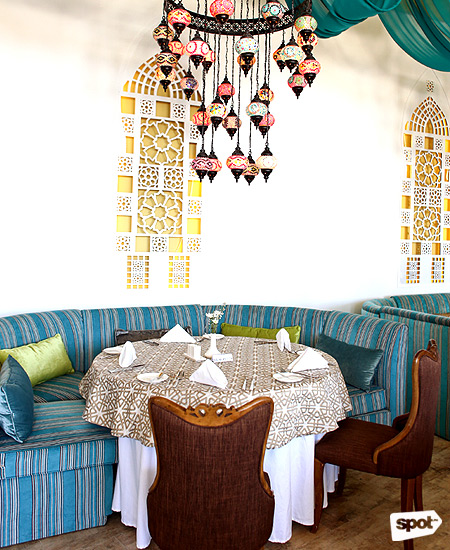 CONTINUE READING BELOW
Recommended Videos
The decor shows impeccable attention to detail.
The main attraction of Lebanese food is their mezza, or their appetizers. "In Lebanon, the mezza is the most important," Aphrodite shared. She explained that at a Lebanese party, there would be 50 dishes of mezza, all small dishes, all for sharing. At a restaurant, most people would order around six or more mezza per table. "We like to try everything, even just one bite," she said. So to put together their menu, they got the best of their mezza as well as the dishes they felt Filipinos would like best. When it comes to the mezza, the best way to do it is to try them all.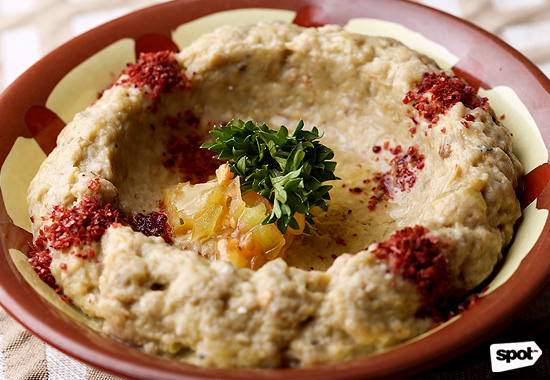 Hummus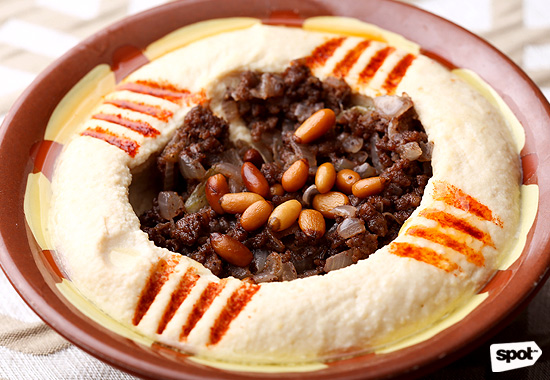 ADVERTISEMENT - CONTINUE READING BELOW
Baba Ghanouj
One of the more familiar dishes of the mezza would be the Hummus (P165), which is a dip made from chickpeas, tahini, lemon, and olive oil. The Baba Ghanouj (P165) is a good deviation from those willing to try something different. It's also a dip, but made from grilled eggplant, tahini, lemon, and olive oil. The way to eat these dips is to have a tablespoon on your plate and to dip freshly baked bread onto it before taking a big bite.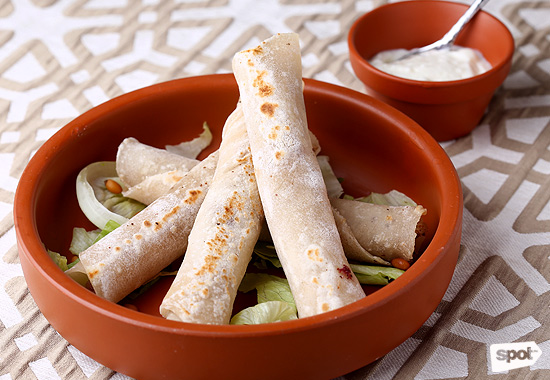 Chicken Musakhan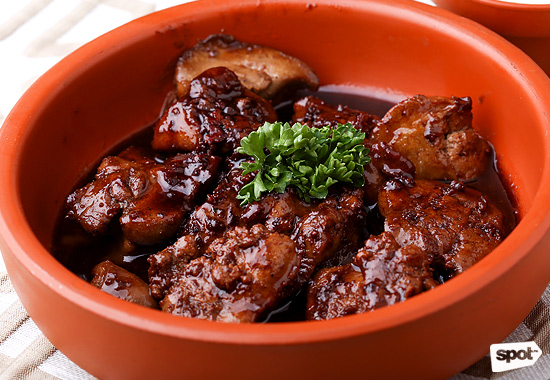 ADVERTISEMENT - CONTINUE READING BELOW
Sawded Dajaj
The Chicken Musakhan (P180), which kind of looks like lumpia, is a roll filled with chicken, sumac, caramelized onions, and fried pine nuts. This, along with the Sawded Dajaj (P130), a dish made of fried chicken liver with pomegranate or lemon sauce, goes swimmingly with their garlic sauce.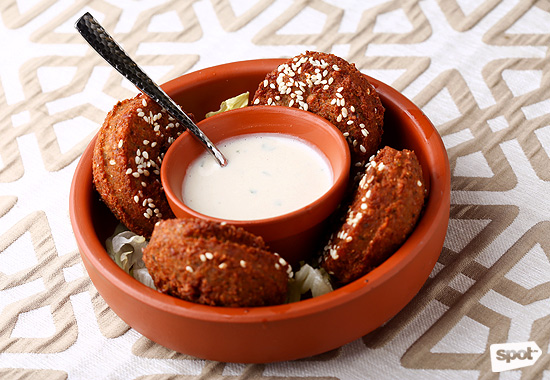 Sahan Falafel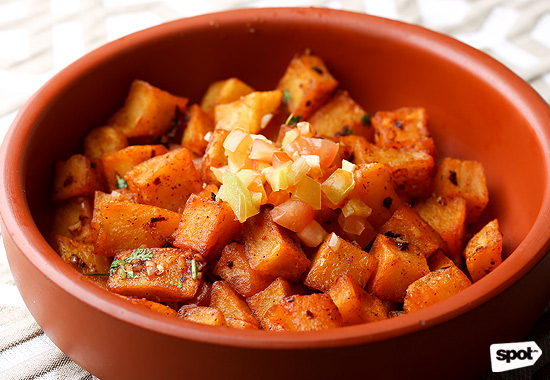 ADVERTISEMENT - CONTINUE READING BELOW
Batata Harra
Other standouts from the mezza include the Sahan Falafel (P165), a deep-fried ball of ground chickpeas, parsley, onion, and coriander, seasoned with a mixture of Lebanese spices, and the Batata Harra (P145), a potato dish with olive oil, minced garlic, crushed chili, coriander, paprika, and lemon. For beef lovers, the Kebbeh Maklieh (P248) is the way to go. It's made with bulgur, a kind of dried cracked wheat, fried ground beef, onions, pine nuts, and Lebanese spices.
All the mezza dishes come with a wide variety of sauces, so it's up to you to mix and match to find the combination that works best according to your preferences.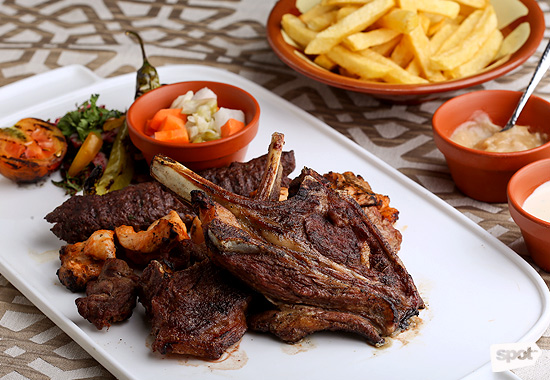 Riyash Ghanam
For the main course (if you still have space from all the delicious mezza), the Riyash Ghanam (P750), which is grilled lamb chops seasoned with olive oil, salt, and Lebanese spices, is a must-try. You can eat this with the french fries that usually accompany these dishes, or a steaming plate of flavored basmati rice. They tried their best to match the dishes to fit the Filipinos craving of meat and rices, so their selection includes a wide variety of beef, chicken, fish, and roasted meats, along with different flavors of rice to pair with them.
ADVERTISEMENT - CONTINUE READING BELOW
For anyone looking to try something new, Huma is a great way to start.
Photos by Majoy Siason
Share this story with your friends!
---
Help us make Spot.ph better!
Take the short survey
Load More Stories