Gastro Park Kapitolyo
#12, 1st Street, Kapitolyo, Pasig City
Contact: kapitolyo1st@gmail.com
Opening hours: Monday from 4 p.m. to 12 a.m.; Tuesday to Thursday from 12 p.m. to 12 a.m.; and Friday to Saturday from 12 p.m. to 1 a.m.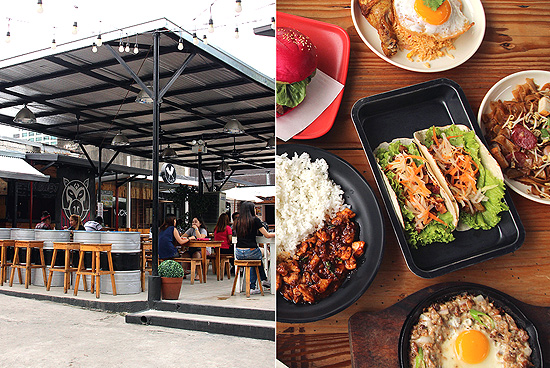 (SPOT.ph) Groups of friends always have that one dilemma when going out: "Where do we eat?" The answer to that simple question? Lately, food parks, because there's always something for everyone. But with all the food parks popping up around Metro Manila, who can keep track of what to try, and where? Allow us to make those decisions a little bit easier. We've talked about StrEat in Maginhawa and The Yard in Xavierville. This time, we're checking out Gastro Park Kapitolyo.
Gastro Park opened early 2016 and is tucked away on a street that's mostly obscured by the more famous 16 United, home of eateries like Taco Vengo and No Reservations. Walking in, you'll immediately feast your eyes on all the different choices. Whether it's American (it's difficult to miss the hot pink burgers), Japanese (tempura buckets!), Mexican, Filipino, or if you're just there for the dessert, you just know that you'll be leaving with a big, fat smile on your face and maybe even a #cravingssatisfied-captioned photo to go with it.
ADVERTISEMENT - CONTINUE READING BELOW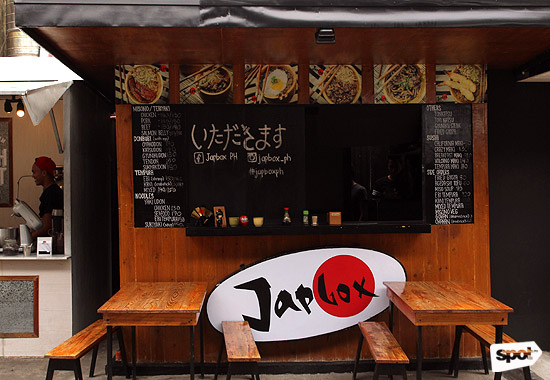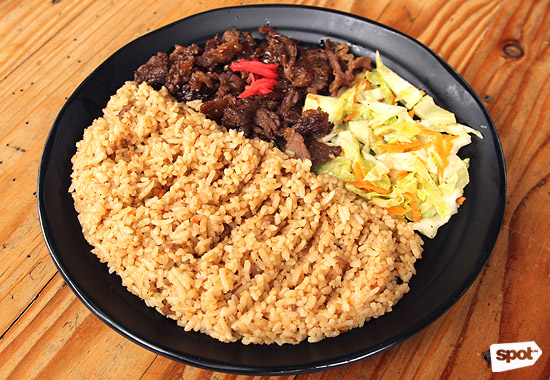 Beef Teriyaki
Japbox
For a Japanese food fix, Japbox (Japanese food in a box) is the way to go. While they serve everything from teriyaki to donburi and noodles to sushi, their best-sellers are their Chicken Yaki Udon (P130), chicken bathed in a thick, sweet, and mildly spicy sauce, and the Beef Teriyaki (P140), sweet beef cuts that are heavily peppered, giving it a subtly smoked flavor. We recommend both.
CONTINUE READING BELOW
Recommended Videos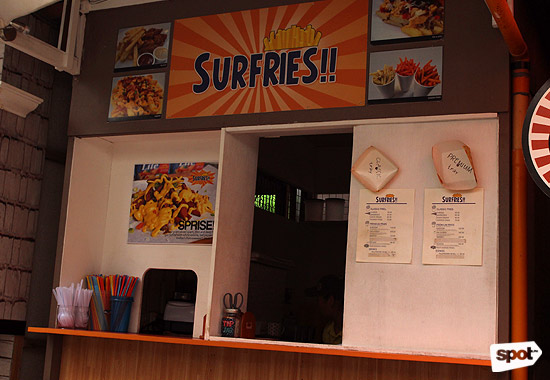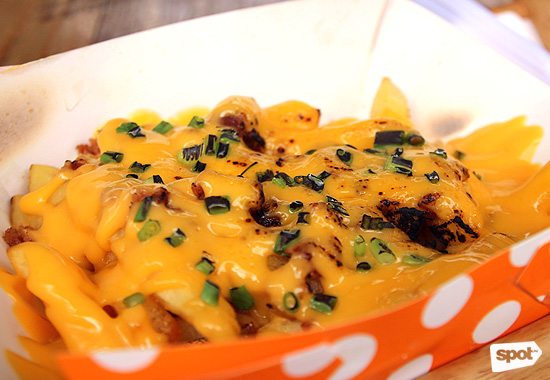 Cheesy Bacon Fries
Surfries
By now you've probably seen videos of Surfries all over social media. Surfries is a modest stall that serves fries in all flavors, but it's their Cheesy Bacon Fries (P145) that take center stage. Thick-cut fries generously drizzled with cheese and topped with bacon bits are enough to make you want to dig in, but  the real show begins when they torch the cheese in front of you until it melts and bubbles. Their Raspberry Bowl (P85) is another must-try: A refreshing drink that's served in an actual fish bowl. 
ADVERTISEMENT - CONTINUE READING BELOW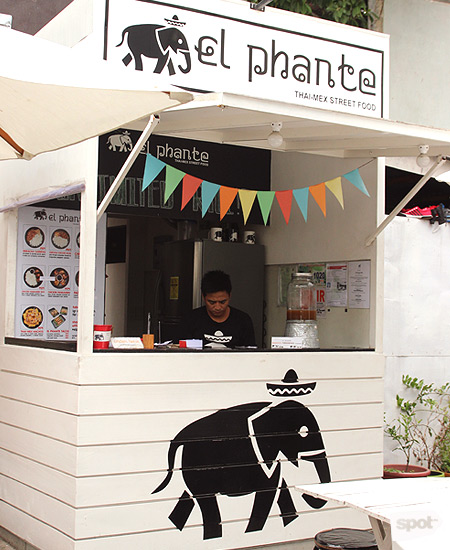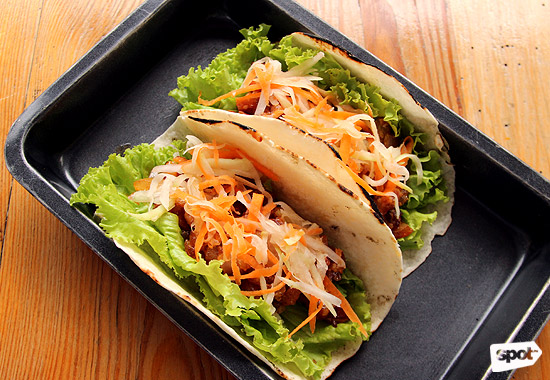 Sriracha Carnitas Tacos
El Phante
Fiery and flavorful, El Phante's Chipotle Chicken Fries (P145) is a good choice for fans of spicy food. Also a must-try: the soft Sriracha Carnitas Tacos (P179). While it's hot enough to satisfy your spicy food cravings, it's not too spicy that it would keep you drinking. It's difficult to stop at one bite.
ADVERTISEMENT - CONTINUE READING BELOW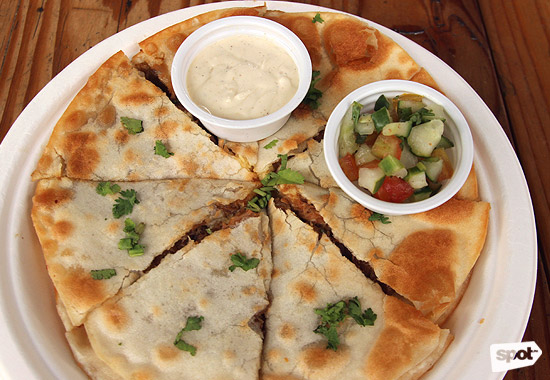 Beef Masala Quesadilla
The Masala Bar
The Masala Bar allows you to indulge in a thrilling mix of spice-infused Indian-Mexican food. Have a go at their Beef Masala Quesadilla (P160), a meaty and cheesy take on the original Mexican quesadillas; and their Spicy Chicken Skewer (P130), which is not too overwhelming, but still gives you a good kick of heat.
ADVERTISEMENT - CONTINUE READING BELOW
Left to right: Pork Belly, Angus Beef, Quail Egg Wrapped with Bacon, and Pork with Asparagus
Niku-Q
This unassuming stall will take you to the side streets of Tokyo with various types of yakitori. Try the Pork with Asparagus (P45), Angus Beef (P60), Pork Belly (P40), and the crowd-favorite Quail Egg wrapped with Bacon (P45), all of which are grilled to perfection, generously coated with special sauce mixes, and sprinkled with sesame seeds.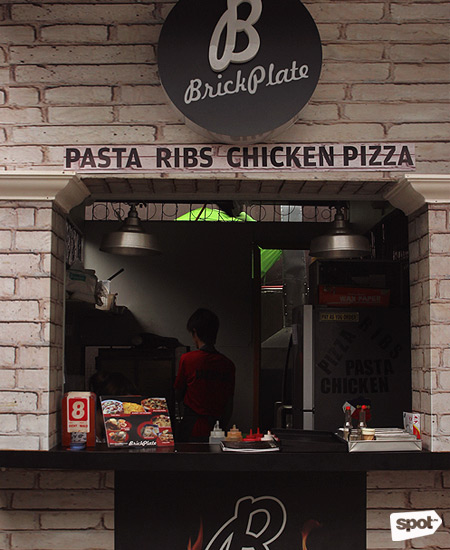 ADVERTISEMENT - CONTINUE READING BELOW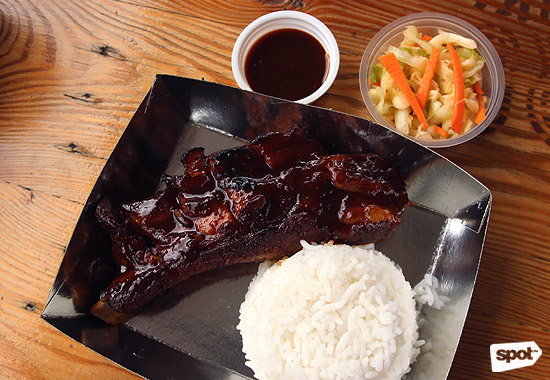 Shaker Ribs
Brick Plate
Brick Plate's claim to fame lies not in their pizzas, but surprisingly on their best-selling Shaker Ribs (195), tender pieces of lightly seasoned ribs with the meat falling off the bones. Head here for a satisfying ribs experience without breaking the bank.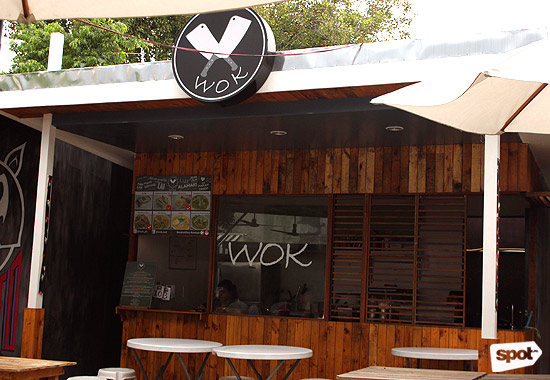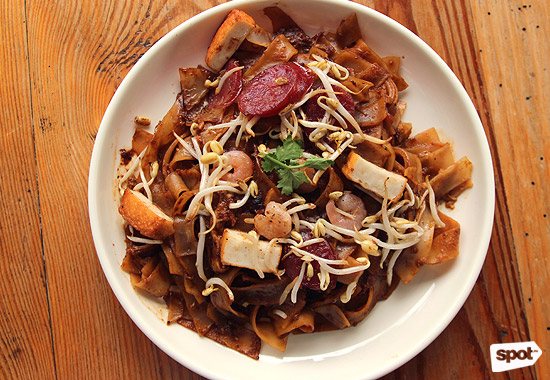 ADVERTISEMENT - CONTINUE READING BELOW
Char Kway Teow 
Wok
Hearty Singaporean food is what Wok is all about. Their Char Kway Teow (P150) is a spectacle, and quite an experience for the palate—spicy stir-fried noodles topped with prawns, fish cakes, Chinese sausage, and bean sprouts; and their Nasi Goreng (P180) is a hefty take on spicy fried rice—a mix of prawns sautéed in garlic, fried egg, and fried chicken.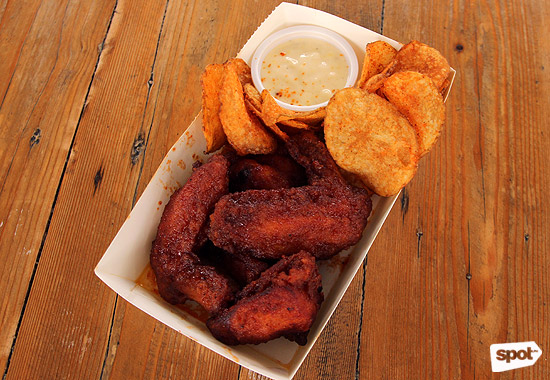 Hot Buffalo Wings
Chixy9
It's not difficult to see why Chixy9 would be a sure hit. After all, who doesn't love chicken, whether it's fried, roasted, or baked? Get your fill with their Hot Buffalo Wings (P149), smoked pieces of chicken wings bathed in a spicy marinade, and have their Chicken Potato (P99) on the side.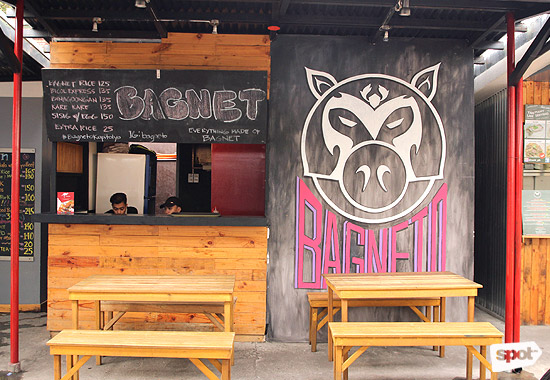 ADVERTISEMENT - CONTINUE READING BELOW
Bagnet with Rice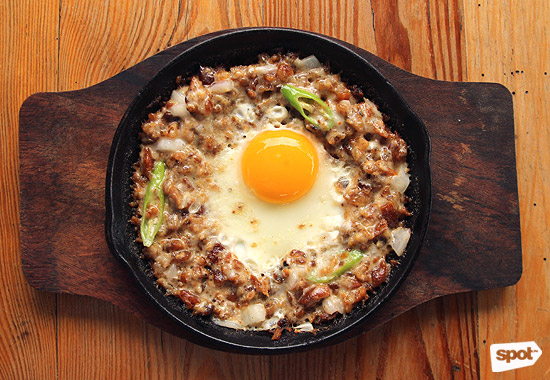 Sisig with Egg
Bagneto
For dishes that hit closer to home, cross over to Bagneto. Their Sisig with Egg (P140) is a hot, mouth-watering take on a Pinoy favorite; but the real winner is their best-selling Bagnet with Rice (P125). It's juicy and crunchy, with the slightest hint of salty that only makes it more enjoyable. We promise, it's worth every calorie.
ADVERTISEMENT - CONTINUE READING BELOW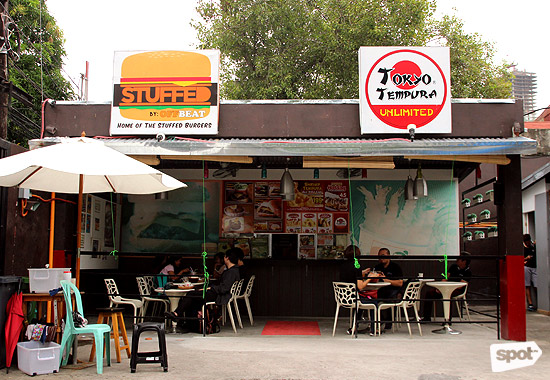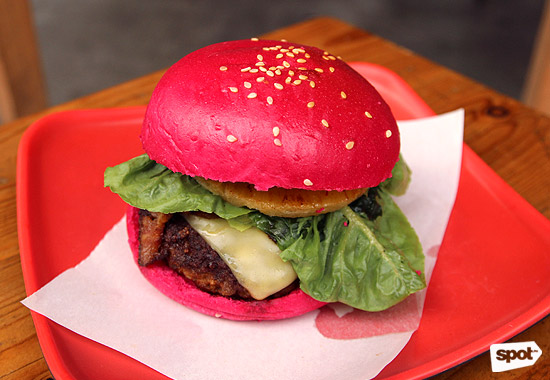 Hawaii-o-Five
Stuffed by Offbeat
This modest stall surprises every customer. While we recommend everything on their menu which is mostly made up of burgers, their Hawaii-O-Five (P180) is a standout. A bright-pink burger might seem gimmicky, but have a taste and you'll be treated to a juicy, tender burger that's stuffed with pineapple, lettuce, cheese, and a thick, flavorful patty.
ADVERTISEMENT - CONTINUE READING BELOW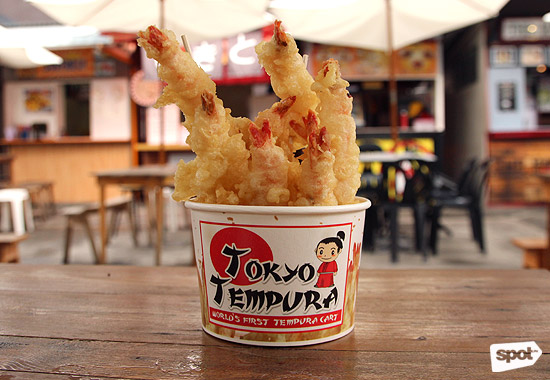 Tempura Bucket 
Tokyo Tempura
Tokyo Tempura cooks their tempura in a light, crunchy batter that has the slightest hint of sweetness. Order the Tempura Bucket (P115), which wins for its pocket-friendly price and date-friendly serving.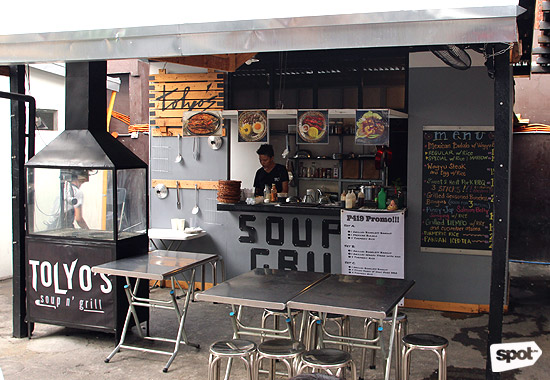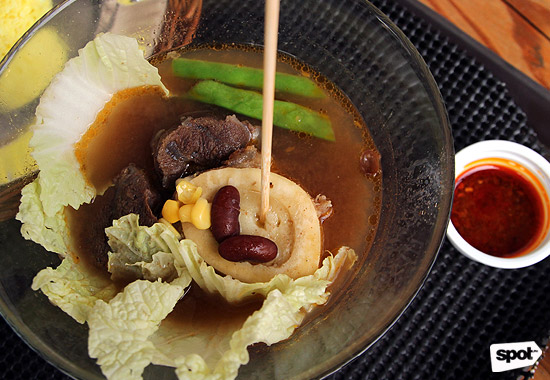 ADVERTISEMENT - CONTINUE READING BELOW
Mexican Bulalo
Tolyo's
Tolyo's is the place to be for your rainy-day bulalo cravings. Their best-selling Mexican Bulalo (P165) doesn't stray too far from the classic Pinoy bulalo, with a Mexican twist—the Wagyu shanks are boiled until tender, the soup mixed with spices like cumin, paprika, and star anise, topped off with pinto red beans—it's basically like devouring taco-flavored bulalo.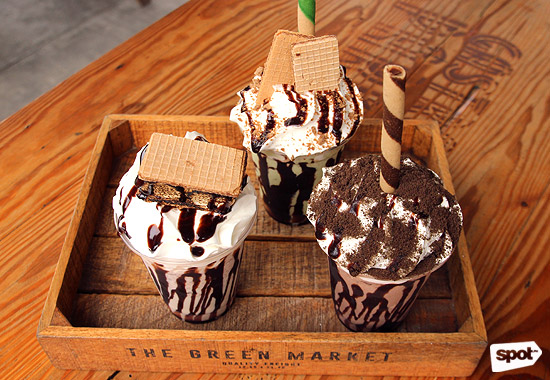 Left to right: S'Mores, Matcha Green Tea, Molten Lava Cake 
Sweet Nohing
Get your dessert fix at Sweet Nothing where they are firm believers of the expression "the bigger, the better." Try the Molten Lava Shake (P130)—a mix of chocolate bits and chocolate cake slices, topped with whipped cream, sprinkled with crushed sandwich cookies and finished off with a wafer-stick straw. It's really as delicious as it sounds. If you're not much for chocolate, go for their Matcha Green Tea (P130) and S'Mores (P130).
ADVERTISEMENT - CONTINUE READING BELOW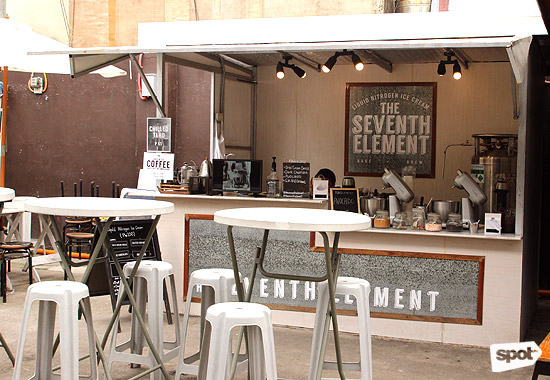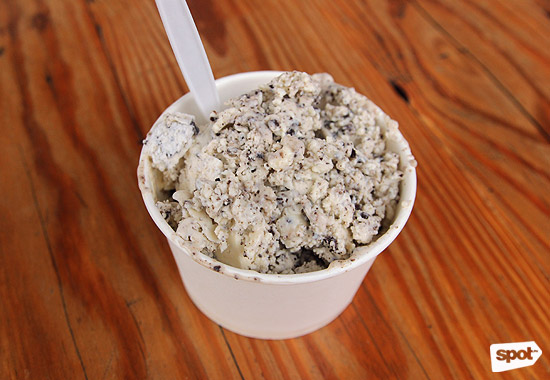 Oreo and Cream Cheese Ice Cream 
The Seventh Element
For a sweet ending, head over to The Seventh Element. They make liquid nitrogen ice cream in flavors like Oreo and Cream Cheese Ice Cream (P150). Rich and creamy, this cup of cream cheese chunks with hints of crushed Oreos is the icing on top of your Gastro Park cake. One order is a good-sized serving that you can share with two or three friends. But if you want to gobble up the creamy goodness all on your own, we'd totally understand.
ADVERTISEMENT - CONTINUE READING BELOW
Photos by Criselda Carreon
Share this story with your friends!
---
Help us make Spot.ph better!
Take the short survey
Load More Stories