Why are we so obsessed with food?
To say that Metro Manila is food-frenzied and food-obsessed is merely scratching the surface.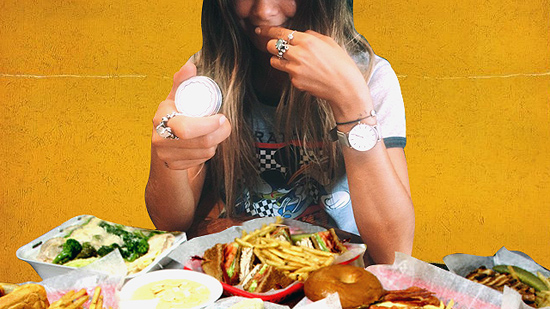 (SPOT.ph) Food has gone through a pleasantly strange evolution of sorts—from the means of survival it was back then, to the wallet-burning obsession it is today.
In a society that is so fixated on the opening of new restaurants, welcoming them as one would a royal prince, food has become Metro Manila's definition of fashion. Instead of outfits filling up Instagram feeds, dishes are flat-layed and are bathed in glorious natural light. Who cares about the number of sneakers you have? What matters is that you've tried that new taco joint or that new restaurant—Instagram post or it didn't happen.
ADVERTISEMENT - CONTINUE READING BELOW
CONTINUE READING BELOW
Recommended Videos
To say that Metro Manila is food-frenzied and food-obsessed is merely scratching the surface; and there is absolutely nothing wrong about it.
Something most people won't admit is that eating out in Manila is damn expensive. I've always felt that, unless you work in the media or in the industry, you need to be part of a certain income bracket in order to keep up with the pace of Manila's food scene. With meals averaging around P400 to P600 per dish, it's sacrilege to the cost-cutters; but for the food-obsessed, it is an investment.
Perhaps, there is also the idea of extravagance intertwined with entitlement that food seems to satisfy. Yes, you deserve that P1,500 bite of foie crowned with caviar and sprinkled with black truffle confetti. Food has become bite-sized luxury that provides a moment of euphoria where one savors each morsel, each ingredient, and each delicate grain of Maldon salt. And there is, also, the idea of comfort, which can be translated to a thick, nutty bowl of kare-kare made perfect by that mound of bagoong sitting in the corner; or pristine slices of toro prepared so fresh, you can still taste the water from which they came from.
ADVERTISEMENT - CONTINUE READING BELOW
I've worked as a food editor in Manila for almost four years, and even though I've relocated to Singapore, the beauty and madness of Metro Manila's food scene is difficult to ignore. The explosion of new restaurants and franchises has opened up career opportunities and paved the way for creativity to blossom. Despite the number of new establishments offering new cuisines, Filipino cuisine still emerges the winner as it has become one of the most talked-about cuisines in the world.
At the end of the day, this obsession with food has become one's ticket to the world. We live in a generation where food has become something synonymous with a universal language. It binds and bridges cultures, and it has birthed a new brand of collaboration that has taken the form of fusion cuisine, among many others. Filipino cuisine mixed with this, Filipino cuisine mixed with that; I think it's beautiful how creativity evidently thrives in Manila's food scene, and it's great to see how it's been going on for years, yet has no plans of slowing down any time soon. And for what it's worth, this obsession is truly worth celebrating.
ADVERTISEMENT - CONTINUE READING BELOW
Mikka Wee is currently SPOT.ph's Contributing Food Editor. Previously a full-time food editor in Manila, she moved to Singapore thinking that her love for food would wane. She was so wrong. Her daydreams include Pancake House's Fried Chicken with unlimited gravy...and extra extra rice. You can connect with her on Instagram or see what she's up to on her website.
Load More Stories