New Restaurant Alert: Tilde Hand Craft Café in Poblacion, Makati
This hideaway is our new favorite place for fresh bread and classic meals made from carefully sourced produce.
Tilde Hand Craft Café
5417 G/F EWC Building, Matilde Street, Poblacion, Makati
Contact: 771-2764
Open from 12 p.m. to 9 p.m. (Monday to Saturday)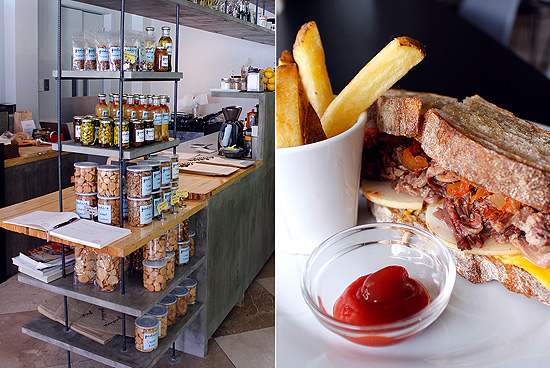 (SPOT.ph) Tucked away in a quiet corner of Poblacion, Tilde Hand Craft Café feels like an unexpected hideaway—with schoolchildren constantly chattering across the street, its modern but welcoming interiors are a friendly respite. The café is the brainchild of friends Ginny Roces de Guzman, Chiqui Lara, and Neal Oshima who stumbled upon the space when they relocated the commissary for the famous Gustàre Kitchen to the building a few months back.
ADVERTISEMENT - CONTINUE READING BELOW
CONTINUE READING BELOW
Recommended Videos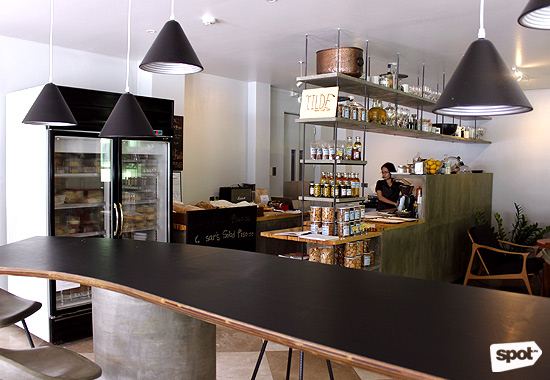 Versatile enough to hold private meetings as well as relaxed get-togethers, the white and gray open area designed by Oshima features a mix of concrete and wood furniture (the high bar table is perfect for big groups!). Bright-hued tables also serve as colorful accents in this otherwise subdued setting.
ADVERTISEMENT - CONTINUE READING BELOW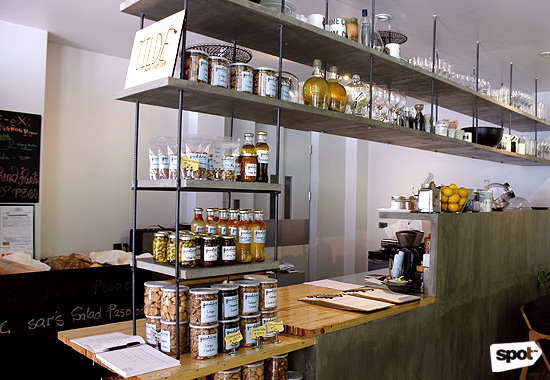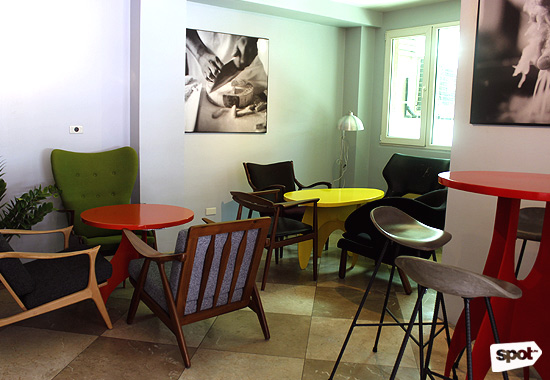 ADVERTISEMENT - CONTINUE READING BELOW
De Guzman and her crew make it their mission to whip up inspired dishes on their ever-changing menu, always featuring what's available in the local market and making everything from scratch, by hand. Expect an array of fixed staples—soups, pastas, sandwiches—and some off-menu dishes served with their freshly baked bread!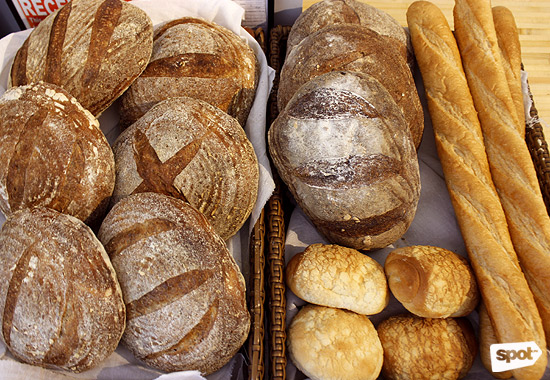 ADVERTISEMENT - CONTINUE READING BELOW
Tilde Sourdough Bread 
Their pride and joy is the Tilde Sourdough Bread (P120), which takes two days to create. Crunchy outside yet soft and chewy inside, the slightly tangy bread is great on its own but tastes even better slathered with homemade sweet orange marmalade or jackfruit jam.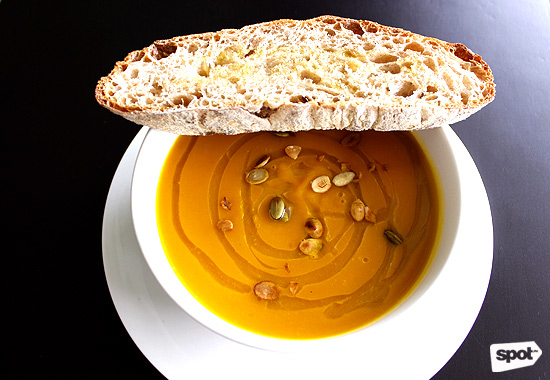 Roasted Pumpkin Soup
ADVERTISEMENT - CONTINUE READING BELOW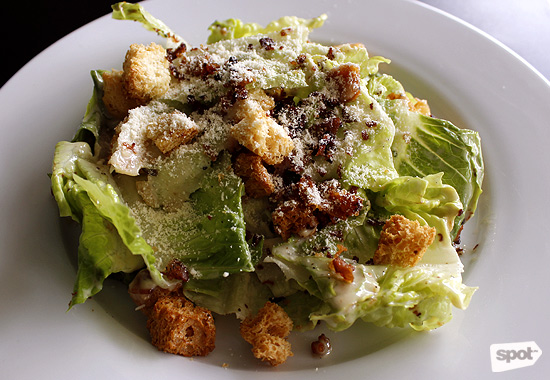 Caesar Salad 
For starters, order a bowl of the Roasted Pumpkin Soup (P225) sprinkled with toasted pepitas (pumpkin seeds) and served with a slice of sourdough bread. Break the bread into smaller pieces so you can dunk them into the velvety-smooth puree with its comforting earthiness. If you want something lighter, you can expect a play on texture and flavor in every bite of the tossed Caesar Salad (P250) with house-made crispy croutons and anchovy dressing—everything is made from scratch, ensuring its freshness, and making it an extra wholesome take on an old favorite.
ADVERTISEMENT - CONTINUE READING BELOW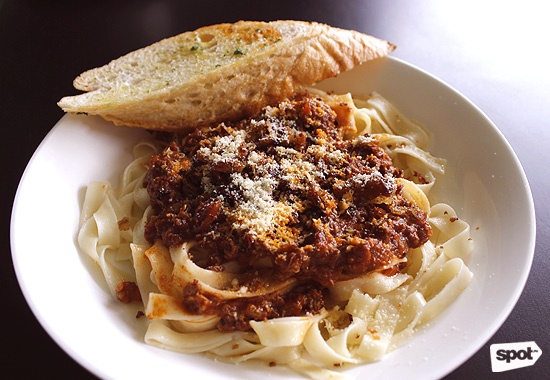 Bacon Bolognese 
Familiar yet surprising, the Bacon Bolognese (P390) is a meaty concoction of home-smoked bacon and tomato sauce spread over homemade fettuccine noodles. Cured just right, the bacon chunks enhance the rich taste of the sauce while adding an addictive crunch.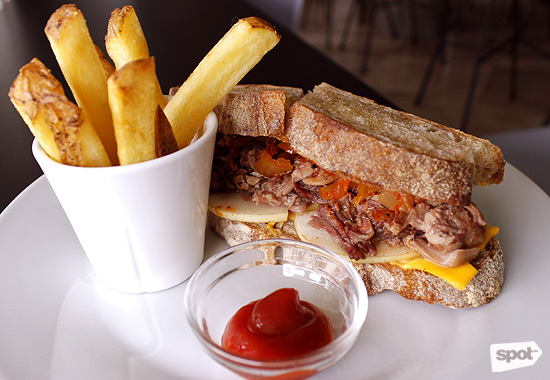 ADVERTISEMENT - CONTINUE READING BELOW
Kimchee Reuben 
Sink your teeth into the Kimchee Reuben (P350) to experience an explosion of flavors: the bold notes from the house-cured corned beef are punctuated with spice from the kimchi, then tempered by sweetness from sliced pears. Served with homemade fries, this hefty sandwich is ideal for sharing.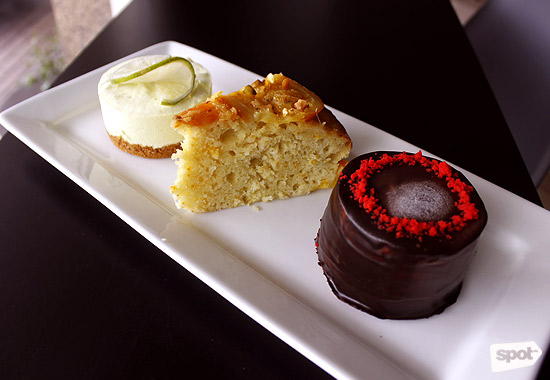 Left to right: Lime Cheesecake, Orange and EVO Slice, Black Samurai 
ADVERTISEMENT - CONTINUE READING BELOW
Cap off the meal by sampling mini versions of their popular cakes. The Lime Cheesecake (P120) packs a tangy punch with its dayap base while the Orange and EVO slice (P120) is light, moist, and simple, but memorable. For chocolate lovers, the Black Samurai (P170) will intrigue with its multiple layers of red velvet, chocolate mousse, meringue, and chocolate ganache.
Need something to help you perk up after your meal? Order a cup of third-wave coffee made from 100% Arabica beans grown in Bukidnon (P125 to P175 per serving) or take home some bread, jams, cookies, cakes, and packaged "heat and eat" meals from Gustàre Kitchen.
Expect this experimental café to produce more adventurous fare such as fruity-flavored shrubs and fermented beer. Tilde will win your heart and stomach with its no-frills dishes crafted by people who are passionate about all-natural good food.
Photos by Criselda Carreon
Load More Stories