New Restaurant Alert: Makansutra Hawkers at SM Megamall, Mandaluyong
Get ready for topnotch international street food.
Makansutra Hakwers
2/F SM Megamall Building A, Mandaluyong City
Open daily from 10 a.m. to 10 p.m.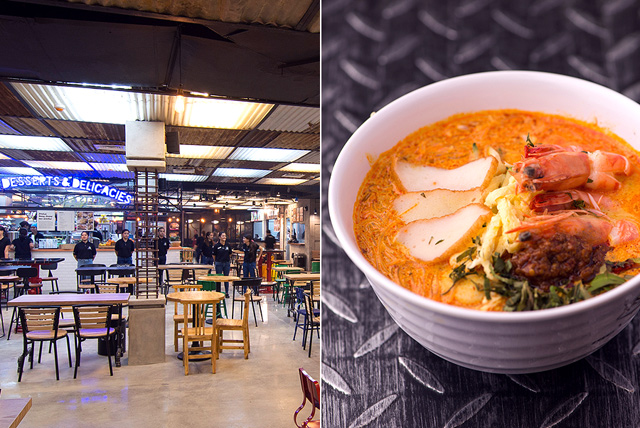 (SPOT.ph) Street food—at least here in the country—is most commonly seen as cheap food. But to KF Seetoh, founder of Makansutra Hawkers, it's so much more. "Every stall has a story," he says. "Each one came from humble beginnings. They needed to survive, and they worked their way up from there." Today, street food isn't just a mode of survival for the poor, it's also a heritage; a collection of stories and family traditions that managed to surpass time and generations.
ADVERTISEMENT - CONTINUE READING BELOW
CONTINUE READING BELOW
Recommended Videos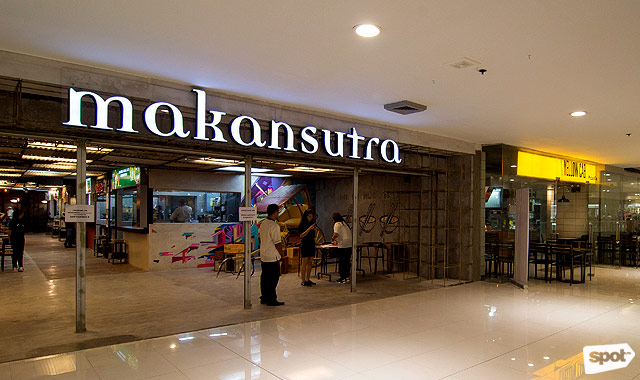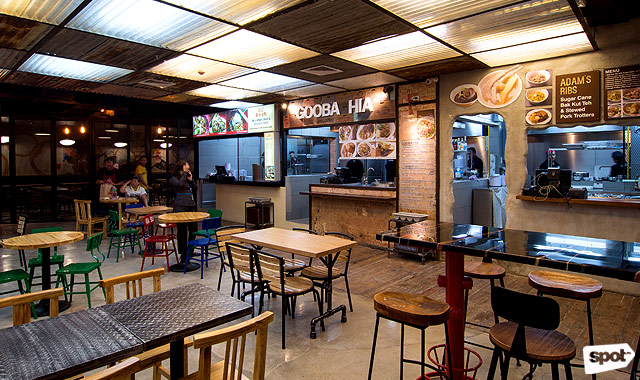 ADVERTISEMENT - CONTINUE READING BELOW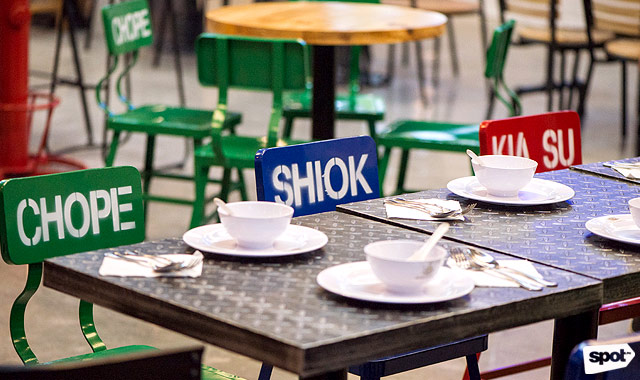 Shiok is a Singaporean expression for expressing admiration.
Contrary to what most believe, Makansutra isn't all about Singaporean street food. "It's a common misconception," he explains. "We're a Singapore-based company, but we brought street food from all over the world." True enough, there's an assortment of authentic Asian street fare—from China to Indonesia, India to Malaysia. When they say authentic, they mean authentic. "We didn't want to adjust the flavors and localize them," KF says. "Whether you like the food or not, it's as real as it is in other countries."
ADVERTISEMENT - CONTINUE READING BELOW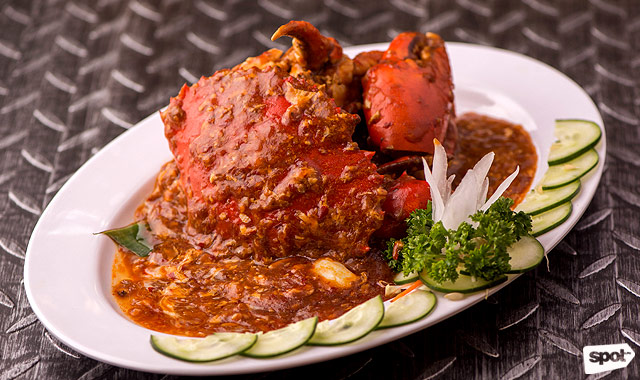 Chili Crabs 
While crab doesn't necessarily fall under the street food category, the Chili Crabs (seasonal pricing) from Hong Kong Street Old Chun Kee are a must-try. Fresh, hefty, and bathed in thick chili sauce, it has a spicy kick without being too fiery. While you're at it, try HK Street's Prawn Paste Chicken, also known as Har Cheong Kai (P350/six pieces, P450/10 pieces), one of their most popular dishes from this year's World Street Food Congress in Manila.
ADVERTISEMENT - CONTINUE READING BELOW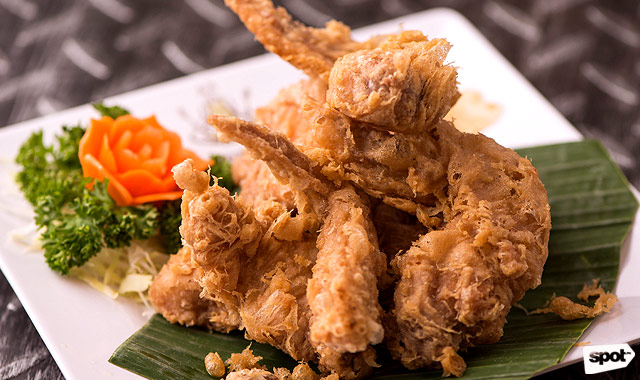 Prawn Paste Chicken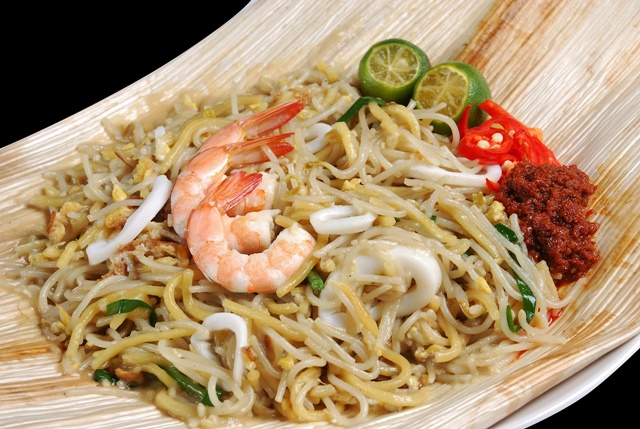 ADVERTISEMENT - CONTINUE READING BELOW
Fried Hokkien Prawn Noodles
Mian Ji's Fried Hokkien Prawn Noodles (P220 to P270) are masterfully prepared. It looks like the Singaporean version of palabok, and it technically is. The noodles are tossed in high heat (just until it's brown, not burnt), seared, and roasted, before the flavorful seafood stock is poured. There are no shortcuts to this dish, and a confident hawker knows exactly how long to fry the noodles to bring out all the flavors before it dries up.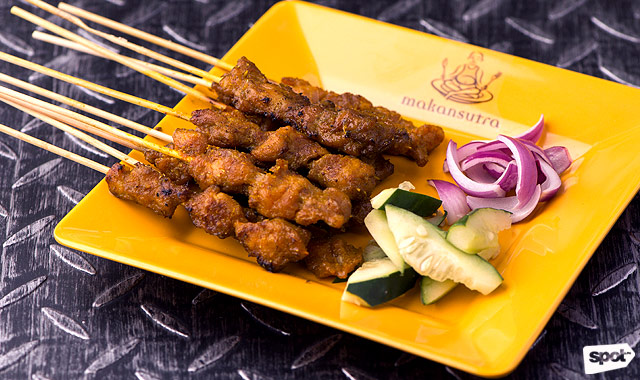 ADVERTISEMENT - CONTINUE READING BELOW
Satay Set
The Satay Sets (P250 to P750) from Alhambra Padang Satay & Muslim Food are a crowd-favorite, another popular choice at the World Street Food Congress. These Indonesian skewers are prepared with 12 different ingredients before a stint on a woodfire grill. The result? Sensational, juicy, addictive little sticks of satay that could rival our very own isaw.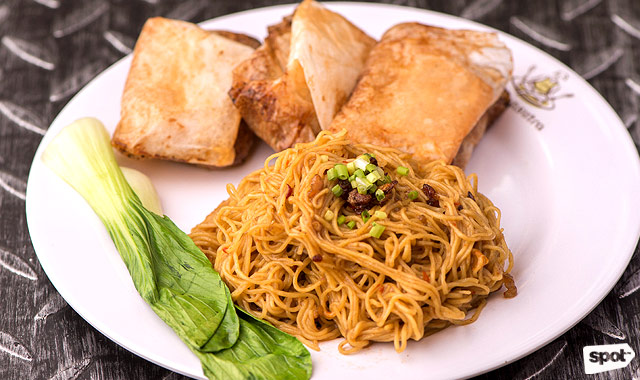 ADVERTISEMENT - CONTINUE READING BELOW
Fried Paper Wrapped Chicken
Bao Ji Xiang meticulously cooks their Fried Paper Wrapped Chicken (P280/6 pieces). The chicken chunks are marinated overnight in traditional Chinese ingredients including rice wine, oyster sauce, and soy sauce, wrapped expertly in greaseproof paper to trap all the flavors and let them seep into the chicken meat while also taking away some of the oiliness. Served with your choice of sesame noodles or rice, wantons, and dumpling soup, it's a wonderful whirlwind of sweet, savory, peppery, and succulent—all at the same time.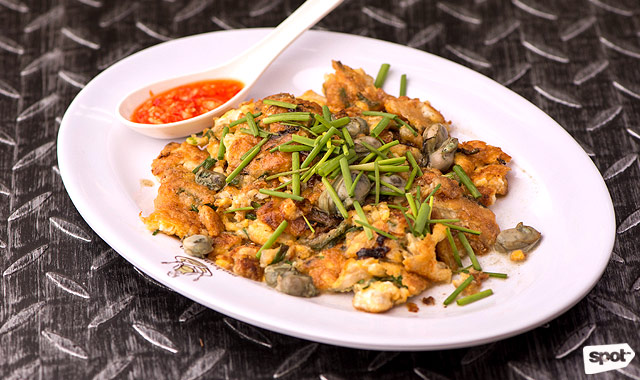 ADVERTISEMENT - CONTINUE READING BELOW
Oyster Omelette
A staple in Singapore Hawker centers, the Oyster Omelette (P260 to P320) from Ah Tee is a lovely addition to the local food scene. To the hungry eater, the stall's glass divider is quite the foreplay; it teases you, makes your mouth water, and gets you excited for the main event. The eggs are delicate, the bottom exceptionally fried to a crisp, but the consistency on top is kept runny and starchy. It seems like your average omelette, until they toss in fresh oysters, molasses sauce, sambal, and chili. The vinegar garlic chili on the side gives a sharp but welcome contrast.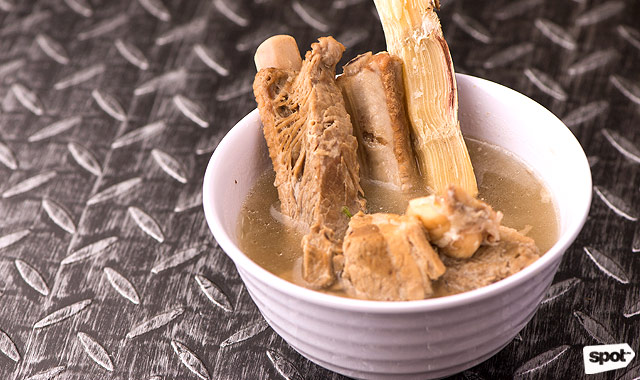 ADVERTISEMENT - CONTINUE READING BELOW
Bak Kut Teh with Sugar Cane 
Craving something warm? The Bak Kut Teh with Sugar Cane (P300) from Adam's Ribs is an intense stew that can awaken your senses (seriously, it's known to be the ultimate hangover cure). The garlic, sweet soy, chili, and pepper flavors penetrate the soft, fall-off-the-bone pork ribs, alongside fresh Chinese vegetables. The heat is not tamed, rather, backed up by the sugar cane for an enjoyable sweet and spicy combination.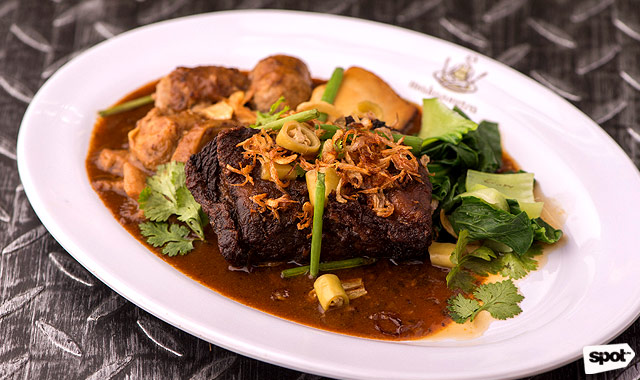 ADVERTISEMENT - CONTINUE READING BELOW
Braised Beef 
Gooba Hia's Braised Beef (P280) is a modern take on Chinese food and pares. They wanted to reinvent a Filipino street food that hasn't had much representation yet, and pares was their takeoff point. It's traditional braised Teochow beef with offal, simmered in an aromatic soy stock. The beef tendons and egg are soft and slathered with rich beefy sauce, finished off with braised salted vegetables.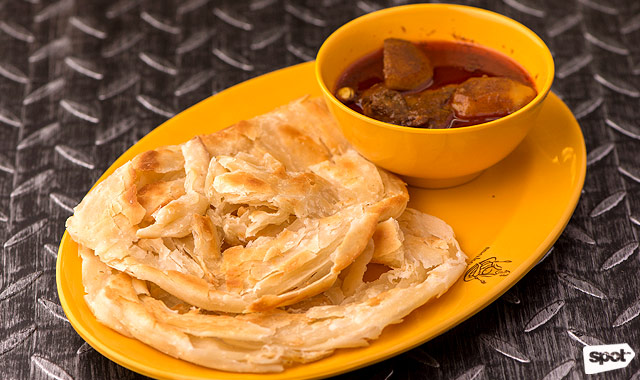 ADVERTISEMENT - CONTINUE READING BELOW
Roti Prata
True to its origins, the Roti Prata (P80 to P100) from Curry Flurry are done South Indian-style—extremely soft, extremely crispy, with an extremely flavorful curry.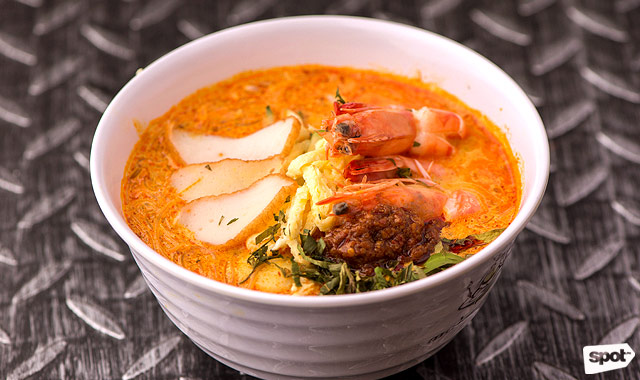 Laksa
Taking the lead at Donald and Lily is Jennifer Tan, the daughter of Donald and Lily, known as the first Nonya hawkers on the streets of Malacca, Malaysia. This stall was one of the favorites during the World Street Food Congress for their Laksa (P250), and Mee Siam with Prawns (250). We're partial to the latter—a familiar bowl of beehoon enhanced by fiery sambal tones and tangy tamarind notes.
ADVERTISEMENT - CONTINUE READING BELOW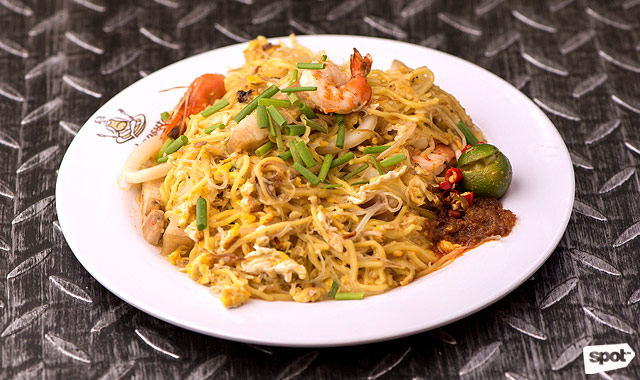 Mee Siam with Prawns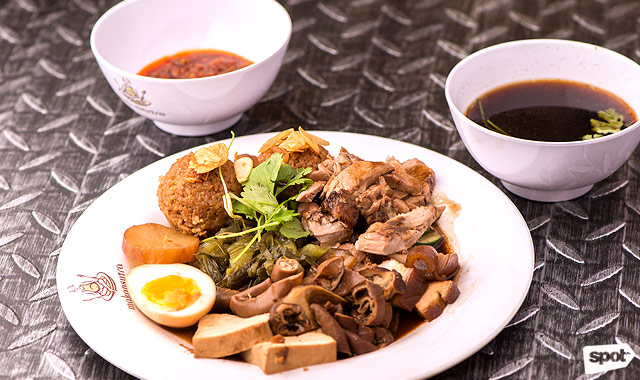 ADVERTISEMENT - CONTINUE READING BELOW
Kway Chap
There's nothing new, nothing modern, nor anything lost in translation with Jin Ji Kwat Chap & Braised Ducks's Kway Chap. The south Chinese-style braised pork, offal, and stewed duck platter with flavorful yam and dried shrimp rice or rice sheet noodles is brought into the country by its owner, Melvin Chew, who strongly believes in preserving tradition.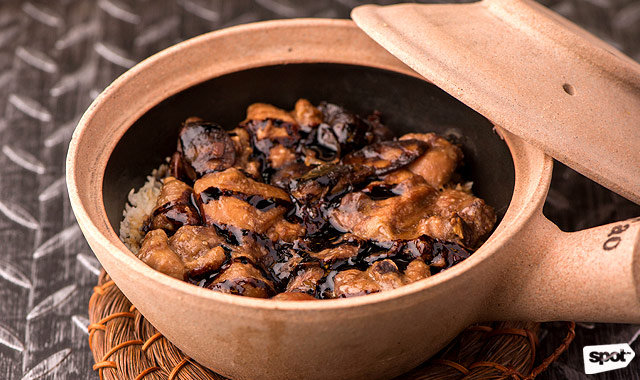 ADVERTISEMENT - CONTINUE READING BELOW
Chicken Claypot Rice
Geylang's Claypot Rice is a familiar sight in Geylang, known to be the red-light district of Singapore. Their best-selling Chicken Claypot Rice (P280 to P540) is slow-cooked over charcoal, infused with succulent chicken, made hearty with lup cheong (Chinese sausage), yun cheong (Chinese duck liver sausage), and salted fish on a bed of crunchy Jasmine rice. The final touch is the drizzling of a special sticky soy sauce that brings together and perfectly ties up the entire dish.
Currently, Makansutra is home to 11 stalls, but KF plans on expanding and bringing in more hawkers. We're keeping our fingers crossed for that, but for now, we'll be devouring the spectacular array of street fare—patiently waiting and hoping for more.
Makansutra Hawkers opens on Thursday, September 8.
Photos by Hans Fausto
Load More Stories