Tapenade's new Mediterranean dishes are perfect for ladies who lunch
The Double-Smoked Bacon, Goat Cheese, and Scallion Ravioli is mouthwatering.
Tapenade         
G/F Discovery Primea, 6749 Ayala Avenue, Makati City
Contact: 955-8888
Open daily from 6 a.m. to 11 p.m.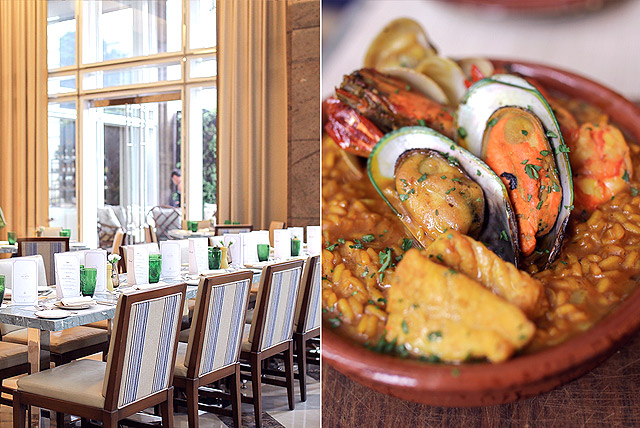 (SPOT.ph) Discovery Primea Executive Chef Luis Chikiamco has been busy. Two dozen or so new dishes have just been added to Tapenade's revamped menu, and from what we've sampled, they're nothing short of impressive.
The vision was clear: to present guests with familiar flavors that will bring them comfort and celebrate the convivial nature of Mediterranean dining. His inspiration: Italian, Spanish, and French cuisines, plus the world-renowned chefs that have mastered them.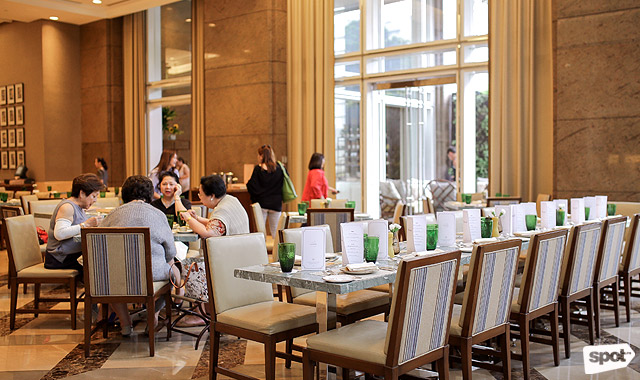 ADVERTISEMENT - CONTINUE READING BELOW
"We researched chefs we admire, chefs we look up to, and trending chefs from those parts of the world. We're looking at Mario Batali and Chef Michael White, who are both very influential Italian-American chefs. We took inspiration from them, and from there, we developed our own dishes," he shares.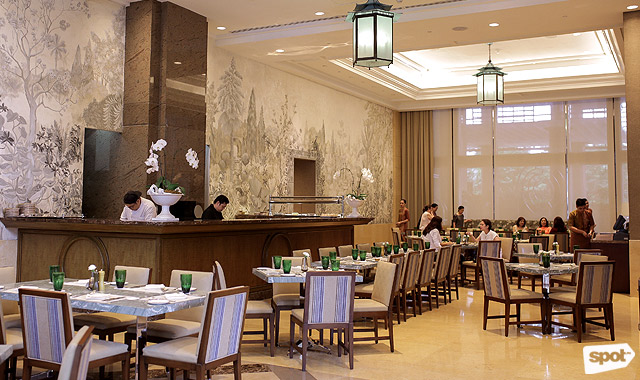 CONTINUE READING BELOW
Recommended Videos
Tapenade's shiny new menu now merges good old bestsellers and promising new additions. Discovery Primea General Manager David Pardo De Ayala, who is an accomplished chef himself, tells us, "We wanted to infuse a new wave of flavors for our regular customers to look forward to. It's striking a balance between innovation and the dishes that have made us famous."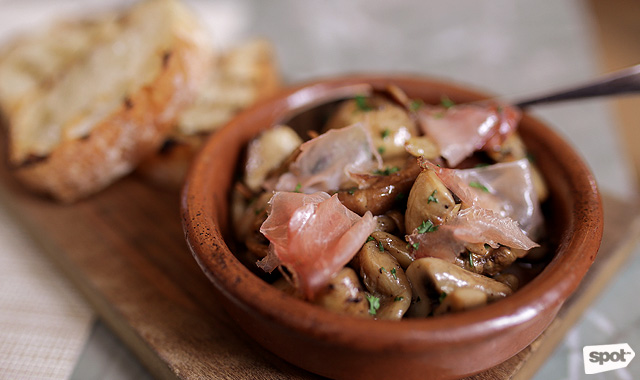 ADVERTISEMENT - CONTINUE READING BELOW
Setas Con Jamon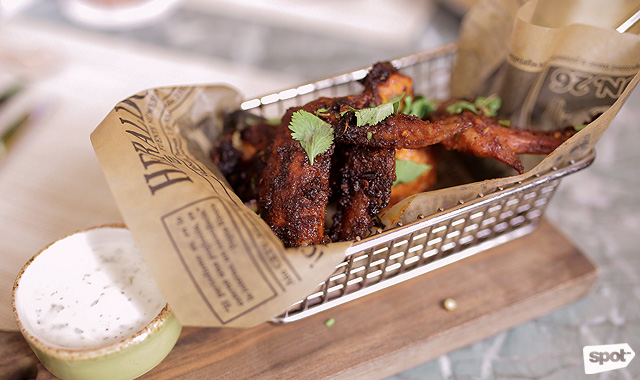 Chicken Wings Alla Diavola
Among the appetizers, the Setas Con Jamon (P390) stands out. Smokey and earthy hints merge with ease in this serving of portobello, shiitake, and fresh button mushrooms, topped with garlic and smoked prosciutto. The Chicken Wings Alla Diavola (P390) comes in a close second. Each piece looks sinister yet piques the curiosity, and a bite will reveal the satisfying heat it hides.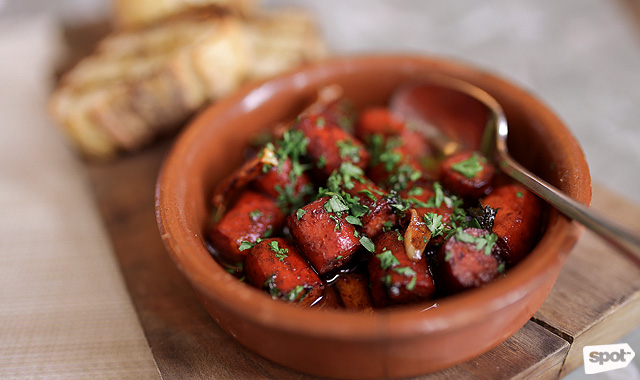 ADVERTISEMENT - CONTINUE READING BELOW
Chistorra Frita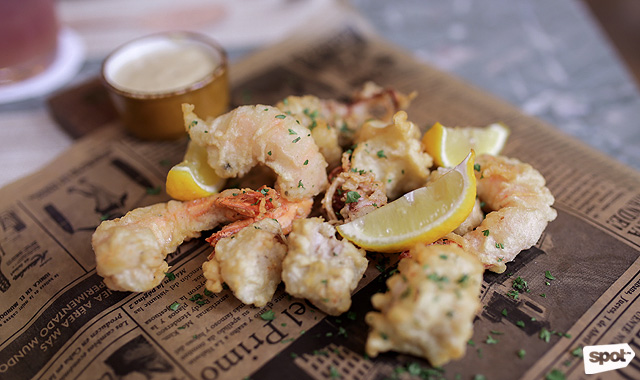 Fritto Misto
The Chistorra Frita (P290) also features strong flavors all packed inside tiny bits of fried Spanish sausage. The Fritto Misto (P440)—fried squid, shrimp, and snapper with lemon-garlic mayo—is a delight to bite into, thanks to the crispy breading.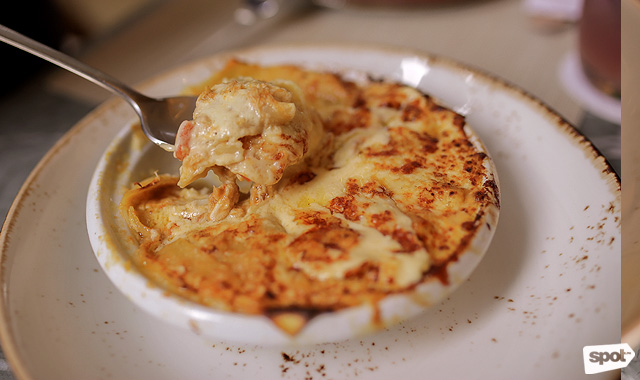 Crab Meat Lasagna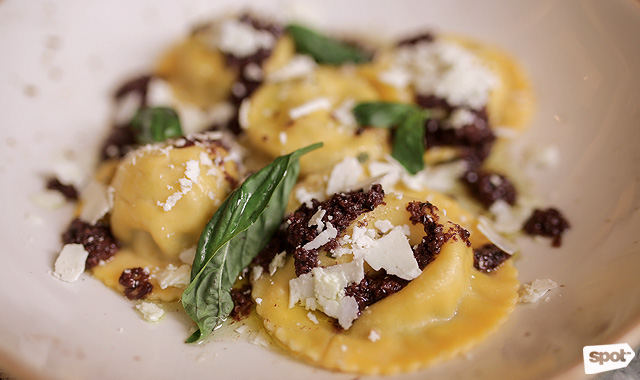 ADVERTISEMENT - CONTINUE READING BELOW
Double Smoked Bacon, Goat Cheese, and Scallion Ravioli
In the pasta section, the Crab Meat Lasagna (P590) is the way to go if you want something laid-back. It's a warm and comforting dish of tomatoes, crab bisque, and béchamel sauce. For something more striking, try the Double-Smoked Bacon, Goat Cheese, and Scallion Ravioli (P420) in butter sauce, topped with black olive tapenade. The intensely flavored tapenade steals the show here.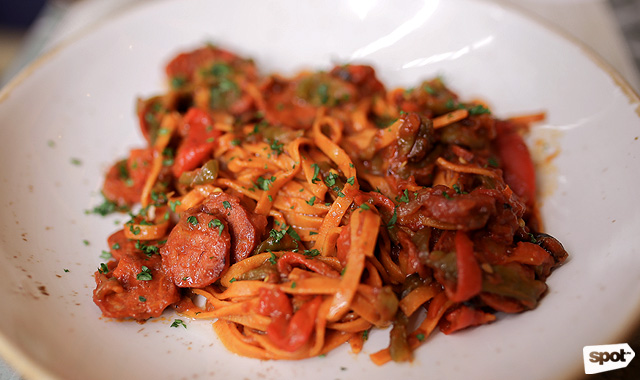 Homemade Pimenton Linguine
Unassuming but pleasantly surprising is the Homemade Pimenton Linguine (P420). The aroma from the roasted bell peppers will be the first to tease your palate, and the follow-through courtesy of the fresh pasta and Spanish chorizo doesn't disappoint.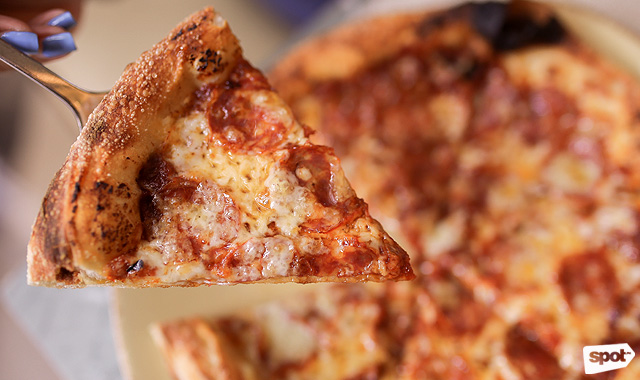 ADVERTISEMENT - CONTINUE READING BELOW
Picante Dolce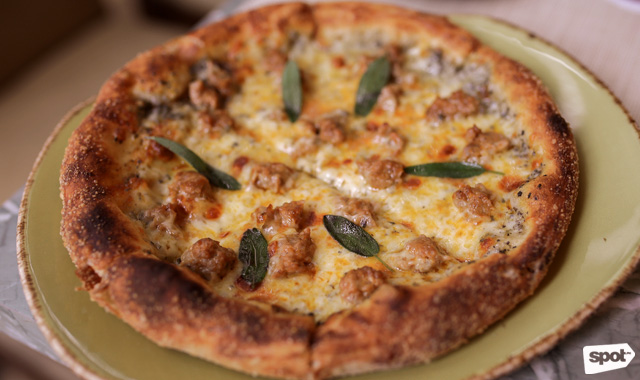 Truffle and Sage
With dough that's crunchy yet soft and toppings carefully selected to match, the pizzas are also out to compete. The sweet and spicy Picante Dolce (P520) is a simple yet winning formula of spicy salami, provolone cheese, and honey. Truffle and Sage (P620) combines Fontina cheese, mozzarella, crema tartuffata, and quite overpowering Italian sausage. Vongole All'Oreganata (P490), on the other hand, is a merry mix of clams, garlic, mozzarella, and fresh oregano.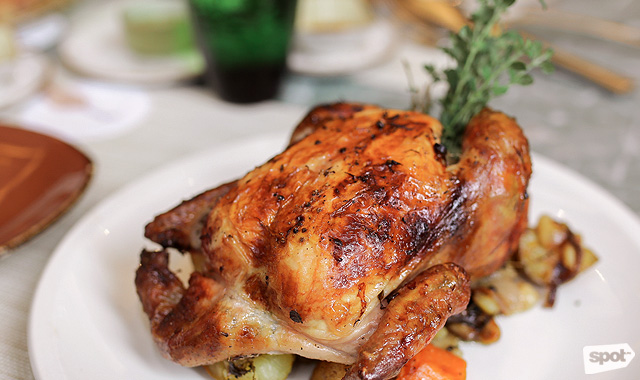 ADVERTISEMENT - CONTINUE READING BELOW
Whole Roasted Chicken
For mains, Tapenade's Whole Roasted Chicken (P1,400) comes highly recommended. Served with an assortment of mushrooms, asparagus, carrots, potatoes, garlic, shallots, and lemon-thyme jus, the chicken dish is nothing but juicy, and it's all thanks to the thoughtful roasting in the kitchen.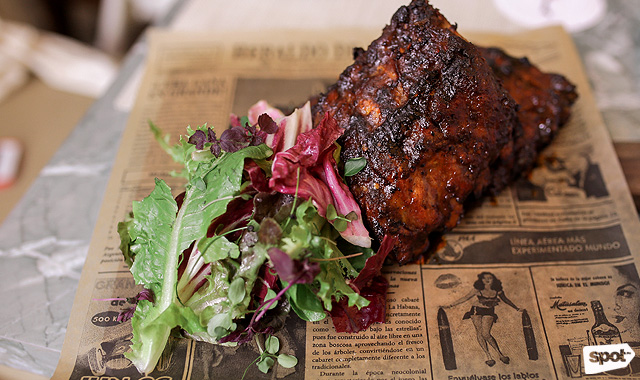 U.S. Baby Back Ribs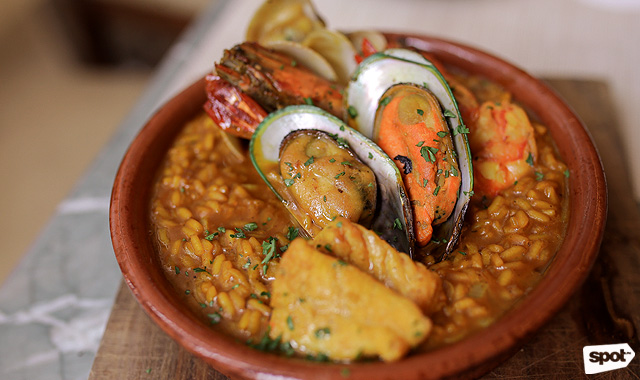 Seafood Arroz Caldoso
ADVERTISEMENT - CONTINUE READING BELOW
The U.S. Baby Back Ribs (P790) features a sweet and spicy profile. The experience wouldn't be complete without the grilled corn and scallion risotto on the side. Meanwhile, the Seafood Arroz Caldoso (P590) is an earthy and pungent plate of Spanish rice, shrimp, snapper, and clams in saffron-shellfish essence.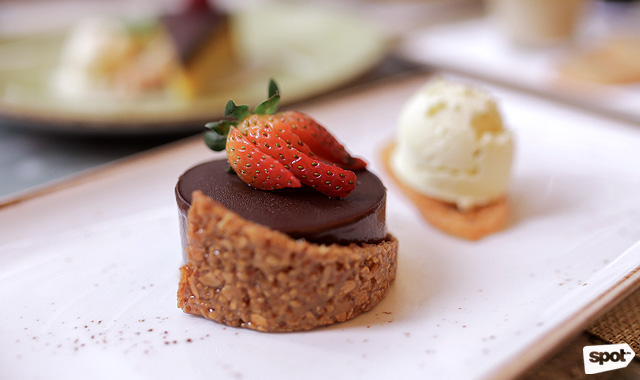 Bittersweet Chocolate Tartufo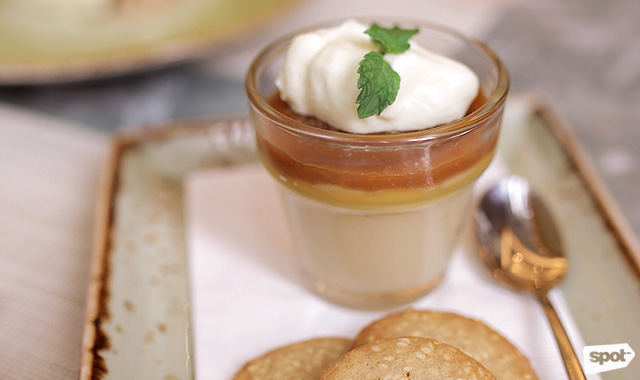 ADVERTISEMENT - CONTINUE READING BELOW
Butterscotch Budino
Several new desserts are now available, too. The Bittersweet Chocolate Tartufo (P320) is a delicate serving of olive oil gelato, crispy bread chips, and chocolate glaze, while the Butterscotch Budino (P280) is a sweet-nutty combo of salted caramel pudding and sesame cookie.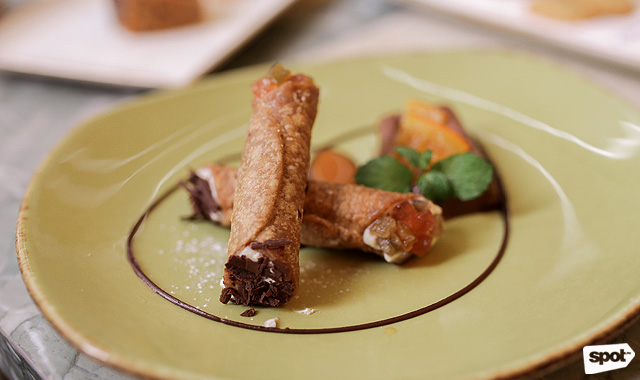 Italian Cannoli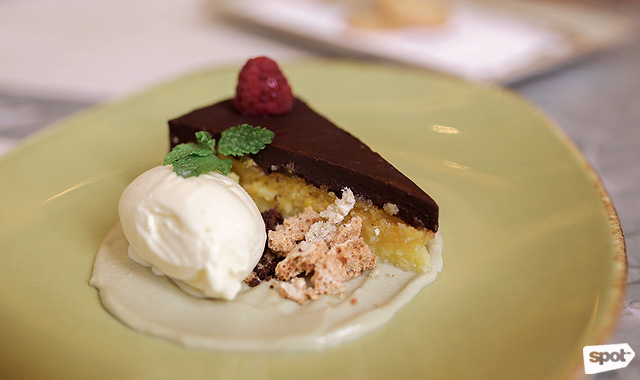 Moist Orange and Almond Cake
ADVERTISEMENT - CONTINUE READING BELOW
For a bit of tang, there's the Italian Cannoli (P280), which are crunchy Sicilian pastry shells with chocolate-ricotta filling and citrus sauce, and the Moist Orange and Almond Cake (P260), which also comes with pistachio cream and homemade vanilla gelato.
Chef Luis shares what he hopes Tapenade diners would take away from his new creations: "It's not totally out there, but it's good food. The experience is once you get your meal, you're reminded of certain things. That's the comfort of it."
Photos by Majoy Siason
Share this story with your friends!
---
Help us make Spot.ph better!
Take the short survey
Load More Stories