You'll find black sesame, wasabi, blue cheese, and more ice cream flavors at Dojo Dairy's new stall
They finally have all their flavors in one place!
Dojo Dairy
G/F Promenade, Greenhills Shopping Center, San Juan City
Contact: 0918-888-3656
Open daily from 10 a.m. to 8 p.m.

Little Tokyo, 2277 Chino Roces Avenue, Legazpi Village, Makati City
Open daily from 11 a.m. to 1 p.m. and 6 p.m. to 1 a.m.

Food Hall, 5/F Mega Fashion Hall, SM Megamall, Ortigas, Mandaluyong City
Open daily from 10 a.m. to 10 p.m.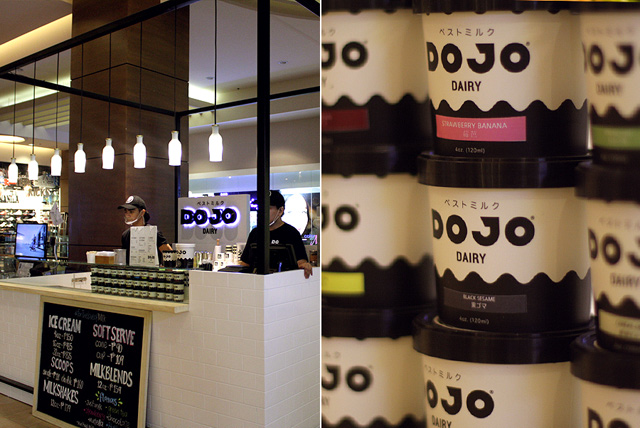 (SPOT.ph) There's no shortage of places to get ice cream in Manila. You'll find one at almost every corner, every mall, and even convenience stores. There's always a new flavor or gimmick to try—which is probably why Dojo Dairy has managed to keep a steady stream of patrons for years.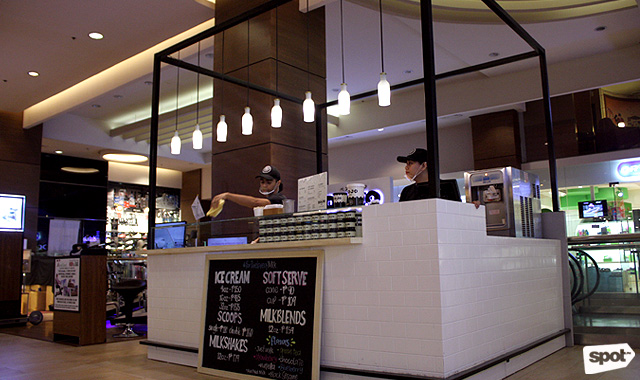 ADVERTISEMENT - CONTINUE READING BELOW
In Japan, dojo translates to "a place of the way," where one goes to train in martial arts such as judo, aikido, kendo, and more, until they've mastered all they needed to. They've adapted this concept and applied it in the way they make their ice cream. The kitchen is their dojo, and everything that comes out of it is meticulously crafted to perfection.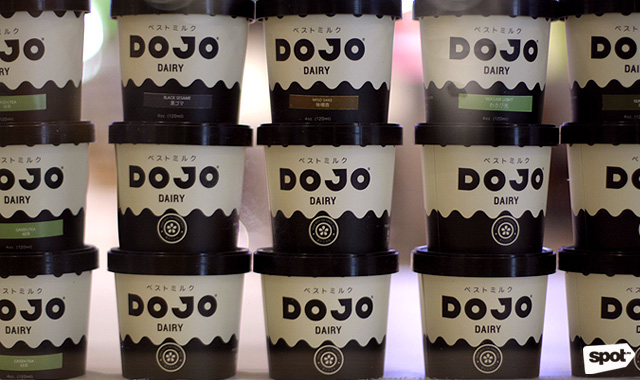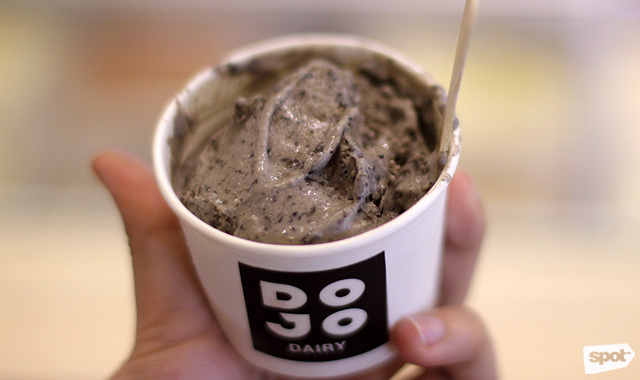 ADVERTISEMENT - CONTINUE READING BELOW
Black Sesame Ice Cream
Currently, Dojo Dairy has three stores, but their newest one at Promenade is the only stall that carries all the flavors. They pride themselves in using only premium and real ingredients without additives or emulsifiers. It's especially evident in the crowd-favorite Black Sesame Ice Cream (P150/cup, P485/pint, P875/quart) made up of toasted, pure black sesame seeds. The layers of texture make it stand out even more—nutty, slightly sweet, and extremely rich.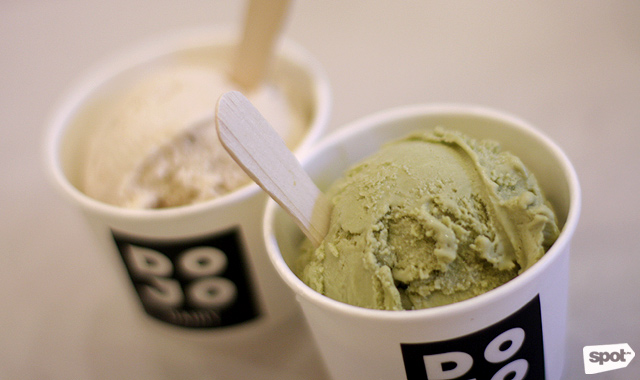 Strawberries and Banana Ice Cream and Green Tea Ice Cream
Ripe, mashed bananas and fresh strawberries make up the Strawberries and Banana Ice Cream's (P150/cup, P485/pint, P875/quart) velvety-smooth consistency. Both flavors are distinct; you taste the strawberry, you taste the banana, but marry those flavors and it's a match made in heaven.
For those who love familiar flavors, Dojo also whips up the classics, like Chocolate Ice Cream (P150/cup, P485/pint, P875/quart). The color is a tad lighter than the usual brown we're used to seeing, but that's only because of the abundance of milk they mixed in with it. And since their products are inspired from Japanese ice cream, you can be sure that there's Green Tea Ice Cream (P150/cup, P485/pint, P875/quart) in their selection. Theirs is made from ceremonial Japanese green tea, wherein the leaves are steamed, dried, and no longer fermented. The earthy flavor is strong, but delicately balanced by the pure sweet cream.
ADVERTISEMENT - CONTINUE READING BELOW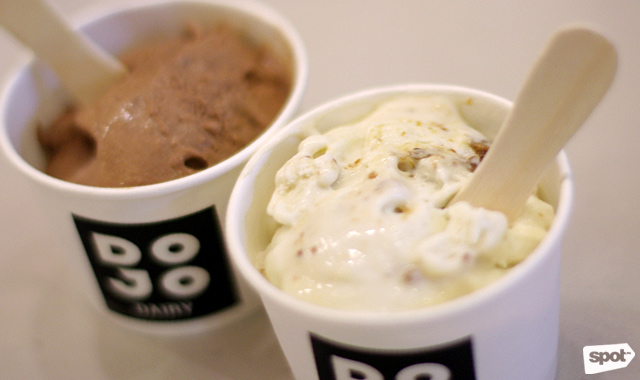 Chocolate Ice Cream and Blue Cheese Ice Cream
Blue Cheese Ice Cream (P150/cup, P485/pint, P875/quart) may not sound too appealing, but the results are quite impressive. Dojo sources their blue cheese all the way from Hokkaido, Japan, where most of Japan's milk and cheese are made. Each spoonful is sharp, salty, and slightly crumbly, pairing well with the moist honey-soaked figs. It's not for everyone, but if you're the type to go for daring flavors, then by all means!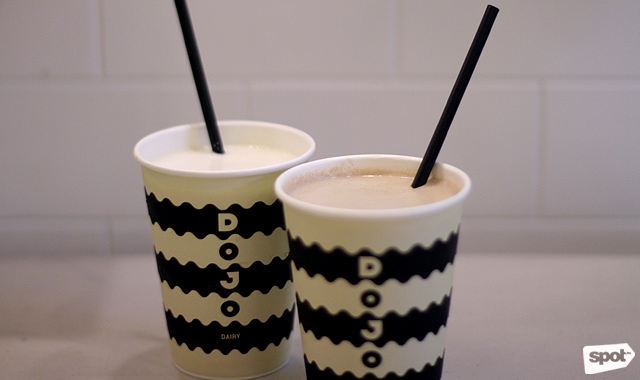 ADVERTISEMENT - CONTINUE READING BELOW
 Malted Milkshake and Strawberry Banana Milkshake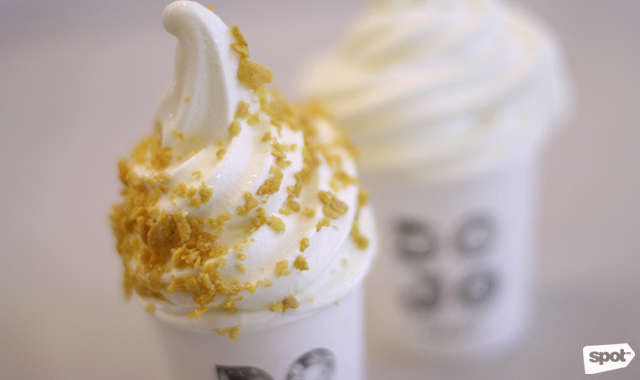 Soft Serve Ice Cream with Cereals
You'd expect it to be vanilla, but the Soft Serve Ice Cream (P90/cone, P109/cup) is prominently milky. The main ingredient is Hokkaido milk, making it silky, dense, and creamier than your regular soft serve. It's already good on its own, but the subtle sweetness makes it difficult to stop at one bite. If you're looking for more dimension, ask to have cereal (P10) sprinkled on it.
With 12 ice cream flavors, there's bound to be something for everyone. The only secret to Dojo's success is their consistency in providing comfort to those who need it through good ol', premium ice cream.  Just got a promotion? Reward yourself with ice cream. Getting over a breakup? Here's another tub for you. It's that time of the month? Go on, have a guilt-free treat. The point is, there's no situation, good or bad, that ice cream—Dojo's, especially—can't make better.
ADVERTISEMENT - CONTINUE READING BELOW
Photos by Elaine Villanueva
Load More Stories