New Restaurant Alert: Cartel Coffee + Deli at Salcedo Village, Makati
It's easy to feel right at home in this new neighborhood haunt.
Cartel Coffee + Deli
119 L.P. Leviste Street, Salcedo Village, Makati City
Contact: 722-8270
Open from 6:30 a.m. to 11 p.m.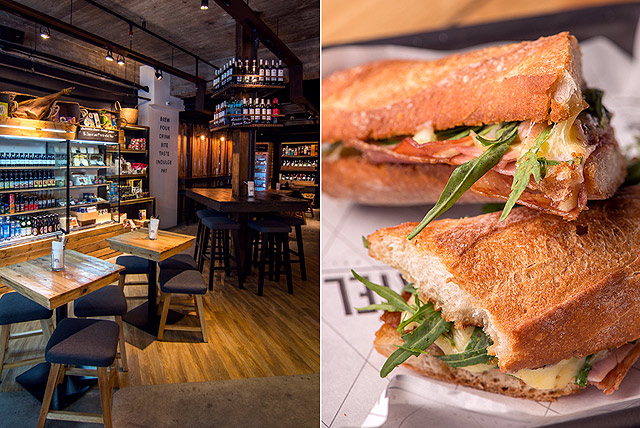 (SPOT.ph) As the theme song from Cheers goes, "Sometimes you want to go where everybody knows your name."
Okay, end the suspension of disbelief—going to Cartel Coffee + Deli doesn't come with a laugh track or the comfortably creasy sofas of Central Perk, but it is almost cinematically cozy. From the partners at Pablo, on the ground floor of Picasso Boutique Serviced Residences, comes a completely different and altogether more flexible concept of casual dining.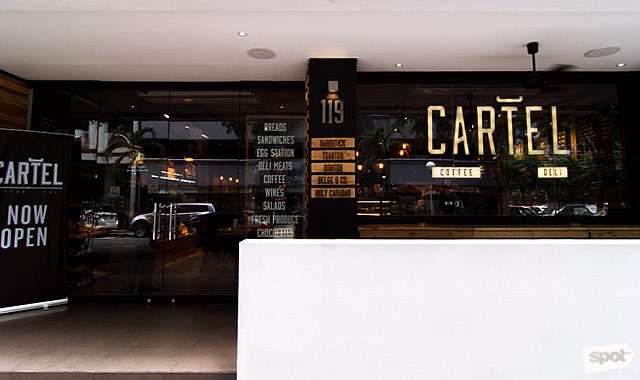 ADVERTISEMENT - CONTINUE READING BELOW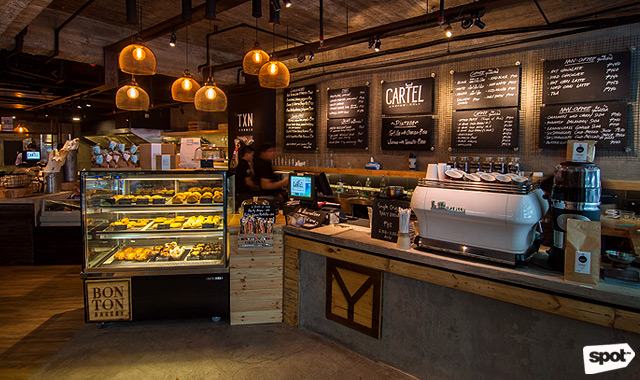 CONTINUE READING BELOW
Recommended Videos
Upon entering, you'll probably be tempted to compare it with other places that might serve coffee—and owner David Martinez-Collado sees nothing wrong with drawing inspiration from nearly everywhere—but the longer you stay, the more elegantly eclectic you'll find it to be. Therein lies its appeal and originality, in that a space can be so aesthetically pleasing without being at all stifling; in fact, you'll just about feel at home.
"It's different rules here," says David, "despite being all the same partners [as Pablo]. The baked goods—it's Bonton. We've known them for a long time...Just giving them that retail presence." Similarly, the people at Txanton, Belge & Co., and Holy Carabao take on multiple roles in these two plots in Salcedo Village, making the deli facet of Cartel feel very much like old friends working side-by-side.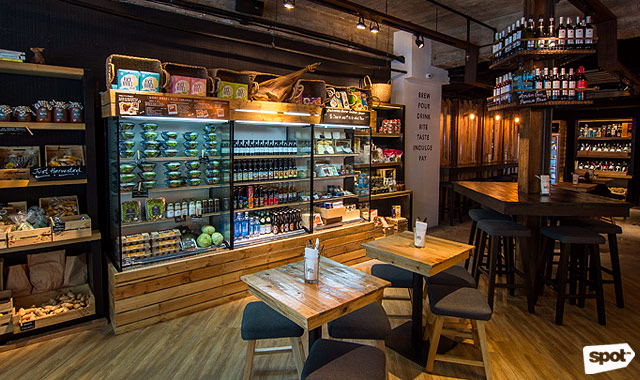 ADVERTISEMENT - CONTINUE READING BELOW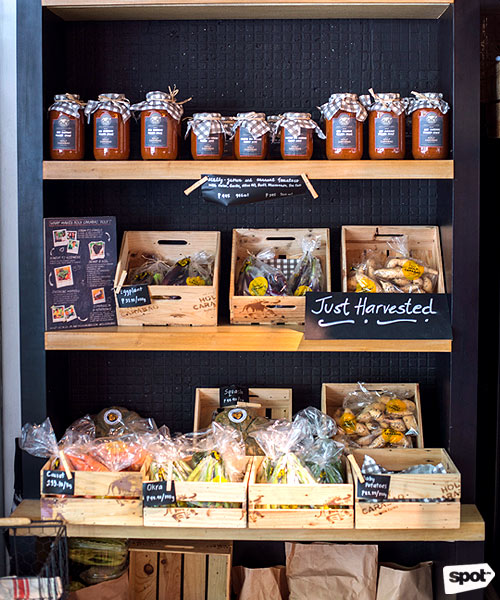 When David explains it, it sounds almost too specific, bordering on touch-and-go, and it might have been if the whole thing weren't so well-thought out. It's easy to imagine Cartel as a place to just pop in for a sandwich (or the supplies for a Sandwich of Delayed Gratification) if you live and work nearby, or to wait out the traffic with something amazing to eat if you don't. It's located along a predominantly residential street, tucked safely away from the harsh glare of the stop lights and anxious honking of other cars. There's a strong neighborhood vibe to it; a stark contrast to the bright and buzzing city life that, these days, most of us have to fight our way in and out of.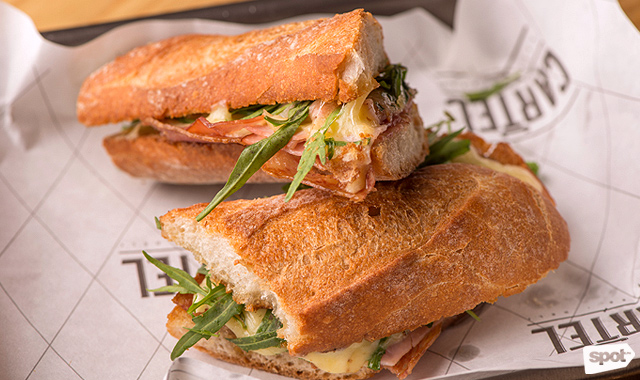 ADVERTISEMENT - CONTINUE READING BELOW
Italiano
The themes of casual sophistication and incredible attention to detail carry over even to the food. Chef Amado Fernandez seems to go by the very European principle of letting quality ingredients speak for themselves, allowing the flavors to just do their thing. The sandwich called the Italiano (P290) is a great example of that—nothing complicated, but there is zero doubt that you are going to put it in your mouth. It would be a crime not to, because who rejects the saline hit of salami and cheese, and the bite of arugula? (No one, that's who.)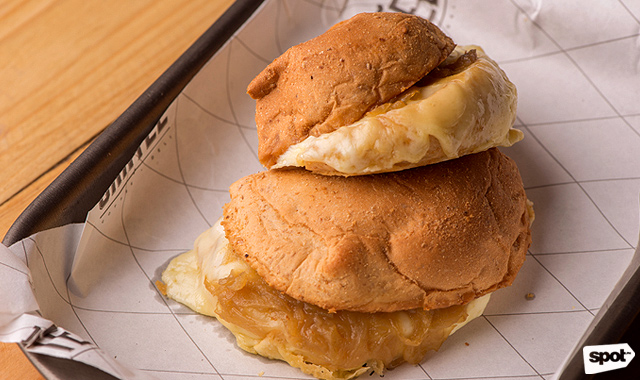 Grilled Three Cheese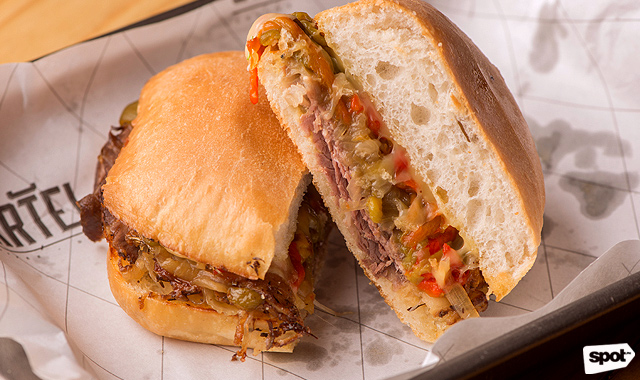 ADVERTISEMENT - CONTINUE READING BELOW
Roast Beef Sandwich
It doesn't get more classic than a Grilled Three Cheese (P250), or better still, a Roast Beef Sandwich (P310). It can only add to the experience that said beef is roasted in-house, and accompanied by roasted peppers of an almost-marmalade texture.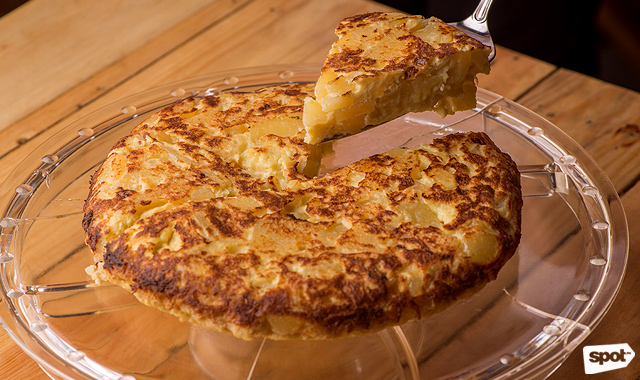 Tortilla with Chorizo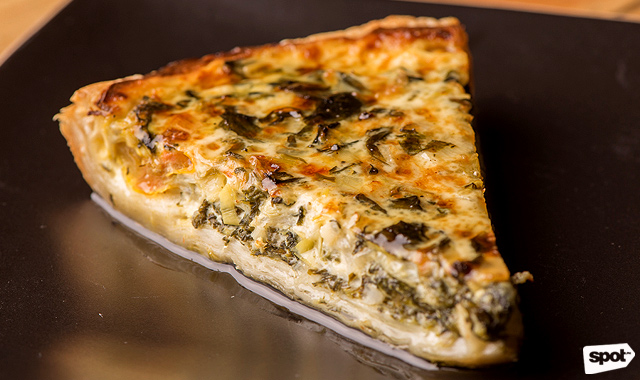 Spinach Quiche
If you're not in the mood for a sandwich, never fear—the Tortilla with Chorizo (P100 before 11 a.m., otherwise P150) is the holiday trip to Spain you never knew you needed. But if you insist on pretending to behave yourself, the Spinach Quiche (P160) is the way to get your greens in; enriched with leeks and cherry tomatoes, you might just be able to convince yourself that it's just an especially good—if a little robust—salad.
ADVERTISEMENT - CONTINUE READING BELOW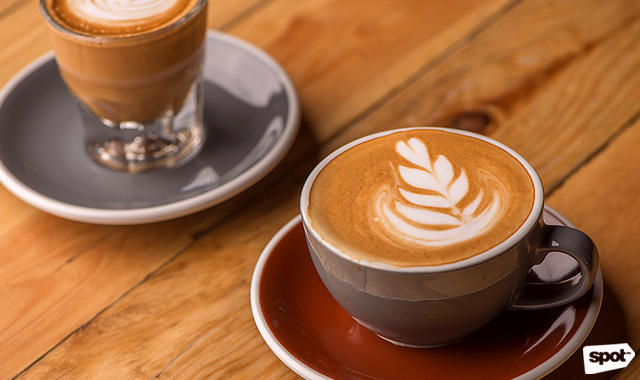 Cortado and Flat White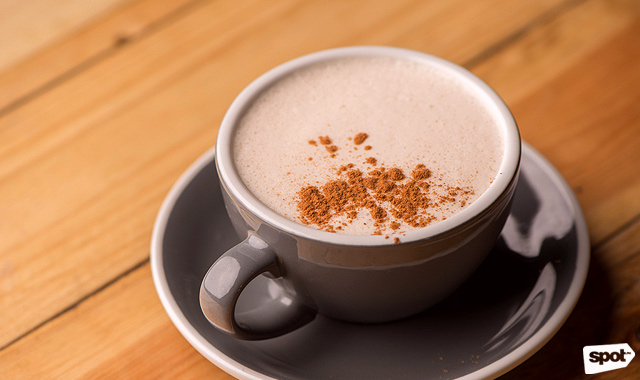 Hot Chai Latte
There's a lot to be said for the drinks selection, particularly the coffee. You can't go wrong when you're in the capable hands of the lovely people at Yardstick. For those of us who aren't quite so keen on being caffeinated, let the Hot Chai Latte (P140) warm you up. You know it's good when you can actually, honest-to-goodness, push the foam around—that's at least an extra minute of entertainment right there.
ADVERTISEMENT - CONTINUE READING BELOW
Whether you just need a place to work on that next report, or a whole one-stop shop for a quick (read: emergency) dinner that doesn't scrimp on anything, Cartel, while it doesn't claim to be the answer, is nonetheless an excellent answer.
Photos by Hans Fausto
Share this story with your friends!
---
Help us make Spot.ph better!
Take the short survey
Load More Stories