The smoke-roasted chicken and duck porchetta will invite you to linger at Apero
Along with several other things, too.
Apero
Corinthian Hills, Temple Drive, Quezon City
Contact: 532-8064
Open daily from 8 a.m. to 11 p.m.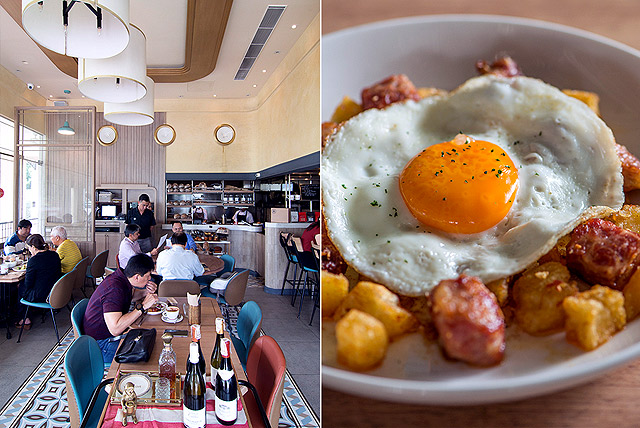 (SPOT.ph) In a food-crazed country like ours, it's pretty insane how we actually spend so little time with our meals. Breakfasts and dinners have become more of luxuries than human necessities. Mornings are consumed hunched over piles of paper work, a cup of coffee enough to get by. Just for the moment, we say, but the hours pass by and the day wears on, and still not a proper meal in sight.
Apero, the quaint restaurant tucked in the serene jungle of Corinthian Hills, challenges this notion. They're waiting on the wings, calling your name, and asking you to walk in anytime. Once you do, you'll get transported to a place where time is of the essence. Here is a place where you'll take a seat and forget the world for a while.
ADVERTISEMENT - CONTINUE READING BELOW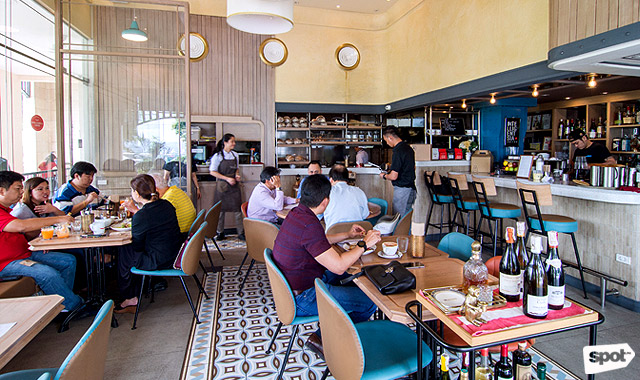 CONTINUE READING BELOW
Recommended Videos
The interiors make for a casual, cozy, rustic escape from the city's hustle and bustle.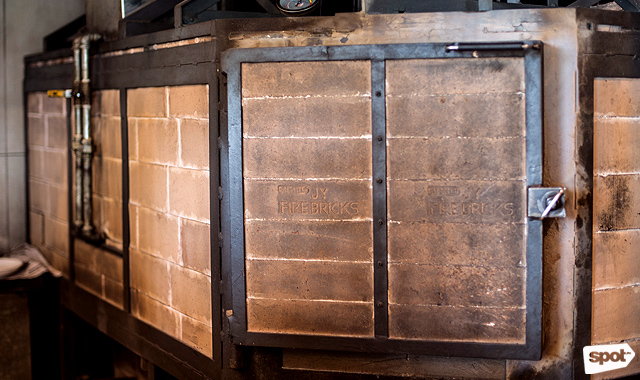 The firebrick oven is the heart of Apero.
But don't be fooled, this is not fine dining. One of Apero's co-owners, Kathleen Chua, is keen on stressing this, "We just want to serve good food and elevate the dining experience, that's it." It inherits Chef Jacq Tan's signature style of slow-cooking and concept of DIY from its more sophisticated sister, Duck and Buvette. From the butters to the breads to just about each and every element on your plate, everything is made from scratch with utmost dexterity. It's safe to say that shortcuts are not welcome here. At its core lies a 2x2 meter fire brick oven. It takes up a significant space in the diner, profusely declaring its presence. After all, this is where the menu's pastry and savory dishes come into completion. The oven is tainted with shavings of applewood which immensely gives the food here a palpable earthiness.
ADVERTISEMENT - CONTINUE READING BELOW
Upon entry, servers give guests a cascading menu—another concept the restaurant is built on. Apero's is a carte du jour that dedicates itself to different times of day, from breakfast to lunch to bites before dinner to supper and finally, post-dinner. A plethora of options will blur your vision and confuse you at first, but take a deep breath and soldier on because by the end of it, you will reap rewards.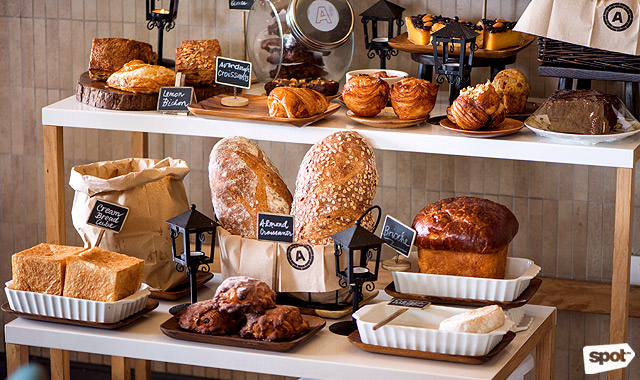 The breads are one of the highlights of Apero's menu, the signature being their sourdough—crusty on the outside, mushy on the inside.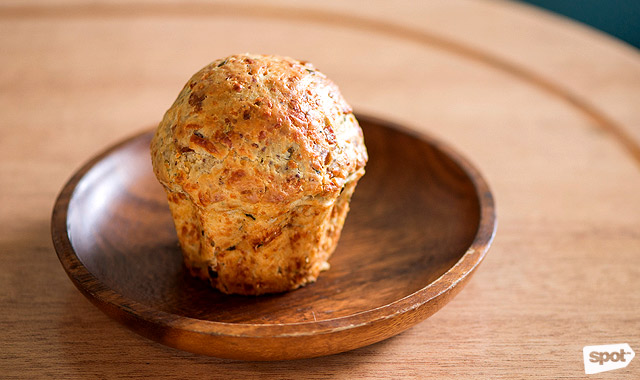 ADVERTISEMENT - CONTINUE READING BELOW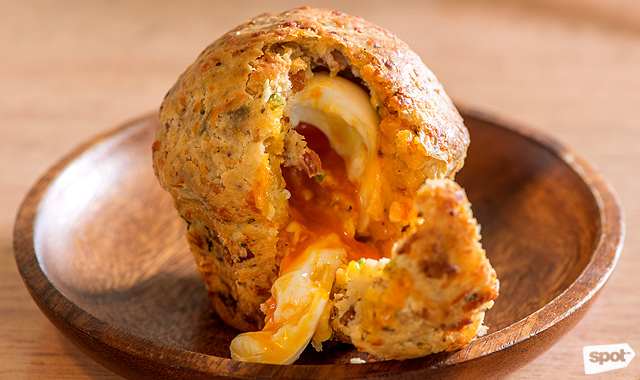 Breakfast Muffin
We suggest you start with the pastry. Apero's assortment of breads is the real deal. They grow their own yeast from water and flour, vying away from the commercial ones to ensure quality. Half of the world tosses and turns in their sleep at 2:30 a.m. but the bakers here are already up and running, breaking a sweat as they bake the breads fresh day in and day out. The Breakfast Muffin (P125) abounds with surprises. On the outside, it looks just like your ordinary muffin with its golden brown exterior. A bite in and you'll come to comprehend its savory goodness—a filling mélange of your breakfast favorites—bits of bacon and chives with a warm gooey egg yolk that runs from the center.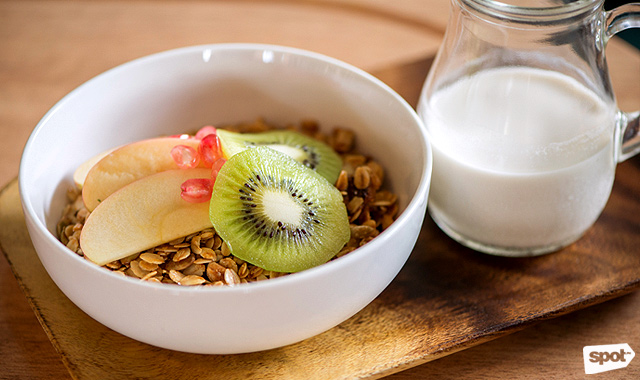 ADVERTISEMENT - CONTINUE READING BELOW
Good For You Bowl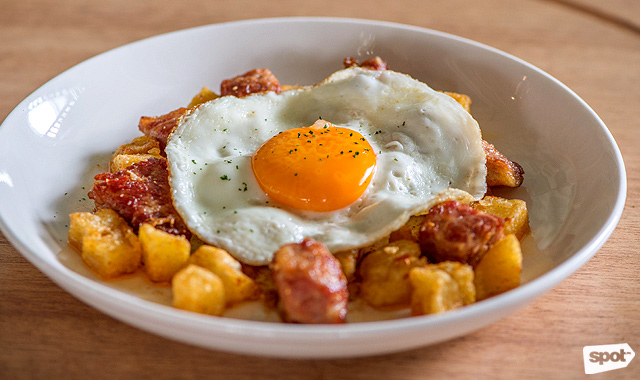 Corned Beef Hash
For something light and healthy, the Good For You Bowl (P240) is a hefty offering. A bowl of homemade oats steals the thunder with a sweetness that's not so overpowering to the palate. Sunflower and pumpkin seeds, dates, fresh fruits available in season, and notes of honey round it out. House-pressed almond milk adds dimension with each element's essence blending into a gorgeous medley. Meanwhile, the Corned Beef Hash (P380) is reminiscent of childhood breakfasts. Huge chunks of meat and potato hash are graced with the presence of fried egg—simple yet unhurried, with a charm that's familiar altogether.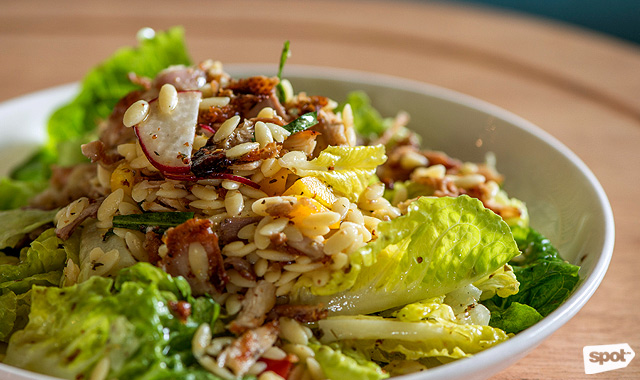 ADVERTISEMENT - CONTINUE READING BELOW
Roast Chicken Orzo Salad (P230)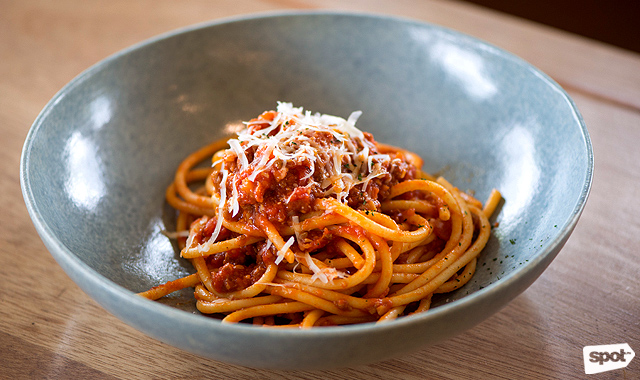 Bucatini Bolognese (P380) 
The brunch and lunch menu focuses on mains that are filling enough to recharge you for the rest of the day. Take for instance, the Fresh Seawater Mamale (P450). The mamale is a rare find in our country's waters and because of this rarity, it's even harder to prepare. Chef Jacq unleashes her prowess with the freshwater fish, placing premium care on its delicacy and bringing out its natural flavor. She further enhances the dish with notes of lemon, garlic, and beurre rogue (a classic French sauce that consists of red wine and red wine vinegar), with smoked potatoes on the side. The result is one worthy of applause, resonant of tilapia but bolder and more succulent in taste and form.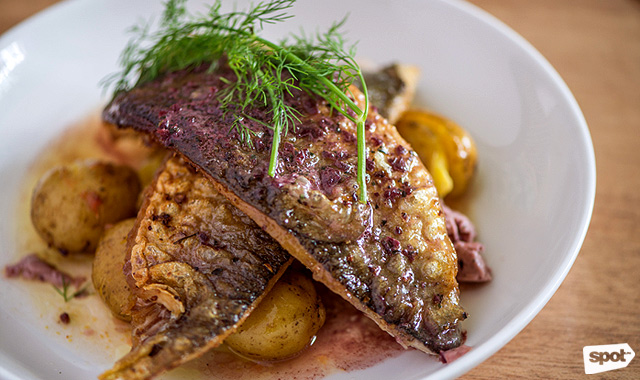 ADVERTISEMENT - CONTINUE READING BELOW
Fresh Seawater Mamale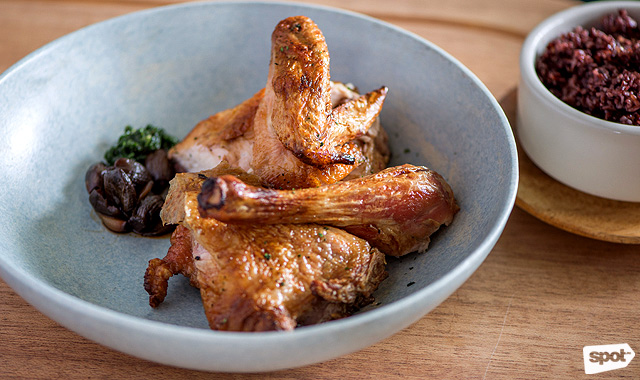 Smoke Roasted Organic Chicken
However, if there's one dish that's synonymous to Apero, it's got to be their Smoke Roasted Organic Chicken (P520). Brined for two days and smoked with applewood, the meat has a rich taste even when it's bereft of salsa verde. Moist and tender on the inside, the chicken works as a standalone. Chef Jacq's precision to come up with the perfect roast is evident, revering the meat with an almost bare-bones approach. The house specialty is served with forbidden rice, enriched with the drippings from the chicken. The simplicity and honesty of the dish bodes well and lingers.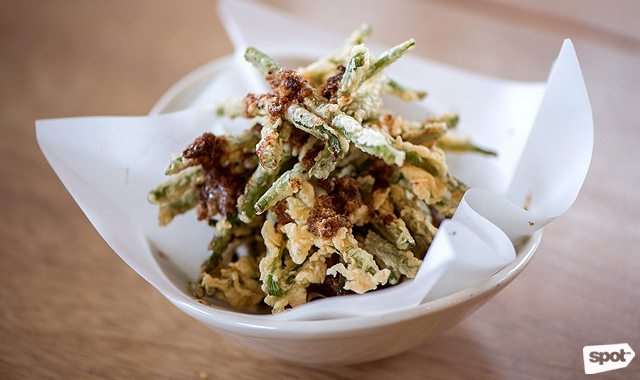 ADVERTISEMENT - CONTINUE READING BELOW
Crispy French Bean and Anchovy Butter (P220)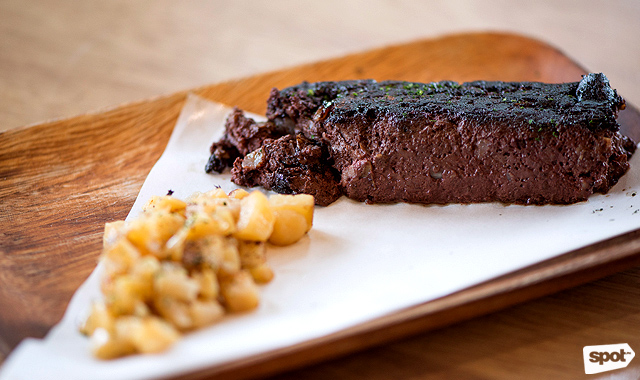 Burnt Black Pudding with Caramelized Apple
By mid-afternoon, Apero transforms into its alter ego. Resembling the precision of style and technique of each dish is the morning kitchen transitioning into the afternoon menu. In stark contrast to starting the day with a heavy meal in the morning the afternoon is for winding down. The aperitif or the apero is the ideal complement to pre-gaming cocktails before dinner, while the buvette consists of your hearty starter meals in small plates.
While we're at it, we dare you to go out of your comfort zone with the Burnt Black Pudding with Caramelized Apple (P320). The traditional French boudin noir (blood sausage), another of Chef Jacq's homemade creations, finds itself on the menu. It's the close relative of dinuguan or betamax, so it's nothing all too unfamiliar for our taste buds. The creamy pudding is not deprived of piquancy—a mix of the saccharine here and a zesty mellow kick there. Chef Jacq crafts it so well you almost forget you're eating blood sausage to begin with.
ADVERTISEMENT - CONTINUE READING BELOW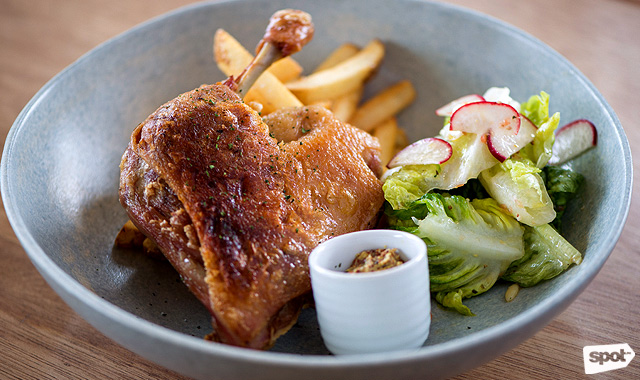 Duck Confit du Marche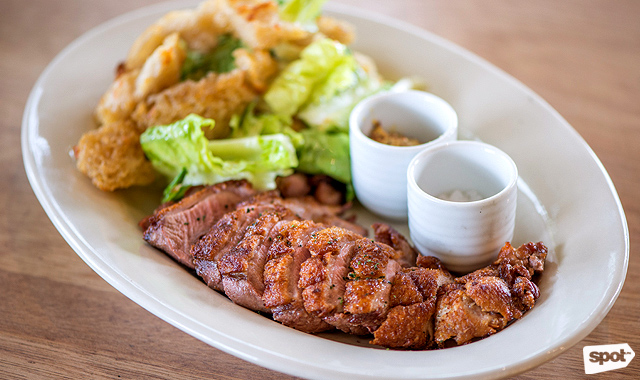 Smoke Roasted Duck Porchetta
When the night falls, make sure you order the Duck Confit du Marche (P680) or the Smoke Roasted Duck Porchetta (P620). The latter's crisped exterior matches with the umami flavor profile residing inside the meat, while the former is an extension of the excellent roasts the diner puts on the forefront, savory until the last bite (you'll even find chewy crouton-like sourdough bread nestled into the salad that comes with your order). There's no room for the duck's typical gamey tang as Chef Jacq waves her wand and works her magic yet again.
ADVERTISEMENT - CONTINUE READING BELOW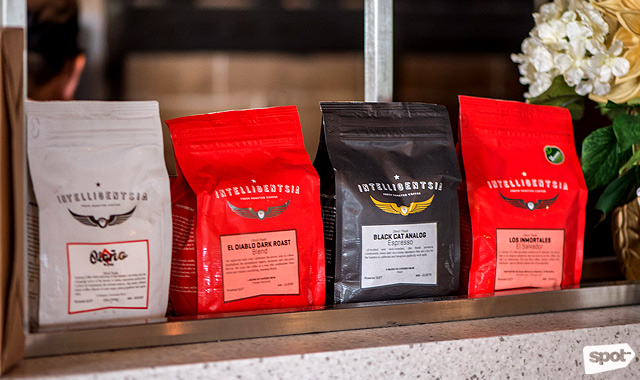 Roasted only upon order, their Intelligentsia coffee cold brews in black (P160) and latte (P170) form are available throughout the day.
Apero's concept for their food very much applies to their drinks, using only the freshest ingredients. A wine cellar can be seen peeking out above the interiors, a wide array of well-curated bubbly in your line of sight. They concoct quite an impressive selection of cocktails too. We're told they even make their own ice down to a science. Now, enjoying your drink doesn't have to be rushed. You can opt to take small or lengthy sips without worrying about the ice melting and compromising the taste. The Pamplemousse Rosé (P350) is a concoction we can't get out of our dreams—grapefruit, whisky, and sweet French wine with notes of vanilla being the formula for the addictively seamless drink.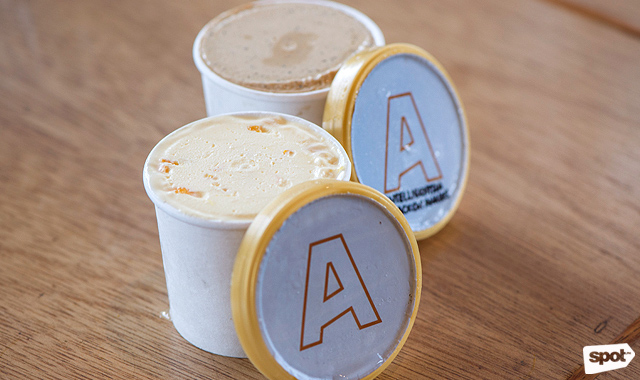 ADVERTISEMENT - CONTINUE READING BELOW
Smoked White Chocolate Ice Cream with Orange Peel (P190)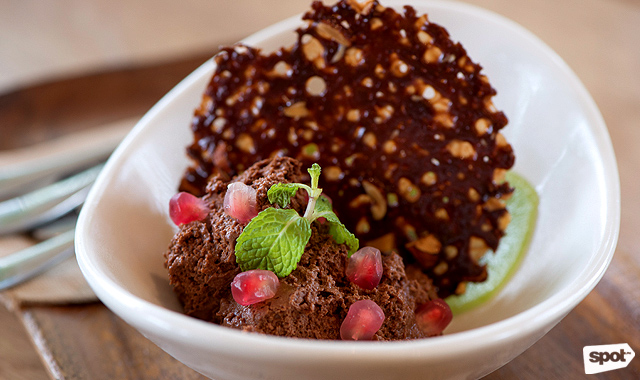 Malagos Chocolate Mousse with Cacao Almond Praline
A visit to Apero is not complete without having dessert, and you absolutely must try the Malagos Chocolate Mousse with Cacao Almond Praline (P190). The dark chocolate is lighter in feel, with just the right amounts of bitter and sweet.
Despite the small space, lots of stories abound within these walls. When all is said and done, the quaint neighborhood café goes back to food that's familiar but done well. The feeling you get is that of escape. Once you take the final few bites of your meal, the final few sips of your wine or your coffee and head out, you feel ready to conquer the world again. For that, we have Apero to thank.
Photos by Hans Fausto
Share this story with your friends!
---
Help us make Spot.ph better!
Take the short survey
Load More Stories