Holy Smokes
5834 Matilde corner Jacobo Street, Barangay Poblacion, Makati City
Contact: 587-1519
Open daily from 5 p.m. to 1 a.m.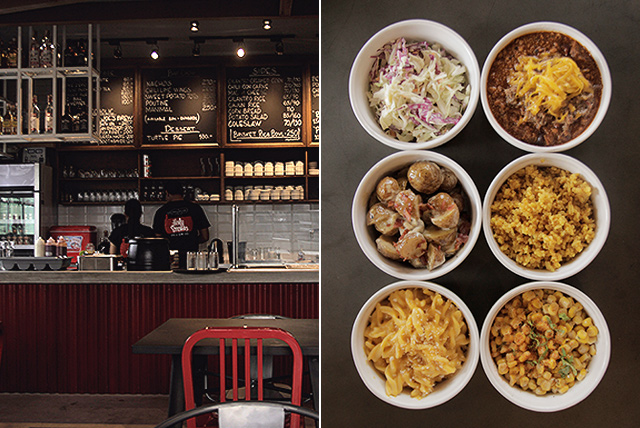 (SPOT.ph) There is no way you can be truly prepared for this. Around here, there's a dragon of a meat smoker and no room for diets.
Holy Smokes is something straight out of a Southern dream, from the patio lights right down to the peppery bark of the brisket. Situated in a sleepy street in Poblacion, it's built on the remains of an abandoned house from the '70s, though you could never tell by looking. This is not where one goes to see and be seen—and that's exactly how Maisa Acosta wants it.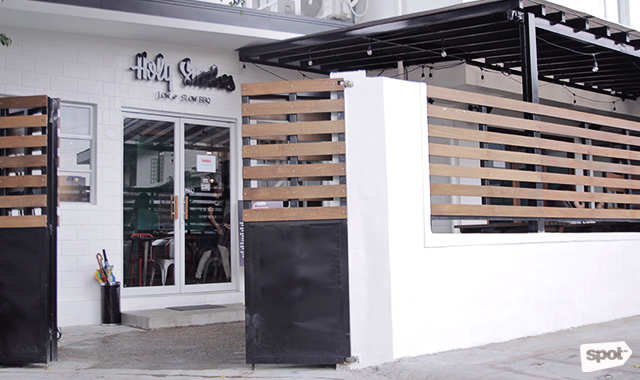 ADVERTISEMENT - CONTINUE READING BELOW
"I wanted a sense of community in here," she says, "so don't even flag down a waiter. Just walk up to the counter, pay as you order—I wanted it to be casual, but well put together." Indeed, she seems to have mastered the art of what Pinterest users call industrial chic, without the cold lighting or harsh lines that might happen when overdone.
It's kind of a family venture, in its way, what with her partner Juano Gutierrez being a self-confessed barbecue nerd, and his brother-in-law Paolo Quimson basically enabling him. "The wood is locally sourced. I experimented with different kinds until I found that kaimito and santol got me closest to the flavor applewood normally gives meat. Then there's the smoker," he says, pointing to the red metal beast in the back of the patio. "This isn't the first. And I think I made things harder for myself?" he laughs uncertainly. "But in the end it's better—the hours under indirect heat make for more moisture in the meat."
"If it takes 14 or 16 hours, then that's what it takes," continues Maisa.
And, goodness, are they ever right about it. Order anything. Literally, order anything. It's a short menu for now, but everything on it is excellent. Juano's cousin Red Espiritu is in charge of the sides—although, admittedly, you will find yourself feeling like a horrible person for ever daring to call these masterpieces "sides," or even "starters." They're honest-to-goodness in a league of their own.
CONTINUE READING BELOW
Recommended Videos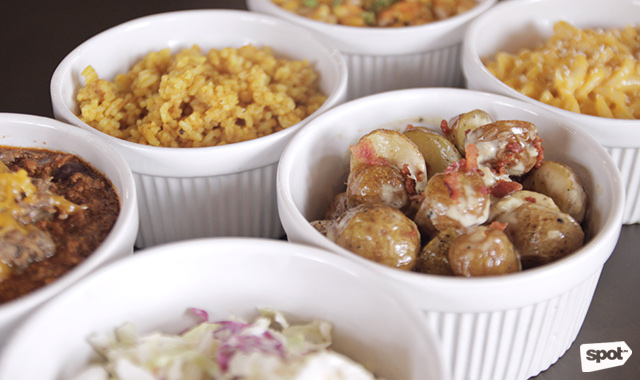 What you're going to want to do is order everything. What you're going to have to do is take a mental (or maybe literal) step outside, have a bit of a talk with yourself, promise the menu fondly that you'll come back for the rest of it, and be realistic about how much your stomach can hold. This is not the time to test its limits, however tempting that might sound when you're looking at the Mac and Cheese (P70 to P130) or the warm Potato Salad (P85 to P160), both of which are the stuff of starchy dreams. You could have those with the Chili con Carne (P200 to P360) and call it a day...but you won't.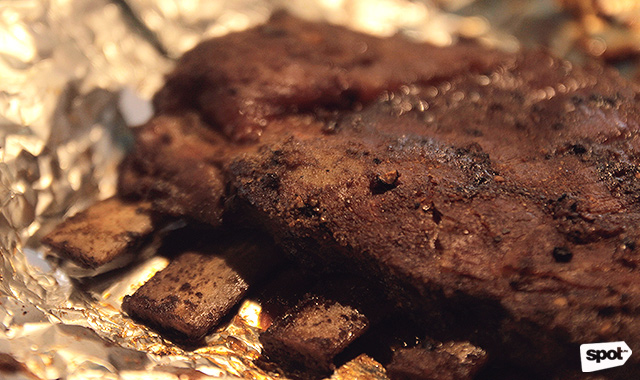 ADVERTISEMENT - CONTINUE READING BELOW
Pork Ribs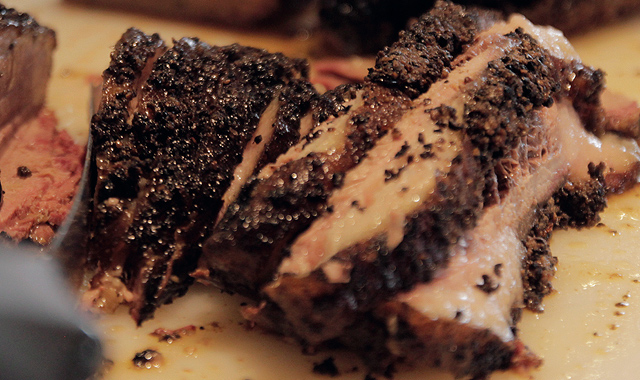 Beef Ribs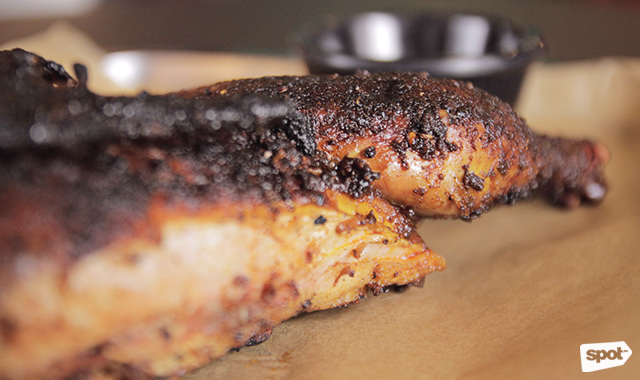 Chicken
It's difficult to say whether you should beware of the Pork Ribs (P180/100 grams) or take them into a field and frolic with them in a romantic montage, but maybe that just boils down to how you normally deal with adversity—warm, tender, delicious adversity. Holy Smokes' array of sauces can only add to the tangible joy of your dining experience; Juano recommends the creamy cilantro sauce in particular for the Chicken (P270/half, P500/whole).
ADVERTISEMENT - CONTINUE READING BELOW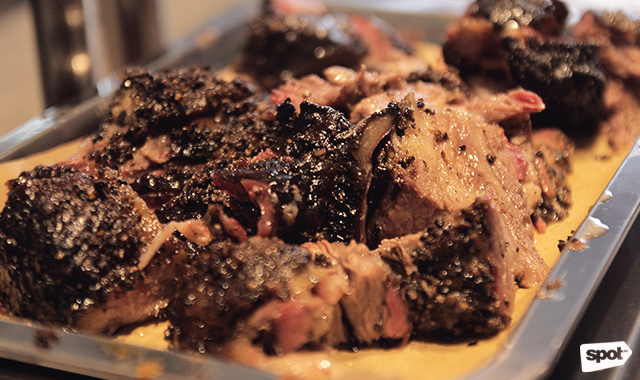 Beef Brisket
What is barbecue without coleslaw? Well, in this case, they're in quite a healthy relationship—one can honestly stand without the other, what with the Coleslaw (P70 to P130) managing to keep its contrasting textures, and the streaks of red cabbage making it more visually striking than the average side dish—but why would you want to separate them? Especially when the Beef Brisket (P270/100 grams) is right there. The only thing missing is the cartoon hand of steam crooking a translucent finger to beckon you over. Don't fight it—in fact, go ahead and order rice with it, because at this point, no one has the right to judge you. The Cajun Rice (P65 to P90) and the Cilantro Rice (P65 to P90) will make life very hard for you either way, whether it's in the choosing or in the extra minutes on the treadmill because you ordered both. If, in the future, you'd like to feel as though you'd been very good, the Cilantro Creamed Corn (P70 to P130) is equally good.
ADVERTISEMENT - CONTINUE READING BELOW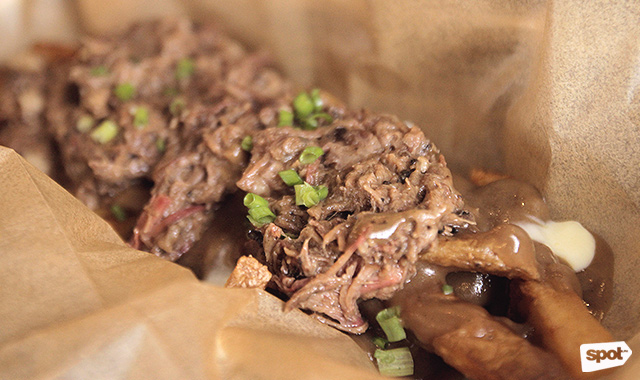 Poutine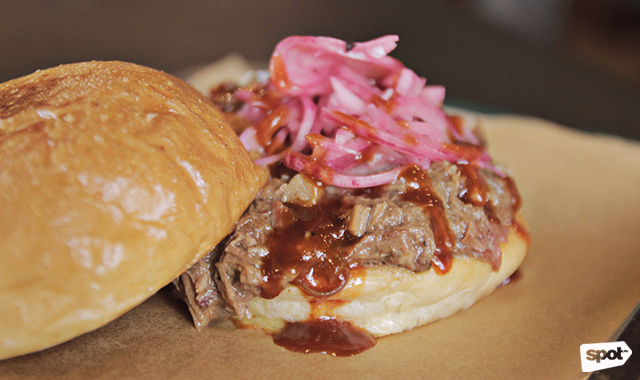 Manimal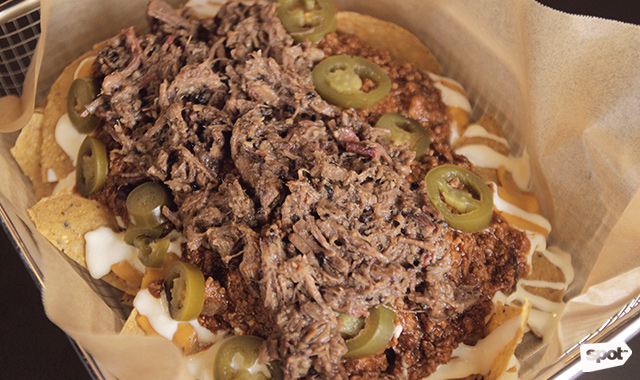 ADVERTISEMENT - CONTINUE READING BELOW
Nachos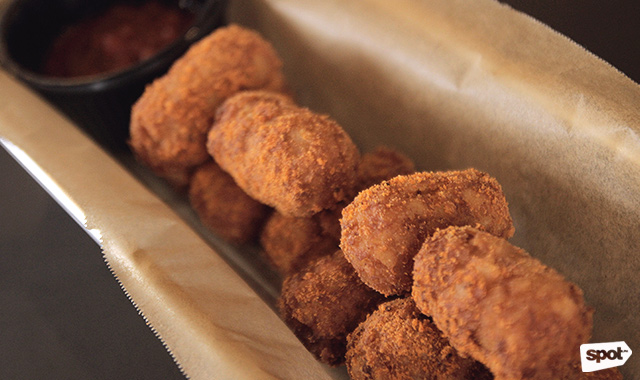 Sweet Potato Tots
You may or may not have heard of Canada's beloved national dish—either way, here's your chance to try Poutine (P270). And "try" usually ends up meaning "shovel into mouth with a complete disregard for decorum because who cares right now?!" The Manimal (P250) may also look new to you, but it is, in all seriousness, nothing less than a rite of passage in sandwich form. But if you're looking for something more familiar, the Nachos (P270) and the Sweet Potato Tots (P180) will have the exact same effect on your table manners. They're not labeled "Bar Chow" for nothing, you know, although everything on the menu goes with the Ginger Ale (P220) or the beers (P200 to P240). (Hint: There may or may not be a brewery in the works upstairs.)
If you either have managed to behave, or are in possession of a bottomless pit in place of a stomach, there's dessert waiting in the form of their Turtle Pie (P180). Keeping with the theme of their whole menu, it's the lone dessert, but one you really shouldn't say no to. In fact, the whole smokehouse encourages BYOE—Be Your Own Enabler.
ADVERTISEMENT - CONTINUE READING BELOW
*The lovely people at Holy Smokes also set aside a portion of their income to give to charity.
Share this story with your friends!
---
Help us make Spot.ph better!
Take the short survey
Load More Stories