Top 10 Beef Tacos in Manila
The top of the taco crew covers the city, from north to south.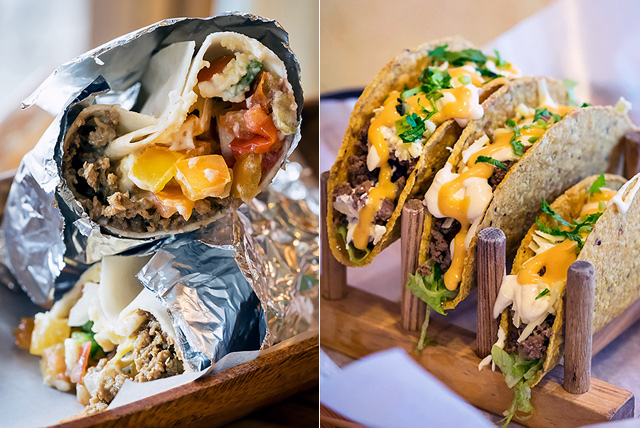 (SPOT.ph) Mexican food has been sneaking its way into Manila's food scene over the last couple of years, with restaurants, kiosks and pop-up taquerias making appearances all over the city. While it's not always clear if you're having an authentic Mexican experience or having something more along the lines of Tex-Mex, the end result, if you know where to look, can be memorable and delicious.
But first, how do you distinguish a Mexican taco from Tex-Mex? According to The Huffington Post, Mexican tacos are traditionally encased in a corn tortilla, using soft shells, with stewed, fried, or grilled meat seasoned with spicy, homemade salsa then topped with cilantro and onions. Meanwhile, Tex-Mex can be made with either flour or corn tortilla, hard- and soft-shells, with chicken or pork and milder salsa, topped with lettuce, tomato, and cheese.
Whether your preference is the slightly sweet taco you first tasted in the school cafeteria, or a more authentic bite-sized street taco that tastes and even smells like Tex-Mex, there are tasty tortillas for the taking in many neighborhoods. We're rounding up the best deals that deliver the best-tasting shells—both soft, crispy, and all with a hefty serving of bold, tender beef. Ole!
ADVERTISEMENT - CONTINUE READING BELOW
All SPOT.ph Top 10 lists are researched, paid for, tested, and selected by the writers and editors. They are discreetly conducted without any notice made to the restaurants or their owners.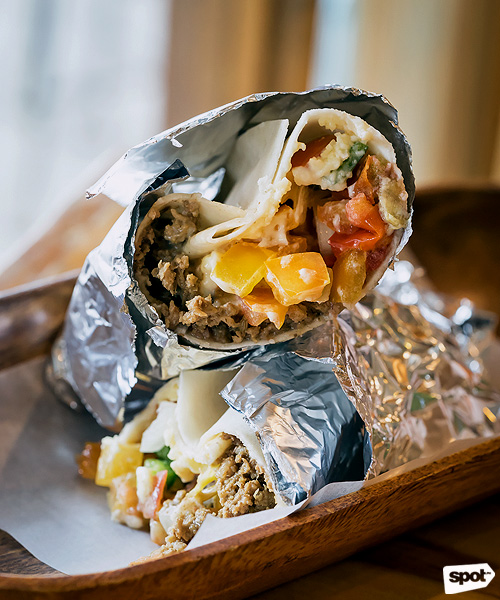 CONTINUE READING BELOW
Recommended Videos
10. Mexican Express' Super Taco (P149)
Before all the brand new taco shops began popping up all over the place, there was Miggy's Tacos. You can't get Miggy's anymore, but if you make your way to Maginhawa, you can get that same classic flavor at super student-friendly prices at Mexican Express. The super taco is deserving of its name—it's practically a burrito in size, minus the rice. You have the option to go crispy or soft; and for the supersize you're getting in this order, you're better off going soft and ordering to share. If you're not a fan of anything too flavorful, but still want a distinct Mexican taste, Mexican Express will work for you. You get good flavor that isn't overwhelming or offensive, but are still left with a subtle, mild taste that satisfies a Tex-Mex craving.
ADVERTISEMENT - CONTINUE READING BELOW
Mexican Express is at 162 Maginhawa Street, Sikatuna Village, Quezon City (435-5555).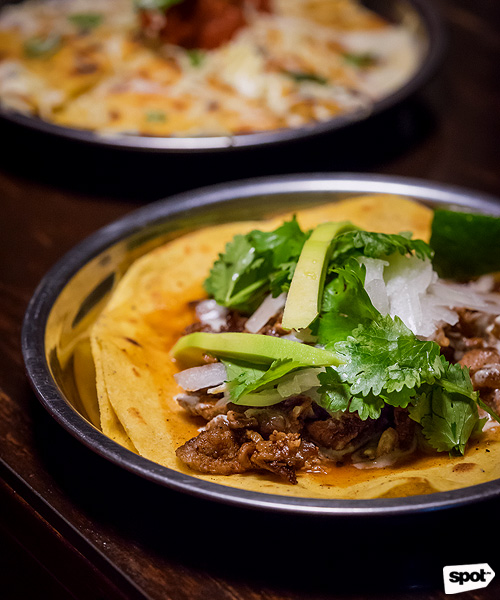 9. Drive By Taco Shop's Beef Sirloin Steak Taco (P110)
Keep your eyes peeled for the painted wall that spells "Taco Shop" when driving down Aguirre Avenue—you'll want to take a traffic break at this small Mexican spot. One of the new food joints that the South has been talking about lately, Drive By offers a substantial, inexpensive selection of tacos and more. The beef sirloin steak taco is made more flavorful by the special Drive By seasoning. A thin corn tortilla makes for a good wrap for tender beef topped with onion and avocado. For the price, two tortillas is a pretty good deal. Bonus: The staff is extra helpful and accommodating. Get their recommendations—you won't regret it.
Drive By Taco Shop is at 167 Aguirre Avenue, BF Homes, Parañaque City (219-8155).
ADVERTISEMENT - CONTINUE READING BELOW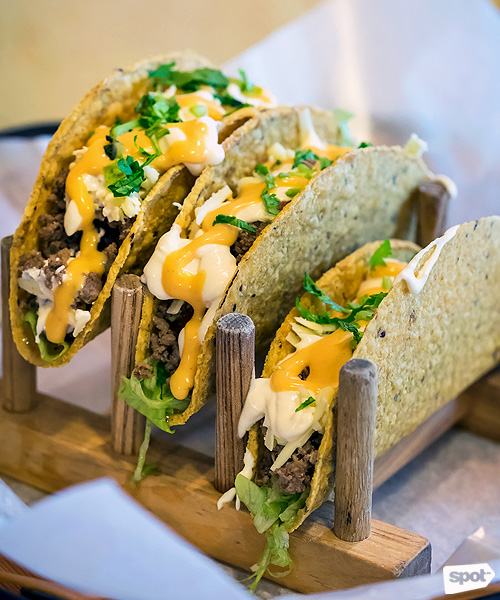 8. La Taqueria Amiga Mia's Ground Beef Tortilla (P249)
The best tacos usually come from small neighborhood's secret hole in the wall spots. On one of the residential streets in the Scout area, you'll find Gino Gonzalez' Mexican joint—the bright yellow spot gives north folk a great casual dining option. The ground beef tortilla can go soft or crispy—but it's the crispy shell that provides a winning texture. Nothing goes better with crunch than a fully loaded taco with Mexican slaw, salsa, cheese sauce, sour cream and yes, more cheese. One distinctive flavor La Taqueria Amiga Mia offers is its collection of signature hot sauces. Mix the ground beef tortilla with some Mariachi Hot Sauce by Gene Gonzalez and you'll want to keep coming back to this hotspot.
La Taqueria Amiga Mia is at 93-B Scout Castor Street, Laging Handa, Tomas Morato, Quezon City (411-1234).
ADVERTISEMENT - CONTINUE READING BELOW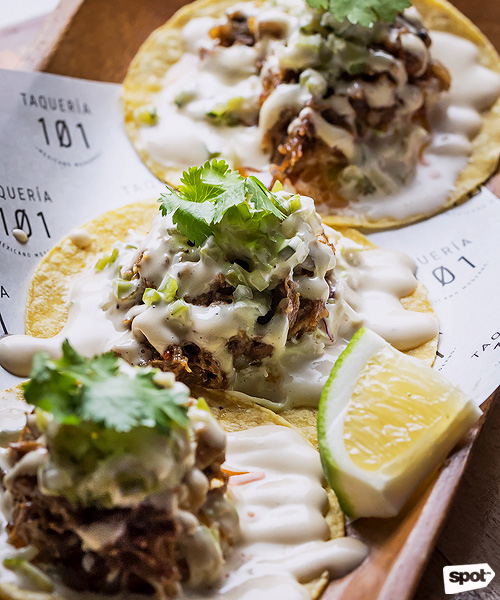 7. Taqueria 101's Shawarma Soft Taco (P170)
Folks from the south have this little taco shop to visit for drinks and an interesting selection of Mexican fare. The shawarma taco takes the typical beef menu and takes it in a more Middle Eastern direction with the addition of cabbage, garlic sauce and salsa verde. It's a great reminder of the shawarma trend that hit Metro Manila decades back—but makes the flavor relevant again with Tex-Mex inspiration. An order will give you three small bites—just the perfect sharing size for a group that wants to sample everything else they have to offer.
Taqueria 101 is at 101 Doña Soledad Avenue, Better Living Village, Don Bosco, Parañaque City.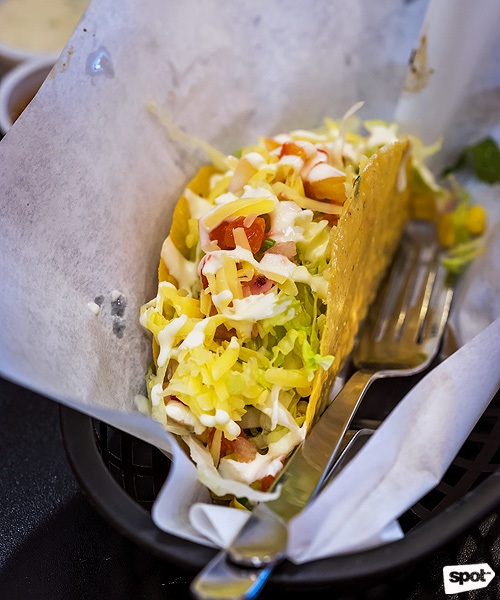 ADVERTISEMENT - CONTINUE READING BELOW
6. B&T Mexican Kitchen's Crispy Taco Barbacoa (P155)
B&T's taco selection can be intimidating for a Mexican cuisine first-timer—there are a ton of choices from crispy to soft, puffy to street, or tostada; and that's just the tortilla. Meat lovers have a wide variety to pull from too—from pulled beef to chili con carne. The crispy Barbacoa, however, is the winning combination. For a relatively inexpensive price, you get a large-sized serving of shredded beef, topped with onion, lettuce, cilantro, tomato, and cheese. A big surprise are the corn kernels introduced to the mix—something you don't typically find in our local taquerias. Another tip: Pile on the sour cream, it brings out the flavor of the beef to a tee.
B&T Mexican Kitchen is at 368 Sekai Center, Ortigas Avenue corner Madison Street, Greenhills, San Juan City (975-1850).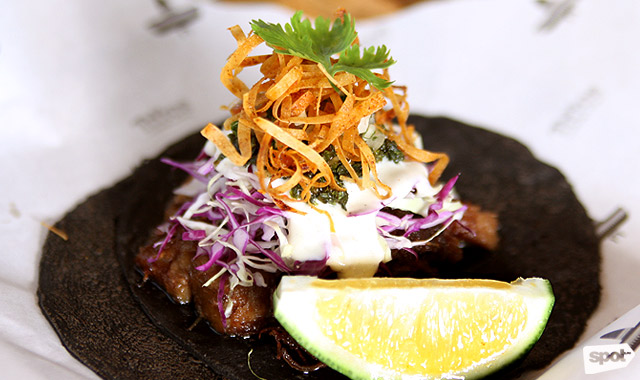 5. Tittos' Beef Barbacoa Tacos (P145)
ADVERTISEMENT - CONTINUE READING BELOW
The beef belly chunks in these tacos are slow-cooked, leaving them tender and bursting with flavor. Slaw adds freshness and a squeeze of lime will brighten it all up, but what you're likely to find most addicting is the crunch from the toasted bits of fat that punctuate the filling. It's all served in squid-ink infused tortilla made in-house, but don't be intimidated—the squid ink is purely for color and, should the folks in the kitchen need to substitute with plain tortilla, the tacos will taste just as good.
Tittos is at 16 East Capitol Drive, Barangay Kapitolyo, Pasig City (535-9212).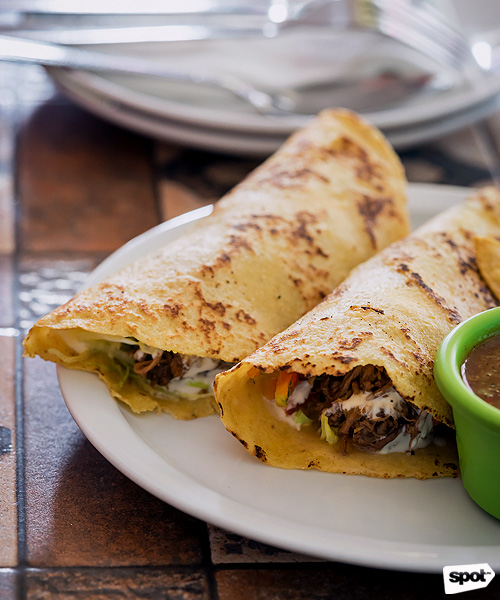 4. Hermanos Taco Shop's Shredded Beef Taco (P239.64)
Hermanos has been around since tacos even became a thing. A simple no-frills spot at a gas station, don't let its nondescript appearance fool you because after many years, it still delivers a good taco. The shredded beef taco uses sirloin and offers a more flavorful bite. If you've ever had tacos in Mexico, you'll recognize the soft corn tortilla that makes this taqueria's bites filling enough to give you bang for your buck. The beef is robust and is served generously, and is topped off with pico de gallo, sour cream, and salsa. If it's been a while since your last visit to Hermanos, its shredded beef taco definitely deserves a comeback.
ADVERTISEMENT - CONTINUE READING BELOW
Hermanos Taco Shop is at 27 Granada Avenue corner Jose O. Vera Street, Valencia, Quezon City (738-2254).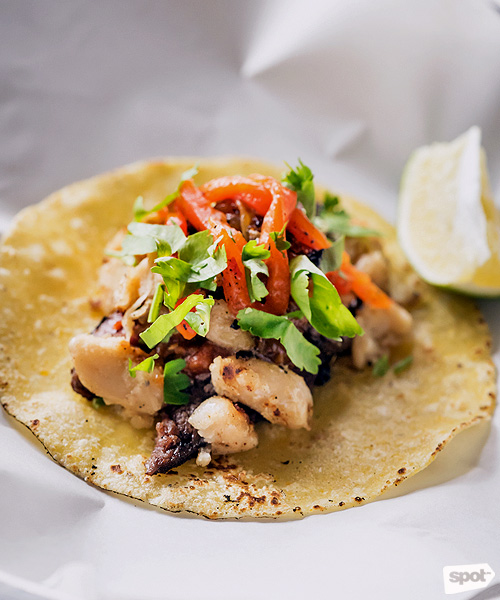 3. Taco Vengo's Steak Taco (P165)
The hole-in-the-wall taco shop that helped put a stamp in the Kapitolyo food scene has moved a few blocks down into a bright, airy, spacious building just across from the Unilab office. The taco business at Vengo is good if their expansion is any indication—they're also set to open a Megamall branch within the month (tip: It may or may not be next week). Taco Vengo's steak taco puts a different spin on your generic beef taco. Now using a skirt cut, the good-for-one taco delivers a more gamey flavor that's cut and complemented by a white bean paste. There isn't a ton of ingredients here, just good, honest Mexican-inspired food. A sprinkling of fresh cilantro, some pepper, and a splash of lime rounds out the entire taco. It's tempting to go for a second order with this one.
ADVERTISEMENT - CONTINUE READING BELOW
Taco Vengo is at 16 Williams Street, Highway Hills, Mandaluyong City.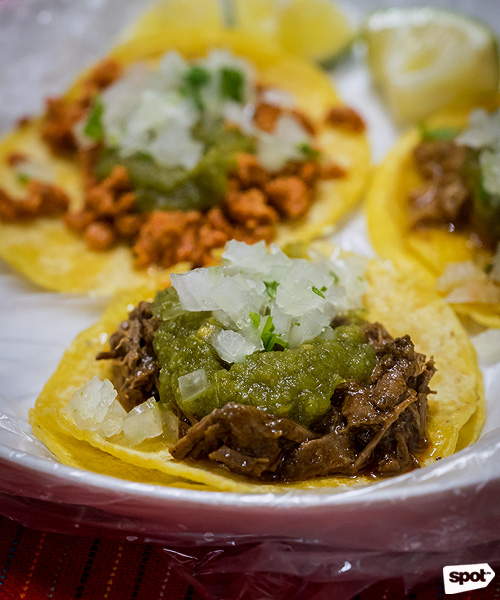 2. Tacos Chingones' Barbacoa (P170 for a combination of three tacos)
The cart that brought tacos to the street—literally, Tacos Chingones has been a popular staple for the Backwell crowd for its no-nonsense food, quick service, and forthright flavor. Its Barbacoa is one of the tangiest and softest cuts you'll find in the city. Slightly spicy and even better with a twist of lime, this bite-sized taco comes cheap, easy and fast. You're definitely not paying for ambience here, but when you can get three (!!!) of these delicious tacos on the go and quick, it doesn't really matter. Tip: Chingones is keeping its cart where it is, but is also opening a second branch at Burgos Circle soon.
Tacos Chingones is at 5923 Algier Street, Poblacion, Makati City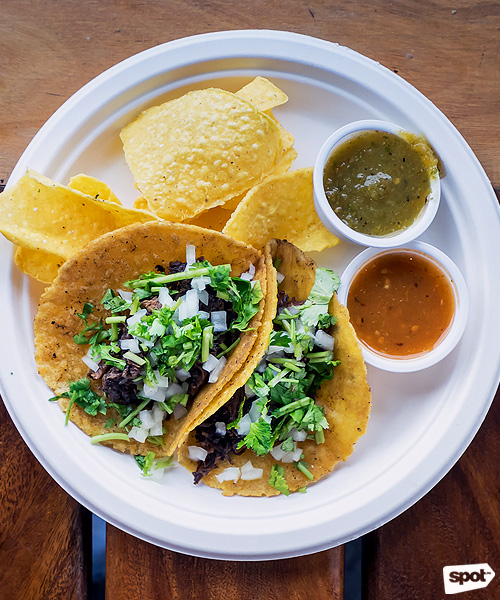 ADVERTISEMENT - CONTINUE READING BELOW
1. Lo de Alberto's Suadero (P185)
"Everything homemade de Mexico con amor," is written in this little known spot smack in the middle of the City Golf parking area. With two small roofed huts and a bunch of seats outside, you get the full taqueria experience in this straightforward, simple, authentic restaurant. The Suadero is a no-frills soft beef taco. One order equals two servings that offer huge, zingy flavor—your taste buds will rejoice the minute you pop this taco in your mouth, no holds barred. With a price to beat and a generous mix of cilantro, onion, tortilla, lime, and tender beef, plus nachos and salsa on the side, you absolutely cannot go wrong here. Order your taco with the Tamarindo for an even better Mexican experience. Lo de Alberto calls itself the only authentic taqueria in the Philippines, and we would have to wholeheartedly say, "Si, señor."
Lo de Alberto is at City Golf Plaza, Doña Julia Vargas Avenue, Ugong, Pasig City
Photos by Toto Labrador
Share this story with your friends!
---
Help us make Spot.ph better!
Take the short survey
Load More Stories