The ceviche is not date food, but Pablo most definitely is a good date place
This good-looking Makati bistro is a great bet for when you want something that's far from typical.
Pablo
The Picasso Boutique Serviced Residences, 119 L.P. Leviste Street, Salcedo Village, Makati City
Contact: 403-0626, 886-7876
Open daily from 6 a.m. to 12 a.m.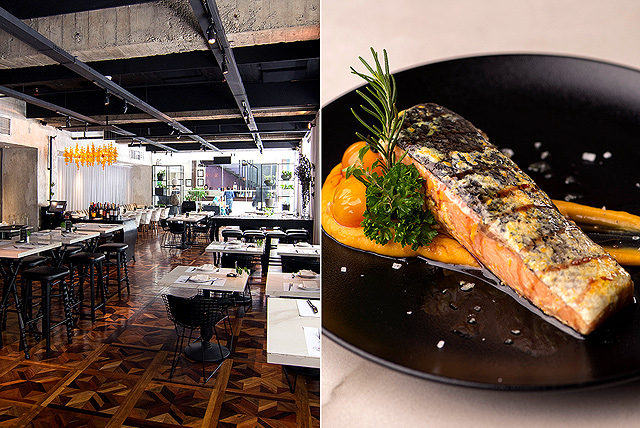 (SPOT.ph) For everything there is a season, and that includes what's on top of the dinner table—not that the lovely people at Pablo have ever limited themselves to dinner.
Nor have they limited themselves to one menu. "It's very much a European concept," says David Martinez-Collado, "that the items should change with what's in season. I mean, when it's been raining like it has, it's hard to get [certain] ingredients. So switching it up is necessary."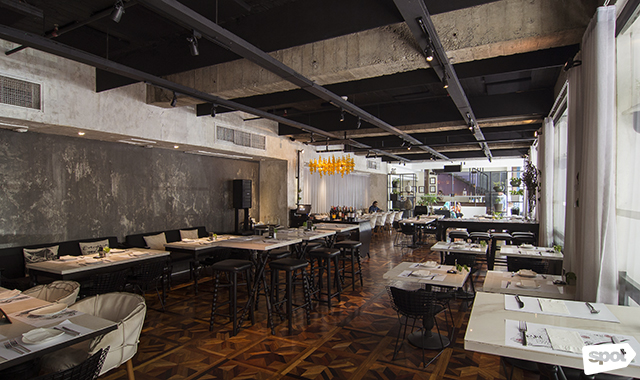 You'd think that would put them to the test, primarily in the kitchen; so far, they're passing with flying colors. (The phrase may be cliché, but the food most certainly is not!)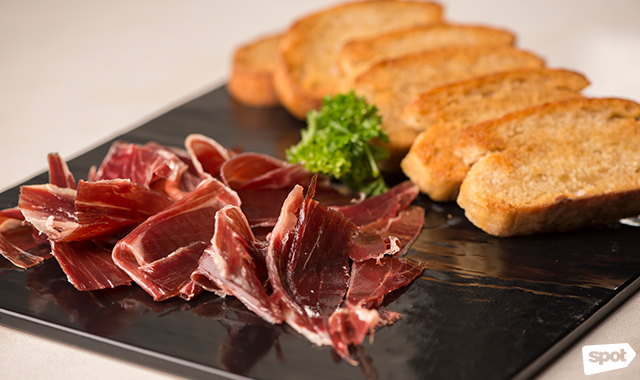 Jamon Bellota Hand-Cut Platter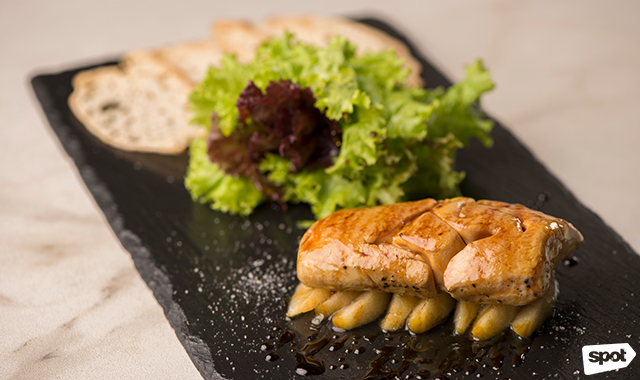 Foie Mi-Cuit & Caramelized Apples
The deep ruby red slices in the Jamon Bellota Hand-Cut Platter (P1,000) draw the eye, but end up subtly saline, and have a way of settling you as only fancy comfort food can. To shift the emphasis to "fancy"—and who doesn't want to get swanky every now and again?—the Foie Mi-Cuit & Caramelized Apples (P950) sets a reasonable first step for those who've just begun to be culinarily adventurous.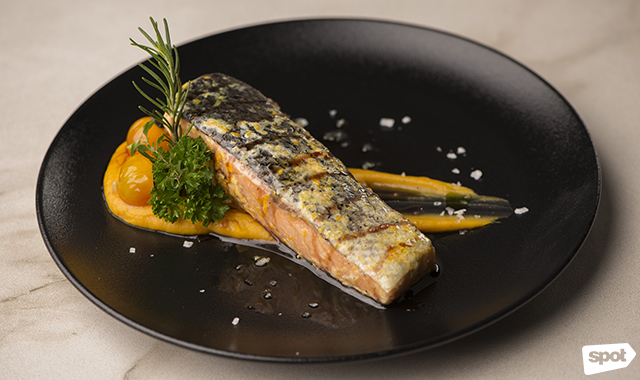 Salmon Confit with Potato Purée & Caramelized Onion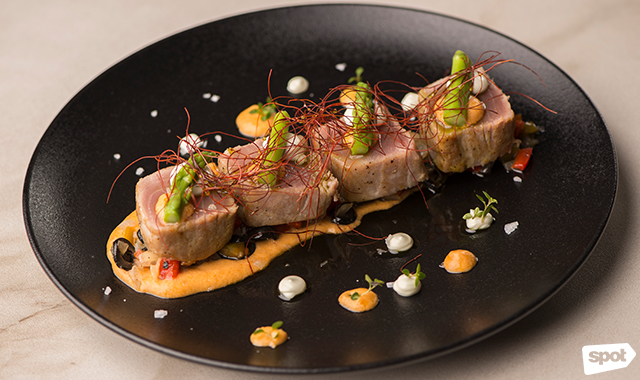 Seared Yellowfin Tuna
They've kept the Salmon Confit with Potato Purée & Caramelized Onion (P690), a crowd-favorite, which says a lot about how much they value what their customers have to say. And no one's surprised here—it's as butter-soft and delightfully coral (someone call Pantone!) as anything that ever was. For something with just a little bit more bite, the Seared Yellowfin Tuna (P660) presents a singular challenge: savor it. Chef Amado Fernandez and his team help you along by dressing it up to the nines, so you have no choice but to hold back and admire it first.
ADVERTISEMENT - CONTINUE READING BELOW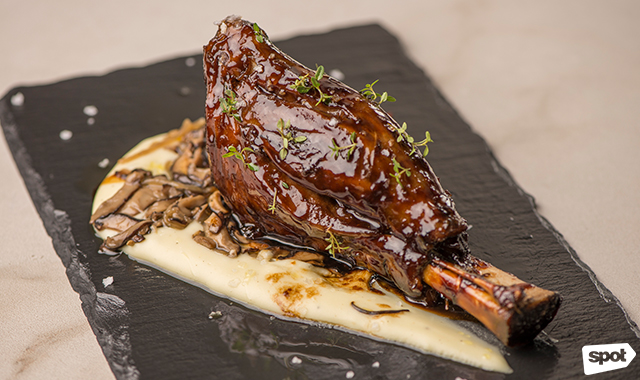 Lamb Shank Confit
The Lamb Shank Confit (P940) is a thing of beauty—"melt-in-your-mouth," as overused as it is, is really the best way to describe it. Served on a bed of creamy puréed potatoes and salty-sweet mushrooms, the whole dish is 17 kinds of smooth.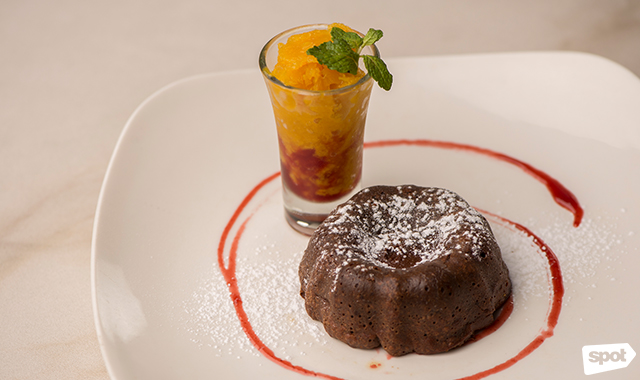 Chocolate Soufflé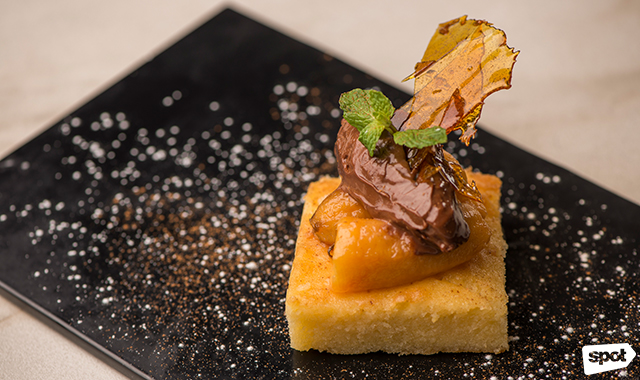 Buttered Glazed Banana & Sponge Rum
Don't think they've left out the sugar junkies! The Chocolate Soufflé (P280) is a classic most of us know and love, and a great fallback for the indecisive. (We've all got that friend... ) And the Buttered Glazed Banana & Sponge Rum (P250) wears its best hat: a quenelle of chocolate mousse!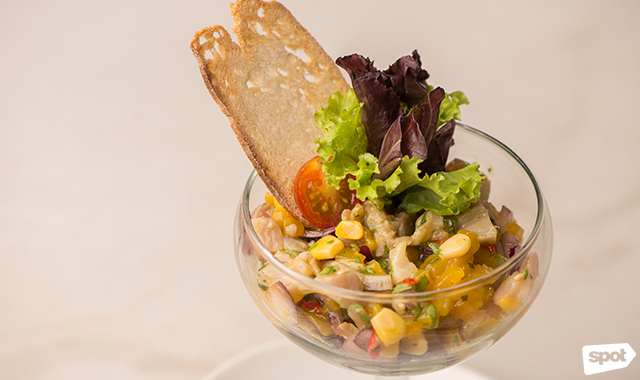 White Fish "Ceviche" with Mango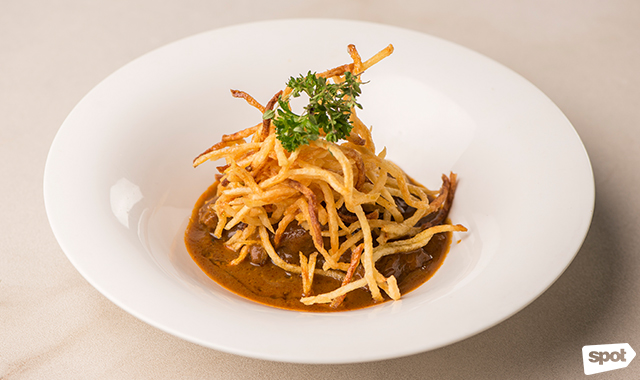 Beef Ragout
If you pop in on a weekday, they've got Lunch Specials (P590; additional P160 for a dessert of the day!)—another testament to how open they are to feedback. This shorter menu, aside from sounding like a Eurasian foodie wish list, allows the team at Pablo to experiment with starters and main courses. It's only fair to warn you at this stage—as incredible as it is, the White Fish "Ceviche" with Mango is not date food. (Interpret that as you will.) It can be, however, followed unexpectedly well by the Beef Ragout, topped with rustic string potatoes, making for that oddly satisfying contrast of textures.
If innovation is the name of the game, then Pablo shows no signs of slowing down; so watch this space!
Photos by Hans Fausto
Load More Stories