Sinigang Wings and Chicken Sisig Shooters, anyone?
Griddle in Maginhawa is going for fusion.
Griddle: Steaks X Chicken
106-B Maginhawa Street, Teachers Village East, Quezon City
Contact: 433-4884
Open from 11 a.m. to 11 p.m. (Tuesday to Sunday)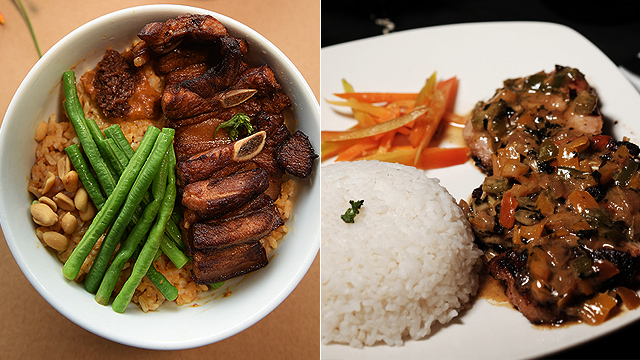 (SPOT.ph) More and more restaurants are opening in QC's most popular food street Maginhawa, so it's only natural that the more established joints are continuously trying to reinvent themselves to stay ahead of the game. For Griddle: Steaks X Chicken, the new items in their expanded menu were inspired by their bestseller, the deliciously memorable Honey Bagoong Wings (P145)—their courageous stab at the marriage of two unlikely flavors. Fusion works, and it works best when they involve Filipino ingredients.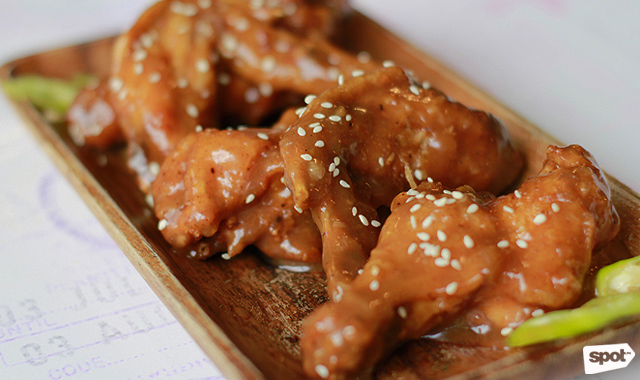 Sinigang Wings
Coming from this insight, they came up with new glazes for their wings. The standout in the repertoire of new dishes is their Sinigang Wings (P145) which comes with a thick, textured glaze from the stock of their original sinigang recipe. It's sour and sweet and it fills your mouth with so much flavor that is undoubtedly sinigang.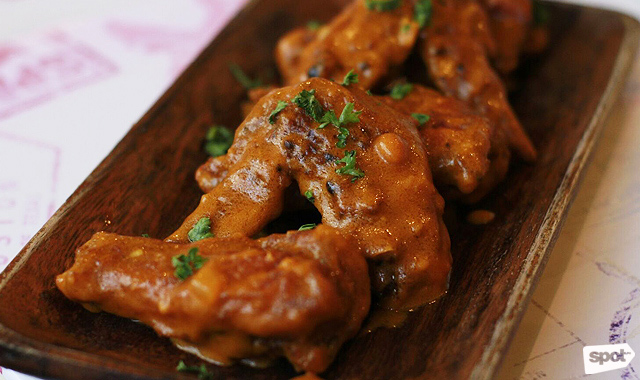 Kare-Kare Wings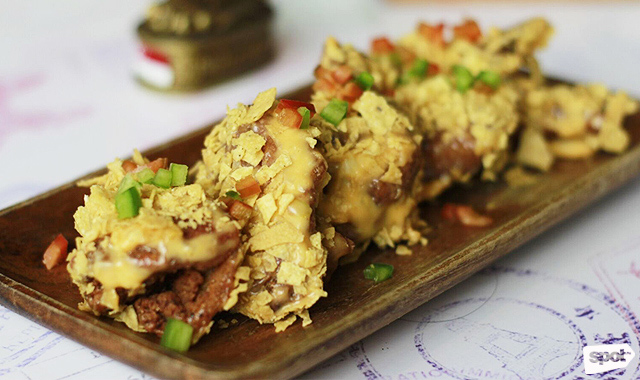 Cheesy Nacho Wings
Another soon-to-be favorite is the Kare-Kare Wings (P145) with a nutty and slightly sweet sauce. Last but definitely not the least are the Cheesy Nacho Wings (P145) because you could never go wrong with cheese and nachos. Instead of using an ordinary cheese spread, they came up with their own cheese concoction, which was later mixed with crushed nachos to give the wings a crispy and savory bite.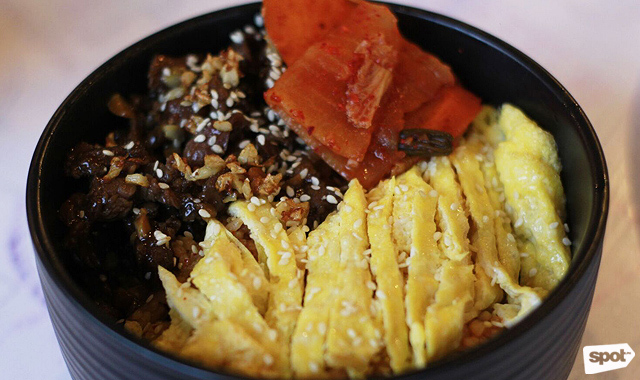 Kimchi Beef Tapa Rice
ADVERTISEMENT - CONTINUE READING BELOW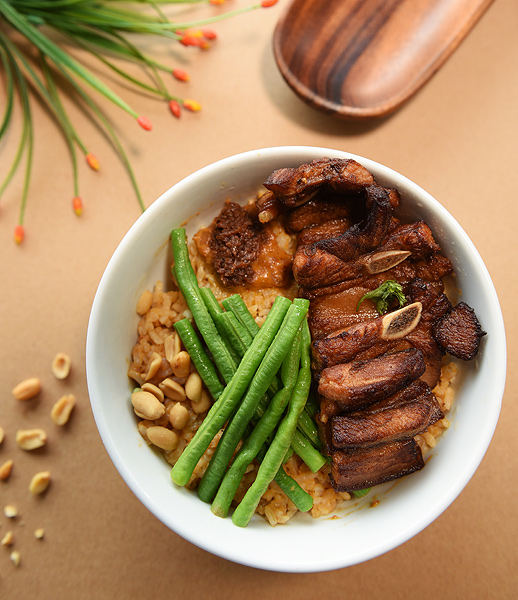 Kare Kare con Lechon Rice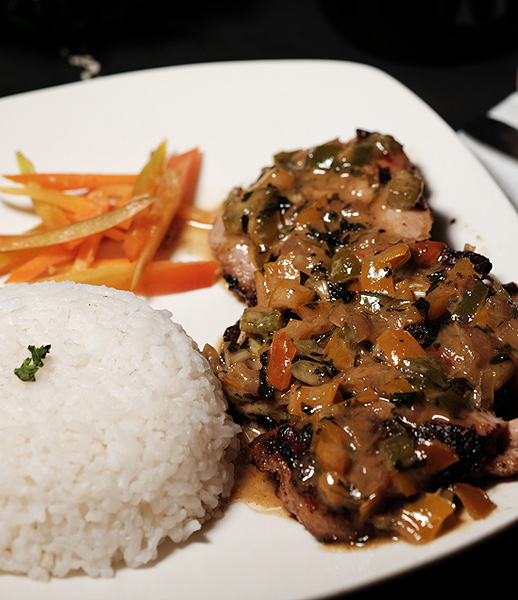 Grilled Chicken in Green Curry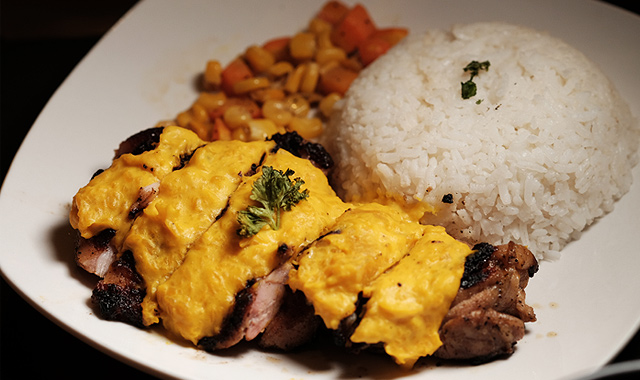 Grilled Chicken in Pumpkin Puree
Their new rice bowls and dishes are also products of fusion. Griddle's Kimchi Beef Tapa Rice (P180) stands out with its salty and spicy kick, followed by Griddle's Kare Kare con Lechon Rice (P175), a combination of two Filipino favorites. For the more adventurous, make sure to try their Grilled Chicken in Green Curry (P170) that packs in heat and flavor. Their Grilled Chicken in Pumpkin Puree (P170) is another innovative dish that utilizes pumpkins, one of the season's most popular ingredients.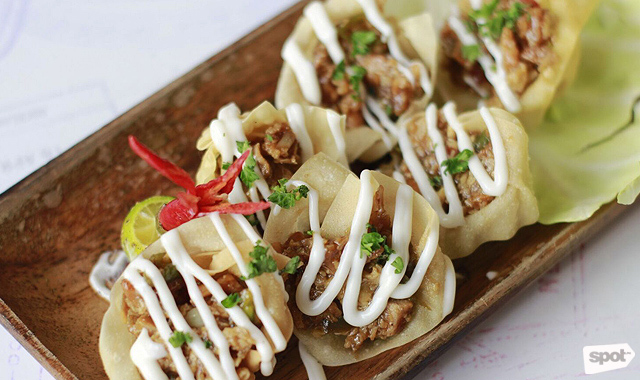 Chicken Sisig Shooters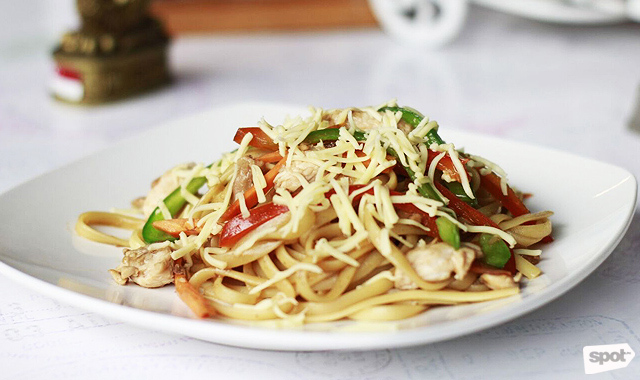 Asian Pasta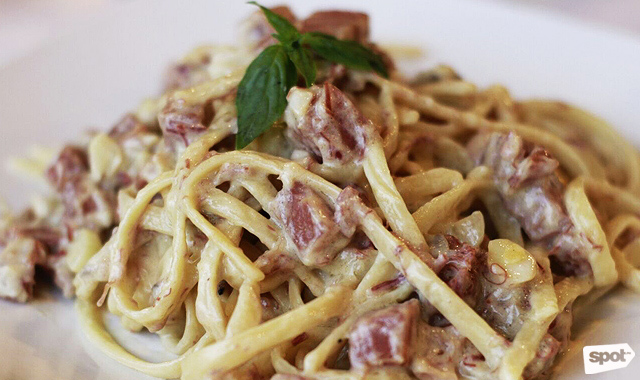 Breakfast Pasta
Still adhering to the theme of fusion, proudly representing the appetizers are their Chicken Sisig Shooters (P135). They use molo wrappers deep fried and sculpted into taco shells, which are later loaded with yummy chicken sisig. In the pasta department, they now have the Asian Pasta (P155) with chicken bits and a buttery oriental oyster sauce. They also have the Breakfast Pasta (P155) which features Filipino breakfast staples—chunks of Spam and corned beef, swimming in a cream-based sauce. And for fun they threw in more nachos with their Nacho Overload (P220) because why the hell not?
The ideas and recipes are collaborated by the team—owners Cellina Santos with Jan Wesley Samson and chefs Reynaldo Canlas Jr. and Rayson Rosalin. The new dishes were released in batches, starting on October 18, with the last batch being launched on November 3.
As a travel-themed restaurant, Griddle stays true to its mission of bringing your taste buds to new places and new heights. With its new fusion dishes and wings that proudly boasts Filipino flavors, they have also created standout meals that will surely bring you back home.
ADVERTISEMENT - CONTINUE READING BELOW
Photos by Juan Sinag Cano
Load More Stories