New Restaurant Alert: Tittos Latin BBQ and Brew in Kapitolyo, Pasig
Because, like their wall says, life is better with tacos!
Tittos Latin BBQ and Brew
16 East Capitol Drive, Barangay Kapitolyo, Pasig City
Contact: 535-9212
Open daily from 11 a.m. to 12 a.m.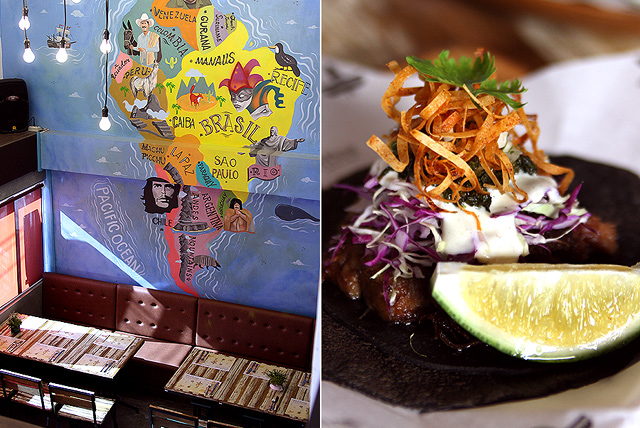 (SPOT.ph) Tittos is a welcome addition to the growing number of restaurants in the busy gastronation that is the Kapitolyo neighborhood. Drive or take a walk along East Capitol Drive and you can't miss it. The colorful wall art and attention-grabbing signage immediately catch your eye, luring you in. Inside, you're greeted by bright, colorful murals that give the place a fun, festive South American vibe. "At Tittos, we don't want to just focus solely on the food. We want diners to feel the Latin American experience the moment they step inside the place," says Terence Jan Lim, Tittos' marketing manager and one of the restaurant's owners. To achieve that feel and look, they hired six local artists to paint South American-inspired murals on the walls of the restaurant.
ADVERTISEMENT - CONTINUE READING BELOW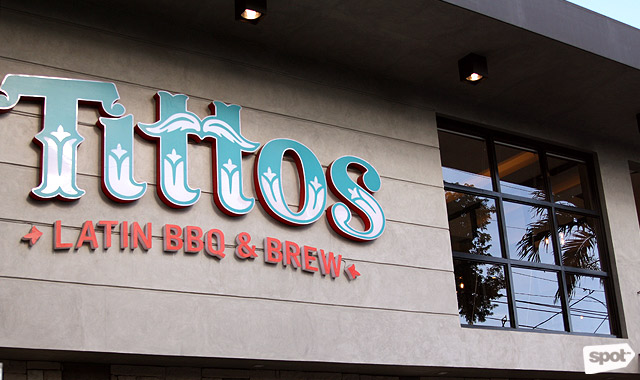 CONTINUE READING BELOW
Recommended Videos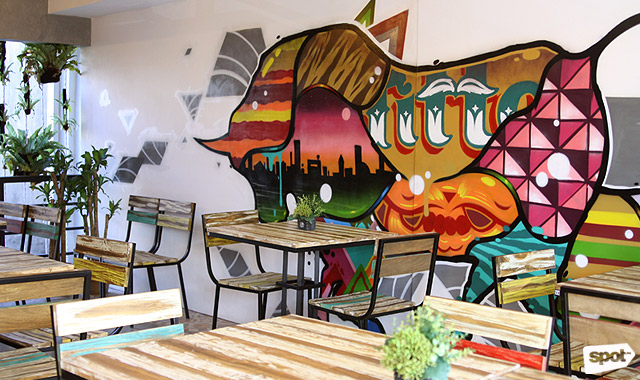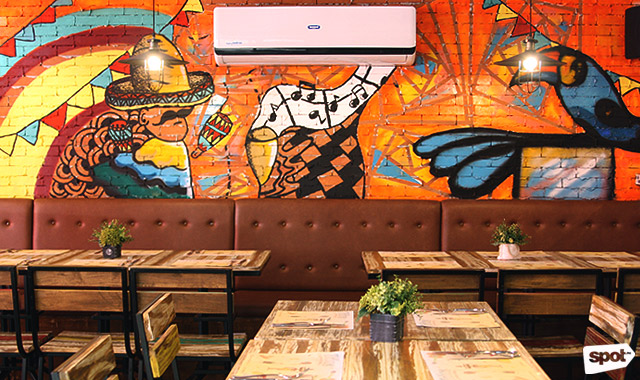 ADVERTISEMENT - CONTINUE READING BELOW
Putting a unique and playful spin on South American dishes, co-owner and chef Jerwyn Izen Rabo infuses his creations with flavors that are familiar and cater to the Pinoy palate. For example, there's the Tacoyaki, which is exactly what it sounds like—taco-flavored takoyaki; the Pizzadilla, an open-faced quesadilla; and the Tittos Chicharron, which is their version of our beloved crispy pata. "Latin American flavors are pretty strong, so Chef Jerwyn had to work his magic to turn it into something that Filipinos will like." says Terence. And what Chef Jerwyn has achieved is nothing short of wizardry—he has created dishes that are bold and new as well as comforting and familiar.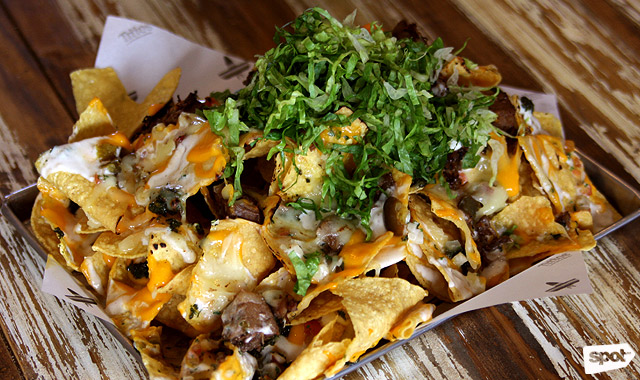 El Gigante Nachos
Talk about value for money: their El Gigante Nachos (P375) could feed a barrio. It's topped with a trio of cheese, tomato salsa, chimichurri, Mexican crema, jalapeños, and chunks of beef so soft and flavorful, you'll want to finish the whole dish by yourself. Don't. Trust us, you want to leave space for the other dishes on their menu.
ADVERTISEMENT - CONTINUE READING BELOW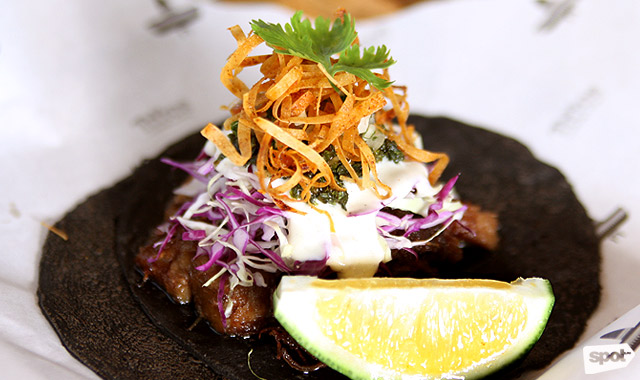 Beef Barbacoa Tacos
The Beef Barbacoa Tacos (P145) is already a crowd favorite. One bite and you'll understand why. The slow-cooked beef belly chunks, served on their custom black tortilla, are soft, tender, and flavorful. But what really sets this dish apart is the surprising crunchy texture you get in every bite, thanks to the caramelized fat and the toasted crust that forms on the edges of the beef during cooking.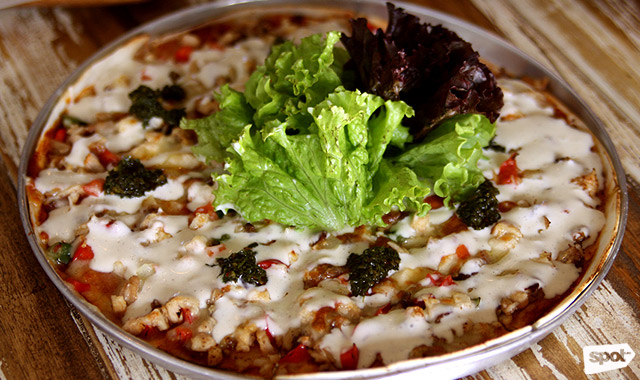 ADVERTISEMENT - CONTINUE READING BELOW
Pollo Pizzadilla
The Pollo Pizzadilla (P295) an open-faced quesadilla, is loaded with grilled chicken, onions, pimientos, flavored tomato sauce, cheese, chimichurri, and crema, which means it's also loaded with flavor. Roll it up, dip it in one (Or all. It's your choice, really.) of the three sauces—Mexican crema, salsa verde, or salsa roja—they serve with all their dishes, and enjoy!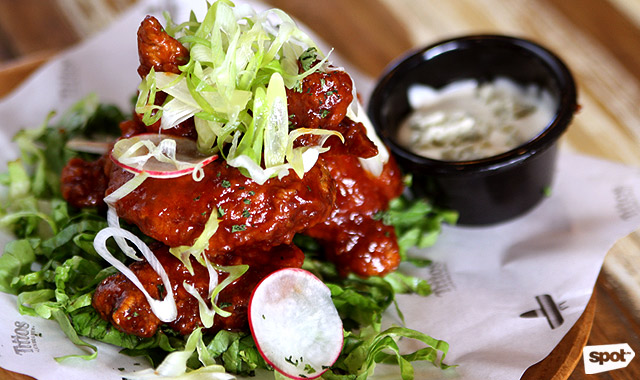 Tittos Wings
The Tittos Wings (P245) wings are incredibly crisp and have just the right amount of spiciness, courtesy of their signature chipotle barbecue glaze. The heat will hit the back of your throat after a second or two, so best to keep the blue cheese crema dip within reach.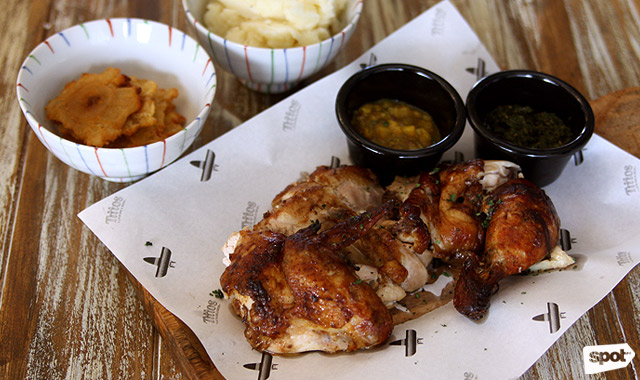 ADVERTISEMENT - CONTINUE READING BELOW
Pollo Asado
The chicken game is definitely strong in the Pollo Asado (P195/one side, P340/two sides, P680/three sides). They brine the chicken for one whole day before roasting it to season the meat and make sure that it stays moist and tender. The star of this dish though is the mango relish, which goes perfectly with the roast chicken.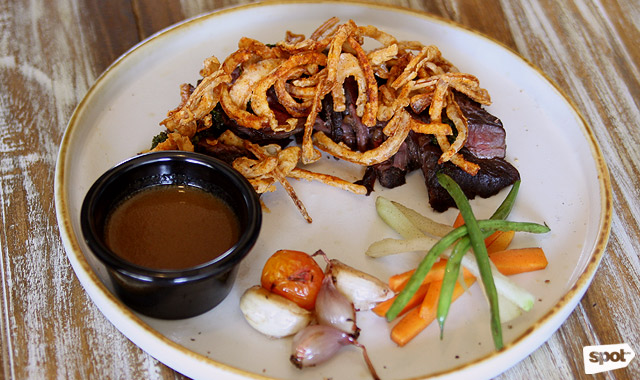 18-Hours Goucho Steak
Carnivores would want to get their hands on the 18-Hours Goucho Steak (P480). "The hanger steak is marinated in herbs and spices then cooked in a sous vide machine for 18 hours to make it tender and juicy," shares Chef Jerwyn. "Afterwards, the steak is seared to give it a nice flavorful crust," he adds. The steak is served topped with perfectly seasoned onion rings that provide a crunchy contrast to the tender meat.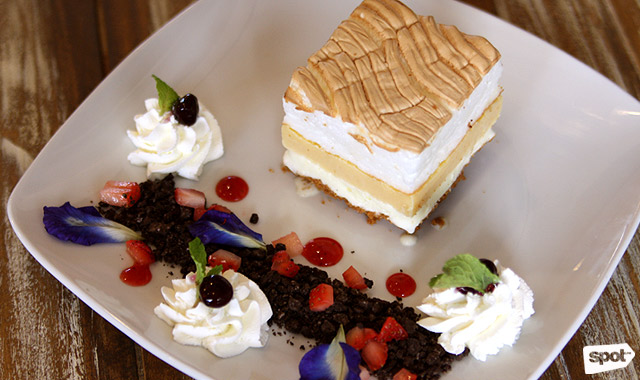 ADVERTISEMENT - CONTINUE READING BELOW
Frozen Brazo de Mercedes
You can never go wrong with the Frozen Brazo de Mercedes (P190). Add crushed Oreos, whipped cream, blueberries, and strawberry slices and you just know you've hit a homerun.
Duo Panna Cotta and Key Lime Pie
The Duo Panna Cotta and Key Lime Pie (P210), a Bailey's and tea-infused panna cotta, is deliciously sublime (read: TDF!) while the Key Lime Pie provides a tart contrast.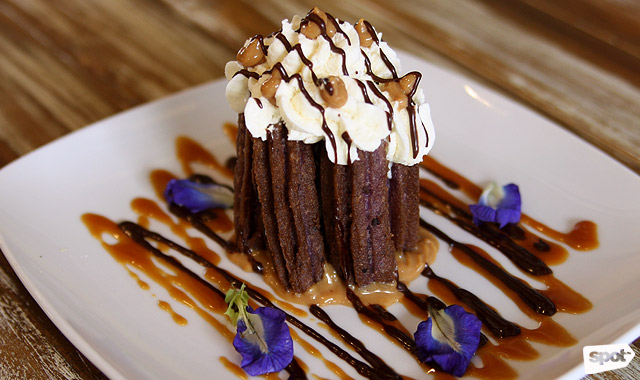 ADVERTISEMENT - CONTINUE READING BELOW
Tittos Ube Churros
Sink your teeth into the Tittos Ube Churros (P210) to reveal the rich, purple, ube color inside. They're crunchy on the outside and soft on the inside, just the way churros should be. Instead of a cup of hot chocolate, it comes drizzled with chocolate and caramel syrup. Indulgent and filling without being cloying, it's the perfect ending to a perfect meal.
Don't forget about the Almond Cinnamon Horchata (P125) "We make our own! That's not from powder," co-owner and restaurant operations GM Anton Melocoton says proudly. And you really can tell the difference. This one is legit!
"We cater primarily to people from the Kapitolyo and Ortigas areas," says Ton. "Our diners are mostly office workers—yuppies—and families," he adds. It's not hard to see why Tittos appeals to the work crowd and families; the vibe is fun and laid-back. It's the ideal place to have lunch with your coworkers, or share some El Gigante Nachos and beer with your friends after a long day at the office, or even hang with the fam on the weekends. The food is delicious and with 72 items on the menu, there's something for everyone. Plus, the prices are reasonable and the portions are generous. What's more, you don't worry about parking, they have valet!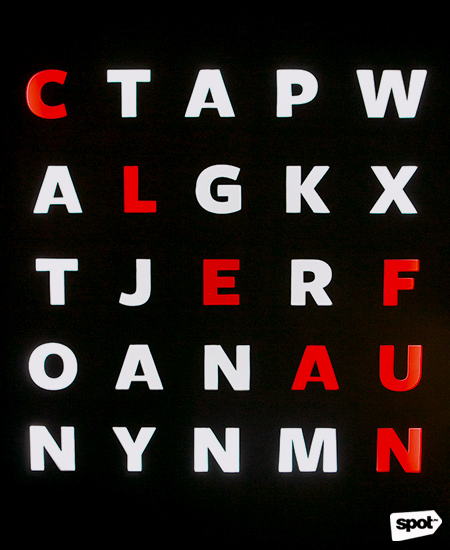 ADVERTISEMENT - CONTINUE READING BELOW
P.S. If you know the right people, passcode, or room number, there's this cool, little bar you can hit up with your friends for a nightcap and some good "clean fun." Cheers if and when you find it! 
Photos by Criselda Carreon
Share this story with your friends!
---
Help us make Spot.ph better!
Take the short survey
Load More Stories