Art and food collide at Crave Park in Marikina
With 18 stalls to choose from, this food park has something for everyone.
Crave Park
Block 3 Lot 22 and 24 Mayor Gil Fernando Street, Centro de Buenviaje, Barangay Sto. Nino, Marikina City
Open daily from 4 p.m. to 12:30a.m
FB: facebook.com/craveparkph
IG: @craveparkph
Website: www.cravepark.com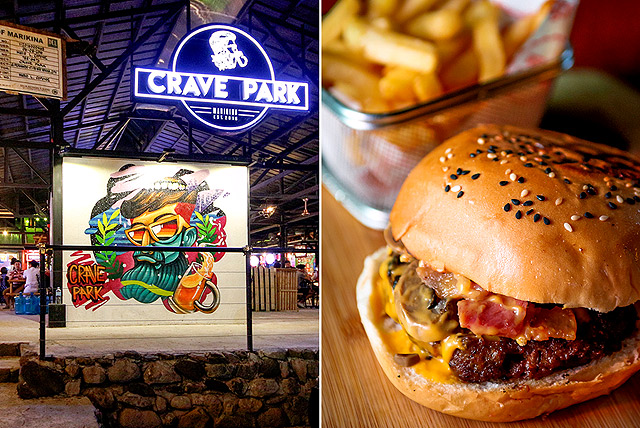 (SPOT.ph) In the sea of food parks flooding the Metro this year, Crave Park stands out spectacularly.  With its eye-catching murals by local street artists Eggfiasco, Kookoo Ramos, and Distort and stalls offering everything from unlimited tempura to nitrogen-infused coffee, Crave Park has become the hippest art and food destination in Marikina. And judging from the crowd when we visited one Friday night, we're not the only ones who think so.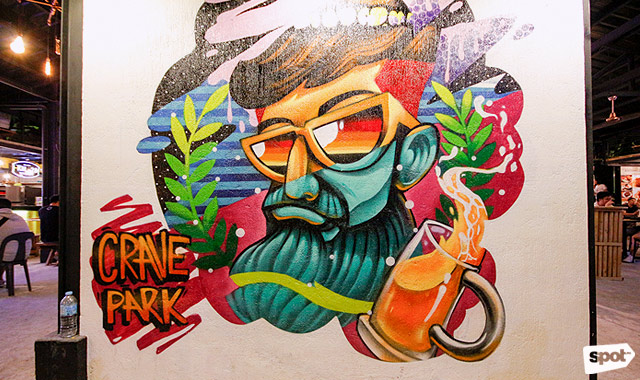 ADVERTISEMENT - CONTINUE READING BELOW
Definitely IG-worthy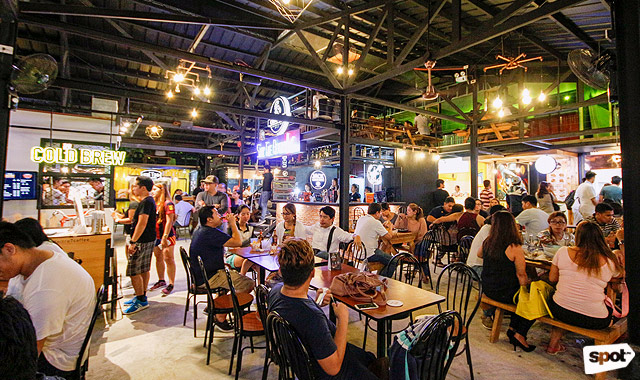 CONTINUE READING BELOW
Recommended Videos
The place was packed!
The Copuyoc family envisioned Crave Park to be a place where everyone can enjoy good food and good art, from families to students and friends looking for a place to hang out.  And with 18 stalls to choose from, it won't be difficult to find something for everyone to like. Read on as we round up our favorites from each stall.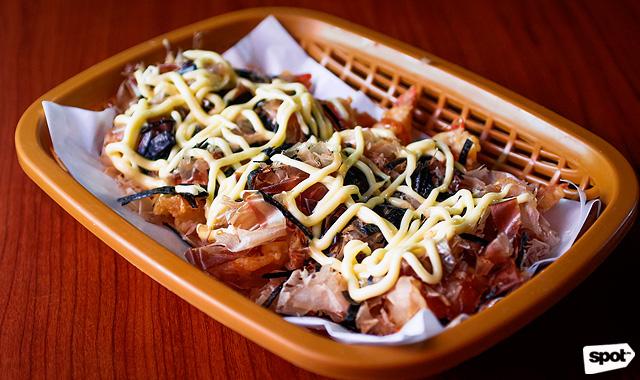 ADVERTISEMENT - CONTINUE READING BELOW
 Crazy Tempura
Tokyo Tempura
Tokyo Tempura has become a food park staple with their unlimited tempura for only P199, definitely a steal especially for hungry students and anyone on a budget. Even with the huge quantities of tempura fried by the stall daily, quality is definitely not compromised, with each one coming out golden fried, crispy and delicious. Another must-try is the Crazy Tempura (P100), crisp shrimp tempura overloaded with bonito flakes that's reminiscent of pork floss, mayonnaise, and a special dressing that gives the whole meal a tangy-sweet flavor.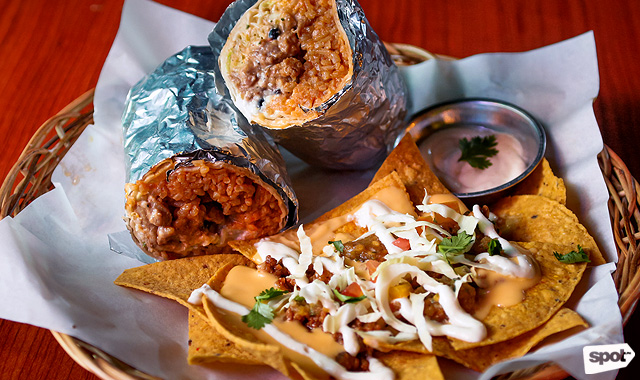 Steak Burrito
The Hungry Burro
No food park is complete without a Mexican place, and The Hungry Burro plays the role for Crave Park, providing no-frills Tex-Mex cuisine. The Hungry Burro decided to stick to classic and familiar favorites like tacos and burritos, making sure that everything is made fresh and packed with authentic Tex-Mex flavors. Their Nachos (P250) are a bestseller especially in a setting where groups hang out. Their Steak Burrito (P175) is almost overwhelmingly huge, packed with steak, rice, tomatoes, lettuce, and cheese for a filling meal. It comes with a super tasty sour cream sauce plus you can order it as combo with nachos for P225.
ADVERTISEMENT - CONTINUE READING BELOW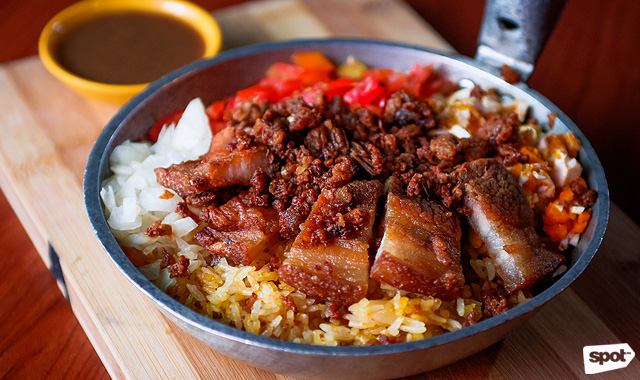 Ilocano Rice
The Archipelago by Barrio Fiesta
Filipino favorite Barrio Fiesta steps into the food park scene with The Archipelago, serving classic Filipino dishes like Crispy Pata (P195) and Crispy Liempo (P185) at affordable park-suitable prices without compromising quality.  Their Ilocano Rice is a complete meal with rice topped with lechon kawali, budbod longganisa, tomatoes, onion, and salted egg. Mix them all together and get the classic lechon kawali meal flavors in every bite with the meat and sides mingling with each other. And at P215, it definitely gives the best bang for your buck.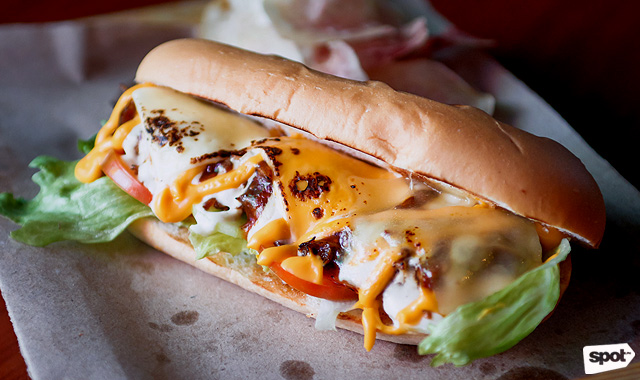 ADVERTISEMENT - CONTINUE READING BELOW
Cheesy Foursome
Pulled Meat Bar
It's all about customization here at Pulled Meat Bar. Choose among three kinds of pulled meat, chicken, pork, and beef, that is all slow-cooked to be tasty and melt-in-your-mouth tender. You can also pick between two kinds of barbecue sauce, sweet or spicy, which are both house recipes. You can upgrade your lightly toasted warm bun to a Caramel Bun (P25) or even trade it for a sizzling meal served with rice. There's also a whole menu of add-ons to truly make your meal your own. If you can't be bothered to DIY, we recommend the Cheesy Foursome (P215)—a pulled meat sandwich made even better with four kinds of cheeses that melt between a warm bun for stretchy gooey goodness.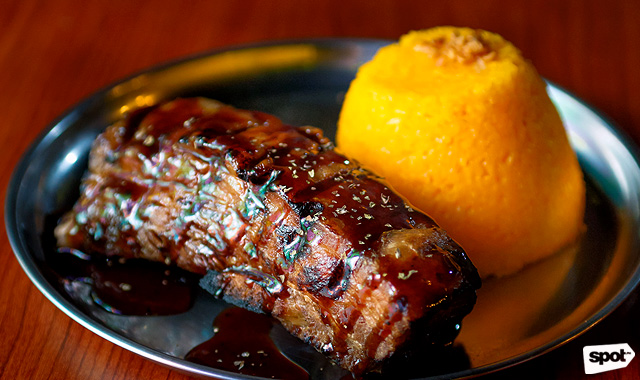 Baby Back Ribs
Pub Express
We've all seen food stalls named with the word "express" but it's Pub Express that really takes the word seriously—everything is guaranteed to be served in the fastest time possible. But just because they do it quickly doesn't mean that Pub Express compromises on quality. We definitely recommend the Baby Back Ribs (P149). The meat falls off the bone with just a tap of a spoon (a plastic one at that) and their barbecue sauce is spicy-sweet and delicious. You can also try their menu of Sausages (P120 served with rice) and the Creamy Kawali (P120).
ADVERTISEMENT - CONTINUE READING BELOW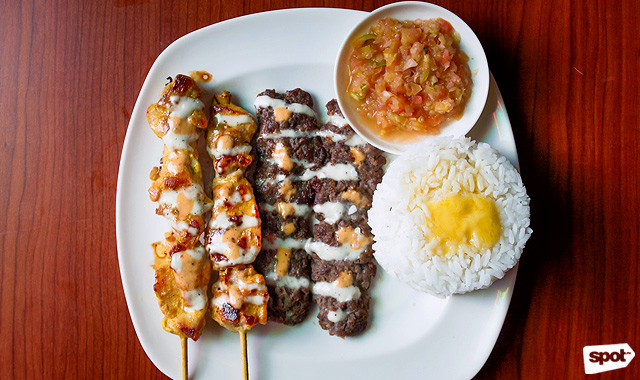 Kebab Platter
Uncle Moe's Shawarma
Uncle Moe's Shawarma is another familiar name at Crave Park. Uncle Moe's joins the food park scene with the affordable and tasty Persian food they've become known for. A classic bestseller that is also available here is the Kebab Platter (P155), two sticks of chicken kebab and two sticks of beef kebab, served with Uncle Moe's white sauce that complements the kebabs' spices perfectly and warm rice topped with melting butter—a winning Persian dinner.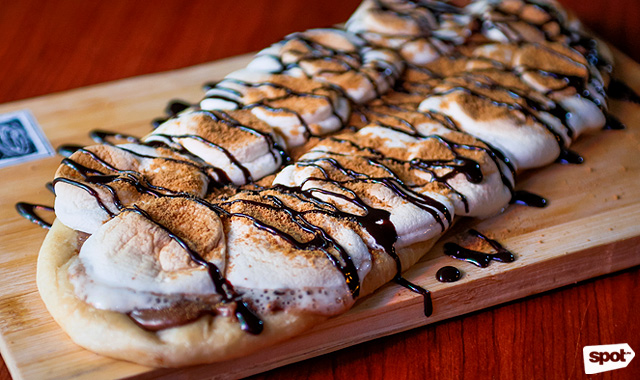 ADVERTISEMENT - CONTINUE READING BELOW
Smores
Flat Bread
The Italians were really on to something when they decided to roll out dough until it's flat and top it with loads of yummy toppings—yes we're talking about the pizza! But Flat Bread is takes this tried-and-tested concept and adds their own twist, creating something similar to pizza but not quite. Their dough is made fresh with an original recipe, rolled out and then fried until slightly crisp and chewy. The flat bread then becomes a canvas for different kinds of topping combinations resulting in flavors like Margherita (P70/small, P130/big deal) and Chicken and Pesto (P90/small, P170/big deal). Their bestseller is the Smores (P70/small, P130/big deal): marshmallow and chocolate melting on top of warm flat bread. It's messy, sticky and gooey, in the way the perfect sweet treats are.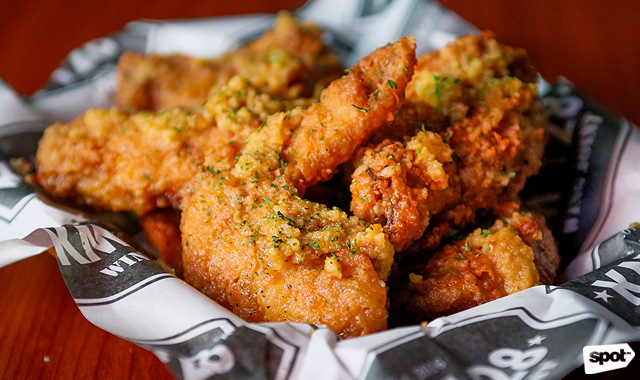 Garlic Parmesan
KM 128 Wing Joint
Wings are the perfect food park food. They come in baskets for sharing, and because of the casual park ambiance, it doesn't matter if you get your hands dirty digging into your wings. So of course Crave Park also has this food park essential in KM 128 Wing Joint. KM 128 serves perfectly fried crispy greasy chicken wings in a half basket for P185 and a whole basket for P340. There are five flavors to choose from: Classic Buffalo, Garlic Parmesan, Hickory Smoked Bbq, Soy Garlic, Honey Sriracha and Cajun. We tried the Garlic Parmesan, and we couldn't stop ourselves from licking our fingers to get every bit of that tasty seasoning. You'll want to order a cup of rice (P20)  to go with your wings. They also have a wide variety of sides you could choose from, like Buffalo Mojos (P120) and Beer Battered Onion Rings (P150). 
ADVERTISEMENT - CONTINUE READING BELOW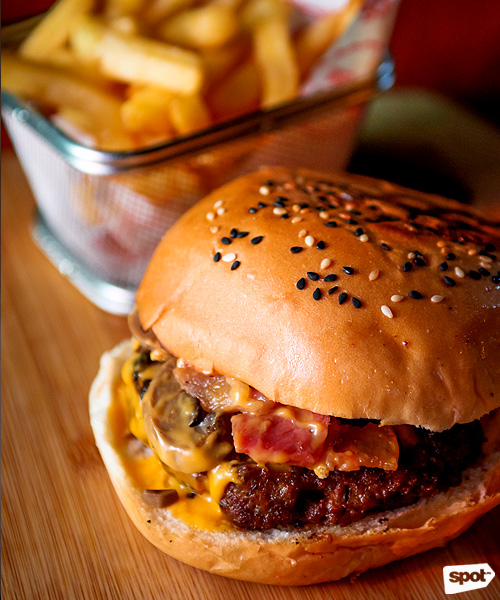 Dying 
Hunger Buster
This burger joint, which began in Ateneo and was a hit among students, has now ventured out with a stall in Crave Park. Staying true to their roots, Hunger Buster continues to serve tasty burgers at student-friendly prizes and good-sized beef patties. A must-try is the Dying (P100/P155 with fries), the classic beef patty and bacon combo made even more delicious with melted cheese and mushrooms.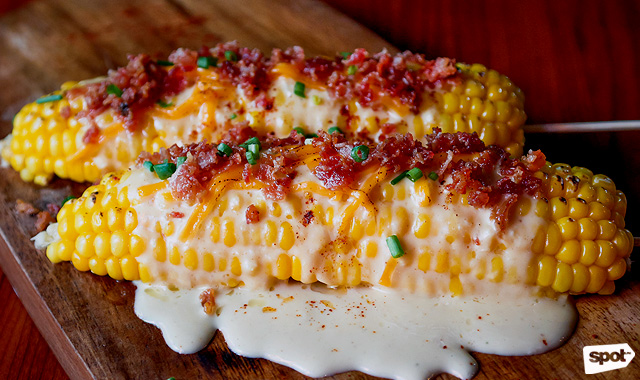 ADVERTISEMENT - CONTINUE READING BELOW
Bacon and Cheddar Corn
Dabs and Popcorn
Dabs and Popcorn elevates the corn on a cob with the freshest ingredients sourced from farms all over the Philippines—their corn is locally produced by farmers in Pangasinan. For the owners of Dabs and Popcorn, the corn is a canvas that can hold a wide array of flavors. A must-try is the Bacon and Cheddar Corn (P110), corn on the cob covered with melted cheddar cheese and bacon bits. Getting their ingredients, from the cheese to the corn to the herbs used to spice up the food, fresh from farm to kitchen really makes a huge difference that you will definitely taste. You'll never look at corn the same way again.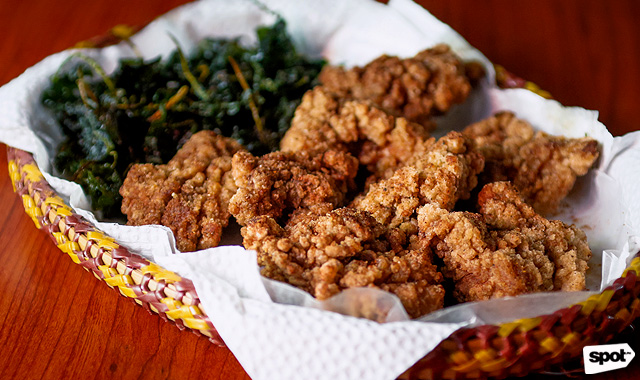 Chicken Chops
Lil Taipei
Lil Taipei transports Marikina to the streets of Taiwan with their authentic Taiwanese street food. They use a mix of Taiwanese spices but also adapts their flavors to suit the Filipino palate. The results are an explosion of salty-spicy flavors that are unlike anything we've tasted before. Their bestseller is the Chicken Chops (P100), juicy fried chicken seasoned in their secret mix of spices—it's tasty from skin to meat.
ADVERTISEMENT - CONTINUE READING BELOW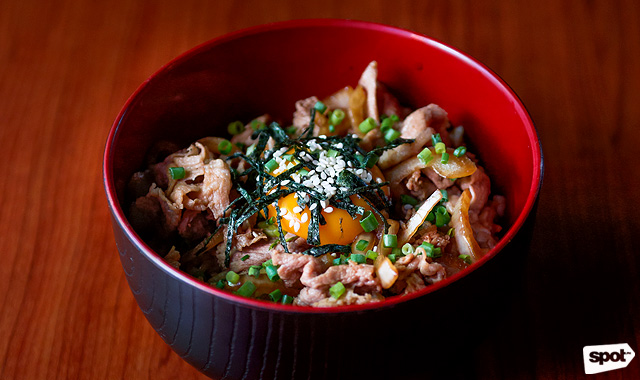 Beef Gyudon
Tori Donburi
Tori Donburi brings classic Japanese food with a modern twist to Crave Park, with their menu of Japanese rice bowls and snacks. The team behind Tori Donburi developed their own recipes to serve authentic Japanese flavors at affordable prices. The Beef Gyudon (P149/solo, P159/donburi) comes highly recommended, with strips of soft and tender beef marinated in a special sauce sitting on a bowl of warm rice and topped with a runny egg. Mix everything together to cover the beef and rice with egg yolk for the perfect Japanese rice bowl. End with their matcha desserts: Matcha Cookie (P49) and Matcha Lava Cake (P99).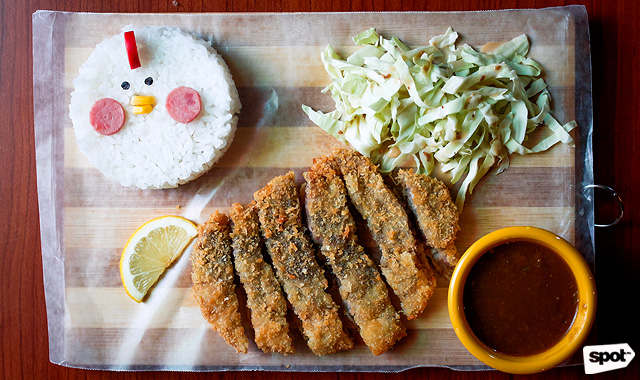 ADVERTISEMENT - CONTINUE READING BELOW
Pork Katsu Curry
Kawaii Kitchen
Kawaii Kitchen brings the kawaii craze to the food park scene with their Japanese curry, served with rice decorated with animal faces that are almost too adorable to eat. The bestseller Pork Katsu Curry has crisp and juicy pork served with their mild but tasty curry sauce. Aside from curry, Kawaii Kitchen also serves other kawaii cafe favorites like Tuna Cream Pasta (P165) and Chicken Karaage (P175).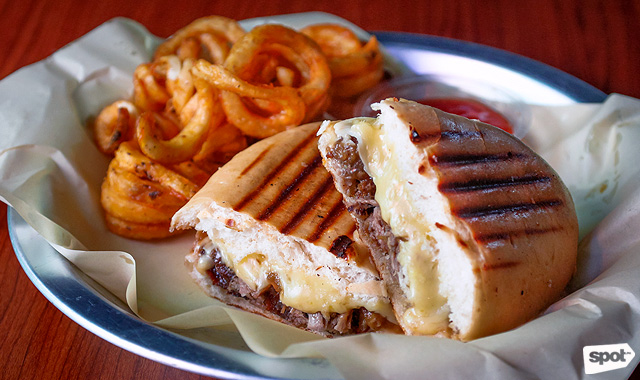 Cubano Filipino
Kwatro Cubanos
Kwatro Cubanos gets its name from the four good friends who were brought together by their love for cheese and sandwiches. They serve cubanos and cheesesteak sandwiches, adding a Filipino twist to Cuban flavors, like the Cubano Filipino (P185), a Cuban pan de sal sandwich stuffed with pulled lechon covered in a sweet-tangy sauce, with lechon kawali for extra crunchiness and lots of melted gooey cheese. An even more playful flavor combination is the Bulgogi Cubano (P190), which stuffs the Cuban sandwich with bulgogi strips, machaca (Mexican beef jerky) and caramelized kimchi—the marriage of East and West between two warm buns.
ADVERTISEMENT - CONTINUE READING BELOW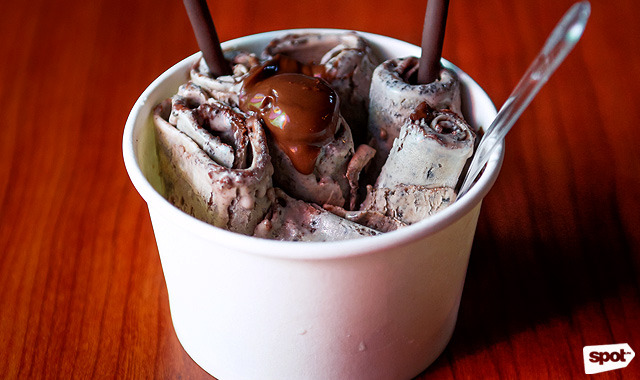 Rocky Road
Creamco Creamery
No food park is complete without an ice cream place, and Creamco Creamery plays the role with their Italian-style custard served the Thai way: as thin fried ice cream rolls. There's a bit of showmanship with how Creamco Creamery prepares their sweet treats. Customers can watch as their ice cream is prepared behind the stall, with various toppings like fruit, Oreos, cookies and more, then crushed and rolled with the custard. The Rocky Road (P140) is a crowd-pleaser, with Oreos mixed in with vanilla custard and served with Chocolate Pocky and generous spoonfuls of Nutella.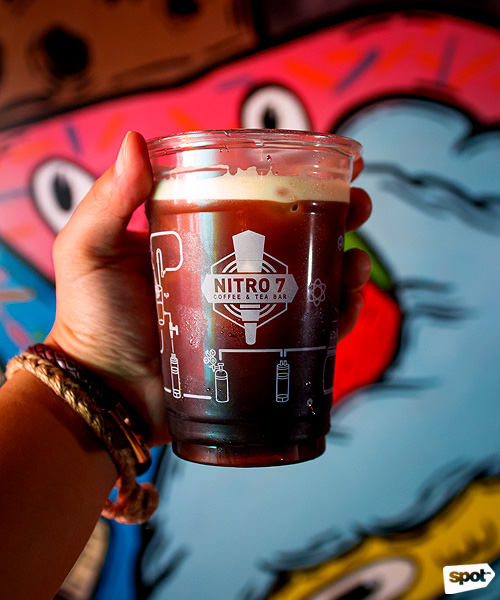 ADVERTISEMENT - CONTINUE READING BELOW
Black Nitro
Nitro 7 Coffee and Tea Bar
Nitro 7 brings cold brew coffee to the food park with their nitrogen-infused coffee that's served through taps, just like draft beer. It takes Nitro 7 about 18 to 24 hours just to brew their coffee, which is made with Arabica beans, and two days to infuse it with nitrogen and the results are amazing. Each coffee shot is creamy and sweet on its own. The Black Nitro, which is reminiscent of an Americano is a strong brew that's a huge hit among Crave Park-goers. For those who prefer their coffee tooth-achingly sweet, there's the Hazelnut Caramel Mocha, which has no added sugar because of the nitrogen infusion. Tea-drinkers don't fret, because Nitro 7 also serves tea that's been infused with nitrogen as well for sweetness without sweeteners.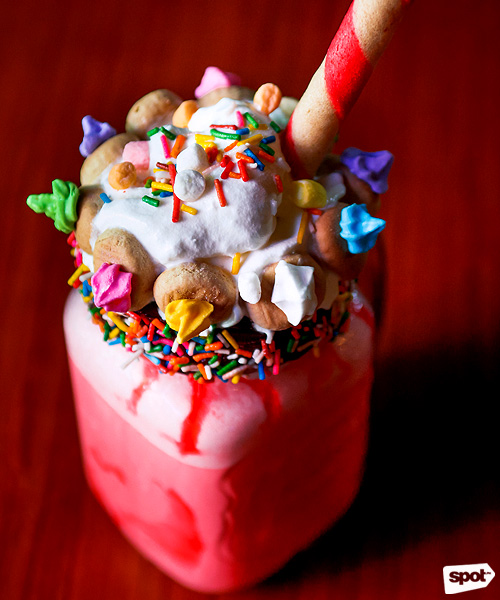 Strawberry Wonderland
Quench Drink Bar
One thing that will definitely catch your eye at Crave Park: big tubs of colorful drinks shared by friends and family. They come from Quench Drink Bar, which serves Lemonade (P50/solo, P110/group), Strawberry Juice (P50/solo, P110/group) or Mix (P55/solo, P120/group), in solo mason jars or tubs for sharing. Quench also serves dessert milkshakes. Their Strawberry Wonderland (P150) is a strawberry milkshake covered in whipped cream and iced gems with a strawberry-flavored Stik-o—a drink that definitely takes us back to our childhood.
ADVERTISEMENT - CONTINUE READING BELOW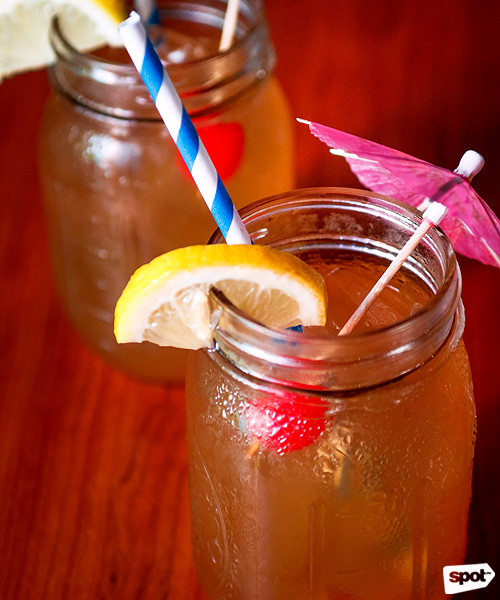 Truth or Consequence
Spin The Bottle Bar
Spin The Bottle is managed by the same family behind Crave Park. Spin The Bottle's mixed drinks were specially crafted by EDSA Beverage Design Group to channel the nostalgia of the '90s and give it a modern millennial twist, exactly how the Copuyoc siblings wanted it. The Truth or Consequence (P220) is a Spin The Bottle exclusive and must-try cocktail that'll take you back to summers spent at the beach, with its tropical mix of tequila, ginger beer, and banana float. Aside from specialty drinks, Spin The Bottle also serves a good variety of local and imported beers, and hard liquor. Bring your friends along for a round or two of beer pong at their special lounge and create even more happy memories.
Photos by Jericho San Miguel
Share this story with your friends!
---
Help us make Spot.ph better!
Take the short survey
Load More Stories