10 New Places in Manila for Great Cocktails
From safe mocktails to dirty cocktails, we tell you where to go for your preferred cocktail fix.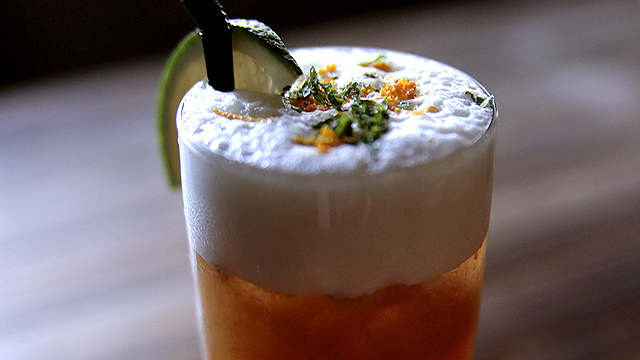 (SPOT.ph) Grabbing a cocktail is easy. But where do you go when you feel like sipping that kind of drink in this type of ambiance together with that sort of crowd? No, you're not too picky. We totally understand your plight. So, we've done the rounds especially for you, and gathered the hotlist of places to indulge your alcoholic cravings. Cheers and bottoms up!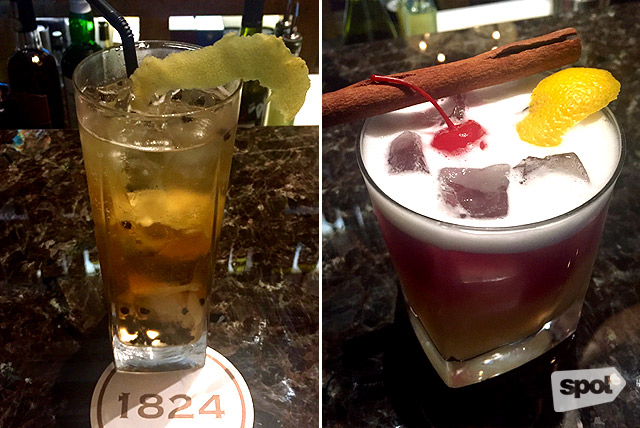 1824
For experienced drinkers and those who want to be initiated into the world of whisky, the 1824 cigar bar privately awaits you on the second floor of Discovery Primea. FYI, you'll need a key card to set foot on this floor. It is an intimate space that may intimidate you as a gentleman's dominion, but you'll find that women may also partake of this exquisite bar that offers a refined experience of topnotch international whiskies. With a focus on an expansive selection of single malt scotch, a choice of whisky flights, as well as brandies, wine, beer and your trusty spirits of gin, vodka and tequila, you may also equip yourself with an introduction to cigars both local and foreign. They don't impose any kind of whisky drinking style, so should you deviate from being a purist, you may do so by asking straight-up bartender Lennon to prepare any of his sublime whisky cocktails. The playlist captures '60s to '80s favorites, including jazz classics.
ADVERTISEMENT - CONTINUE READING BELOW
Must-tries:
Old Fashioned with a Twist – A suave entry into the night, the orange marmalade softens the Jack Daniels single barrel bourbon while the dried figs naturally sweetens the angostura bitters.
Ginger and Pepper Horseneck – The Rittenhouse rye whisky is rounded out by the Schweppes soda water infusion of whole peppercorn and sliced fresh ginger that give a sweetly spiced flavor.
Whisky Sour – The Laphroiag 10 whisky surfaces to the taste buds embellished with the smoked cinnamon bark trapped inside the glass. It finishes with dry red wine topped with froth. A different level of smoky bliss is reached when stirring the drink with the smoked cinnamon bark mimicking an actual cigar. Truly a grand finale worth a standing ovation.
CONTINUE READING BELOW
Recommended Videos
1824 is at 6749 Ayala Avenue, Discovery Primea, Makati City. Open daily from 4 p.m. to 12 a.m.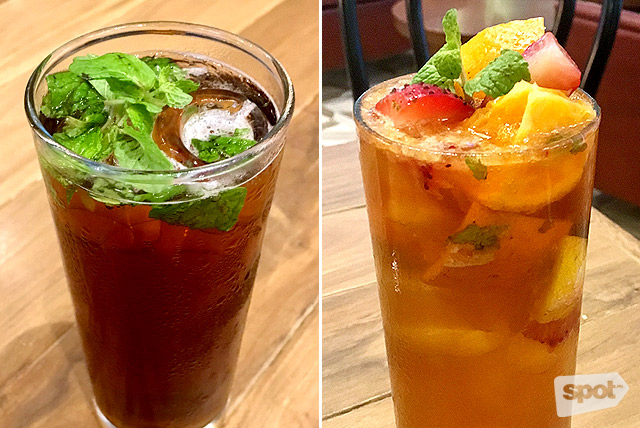 Caravan Black
A friendly neighborhood specialty café with fast-casual dining, Caravan Black promises the ultimate coffee experience. At the hub of many corporate offices, the place invites you to unwind and take a brief respite from life's daily hustle-and-bustle. But if you must, you can hold your lunch meetings, work on your laptop, and power up with nitro-coffee. The café is lit by vintage lighting, with classic brown leather arm chairs, cozy bar stools including two gold desk lamps, and a dial-up telephone from the 1940s. Their food fixes will satisfy you from breakfast to dinner, all the way to happy hour. Surprisingly, the café presents an interesting variety of cocktails that are equally superb to their coffee. They have reliable classic Espresso Martini. Women will love the Lady Rosemary (vodka, gin, rose syrup, lemon and grapefruit juice), while the men will get a powerful kick from the Frontman (bourbon whisky, rich simple syrup, chocolate cigar and angostura bitters).
ADVERTISEMENT - CONTINUE READING BELOW
Must-tries:
Caravan Black Mojito – This original signature cocktail created by professional mixologist Larry Guevarra stands out with refreshing bursts of flavors such as lambanog, cold brew coffee, soda water, and mint leaves.
Classic Pimms No. 1 – Feel the introductory fizz from the 7Up followed by the taste of Pimms and the vibrant fruity array of fresh cut lemon, oranges, and strawberries. The orange pulp bits give a tasty oomph.
Caravan Black is at Net Park Building, 4th  Avenue, Bonifacio Global City. Open from 8 a.m. to 10 p.m. (Monday to Friday) and 9 a.m. to 6 p.m. (Saturday and Sunday).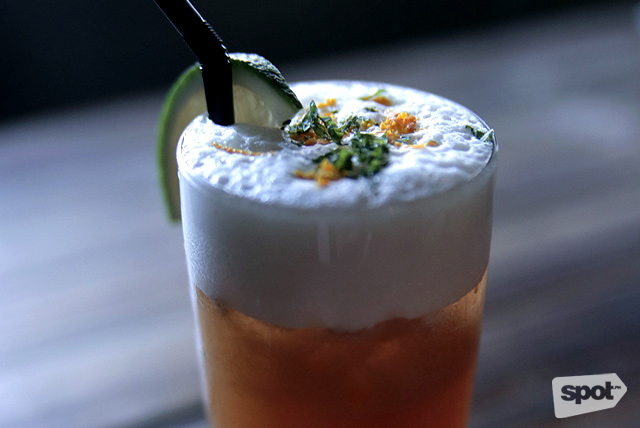 Taco Vengo
They're known for, well, tacos, but the guys behind Taco Vengo are all about laid-back fun and good food. Their brand-new digs in Mandaluyong just opened a few weeks ago, and you can expect the same kind of satisfying Mexican-inspired dishes that people love them for—but next time you go, try to veer away from the beers and check out some of their cocktails instead. The drinks are formulated with the restaurant's casual, easy-going vibe in mind and go perfectly with the great grub, aside from being really, really good.



ADVERTISEMENT - CONTINUE READING BELOW
Must-try:
The Beach Babe – Refreshing and light with zing from orange zest and a very subtle hint of coconut, this drink is what a leisurely day on the beach tastes like.
Taco Vengo is at 16 Williams Street, Highway Hills, Mandaluyong City. Open from 12 p.m. to 2 a.m. (Monday to Friday) and 12 p.m. to 3 a.m. (Saturday and Sunday).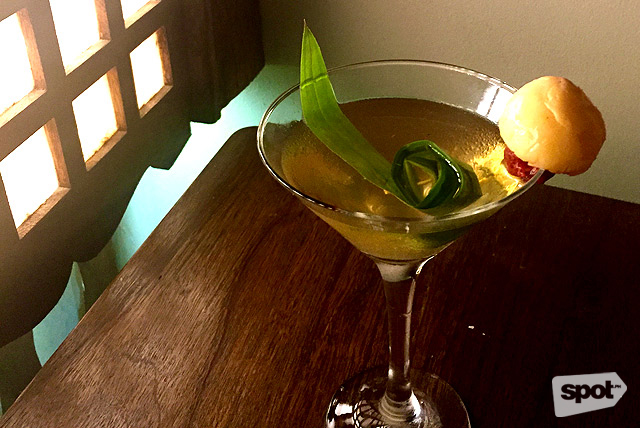 LOBO
From the family that brought Persian Grill, their latest venture is a Filipino Tavern called LOBO. Referring to the Filipino word for wolf, LOBO invites you and your pack of friends to gather together in appreciating our local roots. Using bits of railroad wood and decorating the space with capiz checkered windows sourced from an ancestral home, the place makes you feel welcome as though you're in your grandma's house. A nice place to catch the night sky is the open balcony dining area upstairs. LOBO'S fresh kinilaw, kani angel hair pasta, and especially their signature twist of lamb adobo are exceptional dishes to line your stomach before you start drinking. They have a good beer selection (local to imported) and have your regular poisons of tequilas, whiskies, and wine. Barely a month old, LOBO's complete cocktail list will be officially released in December. Currently, the Da Datu cocktail has made its debut as a tribute to our founding fathers.
ADVERTISEMENT - CONTINUE READING BELOW
Must-try:
Da Datu – With lemongrass and red sili infused rum, laced with pandan sugar syrup and lychee juice, one sip of this will make you feel like a supreme ruler.
LOBO is at 4898 Durban Street, Makati City. Open from 5 p.m. to 3 a.m. (Monday to Friday) and 5 p.m. to 4 a.m. (Saturday and Sunday).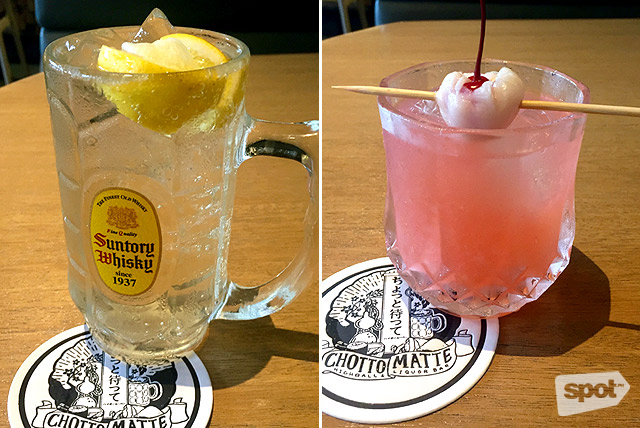 Chotto Matte
Chotto Matte (meaning "wait a minute" in Nihonggo) is a highball and liquor bar, which is the latest addition from the Raintree Restaurant group in collaboration with Piglet from Tokyo. Inspired by the high energy back alleys of the Golden Gai District of Tokyo, the bar serves cool cocktails, artisanal sake, and what they claim to be the best kakubin highballs in town. The bar is a gentle reminder for you to "stop and take a breather" after work. The place has a warm modern Zen ambiance, and the bar grabs attention with its textured mosaic of chopped rectangular wood in natural finish with a shelf well-stocked of Suntory and numerous Japanese sake. There's a buy one, take one on selected signature drinks, highballs, beer, and wine daily from 5 p.m. to 7 p.m., which is all paired nicely with a filling Sensu roll and yakitori, and shared better with friends.  
ADVERTISEMENT - CONTINUE READING BELOW
Must-tries:
Kakubin – A good starter for the night on a smooth and rejuvenating note, this drink uses Suntory Special Blended Whisky, soda water, and fresh lemon.
Bungalow – This highball pleasantly tickles the palette with homemade grapefruit syrup, grapefruit bitter with the Suntory Special Blended Whisky serving as an undertone while other flavors of lemon, blood orange bitters, and soda water surface.
Sakura Smile – A traitor type cocktail, enjoy the burst of lychee infused Gekkiekan sake and cherry infused vodka along with cherry bitters and a hint of fresh lime. Stirring is suggested so the lychee puree doesn't settle.
Chotto Matte is at Net Park Building, 28th Street corner 5th Avenue, Bonifacio Global City. Open daily from 11:30 a.m. to 2:30 p.m. and 5 p.m. to 12 a.m.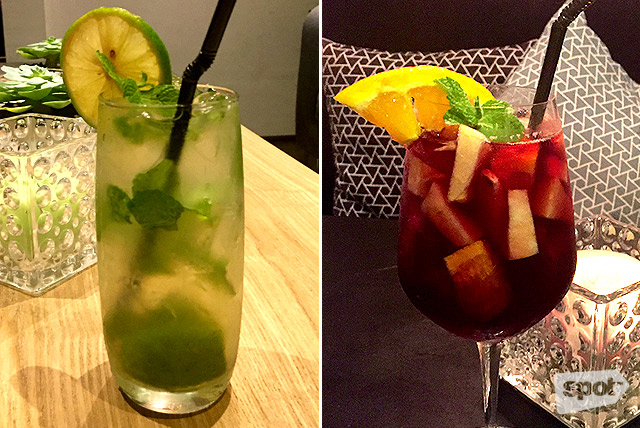 Mathilde
Mathilde makes you feel right at home with a living room set up where you can just holler out to your friends and get together for some laughs or perhaps enjoy a Thursday movie night (upon special notice). You can go for usual libations such as beers, craft beers, and wines, that go well with hot bites such as a quesadilla and arancini or even a brick-oven pizza. But since you're probably here for the honest reason of getting the day's worry off your shoulders, it's best that you look at their liquid sunshine list of classic cocktails done right. Punctuating the ambiance with early '80s, northern soul, and funk, Mathilde forces no music trend upon you, and prides itself with a collection of hard to find bourbon and American whiskies and rye. With karaoke nights and drinking oriented games in the works soon, at the moment you can try your luck upstairs with drinko-plinco at P200 per play and you just might score a nasty drink that'll make you forget your name.
ADVERTISEMENT - CONTINUE READING BELOW
Must-tries:
Sangria (by the glass or carafe) –  A popular choice bridging afternoon drinking to night time drinking, the slight carbonation from the soda water along with sugar syrup, homemade sour mix, and fruits has rum that rounds the taste with the Cabernet Sauvignon  hitting the palette last. 
Sweet Tea Bourbon – The sweetness of Stash double bergamot earl grey with homemade sour mix, and sugar syrup punches a good smooth pairing with the bourbon.
Mojito – Saving the strongest for last, the Cuban rum whips your mind and tongue as mint emanates, and the sourness of lime tingles with the sugar syrup. 
Mathilde is at 8483 Kalayaan Avenue corner Matilde Street, Poblacion, Makati City. Open from 4 p.m. to 2 a.m. (Monday to Thursday), 4 p.m. to 3 a.m. (Friday and Saturday) and 12 p.m. to 10 p.m. (Sunday).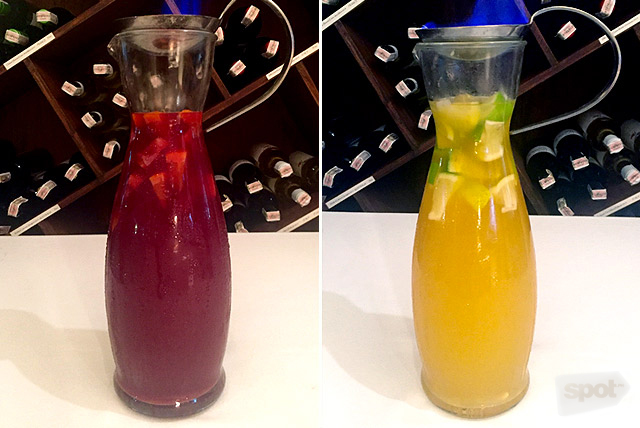 un Cuenca
A Spanish restaurant that attracts anyone from a 30 plus demographic onwards, un Cuenca is the kind of place you go to when you want to indulge in a hearty and savory meal under a fine dining ambiance. Though they have a brief list of beers, their wine selections are very generous ranging from red, white, rosé to sparkling. Before you embark on your consumption of spirits, it's best to buffer up with an order of pinxtos, croquetas or pugon pork lechon or get a big size paella to be shared with friends. After you've done so, the Flambé Cocktails are an exquisite line up guaranteed to roll down the palette and throat easily. Since you're sure to fall for these cocktail creations, a piece of advice is to visit during "La hora de Feliz" (Monday to Friday, from 6 p.m. to 8 p.m.) so that you can make the most of buy two for the price of one on the Sangria, Mangria, Quemada, and local beers.
ADVERTISEMENT - CONTINUE READING BELOW
Must-tries:
Citrico Agua de Valencia – This carafe filled with cava, vodka, lemon lime, and orange juice seems so general patronage that even a kid may think it's just a simply delightful innocuous fruit juice.
Classic Sangria – Tempranillo sangria with fresh orange slices, orange juice mixed with lemon and brandy help take the night to a higher level.
Pinoy Quemada – The sourness of the calamansi juice adds a nice punch to this cocktail, while the white rum and coffee candy is tucked underneath the red wine. Don't let sweetness of this drink fool you!
un Cuenca is at Molito Lifestyle Building, Madrigal Street corner Alabang-Zapote Road, Muntinlupa City. Open daily from 11 a.m. to 2 p.m. and 6 p.m. to 10 p.m.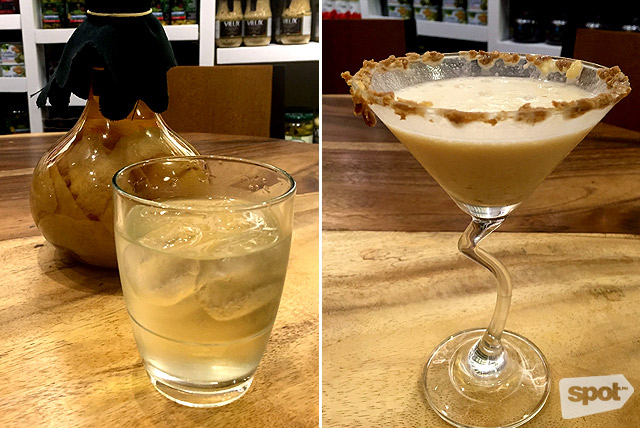 Brera
Who would've thought that the food and beverage experience in a deli could be this fun? Brera is a delicatessen that overwhelms you with all its offerings of burgers, sausages, steaks, and sandwiches, not to mention their imported goods section. One side of their brick wall has shelves upon shelves of various wines, and by the glass display, a seemingly endless supply of cold cuts, cheeses, and cheesecakes. This is one place where you can dine alone, or with a date or even with your family. The soft jazz sounds provide a classy touch to the backdrop of the well-lit place. Since the establishment is rather new, their official cocktail list is being polished for release this November. Currently, their Special Drink of the Month list points to three drinks. Pro tip: We can safely suggest for you to also try (once out) the Sour Cherry Negroni and the Mangolini to satisfy your adventurous streak.
ADVERTISEMENT - CONTINUE READING BELOW
Must-tries:
Limoncello – Brera's own homemade limoncello spells all the difference in the world. Taking 18 months for the lemon to macerate inside the Bombay Sapphire, the lemon is definitely more pronounced.    
Cheesecake Martini – Composed of one slice of cheesecake with dry vermouth and vanilla vodka, this drink with its rim coated in cheesecake graham cracker bits, is absolutely a phenomenal masterpiece.
Brera is at Molito Lifestyle Building, Madrigal Street corner Alabang-Zapote Road, Muntinlupa City. Open from 9 a.m. to 11 p.m. (Sunday to Thursday) and 9 a.m. to 1 a.m. (Friday and Saturday).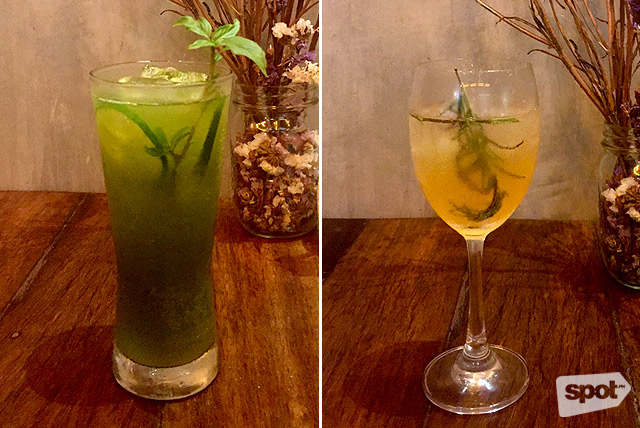 SOIL
Alluring with its down-to-earth modern dining way of creating food, SOIL pays homage to our source of food and the fruits of the earth. Respecting the unrelenting toil of the farmers and fishermen, SOIL's Executive Chef and Director Lorenzo Pimentel collaborates directly with the people who harvest the food we eat. Their menu changes periodically in tune with what's in season, so that our bodies are in sync with what the soil or sea offers. You can certainly count on your socio-environmentally conscious friends and family to appreciate the vibe of SOIL. Though they serve a lengthy list of wines, their roster of foreign and local craft beers must also be highlighted. The cocktail list offers your standard mojito and cosmopolitan, but also reveals something different such as the Orange Absinthe Punch and the Basil Daquiri.
ADVERTISEMENT - CONTINUE READING BELOW
Must-tries:
Gin Cucumber Fizz – SOIL's homemade soda water infused with cucumber and lime muddled with sweet basil, then combined with Gordon London dry gin is a refreshing cooler on a hot day.
Elderflower – The aromatic splendor of this drink comes from their homemade soda water infused with fennel and rosemary blended with St. Germaine liquor and gin having a sour sidekick from the lime juice.
SOIL is at Molito Lifestyle Building, Madrigal Street corner Alabang-Zapote Road, Muntinlupa City. Open from 12 p.m. to 2:30 p.m. and 6 p.m. to 11 p.m. (Tuesday to Sunday).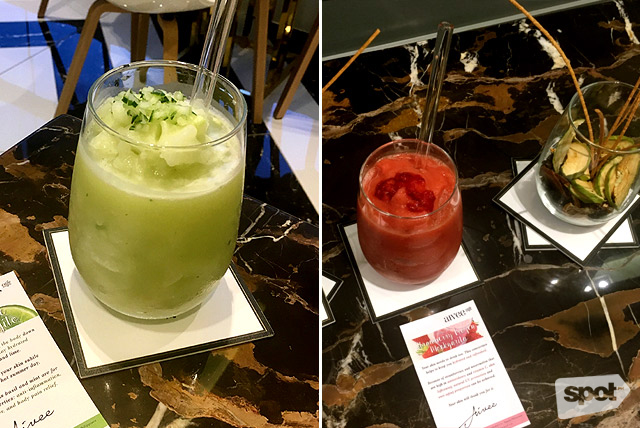 Aivee Café
Initially intended exclusively for the patients of Drs. Aivee and Z Teo from The A Institute or the Aivee Clinic, this posh café is just the place to unwind after or before a long day. Perched on the third floor, this nest of elegance shows a beautiful view of the city landscape. The pristine black and white checkered floor and the marbled tables, along with the deep forest green cushioned high stools speak of luxury at its finest. Their in-house nutritionist can provide the best food and beverage choices for you after a thorough analysis. Aside from regular carnivorous items, they have fantastic vegetarian dishes and even a mouthwatering vegan menu especially created by Singaporean vegan Chef Alicia Ann Lip. If you're desperate for a cocktail, but for some reason can't partake in an actual alcoholic one, the Aivee Café gives you just the right setting that'll make you feel like you're in a hotel or a hotel lounge. 
ADVERTISEMENT - CONTINUE READING BELOW
Must-tries:
Strawberry Frozen Mockgarita – Finely frozen ice dilutes the overwhelming tang of strawberries, and as you sip you will notice the subtle watermelon sweetness entwined with the mild flavor of coconut water.
Coconut Lime Frozen Mockjito – The finely chopped cucumber crunch gives a good texture while the lime, basil, and coconut water makes for an interesting blend.
Aivee Café is at the A Institute, 3/F Forbes Town Center, Burgos Park, Bonifacio Global City. Open from 10 a.m. to 8 p.m. (Monday to Saturday).
Photos by Denise Roco and Elaine Villanueva (Taco Vengo)
Share this story with your friends!
---
Help us make Spot.ph better!
Take the short survey
Load More Stories