New Restaurant Alert: Agos at SM Mall of Asia, Pasay
Chef Tatung's curacha will make you feel like a VIP.
Agos
G/F North Wing, SM Mall of Asia, Pasay City
Contact: 889-1462, 0916-239-3273
Open daily from 10 a.m. to 10 p.m.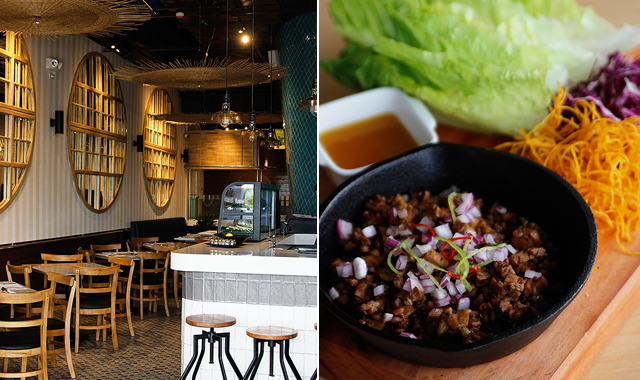 (SPOT.ph) "Agos" is a beautiful Filipino word meaning "flow" or "current." And when Chef Mike "Tatung" Sarthou speaks about Agos, his newest restaurant on the ground floor of the North Wing of the SM Mall of Asia, he passionately talks about the story of Filipino food and how our multi-cultural influences stem from the centuries-old Manila-Acapulco Galleon Trade that lasted over 250 years.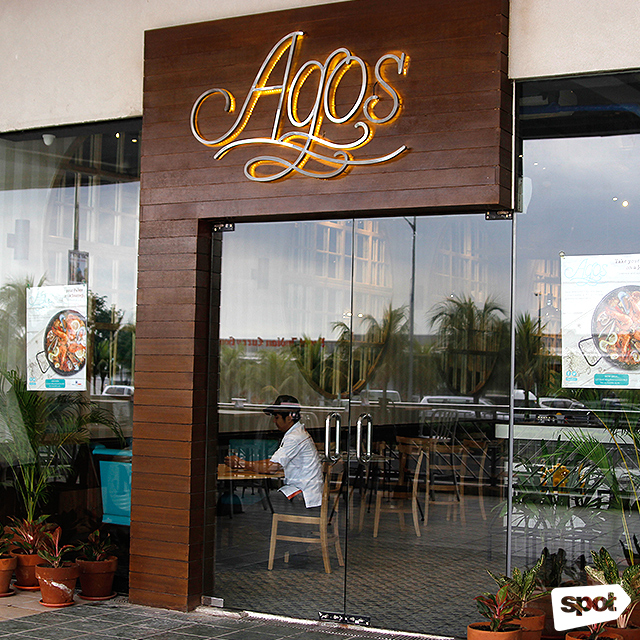 ADVERTISEMENT - CONTINUE READING BELOW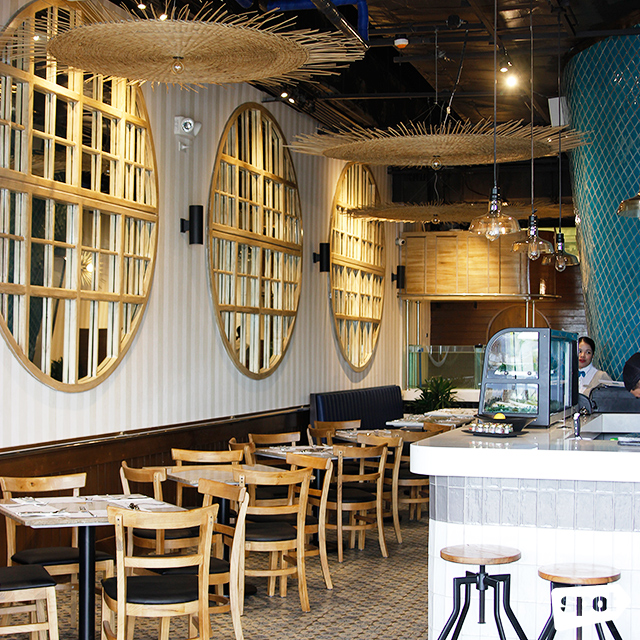 CONTINUE READING BELOW
Recommended Videos
Even the romantic calligraphy of the letter "A" on the "Agos" sign outside the restaurant suggests an image of a powerful sail atop the flowing current of the Pacific Ocean, perhaps to evoke images of Spanish ships regularly traveling back and forth between Manila and Acapulco, Mexico, trading goods from one end of the world to the other.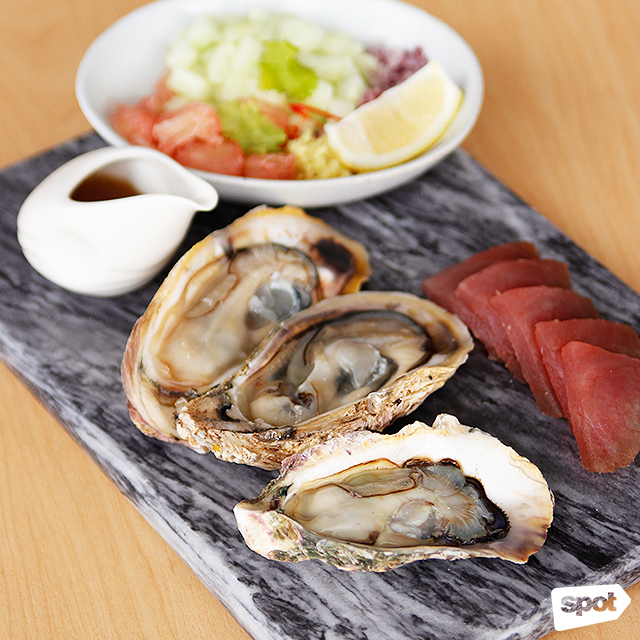 ADVERTISEMENT - CONTINUE READING BELOW
Kinilaw Platter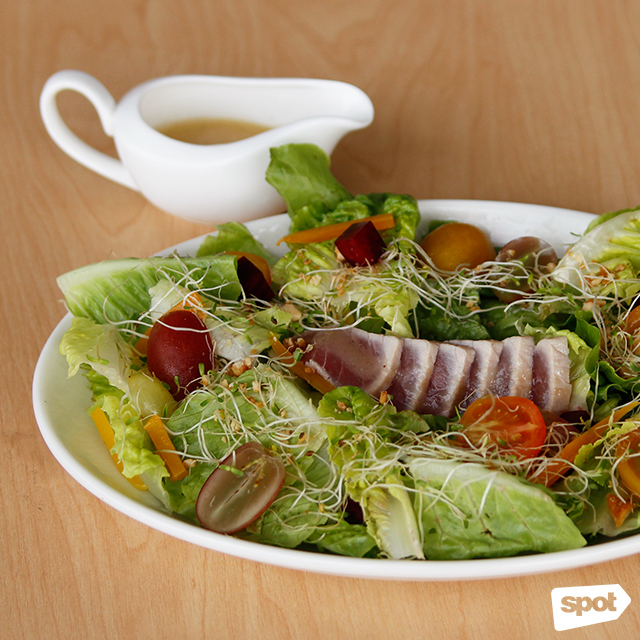 Agos Salad
It is this melding of cultures and flavors that greet us as we sit down for a wonderfully comforting meal at Agos on an overcast day. The Kinilaw Platter (P310), served on an elegant black marble slab, has 100 grams of fresh tuna, three succulent Aklan oysters, and a garnish bowl with pomelo, cucumbers, grated ginger, red onions, and cilantro that you mix and season to your liking with special vinegar or local Pangasinan Aro-en gourmet salt. Our advice: Savor that juicy Aklan oyster with a dash of smoked salt, close your eyes, and enjoy that little aphrodisiac moment. Meanwhile, the signature Agos Salad (P310) is a beautiful plate of organic local greens and mesclun with seared tuna, dried mango strips, candied pili nuts, and a salted egg aioli with honey-lemon dressing.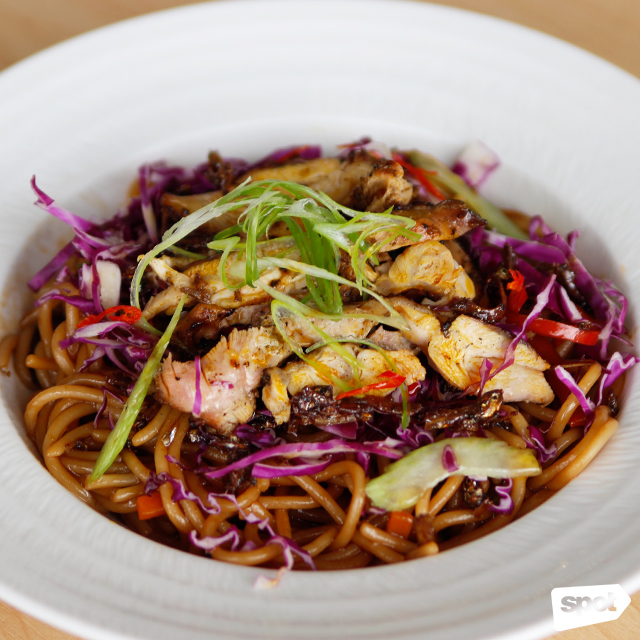 ADVERTISEMENT - CONTINUE READING BELOW
Pancit Parian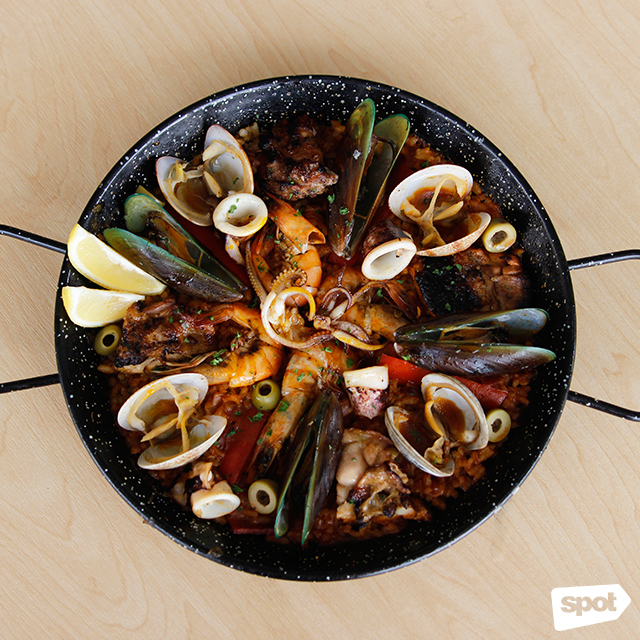 Paella Fiesta Filipina
While the starting courses will happily open up your taste buds, you must prepare for the mains. The Pancit Parian (P280), filled with chunks of grilled inasal chicken mixed with fresh mushrooms and vegetables, surprises with a flavor of crispy fried dilis. The wonderfully plated Paella Fiesta Filipina (P560) is a house specialty dish made with Ifugao Tinawon rice, a flavorful mix of fresh seafood, grilled inasal chicken, and smoked pork jowl, with a touch of color from local achuete oil, rather than the usual saffron. The flavors come out perfectly in this delectable Pinoy paella, complementing each and every carb-filled delicious mouthful. Do order this ahead while deciding on the rest of your meal.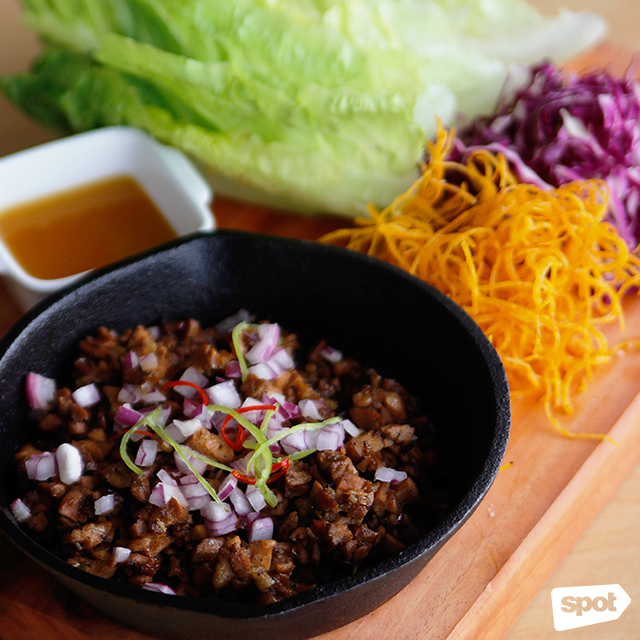 ADVERTISEMENT - CONTINUE READING BELOW
Chicken Sisig Lettuce Wraps
The Chicken Sisig Lettuce Wraps (P330) draws you in with its DIY lettuce-wrapping goodness and an interesting take on eating traditional Pinoy sisig. Imagine chicken inasal sisig wrapped in lettuce leaves, topped off with crunchy camote strips, red cabbage, and sprinkled with special mango sauce.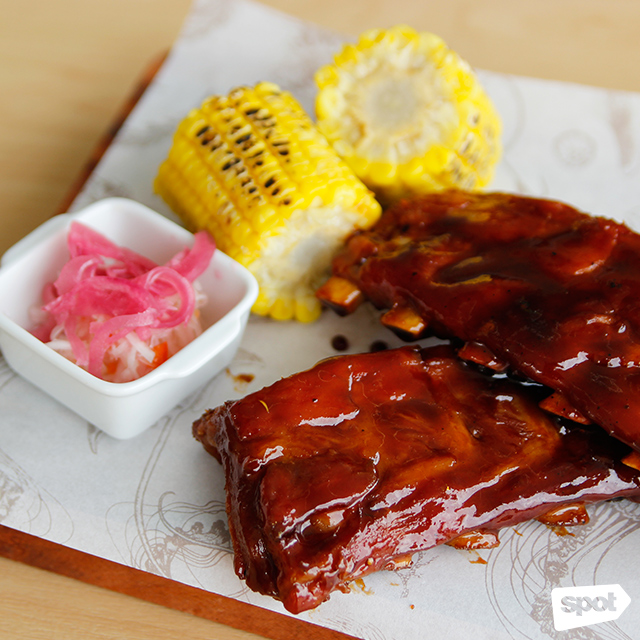 Tocino Pork Ribs
The Tocino Pork Ribs (P660), a sure-fire kid favorite, brings the flavor of the traditional sweet Filipino breakfast staple to a whole new level as the dulce pinya sauce is infused on a slab of baby back ribs.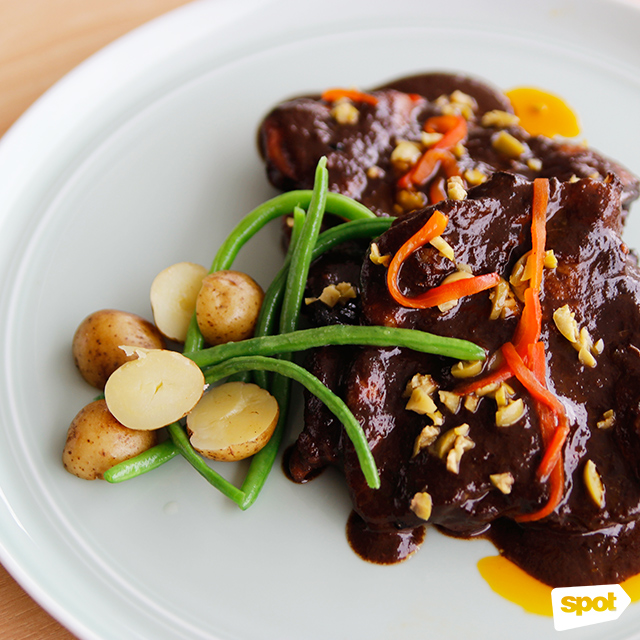 ADVERTISEMENT - CONTINUE READING BELOW
Pollo con Salsa Tsokolate
Chef Tatung shares that the recipe for the Pollo con Salsa Tsokolate (P270) is originally from Cebu, but was lost sometime in the past. While savoring the grilled inasal chicken flavors with the dark, bittersweet tsokolate goodness of the sauce, the taste harmoniously makes sense.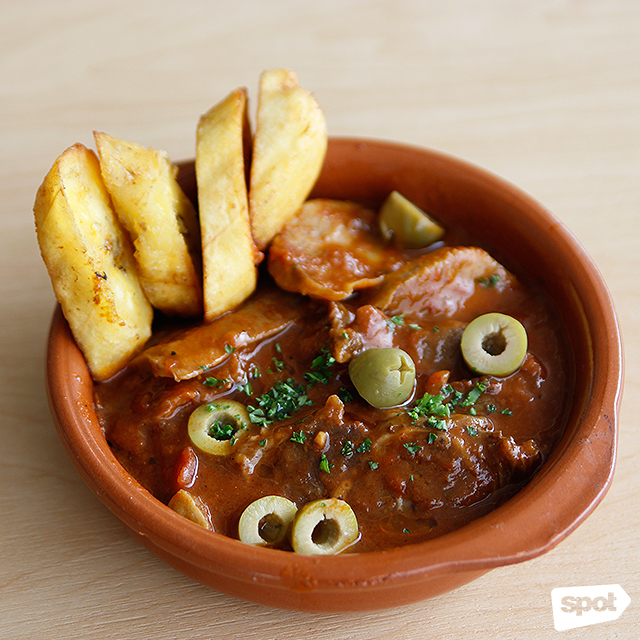 Lengua Mechada
The Lengua Mechada (P420) would be a nice surprise for lengua-lovers. The delicately tender ox tongue is lovingly cooked with a rich tomato sauce spiked with local Amadeo coffee liqueur, an interesting new take on an old favorite.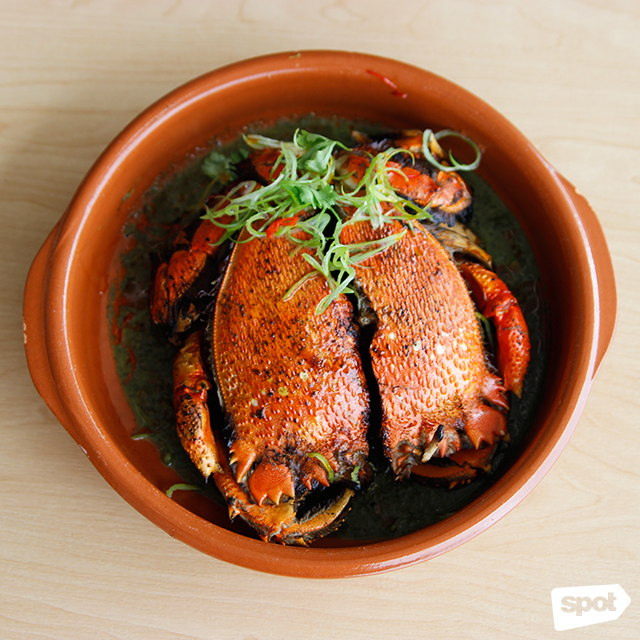 ADVERTISEMENT - CONTINUE READING BELOW
Zarsuela Zamboangeña
But the Grand Dame Main Dish, one that would make you feel as though you're the VIP at a party being thrown in your honor, is the amazingly flavorful Zarsuela Zamboangeña (P860). This specialty is a serving of fresh curacha which is a crossbreed crustacean somewhere between a crab and a lobster. Unlike lobsters, almost all of the sweet meat of this spanner crab from Zamboanga can be found within the crab's body, rather than in the claws. This dish is a Tausog classic, as explained by Chef Tatung, with the perfectly grilled curacha complemented by the ambrosia-like green sauce made of secret spices, burnt coconut, and black Tausog curry. From Sulo province to your plate, this gorgeous curacha is the real deal and worth every peso.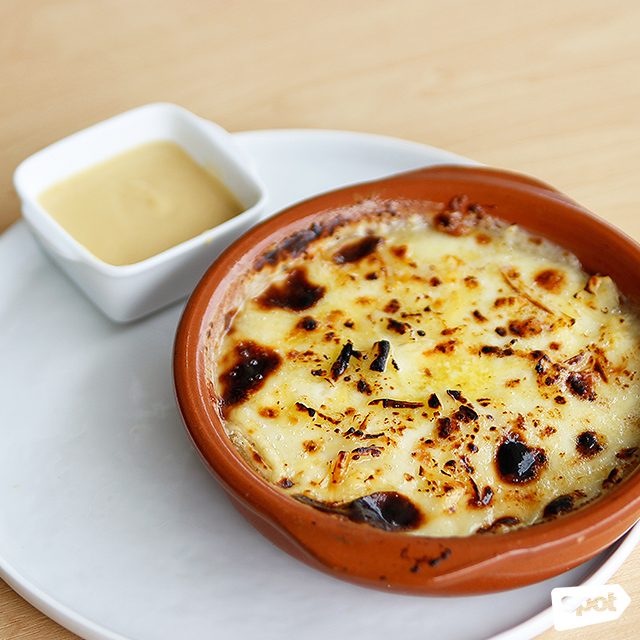 Chef Tatung's 3-Cheese Bibingka Delight
The excitement isn't over yet, because you should expect to have an out-of-body experience while having dessert. Chef Tatung's 3-Cheese Bibingka Delight (P180) looks unassuming on its hot plate, but after dipping our spoons past the melted cheese mélange of mozzarella, cheddar, and kesong puti, through the gooey rice cake with a nata de coco inner layer, topped off with a decadent creamy salted egg custard, the world stops. Take another bite and you will ask "Where have you been all my life?"
ADVERTISEMENT - CONTINUE READING BELOW
When asked what keeps him going, Chef Tatung had this to say: "I always keep that spirit of innocence with me when making my food and I'm still always excited to experience all the joy and emotion when it comes to sitting down to eat." It's easy to believe that the chef has got his own life flow, or "Agos," just right.
Photos by Criselda Carreon
Share this story with your friends!
---
Help us make Spot.ph better!
Take the short survey
Load More Stories