SPOT.ph Roundup: Cool Places to Grab Coffee in Manila
While these spots aren't just cafes, each one goes beyond serving caffeine.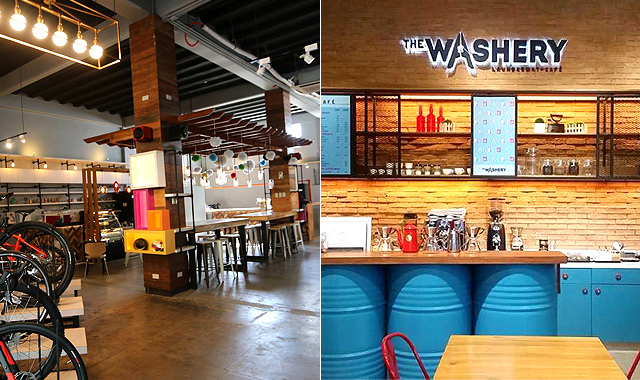 (SPOT.ph) These days, a good cup of coffee is never more than a block away. Thanks to the third-wave coffee trend, we now have more options beside our favorite Frappuccinos. But with the rapid abundance of new spots comes the need for newcomers to go beyond offering a good brew. While most cafes make great beverages that are best enjoyed in their Instagram-worthy interiors, these places will take your next caffeine run up a notch.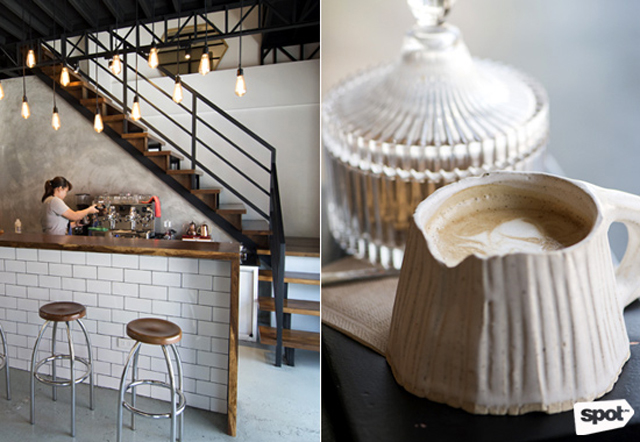 Caffeined at Mozaic Living
Caffeined is the in-house coffee shop of Mozaic Living, a showroom that makes and sells customized furniture and other hip home decor. They encourage visitors to try out the furniture and even take their time to get a feel of each piece. While Caffeined's beverage list is not extensive, shortlisting only a few of the coffee lover's essentials, the novelty of the experience is enjoying your drink while being surrounded by artsy, no-fuss furniture that you could actually buy. It's also one of SPOT.ph's top 10 secret coffee spots.
Watch for: The beautiful hand-molded stone clay mugs in which Caffeined's hot beverages are served
Caffeined is at Mozaic Living, 7 Sheridan Street, Mandaluyong City. Open from 9 a.m. to 9 p.m. (Monday to Saturday) and from 9 a.m. to 6 p.m. (Sunday).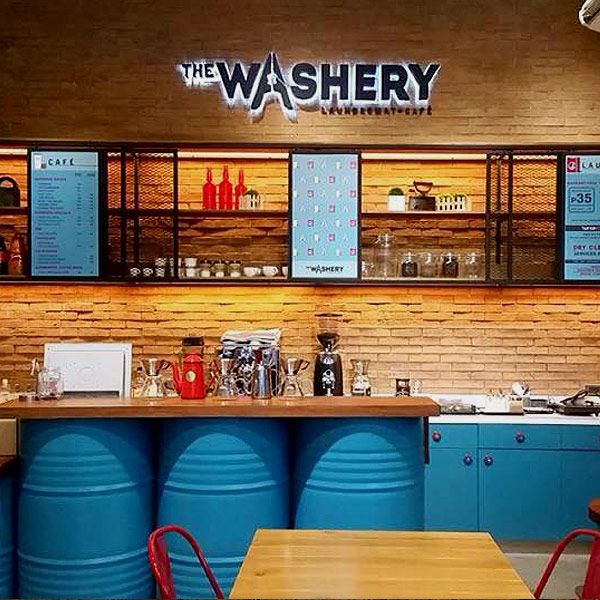 The Washery Laundromat + Café
True to their promise, The Washery will redefine your laundry experience. Aside from their laundry services, the place is a handsome hangout spot with industrial interiors, vintage décor, and hip fixtures. Must-tries are their Ghirardelli Iced Hot Chocolate and their best-selling Milk and Cookie Shot.
Watch for: The red laundry machines at work right beside the café area
The Washery Laundromat + Café is at Circulo Verde, Calle Industria, Quezon City. Open from 11 a.m. to 9 p.m. (Monday to Thursday) and 10 a.m. to 10 p.m. (Friday to Sunday).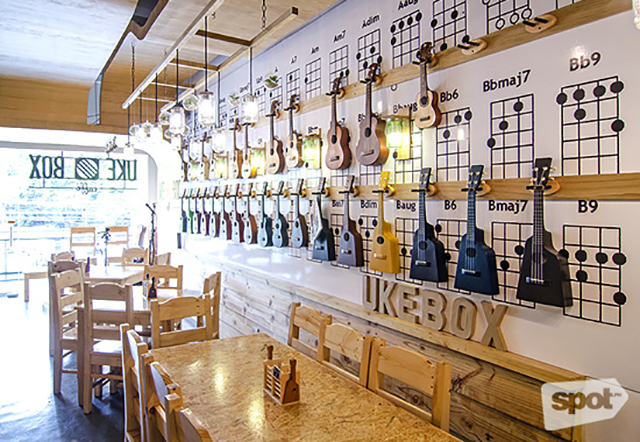 Uke Box Caffé
A place that caters to feeding not just the tummy but also the soul, Uke Box Caffé brings together music and coffee-lovers alike. From its laid-back interiors that take you to a cozy hut at the beach—complete with your ukulele of choice, to its caffeine offerings from different parts of the country, it's the perfect place to unwind and escape the city without driving far. Strum away as you jam with friends, and take a sip of your hot Mt. Kitanglad coffee.
ADVERTISEMENT - CONTINUE READING BELOW
Watch for: The live musical acts that play regularly
Uke Box Caffé is at Unit 12, 187 Village Center, E. Rodriguez Jr. Avenue, Bagumbayan, Quezon City. Open daily from 9 a.m. to 12 a.m.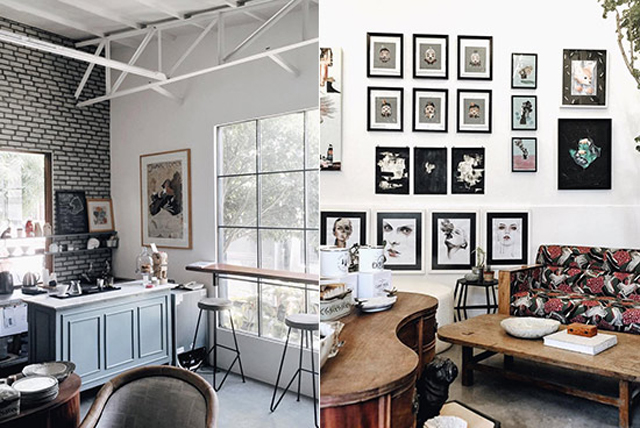 Restock
Mixing caffeine and creativity isn't a new concept, yet Restock manages to fuse the two and take this marriage into a whole new level of beauty. Stepping into this humble Makati café is pleasing to the eye, and the coffee they serve is equally pleasing to the palate. From the elegant and quirky art in every corner, to the easy music filling the room, down to the first sip of cappuccino—everything at Restock seems to be conspiring you to conceive that next piece of art, literature, or idea.
Watch for: The ever-changing interiors! Since a lot of the items on display are for sale, or commissioned from different artists, expect something new at every visit.
Restock is at 7635 Guijo Street, San Antonio, Makati City. Open from 1 p.m. to 9 p.m (Monday to Saturday).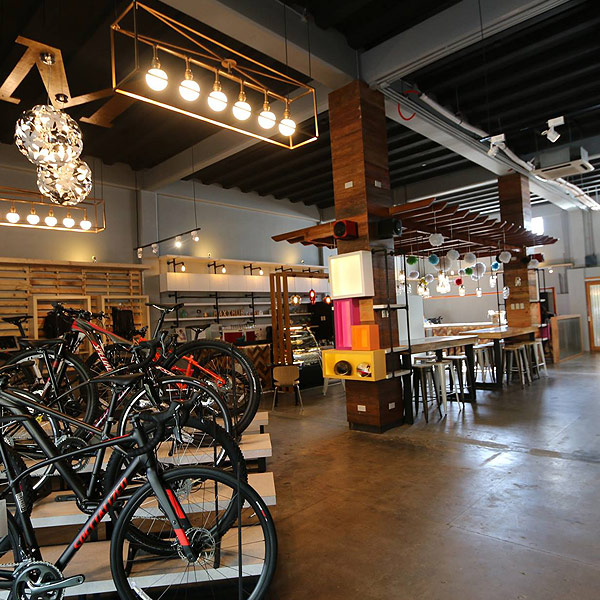 Maximus Athlete's Shop Café
It's not very often we hear the words "bicycle" and "coffee" in the same sentence, but at this athletic shop in Mandaluyong, the two go hand-in-hand. Maximus' interiors screams coffee shop, but bicycles and other sports products make this place unique. They serve handcrafted coffee that you can enjoy while deciding on your next fitness purchase.
Watch for: Their full-service bike spa, so you can happily enjoy your coffee while repairs are done on your baby
Maximus Athlete's Shop Café is at Sparta Sports and Recreational Training Arena, 126 Pioneer Street, Mandaluyong City. Open from 11 a.m. to 8 p.m. (Monday to Friday) and from 8 a.m. to 8 p.m. (Saturday).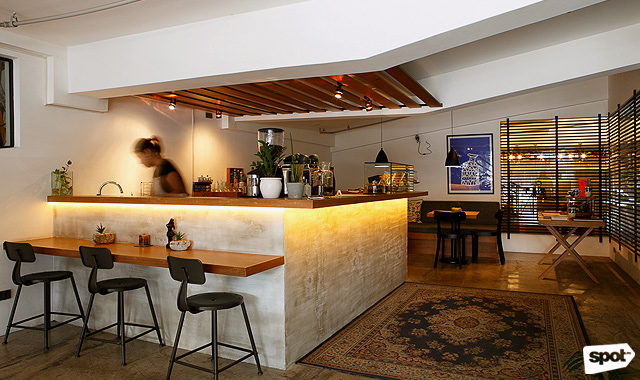 Tenant Manila
If you're looking for a nice, quiet spot that serves great coffee and is conducive for productivity, Tenant Manila is the place to go. The in-house café is on the second floor, right above the clothing and surf boutique. From the merchandise, to the interiors, furniture and their afternoon playlist, this spot gives off this nonchalant yet well thought-out atmosphere. It doesn't matter if you're not into surfer culture; come here for their specialty coffee, craft beer, and the easy vibe you most likely won't experience elsewhere.
Watch for: Exclusive events, from film screenings to clothing line launches
ADVERTISEMENT - CONTINUE READING BELOW
Tenant Café is at 9639 Kamagong Street, Makati City. Open from 12 p.m. to 9 p.m. (Tuesday to Saturday) and from 12 p.m. to 7 p.m. (Sunday).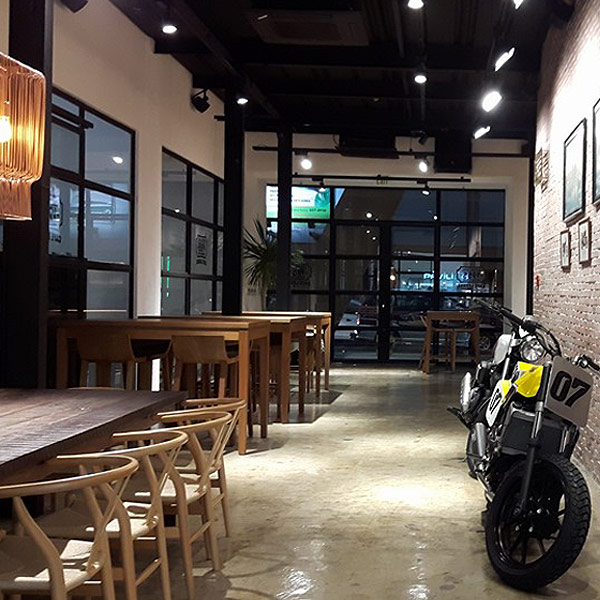 Motora Azul 1955 Café Lounge
Motora Azul 1955 Café is a thrilling surprise amidst the slew of food establishments at the Greenfield District. From the outside, passersby can see the industrial man-cave interiors decorated with everything bike-related including, of course, motorbikes. For Manila's bike community, this place is way beyond an ordinary coffee shop. On Wednesdays nights, you'll find different motorbikes of all shapes and sizes in all their shiny metal glory, flaunted by their riders.
Watch for: YZONE, Yamaha's biggest showroom in the country, that's adjacent to the café
Motora Azul 1955 Café Lounge is at The Portal, Greenfield District, Sto. Cristo Street, Mandaluyong City. Open daily from 10 a.m. to 7 p.m.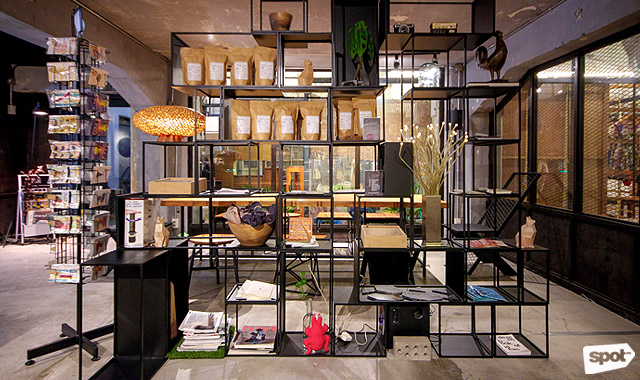 The Den
Thanks to creative millennials, Escolta Street is evolving into an arts and culture hotspot. Despite its decline in the '60s, the street has never been more alive today. Instead of high-rises, hotels, and shopping malls, the once financial district is now home to independent shops and studios. One of them is The Den, a coffee shop in the 90-year-old First United Building that's home to curated artworks, custom crafts, and of course, specialty coffee sourced from Kalsada, a local coffee company that works directly with local farmers. Essentially, it's a great place for creativity, productivity, or simply hanging out—plus, it's a great way to support the local community.
Watch for: The one-of-a-kind workshops and activities they hold—think starting your own desktop garden, ice cream tasting, and story-driven tours of Old Manila, just to name a few
The Den is at First United Building, 413 Escolta Street, Binondo, Manila. Open from 1 a.m. to 9 p.m. (Tuesday to Saturday) and from 11 a.m. to 6 p.m. (Sunday).
Load More Stories