Best of Manila: 50 Great Restaurants of 2016
Our list of the most noteworthy food destinations of 2016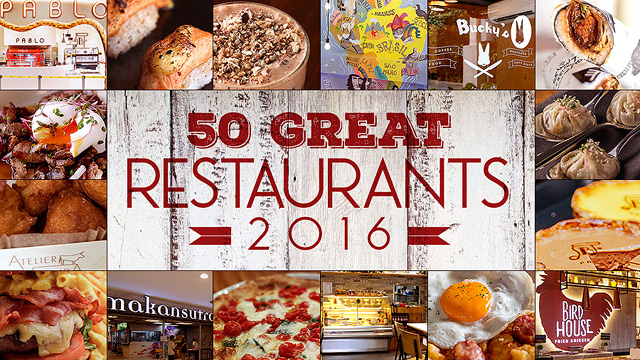 (SPOT.ph) This has been a good year for the local food scene, with new restaurants pushing the boundaries of good food. In 2016, we saw new takes on classic restaurant favorites like Mexican and Japanese, familiar fare made fancy, and the opening of several international favorites in Manila. Here's our list of the most noteworthy food destinations from 2016.
 
*Restaurants are listed alphabetically. This list has been limited to restaurants that opened between November 2015 and November 2016.

See our previous lists:


Best of Manila: 100 Great Restaurants of 2015
Best of Manila: 50 Great Restaurants of 2014
Best of Manila: 50 Great Restaurants of 2013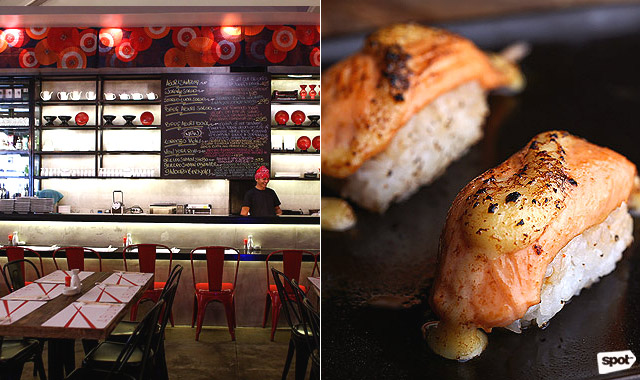 Aburi
2/F Madison Galeries, 398 Don Jesus Boulevard, Alabang, Muntinlupa City
Contact: 776-1474
While Japanese food has become mainstream over the years, admittedly not everyone knows of aburi, or a version of sushi where the top of the fish or meat is grilled, while keeping the rest of the roll raw. Aburi in Alabang brings this modern food movement here to the Philippines, serving not just delectable aburi rolls but also old favorites like tempura, maki, and yakitori. The aburi sushi, of course, is the star, with the charred top of the sushi giving it a nice smoky character that goes well with the fish and rice. There's a bit of showmanship too in the way the rolls are served here with the sushi torched at the bar before service, so make sure to get a seat there. 
ADVERTISEMENT - CONTINUE READING BELOW
Must-tries: Salmon Nigiri, Lorenzo Maki
Read more about Aburi.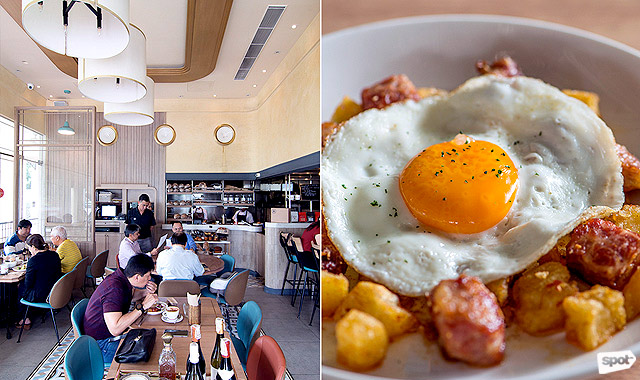 CONTINUE READING BELOW
Recommended Videos
Apero
Corinthian Hills, Temple Drive, Quezon City
Contact: 532-8064
With the daily hustle of life, it's easy to just settle for a grab-and-go lunch, but here at Apero, it's all about taking it slow. Dishes such as the Smoke Roasted Organic Chicken or the Fresh Seawater Mamale (threadfin salmon) invite you to take a break and focus on savoring these tasty specials. And with the day menu transitioning to a dinner menu that includes must-tries like the Duck Confit du Marche or the rich Burnt Black Pudding with Caramelized Apple, you'll be in no rush to leave.
Must-tries: Smoke Roasted Organic Chicken, Duck Confit du Marche
Read more about Apero.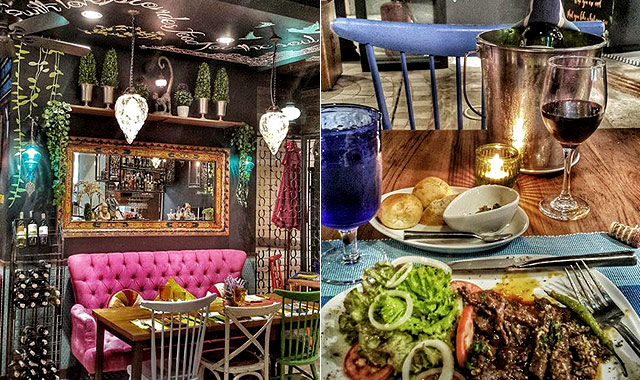 ADVERTISEMENT - CONTINUE READING BELOW
Another Story
2nd Floor, Evia Mall, Alabang, Muntinlupa City

Ica Sebastian of Tagaytay's famed Café Voila's newest venture, Another Story, can be found closer to the Metro—in Alabang, to be exact, where she dishes out quality comfort food that's prepared from the heart. This is Sebastian's personal story, translated into a restaurant. Its dishes are the building blocks to what makes Another Story akin to home; a respite where one can grab a hearty bite in the midst of the bustling city.
Must-tries: French Onion Gratinée, Vongole Manila Clams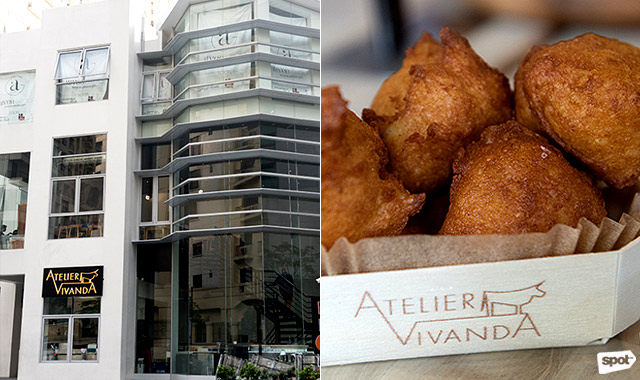 Atelier Vivanda Manila
Forbes Town Center, Burgos Circle, Bonifacio Global City
The Black Angus rib eye at Atelier Vivanda Manila is nothing short of blissful—and you'd expect nothing less from two-star Michelin chef Akrame Benallal. While the bistro pulled out all the stops when it came to setting up shop—even the knives are custom-made by a master craftsman in France—the food flaunts a sumptuous simplicity that lets the quality ingredients shine through.
ADVERTISEMENT - CONTINUE READING BELOW
Must-tries: Black Angus Rib Eye, Pomme Dauphines
Read more about Atelier Vivanda Manila.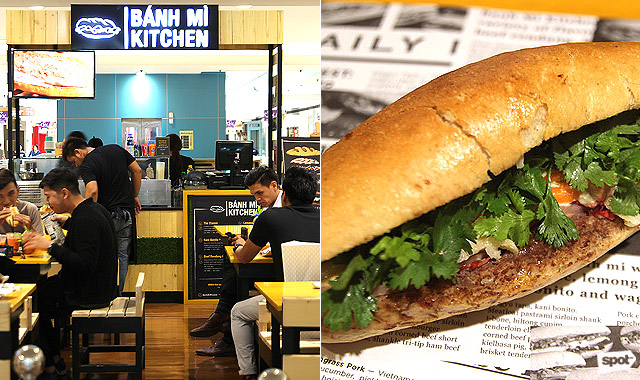 Banh Mi Kitchen
4/F SM Megamall Building A, Mandaluyong City
It takes restraint to focus on just one thing, but it also means you'll get pretty damn good at it. In this case, that one thing is banh mi, and Banh Mi Kitchen does the Vietnamese staple particularly well. It's all a matter of putting together the right components in just the right proportions, from the perfectly baked bread to the savory pate.
Must-tries: The Classic, Beef Rendang
Read more about Banh Mi Kitchen.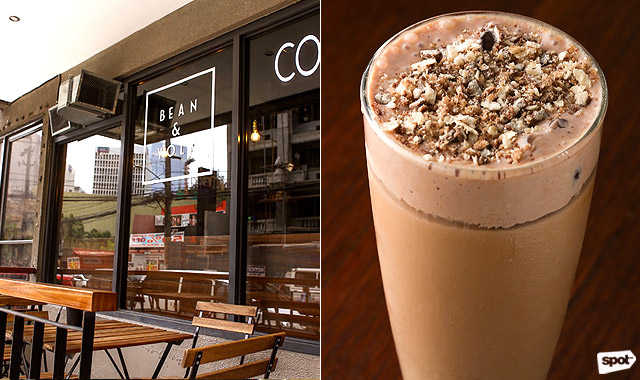 ADVERTISEMENT - CONTINUE READING BELOW
Bean & Yolk
G/F Bel-Air Soho Suites, Polaris Street, Bel-Air, Makati City
Contact: 0920-926-7587
It's easy to picture what you'll be having at Bean & Yolk before you even see their menu—who wouldn't, after all, expect coffee and eggs at a place with that name? But to just describe it as a "coffee and eggs" café does not do justice to dishes like Cara's Fave, an indulgent take on grilled cheese with hot honey, buttery brioche, and, of course, a runny egg. Bet you drooled just reading about it.
Must-tries: Cara's Fave, Latte Gianduja
Read more about Bean & Yolk.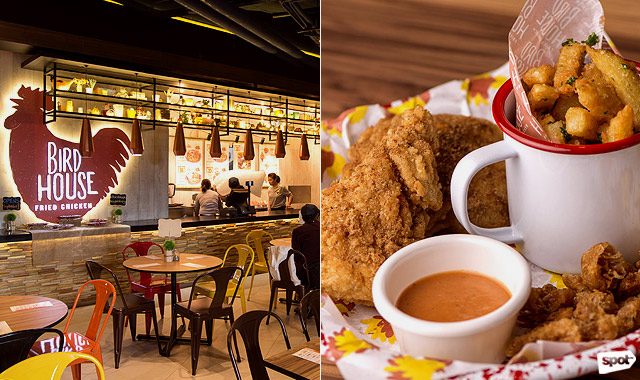 Birdhouse
The Food Hall, 4/L Uptown Place Mall, Uptown Bonifacio
Birdhouse takes their fried chicken seriously—from the perfect blend of spices in its breading down to the cooking time. The result is mouthwatering juicy chicken fried to perfection. They also go beyond the usual gravy. The Truffle Ketchup, for example, has the distinct earthy taste of truffle that complements the bold flavors of their chicken perfectly.
ADVERTISEMENT - CONTINUE READING BELOW
Must-try: Barnyard D, Salted Egg Lava Chicken Sandwich
Read more about Birdhouse.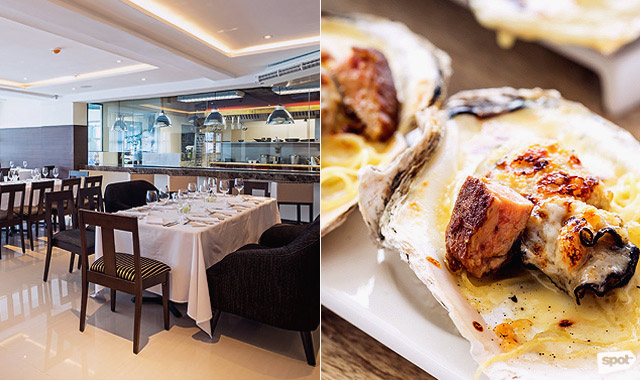 Bistro Manuel
2/F Six Axis Center, 4347 B. Valdez Street, Poblacion, Makati City
Contact: 871-8566, 0926-734-1067, 0998-342-3566
Many fans mourned the closing of Lolo Dad's in Malate in 2013, and why not? It had become a constant setting for special occasions. But Bistro Manuel brings back old favorites and introduces new dishes concocted with Chef Ariel Manuel's bold creativity, resulting in a restaurant that we're sure we'll keep going back to for years to come.
Must-tries: Shellfish in Lemon and Olive Oil, Lolo Dad's Café Baked Oysters with Foie Gras
Read more about Bistro Manuel.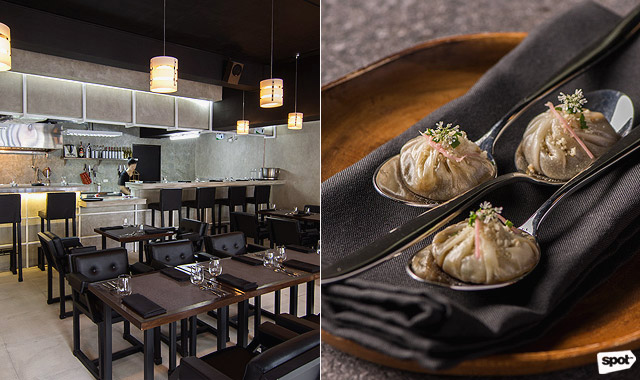 ADVERTISEMENT - CONTINUE READING BELOW
Black Sheep
2230 UPRC1 Building, Chino Roces Avenue, Makati City
Contact: 744-1569  
A new rendition of the W Fifth Avenue restaurant finds itself tucked along Chino Roces this time around. Its 27-year old chef, Patrick Go, revamps the old menu and replaces it with nine exciting dishes that concentrate on his modern approach to Chinese cuisine. We won't go as far as to call it fusion, but it is an exciting and refreshing spread that includes Foie Gras stuffed xiao long baos, a version of the opulent Buddha Jumps Over the Wall soup, and beetroot noodles in shitake jus.
Must-tries: XOXO, Foie Long Bao
Read more about the new Black Sheep.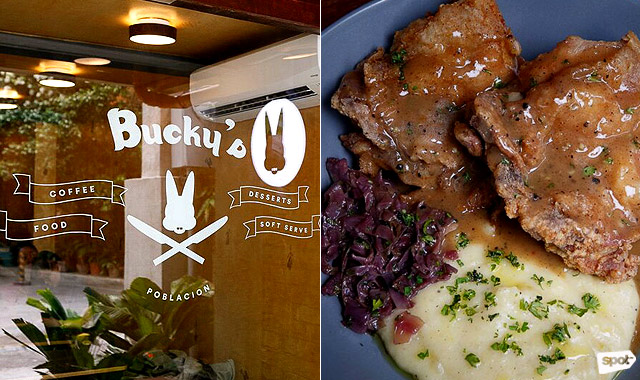 Bucky's
5666 Don Pedro Street, Poblacion, Makati City
Contact: 0916-754-5140
From baked chocolate goodies that were claimed to not be brownies, the food scene is indeed lucky to have stood witness to Bucky's evolution—from a home-based bakery that sold slabs of their fine chocolate treats, to what it is today: a fully-functioning café in the heart of Poblacion that serves what we hear to be some of the finest soft serve and fried chicken in town. Miguel Vargas and his team must be very, very proud.
ADVERTISEMENT - CONTINUE READING BELOW
Must-tries: Fried Chicken with Mashed Potatoes, Swedish Meatballs, Baked Ziti with Ragu, Soft Serve
Read more about Bucky's.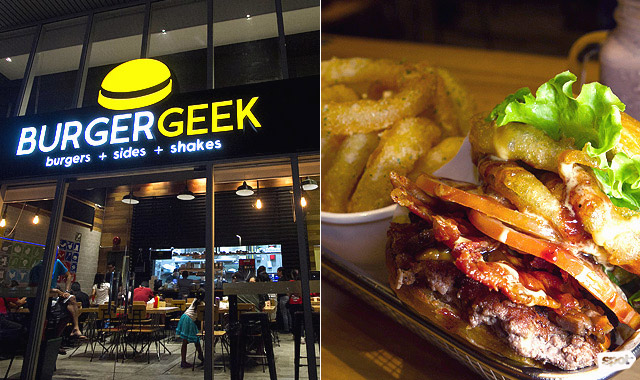 Burger Geek
Molito Commercial Complex, Alabang, Muntinlupa City
Contact: 246-9069
The lone burger shop in the sea of establishments vying for one's attention in Molito, Burger Geek has been getting its fair share of praise and good reviews. Known for their smashed patty, Burger Geek banks on this technique to achieve the signature sear their burgers are known for. Though the choices may be pretty straightforward, Burger Geek's mouthwatering offerings are irresistible and are worth coming back for.
Must-tries: The Class President, Hangover Breakfast Burger
Read more about Burger Geek.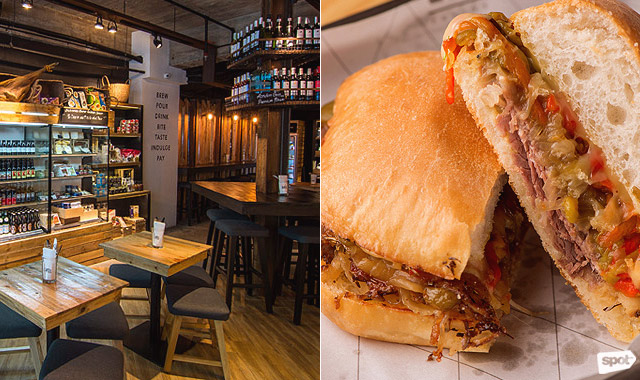 ADVERTISEMENT - CONTINUE READING BELOW
Cartel Coffee + Deli
119 L.P. Leviste Street, Salcedo Village, Makati City
Contact: 722-8270
There are places that make you want to come up with any sort of excuse to duck in and escape a busy workday, just for an hour (or two). Cartel is one of them, and that's no small feat considering they only serve quick, straightforward fare like sandwiches and Spanish tortillas. We think the deli's casual vibe and excellent Yardstick coffee has something to do with it.
Must-tries: Roast Beef Sandwich, Tortilla with Chorizo
Read more about Cartel Coffee + Deli.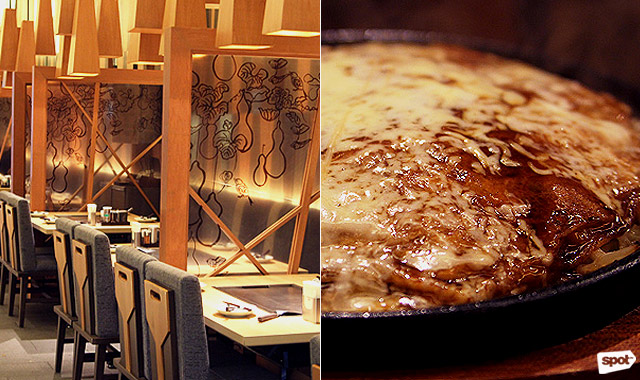 Chibo Okonomiyaki
2/F S Maison, Seaside Boulevard corner Coral Way, Mall of Asia Complex, Pasay City
Contact: 898-3333
Chibo Okonomiyaki has been an Osaka institution since the '70s, but they only arrived here in the Philippines this year, thanks to Kenji Komuro and his gut feel that Filipinos would enjoy these sweet-savory Japanese pancakes. The branch at S Maison in Pasay is just like its Japanese counterpart, except with a few modifications for the local palate. One of those changes is the Cheese Yaki, with Gouda, mozzarella, and cheddar oozing out of this rich okonomiyaki as you cut into it. They top it with an extra layer of Gouda, too, for good measure.
ADVERTISEMENT - CONTINUE READING BELOW
Must-tries: Cheese Yaki, Shirayukihime
Read more about Chibo Okonomiyaki.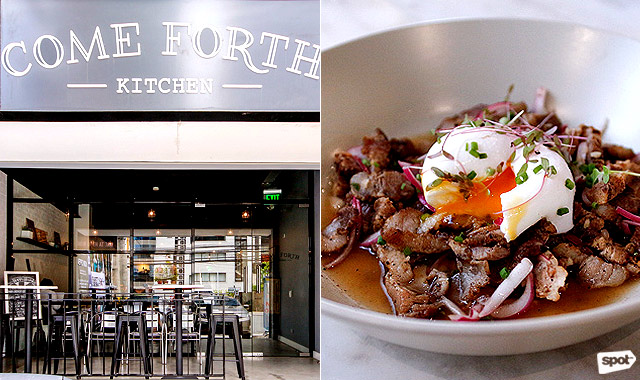 Come Forth Kitchen
120 Jupiter Street, Bel-Air 2, Makati City
Contact: 463-7655
Come Forth is both a play on the word "comfort" and an invitation to come forward and enjoy Come Forth Kitchen's offerings. The restaurant is run by couple Rondelle and Tricia de Leon with family and friends. The food and brunch items are personal recipes, and Come Forth serves brunch all day every day because as Claudine, Tricia's sister and also one of the owners, puts it: "There are times I want to eat French Toast for dinner! I should be able to do that." If it's French Toast as delicious as Come Forth's, then we'd want some, too.
Must-tries: Come Forth Pulpog, French Toast
Read more about Come Forth Kitchen.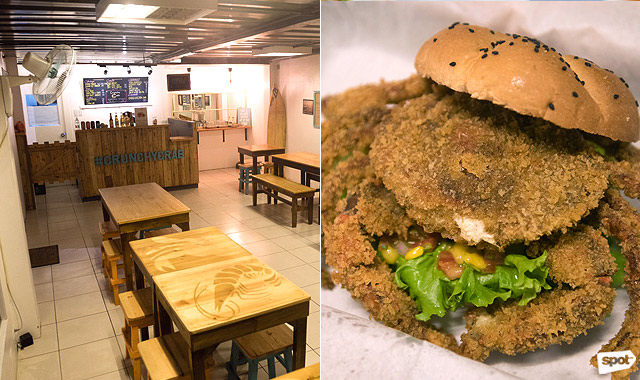 ADVERTISEMENT - CONTINUE READING BELOW
Crunchy Crab
16 United Street, Kapitolyo, Pasig City
Contact: 0917-484-5084
Surprisingly, for a country surrounded by water, restaurants centered on seafood aren't mainstream here in the Philippines. Crunchy Crab hopes to change that with seafood that tastes so fresh, it seems as if their crabs came from the sea and crawled straight to your table. We recommend the Soft Shell Crab Burger, which contains crunchy crab sandwiched in soft brioche buns. A fresh mango and cilantro slaw add punchy flavors that remind of us summer. 
Must-tries: Soft Shell Crab Burger, Shrimp BLT
Read more about Crunchy Crab.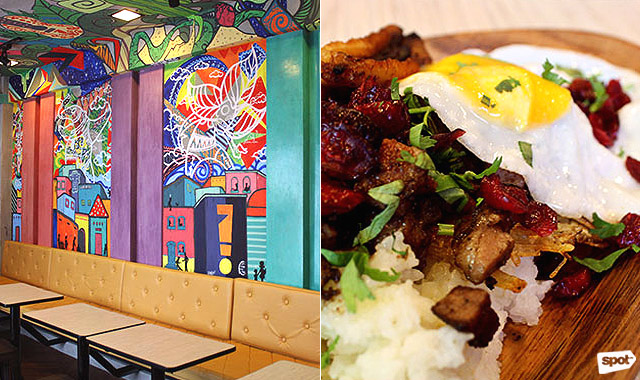 Empingao!
P. Burgos Street corner San Lucas Street, Barangay Poblacion, Makati City
Contact: 0915-725-7378
Empingao means "amazing" and you'll definitely be exclaiming this more than a few times as you go through Empingao!'s delicious Latin American offerings. Chef Mikel Zaguirre has always been unafraid to add his own flare to classics, replacing raisins with cranberries in his Arroz A la Cubano, for example, or using lightly toasted brioche slices instead of flattened rolls in his Elena Ruz. Unorthodox—yes, but always delicious.
ADVERTISEMENT - CONTINUE READING BELOW
Must-tries: Elena Ruz, Arroz A la Cubano, Salmon Tacos
Read more about Empingao!.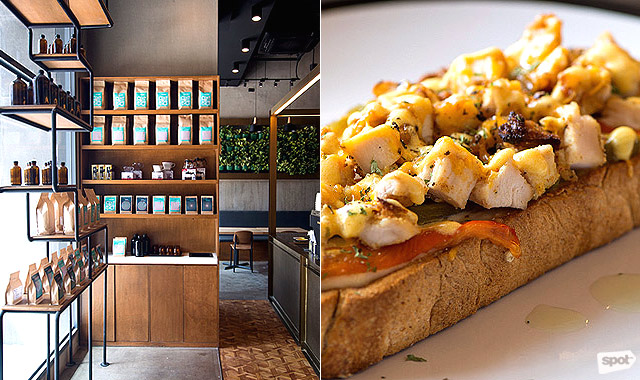 Fundamental Coffee
G/F Park Terraces, Palm Drive, Ayala Center, Makati City
Contact: 0917-723-6079
If you want to take a break from the hustle and bustle of Makati City, Fundamental Coffee offers sanctuary right in the middle of Park Terraces. Co-owner Andre Chanco of Yardstick Coffee wanted to go back to basics, while offering specialty coffee at a wider level. The interiors are neat and minimalist, with floor-to-ceiling glass windows and lush greenery. The coffee is roasted with beans sourced from around the world, including countries like Brazil, Colombia, and Ethiopia. We recommend pairing their coffee with the Chicken and Cheese Toast or the Wild Mushroom Toast—and don't forget to grab some of their coffee pudding for dessert.
Must-tries: Chocolate Cold Brew, Chicken and Cheese Toast
Read more about Fundamental Coffee.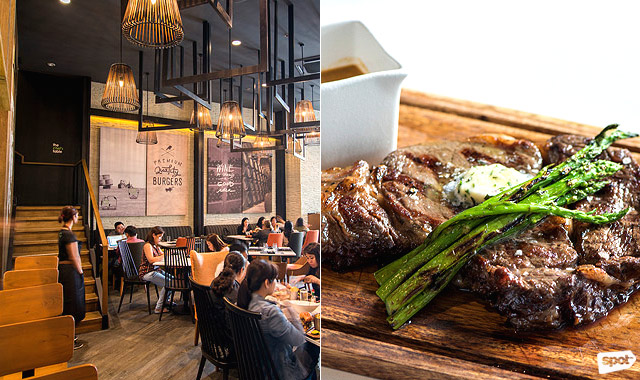 ADVERTISEMENT - CONTINUE READING BELOW
Grind Bistro
G/F Net Park, Crescent Park West, 4th and 5th Avenue, Bonifacio Global City
Contact: 946-3870
The name "Grind" may refer to the burgers and how the patties are produced in-house, but the bistro run by food industry veterans—couple Steven and Cristina Carl—goes beyond burgers with their varied selection of meats, desserts, and wine. Everything is made fresh here at Grind Bistro, because as Steven puts it: "Our motto is, if we can make it, we will." Of course, their burgers are a must-try, but don't take their other mains for granted, like the Nutty Black Chicken or House Aged Rib Eye.
Must-tries: House Angus Rib Eye, The Grind Burger
Read more about Grind Bistro.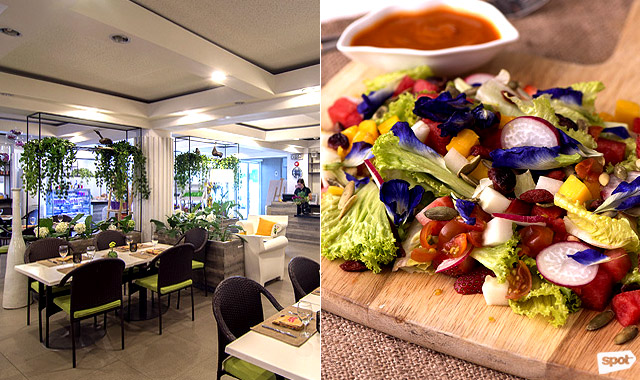 Happy Garden Cafe
Sunshine Place, 56 Jupiter Street, Bel-Air Village, Makati City
Contact: 261-0115
Stepping inside this beautiful indoor garden will definitely lift your spirits. And if that isn't enough, Happy Garden Café also boasts a menu that takes healthy eating up a notch, and with CEO Annabel Tangco of Bizu and Chef Oliver Gascon of C2 Classic Cuisine at the helm, you know you're in for a delicious treat. The Flower Salad With Carrot Dressing is almost too beautiful to eat, with rich colors popping from the wooden tray it's served on. Don't forget to try their decadent Chocolate and Carrot cakes that will leave you craving for more.
ADVERTISEMENT - CONTINUE READING BELOW
Must-tries: Flower Salad With Carrot Dressing, Conchiglie and Shrimps in Tarragon Butter
Read more about Happy Garden Café.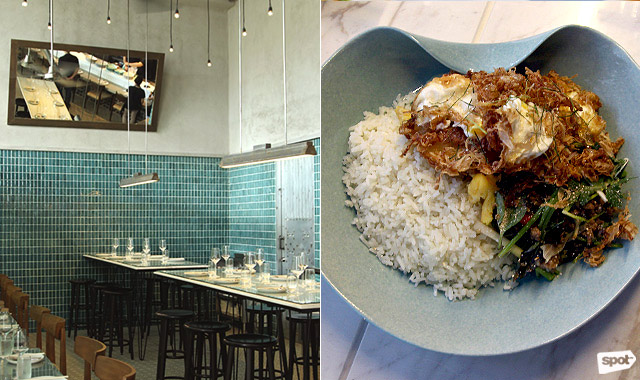 Hey Handsome
G/F Net Park, 5th Avenue, Bonifacio Global City
Contact: 946-3815
Anyone who had ever eaten at Your Local couldn't help but be excited about Chef Nicco Santos's latest project, and Hey Handsome earned fast fans as soon as it opened in August. The laid-back eatery's stylish but casual setting is the perfect backdrop for multi-dimensional dishes inspired by Asian cuisines, done with the chef's signature imaginative flair.
Must-tries: Laap Phet, Beetroot Paneer, Nasi Lemak
Read more about Hey Handsome.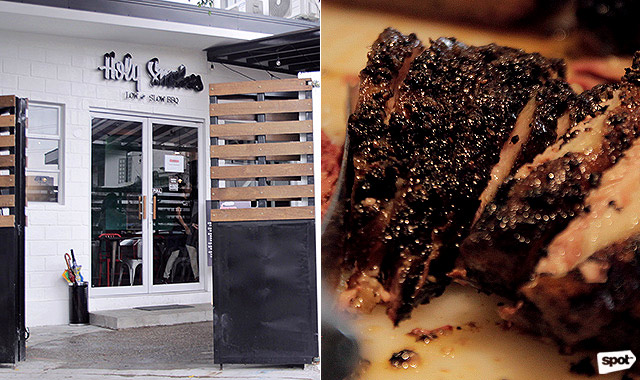 ADVERTISEMENT - CONTINUE READING BELOW
Holy Smokes
5834 Matilde corner Jacobo Street, Barangay Poblacion, Makati City
Contact: 587-1519
Be warned: You will want to eat more than your fair share of meat at Holy Smokes. And you will leave not regretting it one bit. Holy Smokes is the kind of easygoing, unassuming joint that's perfect for a satisfying dinner with good ribs, good beer, and good friends, and the best part? No one will judge you for chowing down heartily on their home-smoked meats and tasty sides.
Must-tries: Beef Ribs, Beef Brisket
Read more about Holy Smokes.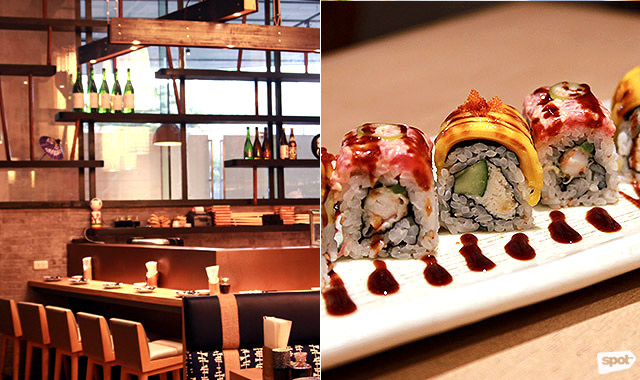 Izakaya Sensu
G/F Net Park, 5th Avenue, Bonifacio Global City
Izakaya Sensu means sushi in style—not literally, of course, but in the very welcome shift towards local restaurants flaunting good looks as well as good food, it certainly doesn't lag behind. Serving unbelievably fresh sushi and other Japanese staples prepared the traditional way, it's a perfect mix of the chic and the classic.
ADVERTISEMENT - CONTINUE READING BELOW
Must-tries: Sensu Roll, Omakase 7
Read more about Izakaya Sensu.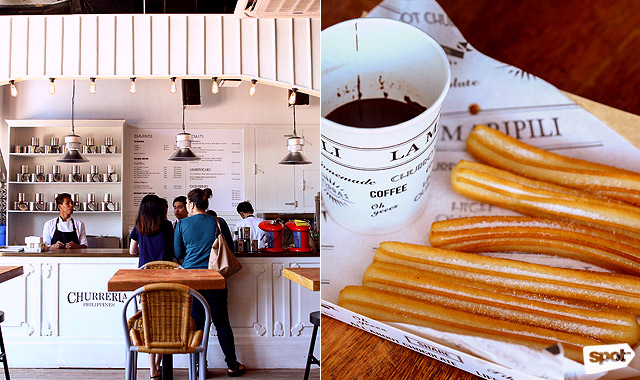 La Maripili
G/F Alabang Town Center Corporate Center, Alabang, Muntinlupa City
La Maripili's charming facade will entice you to come in, and their simple but excellent Spanish-Filipino menu will make you stay. Their churros are the star of the menu, and for good reason: they're crisp on the outside and pillow-soft on the inside, tasty on their own but goes perfectly as well with their Hot Chocolate. The savory Churros are a must-try too, like the tasty Jamon Serrano filled with thinly-sliced ham from Spain, or the sweet-savory Chorizo Honey. 
Must-tries: Classics, Jamon Serrano
Read more about La Maripili.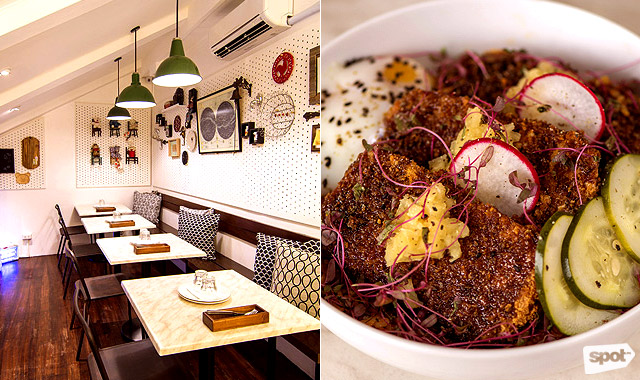 ADVERTISEMENT - CONTINUE READING BELOW
Little Bear Diner
23 East Capitol Drive, Barangay Kapitolyo, Pasig City
Contact: 0917-558-1491, 0916-426-8783
Chef Pau Pastor started out with 15 different kinds of grilled cheese at Legazpi Sunday Market, but this cozy nook in Kapitolyo is about more than just sandwiches. "Indulgent comfort food" is their mission, and you'll get just that with dishes like the Churros Toast and Spam Kimchi Rice. But make sure to also order the Spicy Toro, which is a fresh-spicy-crunchy medley of tuna sashimi, nori chips, and Japanese mayo. It's likely you could eat all six on your own.
Must-tries: Popper, Spam Kimchi Rice, Spicy Toro
Read more about Little Bear Diner.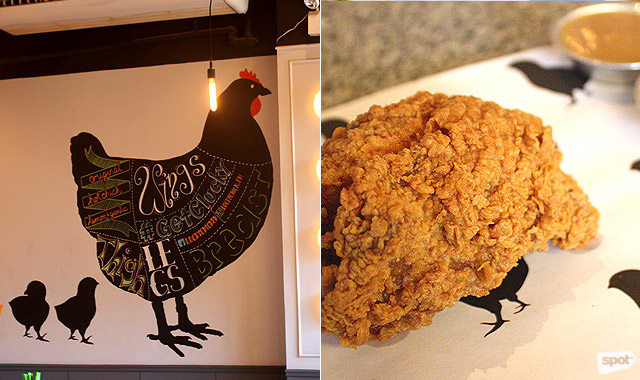 Lucky Chick
2/F UP Town Center, Katipunan Avenue, Quezon City 
Contact: 958-5349
On the Northern side of Metro Manila is the newest venture by the folks behind Nolita—Lucky Chick. A spin on the buttermilk fried chicken trend, Lucky Chick is known for their sourdough fried chicken and homemade doughnuts. While the comfort of biting into a crisp, perfectly fried chicken and sinking your teeth into a slightly sweet and not overly cloying doughnut is utterly hedonistic and unlike any other, Lucky Chick also serves a mean pulled pork sandwich, slow-roasted beef belly, and interesting gravy choices that come in apple cider and honey.
ADVERTISEMENT - CONTINUE READING BELOW
Must-tries: Hot Chicken, Fried Chicken, Slow-Roasted Beef Belly, Banana Pudding
Read more about Lucky Chick.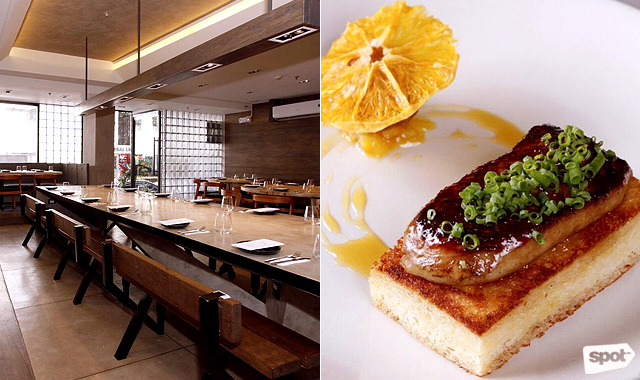 Made Nice Supper Club
G/F PPI Building, 109 Esteban Street, Legazpi Village, Makati City
It's like having dinner at your friend's house—a friend who also happens to be an excellent chef with an effortlessly stylish home. That was the goal at Made Nice Supper Club, says co-owner Toby Panlilio, who opened the restaurant late this year with a few other 20-somethings who have good food in their blood (among their restaurant backgrounds: Neil's Kitchen, Mamou, and Recovery Food). Expect inventive dishes that stand out thanks to quality ingredients and thoughtful preparation, all in a setting that's beautifully low-key.
Must-tries: Octopus, Agnolotti
Read more about Made Nice.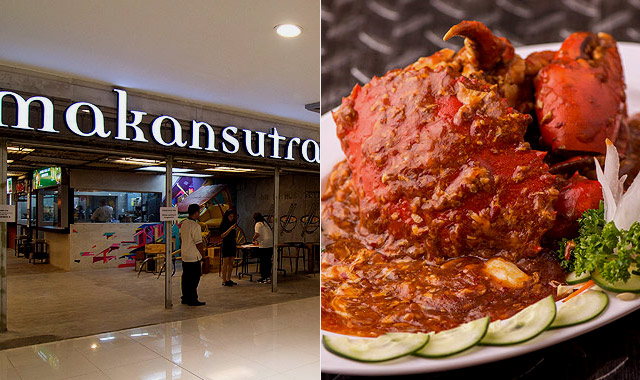 ADVERTISEMENT - CONTINUE READING BELOW
Makansutra Hakwers
2/F SM Megamall Building A, Mandaluyong City
Street food definitely isn't "cheap food" here at Makansutra Hawkers. Take a trip around Asia through their 11 stalls, which offer food from Hong Kong to Malaysia to India, and many more. Each hawker has a story to tell through tasty offerings. Go around and try the Fried Paper Wrapped Chicken, the Bat Kut Teh with Sugar Cane, or the Roti Prata. Your tummy will thank you.
Must-tries: Fried Paper Wrapped Chicken, Bat Kut Teh with Sugar Cane
Read more about Makansutra Hawkers.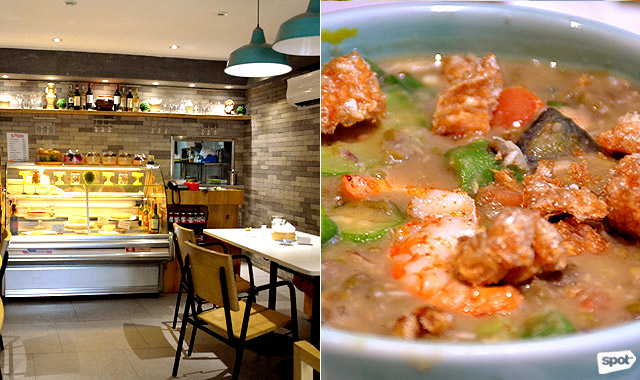 Mama Rosa
9 East Capitol Drive, Kapitolyo, Pasig City
Contact: 0923-172-4127, 942-1125 
It's not as flashy as some of the other restaurants that line the streets of buzzing Kapitolyo, but Mama Rosa still manages to stand out. It's all thanks to simple but delicious food that takes you back to the time when your lola would prepare Sunday lunch for the entire family—and leave you feeling sated and content, able to believe that all is right with the world.
ADVERTISEMENT - CONTINUE READING BELOW
Must-tries: Monggo Soup, Binagoongang Baboy
Read more about Mama Rosa.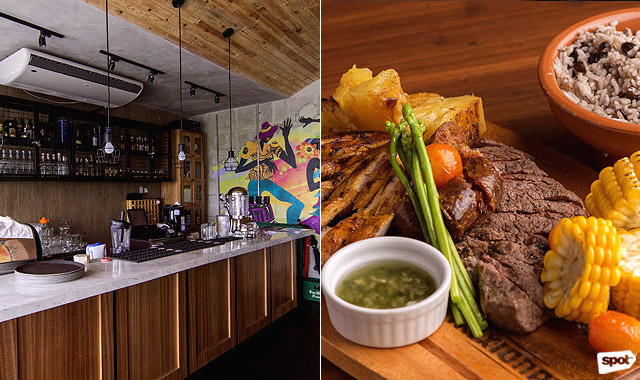 Naxional South American Diner
2/F Uptown Parade, 38th Street corner 9th Avenue, Uptown Bonifacio
Contact: 946-3419
Fusing flavors from 10 different Latin American countries in one place sounds like an impossible feat, but Naxional manages splendidly, creating a dining experience that is varied yet coherent. You'll get a bit of an education too, as you browse through a menu labeled with the dish's country of origin. Come with an empty stomach because you will definitely be filled. The Churrasco Especial is perfect for groups of two or three, or one really hungry person, with a plate of grilled sirloin, chimichurri chicken, morcilla, charred pineapple, and black beans with rice. Order it with an Elote, or corn on a cob slathered in chili butter and seasoned with mayo, lime, and cheese.
Must-tries: Steak Elote, Churrasco Especial
Read more about Naxional.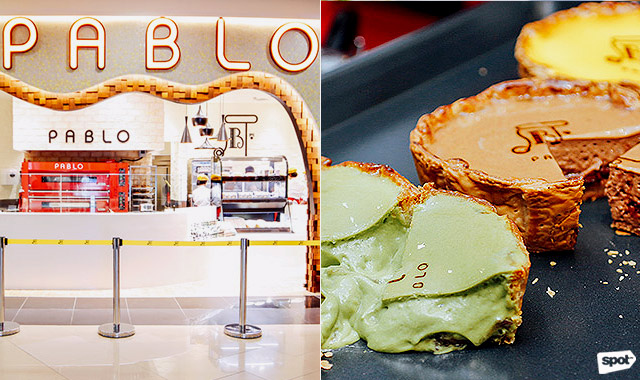 ADVERTISEMENT - CONTINUE READING BELOW
PABLO
G/F Robinsons Place Manila, Padre Faura Street, Manila
The wait is finally over. PABLO arrived on our shores this year, bringing with them their much-loved cheese tarts in three flavors: classic cheese, chocolate, and matcha. It's difficult not too drool at the sight of warm batter being poured into golden flaky crusts in front of you. So go ahead, we won't judge. And seeing the gooey cheese filling ooze out of your freshly made tart as you slice into it? It's happiness translated into a treat.
Must-tries: Cheese Tart, Matcha Cheese Tart
Read more about PABLO.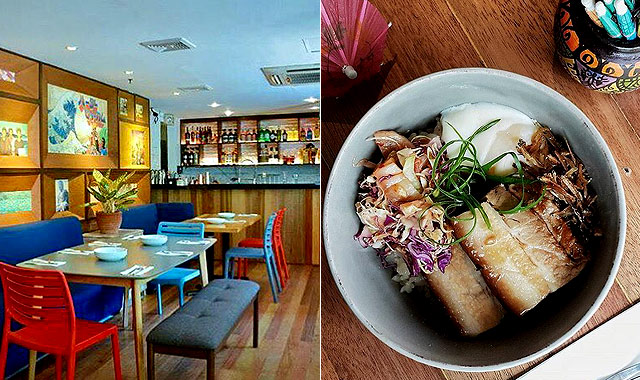 Papa Loa
109 Forbeswood Heights, Rizal Drive, Bonifacio Global City
Positioning itself as a Tiki Bar first before anything else, Papa Loa stands out in the crop of restaurants in the Burgos Circle area. The menu is playful; a delightful and modern marriage of Asian flavors. The dishes are refreshing and punchy—it may almost seem gimicky until you take a bite. Then you understand that Chef Iñigo Castillo, who is at the helm of Papa Loa's kitchen, sure knows what he is doing. Pair his plates with cocktails by Kath Cornista, and you've got a stellar combination that will keep you coming back for more.
ADVERTISEMENT - CONTINUE READING BELOW
Must-tries: Poke, Aburi, Coconut and Miso Pudding, the Cocktails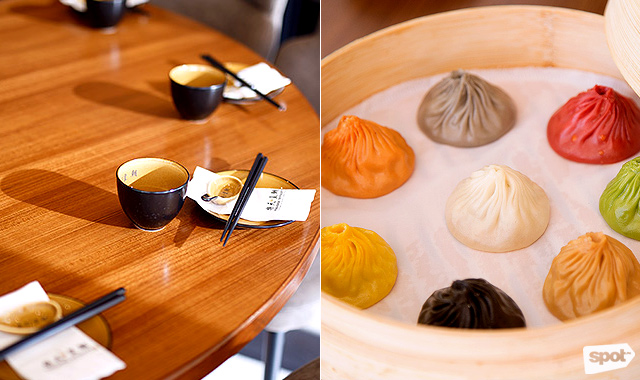 Paradise Dynasty
2/F S Maison at the Conrad, Mall of Asia Complex, Pasay City
Contact: 828-8333, 838-8333
The xiao long bao is the star here at Paradise Dynasty. Inspired by French macarons, they come in eight distinct colors and flavors, with each soup dumpling containing more than a spoonful of clear broth.  A must-try is the Black Truffle, rich and distincly earthy with a slice of truffle mushroom inside. Other dishes on the menu deserve the spotlight as well, like the exquisite Radish Pastry, with creamy radish filing encased in a hand-made flaky pastry formed into delicate spirals.
Must-tries: Specialty Dynasty Xiao Long Bao, Radish Pastry
Read more about Paradise Dynasty.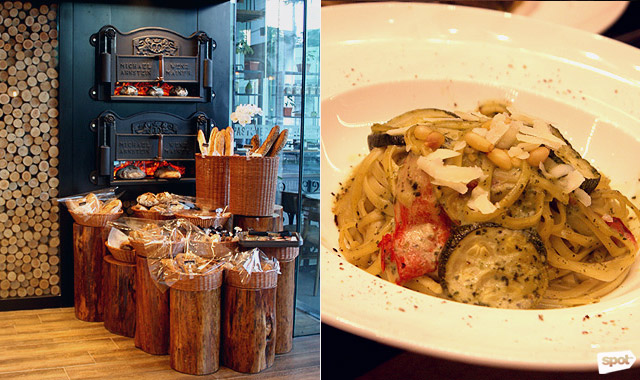 ADVERTISEMENT - CONTINUE READING BELOW
Passion by Chef Gerard Dubois
C2 NetPark, 5th Avenue, E-Square, Crescent Park West, Bonifacio Global City
If the brightly lit interiors and faux wood-fires don't draw you into Passion by Gerard Dubois, then the wide array of bread, pastries, and savory items definitely will. It's easy to be overwhelmed by the extensive menu—the tarts and salads on display are already tempting enough—but try to make your way towards the back and survey everything first. Don't miss the gems such as the ultra-thin pizzas and delectable cakes. Passion's prices might be a bit competitive—with gourmet pastas for around P300 and pizzas for around P350, but you will definitely get the best bang for your buck.
Must-tries: Mango Mont Blanc, pizza, sandwiches
Read more about Passion by Chef Gerard Dubois.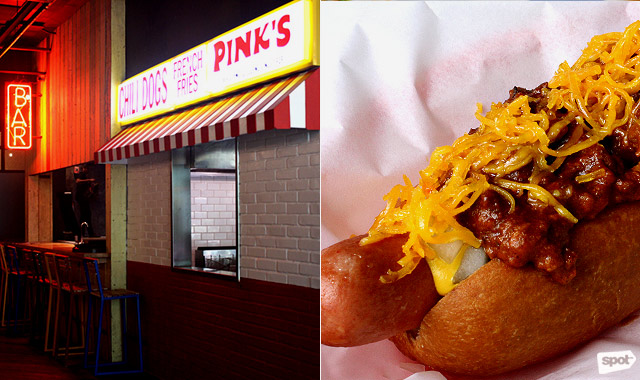 Pink's Hot Dogs
Shangri-la At The Fort, Bonifacio Global City
The simple hotdog gets an upgrade here at Pink's Hot Dogs. It took a while for the famous U.S. hotdog joint to finally arrive in the Philippines, but it was worth the wait, especially with Chefs Walter Manzke and Allen Buhay of Wildflour at the helm of Pink's kitchen. The hotdogs here at Pink's snap beautifully, with its salty flavor flawlessly matching the buttery buns from Wildflour. Add the chunky spicy chili and tangy mustard, and you get the perfect symphony of flavors that'll make you think twice about calling a hotdog sandwich ordinary ever again.
ADVERTISEMENT - CONTINUE READING BELOW
Must-try: Chili Dog
Read more about Pink's Hot Dogs.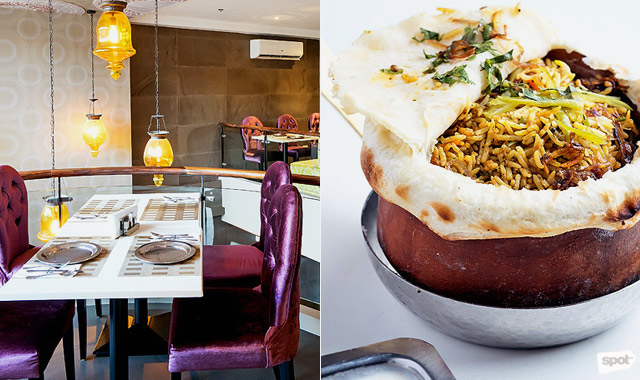 Royal Indian Curry House
5345 General Luna Street, Poblacion, Makati City
Contact: 801-4435, 0917-724-9978
Their menu is extensive, but that only means you have more reason to keep going back. Royal Indian Curry House has the usual dishes you'd go for at an Indian restaurant, yes, but consider allowing yourself to be a tad more adventurous. Dishes like the Chicken Momos and Masala Dosa will make you glad you did.
Must-tries: Chicken Momos, Hyderabadi Biryani
Read more about Royal Indian Curry House.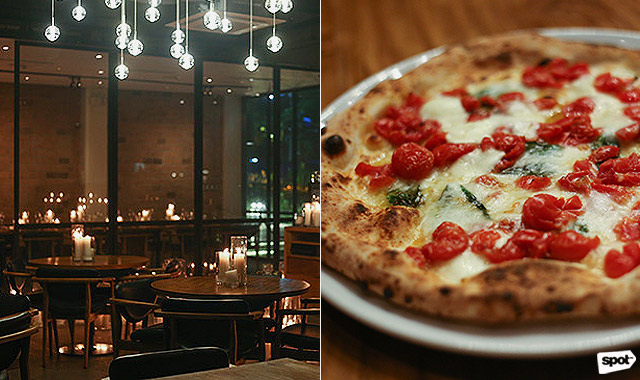 ADVERTISEMENT - CONTINUE READING BELOW
Salvatore Cuomo
G/F Uptown Parade 38th Street corner 9th Avenue, Uptown Bonifacio
Pizza master Makoto Onishi finally brought Salvatore Cuomo to the Philippines' dining scene early this year. And when we say he's a master, we're not exaggerating. After all, the restaurant is only one of the few that has an actual pizza certification—yes that's a thing! It's the D. O. C., or Denominazione di Origine Controllata, which is only given to margherita and marinara pizzas that pass a stringent set of requirements, from where the ingredients are sourced to how it's prepared and baked. 
Must-tries: World Champion Winner Pizza, 4 Formaggi
Read more about Salvatore Cuomo.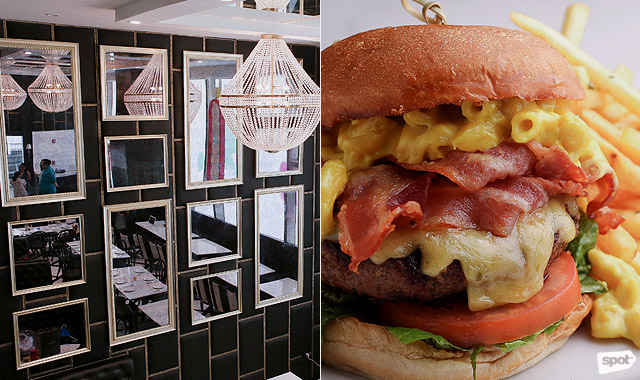 Sugar Factory
Unit GF5, G/F Shangri-La at The Fort, 3rd Avenue corner 30th Street, Bonifacio Global City
Contact: 958-5175
 
Sugar Factory is definitely a sweets-lover's paradise. With opulent gold interiors, plush booths, and black-and-white decor, this dessert place feels like a posh version of Willy Wonka's chocolate factory. And we definitely felt like Charlie with treats like the Dulce de Leche Milkshake: a vanilla ice cream shake with dulce de leche syrup overloaded with a unicorn lollipop, a chocolate-covered cone, and caramel popcorn stuck all over the glass for an Instagram-worthy drink. If you're in the mood for something more savory, there's also the hefty Big Cheesy Burger, stuffed with bacon and rich mac n' cheese.
ADVERTISEMENT - CONTINUE READING BELOW
Must-tries: Dulce de Leche Milkshake, Big Cheesy Burger, Lollipop Passion
Read more about Sugar Factory.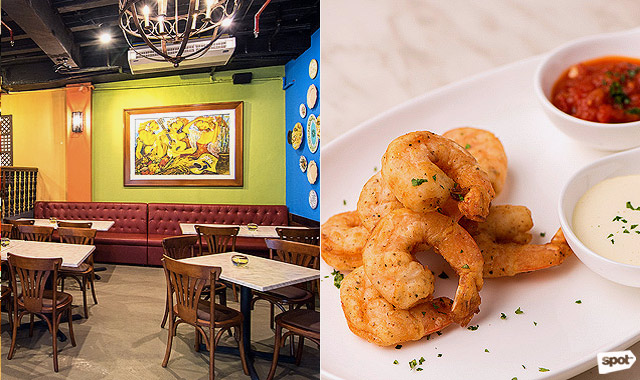 Taperia Poblacion and The Sippery
2/F Six Axis Center, 4347 B. Valdez Street, Poblacion, Makati City
Contact: 871-8566, 0926-734-1067, 0998-342-3566
It's a challenge to choose from the selection of tapas, pintxos, tortillas, and tostadas on the menu, but may we suggest the Olive-oil Fried Shrimp Camarones, which are inspired by the old-school Pinoy panciterias that never failed to offer heartwarming comfort? Chef Ariel Manuel describes this tapas concept as "shallow Spanish," but we'll just describe it as delicious.
Must-tries: Olive-oil Fried Shrimp Camarones, Chorizo Arrozada with Fried Egg
Read more about Taperia Poblacion and The Sippery.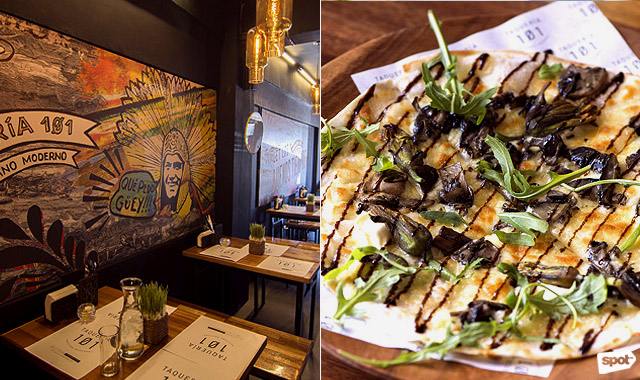 ADVERTISEMENT - CONTINUE READING BELOW
Taqueria 101
101 Doña Soledad Avenue, Barangay Don Bosco, Better Living Village, Parañaque City
Chef Kel Zaguirre of Kapitolyo's Locavore fame once had a dream of opening his own taqueria. Finally, on February 2016, he turned this dream into something real—and we all benefitted from it. Taqueria 101 pays homage to Mexico's vibrant flavors, while showcasing Zaguirre's culinary skills in the process. Each dish is a result of much thought and is a labor of love. With many taquerias popping up and taking over Metro Manila's food scene, make sure that Taqueria 101 is one that is on top of your list.
Must-tries: Zucchini Flower and Mushroom Tlayuda, Oxtail Soft Taco, Churro Popcorn
Read more abut Taqueria 101.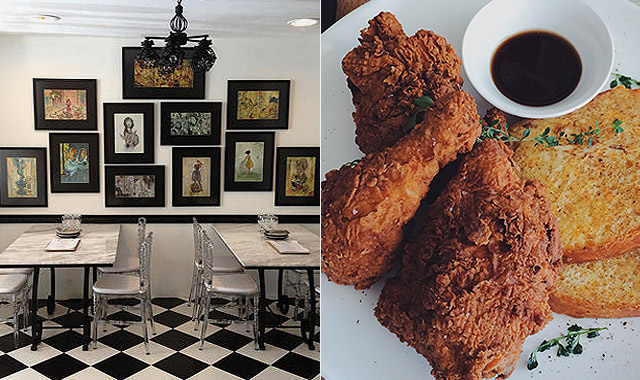 The Girl + The Bull
G/F Grand Midori Bldg., Bolano St, Legazpi Village, Makati City
Things get better with age, and while this may be a tricky adage to apply to restaurants, The Girl + The Bull seems to be living it out. From a hip, cozy restaurant in B.F. Homes, owners Gab Bustos and Thea de Rivera elevated their look and their offerings. Now in its new location at Legazpi Village, the new The Girl + The Bull has leveraged their dishes and incorporated more class, while still keeping a handful of their well-loved classics.
ADVERTISEMENT - CONTINUE READING BELOW
Must-tries: Fried Chicken, River Prawn Roll, Braised Goat Pasta, Heirloom Carrot Dessert
Read more about The Girl + The Bull.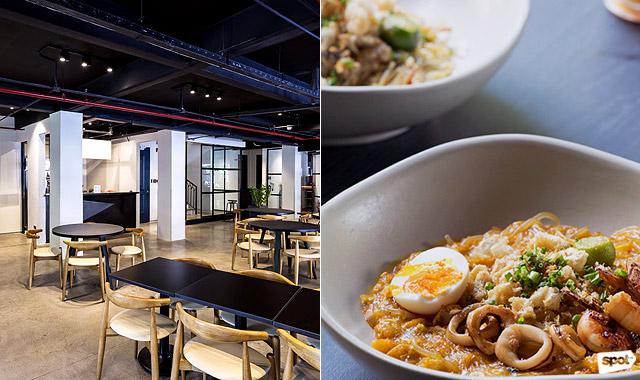 The Mess Hall
G/F Karrivin Plaza, Pasong Tamo Extension, Magallanes, Makati City
We wish our office pantry were as cool as this. The Mess Hall is The Moment Group's office "cafeteria", and lucky for us, they're also open to the public. Moment brands take shifts in handling the kitchen, and with restaurants like 8 Cuts, Ooma, Manam, Din Tai Fung, PHAT Pho, and Linguini Fini, as part of the group, whatever this kitchen decides to whip up will definitely make our tummies happy and hungry for more.
Must-tries: Sinigang of Short Rib and Watermelon, Lechon Batchoy
Read more about The Mess Hall.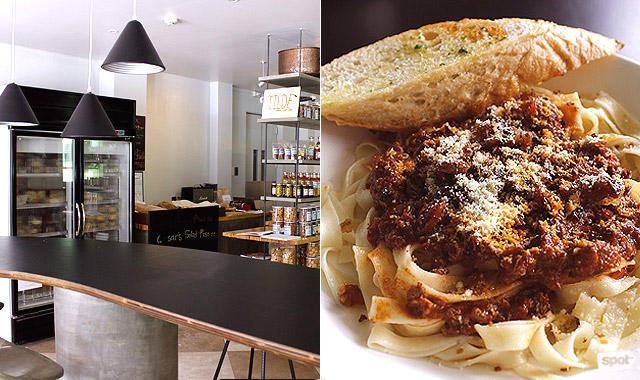 ADVERTISEMENT - CONTINUE READING BELOW
Tilde Hand Craft Café
5417 G/F EWC Building, Matilde Street, Poblacion, Makati City
Contact: 771-2764
Don't let Tilde's appearance fool you—spare, modern interiors belie a menu that can only be described as familiar and comforting. Everything is made from scratch, even the croutons that add crunch to the spectacularly simple but satisfying Caesar Salad. Have your fill of the hearty mains, but make sure to leave room for dessert—co-owner Ginny Roces de Guzman's cakes should not be missed.
Must-tries: Caesar Salad, Bacon Bolognese
Read more about Tilde.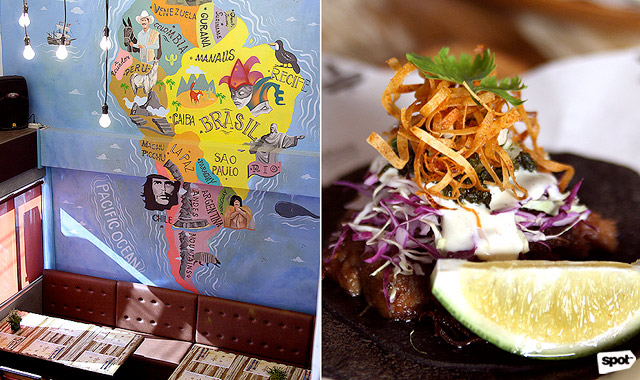 Tittos Latin BBQ and Brew
16 East Capitol Drive, Barangay Kapitolyo, Pasig City
Contact: 535-9212
Bright, bold, and colorful are three words that will immediately come to mind when you see this Kapitolyo newbie, and the same goes for their food. Chef Jerwyn Rabo is careful to say it's Latin-inspired rather than purely Latin, and you'll get how accurate the description is when you try the Beef Barbacoa Tacos: It's got slow-roasted beef chunks punctuated by crunchy, toasted bits of beef belly that will remind you of sinful but irresistible chicharon. 
ADVERTISEMENT - CONTINUE READING BELOW
Must-tries: Beef Barbacoa Tacos, Frozen Brazo de Mercedes
Read more about Tittos Latin BBQ and Brew.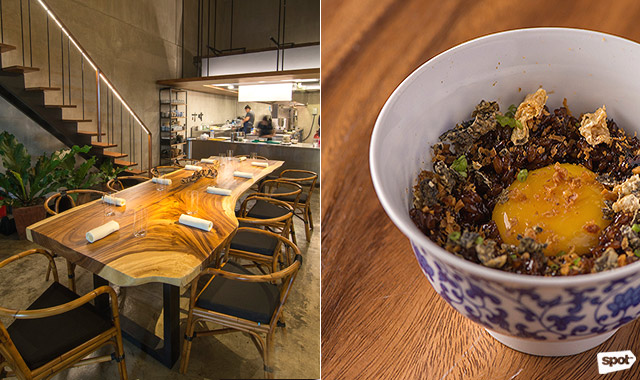 Toyo Eatery
Karrivin Plaza, 2316 Chino Roces Extension, Makati City
Contact: 0917-720-8630
Jordy Navarra makes a impactful comeback with Toyo, where he pushes the boundaries of Filipino cuisine and elevates it to a world-class level. Here, bangus is served with technique and flair, transforming the humble milkfish into a sophisticated dish. Sea urchin and orange kamote are dressed in a burnt squash soup, and their signature "silog" is a decadent combination of chicharon, dried fish roe, sticky rice, and a free-range egg. And for dessert, truffles with caramel come spiked with a dose of patis, punctuating the rich, sweet chocolate with notes of umami. The first of its kind in the country, come to Toyo if you'd like a different experience with Filipino food.
Must-tries: Toyo Eatery Silog, Sea Urchin with Kamote, Burnt Kalabaza Soup with Sea Urchin and Orange Kamote
ADVERTISEMENT - CONTINUE READING BELOW
Read more about Toyo.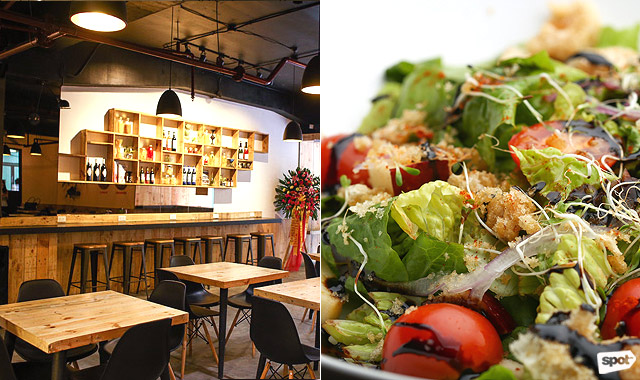 Trufa Pasta Bar
109 Esteban Street, Legazpi Village, Makati City
Contact: 771-2581
Known as "that pasta place" along Esteban Street in Legazpi Village, Trufa Pasta Bar during the day is busy churning out plate after plate of delicious and no-frills pasta dishes, while at night, it transforms into a more relaxed and laid-back restaurant where you can enjoy your meal with a glass of wine. What makes it stand out from the crowd? Its make-your-own approach in creating pasta dishes. With around 12 sauces, 11 pastas, and 14 toppings to choose from and mix and match, Trufa Pasta Bar poses as a strong contender in the area, especially with big guns such as Your Local and Yardstick nearby.
Must-tries: Ensalada Barcelona, Trufa with Penne and Setas, Tapastalog
Read more about Trufa.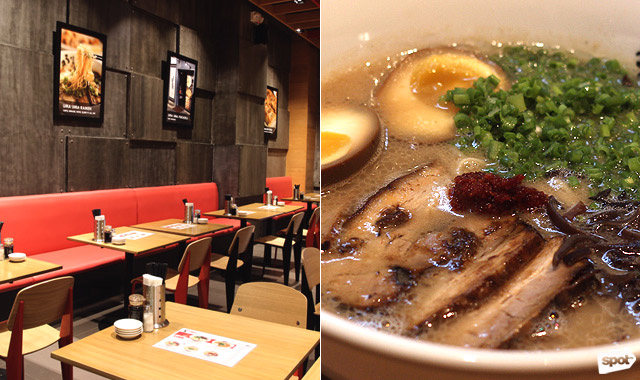 ADVERTISEMENT - CONTINUE READING BELOW
Uma Uma Ramen
2/F S Maison, Seaside Boulevard corner Coral Way, Mall of Asia Complex, Pasay City
Contact: 800-7663
Get your ramen fix at Uma Uma, which takes pride in MSG-free ramen bowls. Everything here is slow-cooked, with pork bones boiling away from 16 to 20 hours in order to fully extract that rich meaty flavor. You can really taste the difference this emphasis on freshness makes in the Uma Uma Ramen, the restaurant's signature dish, with chiasu, black fungus, spicy miso, and egg. For those who enjoy more heat, there's the Spicy Chiasu Ramen, with barbequed pork cooked in a spicy marinade. Pro-tip: Uma Uma holds a special surprise at the far end of their joint: Horse's Mouth, a speakeasy izakaya with their own menu of delectable Japanese bar chow and cocktails to boot.
Must-tries: Spicy Chiasu Ramen, Garlic Ramen
Read more about Uma Uma.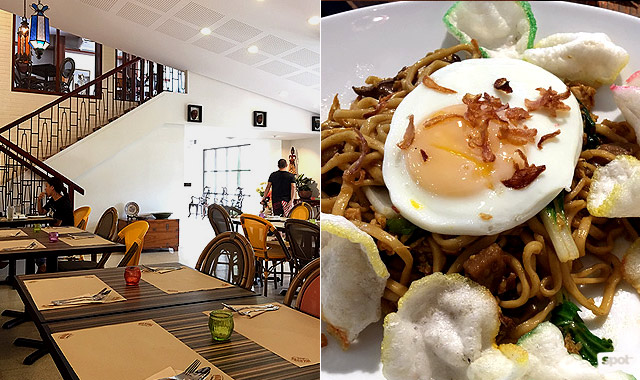 Warung Warung
83 East Capitol Drive, Kapitolyo, Pasig City
ADVERTISEMENT - CONTINUE READING BELOW
From its humble beginnings as a sought-after stall in Legazpi Sunday Market, Warung Warung has come a long way. If you're looking for Indonesian fare that's downright tasty and is immensely satisfying, hit up Kapitolyo for a taste of Warung Warung's offerings. From Indonesian staples like Ayam Goreng, Satays, and Jagung Perkedel, you know this place takes their cuisine seriously.
Must-tries: Beef Rendang, Mie Jawa, Jagung Perkedel
Read more about Warung Warung.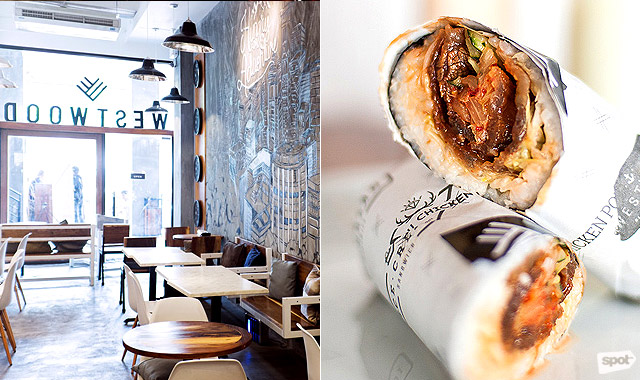 Westwood
80 Maginhawa Street, Teachers Village, Quezon City
Contact: 435-0619
The bright white interiors will remind you of California, but the menu is mostly Asian, with wraps that are an inventive mashup of burritos and sushi featuring Korean and Japanese flavors. Make sure to check out the ice cream, which you can order in cones decked out with puffed rice cereal covered in melted marshmallow.
Must-tries: Seoul Beef Bulgogi Sushirrito, specialty cone ice cream
Read more about Westwood.
ADVERTISEMENT - CONTINUE READING BELOW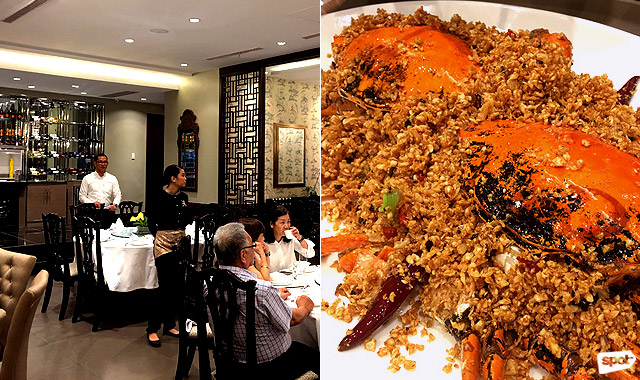 Xiu Fine Cantonese Dining
Connecticut Street, Greenhills, San Juan City
Contact: 650-7189, 0947-707-0228
Chinese food is a certified crowd pleaser—you don't really need to mess with it much. But sometimes it's nice to shake things up a bit. Xiu doesn't go to great lengths to make their Cantonese fare innovative, but it's definitely different, thanks to unique offerings like the Double Boiled Fish Maw and Almond Soup, and the Baked Tiger Lobster with Cheese.
Must-tries: Baked Tiger Lobster with Cheese, Crab Typhoon Style, Cantonese Style Crispy Pork
Read more about Xiu.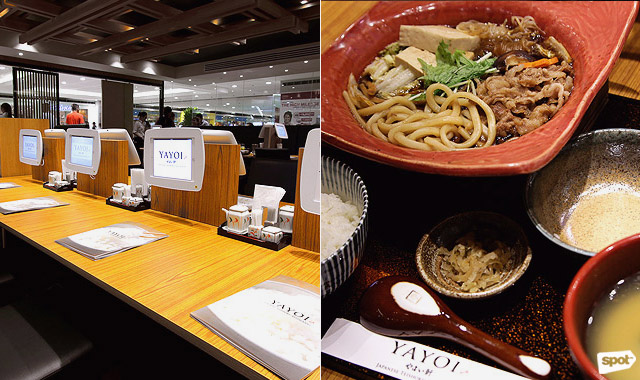 ADVERTISEMENT - CONTINUE READING BELOW
Yayoi
3/F SM Megamall Building B, Mandaluyong City
Contact: 634-4865
It's not hard to love teishoku from the moment you try it—how could anyone not love having soup and three different side dishes in one tray, along with a meticulously prepared entrée? Yayoi prides itself on providing that distinctly Japanese experience in a way that's "fast, fresh, and authentic." So yes, ordering with iPads is cool, but the food is still the star of the show.
Must-tries: Hitsumabushi, Beef Sukiyaki
Read more about Yayoi. 


P.S. If you've tried them all, here's an extra must-try for 2016: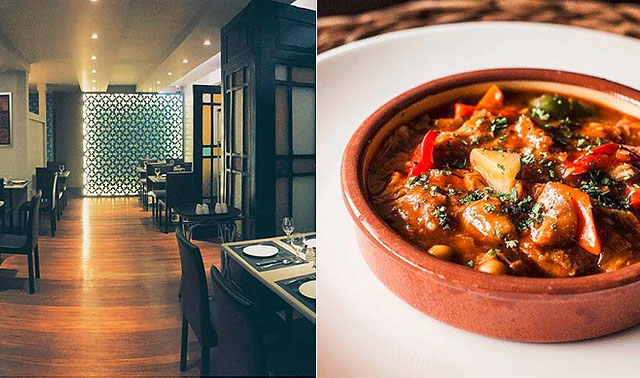 49-B Heirloom Kitchen
146 Scout Gandia Street, Barangay Sacred Heart, Quezon City
Contact: 653-3711
Heirloom is all about comfort. If you're craving hearty meals that will hit the spot, this is your best bet. Well worth the drive to QC, Heirloom Kitchen's menu leaves you spoilt for choice; the dishes all exuding the warm, cozy feeling achieved by a homecooked meal. With recipes spanning generations and Filipino staples mixed with a bit of Spanish flair, Heirloom Kitchen is a fantastic example of simple cooking perfected.
ADVERTISEMENT - CONTINUE READING BELOW
Must-tries: Beef Lengua (you would not want to skip this), Fern Salad, Tamarind Roast Chicken
Share this story with your friends!
---
Help us make Spot.ph better!
Take the short survey
Load More Stories