New Restaurant Alert: Shakeaway in UP Town Center, Quezon City
With over 180 toppings to choose from, you won't get the same shake twice.
Shakeaway
G/F Phase 2, UP Town Center, Katipunan, Quezon City
Open daily from 11 a.m. to 10 p.m.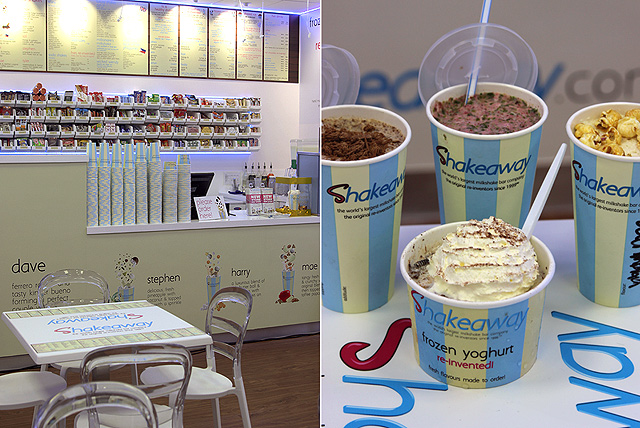 (SPOT.ph) It's no surprise that milkshakes have conquered tropical Philippines, with crazier and crazier versions of the drink popping up everywhere. But sometimes, it's also nice to go back to the classics, just to remind us of why we fell in love with this cross between a dessert and a beverage in the first place. British milkshake bar Shakeaway serves up the indulgent drink just the way we got them when we were growing up: sweet, creamy, and no-frills, served in a sturdy paper cup.
UP Town Center's Shakeaway shop is reminiscent of the classic American milkshake bar, with clean blue-and-white interiors, counters, and bar stools. The pop music playing through the speakers adds to the fun, youthful vibe.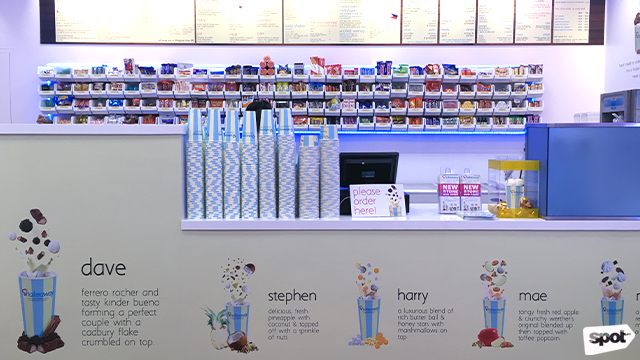 ADVERTISEMENT - CONTINUE READING BELOW
But just because it stays true to its roots doesn't mean Shakeaway doesn't know how to, well, shake it up. For one, they feature an astounding display of candy, chocolates, nuts, and other confections that looks like a sweets lover's dream pantry. There are over 180 ingredients you can choose from, sorted into different categories. There's Fruity (apples, bananas, blueberries), Sweety (Mentos, gummy worms, marshmallows), Chocolatey (Snickers, Mars Bar, Kit Kats), Cakey (carrot cake, red velvet, blueberry muffin), Biscuity (Oreos, chocolate chip cookie), and Everything Elsey (matcha, Milo, peanut butter). The combinations you can create are almost limitless.
CONTINUE READING BELOW
Recommended Videos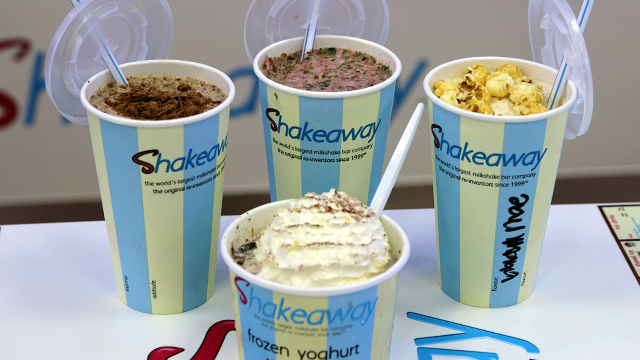 CEO Peter Dickson shares that he wanted Shakeaway to feature a list of ingredients instead of a menu because customization was part of the experience. Tables actually have the list printed on them so groups who come and hang out can talk about what they want in their shake. Aside from picking your own flavors, you can also choose between Regular (P190) or Large (P250), an ice cream or frozen yogurt base, and adding some "Additude" (add P60) or nutritional supplements. Staff members called Shakettes will help you pick out a combination, maybe even suggesting gently if this or that won't work together, but it's really all up to you. So if you want to have Ritz cheese crackers and chocolate in your shake for example, no one will judge you (we heard it actually tastes really good).
ADVERTISEMENT - CONTINUE READING BELOW
Understandably, the sheer number of ingredients to choose from can get overwhelming, so Shakeaway also has a number of pre-made flavors: their Named Shakes. Peter together with his Filipino partners, sisters Kim Chan-Tanganco, Jenilee Chan, and Zerline C. Ortiz-Luis, was hands-on in conceptualizing the combinations. The process could get tedious, because certain ingredients would not work together for example, unless chopped or blended in the right way. If the taste and consistency just isn't right even after lots of trial-and-error, then it gets thrown out. The shakes that do make the cut have proven to be the best of the best.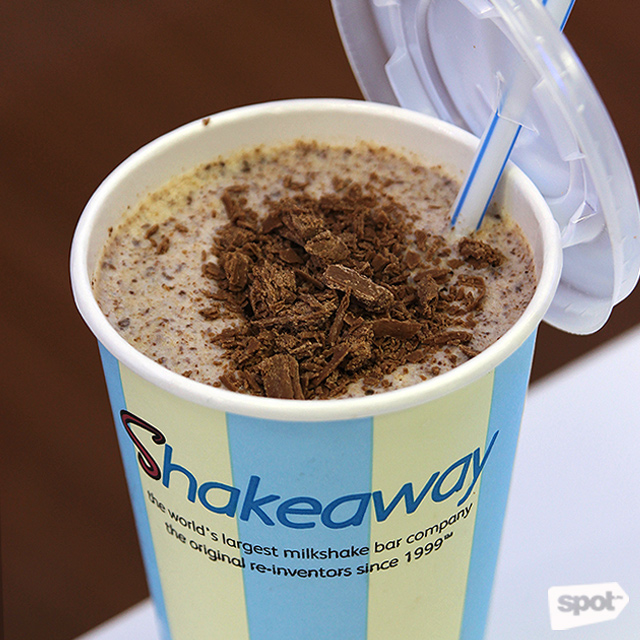 Dave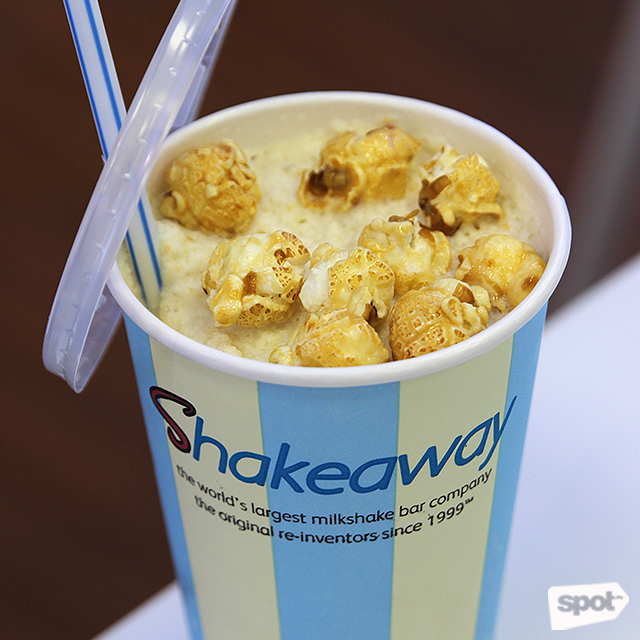 ADVERTISEMENT - CONTINUE READING BELOW
Mae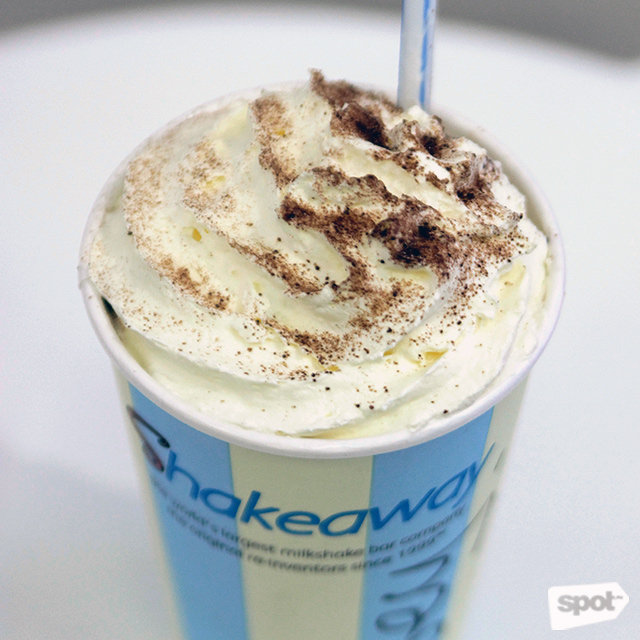 Casey
You can never go wrong with Peter's favorite Named Shake, the Dave (P330/regular, P390/large), which is a chocolate shake made with Ferrero Rocher, Kinder Bueno, and crumbled Cadbury flakes on top for a delicious mix of chocolatey and nutty. The Instagram-worthy Mae (P250/regular, P310/large) tastes comforting, with apples, Werther's Original Caramel Candy, and toffee popcorn on top while the Casey has chocolate crinkles, Nestle Crunch, and a generous helping of whipped cream for the familiar soothing taste of hot chocolate in a cold beverage. The Jose (P250/regular, P310/large) is a Named Shake exclusive to the Philippines. The ube and macapuno shake reminds us of halo-halo, especially with the pinipig topping.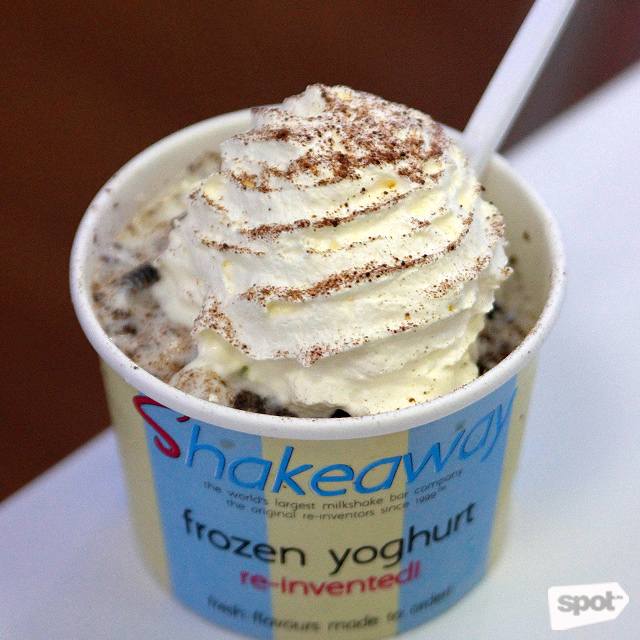 ADVERTISEMENT - CONTINUE READING BELOW
Uma (frozen yoghurt with chocolate fudge brownies, Oreos, and whipped cream)
Aside from milkshakes, Shakeaway has since expanded to Shaved Ice (P190/one flavor and topping, P220/two flavors and toppings), which is made with fresh fruit toppings instead of the "artificial gunk," as Peter puts it. The Frozen Yoghurt (P190 to P310) and Smoothies (P190 to P310) were introduced to the menu after health buffs requested something low fat and low calorie. While the fro-yos were created to be diet-friendly, it really isn't Shakeaway if they don't let you load it up with candy, cookies, and chocolate, though of course you can still get the usual fruits like strawberries, peaches, and bananas. If you like your yoghurt tart and refreshing, their version is perfect for you.
While Peter remains firm in his belief that you shouldn't dip your fries in your milkshake, he is nothing if not adaptable, especially to the requests of his regulars. After multiple requests from mostly American customers who wanted something substantial with their drink (and something to dip in it too), Shakeaway developed their Low Fat Fries (P90/regular, P120/large). Made in a special oven instead of deep fried, you wouldn't even notice the difference.
The Shakeaway experience really is all about getting a drink that suits you and your unique taste perfectly, while having fun in the process. Peter had a bit of fun too in coming up with his milkshakes. The Millionaire's Milkshake for example was something he and his Shakeaway partners came up with when they had the crazy idea to try and put gold in a milkshake. The resulting P900 shake is made with luxury Lindt dark chocolate and roasted hazelnuts, topped with whipped cream and real 23-carat (!) edible gold flakes. Surprisingly, people actually order the shake, usually for birthdays or when they just feel like treating themselves. Customers who order the world's most expensive shake get a certificate and a Shakette announcing their order loudly with glee—truly making you feel like a VIP.
ADVERTISEMENT - CONTINUE READING BELOW
Another fun milkshake flavor is the Wicked Wendy (P250/regular, P310/large). Described as the world's worst milkshake, it has frozen blended peas and pickled onions with whipped cream—similar to a cold pea soup. Apparently it's a pretty popular flavor to order too, especially as a dare. 
With Shakeaway's massive range of toppings and flavor combinations, plus the bright fun atmosphere, this milkshake joint will surely turn into a hangout favorite. And with the promise of never getting the same combination twice, you will find yourself returning again and again. Or you could just get a classic Dave too every time. At this milkshake bar, it's really all about what you want.
Photos by Criselda Carreon
Share this story with your friends!
---
Help us make Spot.ph better!
Take the short survey
Load More Stories