New Restaurant Alert: Char Dining at Uptown Parade, Uptown Bonifacio
The Singaporean restaurant brings its best-selling Char Siew, and more, to Manila.
Char Dining
2/F Uptown Parade, Uptown Bonifacio
Contact: 890-1452
Open from 11 a.m. to 11 p.m. (Monday to Thursday) and from 11 a.m. to 2 a.m. (Friday to Sunday)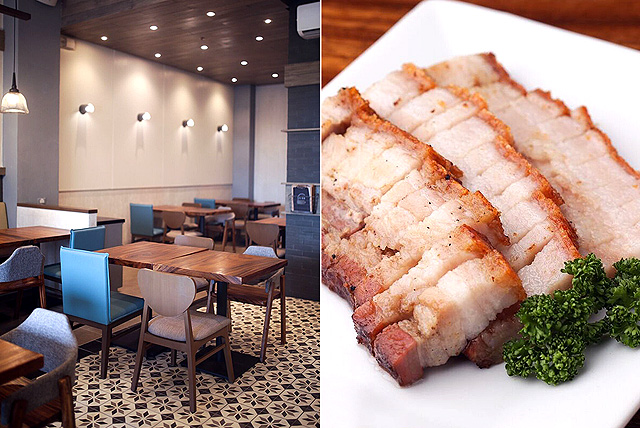 (SPOT.ph) If you frequent Singapore, you've probably tried Char Dining, a famous Cantonese roast meat restaurant formerly located in Guillemard Road and now in Jasan Besar. On December 8, the house of roasted meats by brothers Anthony and Alvin Ung finally opens at Uptown Parade.
"The vision of Char Dining in the Philippines is to simply bring home the signature roasts dishes that are made famous in Singapore. Filipinos are known for their great love for food and are willing to explore different cuisines, so this is a great place to introduce something different and exciting...The dishes offered here are the same ones served in Char Singapore, but using locally grown herbs and spices to complement the preferred tastes of Filipinos," Antony tells us.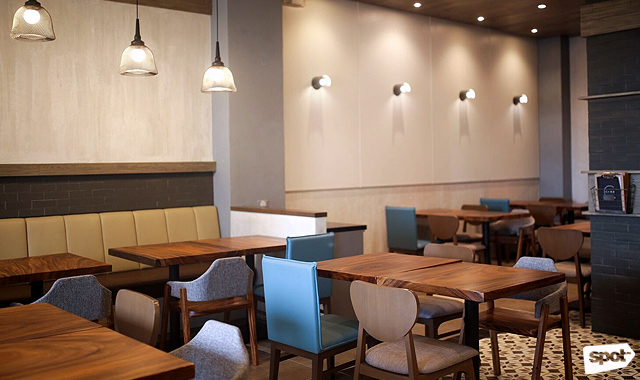 The Manila outlet is a bit more upscale compared to the casual vibe of the original Singapore joint. The interiors are dominated by sophisticated shades of cream and brown, with pops of teal here and there. There are cushioned wooden seats for a comfortable hour or two of sensible dining, and the soft light from the overhead lamps complete the relaxing ambience.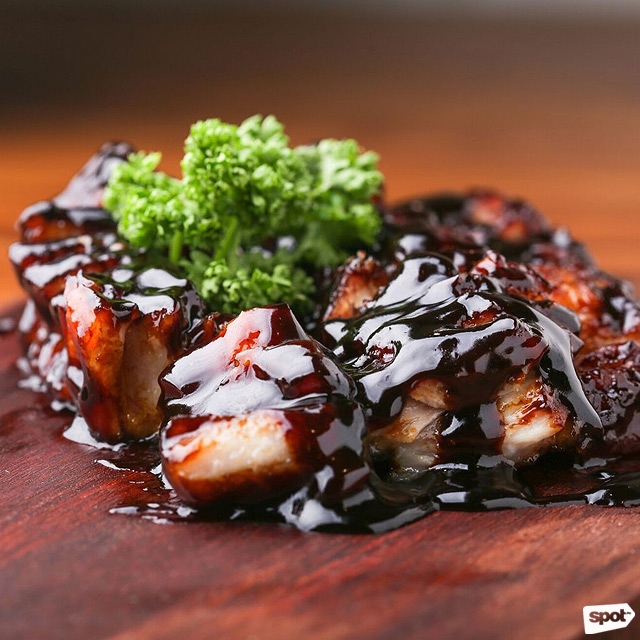 Special Char Siew
The menu is filled with crowd favorites cooked using both modern techniques and traditional roasting style, the top choice being the Special Char Siew (P450/300g). Why it's best is a no-brainer: It looks good and tastes good. The pork is perfectly spiced and satisfyingly tender, while the thick, dark glaze is sinfully sweet it's addictive.
ADVERTISEMENT - CONTINUE READING BELOW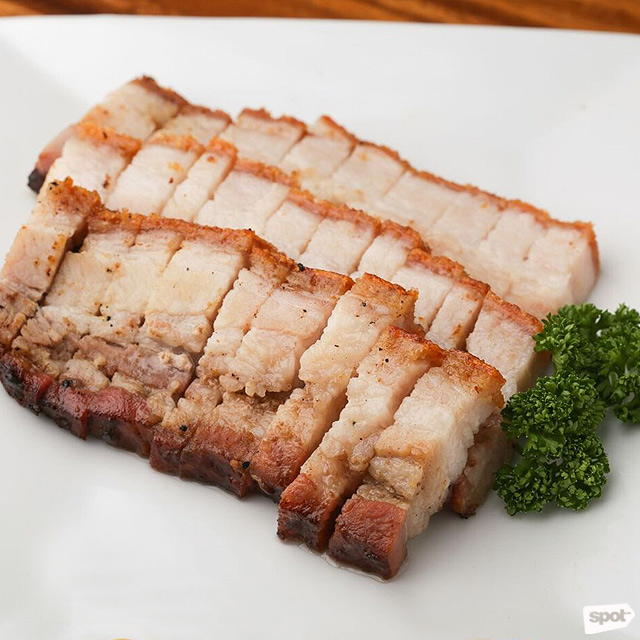 Crispy Roast Pork Belly
A more modest option, the Crispy Roast Pork Belly (P450/300g), proves simplicity is beauty. Each bite-sized piece boasts a salty profile with a slight sweetness and herby hint from the marinade. The cuts are generous in fat with a silky texture balanced by the crispiness of the skin.
The Soya Kampong Chicken (P200 to P780) also comes highly recommended for its savory broth and juicy chicken slices. The soft chicken skin is something you'll want to save for last, as it pleasantly melts in the mouth.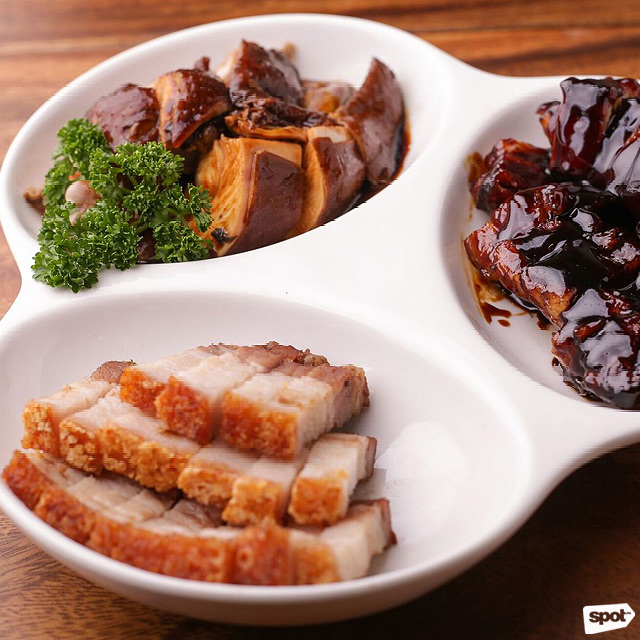 Triple Roast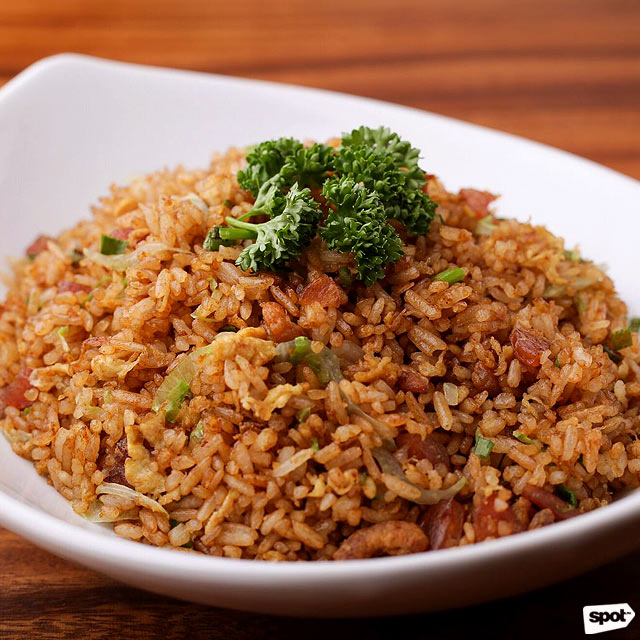 Chinese Sausage with Dried Shrimps Fried Rice
These three signature roasts can be enjoyed platter-style when you order the Triple Roast (P850). You can pair the meats with Char's Yang Chow Fried Rice (P200) or Chinese Sausage with Dried Shrimps Fried Rice (P220).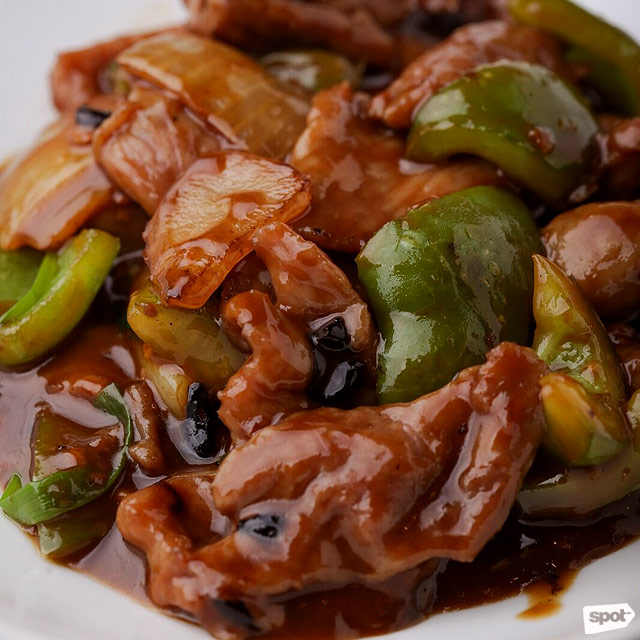 Beef with Black Bean Sauce
Among the casseroles, try the Beef with Black Bean Sauce (P350), which features soft and chewy beef strips mixed with green bell peppers and onions.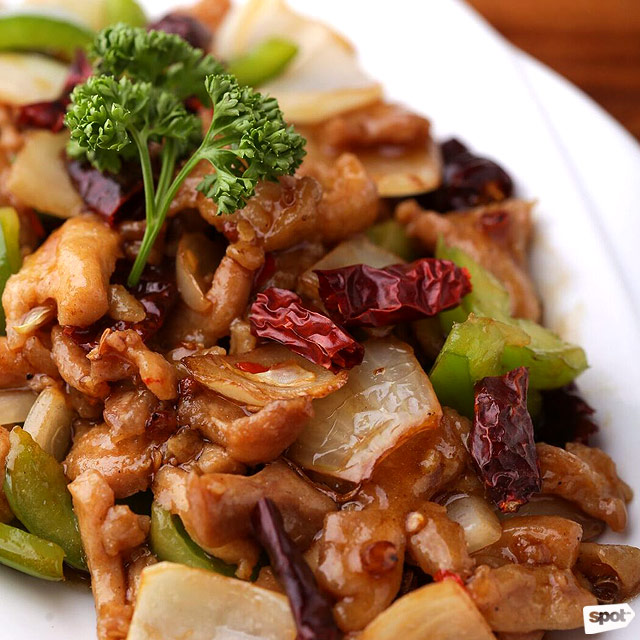 Spicy Chicken Szechuan Style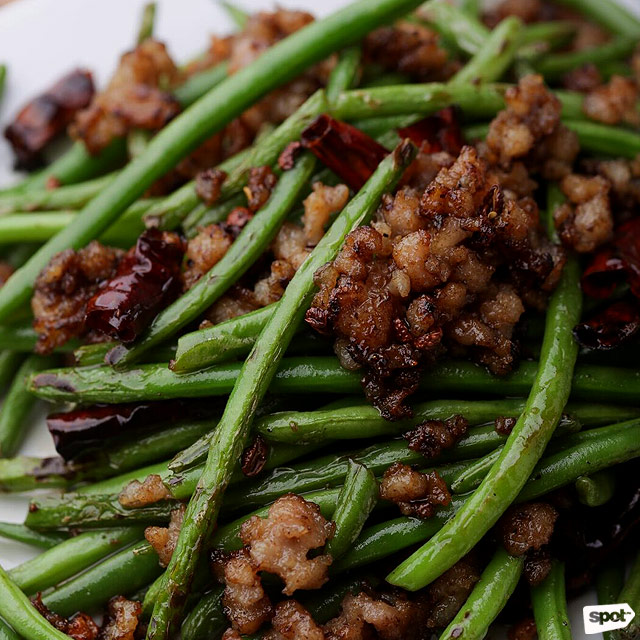 Spicy Four Seasons Beans
Spicy items are a must at Char. They can adjust the heat level based on your preference, so go for the Spicy Chicken Szechuan Style (P290) or the Spicy Four Seasons Beans (P300), where the dried chilies are the star.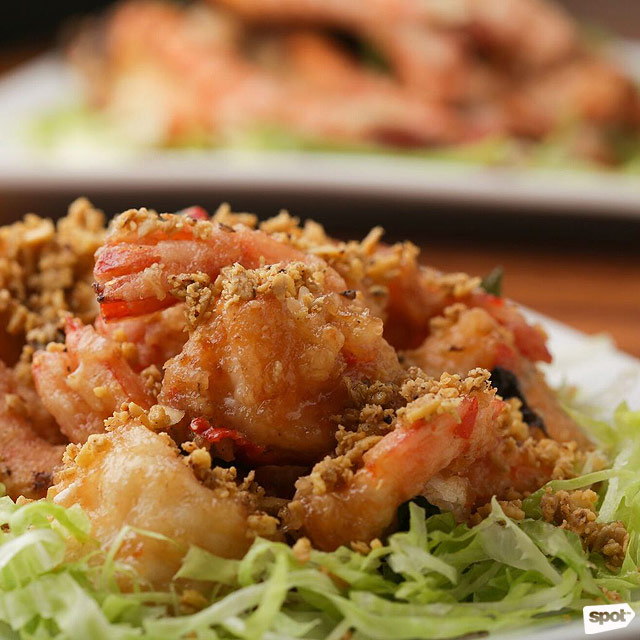 Butter Prawns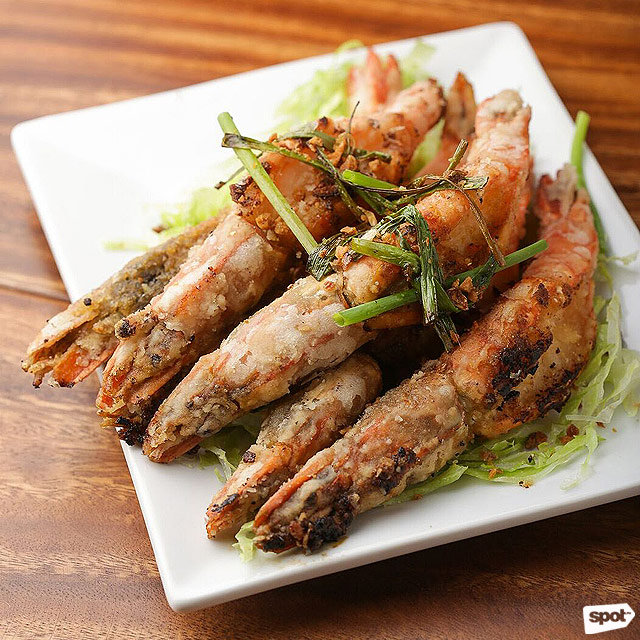 Garlic and Salt Prawns
Large prawns served on a bed of greens also occupy a section of the menu. The Butter Prawns (P420) is a mix of smooth and flaky textures. The butter flavor shines, and the toasted garlic bits add a more aggressive kick. The Garlic and Salt Prawns (P605), on the other hand, effortlessly blends briny and garlicky hints.
ADVERTISEMENT - CONTINUE READING BELOW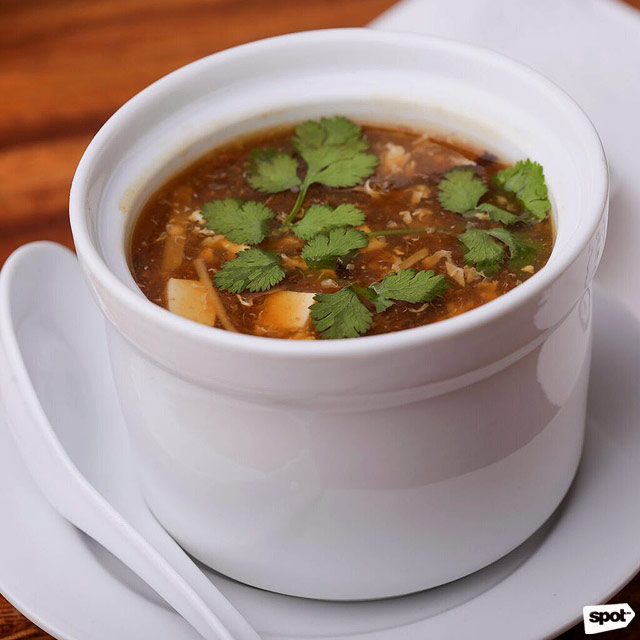 Hot and Sour Soup
Other surprising entries include the Tatsoi with Garlic (P230), which has a pleasing mix of crunchiness and chewiness, and the Hot and Sour Soup (P120), which has a spicy boost in the beginning that slowly fades, allowing you to enjoy every sip.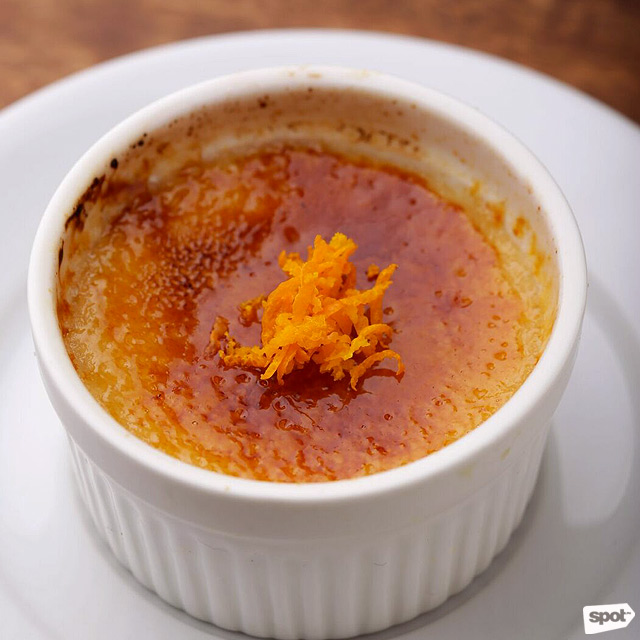 Creme Brulee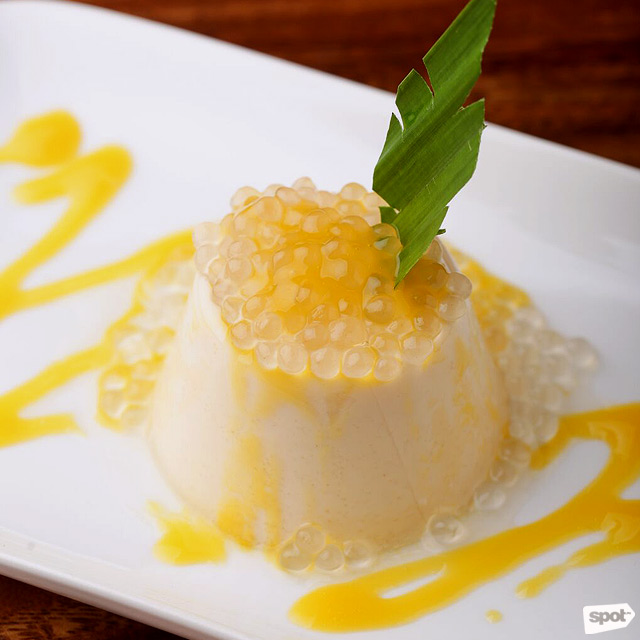 Mango Panacotta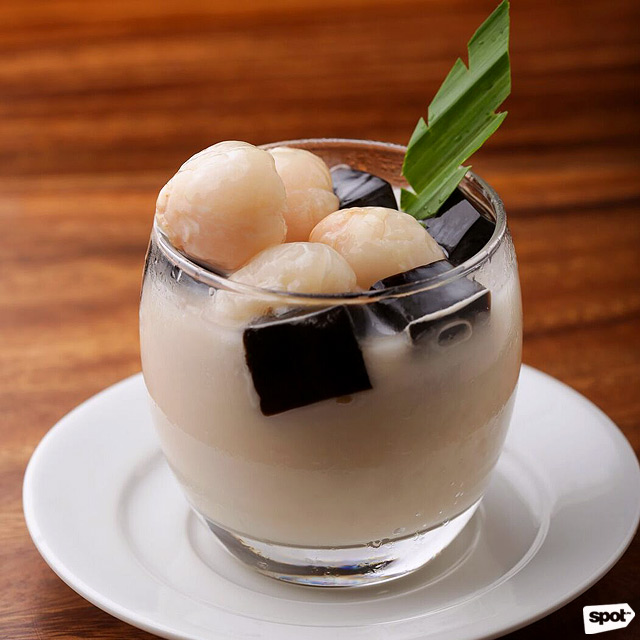 Yin Yang Jelly
A few desserts are available to delight your sweet tooth after all the savory selections, including the smooth Creme Brulee (P120) and the dense Mango Panacotta (P120). If you prefer something less sweet, go for the cooling Yin Yang Jelly (P120).
Long lines are not an uncommon sight at Char Dining in Singapore, and with their signature roasts that are sure to hit the spot, we wouldn't be surprised to see the same queues at the Uptown Parade branch.  
Photos by Majoy Siason
Load More Stories