Pair your rib-eye steak with topnotch drinks at this secret Makati bar
ABV will take you back in time.
ABV (Alcohol By Volume) Cocktail & Absinthe Bar
Basement Floor, 22 Jupiter Street, Corner Galaxy Street, Makati City
Contact: 832-5330
Open daily from 5 p.m. onwards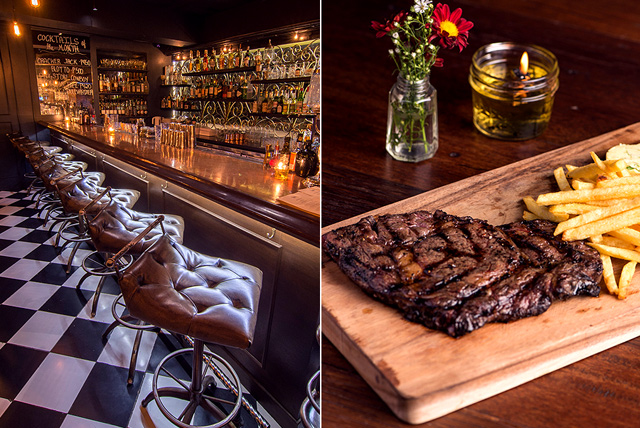 (SPOT.ph) Everyone likes secrets. The more mysterious, the better. The first step to uncovering this secret world is to walk inside the warm and cozy spot that is Lazy Bastard along Jupiter Street in Makati (which, incidentally, serves one of the best hotdog sandwiches in Manila). But this cheerful burger-and-hotdog nook hides the key for those who know where to look. Step behind the wooden door into an antique elevator shaft where you will meet the lovely Maître d' Nina who will ask you "what floor?" This is your cue to guess the password so you can be let in. Just be sure to have some 1920s speakeasy slang at the tip of your tongue and before you know it, you'll find yourself in on one of the best-kept secrets in the Metro.
ADVERTISEMENT - CONTINUE READING BELOW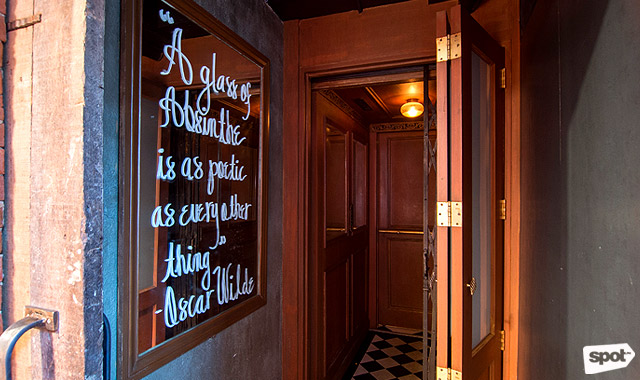 CONTINUE READING BELOW
Recommended Videos
ABV or Alcohol by Volume is a cocktail bar that is perfectly decked-out as a speakeasy establishment from the Prohibition era of the U.S. when the sale, production, and transportation of alcoholic beverages was illegal. Patrick Cuartero, owner of ABV, was inspired by speakeasy bars when he was living in New York, and dreamed of bringing this experience to local shores when he moved back to Manila. Everything in ABV was done to Patrick's specifications and brought to life with passion and true love for the place.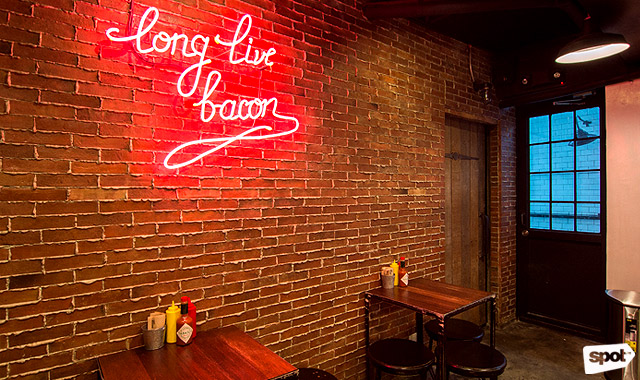 ADVERTISEMENT - CONTINUE READING BELOW
Walking in, you are immediately transported into the Jazz Age where illegal boozing and organized crime was the norm. The setting inside ABV is so far removed from the modern world outside: muted lighting from hanging naked bulbs, low-slung but comfortable leather booths where hush-hush meetings can be held, a beautifully stocked bar, and an overall feel of clandestine masculine luxe. Looking over your shoulder, you can almost imagine the cast of The Untouchables charging in, looking for Al Capone himself sitting in a booth in the corner.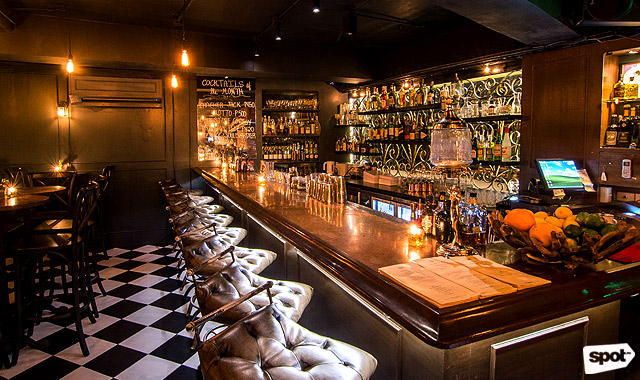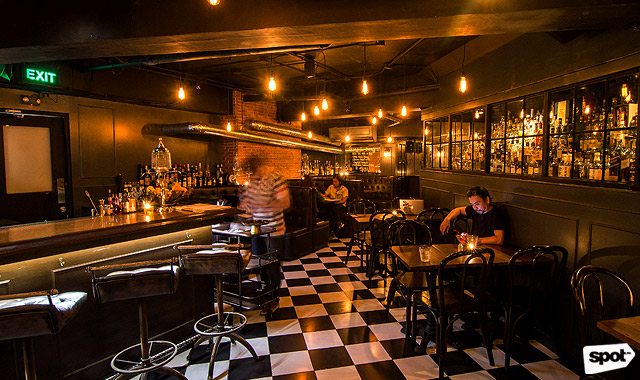 ADVERTISEMENT - CONTINUE READING BELOW
Once you get over the initial wonder, the friendly staff of ABV will lead you to a table and ask what your pleasure is for the evening. Nina Tabalingco, Marketing Associate, shares that ABV prides itself, not only on their carefully crafted, top-notch cocktails, but also with the way they treat each and every customer who comes in as a treasured guest. Whether you're an expat, a high-ranking politician, a top TV actor, or even just a regular hard-working joe with his wife and some friends looking for a quiet place to have quality drinks, absolutely everyone will be catered to at ABV with kid's gloves for a certified bar experience that is the Bee's Knees (or simply, "the best" in '20s slang.)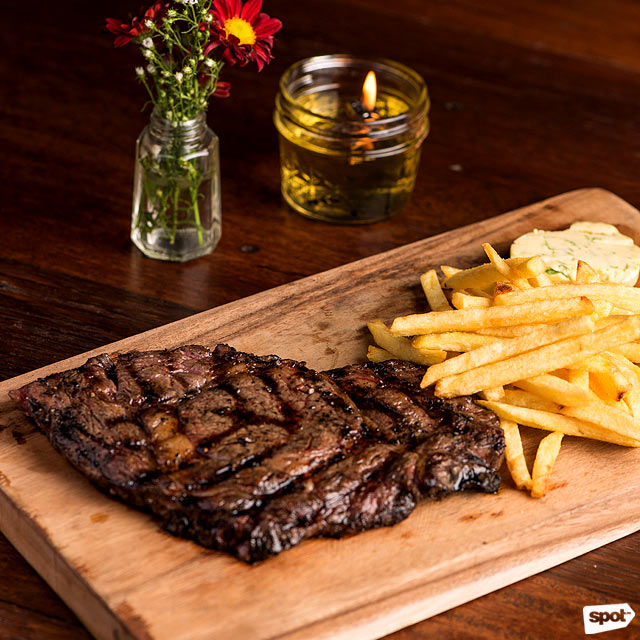 USDA Choice Ribeye Steak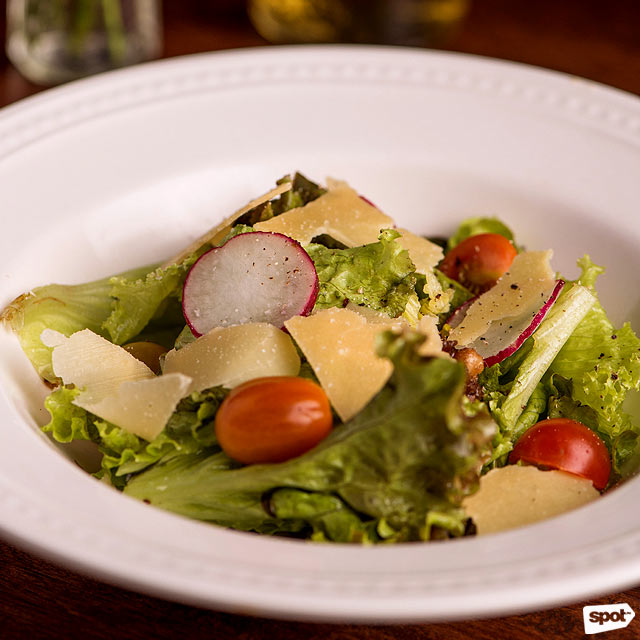 ADVERTISEMENT - CONTINUE READING BELOW
House Salad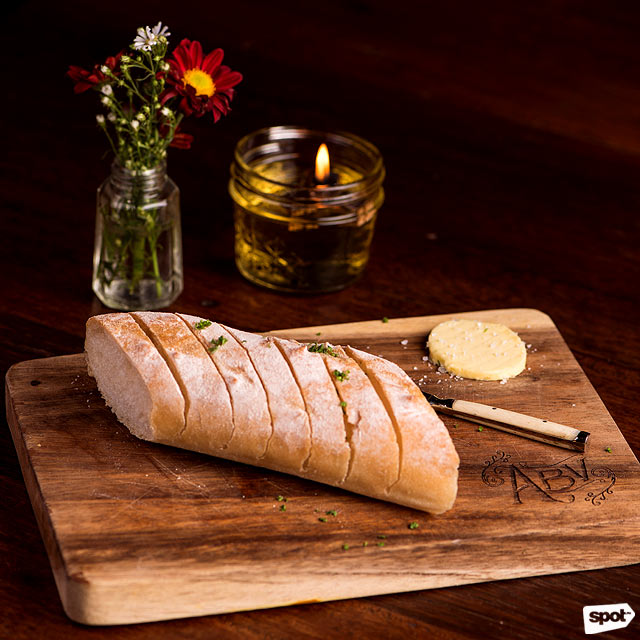 Baguette
Watch for the Fête du Bœuf or the Feast of Beef at ABV. Every Monday, Tuesday, and Wednesday from 6 p.m. to 9 p.m. Enjoy a set menu of a 10 oz. USDA Choice Ribeye Steak served with the house salad and unlimited pomme frites (French Fries) at P1,190. The meal starts with a warm and crusty baguette served on a wooden slab with a pat of salted butter on the side.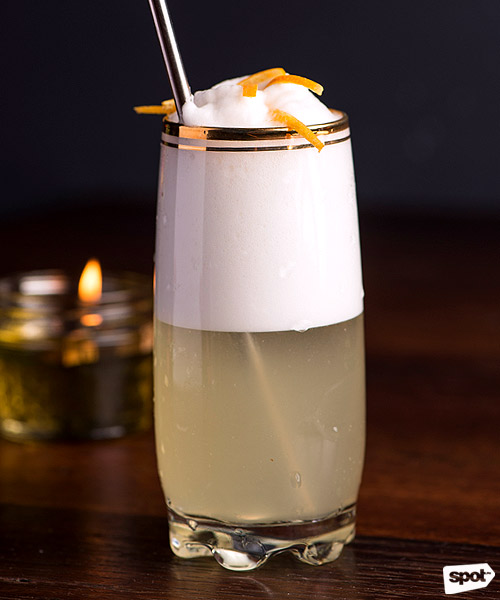 ADVERTISEMENT - CONTINUE READING BELOW
Morning Glory Fizz
But of course, you come here for the drinks. And you need to try the Morning Glory Fizz (P420) a refreshing beverage with scotch, citrus, egg white and the controversial spirit, absinthe. The drink goes perfectly with the very light, farm-to-table-freshness of the House Salad with cherry tomatoes, red turnips, grated parmesan, lemon with the crunch of Grand Marnier candied walnuts.
Soon after, the star of the Fête du Bœuf arrives on the table. The steak looks almost too delectable to eat: It's perfectly charred with the high-heat of the grill on the outside but succulently pink and tender on the inside. The melt-in-your-mouth bite is even more incredible slathered with butter, as well as the all-you-can-eat fries.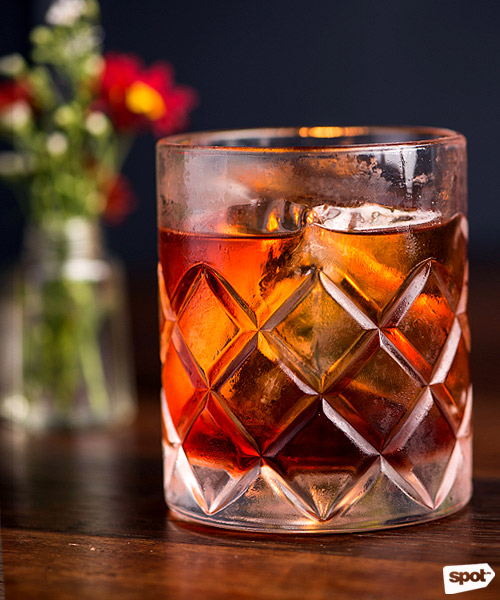 Vieux Carré
While enjoying the steak, ABV's dapper bartender and recent winner of Whisky Live Manila's Cocktail Competition 2016, Lester Ligon, suggests a cocktail: The formidable Vieux Carré (P550) is a hearty glass of rye whiskey, cognac, vermouth, bitters over an ice block with a lemon peel. The rich amber-colored drink pairs well with the chargrilled and savory flavor of the steak. 
ADVERTISEMENT - CONTINUE READING BELOW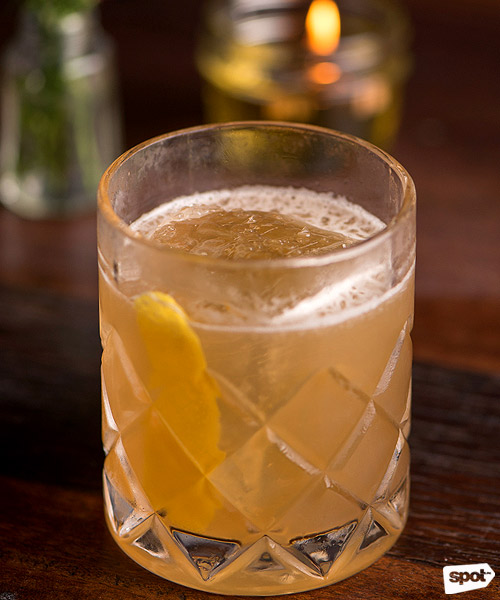 Kentucky Bourbon Trail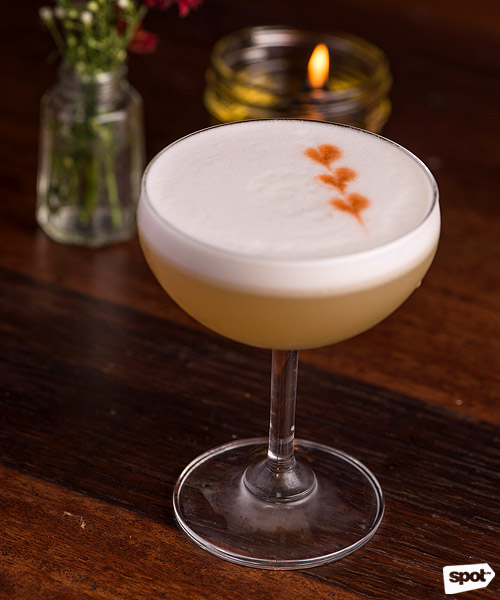 Whiskey Sour
Two other beverages of important note for ABV include their signature drink, the Kentucky Bourbon Trail (P530) with triple-aged bourbon, apricot liqueur, honey, lemon, and chocolate bitters served on the rocks. As it is served in the glass and one takes a sniff, the scent reminds you of a sweet lemon drop. The complex flavors of the apricot, chocolate, and honey kick in and it's love-at-first-sip. ABV's bestseller, though, is the Whiskey Sour (P320), a real classic done perfectly well with bourbon, lemon, sugar, egg white, and angostura bitters. Sometimes, it's the simplest drinks that make the most impact, and this is definitely one of them.
ADVERTISEMENT - CONTINUE READING BELOW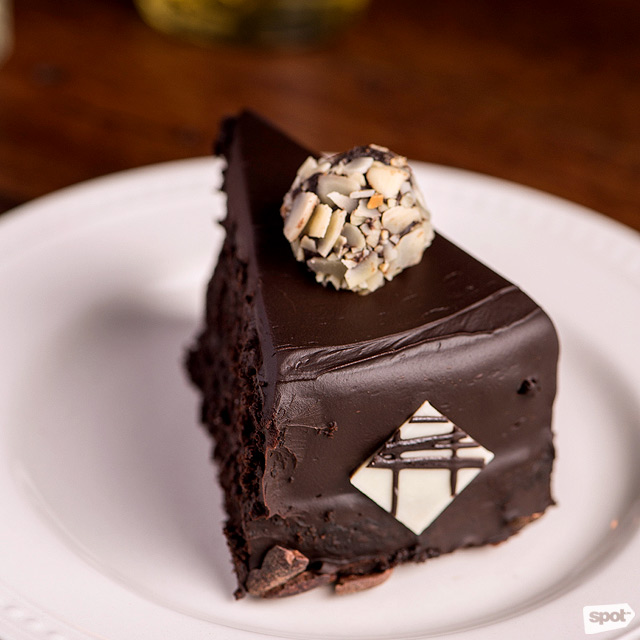 Chocolate Truffle Cake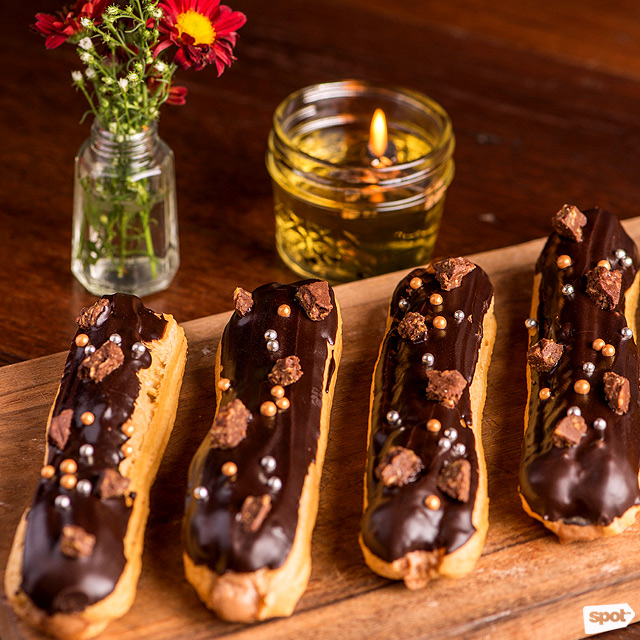 Nutella Eclairs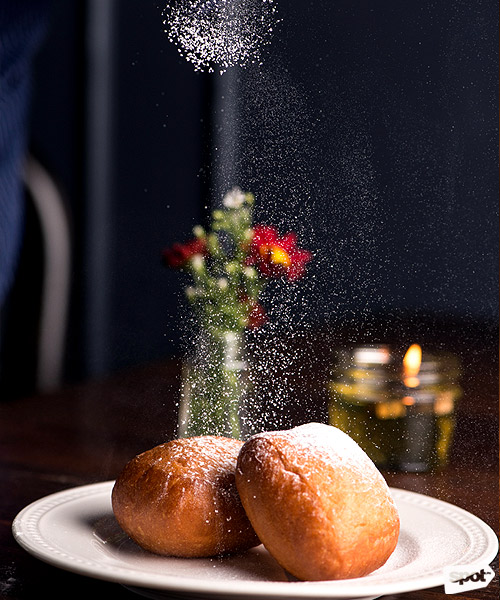 ADVERTISEMENT - CONTINUE READING BELOW
Classic Beignets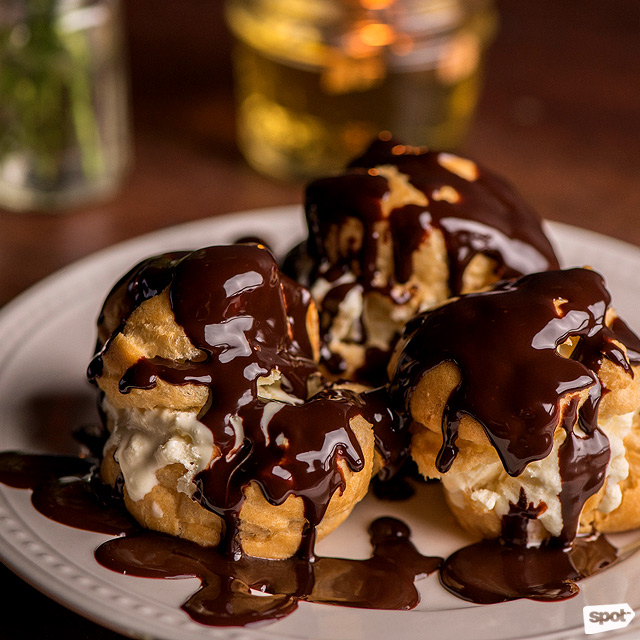 Profiteroles
No matter what, there must always be space for dessert. The Chocolate Truffle Cake is a moist and dense dark-chocolate cake with decadent chocolate truffle/ganache icing topped with a chocolate praline. The Nutella Éclairs are deliciously crafted, filled with a light but addicting Nutella cream, then topped with a dark chocolate praline. The Classic Beignets, as humble as they seem, are a fried dough delight taken to delicious heights with lime zest and a dusting of confectioners' sugar. And last, but not the least: the Profiteroles—several pieces of choux pastry sandwiching creamy vanilla ice cream and drizzled with an ambrosia-like dark chocolate rum sauce.
Dining and drinks at ABV are a full-on sensory experience. You step into a mysterious and slightly intimidating world, but because of the warm staff, the lovingly prepared food, and top-notch drinks, you sink into your comfortable leather seat at the bar or in a booth. Then, you suddenly realize that you feel very much at home in the melancholy nostalgia of this 1920's secret haven.
ADVERTISEMENT - CONTINUE READING BELOW
Photos by Hans Fausto
Share this story with your friends!
---
Help us make Spot.ph better!
Take the short survey
Load More Stories