Chinese favorites get a delicious upgrade at Man Ho at Marriott Manila
The beef fillet dish is a must-try.
Man Ho Chinese Restaurant
Marriott West Wing, Marriott Hotel Manila, 2 Resorts Drive, Pasay City
Contact: 988-9999 (reservations recommended)
Open daily from 11:30 a.m. to 2:30 p.m. and from 6 p.m. to 10:30 p.m.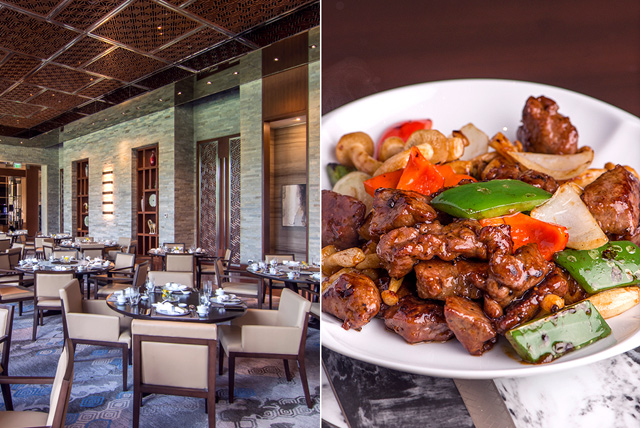 (SPOT.ph) You wouldn't think of heading for the general direction of Resorts World Manila to get a taste of top-notch Chinese/Asian fusion cuisine, but this is one of the times when you'd be glad to be wrong. Put on your Sunday best and try to pick a good time to go to Man Ho Chinese Restaurant at the Marriott if you don't already live in the area. The trip is worth it.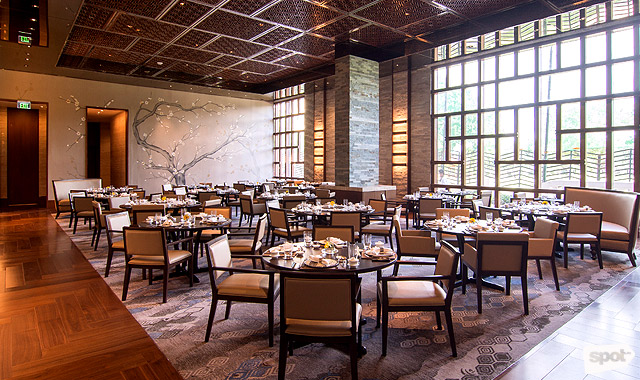 ADVERTISEMENT - CONTINUE READING BELOW
For the sake of having all the cards on the table, it must be said that if you have never been able to detect the difference between the different "brands" of siomai, then one of two things will happen: either it won't make a difference to you—and there's nothing wrong with that—or your eyes will be opened to a whole new universe filled with some of the best of what Asia can offer. Obviously, the target is the latter. But be warned: There might be no going back.
You can choose a private room, each named after one of four Chinese dynasties, or join the party in the middle, but either way, you're in for the ultimate treat from an esteemed food expert.
CONTINUE READING BELOW
Recommended Videos
Chef Wui Wing Law is like, say, 20 mothers combined when it comes to choosing ingredients; as much as possible, he goes out of his way, even at the crack of dawn, to hand-pick them from select markets. "Good food begins with good ingredients," he says sagely, "and if I cannot find the best, I will not serve it. I will not present something like that to a paying customer." And having worked in the best kitchens since the tender age of 15, he would know exactly what he's doing.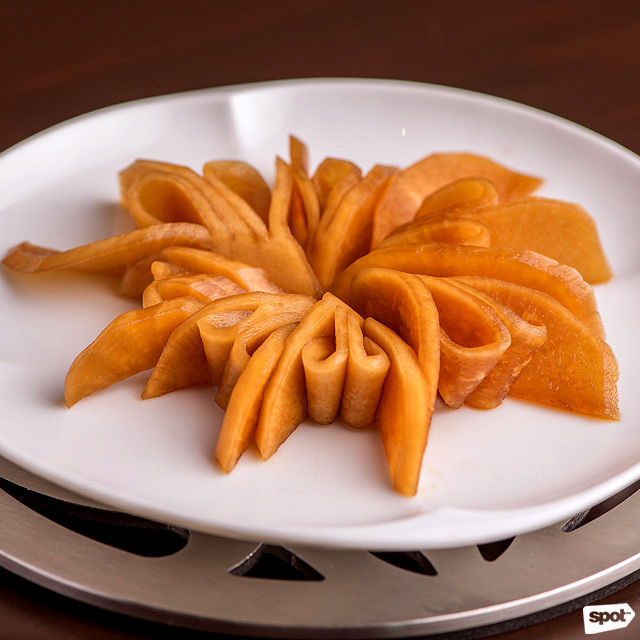 ADVERTISEMENT - CONTINUE READING BELOW
Radish
It's that dedication to finding the best ingredients that leads to little miracles like Man Ho's special marinated radish appetizer. Seriously. It's just radish, and it isn't just radish—actually, it might be magic. The kind of magic you would put on steaming white rice if you could. Don't laugh. Just pick up your chopsticks and go for it if it's there, and don't forget to relish the chrysanthemum tea.
Now, some items are priced differently depending on market forces (which you would know is fair enough considering the ebb and flow of our economic tides) such as the Pompano, a sweet and toothsome smoked fish dish with an almost delicate amount of well-browned texture. You can't go wrong with it—but then, the same seems to go for pretty much everything on the menu.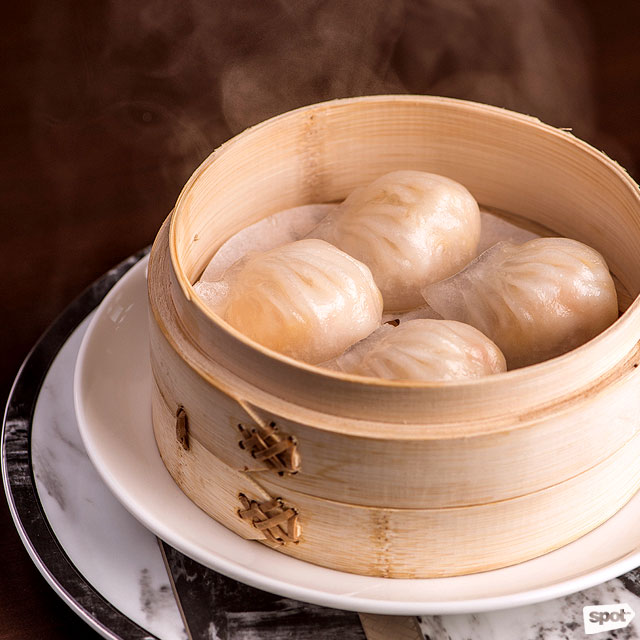 Har Gao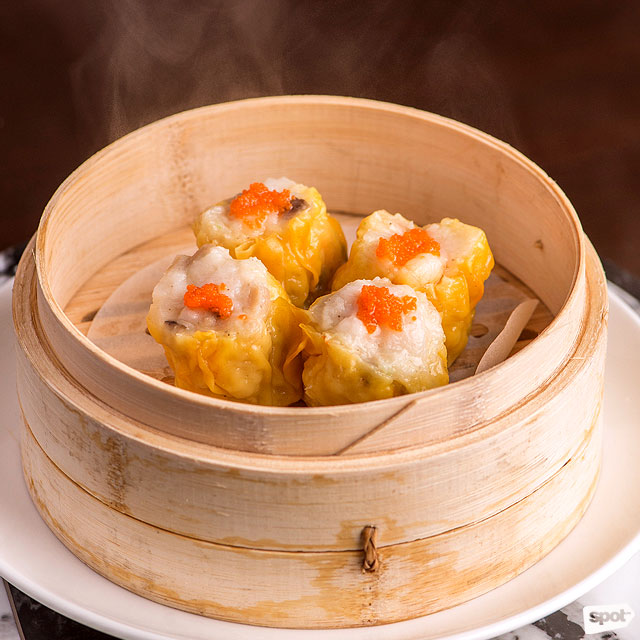 ADVERTISEMENT - CONTINUE READING BELOW
Pork Siew Mai
Your Chinese cuisine-fix can't be complete without Har Gao, or hakaw (P268) and Pork Siew Mai (P288)—at least not in the Philippines. Somewhere between being college-campus classics and awkward family-reunion staples, you'd think you'd have tried all of the hakaw and siomai ever, and wonder how these could possibly any different. A little trust is in order here—you're in for something very different.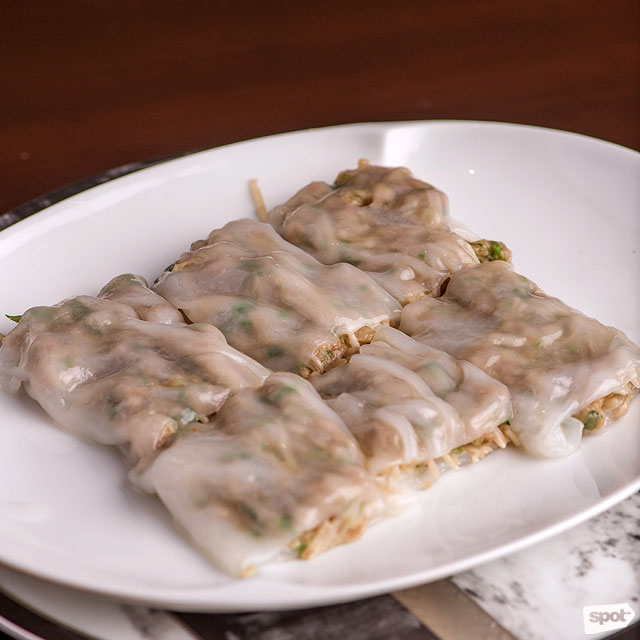 Steamed Rice Roll with Barbecue Pork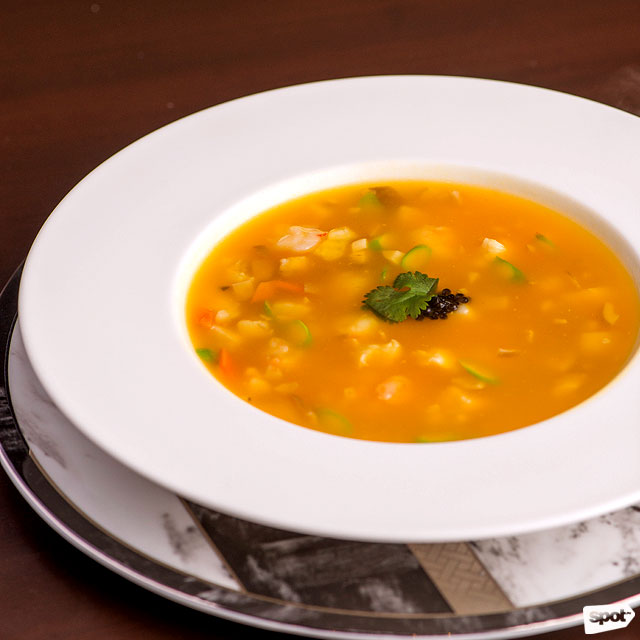 ADVERTISEMENT - CONTINUE READING BELOW
Braised Seafood Soup with Caviar
It's similar to the Steamed Rice Roll with Barbecue Pork (P218) in that you'd expect the wraps to either be flimsy or gummy, or to come with hardened edges, but they. Just. Don't. They are smooth and soft and, dare we say it, perfect. The Braised Seafood Soup with Caviar (P628) is about as swanky as the name suggests, and it looks heavy—it isn't. You must go and try it to believe.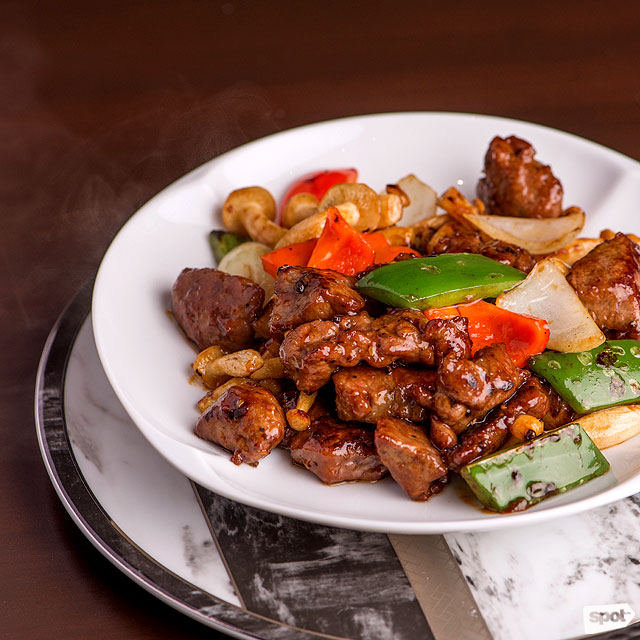 Beef Fillet with Black Pepper Sauce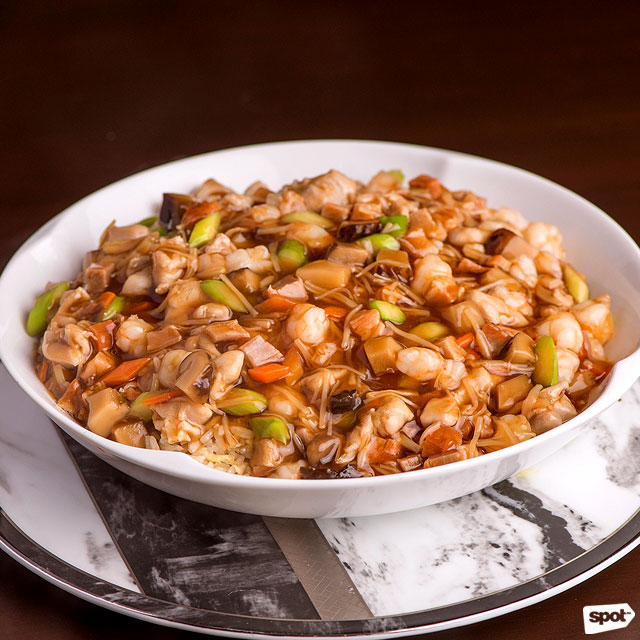 ADVERTISEMENT - CONTINUE READING BELOW
Fuji Can Fried Rice
Alright. Here's the clincher. The Beef Fillet with Black Pepper Sauce (P1,188) is the favorite of many Marriott executives with just cause. It's not the incredibly fresh red and green peppers that adorn the plate and make you think of Christmas just a little bit, and it's not the perfectly savory sauce complementing the mushrooms, and it's not just the beef—because, first, it's all of those things combined, and second, that cannot be beef. It is too tender, bordering on the texture of somewhere between firm pork fat and silken tofu. There is no string to it at all, and therefore, no way in the whole expanse of the known universe could that be beef. They insist, quite calmly, that it is, and it just does not compute—but not everything has to. So we'll just concede to it being beef and enjoy it. Ah, that's the easy part. Especially when the Fuji Can Fried Rice (P568) makes an appearance, in all its Asian Staple Glory. (Trademark? Anybody?)
If you can get your hands on it, order the Roasted Goose (P800). There's a whole process to it that Chef Law would be more than happy to share with you. "I like coming out to talk to customers. I want to make sure they are happy with the food, not just if it's pretty or not. What is presentation if the food isn't good? And when they're happy, I am happy."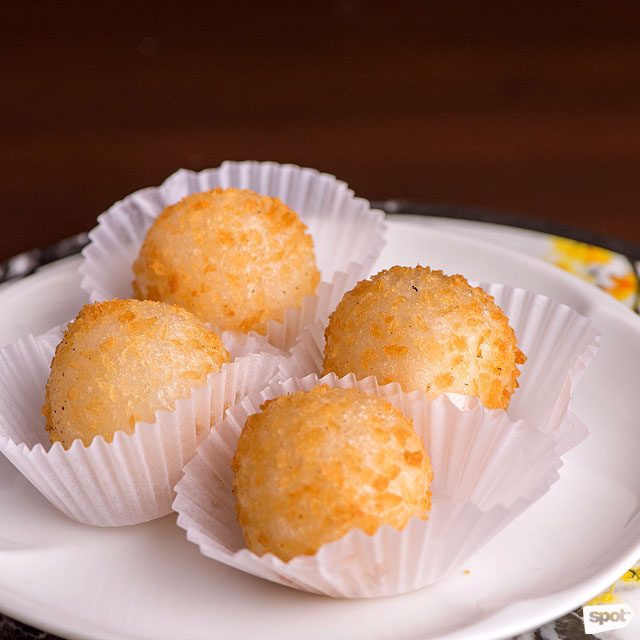 ADVERTISEMENT - CONTINUE READING BELOW
Chilled Red Bean Pudding with Coconut Milk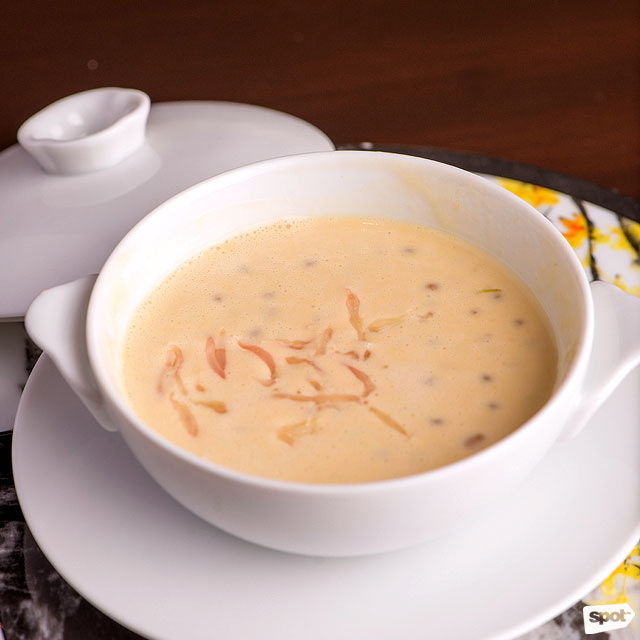 Mango Pudding with Soy and Pomelo
Never underestimate the power of dessert, especially if this is a working lunch or dinner meeting and there's a deal you've got to seal. Enter the Chilled Red Bean Pudding with Coconut Milk (P248) a fun dessert you need to be careful with if you want to keep your poise. Or, there's the tangy-sweet Mango Pudding with Soy and Pomelo (P248) if that's more your game.
For your next special occasion, do not hold back—treat a loved one (or yourself!) to an out-of-this-world dining experience at the Marriott.
Photos by Hans Fausto
Share this story with your friends!
---
Help us make Spot.ph better!
Take the short survey
Load More Stories