25 Desserts That Caught Our Attention in 2016
From churros to crazy milkshakes, we look back on some of the unforgettable desserts of the year.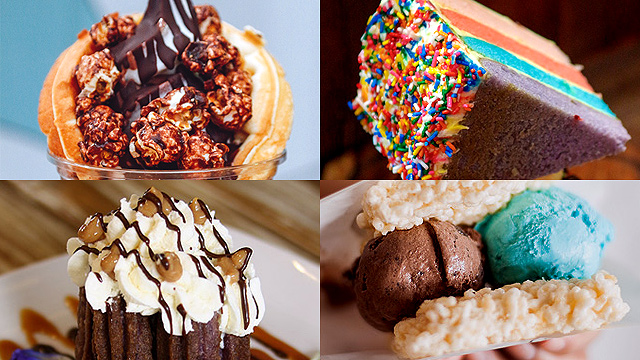 (SPOT.ph) Desserts aren't just a footnote to a winning lunch or dinner anymore. They've managed to steal the spotlight more than a few times, and we can't say we're surprised, especially with all the indulgent and show-stopping sweet treats that came our way in 2016. From different takes on churros and ice cream to out-of-this-world milkshakes, we round up 25 desserts that caught our attention (and made our tummies happy) this year.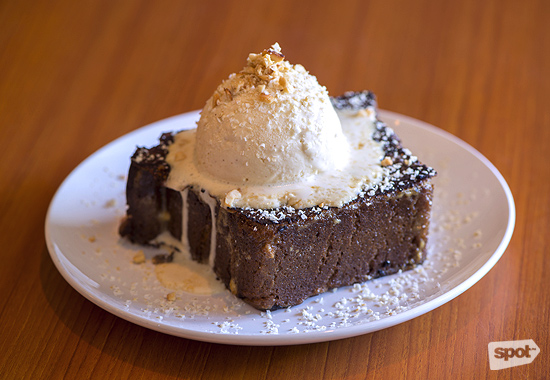 Alley's Caramelized Banana Bread
Alley's take on this bakery staple is definitely something you'll want to have again and again. A thick and moist slice of banana cake is caramelized on top for extra sweetness and crunch. The cashew ice cream with its creamy and nutty flavor profile is definitely the proverebial cherry on top of this cake.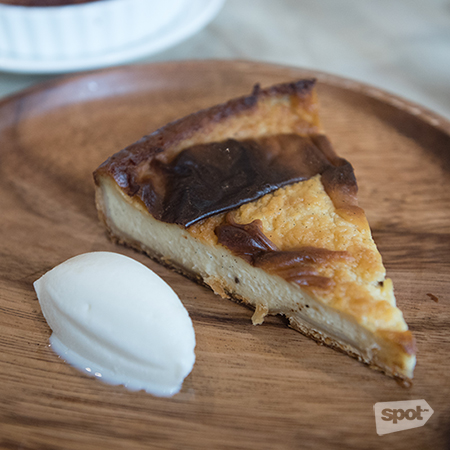 ADVERTISEMENT - CONTINUE READING BELOW
Atelier Vivanda Manila's Custard
The straightforward appearance of Atelier Vivanda Manila's Custard doesn't completely prepare you for how good it is. This dessert is actually a large slice of pie, with the custard as filling. It doesn't exactly bombard your palate with sweetness, but serves nuanced, light, and delicate flavors instead. The subtle citrus of the sorbet on the side gives this dessert a zesty lift that cuts through the milkiness.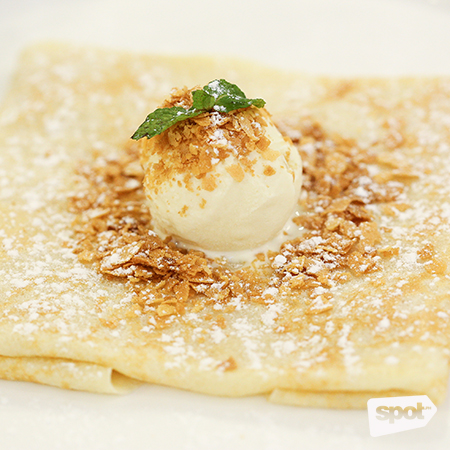 CONTINUE READING BELOW
Recommended Videos
Bizu Creperie's White Coconut
It's easy to overlook this flavor when placed next to strawberry or Nutella, but don't miss out on Chef Xander Tangco's prized dish. This crepe is full of delicious tropical flavors from the filling of dessicated coconut with a hint of lemon, and a topping of vanilla ice cream and crushed toasted crepe for crunch. The effect is similar to summery pineapple.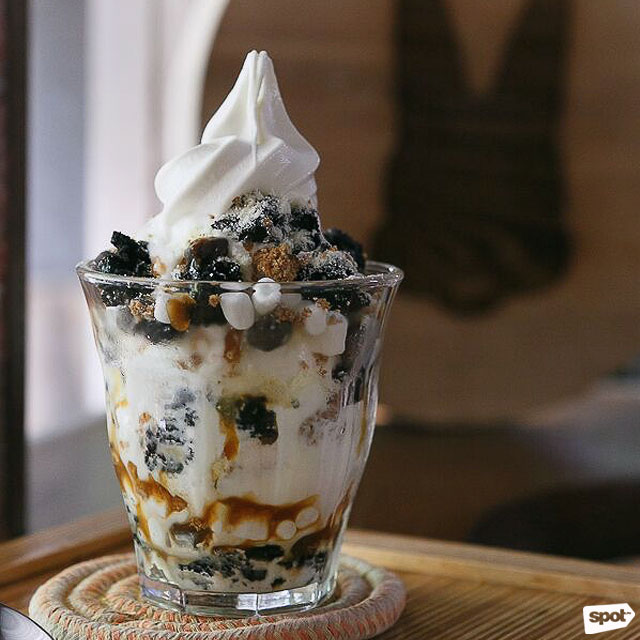 ADVERTISEMENT - CONTINUE READING BELOW
Bucky's Original Parfait
Bucky's is rightfully known for their fudgy flourless blocks of goodness that are "not a brownie" but their parfaits at the new Makati branch are not to be missed. While they have the option for do-it-yourself parfaits, the Original Parfait is already enough to satisy any sweet tooth. The dessert is a heavenly blend of creamy soft-serve ice cream with lots of crunchy, soft, and crumbly elements: dark chocolate chips, white marshmallows, salted caramel syrup, and of course, huge chunks of the original Bucky.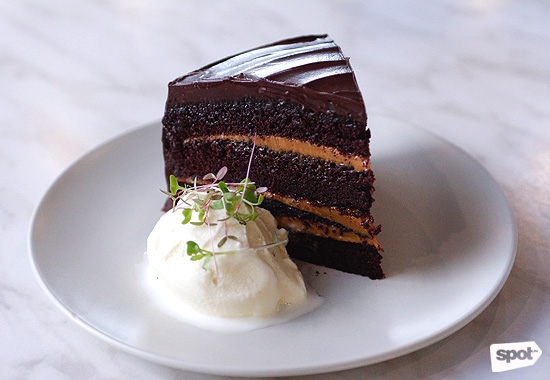 Come Forth Kitchen's Dulce de Leche Chocolate Cake
Come Forth is more known for their brunch selection, but the desserts are not to be missed. This cake in particular is a showstopper, with dulce de leche sandwiched between thick layers of chocolate cake. Despite its generous proportions however, this cake remains amazingly delicate with a sweetness that is not too cloying, perfectly indulgent, and flavorful without being too rich.
ADVERTISEMENT - CONTINUE READING BELOW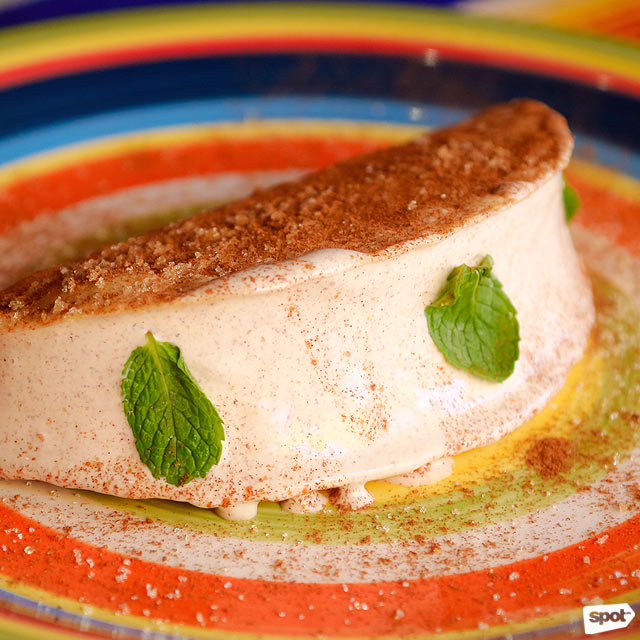 Consuelo Mexican Cantina's Taco Ice Cream
The Mexican fare at this Marikina hole-in-the-wall is excellent but resist the urge to stuff yourself and remember to leave room for dessert. The churro-flavored ice cream is house-made and does taste incredibly like the fried dessert. A generous scoop is sandwiched inside a warm fried tortilla that's been dusted with cinnamon and sugar. The warmth and crunch from the tortilla mingles beautifully with the cold ice cream for a comforting treat.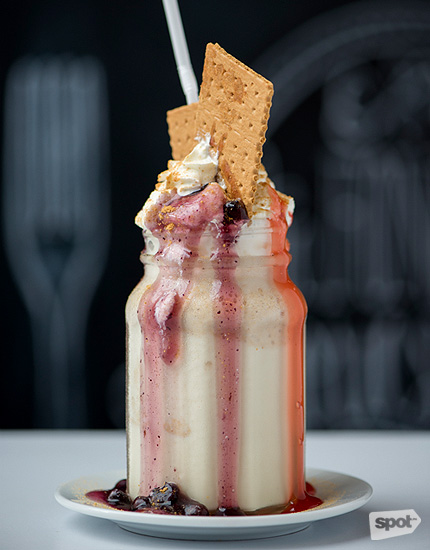 ADVERTISEMENT - CONTINUE READING BELOW
Diner on 16th's Cheesecake Milkshake
No American diner is complete without milkshakes and Diner on 16th's take is definitely crazy. The Cheesecake Milkshake is what happens when you turn blueberry cheesecake into a drink. Every element is there, from the graham crackers and bits to cheesecake pieces, and real fruit, all in one Instagram-worthy treat.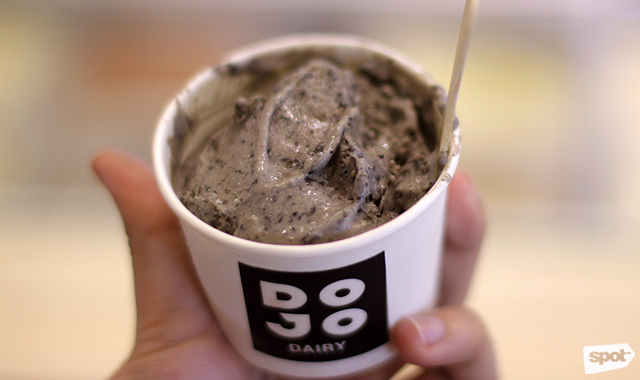 Dojo Dairy's Black Sesame Ice Cream
If you want unique and exciting ice cream flavors, head over to Dojo Dairy. They currently have three branches but their stall in Promenade Mall, Greenhills is the only one that carries the complete lineup. Even in a sea of equally impressive flavors, the Black Sesame Ice Cream is the crowd-favorite and for good reason. Toasted black sesame seeds are blended into the black sesame ice cream for a nutty, slightly sweet, and deliciously rich flavor.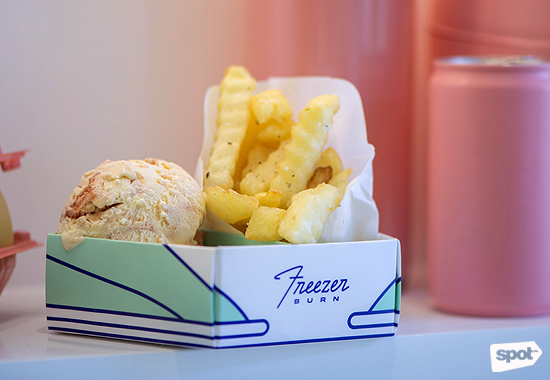 ADVERTISEMENT - CONTINUE READING BELOW
Freezer Burn's Ketchup Mayo Fries
If you love dipping your fries in your sundae, this unique take by Freezer Burn is perfect for you. Ketchup and mayo ice cream might sound strange, but trust us when we say it somehow works. It's no cop-out either—the ice cream has the distinct tang of ketchup and salty flavor of mayonnaise that complements the sweet milk base perfectly. Don't be afraid to dip in the warm fries that come with the ice cream—it's the perfect way to enjoy this dessert.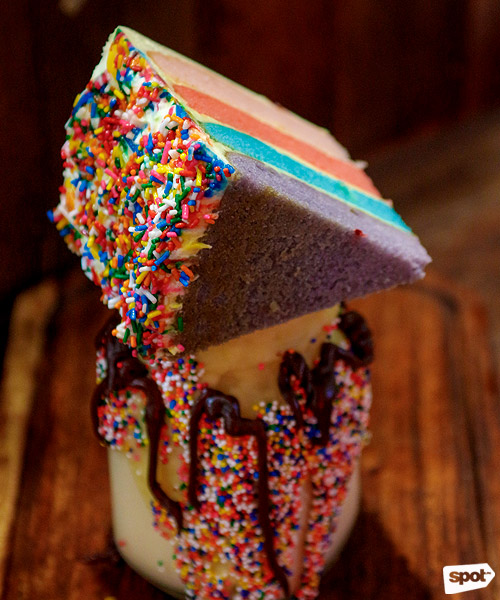 Grind Bistro+Cafe's Vanilla Earthquake
You can't talk about crazy milkshakes without talking about Grind Bistro+Cafe. Their milkshakes blur the line between dessert and beverage but really, no one is paying attention, especially when the attention-grabbing Vanilla Earthquake arrives at the table. This showstopping beauty has a vanilla shake in a Mason jar that's been covered with colorful candy sprinkles, and then topped with an enormous slice of rainbow cake.
ADVERTISEMENT - CONTINUE READING BELOW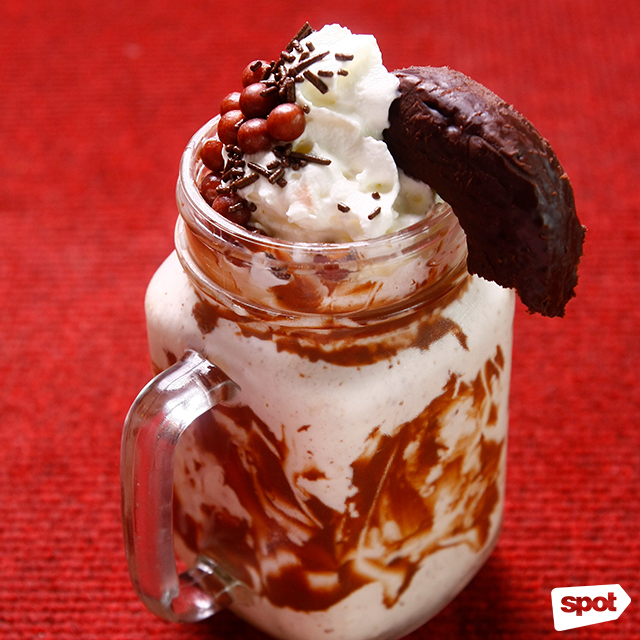 Guildhouse's Nobleman Milkshake
While Guildhouse is an online and board games cafe, there's still plenty of reason to visit even if you're not a gamer. One of them is the Nobleman's Milkshake, which is a restrained take on the over-the-top milkshake trend that hit 2016. Hazelnut and chocolate lovers will love this blend, which has generous scoops of Nutella mixed with vanilla ice cream that is then topped with more Nutella, whipped cream, chocolate balls, and a chocolate doughnut.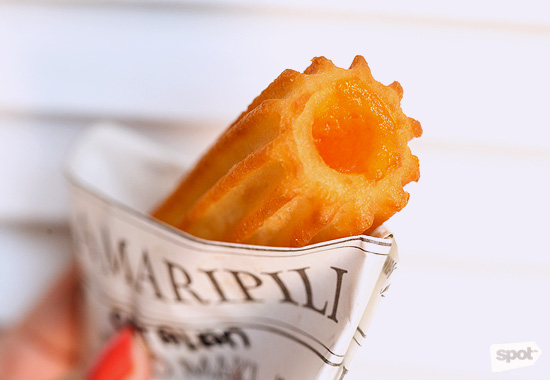 ADVERTISEMENT - CONTINUE READING BELOW
La Maripili's Catalan Cream
We have raved more than enough times about La Maripili's Classic Churros—and with good reason—but it is high time we turn our attentions to other equally excellent churros items on the menu, like their sweet-flavored stuffed churros. The Catalan Creme has the crunchy exterior and soft interior common to all La Maripili churros and is stuffed generously with filling that has a taste reminscent of a creme brulee.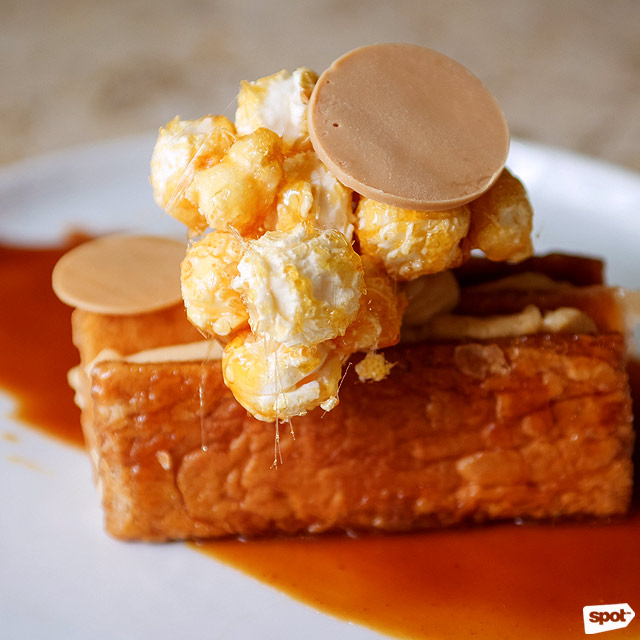 Le Petit Soufflé's Popcorn Mille Feuille
Beyond perfectly fluffy souffles, Le Petit Soufflé has also made a name for itself when it comes to exceptional desserts, especially with chefs Miko Aspiras and Kristine Lotilla at the helm. The Popcorn Mille Feuille was first introduced at their new Megamall branch but will soon be available in Century City Mall as well. This dessert looks too pretty to eat, but go ahead and smash that caramel popcorn topping with a spoon. It's the only way to get every single element in one bite and enjoy the crunch with the slightly buttery caramel sandwiched between two layers of delicate pastry.
ADVERTISEMENT - CONTINUE READING BELOW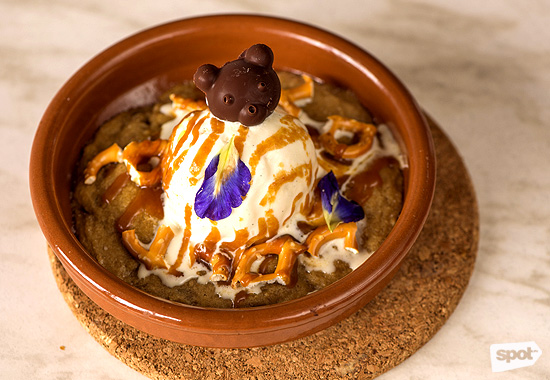 Little Bear Diner's Sweet and Salty
The balanced contrast of textures and flavors in Little Bear Diner's Sweet and Salty makes it a delight. A half-baked Belgian chocolate chip cookie is served on a hot plate then topped with pretzels, salted caramel sauce, and a big scoop of handcrafted ice cream. It's a mix of hot and cold, sweet and salty, soft, sticky, and crunchy that will delight the palate.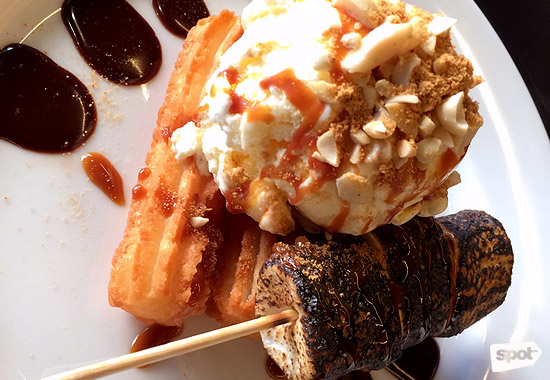 ADVERTISEMENT - CONTINUE READING BELOW
Mr. Churros' Smores
Even with so many places offering their own take on this classic fried dessert, Mr. Churros stands out with their creativity and playfulness. One showcase is is the deconstructed take on the Smores. This dessert comes with a base of churros, roasted marshmallows, chocolate sauce, and a huge scoop of vanilla ice cream covered in almonds for crunch.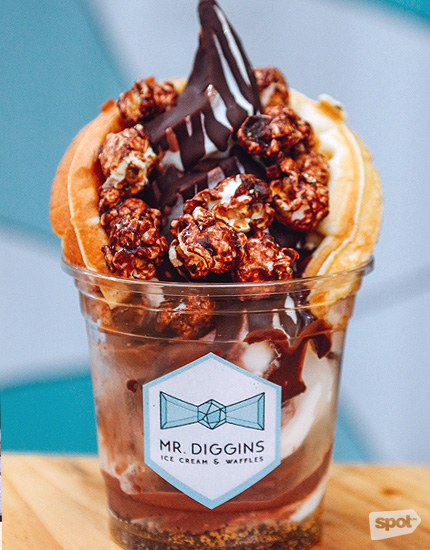 Mr. Diggins' Black Bay
With the team behind The Lost Bread and Endless Summer at the helm of Mr. Diggins, you can be sure that their spin on the soft serve is double-tap worthy and super yummy to boot. The Black Bay is a treat for chocoholics, with either a Chocolate or Swirl (chocolate and vanilla) soft serve as base, topped with cereals and chocolate-covered popcorn, and a fluffy waffle on the side to cut through the decadence.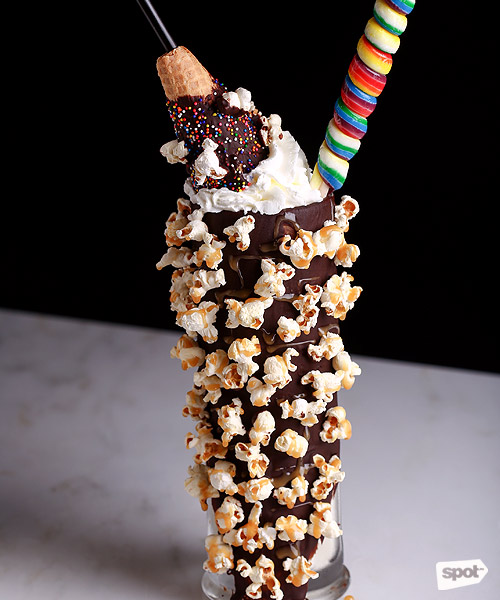 ADVERTISEMENT - CONTINUE READING BELOW
Sugar Factory's Dulce de Leche Milkshake
Sugar Factory's take on the crazy milkshake is elegant yet fun. This Instagram-worthy drink has dulce de leche blended with vanilla ice cream, and Sugar Factory doesn't hold back with their embelishments: a fun unicorn lollipop, a chocolate-dipped-and-sprinkled cone, and caramel popcorn stuck magically to the tall chocolate-coated glass.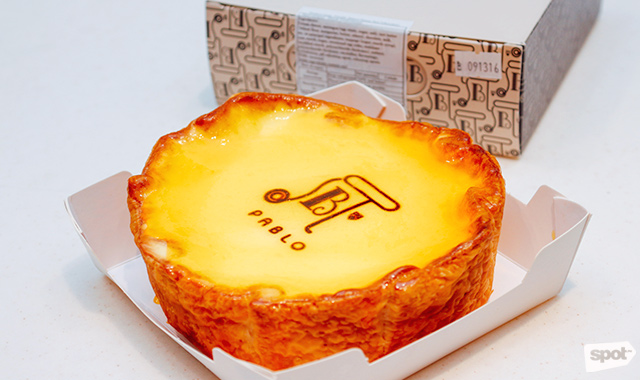 PABLO's Cheese Tart
This Japanese dessert franchise took a while to arrive on our shores, but it's definitely worth the wait that extends to the long queues in front of their branch in Robinsons Place Manila. The Cheese Tarts are delightfully gooey, with a rich but light flavor. It's not too sweet but still flavorful, with a citrus aftertaste that cuts through the creaminess. You'll definitely get addicted to the melt-in-your-mouth sensation every bite leaves.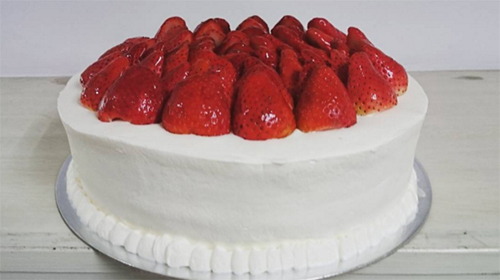 ADVERTISEMENT - CONTINUE READING BELOW
Paper Moon's Strawberry Shortcake
Paper Moon is famous for their mille crepe cakes but Lady Em has other sweet treats up her sleeve. Like all masterpieces, the Strawberry Shortcake requires a lot of time to create—three days to be exact. Plus, it comes with a hefty P3,000 price tag. But trust us when we say it's all worth it. This soft and airy sponge cake is covered in a delicate cream then topped with fresh and delectable strawberries. It's picturesque and oh so yummy.
Read more about Paper Moon.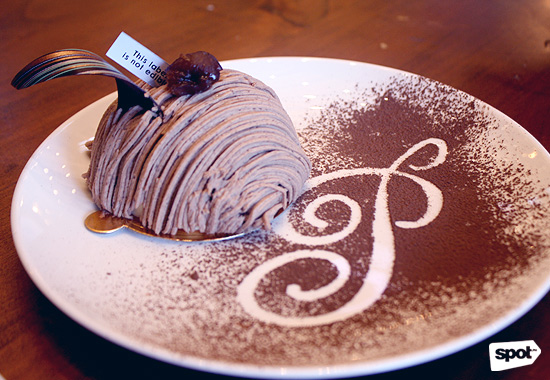 Passion by Gerard Dubois' Mango Montblanc
This stunning dessert is a showcase of technical precision. A dome of chestnut puree covers another dome of vanilla cream, with sweet local mangoes nestled inside. Take everything in one bite to fully appreciate this delicate cloudlike dessert.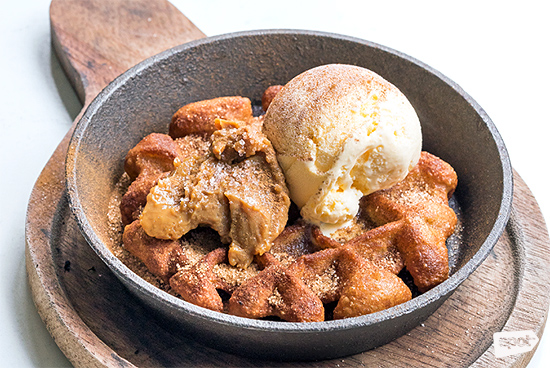 ADVERTISEMENT - CONTINUE READING BELOW
Taco Vengo's Chwaffle ala Mode
We're always a fan of fusing two good things together because it can only result in something better. One example? Taco Vengo's Chwaffle ala Mode which combines waffles and churros in a dessert that no one can resist. Despite the new form, it's still perfectly crunchy on the outside and soft and fluffy on the inside, like the perfect churro. This churro-waffle hybrid comes with a generous dollop of dulce de leche and vanilla ice cream.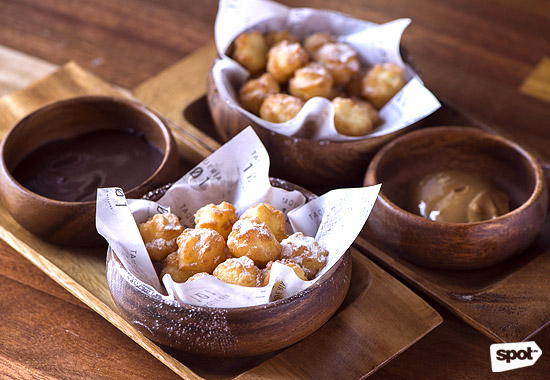 Taqueria 101's Churro Popcorn
This bite-sized take on churros is incredibly addicting. Crunchy on the outside and deliciously fluffy on the inside, these balls of choux pastry are so airy, you won't get overwhelmed by the rich chocolate and dulce de leche sauce that go with it. We guarantee you won't be able to stop munching on these.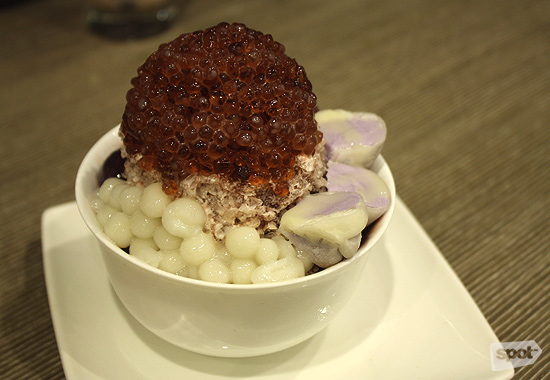 ADVERTISEMENT - CONTINUE READING BELOW
The Dessert Kitchen's Purple In Love
In a menu of exceptional desserts, Purple In Love still manages to steal the spotlight. Grape is the star of this dish, with the light but pronounced flavor of the fruit prominent in the shaved ice that is then topped with sweet rice balls, grapes, taro mochi ice cream, and Kyoho grape seaweed balls. We totally fell in love with the contrast of the crunchy ice with the sticky rice balls, and the seaweed balls pop in your mouth like boba. Having this dessert is really a sensory experience.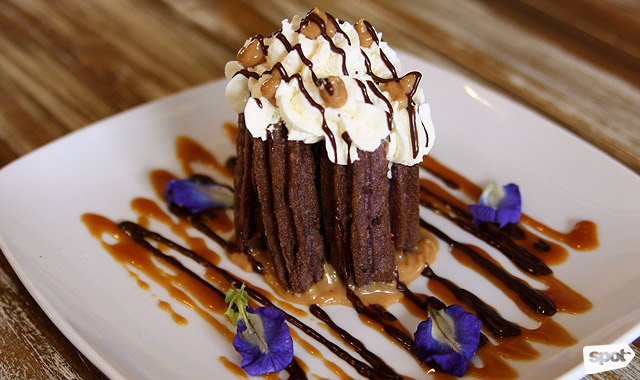 Tittos' Ube Churros
Tittos adds their own twist on the Spanish classic by making their churros ube-flavored. Their churros are perfectly crisp on the outside, with a soft airy interior that is a rich purple hue from the ube. The Ube Churros don't come with a hot chocolate dip but instead is drizzled with generous amounts of caramel and chocolate sauce for a dessert that is indulgent but not cloying.
ADVERTISEMENT - CONTINUE READING BELOW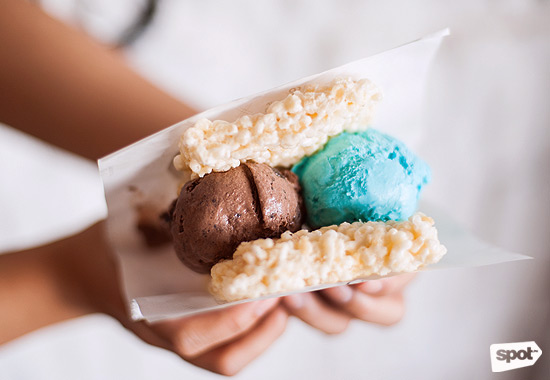 Westwood's Cereal Ice Cream Sandwich
We love Westwood not just for their clean minimalist aesthetic that extends from their interiors to their food but also for their playful, experimental grub. Their specialty ice cream is already great on its own but Westwood takes it up a notch by sandwiching two scoops in between cereal discs. The result is the perfect blend of velvety ice cream with a resounding crunch from the cereal. Definitely an unforgettable sweet treat.
---
Help us make Spot.ph better!
Take the short survey
Load More Stories