Joe's Brew in Poblacion is a definite food-crawl highlight
Craft beer is the star at this hangout.
Joe's Brew/House of Joe
5834 Matilde Street, Poblacion, Makati City
Contact: 400-0700
Open from 5 p.m. to 1 a.m. (Tuesday to Sunday)*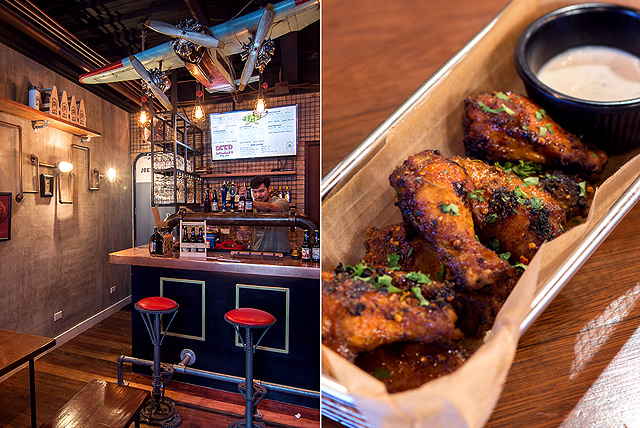 (SPOT.ph) Plato allegedly once said, "He was a wise man who invented beer." Upon entering the cozy tasting room of House of Joe, the true house of local craft beer Joe's Brew, you have to agree with the famous Greek philosopher. You immediately settle in thanks to the relaxed, casual interiors decorated in vintage industrial. True to steampunk style, there are interesting décor all around, like a fighter jet model plane mounted over the bar and an upcycled old vending machine door lording over the restroom entrance.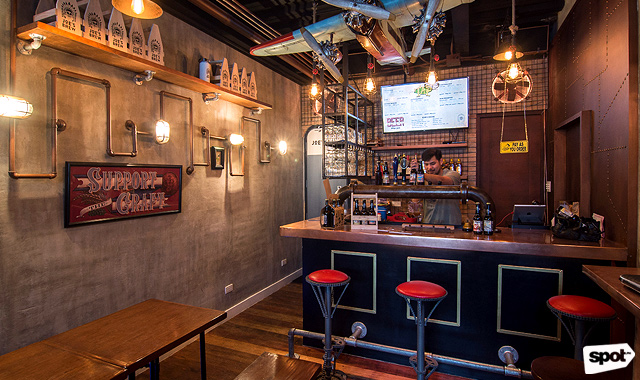 ADVERTISEMENT - CONTINUE READING BELOW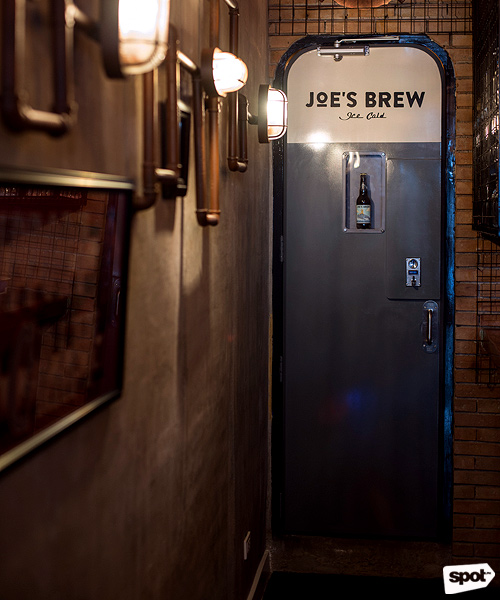 CONTINUE READING BELOW
Recommended Videos
Joe's Brew began its journey through its resident brewmaster, Joey Viray. A true beer lover growing up, he took an Introduction to Beer-Making course at the University of California in 2013. He then went home to Manila and started making beer with his siblings, Marco and Mica. Marco shares that they first started selling Joe's Brew with their mom's food truck business. From there, they "graduated" to brewing their beers in temperature-controlled rooms that used to be their own bedrooms growing up as kids. Their new space in Poblacion is a far cry from those early days, as the upstairs has the high-tech and shiny imported chrome vats that produce all the beautiful beer that Joe's Brew has to offer. In fact, Brew Tours are also part of the reason why the Tasting Room came about. If people want to see how Joe's Brew works their boozy beer sorcery, this is the perfect place to visit. All you have to do is ask if you can take the tour.
ADVERTISEMENT - CONTINUE READING BELOW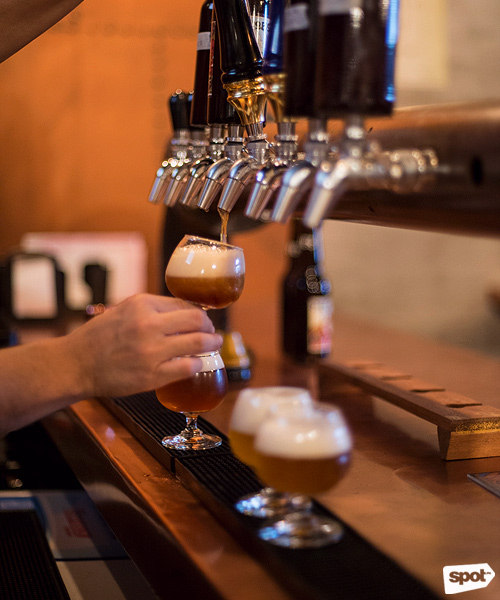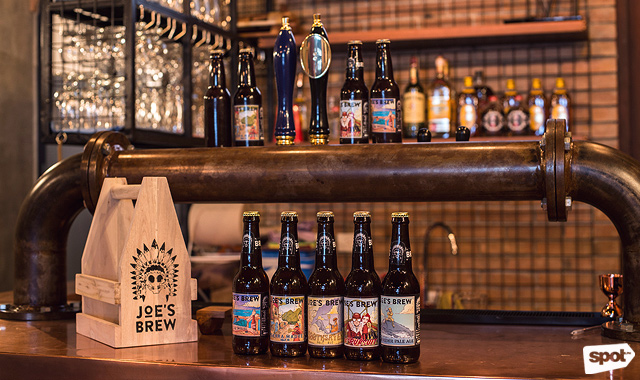 The labels on their bottles are designed by artist Frank Perez.
The Fish Rider (P160/350 ml, P260/550 ml) is Joey's first craft beer for Joe's Brew, as well as it being their flagship beer. It's a pale ale that has a medium body, beautifully fragrant with an orange citrus aroma with hints of grapefruit. It's perfect with a burger or any hearty piece of delicious red meat.
ADVERTISEMENT - CONTINUE READING BELOW
The Sierra Madre (P160/350 ml, P260/550 ml), Joe's Brew's second beer creation, is a wheat ale that is lighter in taste and a hit with the ladies because of its soft floral, fruity notes, and golden color. This beer is perfect with fried dishes, especially fish.
For their third signature beer, brewmaster Joey decided to pay homage to their grandfather, a fighter pilot in the 1940s and his squadron known as the 34th Pursuit. Its beer namesake, the 34th Pursuit IPA (P200/350 ml, P300/550 ml) has a light amber color and a clean hoppy taste for true IPA (India pale ale) lovers. The citrus, floral, and tropical flavors will leave you craving for more and prove to be a fitting tribute to the robust character of their lolo's flight squadron back in the day.
The Soothsayer (P160/350 ml, P260/550 ml) is a single hop blend that's perfect if you're just getting into the delicious art of tasting craft beer. With a medium body, an aroma of passion fruit, and citrus notes, it's light and easy to drink. Chugging down four to five glasses of this beer won't be a problem during an evening of fun and good conversation.
And because Pinoys are famously good beer-drinkers who can handle their alcohol, Joe's Brew also has their strongest beer, Sun Sweeper (P200/350 ml, P300/550 ml) with an alcohol content of 7.2%. This medium bodied beer with spice and pine aromas and a dry finish is perfect for the hop head beer fanatics. Just be sure to have a designated driver for the evening if this is all you're having.
ADVERTISEMENT - CONTINUE READING BELOW
For the discerning and adventurous beer lover, there's the German Kolsch (P160/350 ml, P260/550 ml), a mystery beer of sorts that may turn out to be your favorite for the evening. Be adventurous and try it, the flavor and crispness is a surprising delight to the palate.
And for those who come wanting to sample a taste of everything to find their perfect Joe's Brew craft beer match, try the Beer Flight (P300).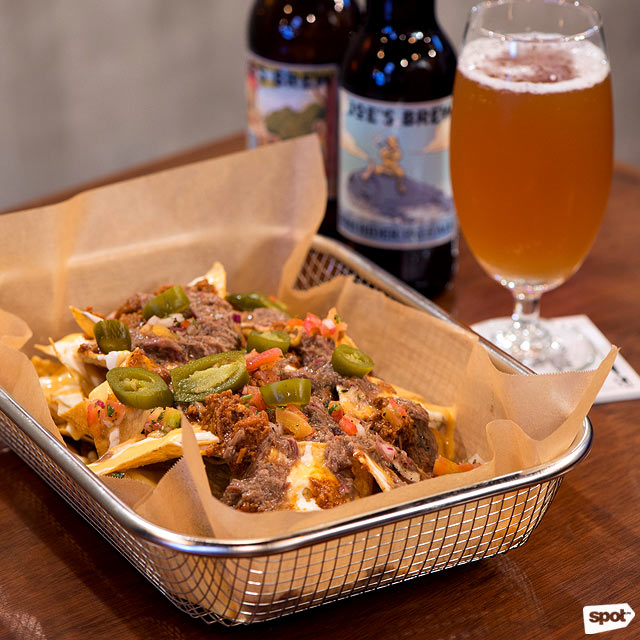 Nachos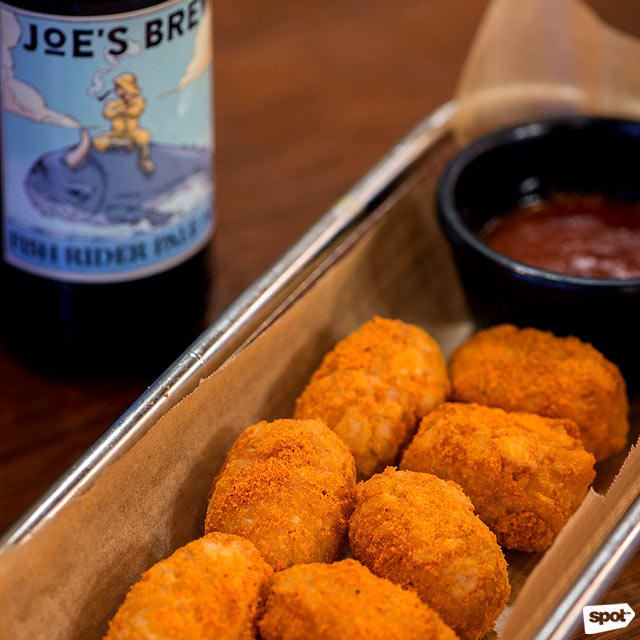 ADVERTISEMENT - CONTINUE READING BELOW
Sweet Potato Tots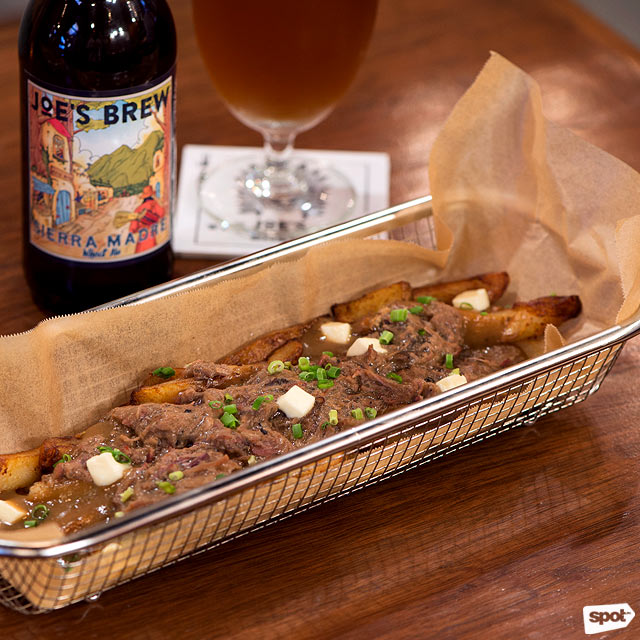 Poutine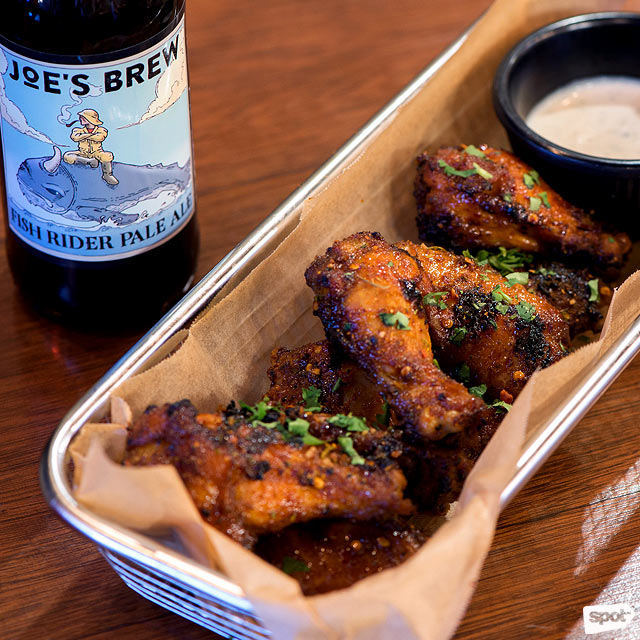 Chili Lime Wings
No self-respecting beer-lover would call the visit to House of Joe complete without sampling the bar chow served in-house from their neighbor on Matilde Street, Holy Smokes. The hefty servings of Nachos (P320), Sweet Potato Tots (P180), Poutine (P270), and Chili Lime Wings (P200) are the perfect complement to a night dedicated to an appreciation of fine local craft beer that is traditionally made with no chemical additives. Just all natural ingredients, brewed with love and passion by the passionate brewmasters.
ADVERTISEMENT - CONTINUE READING BELOW
Jack Nicholson said it best when he stated in his signature sardonic drawl: "Beer, it's the best damn drink in the world." After a visit to House of Joe, you know exactly what the great character actor is talking about.
Photos by Hans Fausto
*Temporary hours only
Share this story with your friends!
---
Help us make Spot.ph better!
Take the short survey
Load More Stories