New Restaurant Alert: Common Folk at White Plains, Quezon City
Their grilled cheese sandwich will turn any bad day around.
Common Folk
79 Katipunan Avenue, White Plains, Quezon City
Contact: 277-6357
Open from 10 a.m. to 10 p.m. (Monday to Thursday) and 8 a.m. to 10 p.m. (Friday to Sunday)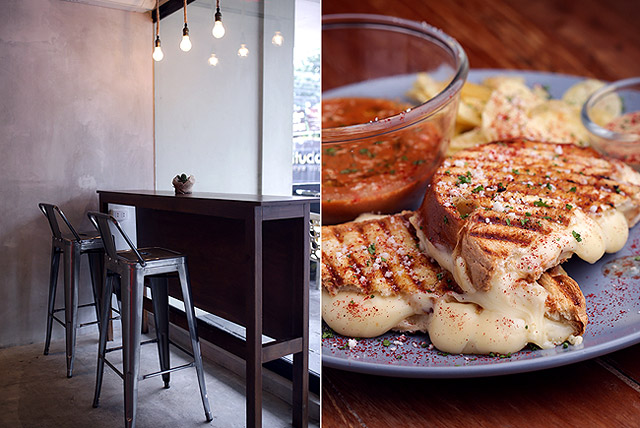 (SPOT.ph) "Good things ahead," says a sign painted on the pavement in front of Common Folk. This quiet nook in White Plains, Quezon City is true to its word.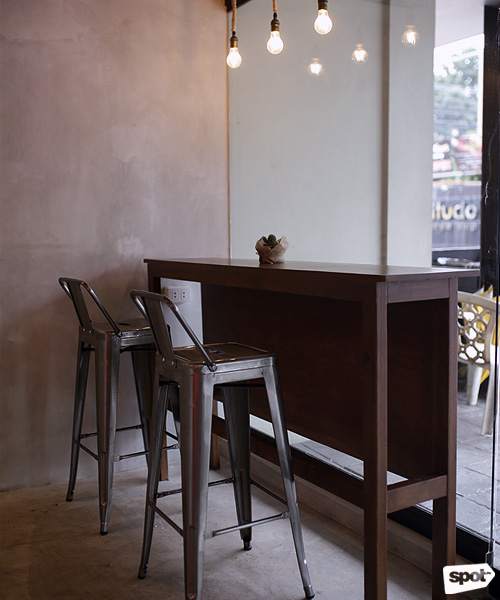 ADVERTISEMENT - CONTINUE READING BELOW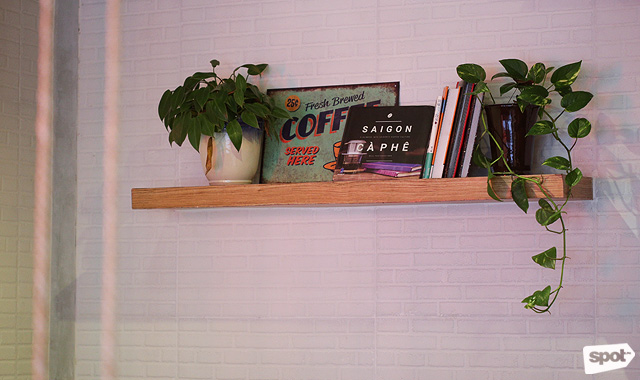 CONTINUE READING BELOW
Recommended Videos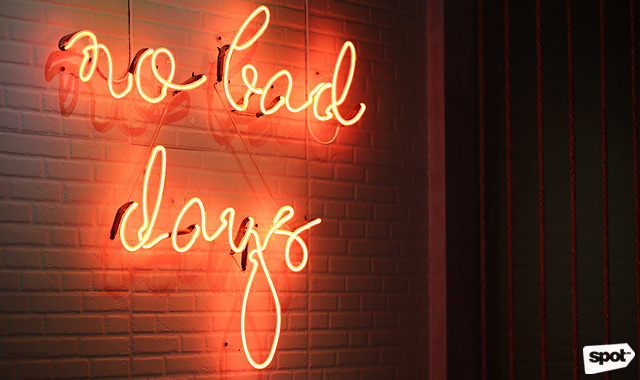 Common Folk is a passion project by a group of friends who love good coffee and good conversations. "We just wanted a warm and welcoming space for everyone," shares Ashley Siy, one of the co-owners. The space is just that. The décor is minimalist and will please the Pinterest addict in you, with a neon sign on the wall proclaiming another one of the café's mantras: "No Bad Days."
ADVERTISEMENT - CONTINUE READING BELOW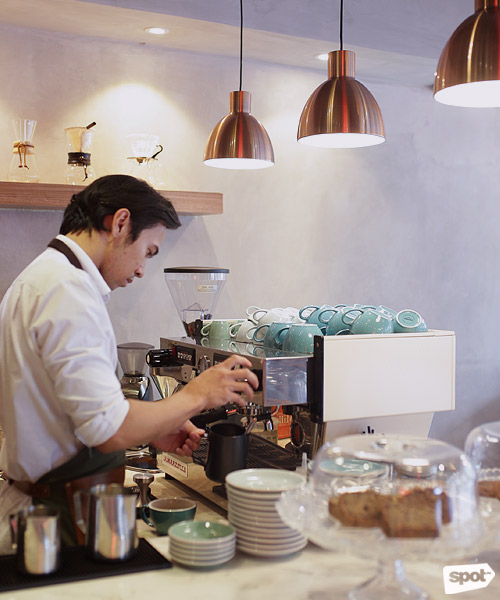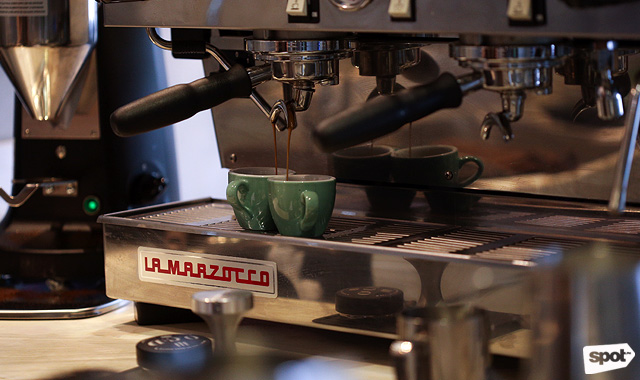 For the Common Folk team, good coffee doesn't have to be intimidating. The café does employ third wave coffee brewing techniques, like Kalita Wave, Aeropress, and Chemex, and their baristas are ready to help you choose what technique to get and also explain the process as they make your brew. Still, as co-owner Isa Ong puts it, "One can appreciate our coffee even if one is not a coffee drinker."
ADVERTISEMENT - CONTINUE READING BELOW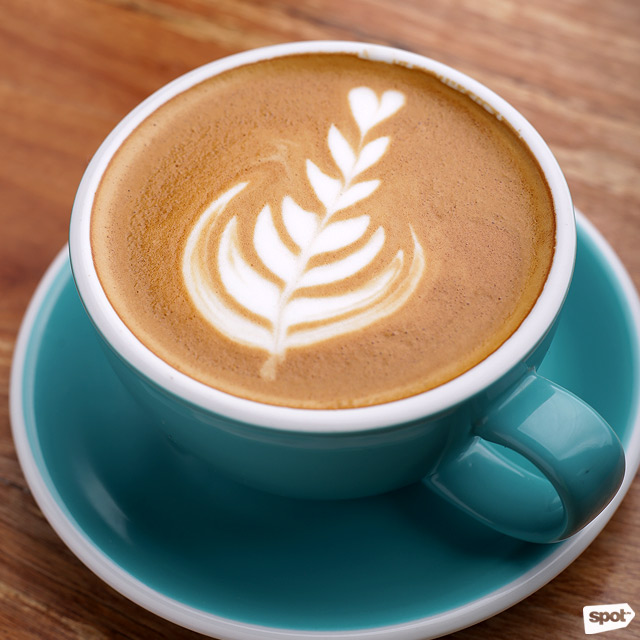 Cafe Latte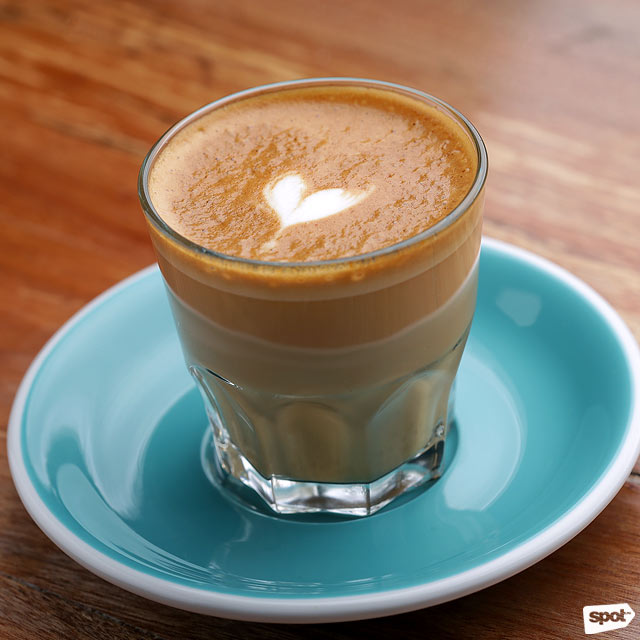 Flat White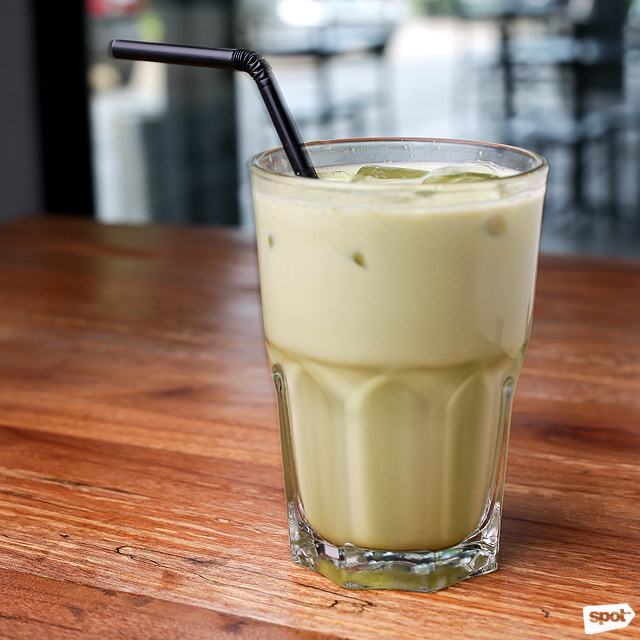 ADVERTISEMENT - CONTINUE READING BELOW
Matcha Tea Latte (iced)
The menu is made up of drinks that are easily recognizable even to the most casual of coffee drinkers. The Café Latte (P150), served in a pastel ceramic cup, is creamy and just mildly sweet to allow the natural flavor of the coffee to shine through. If you're looking for something that'll give you a jolt of energy, try the Flat White (P140), served in an espresso shot glass. Common Folk also has something for non-coffee drinkers. The spiced notes of the Chai Tea Latte (P140/hot, P160/iced) make the drink extra soothing—it's almost like a gingerbread cookie in a cup. Matcha fans, there's something here for you too: the Matcha Tea Latte (P140/hot, P160/iced) is a milky drink flavored with pure matcha syrup for an intense green tea flavor.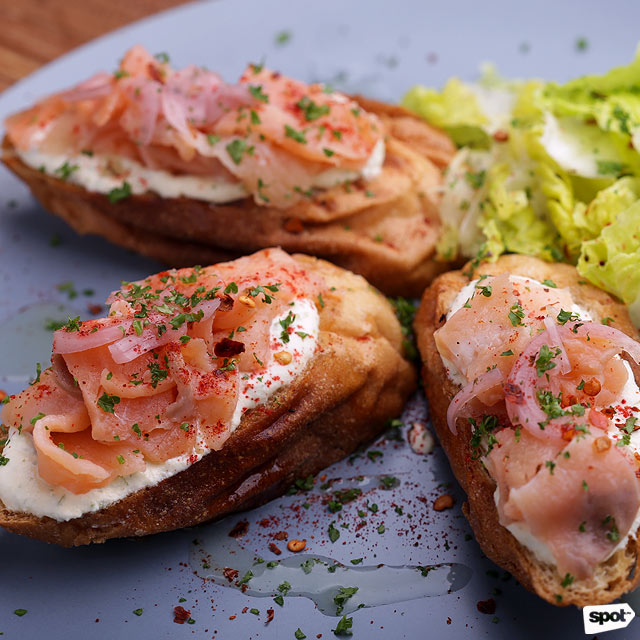 Salmon to Love
But, while Common Folk is primarily a coffee shop, their menu of open-faced toasts, sandwiches, and desserts steal the spotlight. The dishes were created primarily by Chef Francis Lim who also helms Tipple and Slaw, so expect comfort food that doesn't scrimp on good quality ingredients. From the open-faced toasts, the Salmon to Love (P260) is easily the winner. Crunchy toast is topped with a generous amount of bright pink smoked salmon that is velvety on the palate, especially with the herbed cream cheese. Pickled red onions and micro greens add a fresh tartness that cuts through the richness of the toppings while chili flakes add a welcome hint of heat.
ADVERTISEMENT - CONTINUE READING BELOW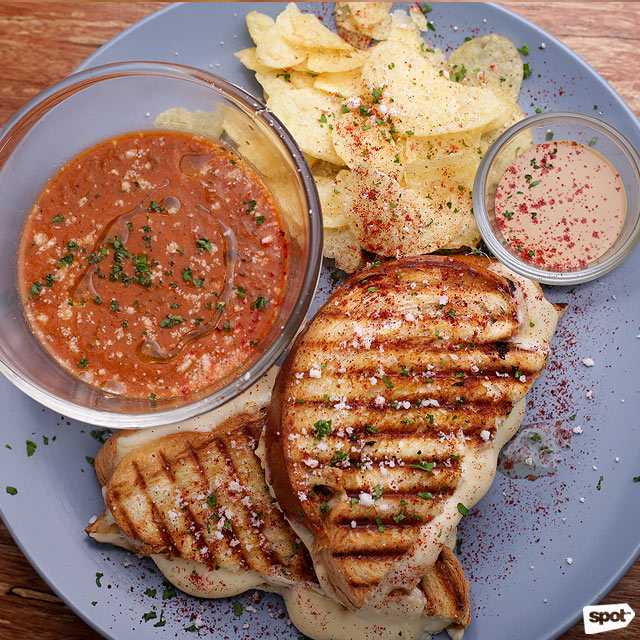 Say Cheese
You don't usually come to a coffee shop for a full meal, but Common Folk's sandwiches can easily count for one. The Say Cheese (P260) or Common Folk's grilled cheese sandwich has a blend of three cheeses oozing out of their panini cage in a warm gooey puddle. An order comes with two huge sandwiches and a bowl of tomato soup. The soup is the perfect dip for your sandwiches, with just the right amount of tartness to counteract the richness. An order is definitely meant to be shared, though it'll be hard to resist keeping an entire plate to yourself.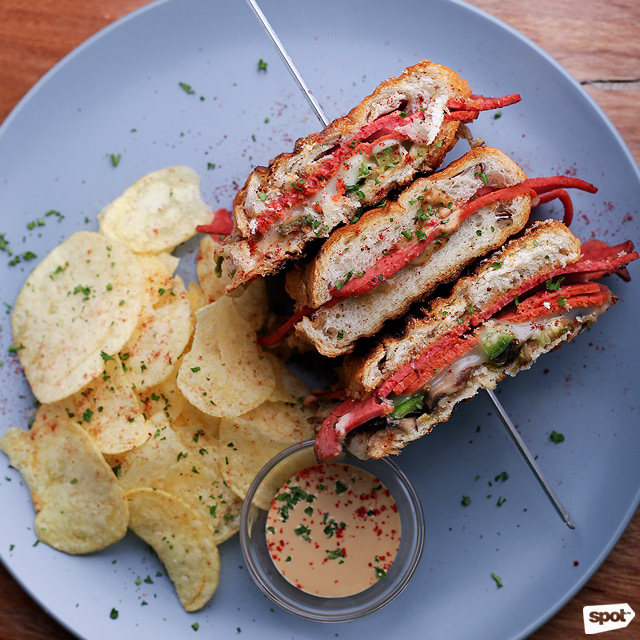 ADVERTISEMENT - CONTINUE READING BELOW
House Sub
For those with an extra voracious appetite, have the House Sub (P250), which has three hefty sandwiches stacked on top of one another. Each sandwich is stuffed with pepperoni, ham, cheese, greens, olives, pickled onions, and soy mayo. If you like your sandwich with a bit of a tang, order a Ham and Cheese Cubano (P260), with ham, cheese, pickles and honey mustard between toasted crusty bread.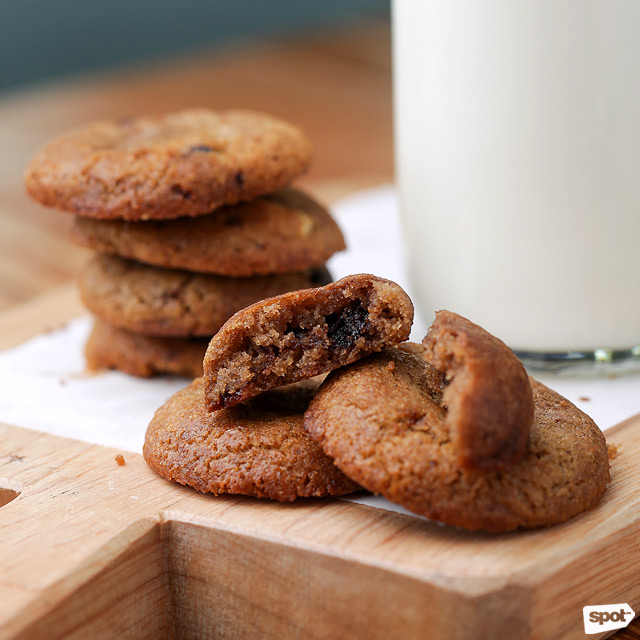 Milk + Cookies
If you have a sweet tooth or wisely left space for dessert, Common Folk has a menu of treats that are not to be missed. The Cookies, (P65), soft with chocolate melting from the warmth of being freshly baked, will take you back to your childhood, especially when you order them as Milk + Cookies (P120), which will get you a bottle of milk to dip in. Cookies come in two equally delicious variants: Chewy Chocolate + Sea Salt and Overload Choco Chip.
ADVERTISEMENT - CONTINUE READING BELOW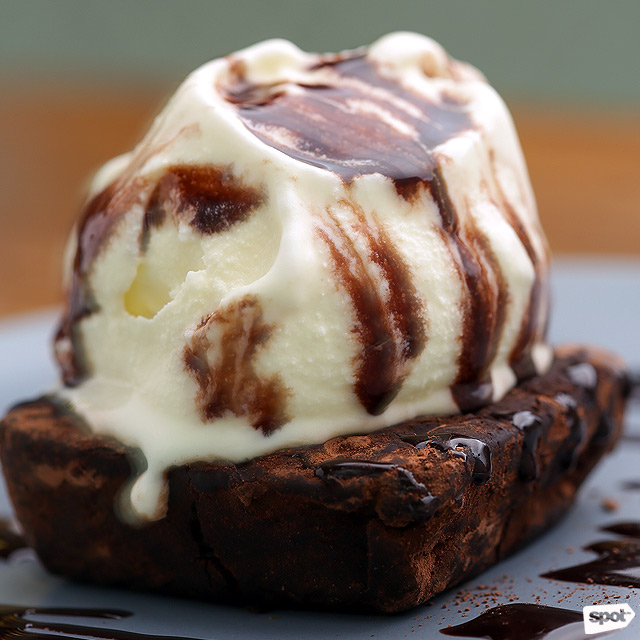 Brouflle Ala Mode
The Brouffle Ala Mode (P130) however, is the star of the desserts lineup. The dark chocolate brouflle, which is a cross between a brownie and a truffle, is extremely dense and fudgy, and will definitely stick to your teeth, but power through for the sake of pure chocolate goodness. Gobble this up quickly before the vanilla ice cream melts completely against the warm brouffle.
From the interiors to their menu, everything about Common Folk just speaks comfort. If you ever find yourself having a bad day or are just in the mood for something warm and hearty, this café will make things right.
Photos by Majoy Siason
Share this story with your friends!
---
Help us make Spot.ph better!
Take the short survey
Load More Stories