Try fusion burritos, flaming pizzas, and more at The Yard Underground
The Yard experience is now in Pasig City.
The Yard Underground
Christian Route, Hillcrest Circle, Oranbo, Pasig City
Open daily from 4 p.m. to 12 a.m.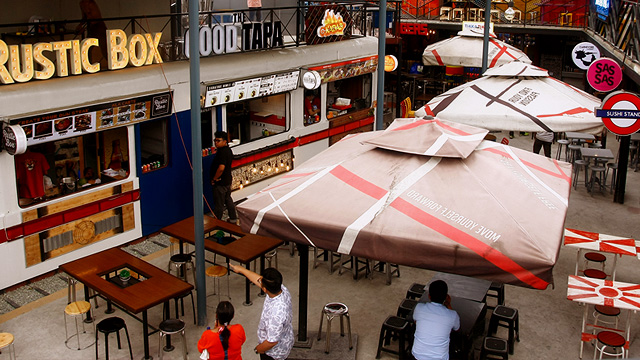 (SPOT.ph) The Yard in Xavierville took the food scene by storm when they first opened in July 2016—after all, they were the first multi-level food park in Manila. The Yard proved to be a hit, not just among the students and residents in the area but even other folks from around Metro Manila, who were on the lookout for casual eats and drinks in a chill ambiance. And so it was only a matter of time before The Yard team brought their food park experience to another part of the Metro.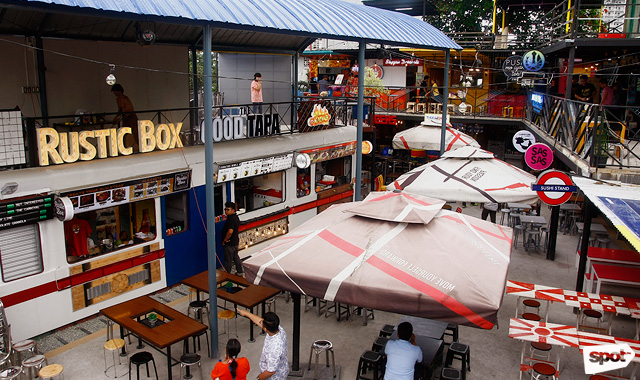 ADVERTISEMENT - CONTINUE READING BELOW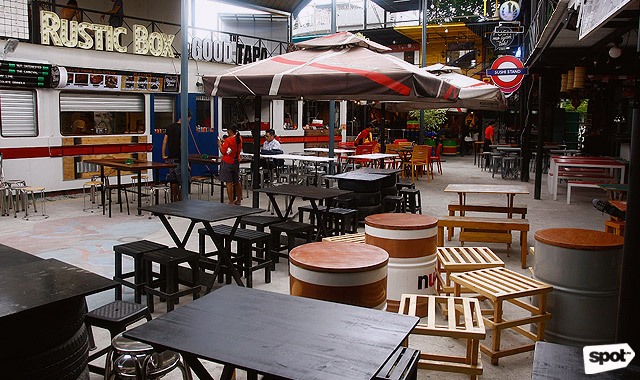 CONTINUE READING BELOW
Recommended Videos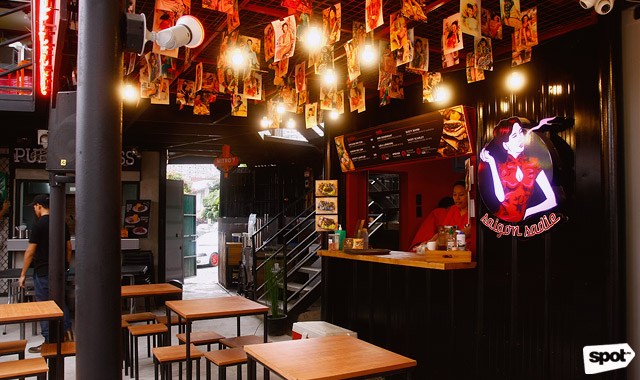 And so The Yard Underground was born. Located in Pasig City, the second incarnation of The Yard is patterned after the subways of London, with food stalls housed in train carriages. And just like its predecessor, The Yard Underground has the same no-fuss atmosphere, in a more spacious environment. Currently, there are 25 stalls to choose from (though there is a planned total of 30), offering everything from fusion burritos to flaming pizzas.
ADVERTISEMENT - CONTINUE READING BELOW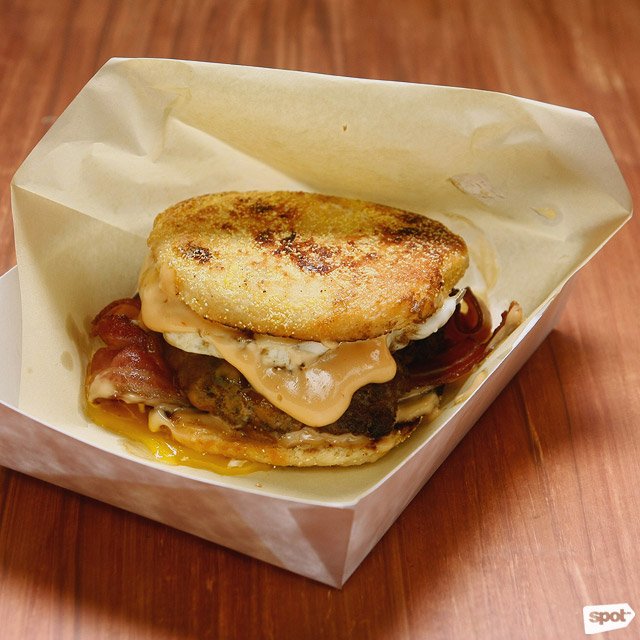 Early Bird
Pound4Pound
Owner Claude Hizon combines two of his great loves, burgers and boxing, in one place with Pound4Pound Grilled Burgers. The burgers' names are fighter-themed, like Leonidas (P180) (Greek-inspired with a lamb patty and sun-dried tomatoes) and Italian Stallion (P180) (with mozzarella and balsamic vinegar-flavored vegetables, and named after Rocky). But of course a crowd favorite is the Early Bird (P180), with a thick and juicy beef patty sandwiched with bacon strips, cheddar cheese and a fried egg with a perfectly runny yolk in between an English muffin. After all, who doesn't love a good breakfast burger?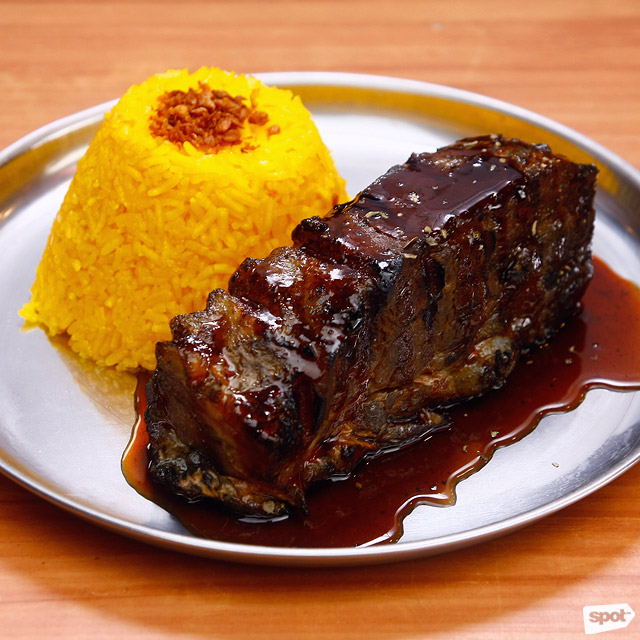 ADVERTISEMENT - CONTINUE READING BELOW
Baby Back Ribs
Pub Express
This food stall continues to be a favorite, thanks to their express service—you're guaranteed to get your food in under three minutes. Their Baby Back Ribs (P169) are fall-off-the-bone tender too—a plastic fork is all you need to cut through the juicy rack.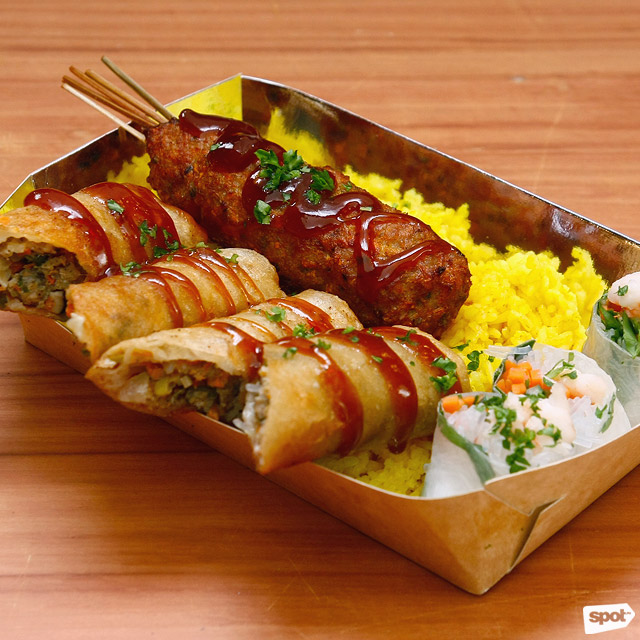 Gigi Goodnight (Threesome)
Saigon Sadie
With their sultry red-and-black façade and menu of "sexy ladies", Saigon Sadie is hard to ignore. This food stall offers Vietnamese classics like fresh and fried spring rolls, and pork skewers with a modern twist. Still the flavors of Vietnam remain, with the distinctive notes of coriander, lemongrass, and more. If you want a bit of everything get the Gigi Goodnight in a Threesome (P220)—with chia gio fried spring rolls, fresh spring rolls, and a pork skewer.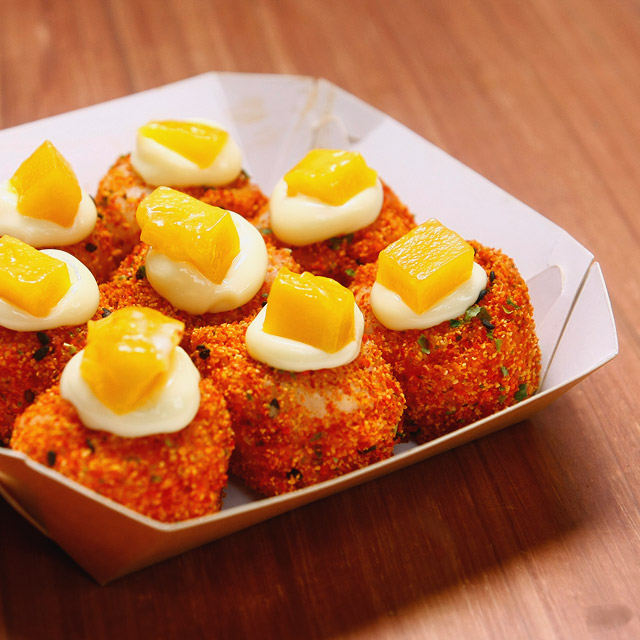 ADVERTISEMENT - CONTINUE READING BELOW
Dragon Ball
Ta Ke Ho Me Sushi
The takeout sushi place now finds a second home in The Yard Underground. Ta Ke Ho Me was a favorite for adding finesse to the concept of takeout sushi—there's no bilao and cling wrap to be found—and the same holds true in their food park venture. Their menu of sushi and maki with a twist is the same as in their Sergeant Esguerra Avenue branch—like the Dragon Ball (P99/eight pieces, P299/24 pieces, P449/40 pieces), which are lovely orange balls of salmon, rice, mango, and kewpie, with togarashi adding fire to every bite.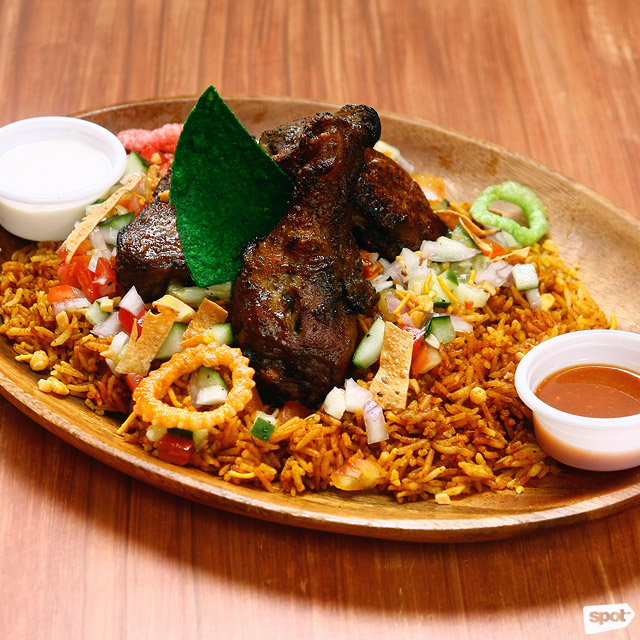 Chicken Biryani with Basmati Rice
Halal Kabab Express
As their name implies, Halal Kabab Express specializes in halal Persian food. A must-try is the flavorful Chicken Biryani with Basmati Rice (P249). Each bite of chicken is bursting with spices like turmeric and ginger, but they don't overpower the palate, and the long-grain rice adds a novel texture. The servings at Halal Kabab Express are extremely generous too, perfect for sharing.
ADVERTISEMENT - CONTINUE READING BELOW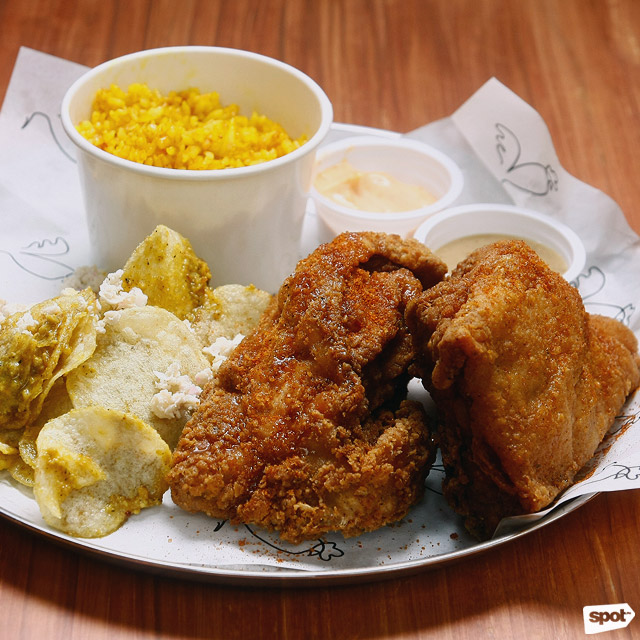 Two Pieces Chicken and Two Sides (P199)
Birdmen
As straightforward as their clean black stall, Birdmen is all about poultry, with the menu focused on chicken and duck. A solo platter with two pieces of chicken is already large enough to split between two people, though we wouldn't blame you if you wanted to keep these golden fried juicy morsels to yourself. Your order comes with a choice of sides, and we can't recommend the Salted Egg Potato Chips enough. The chips are coated generously in the rich yolk, and it's topped off with chopped salted egg whites—nothing goes to waste!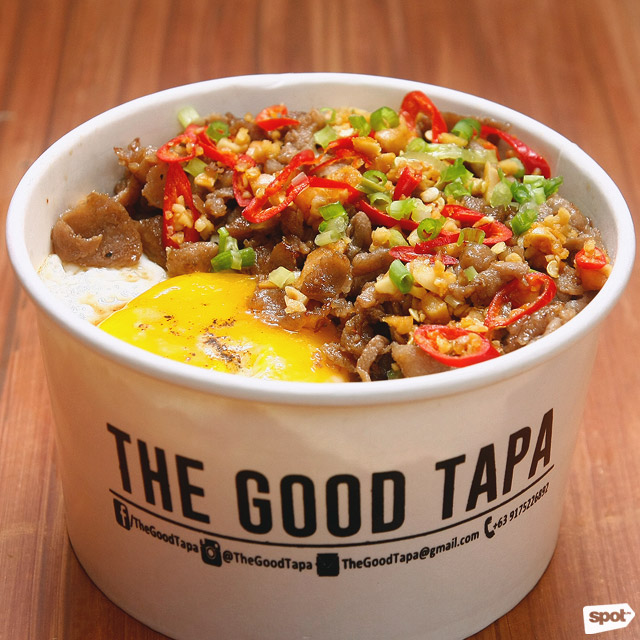 ADVERTISEMENT - CONTINUE READING BELOW
Pork Thai Mama
The Good Tapa
A good tapsilog is classic comfort food, and if you're looking for a new take, make sure to visit The Good Tapa. Co-owner Geremy Kho shares that unlike the usual method, they don't marinate the beef or pork, but instead pour your choice from their line of homemade sauces over it while cooking. The sauce seeps through the tender strips—it's best eaten mixed up with the runny fried egg and garlic rice. If you like your tapa with a spicy kick, try the Pork Thai Mama (P100/regular, P150/hungry, P250/starving), made with fresh sliced red and green chili.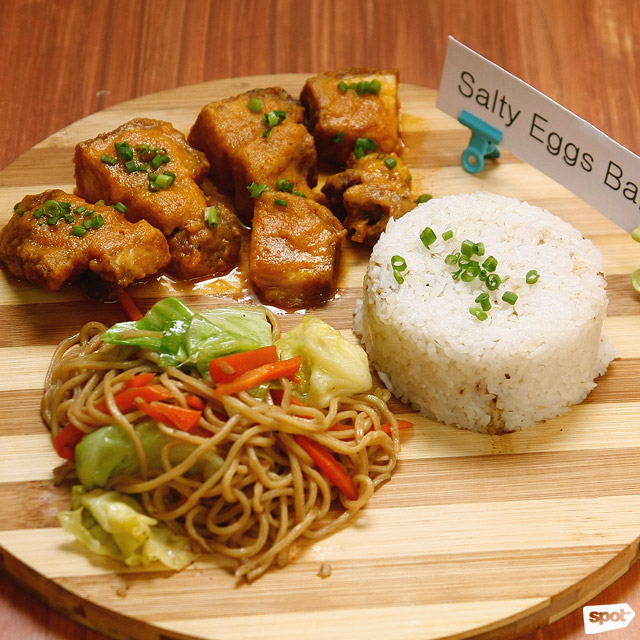 Salty Eggs Bagnet
Push Mo Iyan Teh
The catchy stall and dish names (like the LGBT or Langka, Gata, Bagoong, Tomatoes sauce) will clue you into the fact that Push Mo Iyan Teh doesn't serve your usual Filipino fare. A definite winner is the Salty Eggs Bagnet, with a rich salted egg sauce making the crispy bagnet all the more indulgent. You can pair it with your choice from four different kinds of rice and four kinds of sides, all for P160.
ADVERTISEMENT - CONTINUE READING BELOW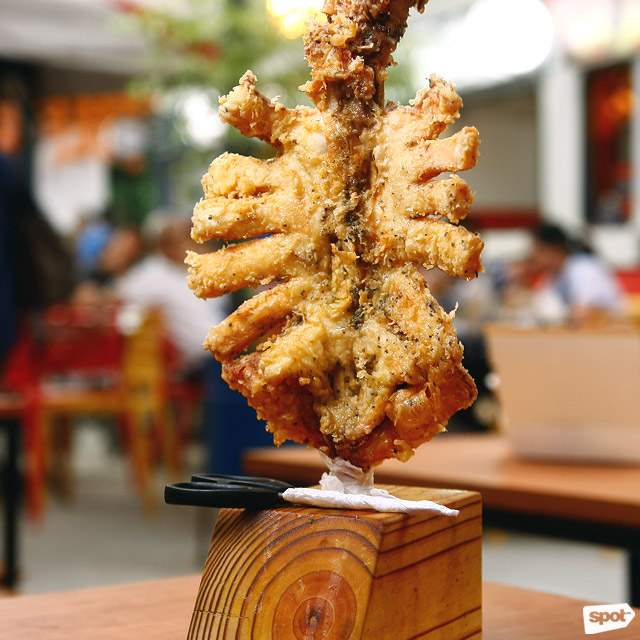 Super Giant Butterfly Squid
Above Sea Level
If you've been wondering where you can try the giant butterfly squid that's been flooding your Instagram feed, look no further than Above Sea Level. Their Super Giant Butterfly Squid (P250) is huge, cut open to resemble a butterfly and mounted on a stand. The squid is lightly seasoned and breaded to let its natural briny flavor shine through, and amazingly tender. An order comes with two servings of java rice, perfect for sharing.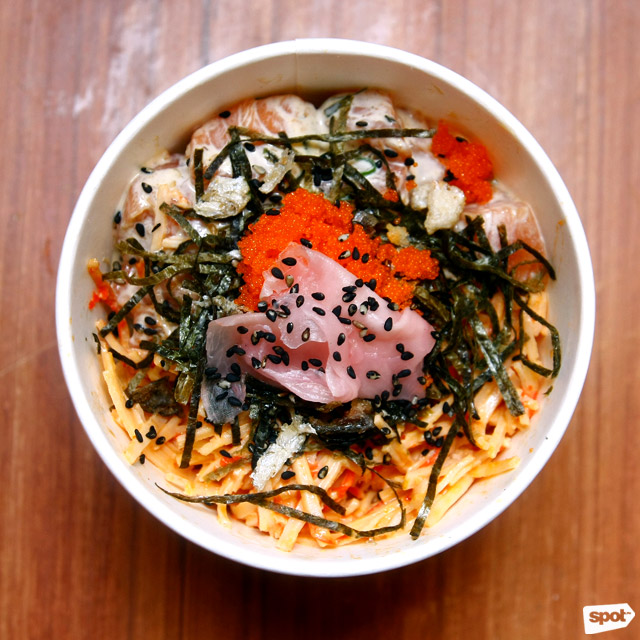 ADVERTISEMENT - CONTINUE READING BELOW
Shoyu Tuna Bowl
Ono
Poke bowls are a food trend quickly taking Manila by storm, and it was only a matter of time before it invaded the food park scene. Whether you've been to Hawaii or not, you'll appreciate the freshness of Ono's Signature bowls, like the Shoyu Tuna Bowl (P200/small, P320/large), with a mild sweetness from the shoyu elevating the fresh buttery tuna. If you like a meal with heat and crunch, try the Spicy Tuna Crunch Bowl (P210/small, P330/large) with tempura flakes and a spicy mayo sauce.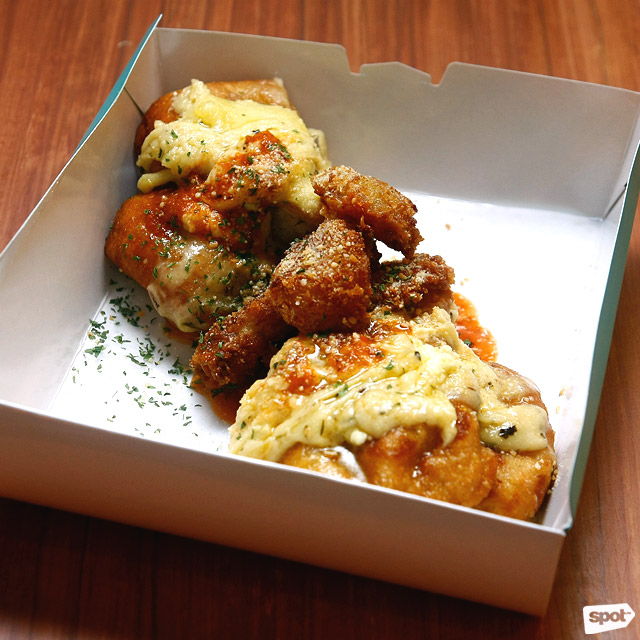 4 Cheesy Cheese Fried Pie
Chill Out Cooks
If you think pizza can't get any better, you must try it deep-fried. Chill Out Cooks stuffs classic pizza toppings like cheese, pepperoni, and tomato sauce, as well as less traditional ones like French fries and onion rings, inside pizza dough before deep frying it. The result is greasy and indulgent, like all good comfort food—like the 4 Cheesy Cheese Fried Pie (P99), with a blend of four kinds of cheese oozing out of the pie as you slice through it.
ADVERTISEMENT - CONTINUE READING BELOW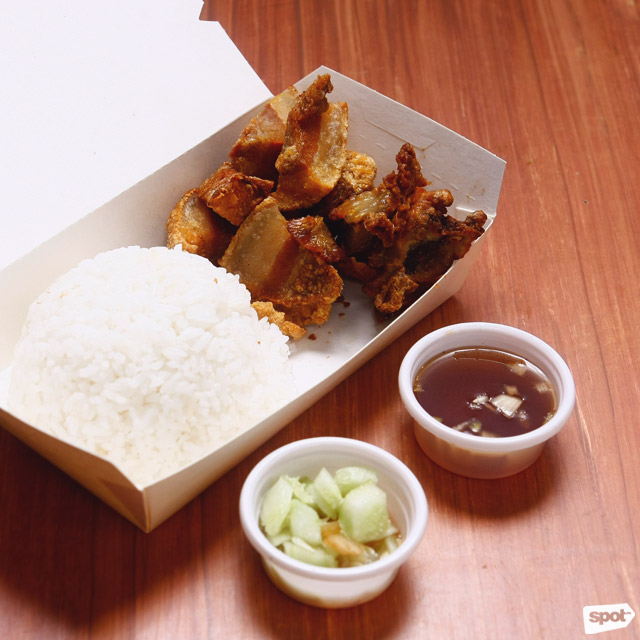 Crispy Lechon with Chicharron Bulaklak Platter (With Rice) (P150)
Sassas Chicharronia
If you're into all things porky, Sassas Chicharronia should be the first stop on your food crawl. Their Crispy Lechon with Chicharron Bulaklak Platter (P290), large enough for sharing, is the perfect pulutan, the lechon possessing an almost perfect ratio of crispy skin and fat and tender pork.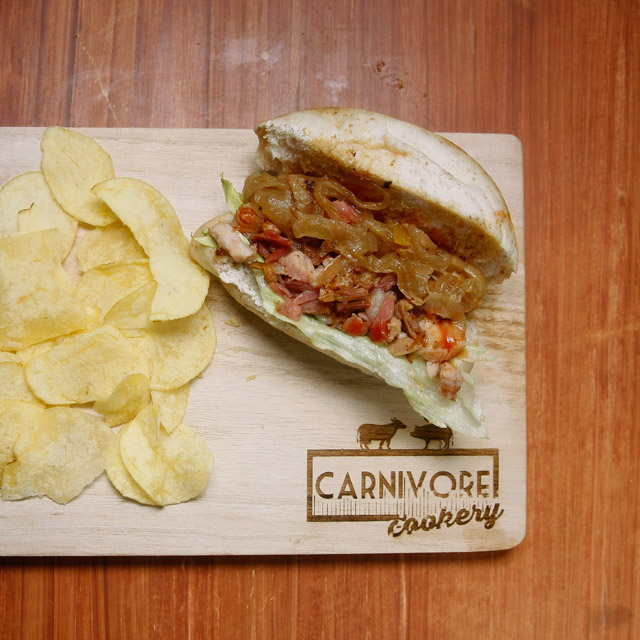 ADVERTISEMENT - CONTINUE READING BELOW
Smoked Pork Belly Sandwich (P200)
Carnivore Cookery
Carnivore Cookery's specialty is meat that is smoked for 12 hours, whether it's their Smoked Pork Belly (P200) or Smoked Beef Brisket (P220). The result is meat that is perfectly tender—the beef brisket melts in your mouth with tasty notes of smoky flavor. But the sides can easily steal the show here as well, especially the Blooming Onion (P100), which is a whole onion, skinned, breaded, fried, then cut to resemble a blooming flower. It's a snapshot-worthy side that's delicious too.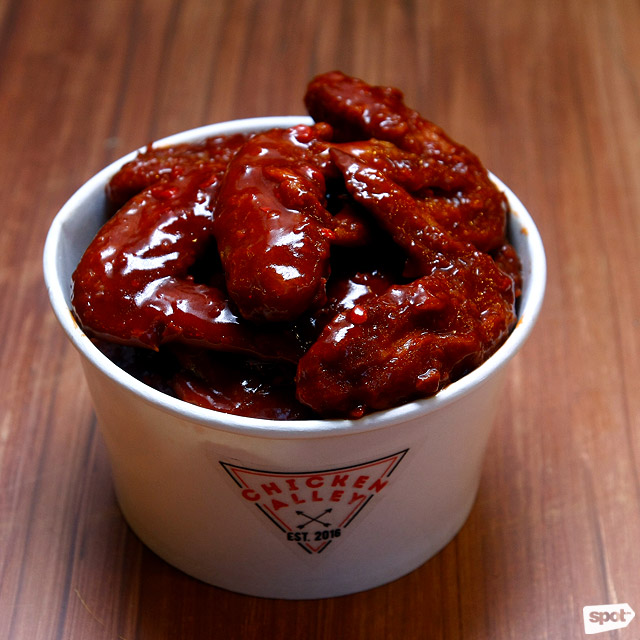 Small Wing Bucket in Original Buffalo Sauce
Chicken Alley
Chicken Alley doesn't do anything fancy with their chicken wings, but really, sometimes it's best not to mess around with a well-loved classic. What they do offer are buffalo wings that are fried only upon order to ensure maximum crispiness. Your wings come with a choice from six different Styles or flavors: you can't go wrong with the Original Buffalo Sauce (P145/small, P185/medium, P225/large), only mildly spicy and addicting enough to make you want to lick your fingers clean.
ADVERTISEMENT - CONTINUE READING BELOW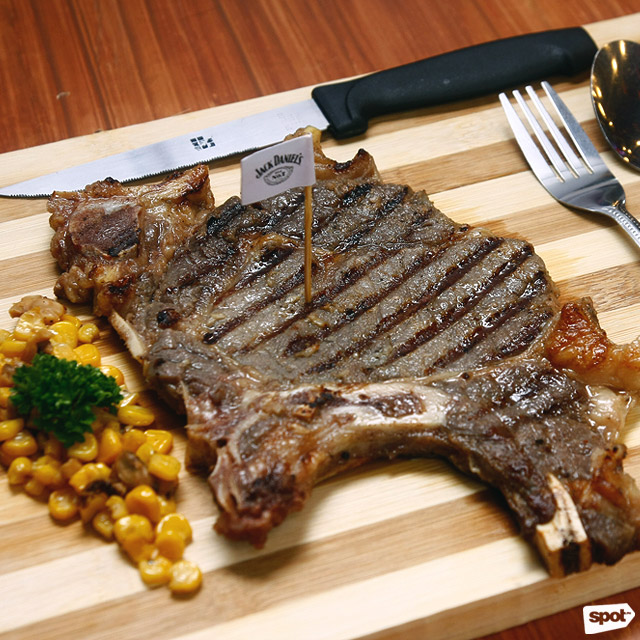 Porterhouse
Rustic Box Steakhouse
This food stall is a favorite for offering excellent steak at budget-friendly prices. A must-try is the juicy Porterhouse (P265) which comes with your choice from six different kinds of rub and sides—the Jack Daniels rub has a nice sweet-smoky flavor from the bourbon. Or you can also order an à la-carte meal like the Herbed Salmon Steak (P250).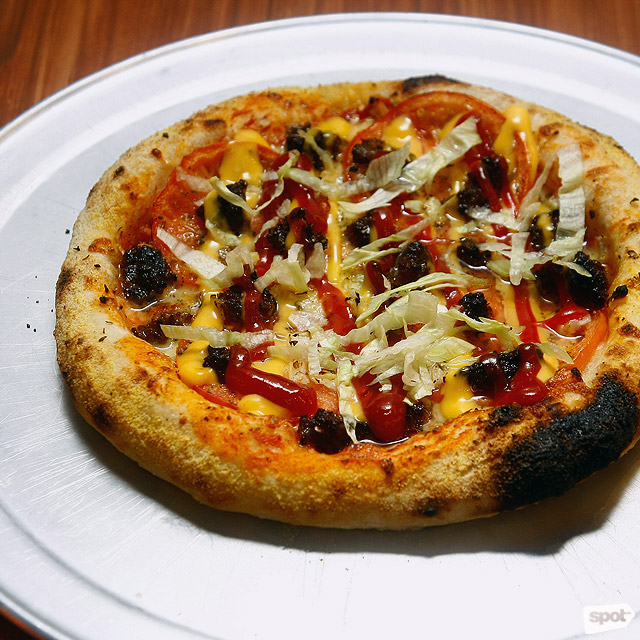 ADVERTISEMENT - CONTINUE READING BELOW
Sausage BBQ
Flaming Dough
While we love a classic Margherita pizza, we also don't mind seeing pizza served with flair. At Flaming Dough, they literally set your pizza on fire, using liquor. But it's not just for Snapchat-worthy visuals—the alcohol is matched precisely to each pizza flavor. The Mexican-inspired Pizzaritto (P220) for example is paired with tequila and the hint of sweetness from the rum matches the smoky flavor of the Sausage BBQ (P220) as well. It's like your usual tasty pizza with a kick.
Macho Lucha
Street tacos are served open-faced on soft tortillas, so you can wrap them up yourself for easy munching. The tacos at Macho Lucha are made with a Filipino flair—the Dorada (P110) has crunchy sisig with garlic sour cream, salsa verde, and cilantro for a hint of freshness. The Chavo (P110), on the other hand, has garlicky longganisa, shredded cabbage, onions, and cilantro.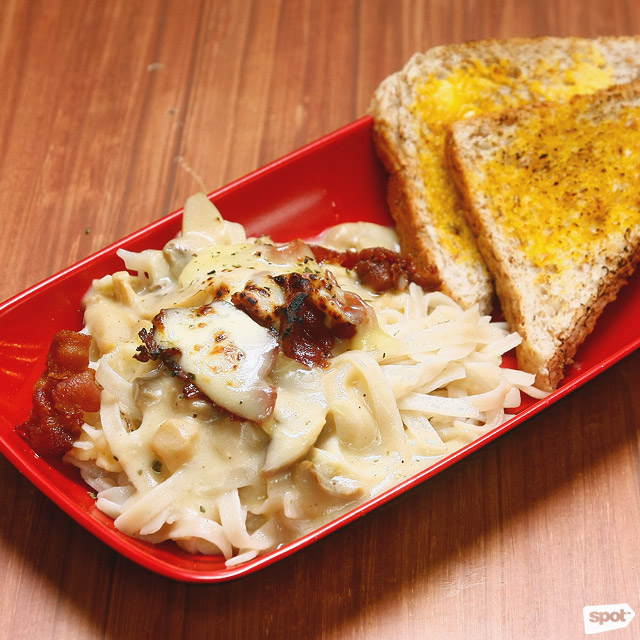 ADVERTISEMENT - CONTINUE READING BELOW
Bacon and Shroom Pasta
The Cheesery
If you love cheese on everything then The Cheesery is the stall for you. The team behind this food stall knows their dairy well, pairing a different kind of cheese with a certain sandwich or pasta to get a mild or nuttier flavor. Their pasta for example is cooked inside a Dutch cheese wheel for a sharper flavor that complements their creamy sauce—a must-try is the Bacon and Shroom Pasta (P235). They also serve sandwiches topped with cheese melted only upon order and soon, Raclette cheese too!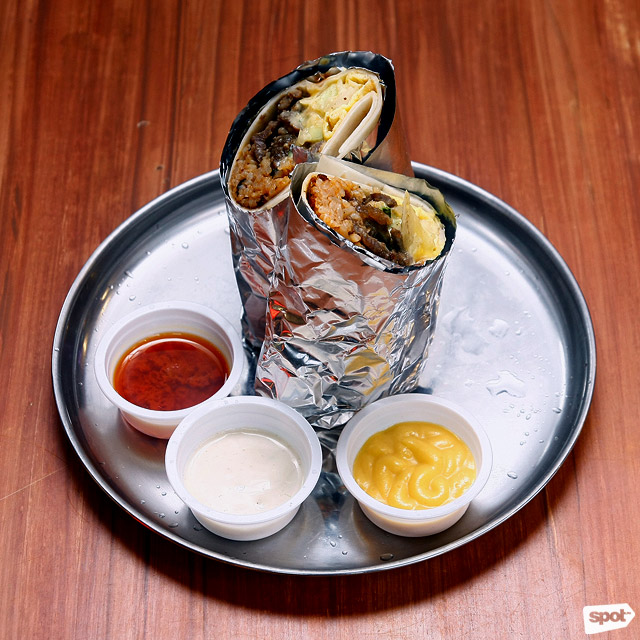 Beef Tikka Burrito
Tikka Tikka Fusion Burrito
At Tikka Tikka, they serve burritos filled with flavors that are distinctly Indian. The Beef Tikka Burrito (P170) has beef flavored with turmeric, coriander, and other spices mixed with rice and wrapped in a tortilla. It's like eating curry in a wrap—a fusion that has our full support.
ADVERTISEMENT - CONTINUE READING BELOW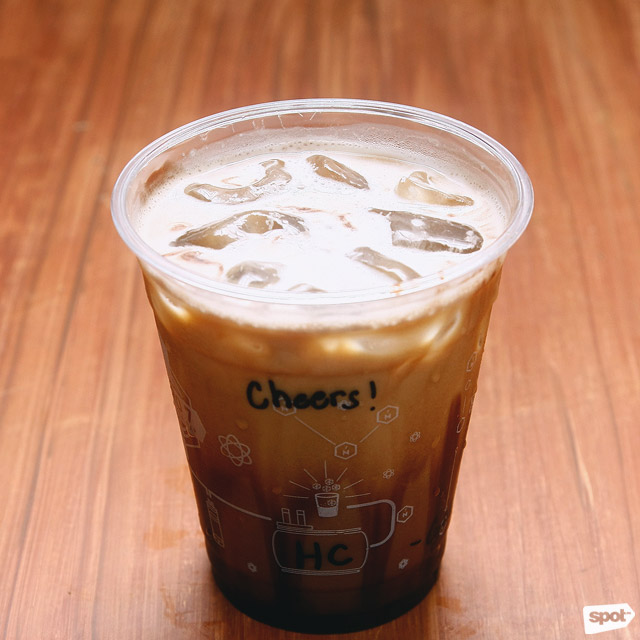 Black Nitro
Nitro 7 Coffee Bar
Nitro 7 has become a familiar name for food park regulars, and they're back in The Yard Underground to serve their signature nitrogen-infused coffee and tea, served through taps. If you're looking for a quick and refreshing caffeine fix, you can't go wrong with The Black Nitro (P80/regular, P100/large)—and because it's infused with nitrogen, it's sweet and creamy without sugar or creamers.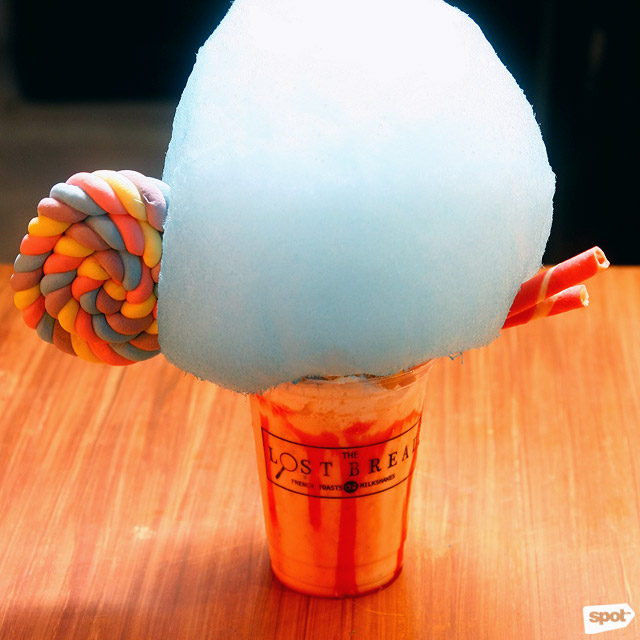 ADVERTISEMENT - CONTINUE READING BELOW
Carousel
The Lost Bread
Resembling a food truck, The Lost Bread Express now offers the outrageous milkshakes they've become known for, like The Carousel (P220), in take-out plastic cups—though with toppings like cotton candy almost as big as your head and a giant lollipop, make sure you don't have butterfingers. Fans of their HQ branch will be glad to know that The Lost Bread Express serves their yummy soft-serve too!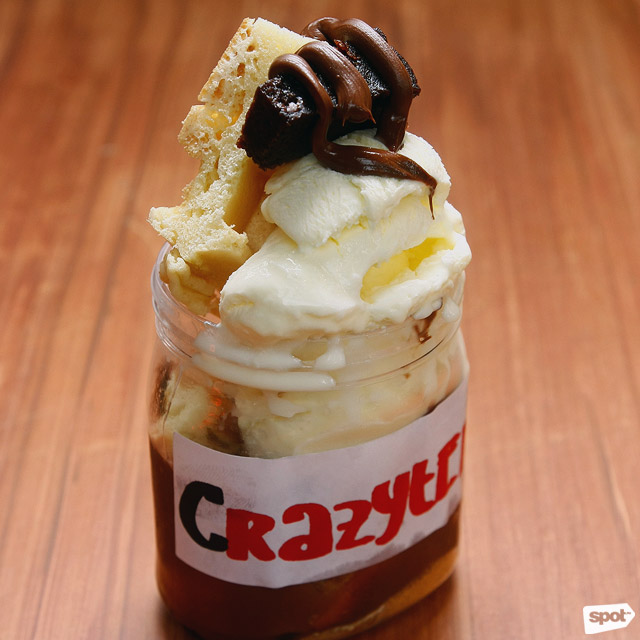 Brownie Fudge
Crazytella
If you're a Nutella fanatic, you will go crazy at Crazytella. Their Wafella comes in a plastic jar with a personalized label made to look like the classic Nutella logo. The Brownie Fudge (P160) is the perfect indulgent dessert, with vanilla ice cream, thick and fudgy brownie cubes and generous spoonfuls of Nutella all mixed together in one delicious treat, with an egg waffle to cut through the sweetness. Crazytella also offers other desserts like Bombettes (P140) or deep fried dough filled with Nutella and Fryce Ice Cream (P160) or ice cream encased in fried dough and, of course, covered with Nutella and your choice from three different flavors.
ADVERTISEMENT - CONTINUE READING BELOW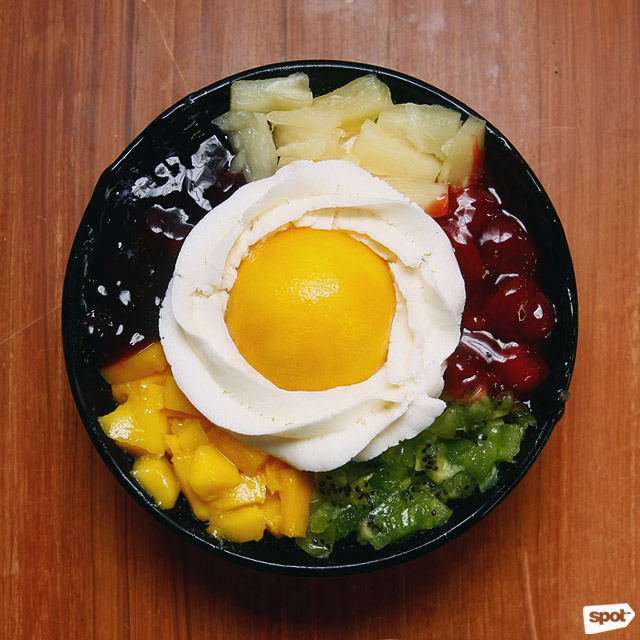 Bibingsu
Antartique
It's all about bingsu or the Korean shaved ice dessert that has become a hit in tropical Manila, here at Antartique. While they have intriguing flavors that blend bingsu and classic cakes like Strawberry Cheesecake (P200/regular, P250/large) and Blueberry Cheesecake (P90/sample, P180/regular, P230/large), a must-try is the Bibingsu (P200/regular, P250/large). A cross between a bingsu and a bibimbap, fruits like strawberries, blueberries, kiwis, mangoes, and pineapples, are arranged to resemble the Korean rice bowl, with a peach and whipped cream center acting as the "egg". This dessert is double tap-worthy.
Photos by Jun Pinzon
Share this story with your friends!
---
Help us make Spot.ph better!
Take the short survey
Load More Stories