Buendia Food By the Court: Basketball, booze, and burgers
Eat and play in one haunt.
Buendia Food By the Court
24 Sen. G. Puyat Avenue corner Bautista Street, Barangay San Isidro, Makati City
Contact: 744-5510
Open daily from 5 p.m. to 12 a.m.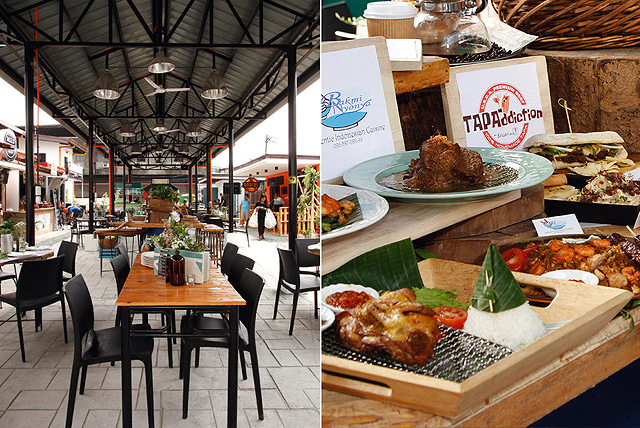 (SPOT.ph) The Philippines is a basketball-crazy country. The simple fact that there is a basketball ring—makeshift or store-bought—in every local neighborhood is proof that we live and breathe the sport. Basketball is the glue that brings our community together and this is what the folks at SUDECO had in mind following the creation of the newest food park in Metro Manila, Buendia Food by the Court.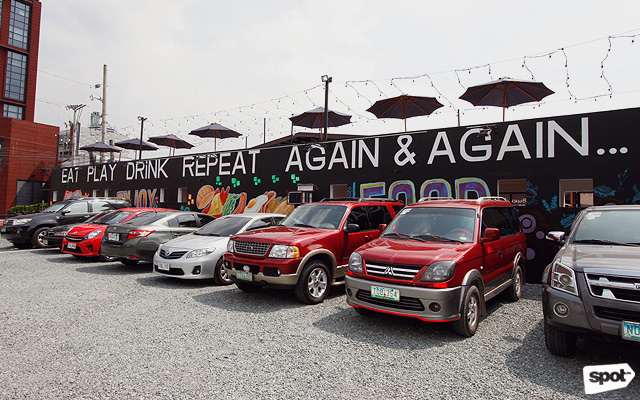 ADVERTISEMENT - CONTINUE READING BELOW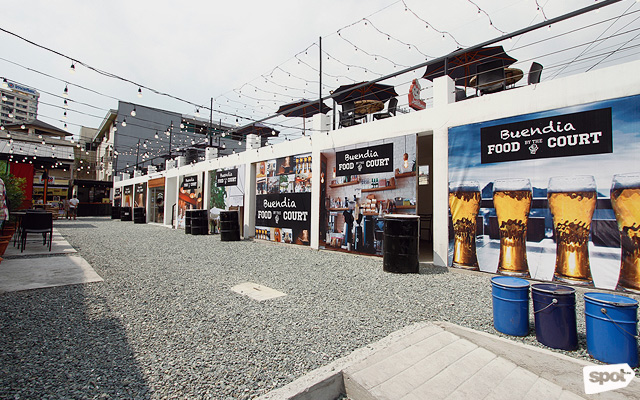 CONTINUE READING BELOW
Recommended Videos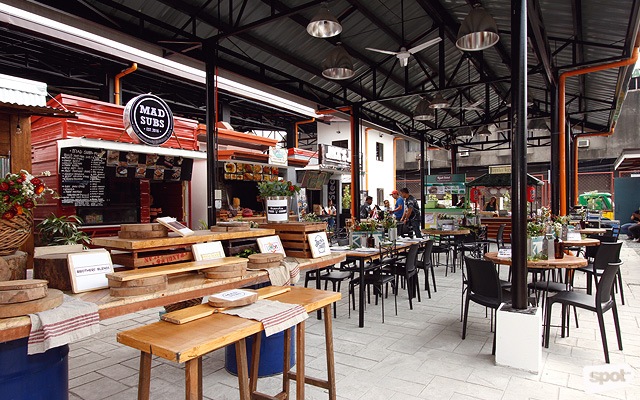 The stalls at Buendia Food by the Court have all been carefully curated to complement each other while making sure there's something for everyone, lending a true community experience. There is also a roof deck on the second floor overlooking the entire complex where you can enjoy your food and drinks while taking in the view of the Makati cityscape. Check out the stops and dishes you shouldn't miss:
ADVERTISEMENT - CONTINUE READING BELOW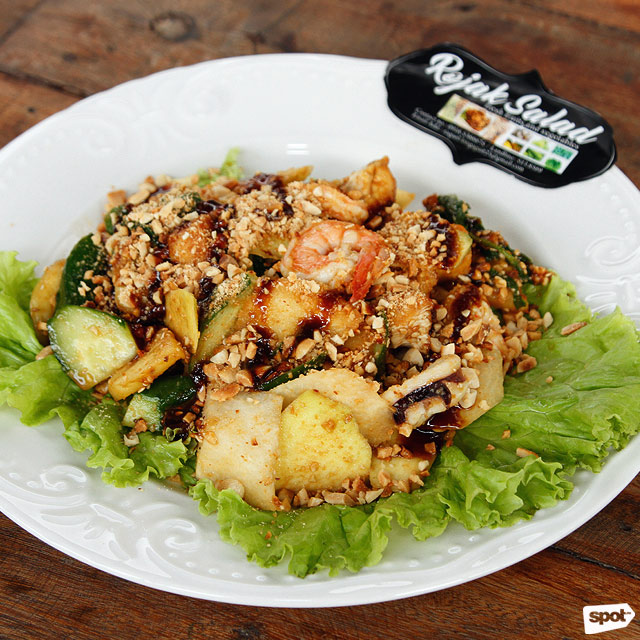 Rojak Salad
For those who are into healthy eating, Rojak Salad is the perfect food stop. For only P75, you get the signature Rojak Salad, a hearty serving of fresh fruit and vegetables with shrimps, tossed with a special sauce that looks like melted caramel—only it has a distinctly Asian flavor. On a hot day, the pineapple, jicama, cucumber, and green mango slices provide a much-needed refreshment with every wholesome bite.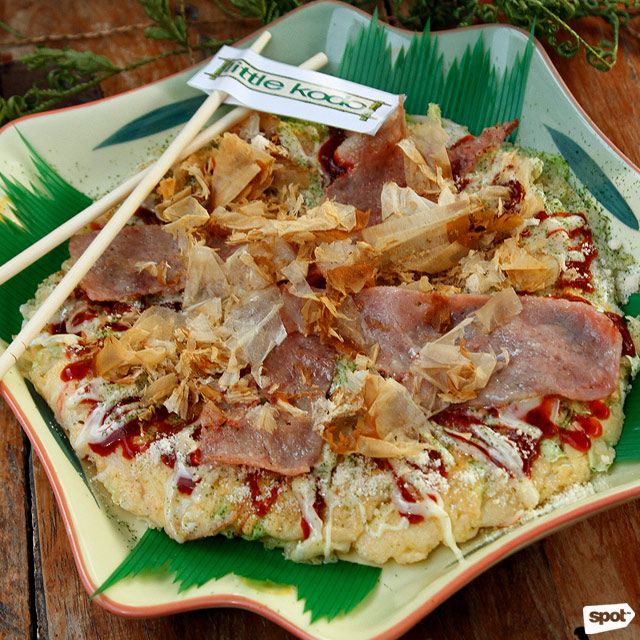 ADVERTISEMENT - CONTINUE READING BELOW
Little Kodo
Little Kodo is a Japanese food stall run by Jammy, who's worked as a chef in Japanese restaurants for over 30 years. Jammy and his wife Carol serve street-food staples like Gyoza (P100/four pieces), and Takoyaki (P70/four pieces), which are tiny pin-ball minced vegetables with octopus bits and Japanese mayo. Their version of Ramen (P150) has either pork or chicken noodles with egg and Jammy's own shoyu broth concoction.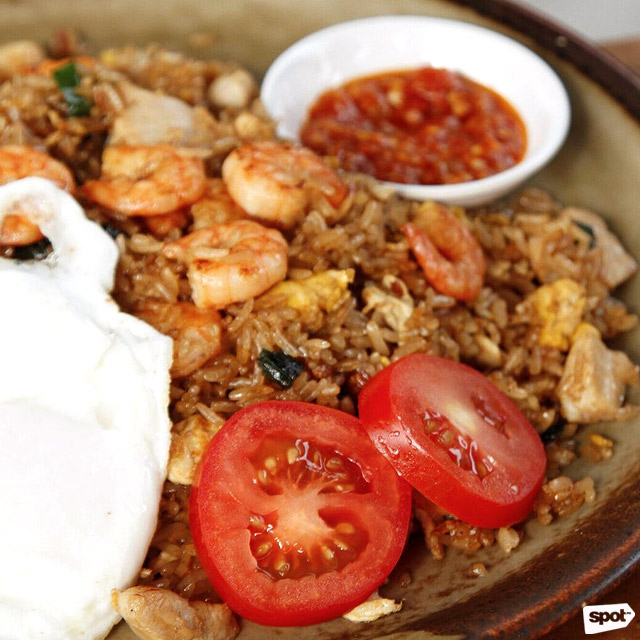 Bakmi Nyonya
If Indonesian food is what you want, Bakmi Nyonya is the stall to check out. Have a chat with the friendly owners Lucy, who is the resident Indonesian cook, and her Pinoy husband, Gershwin. The Beef Rendang (P170) with a flavorful sauce of coconut milk with galangal and Indo spices is mildly flavored to suit the Pinoy palate and is delectably fork-tender. The crowd-pleasing Sate (P50/pork and P35/chicken) is seasoned perfectly to go well with the appetizing Nasi Goreng (P120/ Egg + Veggies or Chicken, P130/Shrimp, P150/Combination) or the Bakmi Goreng (P140/ Egg + Veggies, P150/Chicken, P160/Shrimp, P170/Combination), an Indonesian stir-fried noodle dish with house-made noodles.
ADVERTISEMENT - CONTINUE READING BELOW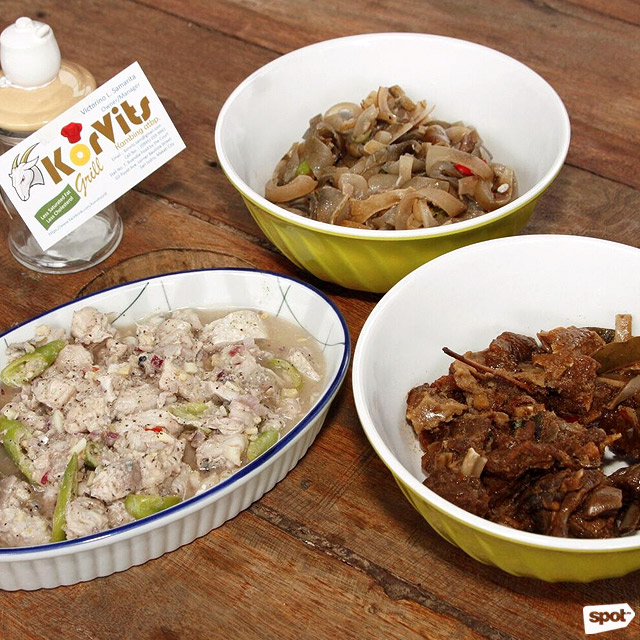 Korvits Grill
Unique in Buendia Food by the Court is Korvits Grill, a food stall featuring the leanest red meat in the market where mutton or goat meat is the star. Pulutan and ulam favorites such as Kaldereta, Kinilaw, Adobo, and Curry are all available for P155 per order, enough to feed up to three people. The dishes from Korvits Grill are nicely prepared through slow cooking, as the Kaldereta and Adobo are tender and quite tasty. Grab a bucket of chilled local beer from Ice Cold, the official drinks concessionaire of Buendia Food by the Court, and you're good to go.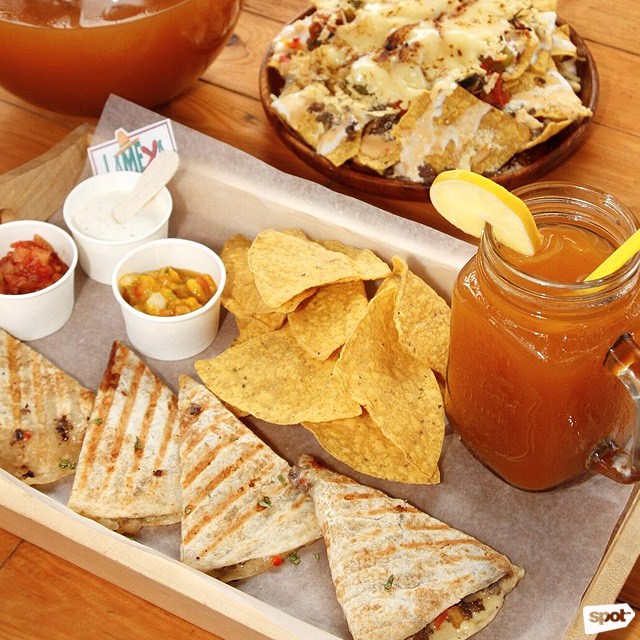 ADVERTISEMENT - CONTINUE READING BELOW
Lamexa Cantina
For a taste of Filipino and Mexican fare, head over to Lamexa Cantina where the Ground Beef Quesadilla (P130) and Cheesy Mari Nachos (P220) await. The latter is a seven-cheese platter of nachos with ground beef, peppers, parmesan, cheddar, Quickmelt cheese, cheese sauce, blue cheese, cream cheese, and blowtorched mozzarella to satisfy the cheese monster in everyone.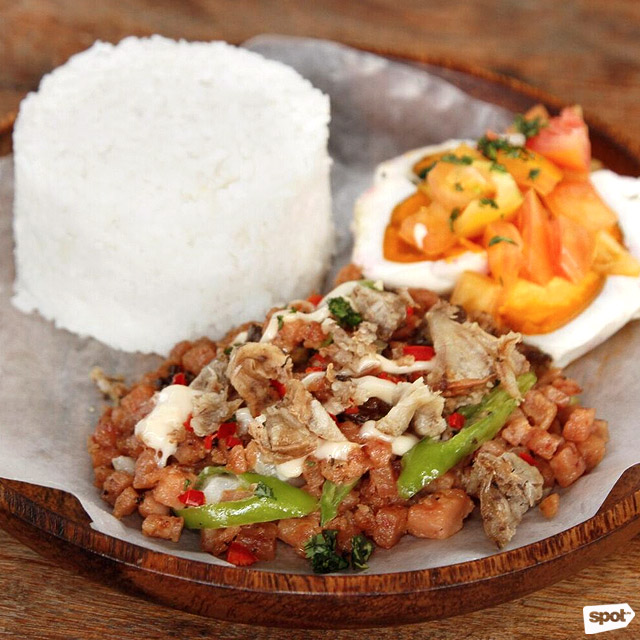 Sisig MNL
Sisig MNL is Lamexa Cantina's Pinoy alter-ego. Their Maling Sisig (P130) and Pork Sisig (P140), topped with chicharon bulaklak, has a rich and decadent porky bite that would satisfy any sisig aficionado.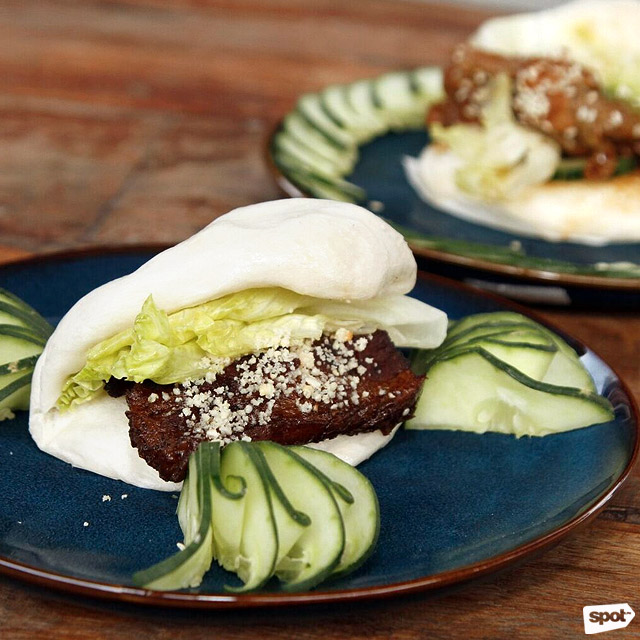 ADVERTISEMENT - CONTINUE READING BELOW
Shang Kee Chinese Buns Delicacies
If lighter fare is what you crave, Shang Kee Chinese Buns Delicacies is a good choice with the Pork Belly Bun (P80/single and P150/two pieces) or the Chicken Terriyaki Bun (P80/single and P150/two pieces). The Chinese buns, which are made fresh on-site, are satisfying and filling.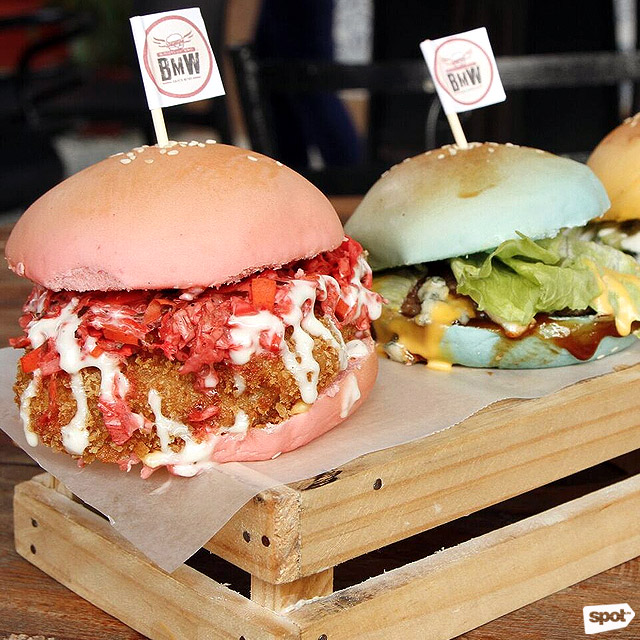 Burgers Meet Wings
BMW or Burgers Meet Wings uses all-natural colorants that give their burger buns a playful hue (P150/each variant). Order the Pink Burger (from beetroot and strawberry) made with grilled fish fillet with pink coleslaw and relish; Blue Burger (from blueberry) with beef patty, creamy blue cheese, lettuce, caramelized onions, and an extra cheesy sauce; Yellow Burger (from lemon and turmeric) with grilled chicken breast, honey mustard, relish, sliced onion, cucumber, and tomato; and the Green Burger (from pandan and malunggay) with mushroom patty, garlic ranch sauce, shredded lettuce, cheesy sauce, and caramelized onion. Pair any of their signature Fried Chicken Wings with your choice of sauce including Sweet and Chill, Texas BBQ, Cheesy Cheese, and Garlic and Parmesan (P99/four pieces and one sauce or six pieces and two sauces).
ADVERTISEMENT - CONTINUE READING BELOW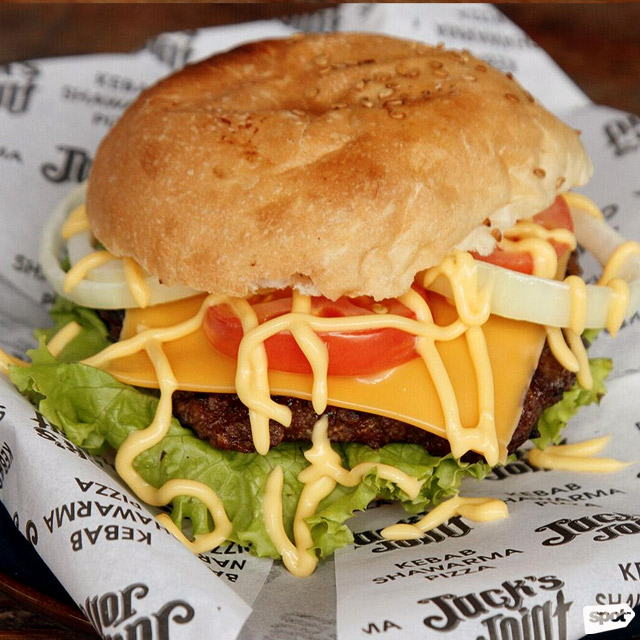 Jack's Joint
Scoot over to Jack's Joint to find the answer to all your Mediterranean food cravings. Their best-selling Shawarma (P155/100 grams and P95/60 grams) has thin slices of beef, fresh veggies, and a creamy yogurt sauce that seals the deal. The Kebab Rice Meals (P160/beef, P140/chicken, P195/lamb) will set you up for the night.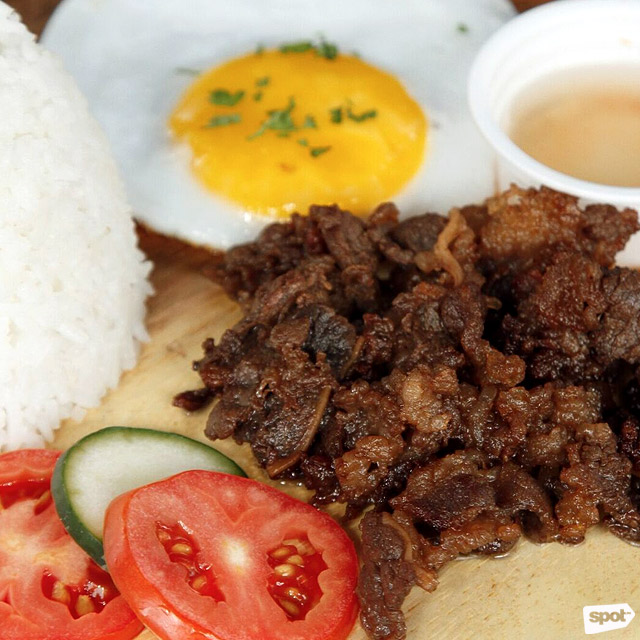 ADVERTISEMENT - CONTINUE READING BELOW
TAPAddiction
The scent of grilled beef tapa from TAPAddiction is hard to miss as it wafts invitingly near the entrance. The beef is thin, tender, and seasoned with just the right mix of salty, sweet, and savory. The complete Tapa Meal (P150/with rice and egg) is the ultimate Pinoy combo. Meanwhile, the Tapa Cheese Sandwich (P150), TAPAddiction's version of the Philly cheesesteak, is an extra cheesy sandwich encased in ciabatta bread with sautéed bell pepper, onions, and cheese.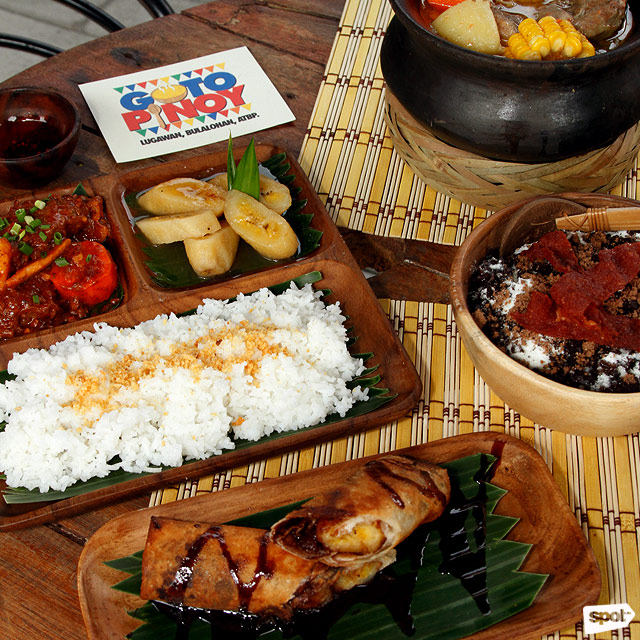 Goto Pinoy (Lugawan, Bulalohan Atbp)
For Goto Pinoy (Lugawan, Bulalohan Atbp), it all started with the broth that is a special family recipe and a top-secret mix of beef, pork, chicken, and veggies. Due to the broth's distinctive flavor, they decided to do variants of Pinoy favorites. For just P100, you can have the Gotong Adobong Manok or Baboy, Gotong Chicharong Baboy, or the sinful but tempting Gotong Chicken Skin. The Champorado with Bacon (P90) is a pleasant and surprising twist on the usual Pinoy chocolate porridge which uses Choc-Nut, Cream-O, and powdered milk topped with crispy bacon pieces. 
ADVERTISEMENT - CONTINUE READING BELOW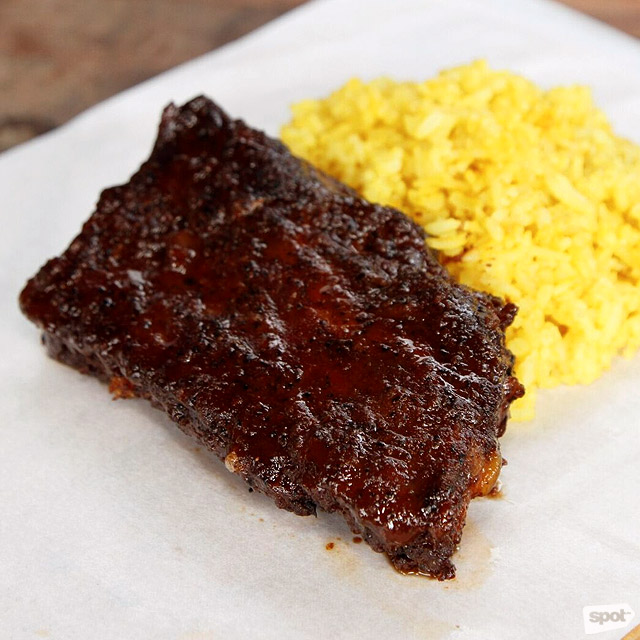 Barrel Smoker
Barrel Smoker gets serious with their barbecue by smoke-grilling their meats for at least five hours. Smoked Peri-Peri Chicken (P165/small, P185/large) with turmeric rice is a Portuguese chicken dish with loads of flavor. The Smoked Riblets with Turmeric Rice (P185) has a good Memphis-style dry rub and, combined with the hickory sauce, is an ode to true smoking tradition.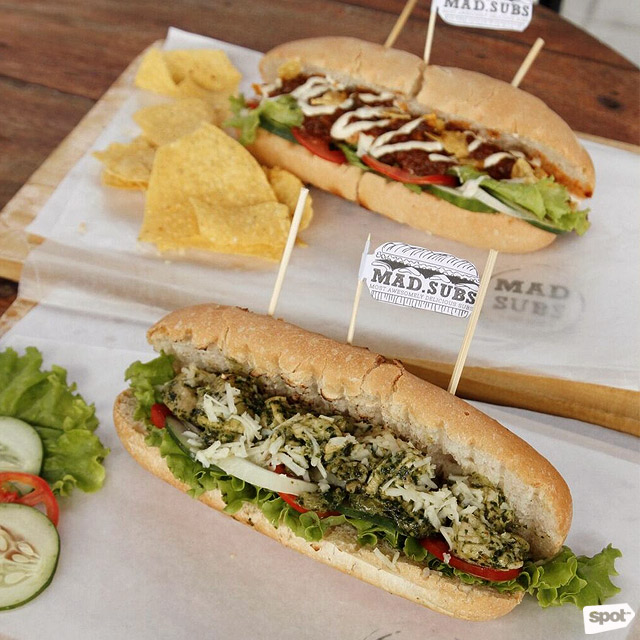 ADVERTISEMENT - CONTINUE READING BELOW
Mad Subs
If you're not in the mood for rice, a sandwich haven can be found in Mad Subs for the "most awesomely delicious subs" on the block. The MAD Taco Sub (P130) is stuffed with beef chili that's slow-cooked in Mexican spices on a six-inch toasted soft roll submarine bun with lettuce, tomato, onion, cucumber, cheese, and sour cream. Served with taco chips on the side, it's a complete meal in itself.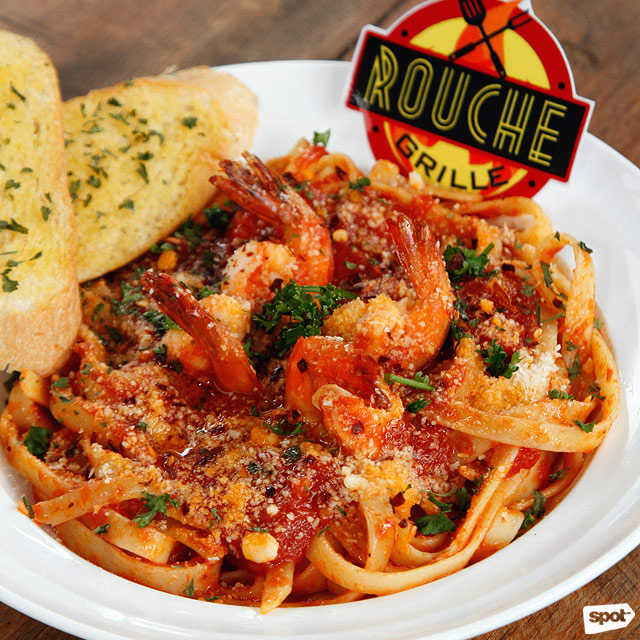 Rouche Grille
Rouche Grille has a little bit of everything, with steaks, pasta, and pizza. For healthy eaters, the Pick & Roll Fish (P170) is a grilled fish fillet with creamy white sauce, while the Japanese-style Chicken Yakitori (P160) has a nice teriyaki glaze to complement its tender chicken pieces. The Pasta Arrabiata (P175) has a spicy sauce that combines tomatoes, garlic, red chili peppers, and olive oil. 
ADVERTISEMENT - CONTINUE READING BELOW
Brothers' Blends
Brothers' Blends is a farm-to-table café whose ingredients are sourced from local farms. All the beverages are made from scratch daily at the store. This café was born with the goal of serving their customers the healthiest drinks and food they can provide. Their Aeropress Barako Brew (P70/regular, P80/large) made with locally grown beans yields a smooth and rich cup of coffee. The Ice Cream in a Coconut Shell (P90) is a fresh, tropical dessert with all-natural coconut-guyabano ice cream finished with coconut shreds, mango, sweet corn, and peanuts and is charmingly served on a coconut shell. 
Share this story with your friends!
---
Help us make Spot.ph better!
Take the short survey
Load More Stories