You shouldn't miss the hamachi or soy sauce ice cream at Hibana
Japanese, anyone?
Hibana
G/F The Grand Midori, Bolaños Street, Makati City
Open daily from 11 a.m. to 10 p.m.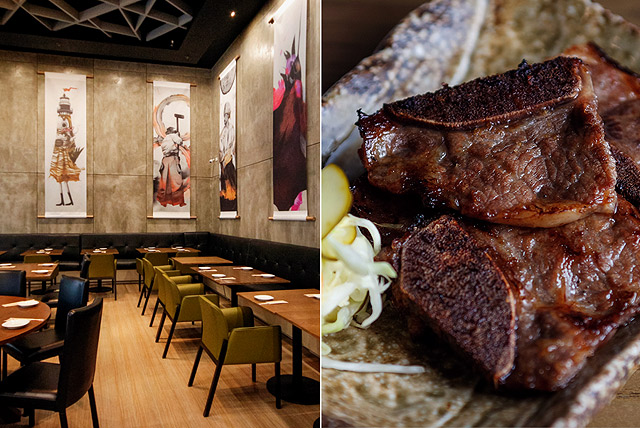 (SPOT.ph) When the world is falling apart—and in many ways it currently is—you have to find joy in the little things. Staying sane is the unspoken theme of 2017. In the heart of Makati, on a relatively sleepy street, there is a space that could help you in that department.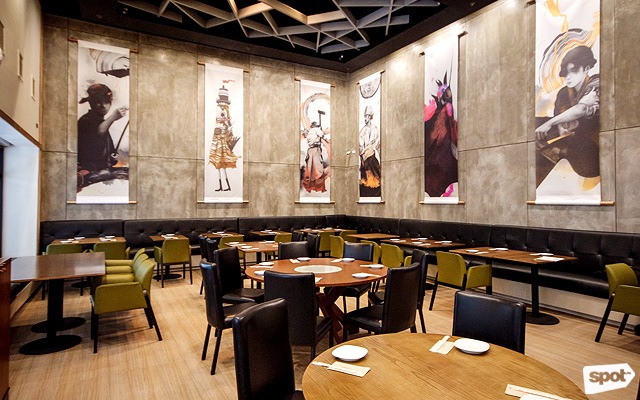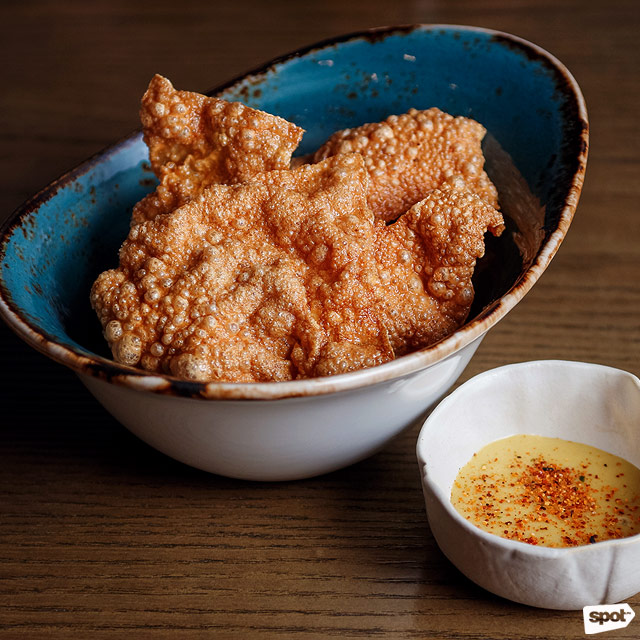 Prawn Crackers with Uni Sabayon Dip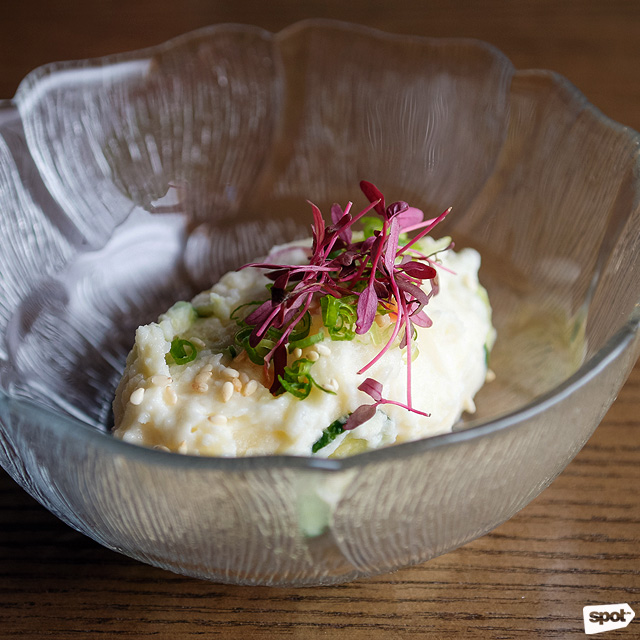 Japanese Style Potato Salad
Hibana combines food you can relish with a comfortable but chic atmosphere you'll let yourself sink into. It's a simple two-page menu by Chef Mark Tan that's brimming with possibility in that what's familiar to you can and will take an adventurous turn. The Prawn Crackers with Uni Sabayon Dip (P130) is a great example of just that; for one thing, they're not 85% air. The Japanese Style Potato Salad (P65) is delightful.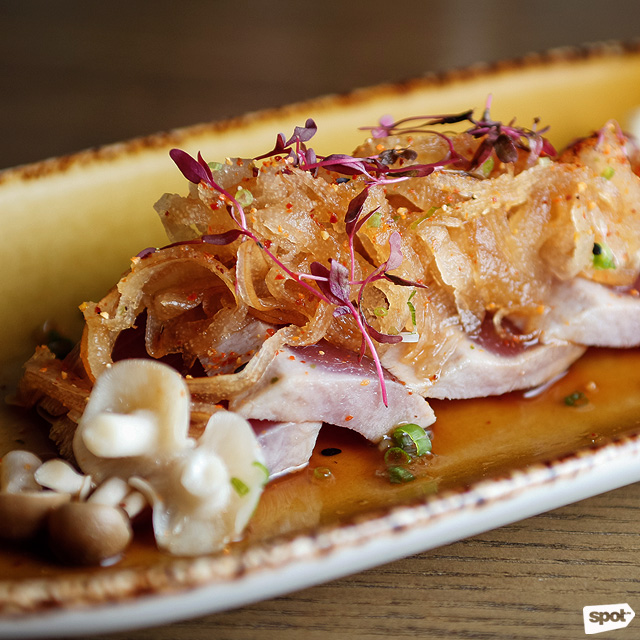 Yellowfin Tuna Tataki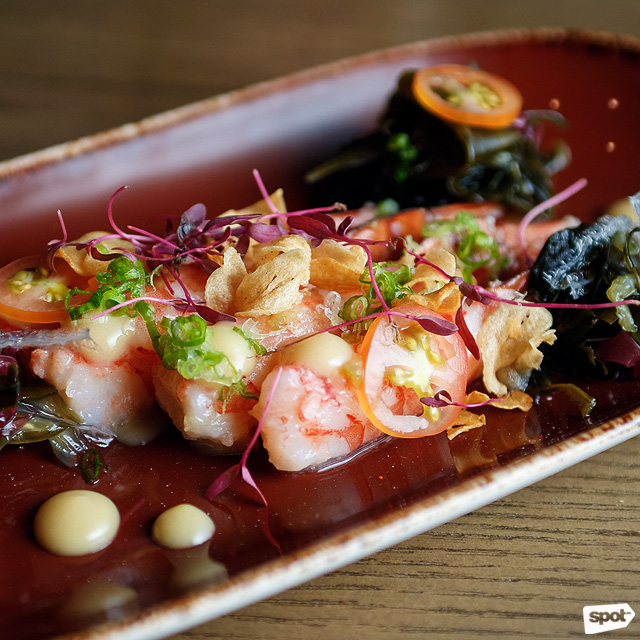 Chilled Miso Butter-Poached Prawns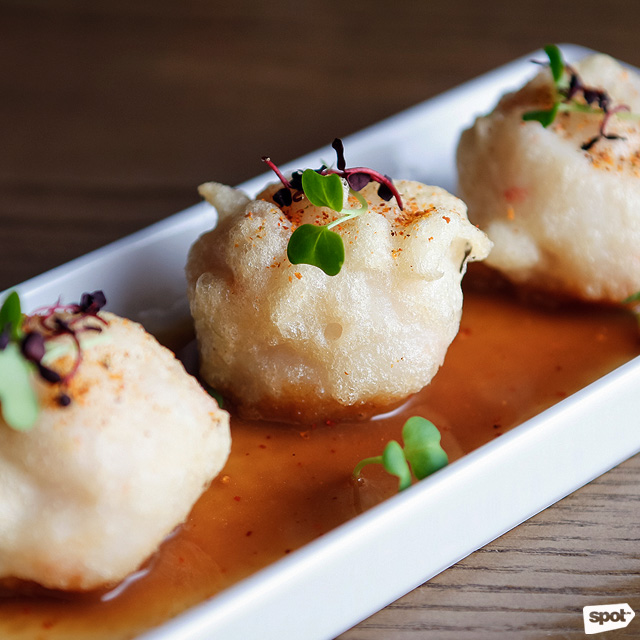 Hokkaido Scallop and Snow Crab Mousse
You'll want to stick around to gander at the murals just because they're fascinating, and you're going to want food to go with it. After all, we're just getting started; we recommend the Yellowfin Tuna Tataki (P285), which is pan-sweared to perfection, and the Chilled Miso Butter-Poached Prawns (P295); and yes, it's every bit as good as it sounds. For something soft and subtle—and we could all use some of that these days—there's the Hokkaido Scallop and Snow Crab Mousse (P495).
ADVERTISEMENT - CONTINUE READING BELOW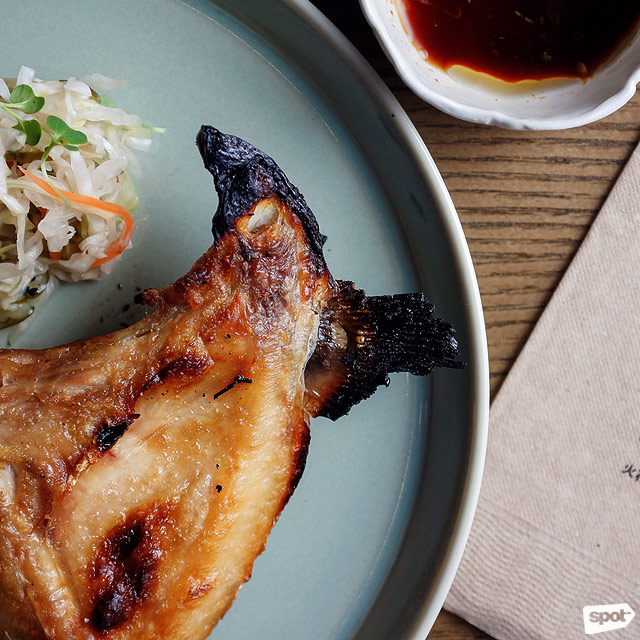 Hamachi Kama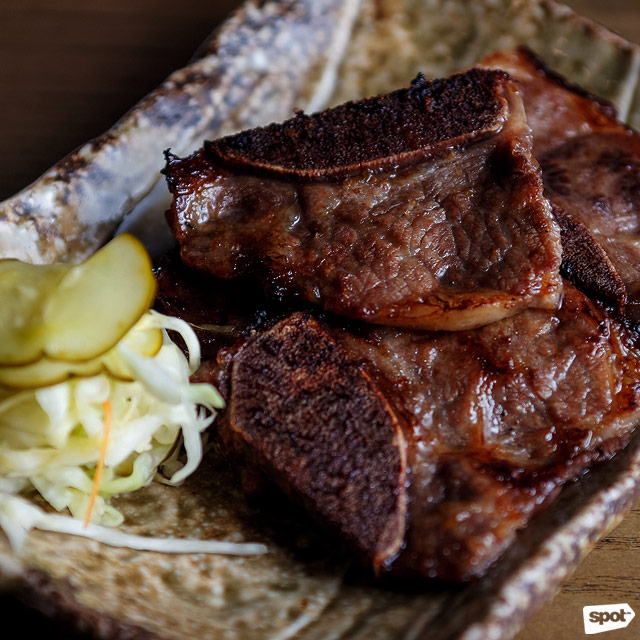 U.S. Short Rib Yakiniku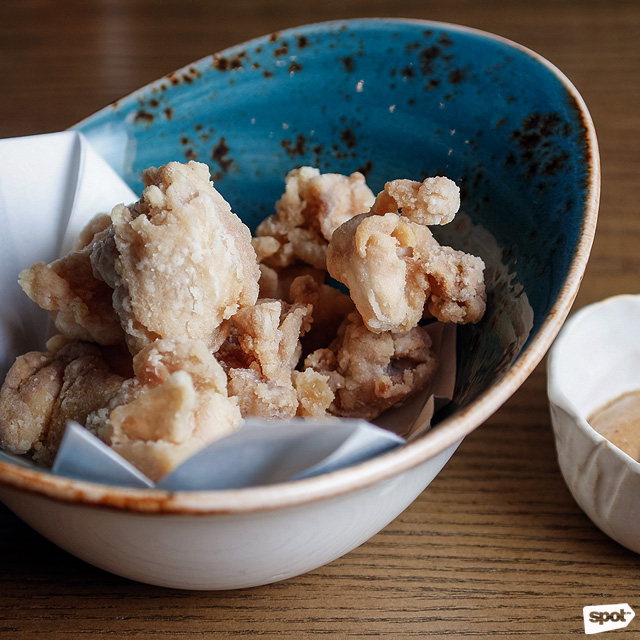 Chicken Karaage
A running theme in Hibana is food that comes with sauce, which it might not actually need, but is incredible anyway. The Hamachi Kama (P895) is tops in that regard, but the U.S. Short Rib Yakiniku (P270) and the Iberico Tonkatsu (P595) also pass that test with flying colors. For something more gutsy, you must have the Chicken Karaage (P230).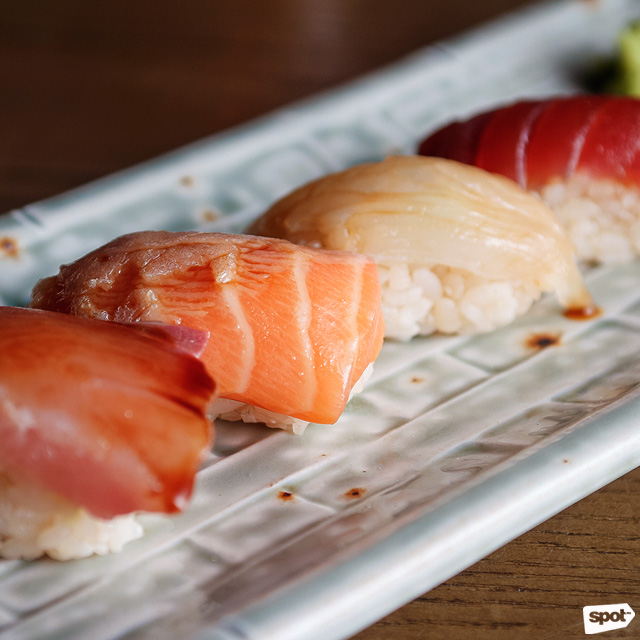 Japanese Halibut and Salmon Toro
It's under dessert, but ideally you could order the Japanese Persimmon Sorbet (P65) as a palate cleanser before putting together something more customized—between the Nigiri Sushi and the Kushiyaki, they've got you covered. Take Japanese Halibut (P280), Salmon Toro (P250), a stick of Chicken Skin (P55), and Pork Belly Kushiyaki (P65) and slap it all on some rice. And if anyone judges you, well, they're wrong. Especially when you're washing it down with a Damigella (P400) or a Raisin Black Tea (P120).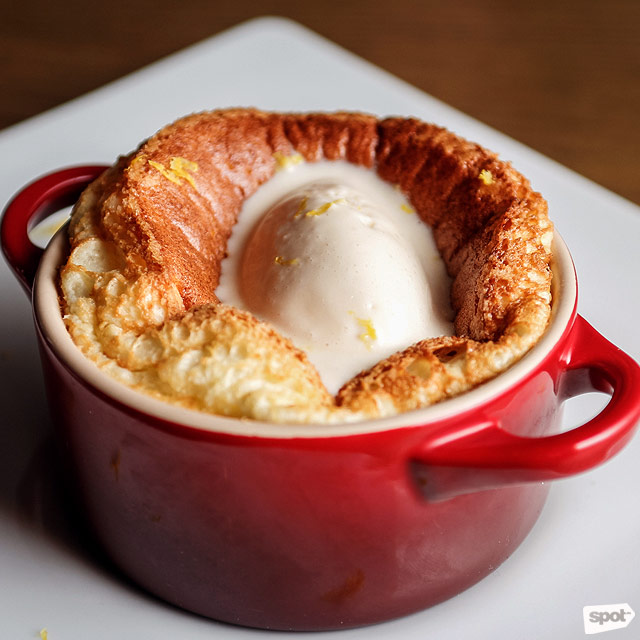 Kyoto Miso Souffle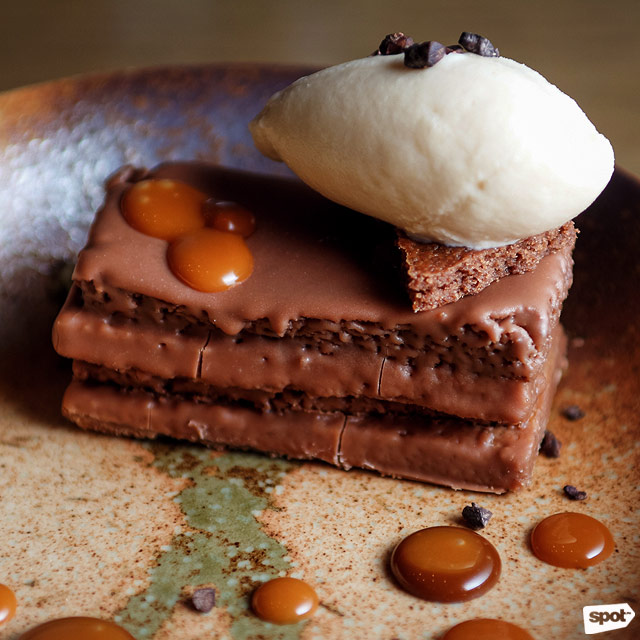 Coffee Layered Cake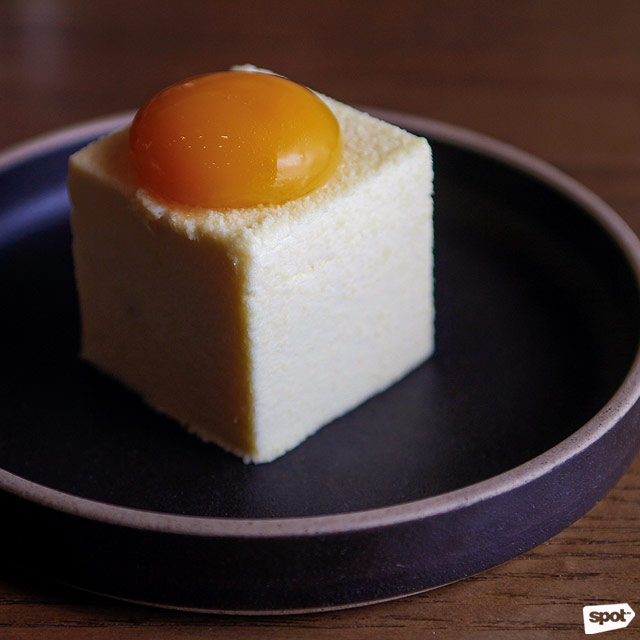 Mango Passionfruit Mousse Cake
To cap it off, the Kyoto Miso Soufflé (P195) is nigh on unbeatable, but there's something for everyone here, from the Coffee Layered Cake (P225) that looks strangely like a TimTam, to the Mango Passionfruit Mousse Cake (P250). If you haven't tried Soy Sauce Ice Cream (P65), here's your chance—apparently it's everywhere.
If you never thought that great visuals and a sense of adventure could mesh with the comfort of the familiar, Hibana is out to test your capacity for dissonance as far as it can go. Safe to bet that it'll be pretty far.
ADVERTISEMENT - CONTINUE READING BELOW
Photos by Jericho San Miguel
Load More Stories