Sneak Peek: Kushikatsu Daruma at Uptown Mall, Uptown Bonifacio
The Osaka favorite is now in Manila!
Kushikatsu Daruma
2/F Uptown Mall, Uptown Bonifacio
Contact: 946-7374
Open daily from 11:30 a.m. to 3 a.m.*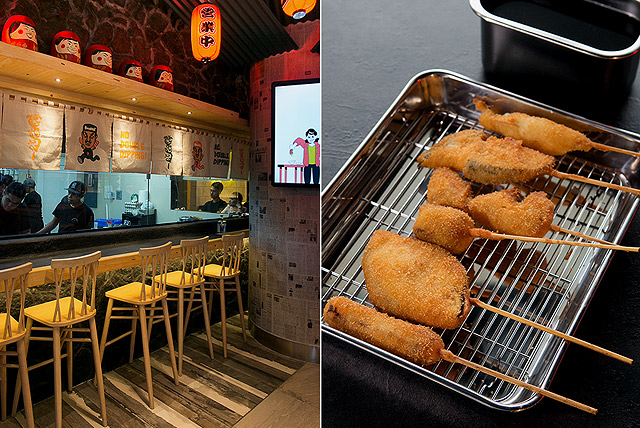 (SPOT.ph) If you're a regular traveler to Osaka, you've probably already tried kushikatsu at Kushikatsu Daruma. Kushikatsu is simply breaded and fried food on a stick, and while you can turn almost anything edible into kushikatsu, the usual favorites are beef skewers, chicken fillets, and vegetables.
If you haven't been to Osaka, don't worry—you won't have to wait for that seat sale to Japan to try these tasty skewers. Kushikatsu Daruma now has a branch at Uptown Mall!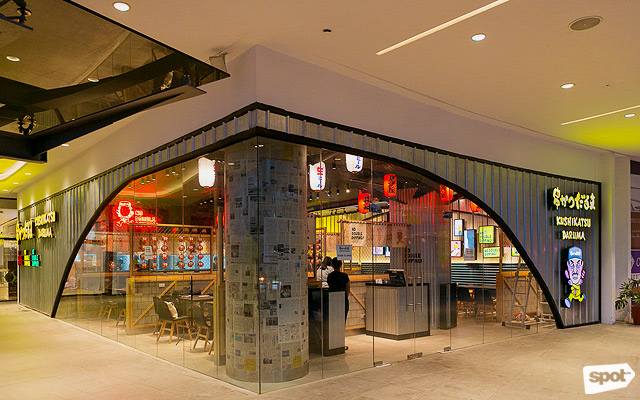 ADVERTISEMENT - CONTINUE READING BELOW
Charles Paw, who also owns foodie favorites Wrong Ramen, Bad Bird, and Fowlbread, shares that Kushikatsu Daruma is always on his itinerary whenever he visits Osaka. "In Osaka, parang there are around 13 stores and sobrang daming tao lagi," says Charles, "So I felt it's going to be a hit with the local crowd." After all, who doesn't love fried food?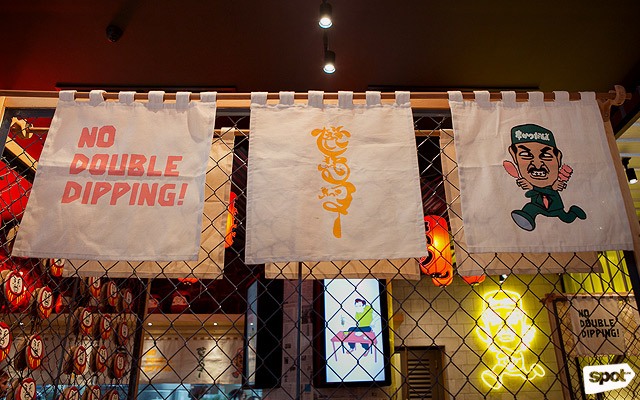 CONTINUE READING BELOW
Recommended Videos
Those who have been to the branches in Osaka may be pleasantly surprised when they step inside the first local Kushikatsu Daruma. Charles shares that the Japanese company allowed them to change over 90% of the original design. Hence, while the restaurants at Osaka follow a more minimalist look and bamboo-heavy interiors, Charles opted for a more vibrant, youthful feel for the branch in Manila.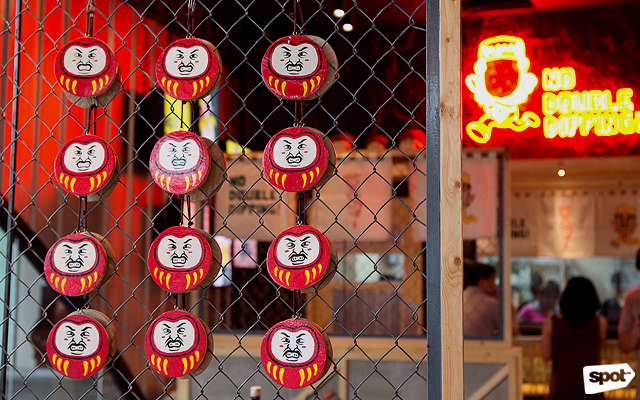 ADVERTISEMENT - CONTINUE READING BELOW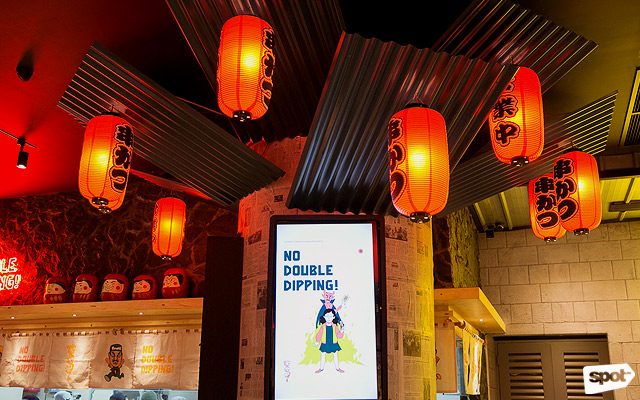 The final design was born from collaborative effort. Hydra Design Group was behind the overall look—KM Design was in charge of the interiors, which combines the traditional elements of the Osaka branches with modern touches. Bamboo is still present, as well as squares of canvas hanging all over and branded with the face of Mr. Ueyama, Kushikatsu Daruma's mascot (he's based on the company president!). Dan Matutina's Plus 63 Design Co. took charge of branding along with creating quirky illustrations and the cheeky animation (done with the help of Acidhouse) broadcast on flat screens, showing just what might happen when you double-dip your sticks in the special sauce (some of them involve being squashed by sumo wrestlers and rocketing off into space).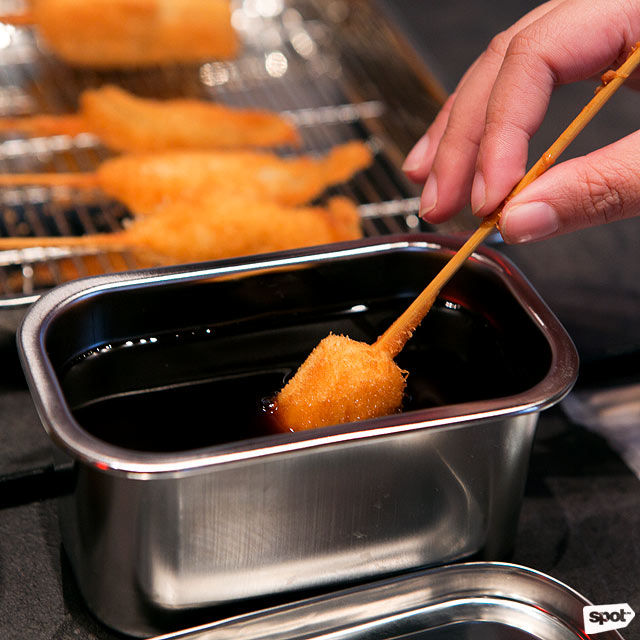 ADVERTISEMENT - CONTINUE READING BELOW
No double-dipping!
"Gusto namin fun na hangout na place ang Kushikatsu kasi ang kushikatsu di siya complicated na food," shares Charles. It really doesn't get simpler than fried food on a stick, but because the restaurant uses only the best ingredients they can find, each one is bound to be addicting. For now, Kushikatsu Daruma will serve 30 different types of skewers that you can also get as part of set meals, but once everything's been rolled out, there will be 42 sticks on the menu, and they plan to expand the list constantly.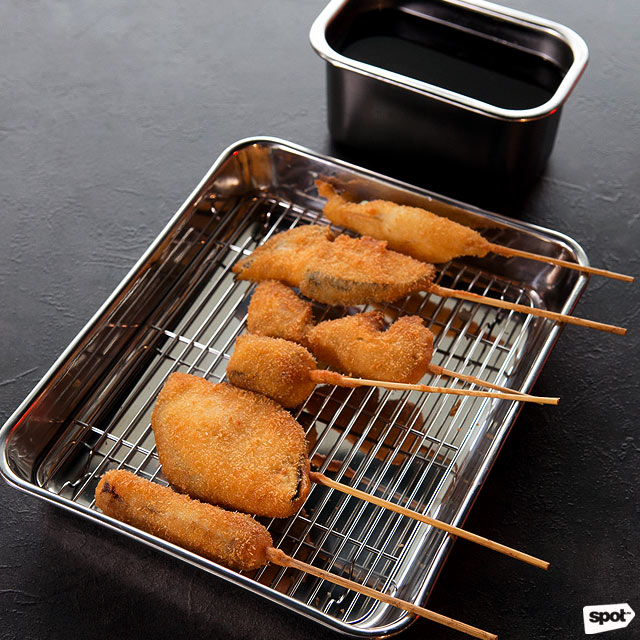 Bottom to top: Beef, Aubergine, Foie Gras, Potato, Aubergine, Asohos
The breadcrumbs and sauce Kushikatsu Daruma uses are the same as those used in Osaka. Skewers are seasoned lightly and fried with almost no hint of oil, so it's easy to finish off five, 10 or even 20 sticks especially with beer or cocktails—which they also plan to serve.
ADVERTISEMENT - CONTINUE READING BELOW
It's easy to feel overwhelmed with all the options, but the meat skewers are always safe choices. The Chicken may remind you of chicken nuggets, but here you're actually getting the real deal and no fillers. The Beef stays amazingly tender underneath the breading.
Even the pickiest eaters will eat veggies if it's fried the way they do it here. The huge Aubergine or eggplant slices are melt-in-your-mouth soft, which makes them a delight to eat especially with the crisp outer coating. The Leeks has tiny bulbs that are breaded and fried—it's like biting into milder and sweeter onion rings.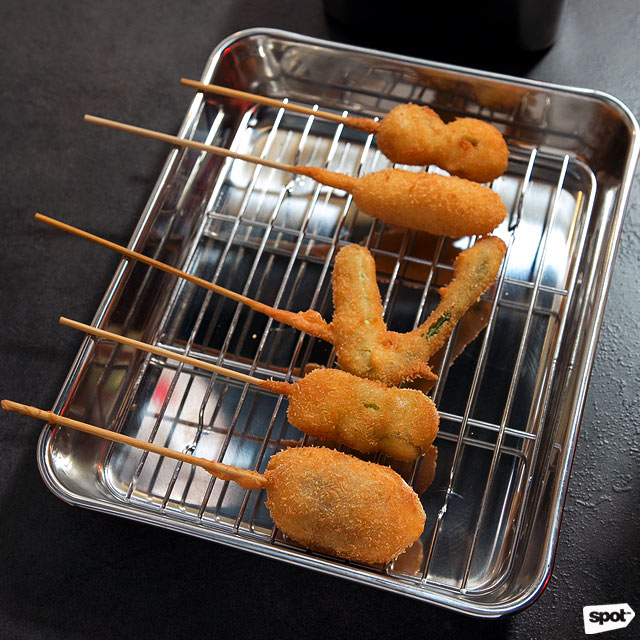 Bottom to top: Gyoza, Leeks, Asparagus, Mochi, Quail Egg
Once you've tried the basics, you can venture into more adventurous but equally tasty skewer territory. The Asohos are tiny whole fish with a mild briny taste. There's also Gyoza stuffed with ground pork, chopped carrots, and green onions—the breadcrumbs make this a tad different from regular fried dumplings. You can also get Quail Eggs, which has three whole eggs on a stick, if you're not watching your cholesterol. And then, there's the Foie Gras. While served as a single cube of breaded duck liver on a stick, it's enough to make you feel like your arteries are clogging—but you won't find it in yourself to mind.
ADVERTISEMENT - CONTINUE READING BELOW
You come to Kushikatsu Daruma for the sticks, but the sauce is a surprising scene-stealer. While it looks like regular katsu sauce, Kushikatsu Daruma's signature sauce is light but packed with sweet, sour, and umami flavors that are too good not to savor. And yes, a neon sign and fun cartoon illustrations remind you not to double-dip—but with the way the sauce fully coats the breadcrumbs, double-dipping will be the last thing on your mind.
None of the three elements—sauce, breading, and filling—fall apart before they reach your mouth. It seems simple but it lets you know that here at Kushikatsu Daruma, you are getting only the best in fried stuff. Uncomplicated, but also undeniably good.
Photos by Ian Santos
*Kushikatsu Daruma will be on soft opening on March 26. Soft opening hours are 6 p.m. to 11 p.m. Regular hours will be implemented starting March 31. Prices to be determined.
*Update: The first version of this article credited Plus 63 Design Co. for both interiors and branding. This has since been corrected.
Share this story with your friends!
---
Help us make Spot.ph better!
Take the short survey
Load More Stories