Nikuya is just the thing for the person who can never decide what to order
Japanese hot pot and Korean barbecue, all under one roof.
Nikuya
G/F Estancia Mall, Capitol Commons, Pasig City
Contact: 0927-144-2881
Open daily from 11 a.m. to 11 p.m.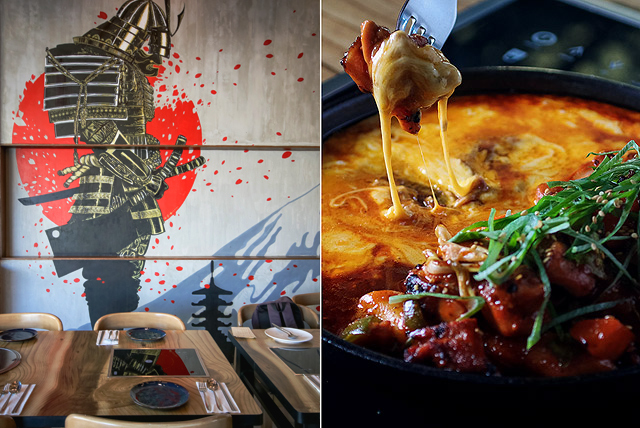 (SPOT.ph) Like Korean and Japanese food? These two Asian cuisines are crowd favorites, with restaurants that specialize in one or the other cropping up all over the Metro in recent years. But what if you're in the mood for both? Whether you're an indecisive eater or just want to have it all, Nikuya in Estancia Mall, Capitol Commons is the place to visit. The restaurant brings Korean barbecue and shabu-shabu, as well as traditional Korean and Japanese dishes, together under one roof.
ADVERTISEMENT - CONTINUE READING BELOW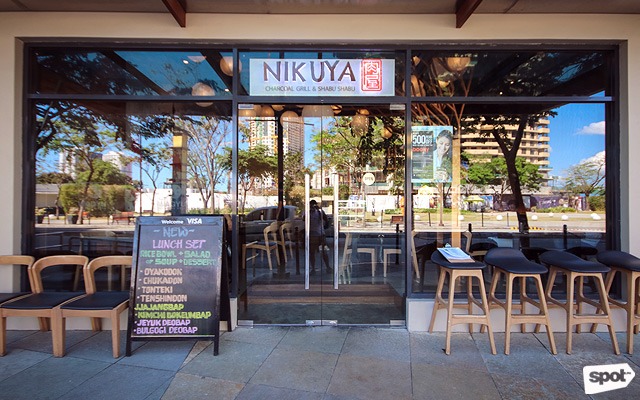 Owner Grace Lee got the idea from one of her trips to Tokyo three years ago. "I noticed that a lot of Japanese restaurants had Korean items in their menu," she shares. "And this was in Tokyo so I found it interesting." And with the steadily rising popularity of Korean cuisine as well as the solid following Japanese food already has locally, Grace felt that the dining scene was ready for something similar.
ADVERTISEMENT - CONTINUE READING BELOW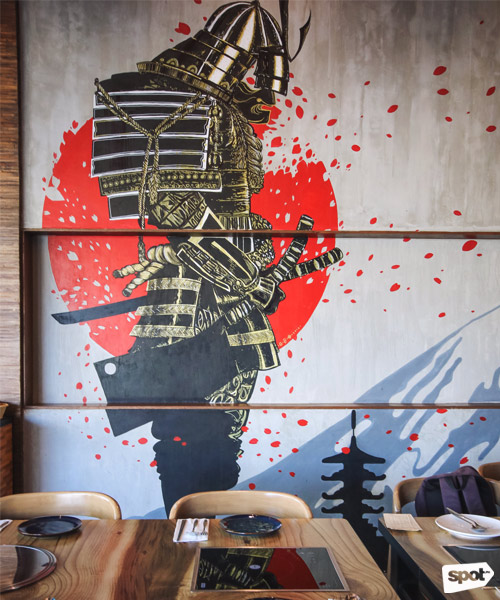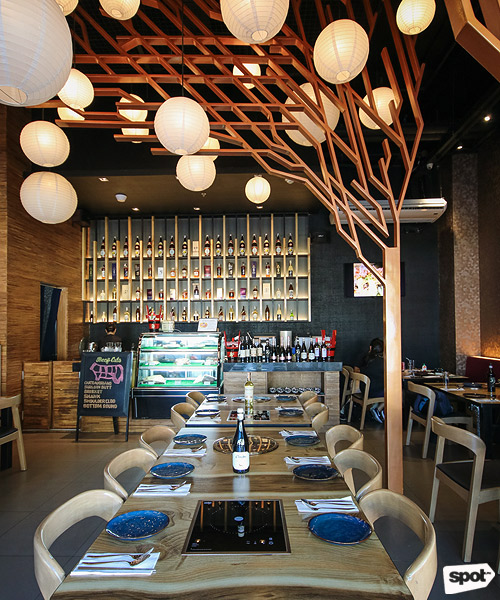 ADVERTISEMENT - CONTINUE READING BELOW
Anyone who has eaten Korean barbecue and shabu-shabu knows that both dishes take time to cook and prepare, so it helps that Nikuya makes you feel comfortable enough to linger over your food and drinks. The place is minimally decorated, with only an accent mural featuring a samurai to make the wood-heavy interiors pop. Tables are large enough for groups, each equipped with a barbecue grill and a stove for hotpot. It's just the right place for sharing a meal with friends or family.
While hotpot cooking is popular in Japan and the smokeless charcoal grill concept is Korean, Nikuya blurs the lines between the two cuisines. So you will find Korean fishcakes and dumplings in your shabu-shabu platter and you can get karubi or Japanese short ribs for your barbecue. It makes dining at Nikuya a novel experience.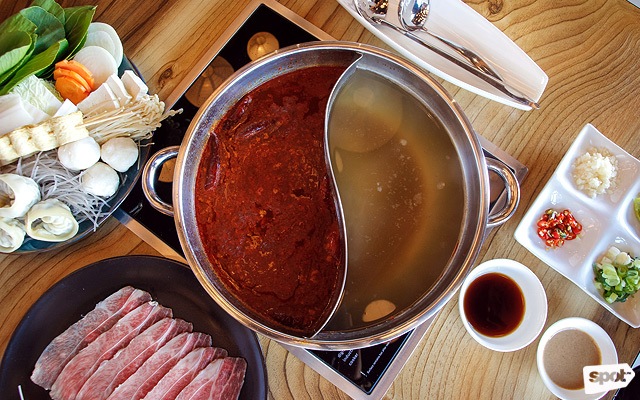 ADVERTISEMENT - CONTINUE READING BELOW
Shabu Shabu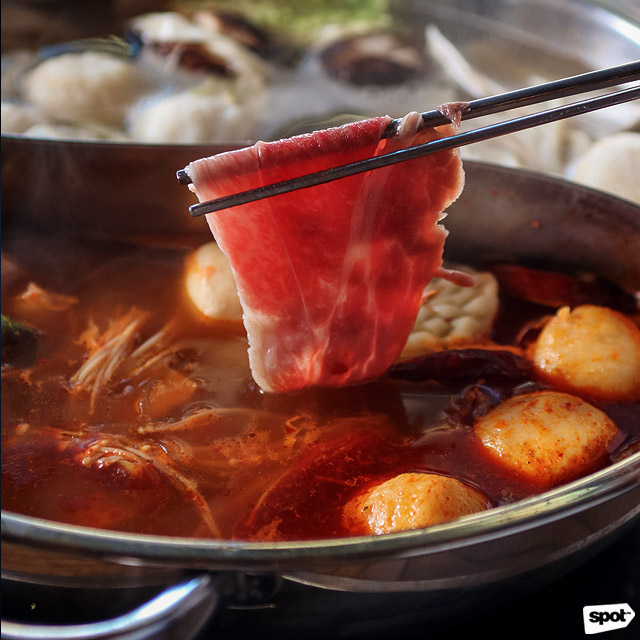 Melt-in-your-mouth beef
What sets apart the Shabu Shabu (P598) here is the beef. At Nikuya, they only use Japanese black cattle beef or A5 Wagyu beef, but have kept the prices surprisingly affordable. The beef strip practically melts on your tongue after just a quick swipe in the broth, which you can get in two flavors. The Pork and Chicken has a meaty flavor that delights without overwhelming the palate. The Spicy, on the other hand, doesn't hold back in terms of heat—trust us, you'll feel it all the way to your sinuses. An order of hotpot will also get you vegetables, fish balls, squid balls, Korean dumplings and fishcakes, and cheese balls that have a sweet, gooey center.
ADVERTISEMENT - CONTINUE READING BELOW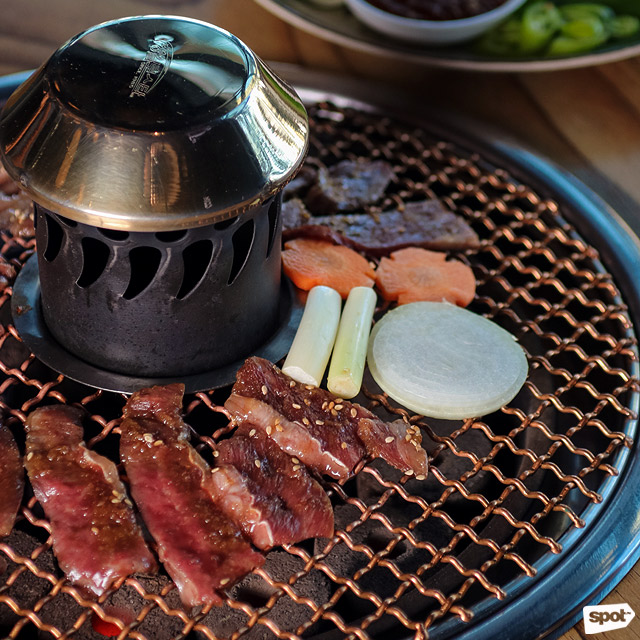 Karubi
Nikuya also offers pork, ox tripe, and ox tongue for their Charcoal Grill, but keep your eyes on the prize and order the Wagyu. You won't be disappointed with the Karubi (P498), surprisingly one of the more affordable items on the menu. The boneless short ribs is mildly seasoned to highlight the smoky flavor from the charcoal, with the tiniest hint of sweetness from the barbecue marinade. But if you enjoy bolder flavors, every order of barbecue comes with ssamjang or spicy Korean dipping sauce.
ADVERTISEMENT - CONTINUE READING BELOW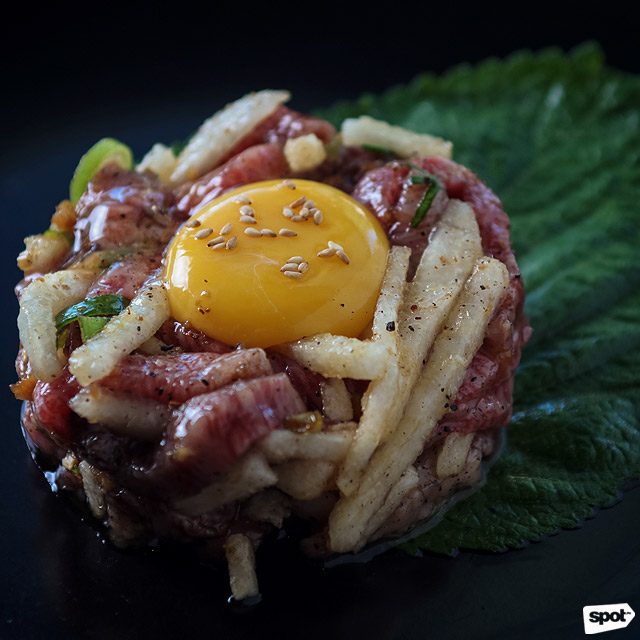 Yukwhe
The Yukwhe (P338/Japanese Black Cattle, P688/Japanese A5 Wagyu) is another showcase of just how good the beef here is. Yes, it's a dish made up of raw beef—it is a tartare after all—but stay with us here. There's no question that you're getting only the best with every slightly chewy but deliciously tender morsel you pop in your mouth, with the zesty sesame sauce highlighting without overpowering any of that meatiness.
ADVERTISEMENT - CONTINUE READING BELOW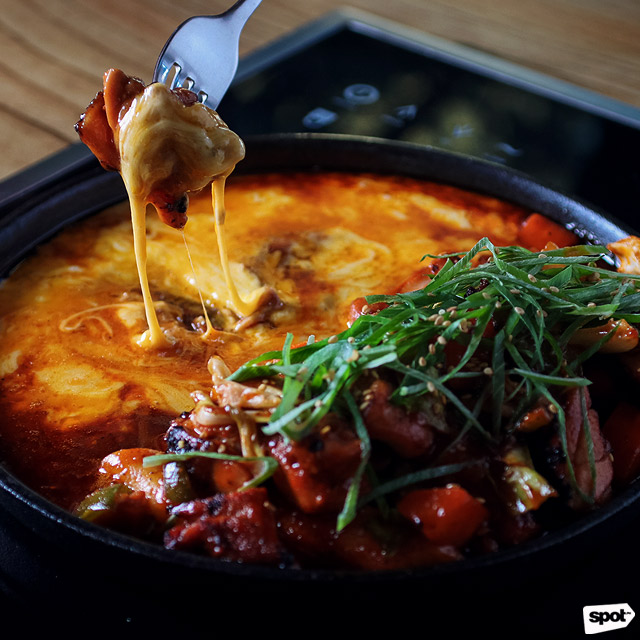 Dak Galbi
If you really must have something that isn't beef, order the Dak Galbi (P628). Adding cheese to almost everything has become a food trend in Korea, shares Grace, and we understand why. The sticky sweet-spicy sauce already makes the chicken thigh fillet in this dish tasty, but when you add melted mozzarella cheese? It's so indulgent but we can't find it in ourselves to refuse.
ADVERTISEMENT - CONTINUE READING BELOW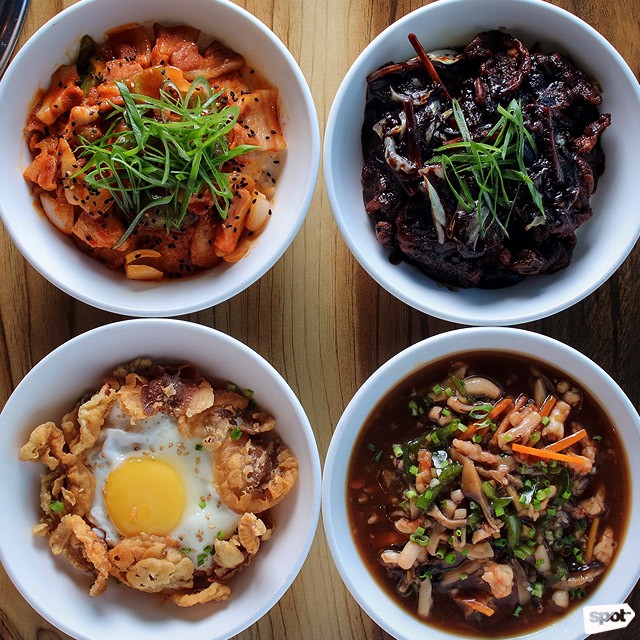 Lunch Sets
While most of Nikuya's dishes are good for sharing, they also offer both Japanese and Korean rice bowls as part of their Lunch Sets (P250). Each set comes with soup, salad, and dessert of the day.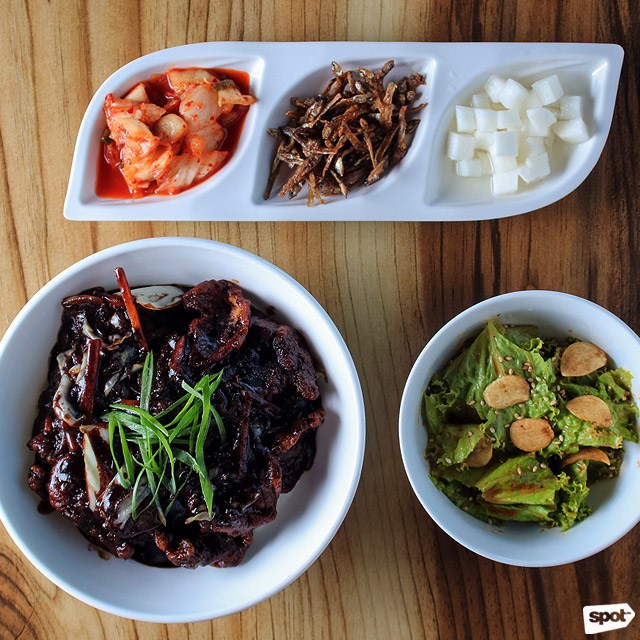 ADVERTISEMENT - CONTINUE READING BELOW
Jjangbap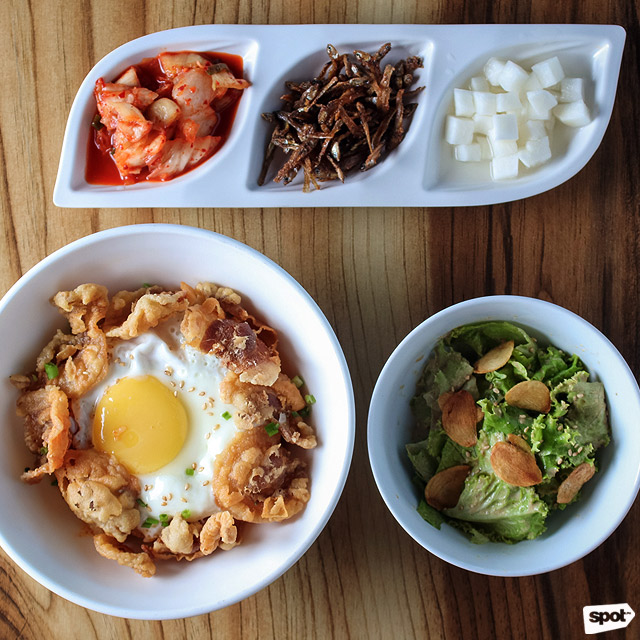 Kimchi Bokkeumbap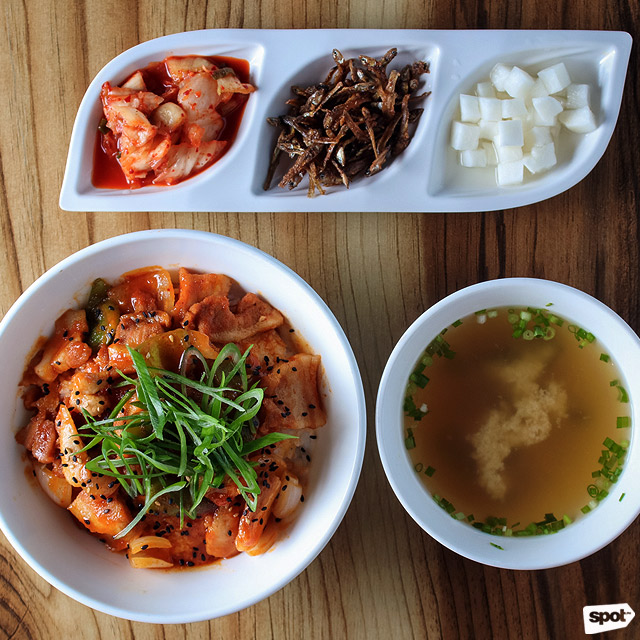 ADVERTISEMENT - CONTINUE READING BELOW
Jeyuk Deobap
The Jjangbap has crunchy deep fried pork belly that's tossed in a lip-smacking black bean sauce with vegetables while the Chukkadon has chopped prawns, squid, and fish fillet cooked in a thick sauce that's heavily spiced with ginger. Those familiar with kimchi fried rice might actually find the Kimchi Bokkeumbap, with deep fried pork belly and a sunny-side-up egg a little spicier than usual but still with that distinct tartness. The pork belly of the Jeyuk Deobap is cut satisfyingly thick with a sauce that leans more towards spicy—a delicious combination with the warm rice.
Aside from being a restaurant, Nikuya also houses a small meat shop where guests can purchase their own supply of Japanese black cattle or A5 Wagyu. One thing's for sure: At Nikuya, they're serious about their beef.
Photos by Jericho San Miguel
Load More Stories