Bluesmith Coffee gives the humble burger steak a gourmet twist
...aside from serving top-notch coffee.
Bluesmith Coffee
MJ Plaza, 2310 Chino Roces Avenue, Magallanes, Makati City
Contact: 729-0284
Open from 7 a.m. to 10 p.m. (Monday to Thursday), 7 a.m. to 11 p.m. (Friday), 8 a.m. to 8 p.m. (Saturday), and 8 a.m. to 5 p.m. (Sunday)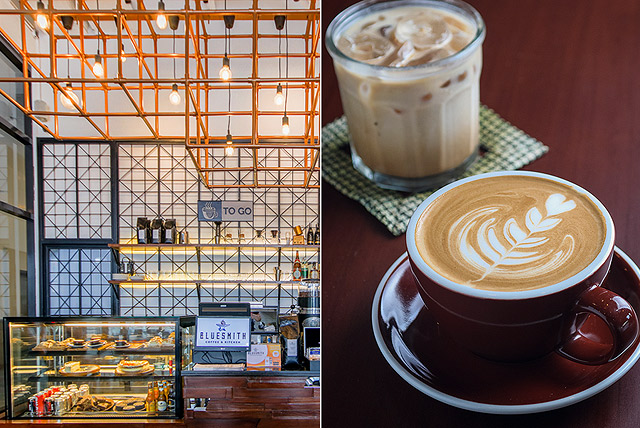 (SPOT.ph) With the stress that comes with a daily nine-to-five grind, we are always on the lookout for places that let us hide away if only just for a little while. Luckily, coffee shops that offer quiet time abound in the Metro, even in busy Makati City. One such spot hidden on the ground floor of MJ Plaza along Chino Roces Avenue is Bluesmith Coffee.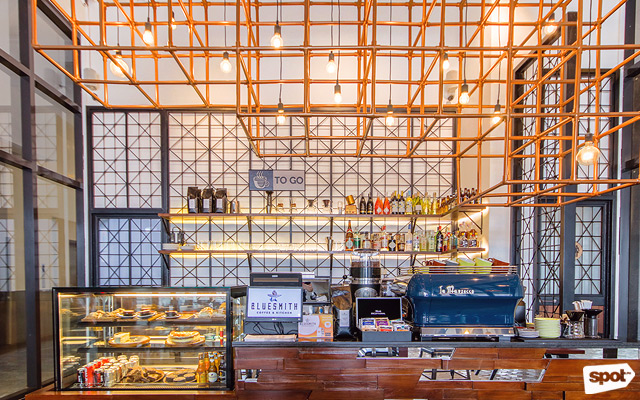 ADVERTISEMENT - CONTINUE READING BELOW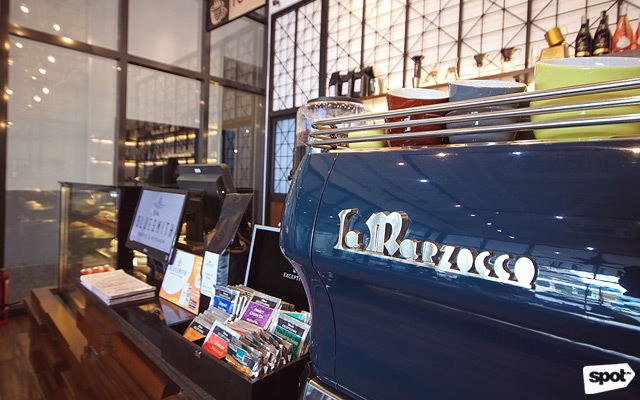 CONTINUE READING BELOW
Recommended Videos
The coffee shop manages to be quaint and cozy despite its location—it helps that they are a few meters away from the busy thoroughfare, separated from it by a driveway. Bluesmith takes inspiration from the industrial-inspired aesthetic that's so trendy right now with exposed light bulbs and brass geometric designs, but they set themselves apart by keeping the décor simple for a polished look. Floor-to-ceiling glass windows also make the place look and feel more inviting. 
If you've been to Equatorial Coffee in Katipunan, Quezon City, you might think that Bluesmith Coffee looks familiar—the metal accent wall behind the counter certainly is. It won't be a surprise to find out the two cafes are owned by the same team. But this time, owner Miguel Macaalay and his mother partnered up with Martin Lorenzo, former owner of Pancake House, to bring another version of their coffee shop to a different crowd.
ADVERTISEMENT - CONTINUE READING BELOW
If the challenge at Equatorial Coffee was how to keep their coffee and food at top-notch quality while maintaining student-friendly prices, Miguel and his partners knew that the Makati crowd, mostly composed of professionals and office employees, had more spending power. This gave the Bluesmith team more freedom to play around with pricier ingredients—Angus and Wagyu, for example, or truffle. Still, the price point remains affordable, with no dish going over P400.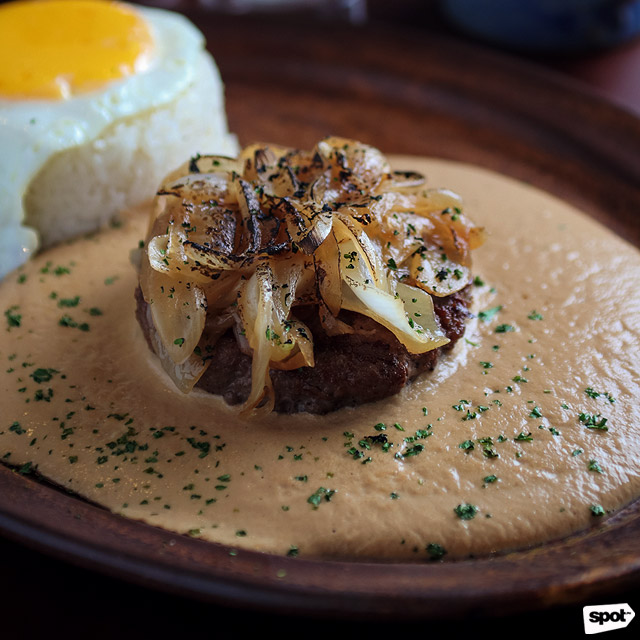 Wagyu Beef Steak
"The food we serve here is comfort food but not regular comfort food," says Miguel. "It's the middle ground between your everyday and your gourmet. It's elevated comfort food." Perhaps their best showcase of this is the Wagyu Beef Steak (P360) which, Miguel shares, was inspired by a certain food chain's burger steak. The patty is cooked medium for beef that is fork-tender and falls apart in your mouth in a burst of peppery goodness, with the milky gravy and caramelized onions providing the perfect creamy-sweet contrast. With the runny sunny-side up egg and rice, it is comforting in its familiarity, but also leveled up quite a bit.
ADVERTISEMENT - CONTINUE READING BELOW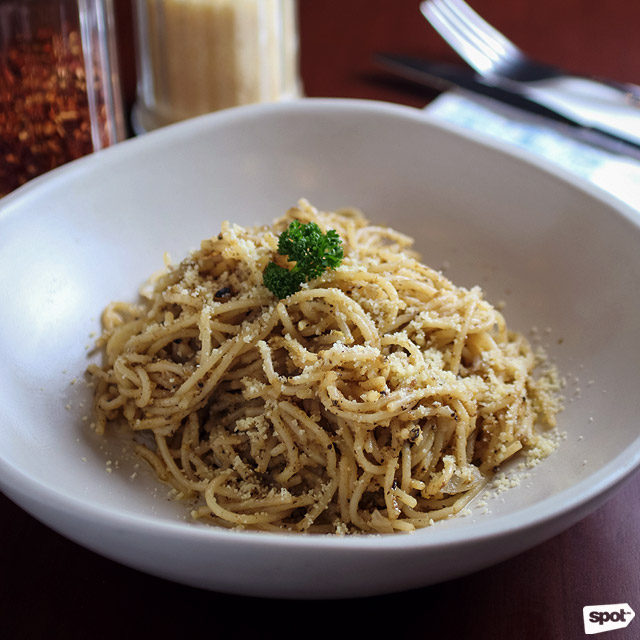 Creamy Pasta Tartufo
For something lighter, have the Creamy Pasta Tartufo (P340). There's no question that truffle is there, but the sauce is seasoned with restraint so you get that distinct richness without overwhelming your palate.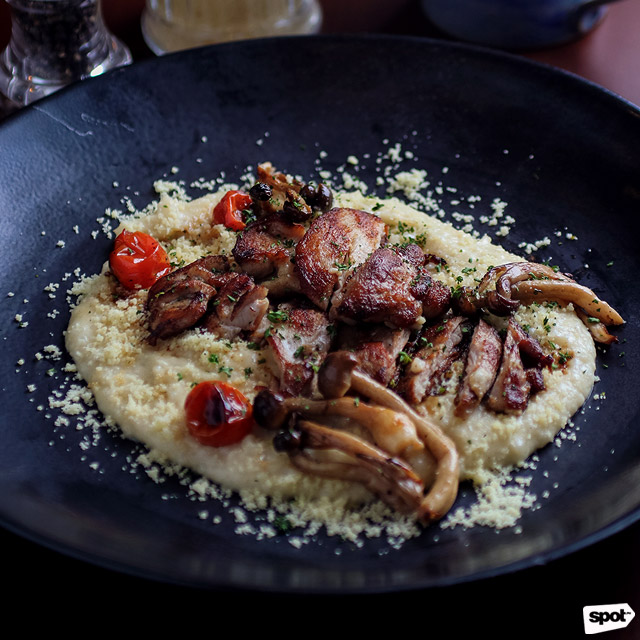 Chicken Mushroom Risotto
Risotto isn't a dish you'd expect from a coffee shop, but Bluesmith Coffee offers a mean one with the Chicken Mushroom Risotto (P340). The dish has a velvety mouth feel that is just delightful while the grilled chicken strips provide most of the flavor with strong smoky notes. Still, you get more with the earthy bunashimeji mushrooms, with a mild richness that resembles truffle, and the juicy cherry tomatoes.
ADVERTISEMENT - CONTINUE READING BELOW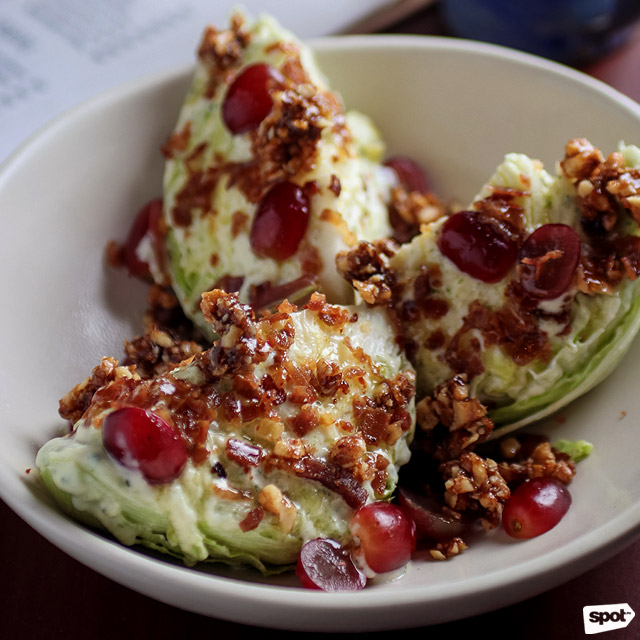 Honey & Bleu Cheese Wedge
Not a salad person? It's never too late to break out of your comfort zone—why not start with the Honey & Bleu Cheese Wedge (P260)? This bowl is incredibly filling with wedges of iceberg lettuce. The sharp blue cheese dressing is punctuated by bacon crisps, sweet grapes, and honey-candied walnuts that are so addicting, we wish we could take home a bottle of them (pretty please, Bluesmith!).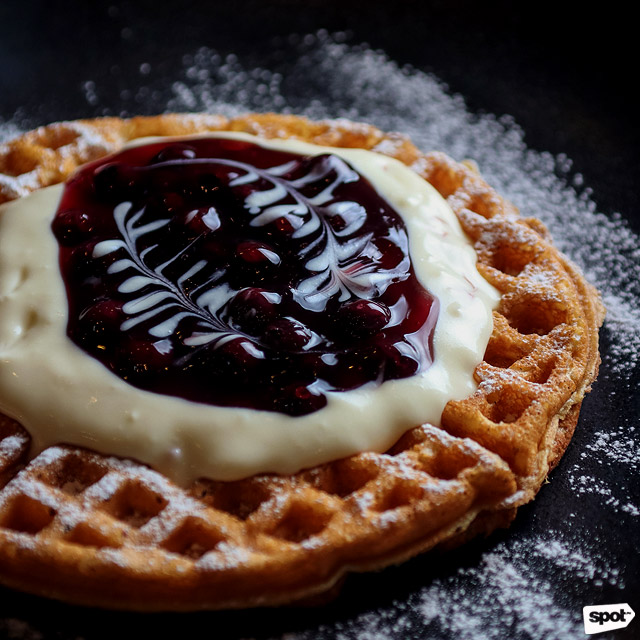 ADVERTISEMENT - CONTINUE READING BELOW
Blueberry Cheesecake Waffle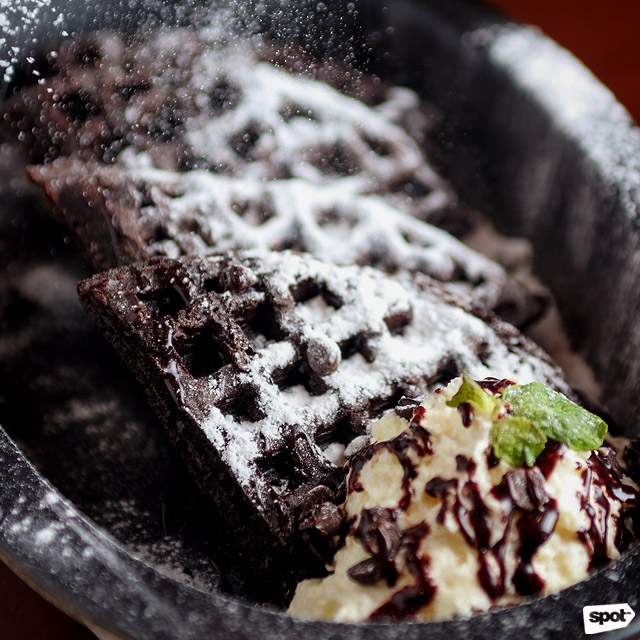 Dark Choco Churro Waffle
For those with a sweet tooth, Bluesmith dedicates a portion of their menu to waffles. The Blueberry Cheesecake Waffle (P240) is a classic with a pillow-soft Belgian waffle, blueberry compote, and cheesecake sauce, but a must-try is the Dark Choco Churro Waffle (P220). Chocoholics won't be disappointed with this one, with each bite packed with that bittersweet cocoa flavor. It's crisp on the outside and soft on the inside just like a perfectly-fried churro—the secret is in the batter, a waffle-churro hybrid.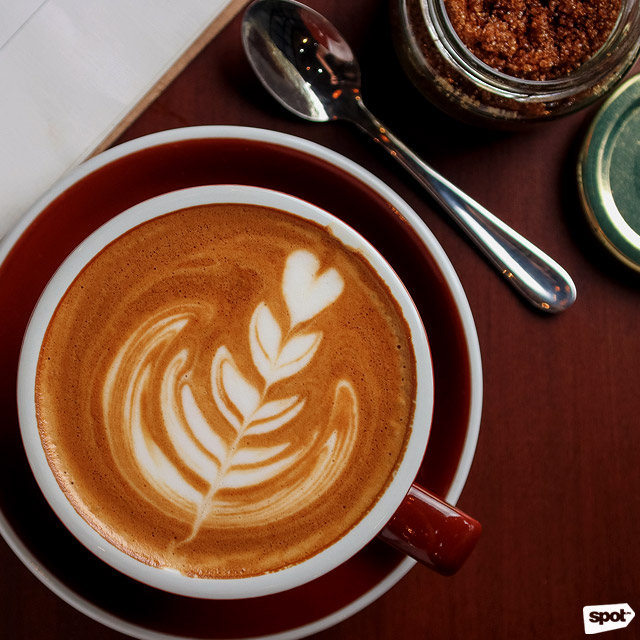 ADVERTISEMENT - CONTINUE READING BELOW
Latte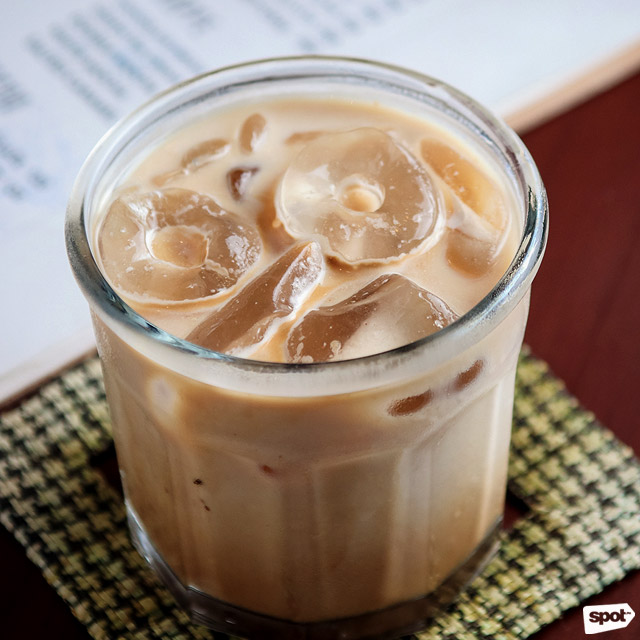 Iced Dirty Chai
Miguel shares that their food does tend to overshadow their coffee, with the staff having to remind customers to order a drink to go with their meal. Still, one goes to a café for coffee, and Bluesmith Coffee has a good selection of hot and iced drinks to choose from, as well as frappes and chocolate drinks. The coffee shop uses a special blend from Yardstick: "We balanced out the exciting notes [of coffee beans] with a smoother blend," says Miguel. The result is a brew that is definitely smooth and quite refreshing, something you can taste in the Latte (P140), with a creaminess that complements the hints of chocolate. If you're looking for that jolt that'll keep you up through almost anything, have an Iced Dirty Chai (P160). Made with chai and a shot of espresso, the spiced notes of the tea add that extra oomph (and caffeine) to your coffee.
ADVERTISEMENT - CONTINUE READING BELOW
Aside from coffee, Bluesmith also offers cocktails, perfect as brunch or after work libations. "We mix premium [liquor] with local," says Miguel, "because local liquor is not only cheaper, it's equally good, if not better."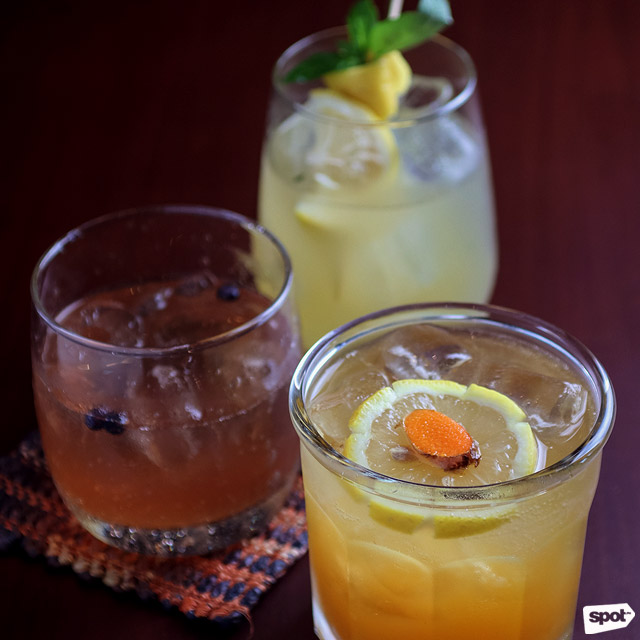 Front to back: Bliss, Tribute to Basi Revolt, Emoji
For their mixes, the team partnered up with mixologist Kalel Demetrio, who's known for playing around with local herbs and garnishes in his drinks as well as making as much as he can from scratch. The Tribute to Basi Revolt (P190) is made from gin, juniper berries, cucumber, and Vigan basi or sugarcane liquor for a cocktail that is dangerously fruity while the Bliss (P280) with gin, San Juan lambanog, yuzu, and ginger tastes like the adult version of your childhood lemonade.
"We want to be 'the default place,'" says Miguel. "When you're a barkada, you're always like 'san kakain'? We want to be that place." With the array of food spots you can choose from, it is nice to know you have a café to fall back on when all you need is a good cup of coffee, delicious childhood classics given that extra gourmet twist, and a place to hide away.
ADVERTISEMENT - CONTINUE READING BELOW
Photos by Jericho San Miguel
Share this story with your friends!
---
Help us make Spot.ph better!
Take the short survey
Load More Stories