Sneak Peek: CargoFish at Uptown Mall, Uptown Bonifacio
Chefs Matthew Hornsby-Bates and Matthew Lim add a local twist to a British classic.
CargoFish
4/F Uptown Mall, Uptown Bonifacio
Open daily from 10 a.m. to 2 a.m.*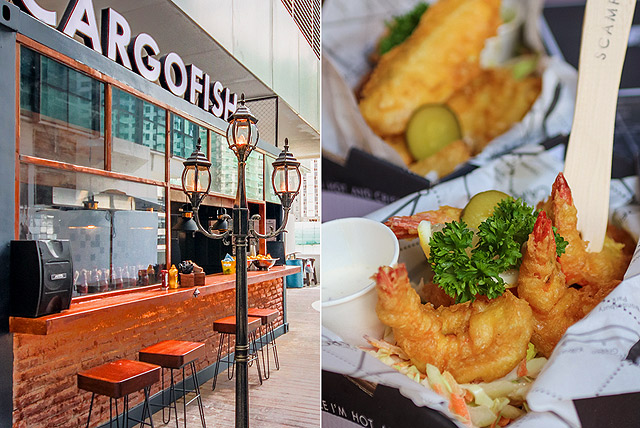 (SPOT.ph) Ask anyone what comes to mind when they hear the words "United Kingdom," and you'll get answers that range from Queen Elizabeth and James Bond to One Direction. One thing's for sure though, an answer that's bound to pop up often is fish and chips. Almost everyone in Metro Manila is familiar with the classic pairing, but admittedly not everyone has had it the way the British do.
ADVERTISEMENT - CONTINUE READING BELOW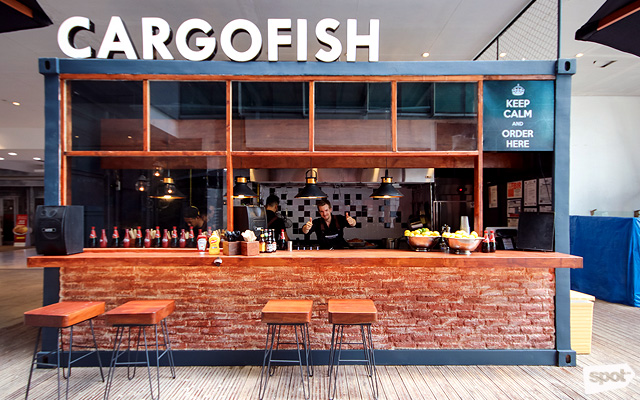 How do they have it? Traditionally fish and chips is served seasoned with malt vinegar and salt, with a pickle slice and a chip fork to keep your hands from getting burnt by the freshly fried grub. This is the experience chefs Matthew Hornsby-Bates and Matthew Lim want to bring to Uptown Mall with their new concept, CargoFish.
ADVERTISEMENT - CONTINUE READING BELOW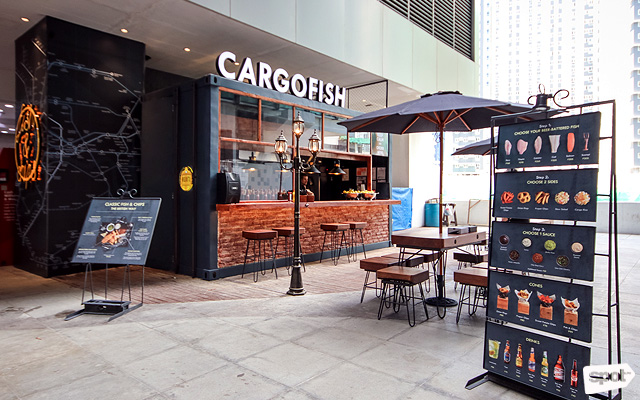 That British vibe is immediately apparent when you spot their booth, which resembles a pub bar complete with a brick façade and a dark-wood counter, though being an outdoor concept, CargoFish is brighter and airier. But Chef Hornsby-Bates is actually reluctant to label the place as just a "British fish-and-chips shop."
ADVERTISEMENT - CONTINUE READING BELOW
"Matt [Lim] liked the idea of a fish-and-chips shop," shares Chef Hornsby-Bates, "so we felt we'd team up and form a hybrid with my British roots and his Filipino roots." The result of their fusion is a menu that not only features the traditional cod and cobbler but also local fish.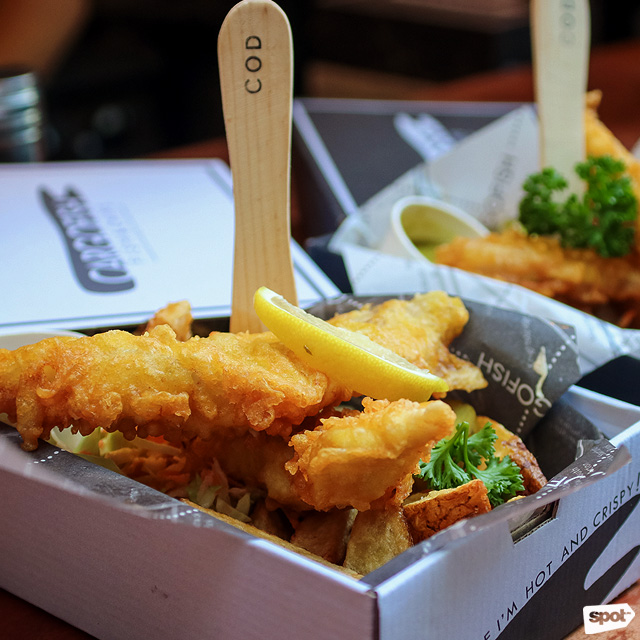 ADVERTISEMENT - CONTINUE READING BELOW
Cod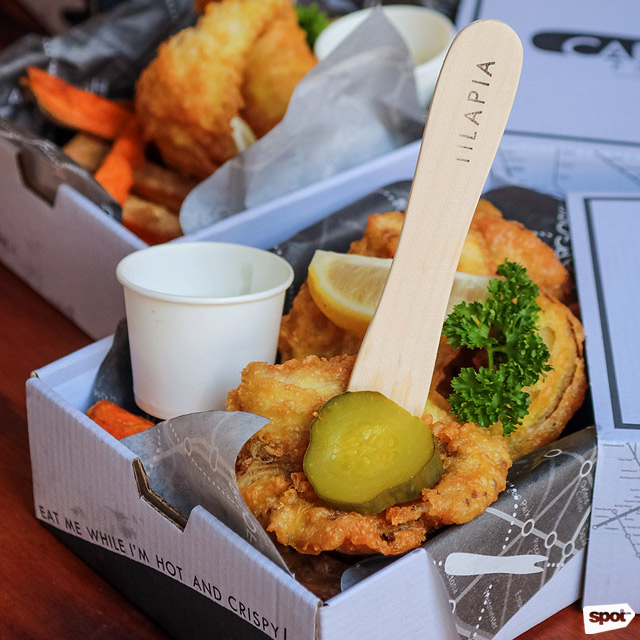 Tilapia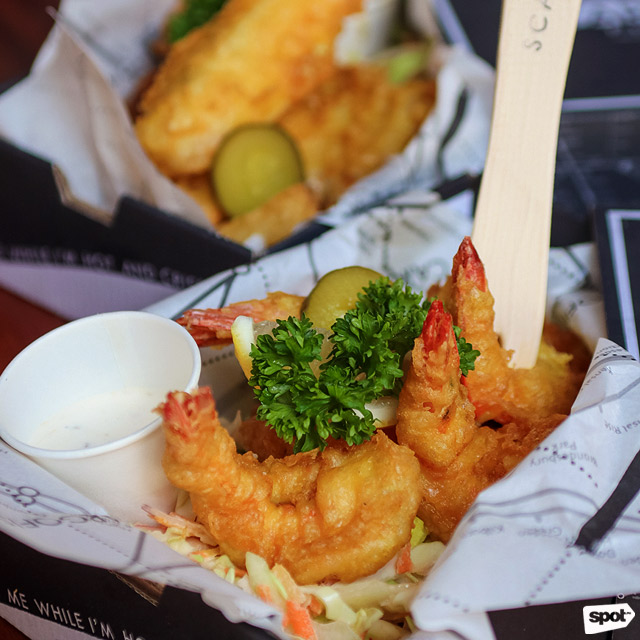 ADVERTISEMENT - CONTINUE READING BELOW
Scampi
You could always go the British route and try the Cod (P325), with the beer-batter giving it a light crisp without masking its clean, smooth flavor. But the natural briny taste of Tilapia (P215) is also the perfect complement to the subtly seasoned coating. If you want to skip the "fish" in fish and chips, you can also opt for the Scampi (P305), with that snappy bite that makes it a delight to munch on.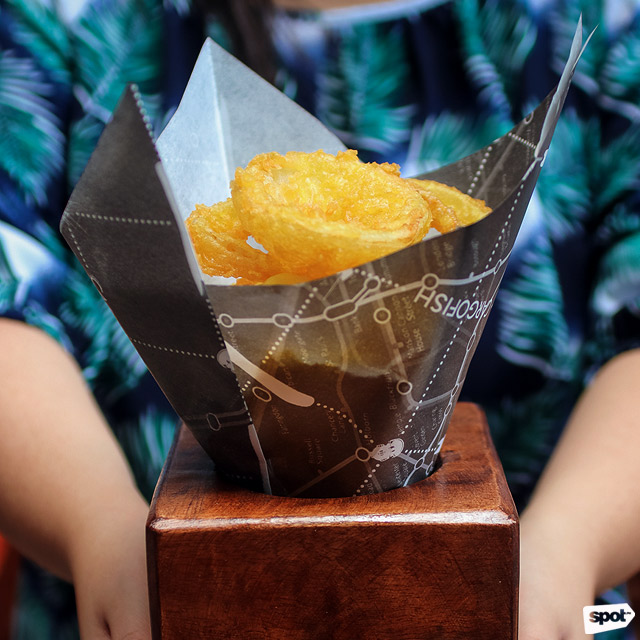 ADVERTISEMENT - CONTINUE READING BELOW
Onion Rings Cone
Every order of fish must of course come with sides, but CargoFish goes beyond the traditional Proper Chips. You can also get a sweeter version with the Sweet Potato Chips or pair your fish with the zesty Slaw Salad to give your palate a break from all the fried stuff. But we have to admit we're partial to the Onion Rings, crunchy and generously breaded without overpowering the natural sweet flavor of onions. You can also get your rings in a Cone (P85). The two chefs actually had a bit of an argument over whether to put the Cargo Rice on the menu ("It's not authentic," insists Chef Hornsby-Bates) but is a Pinoy menu truly complete without rice?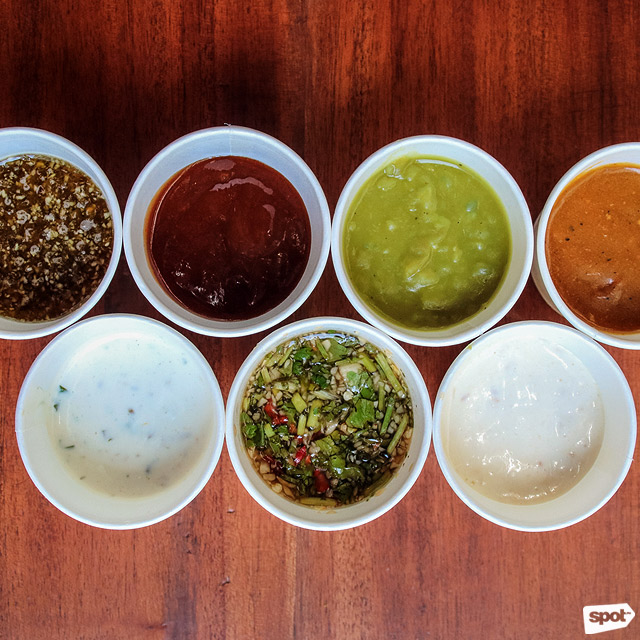 ADVERTISEMENT - CONTINUE READING BELOW
Front (left to right): Tartar Sauce, Lime Chili Cilantro, Roasted Garlic
Back (left to right): Honey Jalapeño, Seafood Barbecue, Mushy Peas, Chip Shop Curry
Now comes the difficult part: choosing one dip from their array of seven (though you can get an additional one for P25). Again, you can choose to be all proper and English and get Mushy Peas (creamy, mild, but surprisingly addicting) or the Chip Shop Curry for a subtle kick of heat. If you enjoy sweet-spicy flavors, you'll love the Honey Jalapeño, while the Roasted Garlic is the perfect complement to the onion rings (we're guessing there's just something about garlic and onions).  A bit untraditional is the Lime Chili Cilantro but it's the perfect blend of herby with a splash of acidity.
Nothing washes down fish and chips better than a bottle of ice-cold beer, and CargoFish has several local brands to choose from, including Beer na Beer, a bottle we never thought we'd see again (in Metro Manila, at least). But if you have something against day drinking (or are below the legal drinking age), you can always get a refreshing Lemonade (P55).
ADVERTISEMENT - CONTINUE READING BELOW
"We've often been described as the yin-and-yang of chefs," shares chef Hornsby-Bates about chef Lim. "The way we work is we put everything on the table and we meet in the middle. Matt opens my eyes to the local palate and I do the same on the European side." The result is a take on fish and chips that's bound to be a favorite not just by old-time fans of the dish but also by casual diners in need of a quick but filling snack.
Photos by Jericho San Miguel
CargoFish opens today, April 4, at 5 p.m. *Opening hours are 5 p.m. to 2 a.m. until Saturday, April 8.
Load More Stories