Kinilaw as Satisfaction, Infliction, Fetish
There's more to the Philippine ceviche than we know.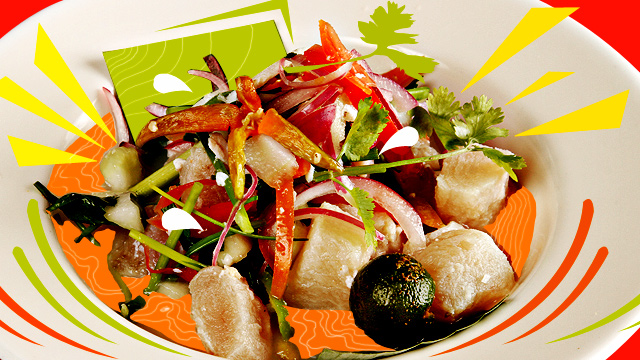 (SPOT.ph) Rawness resonates within the recesses of our humanity. It resonates with the innate and intrinsic need for pleasure—possibly an ancient inheritance since our ancestors, before the triumph of roasting, ate everything raw. Eating kinilaw too, though not quite raw, reveals a certain rawness: It is an act of bringing something whose ligature of life has just been ruptured near the lips, it is then the palate luxuriating in the licentious willingness of the flesh, and finally it is retiring into reticent rapture with the knowledge that it has provided both gratification and nourishment before a second, more prolonged, round of going at it.
ADVERTISEMENT - CONTINUE READING BELOW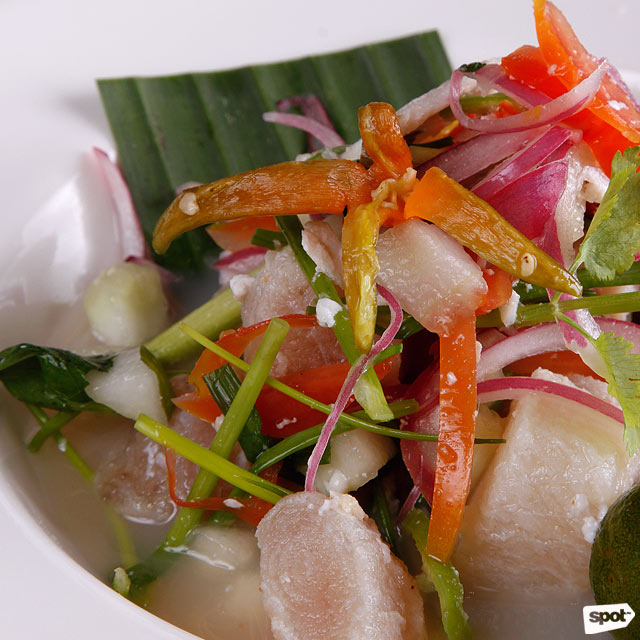 Kinilaw by Alab
Balance, Valances, and Enhancement
Kinilaw and its kin are delicate articulations of balance, a balance that reclines on fish's valence with a variety of valances such as vinegars, aromatics, citruses, sauces, and other ingredients. Such frills neither betray our ancient propensities nor do they arrest simplicity; rather, they elicit lucid consequence. Take vinegar for instance. Without vinegar that solders its own subdued sweetness to that of the fish's, fish would just be fish that bears in the wild eat (stray cats, in our context). Ceviche and the related tiradito without lime would just be chopped up catch. The now popular poke and (soon to be popular) Chamorro kelaguen (sound familiar?) without seasoning would just be flesh. Our usual sushi without shoyu would just be sad.
ADVERTISEMENT - CONTINUE READING BELOW
Both kinilaw and ceviche rely on acid to partially denature the fish's surface—its interior, if done properly, should be raw. Denaturing is never really cooking, though most refer to the process, for lack of a better description, as "acid cooking." Ceviche normally employs citrus instead of vinegar to do the job, while kinilaw makes use of both. The two dishes also share a comparable background since both are eaten in Spain's former colonies at the different ends of the Pacific. Some even surmise that kinilaw is an Austronesian influence on the Americas by way of the galleon trade. Is ceviche then an indigenized kinilaw? Maybe not, but one thing is certain; their difference lies in the ingredients used by the different cultures to dress them up: ginger, onion, et al. for kinilaw; lime, cilantro, et cetera for ceviche. On the other hand, their Hawaiian cousin poke, hangs loose on the acid. Instead, it counts on other seasonings for enhancement. Contemporary versions have shoyu, sesame oil, nori, spring onion, and togarashi as elements—bringing poke close to sushi and, to certain extents, Korean hoe and seafood tartare of the West.
ADVERTISEMENT - CONTINUE READING BELOW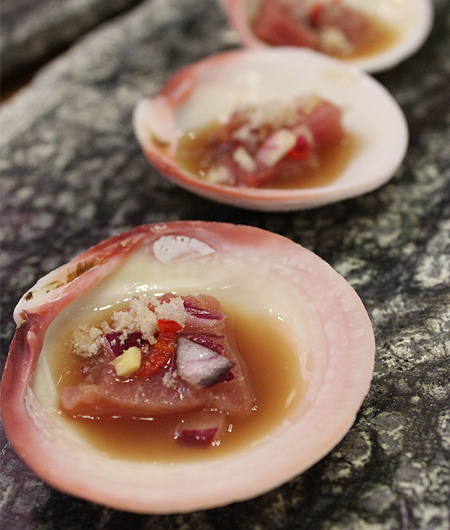 Kinilaw in fruit vinegars by chef Margarita Fores at Madrid Fusion 2015
Turning to immemorial wisdom illustrates kinilaw's qualities as expression of balance. The ancient Chinese Wu Xing scheme—a reference in the explanation of different phenomena, tells us that there are five elemental concepts. These concepts, wood, fire, earth, metal, and water correspond to different things or "movements" ranging from emotions and mental qualities to planets and organs. Taste, too, is counted as a movement; wood corresponds to sour, fire to bitter, earth to sweet, metal to umami, and water to salty. Kinilaw, even in its most elementary and rustic form (fresh fish, natural vinegar, and salt), runs parallel to all these. Fish covers the sweet and umami; vinegar provides the sour, bitter, and sweet; and of course salt takes on salty.
ADVERTISEMENT - CONTINUE READING BELOW
Although it is balanced, kinilaw is not absolute since it is never taken on its own unlike a sandwich or pansit. The dish delivers pleasure as a complement. As a low-key meal, rice and kinilaw form a savory binary, while having it with tuba—a local coconut sap toddy, as pulutan or sumsuman, is a low-carb alternative. The tropical sutukil troika also has kinilaw as complementary component (unfortunately, the supposedly clever origin of its name, "Shoot to Kill" has despairingly depressing connotations for us today). Su is for sugba—normally the tail grilled over charcoal, tu is for tula—the head cooked in broth, while kil is for kilaw or kinilaw which uses the fish's mid-section.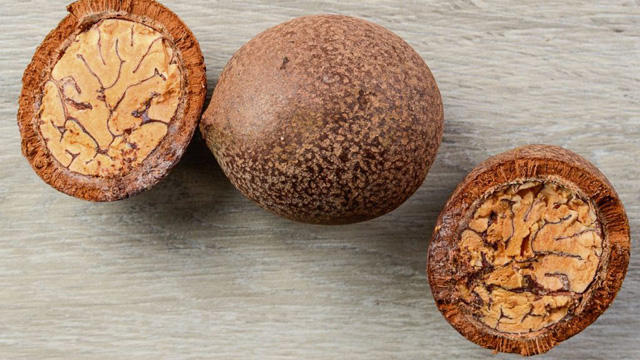 ADVERTISEMENT - CONTINUE READING BELOW
Tabon tabon from Mindanao
Satisfaction, Infliction, and Fetish
Science provides insight to our fascination. According to On Food and Cooking's Harold McGee, "...the deepest satisfaction in eating meat probably comes from instinct and biology. Before we became creatures of culture, nutritional wisdom was built into sensory system, our taste buds, odor receptors, and brain. Our taste buds in particular are designed to help us recognize and pursue important nutrients: We have receptors, for essential salts, for energy rich sugars, for amino acids, the building blocks of proteins, for energy bearing molecules called nucleotides. Raw meat triggers all these tastes, because muscle cells are relatively fragile, and because they're biochemically very active." For an archipelago like ours, fish must've been a meat of significant interest.
Sometime after, the cultured pre-Hispanic began manoeuvring the flavor of his food to his fancy. In the '80s, husks of tabon tabon alongside fish bones with slit marks were unearthed in an archaeological pit in Butuan. The finds show that our ancestors ate kinilaw as early as a thousand years ago; tabon tabon are fruits whose juice is used by natives of the area to seize fishiness to this day. We may never discover what else they included in their kinilaw, but the discovery delights nonetheless: with all the cultural hemorrhage due, in part, to colonial and postcolonial inflictions, kinilaw is one of the things we profit from from our heritage.
ADVERTISEMENT - CONTINUE READING BELOW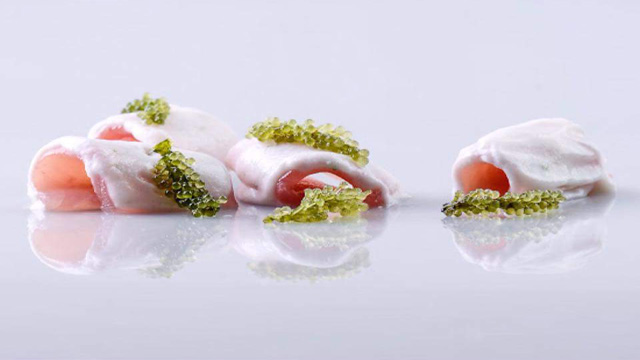 Gallery Vask serves Tiradito as part of its Alamat and Lutong Bahay Menus.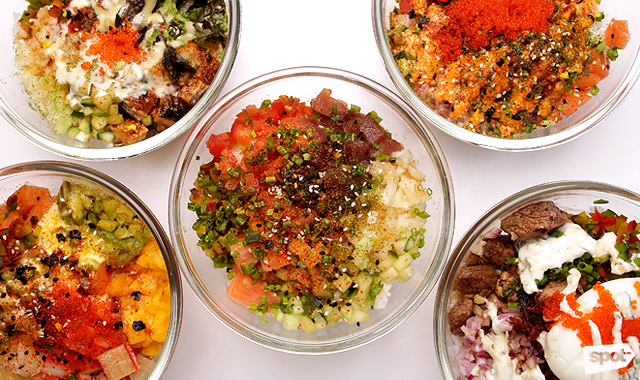 ADVERTISEMENT - CONTINUE READING BELOW
Poke Poke offers different renditions of poke.
For all its merits, kinilaw inspired Edilberto Alegre, a pioneer essayist on Philippine food, to ruminate: "But if you regard kinilaw as text—what does it tell us about ourselves? What does it say about our culture? These questions and this approach treat kinilaw as cultural artifact, as text to be read, as speech to be heard—as language to be deciphered...When reading a text, let the word speak. Allow it to address you. Eventually you will hear—if you are quiet. For texts, such as kinilaw, whispers, then sings. It serenades the quiet and the silence in you. Taste the food, yes. And savor its speaking." And when the epicure or gastronome or gourmet (perhaps the pervert too) comes face to face with this kinilaw, Roland Barthes may have given a clue as to what would go on in his mind: "The text is a fetish object, and this fetish desires me."
ADVERTISEMENT - CONTINUE READING BELOW
Luz Kinilaw is at Sta. Ana Wharf, Salmonan Davao City. They serve slices of tuna kinilaw.
TOYO Eatery is at G/F Karrivin Plaza, 2316 Chino Roces Avenue, Magallanes, Makati City. They serve kinilaw as part of the restaurant's tasting menu.
No Problem is one of the many sutukil restaurants on Mactan Island in Cebu that serves kinilaw with vinegar, tomatoes, ginger, onions, lemons, and radish.
Rebecca's Halal BBQ is at Magallanes Street, Davao City. They prepare malasugue (marlin) kinilaw a la minute.
Load More Stories