Poultry Stack wants to change your idea of good fried chicken
Get your chick' on!
Poultry Stack
24-C Scout Tuazon Street, Tomas Morato, Quezon City
Contact: 410-5050
Open daily from 11 a.m. to 2 p.m. and 6 p.m. to 11 p.m.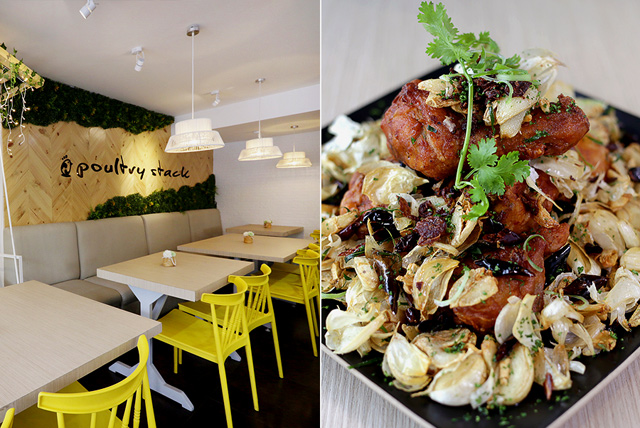 (SPOT.ph) Nothing says warm, tasty comfort like a plate of chicken—be it your mom's hearty chicken noodle soup or that juicy fried goodness from a wings place you frequent. Poultry Stack is serving up chicken-centric specials in a charming, homey setting done in bright colors and Instagram-worthy decor. Since they opened in January, Poultry Stack has been taking diners on a tour around the world with their various chicken dishes inspired by different cuisines.
ADVERTISEMENT - CONTINUE READING BELOW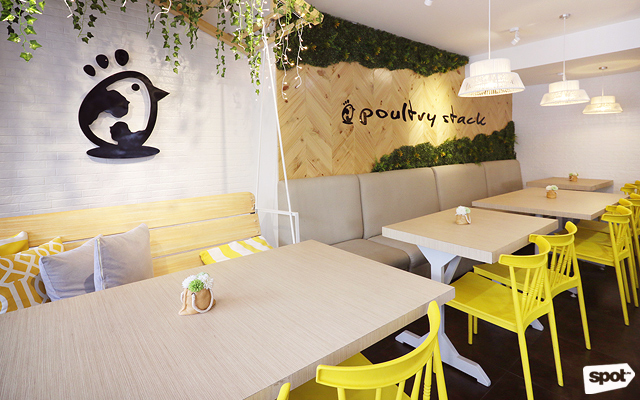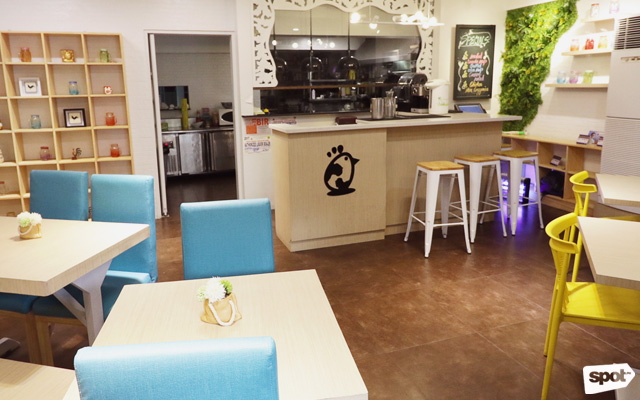 ADVERTISEMENT - CONTINUE READING BELOW
The main brains behind Poultry Stack is Chef Gino Gonzalez of Café Ysabel fame, who came up with the concept of creating an interesting chicken-themed restaurant while in Boracay. While the world isn't wanting for ways to prepare chicken, Chef Gino says, "Chicken becomes special with the way it is marinated, the cooking method that you use, and the peripheral dishes that surround it. Our chicken is brined overnight before we cook it in an immersion circulator for hours to ensure its juiciness and flavor."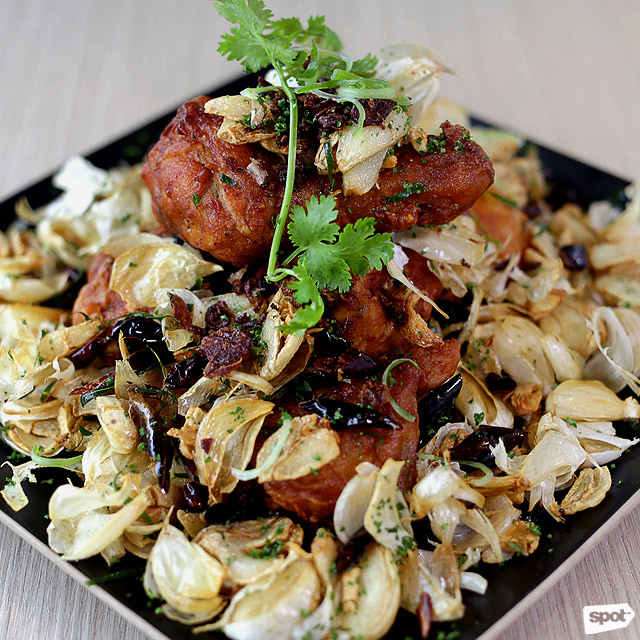 ADVERTISEMENT - CONTINUE READING BELOW
Poultry Stack Garlic Overload Chicken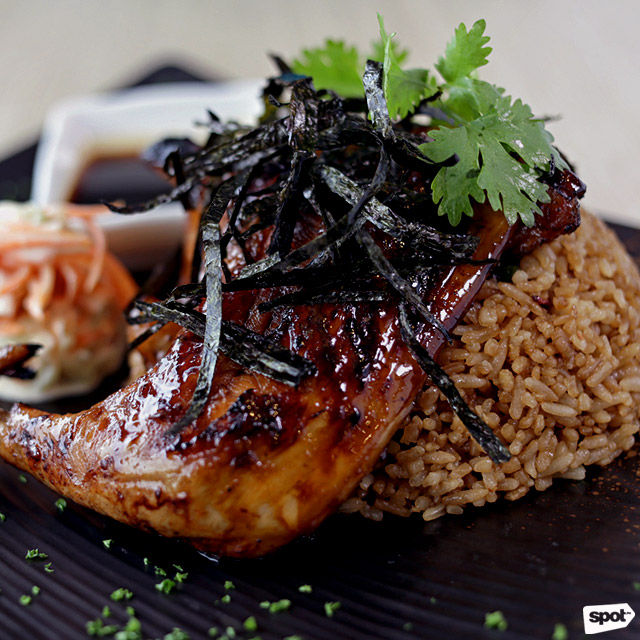 Chicken Teriyaki
And from there, Poultry Stack begins to work its wonders. Diners have already annointed the Poultry Stack Garlic Overload Chicken (P490) as one of their favorites, and it's not hard to see why. The dish is drenched in aromatics, curry, and Asian herbs, deep-fried, then served on top of a half-kilo of roasted garlic cloves. The flavors seep through the crunchy skin, right down to the juicy meat. Dip a forkful of chicken into their special tamarind-based sauce and enjoy a tangy bite of meat, then it hits you: You're not just having any ordinary fried chicken.
ADVERTISEMENT - CONTINUE READING BELOW
Another solid choice is the Chicken Teriyaki (P235/quarter chicken, P355/half chicken). The chicken is fire-roasted and glazed, then served with Japanese fried rice and kani salad; the teriyaki sauce takes them about half a day to make to ensure a perfect blend. Both sizes are served with a cup of steaming white rice and sides.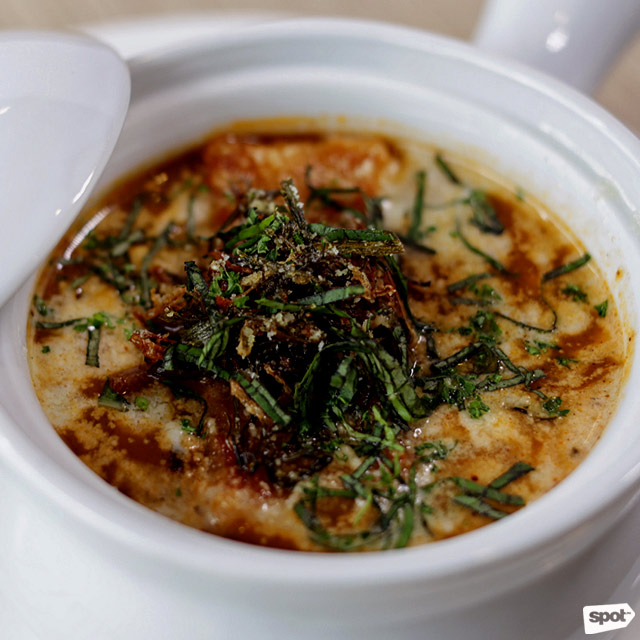 ADVERTISEMENT - CONTINUE READING BELOW
Smoked Tomato Soup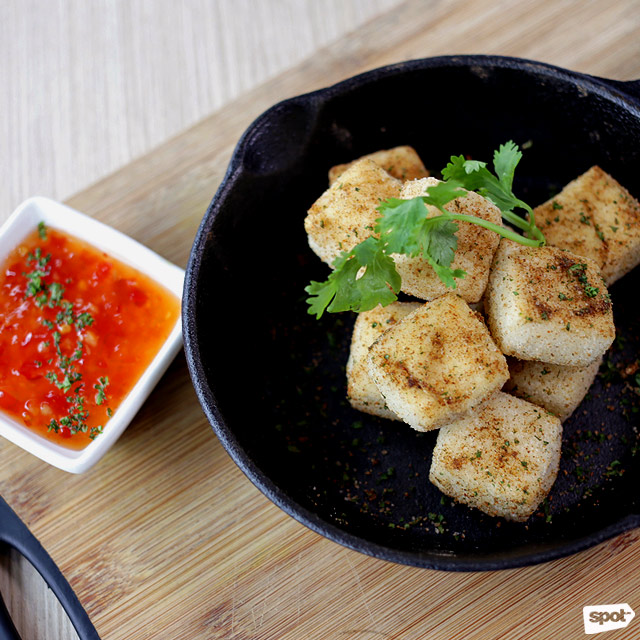 Umami Tokwa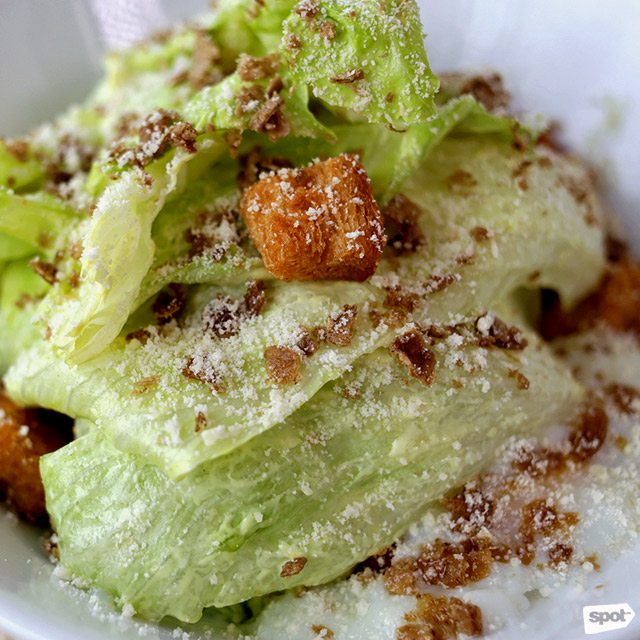 ADVERTISEMENT - CONTINUE READING BELOW
Caesar Salad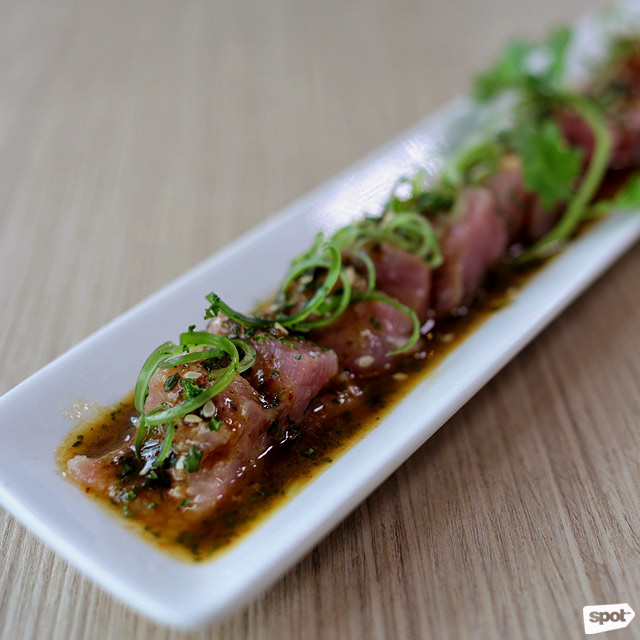 Tuna Ceviche
But before digging into their menu of chicken choices, it's a good idea to start your meal with an appetizer or two. The Smoked Tomato Soup (P148) is considerably different from your usual tomato soup. Tea-smoked tomatoes are stewed with spices and herbs, creating a warm, earthy flavor, while a coating of spices and the accompanying sweet chili sauce make the Umami Tokwa (P125) a savory treat.
ADVERTISEMENT - CONTINUE READING BELOW
You can always begin your meal with a salad, such as the Caesar Salad (P218) which sets itself apart with a sprinkling of bucheron and sous vide egg. The Tuna Ceviche (P239), the Latin American version of kinilaw, showcases nuggets of tuna with strips of scallions and soaked in a light citrus dressing.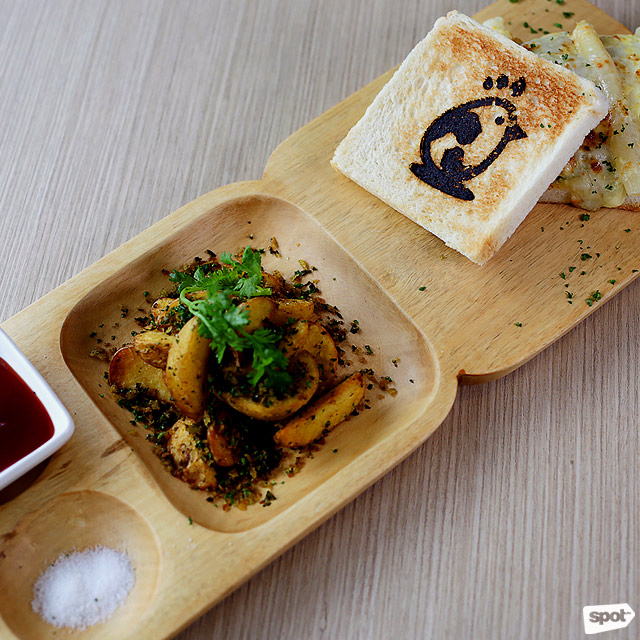 ADVERTISEMENT - CONTINUE READING BELOW
Grilled Chicken Asparagus Sandwich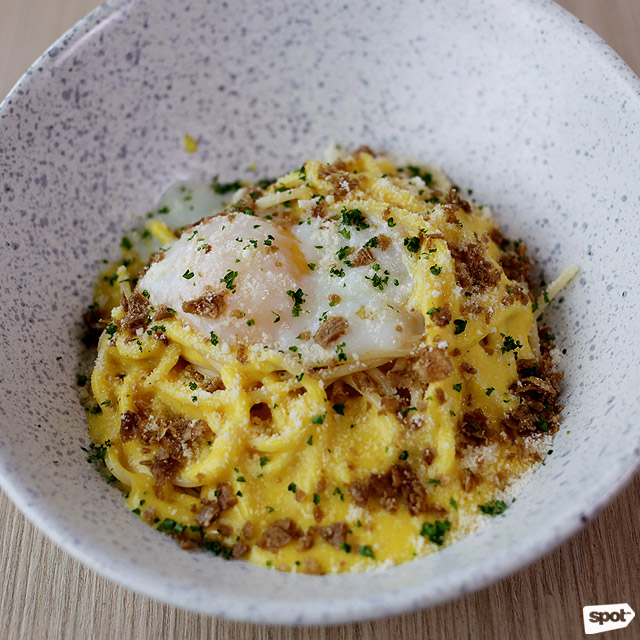 Carbonara
If you're in the mood for something other than their main dishes, the Grilled Chicken Asparagus Sandwich (P195) is a pretty creation (stamped with Poultry Stack's logo) filled with chicken mayo, asparagus, a heap of mozzarella, and more mayonnaise, then served with thick, richly spiced fries. Their Carbonara (P225) is a surprisingly light dish that goes the traditional route with a poached egg balanced on top to make for a creamier pasta.
ADVERTISEMENT - CONTINUE READING BELOW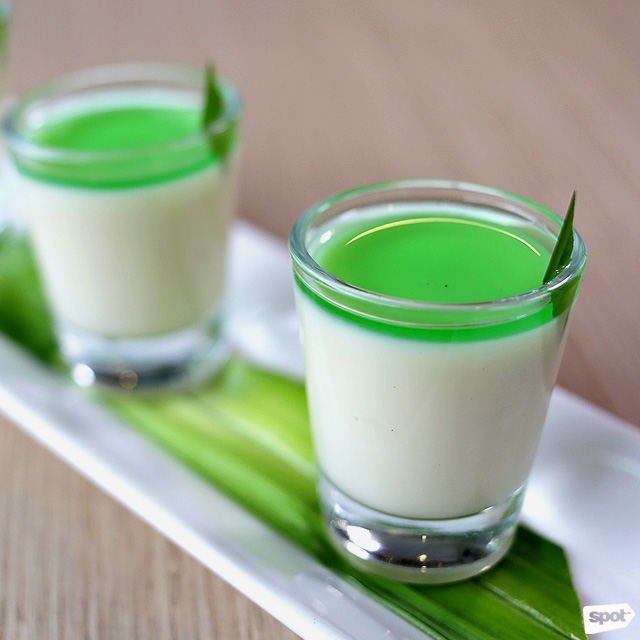 Coconut Pandan Panna Cotta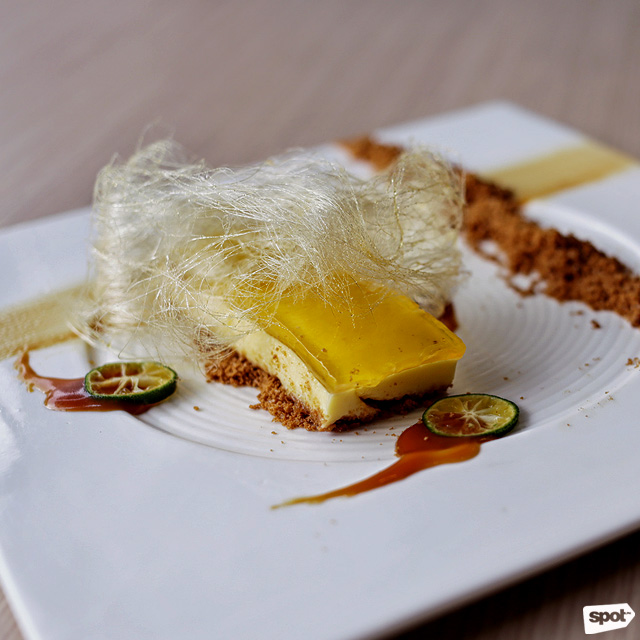 ADVERTISEMENT - CONTINUE READING BELOW
Calamansi Cheesecake
A handful of desserts will wrap up your meal in a sweet way. Coconut Pandan Panna Cotta (P59) features a trio of coconut panna cotta shots topped with pandan syrup, and the Calamansi Cheesecake (P149), which consists of a layer of calamansi gelatin and spun sugar on brown butter cheesecake.
Poultry Stack will be formally opening next month, and by then, there will be even more dishes to choose from. Chef Gino shares that dishes like Salted Egg Bucheron and Zamboanga Chicken in a charred coconut marinade will be part of the final menu. Meanwhile, everyone's favorite buttermilk fried chicken might also make an appearance!
With Poultry Stack, Chef Gino's goal is simple: To bring extraordinary chicken dishes to its customers. And so far, their offerings are a delightful example of chicken done right in different ways.
Photos by TJ Tantiangco
Load More Stories