Top 10 Mango Bingsu in Manila
This sweet snow treat will save you from the sweltering summer.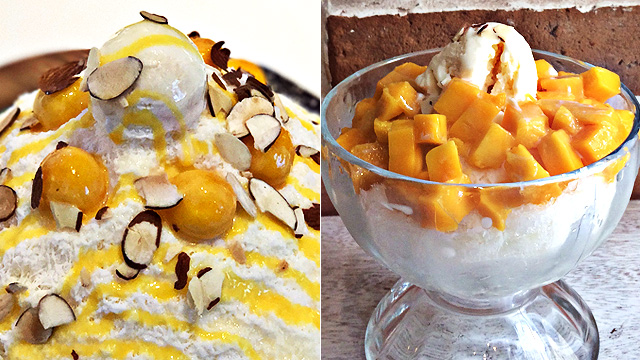 (SPOT.ph) There's no better refuge for this insane Metro Manila heat than a good shaved ice treat. Enter the bingsu, or more commonly known as the Korean version of our halo-halo. The frozen delight has enjoyed its fair share of the spotlight in the past few years, along with the rise of Korean culture in the country—think K-barbecue, K-marts, K-pop, and K-drama. All of these, to some extent, have influenced the way we live and even the food we choose to stuff in our mouths.
For this roundup, we're pairing the bingsu with our nation's favorite summer fruit—the mango in all its sweet, fruity glory. Combine the two and you've got yourself the ultimate summer confection to battle the most humid of days.
We're keeping the criteria here pretty simple: the ice must be milky and snow-like in texture and consistency, the shavings effortlessly melting in your mouth, and the mango toppings plump, with just the right level of sweetness, and generous in proportion. Of course, overall, it must be value-for-money. Read on to see our top picks!
ADVERTISEMENT - CONTINUE READING BELOW
All SPOT.ph Top 10 lists are researched, paid for, tested, and selected by the writers and editors. They are discreetly conducted without any notice made to the restaurants or their owners. For this assignment, only the basic mango bingsus of the same variation were tested to ensure impartiality.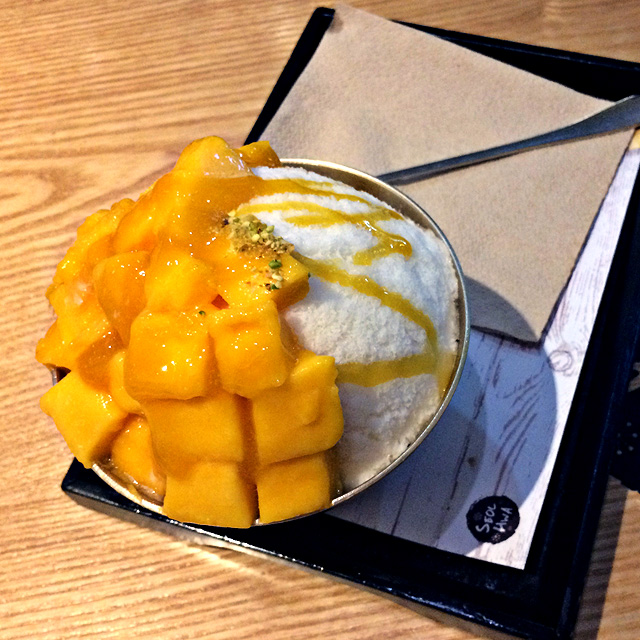 CONTINUE READING BELOW
Recommended Videos
10. Café Seoulhwa's Mango Bingsu (P170/single, P230/large)
When it comes to shaved treats, Café Seoulhwa's repertoire is pretty solid. Their promise of authenticity comes through, first and foremost, via the dessert's presentation in traditional Korean bowls made of high tin bronze. An order of their basic mango bingsu is a good alternative to beat the heat—the chunks of fruit generous, a touch of mango syrup to up the ante, and the ice as soft as can be. We just wish the ice were creamier and more consistent all throughout.
Café Seoulhwa is at The Forum, 7th Avenue corner Federacion Drive, Bonifacio Global City.
ADVERTISEMENT - CONTINUE READING BELOW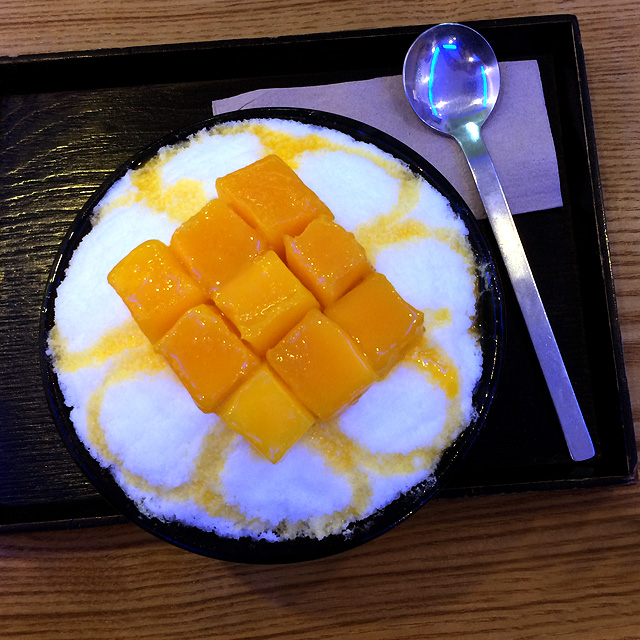 9. Hobing Korean Dessert Café's Mango Bingsu (P145/regular, P220/large)
They say simplicity goes a long way and this is evident with Hobing's take on the mango bingsu. Here, you'll find nine mango cubes sitting prettily on ice. Then, there's a hint of mango syrup drizzled beneath. Its secret weapon lies in their straightforward approach to the frozen treat—mangoes a lovely blip of sour and sweet (dig deeper and you'll find more slivers of the fruit inside) and ice milky to its core.
Hobing Korean Dessert Café has branches at Glorietta 4, Makati City; Jupiter Street, Makati City; SM Megamall, Mandaluyong City; Bonifacio Stopover, Bonifacio Global City; and Lucky Chinatown Mall, Manila.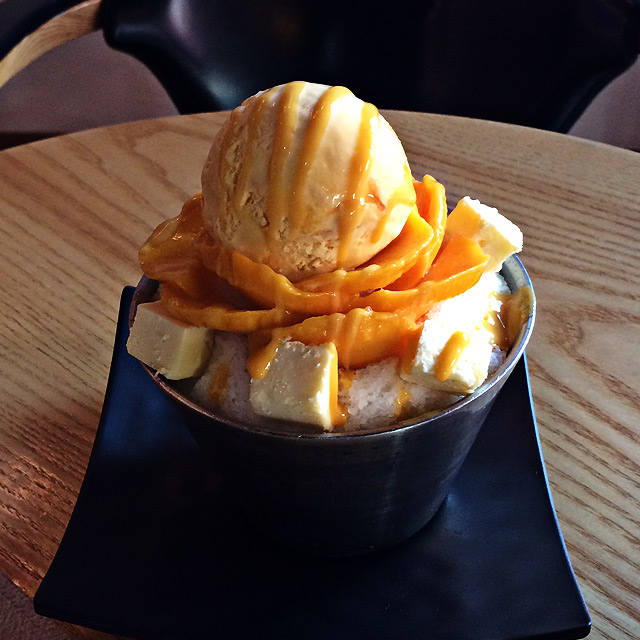 ADVERTISEMENT - CONTINUE READING BELOW
8. Seol and Bean's Mango Bingsu (P190/single, P260/double)
Seol and Bean's interpretation of the mango bingsu is anything but a mundane experience. The hefty toppings and big slices of the summer fruit are its strongest suit, and we couldn't be happier with the generous display. Cheesecake slices even make an appearance despite it being a basic variant. However, their take could have placed even higher on the list if the fine ice were more consistent in creaminess from beginning to end.
Seol and Bean is at G/F The Fort Strip, Bonifacio Global City.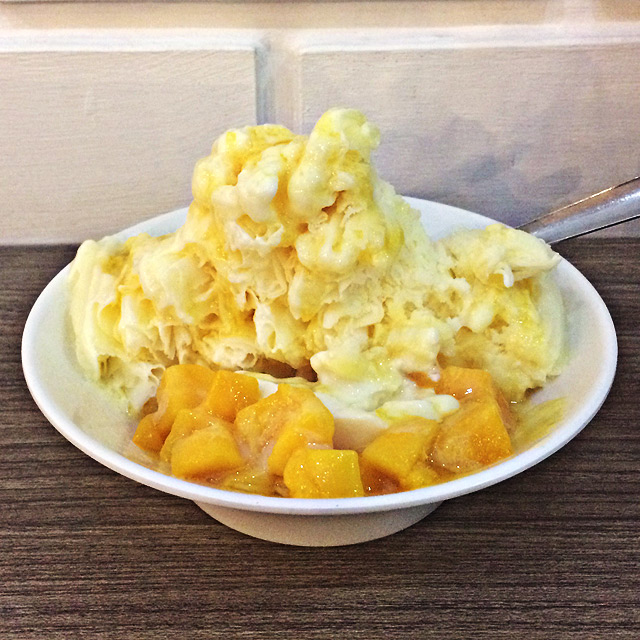 7. Snow Crème's Golden Mango (P120/medium, P170/large)
If you're looking for value-for-money snow ice, we found the best place to go when you find yourself in the North. The Golden Mango is Snow Crème's bestseller for a reason. Imagine full-flavored ice reminiscent of ice cream in consistency (we might be wrong but we even sensed a tang of fragrant lychee or a fruit somewhat similar to it) then milk pudding, a plethora of tropical mangoes, and mango syrup and condensed milk for that final, invigorating kick. Believe the hype, you guys. It's real.
ADVERTISEMENT - CONTINUE READING BELOW
Snow Crème is at 86 Maria Clara Street, Santo Domingo, Quezon City and 106 Maginhawa Street, Teachers Village, Quezon City.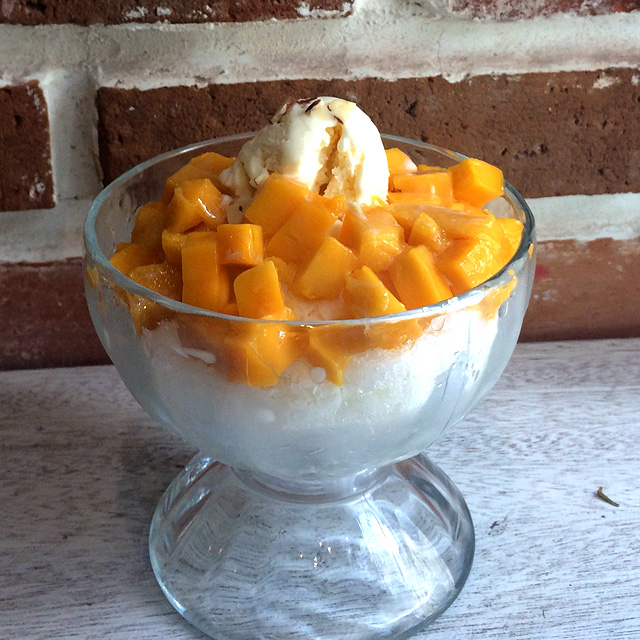 6. Flafe's Mango Bingsu (P190/single, P250/family)
There's a quaint diner tucked in Pasig that offers arguably one of the most charming bingsus the Metro has to offer. It's a blink-and-you'll-miss-it sort of joint, but once you do, you'll thank your lucky stars that you did. It's a flower shop and café all in one space, and a spoonful of their version of the mango bingsu tastes like childhood summers. Despite its flaws, the concoction—topped with vanilla ice cream and dollops of almond served with lots of sweet mango slices, and ice transformed to milky goodness—feels homey and brims with character.
Flafe is at 118 Grand Emerald Tower, Garnett Road corner Ruby Street, Ortigas, Pasig City.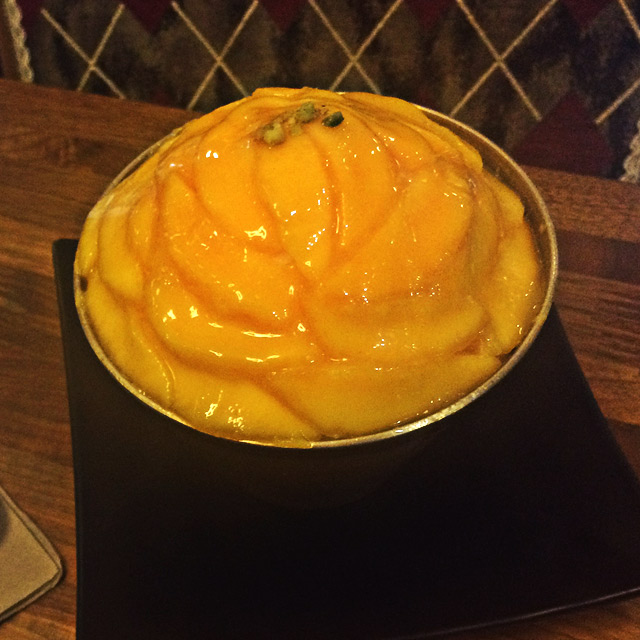 ADVERTISEMENT - CONTINUE READING BELOW
5. The Bingsu's Mango Bingsu (P210/single, P290/large)
Nestled in the quiet suburb of Alabang is this aptly named dessert spot that puts the spotlight on the bingsu. Their version loads on fresh bountiful mango slivers that gloriously clothe the treat from top to bottom (you'll even find more in the middle). Beneath lies pillow-soft pockets of ice merged seamlessly with the milk, forming a sleek consistency in the mouth—and it's not nefariously sweet. The result is one that's worthy of applause and standing ovations.
The Bingsu is at G/F Commercenter, 1780 Commerce corner Filinvest Avenue, Alabang, Muntinlupa City.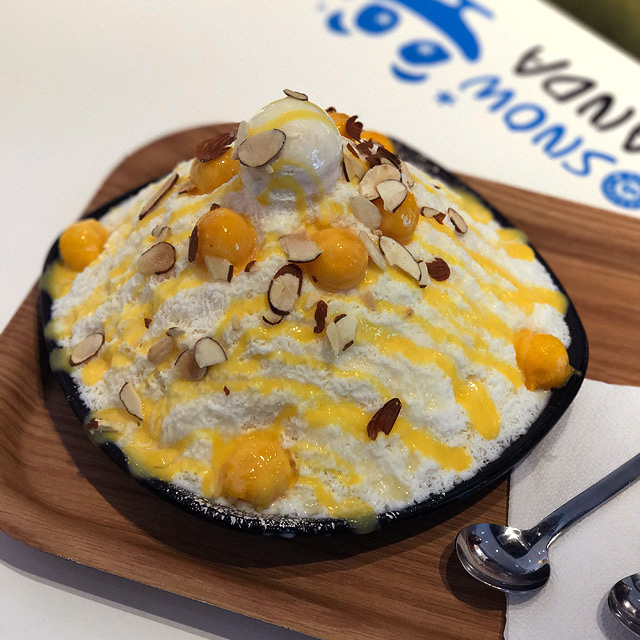 4. Snow Panda's Mango Bingsu (P150/medium, P220/large)
We wouldn't mind conquering mountains if it were Snow Panda's Korean dessert confections. The alp of shaved ice is covered with ball-shaped mango nuggets, almonds, mango syrup, and a scoop of vanilla ice cream at its summit. Dig deeper, because a surprise act awaits your taste buds. The clear star here, however, is the ice—creamy and snow-like in texture from start to finish. Theirs is a lip-smacking masterpiece, just the antidote you need for your Mr. Sun woes. Indeed, we wouldn't dare change a thing (except perhaps having it in a bowl instead of a plate).
ADVERTISEMENT - CONTINUE READING BELOW
Snow Panda is at G/F The Grand Towers, Malate, Manila and G/F Circuit Mall, Makati City.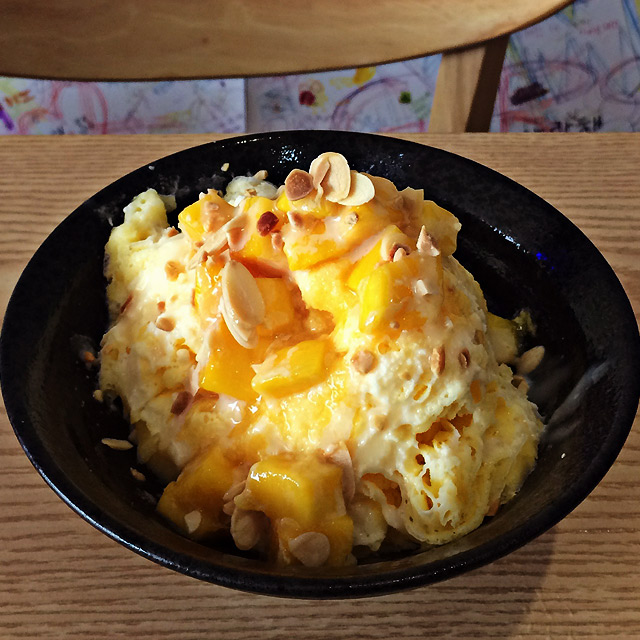 3. Noonsaram Korean Desserts and Café's Mango Bingsu (P100/small, P200/medium, P300/large)
It doesn't look like much but Noonsaram's rendition of the popular dessert knocks it out of the park—each component suave, boasting sweetness with every mouthful. The dollops of mango have just the right amount of tangy and sweet and the nuts provide a different texture and reaches all the way to the bottom of the bowl. Their ice rises to the occasion too, seemingly imbibing the mango's flavor and color but in the same breath, incredibly lush and infused with milk. The best part? Its melt-in-your mouth softness and the effortless chew.
Noonsaram Korean Desserts and Café is at G/F Oracle Hotel & Residences, Katipunan Avenue, Loyola Heights, Quezon City.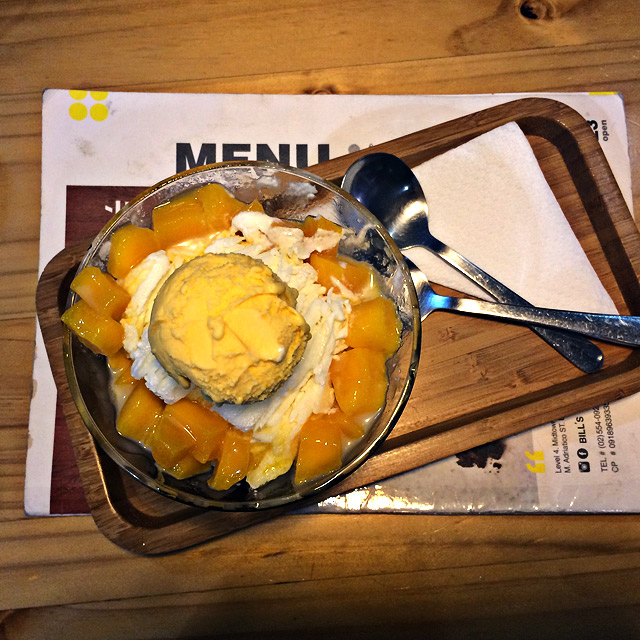 ADVERTISEMENT - CONTINUE READING BELOW
2. King Mango from Bill's Bear Café (P155/solo, P240/regular)
Not many may be aware of this humble stall, but this is the kind of unassuming diner that deserves to be noticed. As for their King Mango, don't be fooled by its conventional aesthetic. Its appeal lies in the overall oomph it brings to the table. It all begins with its crowning glory—a heap of mango ice cream. After which, allow your spoon to travel all the way to the milky ice shavings and just revel in its creaminess. The mango blocks are sweet and generously sliced, with great mouthfeel. We found ourselves licking the remnants off the spoon after every bite.
Bill's Bear Café is at 4/F Robinsons Place Manila, Ermita, Manila.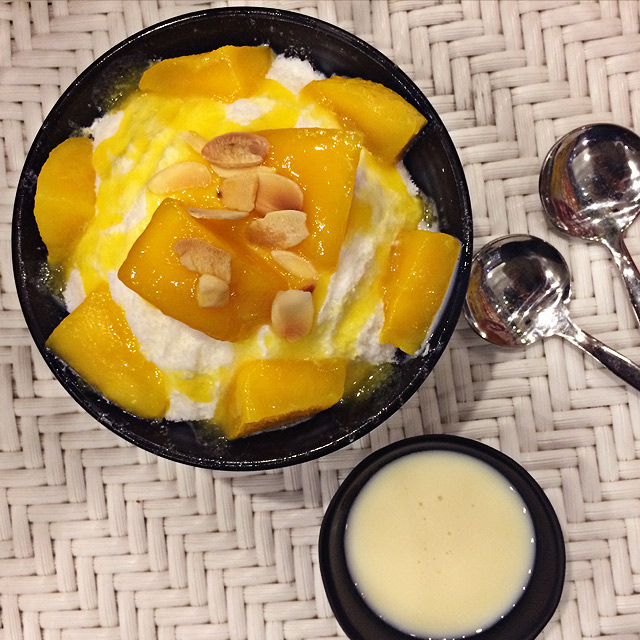 1. Ice Flower's Mango Bingsu (P210/single, P360/double)
If we were stranded on an island and we had to choose only three dishes we could eat forever, Ice Flower's mango bingsu would definitely be part of the list. Consider us spellbound by this treat's ability to make us weak in the knees. After all, it is bingsu perfection—the ice just melts in your mouth and has the consistency and taste of vanilla ice cream. They don't rob you of the toppings either—there are huge chunks of mango to lure you in with sprinkles of nuts on top. Plus, mango syrup to take the experience up a notch. You can also control the bingsu's sweetness to your preference—it's got a separate smaller bowl for extra condensed milk. Ice Flower's creation hits all the right notes in the mango bingsu department.
ADVERTISEMENT - CONTINUE READING BELOW
Ice Flower is at Molito Commercial Complex, Alabang, Muntinlupa City.
For other Top 10 lists, check out SPOT.ph's Top 10 Everything Food Lists 3rd Edition. Co-presented with C2 Cool and Clean, it's priced at P195, available at major bookstores.
Share this story with your friends!
---
Help us make Spot.ph better!
Take the short survey
Load More Stories