10 Metro Manila Cafés for People Who Can't Live Without WiFi
Sip and surf!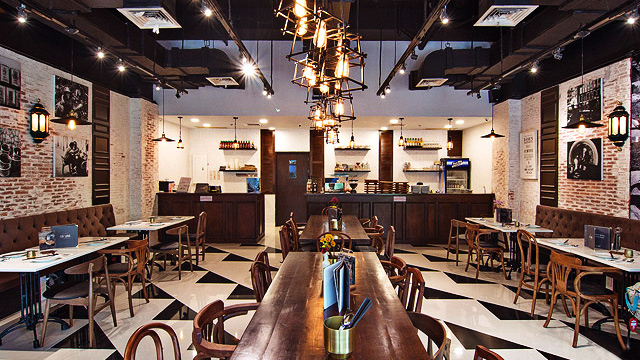 (SPOT.ph) Many cafés in the Metro know how important it is to offer reliable WiFi connections to their customers. After all, it is free marketing when their social media-savvy customers take photos of their food and post it on Facebook or Instagram. However, having to search for a steady Internet stream can be a pain. When push comes to shove and you're pressed for time because of a screaming deadline, sometimes fast just isn't enough.
ADVERTISEMENT - CONTINUE READING BELOW
For desperate times, coffee shops can be your only hope. Imagine chilling with a cup of coffee without having to worry about Internet issues that may doom your workflow. Sounds perfect, right? Look no further because we've done the hunt for you and listed 10 cafés with WiFi that haven't let us down.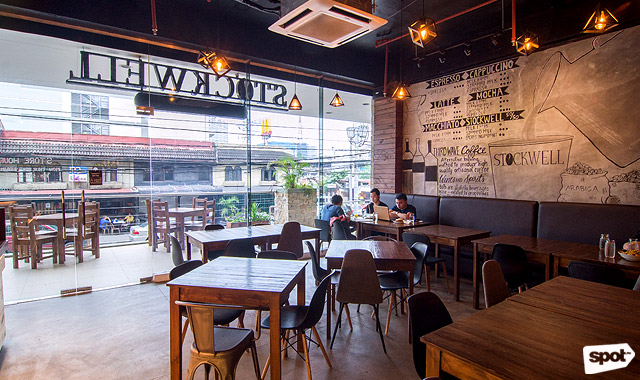 ADVERTISEMENT - CONTINUE READING BELOW
Stockwell Café + Lounge
Despite being situated near the perenially busy thoroughfares of Timog and Tomas Morato, Stockwell Café + Lounge is a sanctuary for people who just want to take a breather in a cozy space. Their sockets may be limited but their Internet connection is one of the most dependable we've experienced. As if that isn't enough, they also serve both coffee and cocktails all day. Don't skip their signature espresso drink, the Stockwell 50/50 (P150/hot, P160/cold), while getting your much-needed solo time.
Stockwell Café + Lounge is at 61 Scout Tobias corner Scout Rallos Street, Tomas Morato, Quezon City.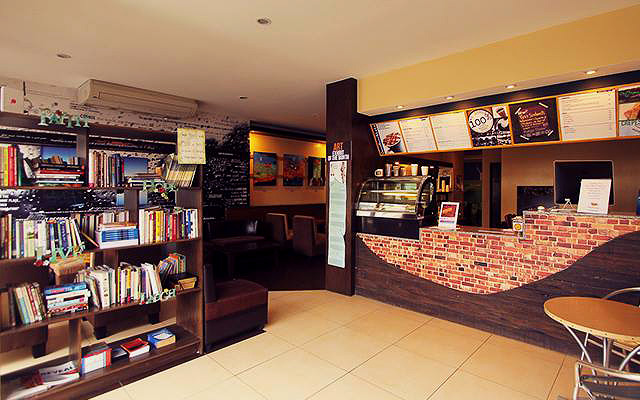 ADVERTISEMENT - CONTINUE READING BELOW
Hillcrest Café
Hillcrest Café is a quiet nook for book lovers and undergrads from nearby universities who want to get their homework done. Good thing the café understands the qualms of students on a budget because they don't charge you for using their WiFi or electrical sockets, which can be found at almost every table. Another bonus is that you won't get nasty looks when you camp out here to work. We recommend their Peppermint Tea (P110) and Apple Tea (P110) to calm you down during crunch time!
Hillcrest Café is at 48 Malingap Street, Sikatuna Village, Quezon City.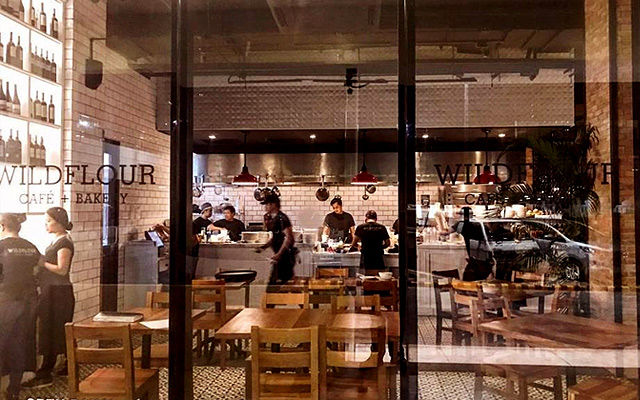 ADVERTISEMENT - CONTINUE READING BELOW
Wildflour
Aside from their elegant interiors and delicious pastries like the Salted Chocolate Cake (P270)—it topped our list of Top 10 Chocolate Cakes in Manila, after all—and Strawberry Cream Cake (P235), Wildflour's Makati branches are choice spots for cubicle-dwellers who want a change of scenery. It helps, of course, that they likewise have a steady Internet connection. Check your e-mails, browse Facebook, and listen to Spotify all at the same time minus the buffer!
See a list of Wildflour branches.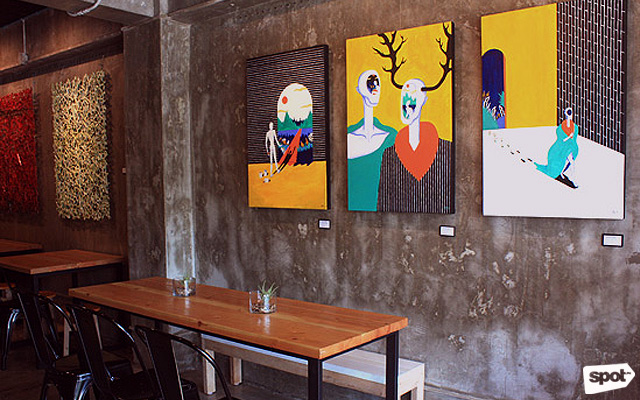 ADVERTISEMENT - CONTINUE READING BELOW
55Square Café
This hip and quirky joint in Katipunan is known for serving local premium coffee harvested by small-scale bean farmers. Aside from sharing their space with an art gallery, 55Square Café flaunts a fast WiFi connection that uses a Fiber optic 100 mbps plan—a godsent to students and freelancers who live nearby. While browsing the web, don't forget to try their Single Origin Bukidnon Black Coffee (P105) and Matcha & Black Sesame Cheesecake (P150) to give you a little boost.
55Square Café is at G/F ALCAL Building, 285 Katipunan Avenue, Quezon City.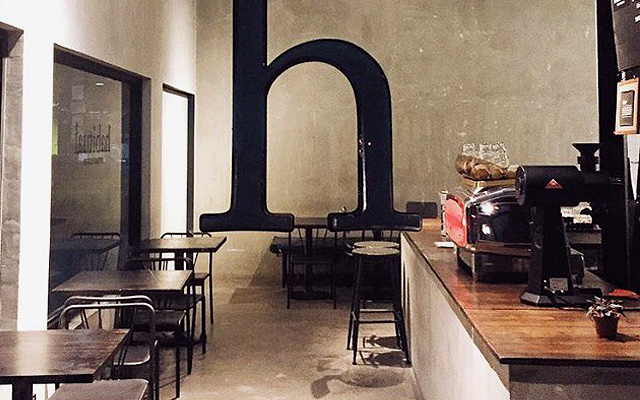 ADVERTISEMENT - CONTINUE READING BELOW
Habitual Coffee
A specialty café tucked in a warehouse-like building in Chino Roces, Habitual Coffee's high ceilings and large glass windows provide a lot of space and natural light for your working convenience. It is a good space to read, relax, catch up with old friends, and take advantage of their robust WiFi connection. Whether you're browsing your favorite sites or catching up with work, grab a cup of their Flat White (P140) for its strong yet creamy taste, as well as their Grilled Cheese (P200) that's cheesy to the core.
Habitual Coffee has branches at 2135 Chino Roces Avenue, Makati City; and Uptown Mall, Uptown Bonifacio.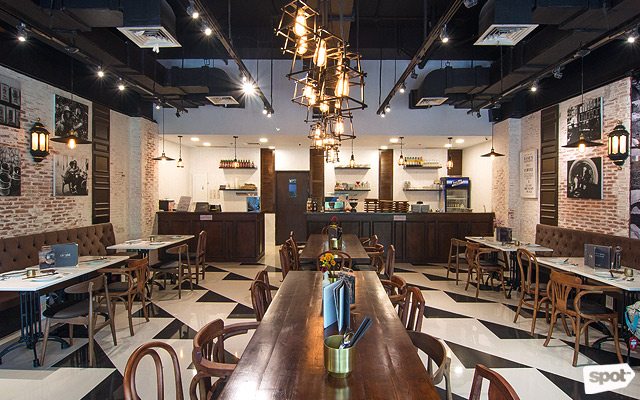 ADVERTISEMENT - CONTINUE READING BELOW
Ba Noi's + Ca Phe
A café that serves one of the best banh mi and classic Vietnamese coffees in Manila, Ba Noi's + Ca Phe is an open secret when it comes to your WiFi needs. Although many people still go to the more well-known coffee shops with Internet around UP Town Center, there are some who opt for this recently opened café—and it isn't only because of the food. Plus points: Ba Noi's + Ca Phe has electrical sockets scattered throughout the café, which will make studying and working here a breeze.
Ba Noi's + Ca is at G/F UP Town Center, Katipunan Avenue, Diliman, Quezon City.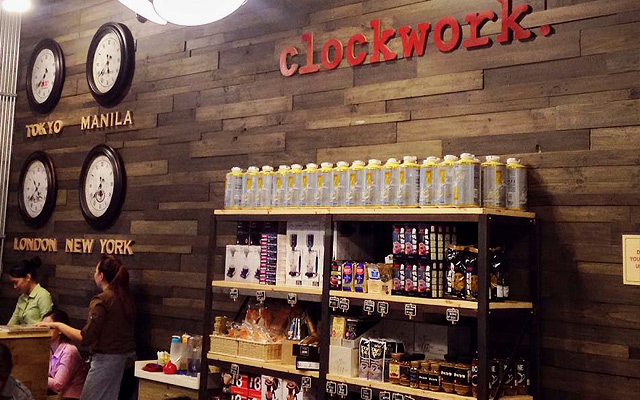 ADVERTISEMENT - CONTINUE READING BELOW
UCC Clockwork
With their wood-laden interiors and soothing sounds, Japanese café UCC Clockwork is exactly the place you'd imagine your tita and her amigas would meet. Most people come here for their imported handcrafted coffee and Crabby Fatty Omurice (P350), but not a lot of folks know that this café also has one of the most reliable Internet connections in Metro Manila. The best part? It's free!
See a list of UCC Clockwork branches.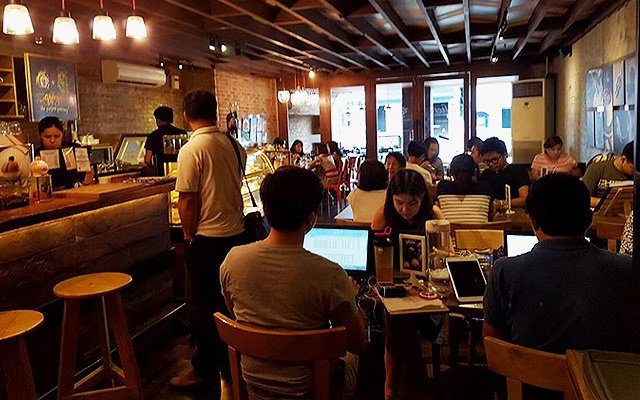 ADVERTISEMENT - CONTINUE READING BELOW
Afters Espresso & Desserts
Because of their steady Internet, writers and producers from nearby television stations are a common sight at this café's Tomas Morato branch. This is just the place to get your dessert fix, so take advantage of their selection of sweet treats and coffee. Their Molten Lava Cake (P250), a gooey chocolate cake topped with a scoop of gelato in a Belgian chocolate shell, is a crowd-favorite.
Afters Espresso & Desserts has branches at 20 Lansbergh Place, Tomas Morato Avenue corner Scout Castor Street, Quezon City; and Xavierville Residences, Rosa Alvero Street corner Esteban Abada, Quezon City.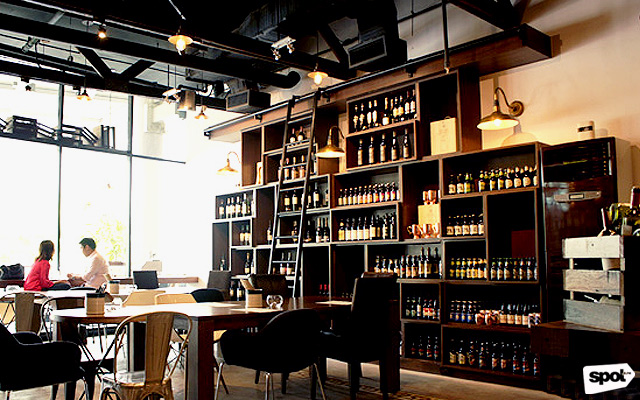 ADVERTISEMENT - CONTINUE READING BELOW
Single Origin
People don't just rave about Single Origin's Truffle Fries (P180) and Wagyu Frankfurters (P425); they also love the WiFi, which is faster than the average—and that's really always a plus in any café. Many people who work in nearby offices make Single Origin their default coffee shop for no-fail scrumptious grub, fun drinks, and stable Internet.
Single Origin has branches at 2/F C3, Bonifacio High Street Central, Bonifacio Global City; and G/F Edades Building, Amorsolo Drive, Rockwell, Makati City.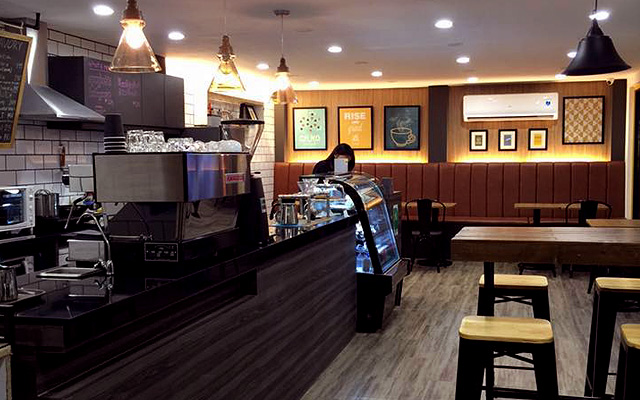 ADVERTISEMENT - CONTINUE READING BELOW
United Coffee
A small and quaint café ideal for hiding and working, United Coffee also has a selection of fiction and non-fiction books that you can read when you need a break. Aside from their Iced Mocha (P160), Apple Crumble Cheesecake (P180), and Brownie S'mores Pie (P110), people also come to this hotspot for their high-speed Internet connection that will inspire you to get your work done quickly. Well, you know, unless you get distracted by Facebook.
United Coffee is at 16 United Street, Kapitolyo, Pasig City.
Recommended Videos
Load More Stories