A Filipino Feast Fit for "The Man Who Had Too Much"
Chef Bambi Sy Gobio goes back to basics for this Leon Gallery exhibit.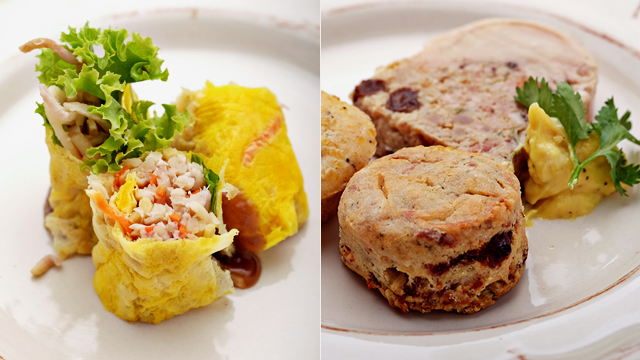 (SPOT.ph) The life of Fil-American painter Alfonso Ossorio was one bursting with effortless exuberance and affluence. He was, after all, a "real-life Gatsby," hosting lavish soirées in his 40-room East Hampton Italianate mansion in Long Island, New York called The Creeks. The place had been a sanctuary of artists and socialites like Jackson Pollock, Truman Capote, Mark Rothko, and King Juan Carlos of Spain.
Although notoriously labeled as "The Man Who Had Too Much" by a New York broadsheet in 1997, there is a part of Ossorio that many aren't familiar with except, of course, a select few in the art collective including gallerists, collectors, and VIPs who actually give a damn. It's puzzling why people still know so little of him when his artistic pieces are scattered across the best museums in the world.
For the second time, Leon Gallery is bringing home some of Ossorio's works through an exhibit named Grazing Light. Here, people will see the artist's creative efforts and how he mingled with an assortment of materials, techniques, and pigments to produce an Abstract Expressionist style that's entirely his own. Prior to that, Leon Gallery organized Afflictions of Glory, an exhibit held in 2016 that revealed some of Ossorio's paintings for the first time and in no less than the land where he was born—the Philippines.
ADVERTISEMENT - CONTINUE READING BELOW
On April 18, Chef Bambi Sy Gobio of Restaurante Pia Y Damaso fame put together a 14-course degustation for an intimate social gathering joined by a couple of Ossorio's kin in the country. The first half of the tasting showcased dishes that were reminiscent of the painter's opulent days at East Hampton, while the latter was motivated by Ossorio's 11-month stay in Victorias City, Negros Occidental where his family's sugar plantation is located. The painter's famous and elaborate mural "The Angry Christ" can also be found there.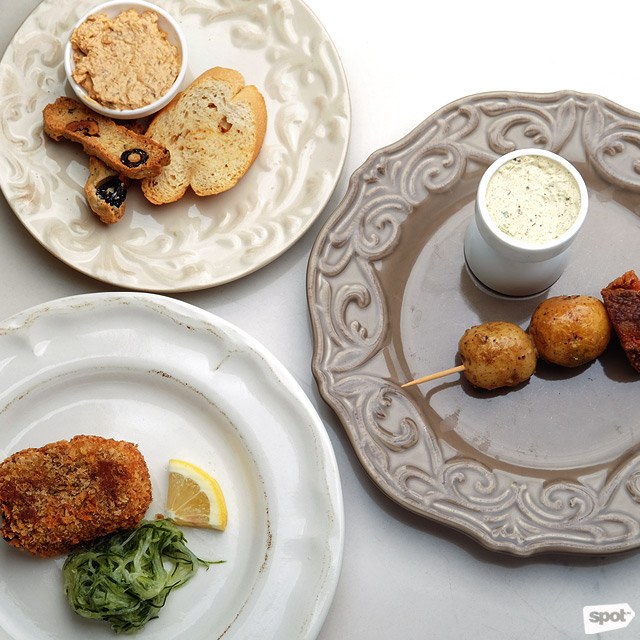 (Top to bottom) Black Olive and Walnut Biscotti with Fish and Cheese Spread; Crab Cake with Cucumber Salad; Bacon and Baby Potato Skewer with Smoked Oyster Dip
The Black Olive and Walnut Biscotti's salty notes paired well with the Fish and Cheese Spread made of mahi-mahi, smoked paprika, and crisp bits of onion. A subtle heat blankets the mouth and then settles at the back of the tongue after every bite. Additionally, the Crab Cake with Cucumber Salad is a contrast of flavors: savory from the seafood, and bright from the salad tossed in a zesty vinaigrette.
ADVERTISEMENT - CONTINUE READING BELOW
The Bacon and Baby Potato Skewer with Smoked Oyster Dip was noteworthy for its crackling cured pork cooked crispy pata-style, with a strip of fat that literally melts in the mouth.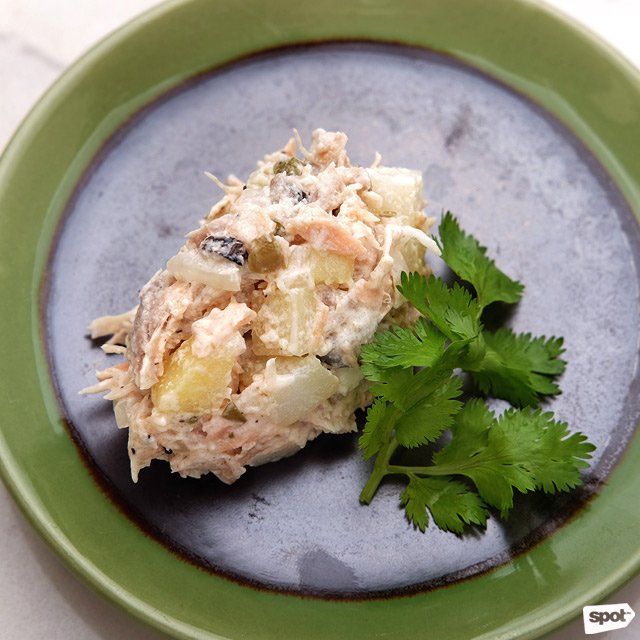 Salmon Head Salad with Cornichons and Capers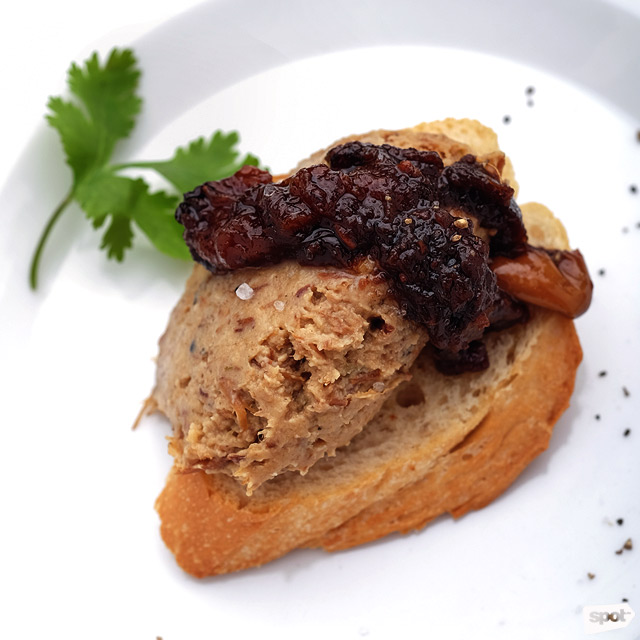 Duck Rillette
But perhaps one of the best dishes in the degustation was the Salmon Head Salad with Cornichons and Capers. The cold salad was scrumptious to the last bite as slivers of gelatinous fish fat took us by surprise. It was a play between textures and tart-salty flavors coming from the pickled cucumber and capers.
ADVERTISEMENT - CONTINUE READING BELOW
Another item from the East Hampton menu was a velvety rich Duck Rillette atop a toasted baguette slice, garnished with a dollop of sweet caramelized apples, prunes, and dates. One would associate this dish with luxury—something Ossorio would probably approve of if he were still alive.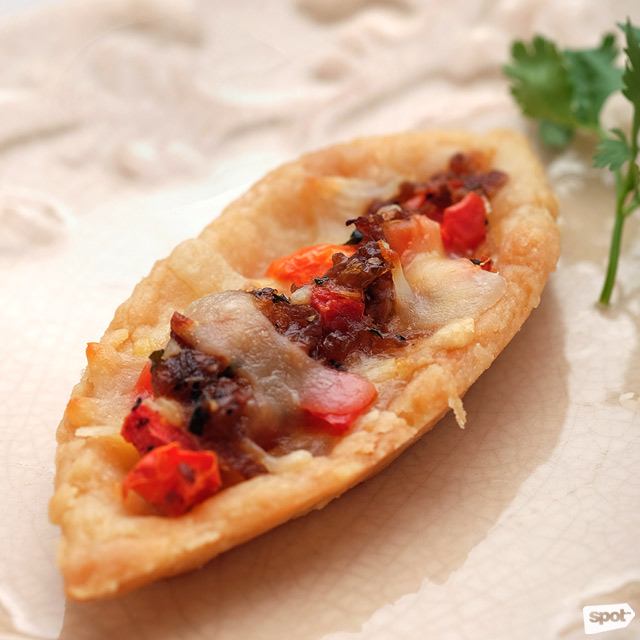 Tomato Anchovy Tart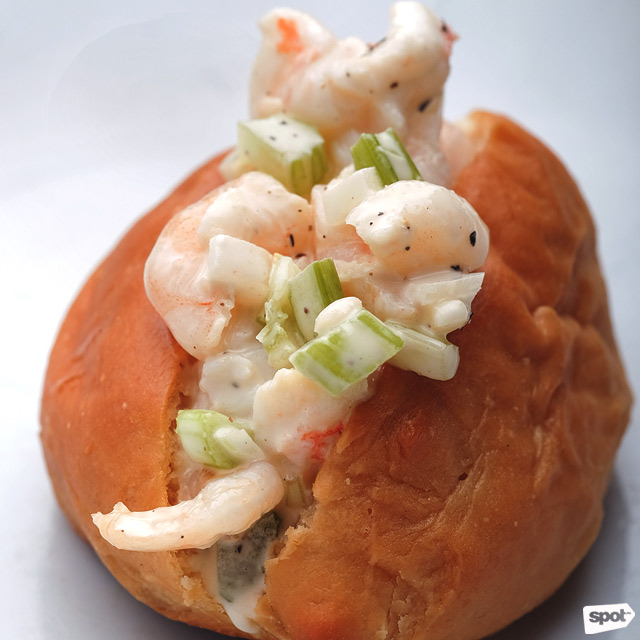 ADVERTISEMENT - CONTINUE READING BELOW
Prawn Roll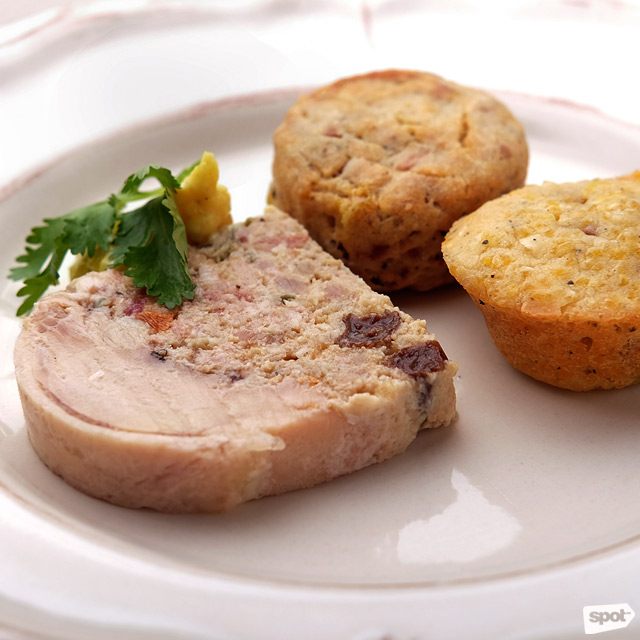 Chicken Galantine
The Tomato Anchovy Tart and Prawn Roll were both flavorful and light, while the Chicken Galantine was straightforward and served with a sharp and garlicky, custard-colored aioli. On the side were portions of homemade ham biscuit and chewy sausage muffin.
The East Hampton menu was served at the cocktail opening of Afflictions of Glory.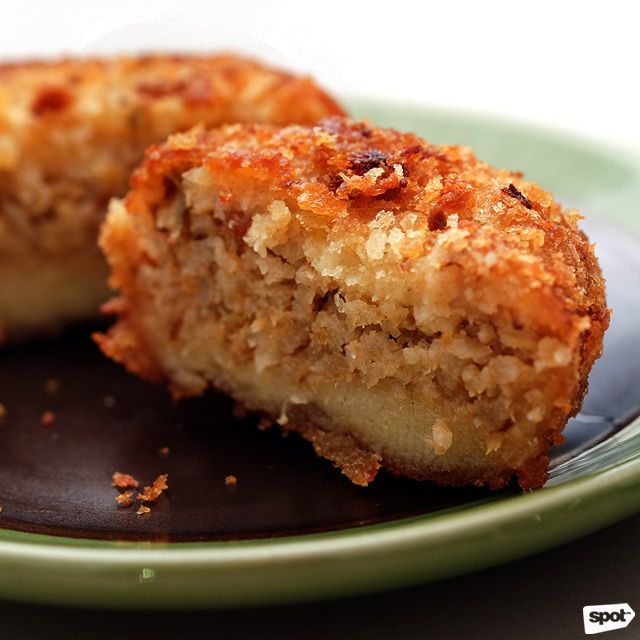 ADVERTISEMENT - CONTINUE READING BELOW
Paella Rice Cake
For this year's exhibit launch, however, Chef Bambi will prepare a Bacolod-inspired roster, starting with a Paella Rice Cake. The hors d'oeuvre will remind you of a golden arancini ball but bigger in proportion. Made with various seafood such as mussels, fish, and prawn, the rice cake can pass off as an ilustrado's treat.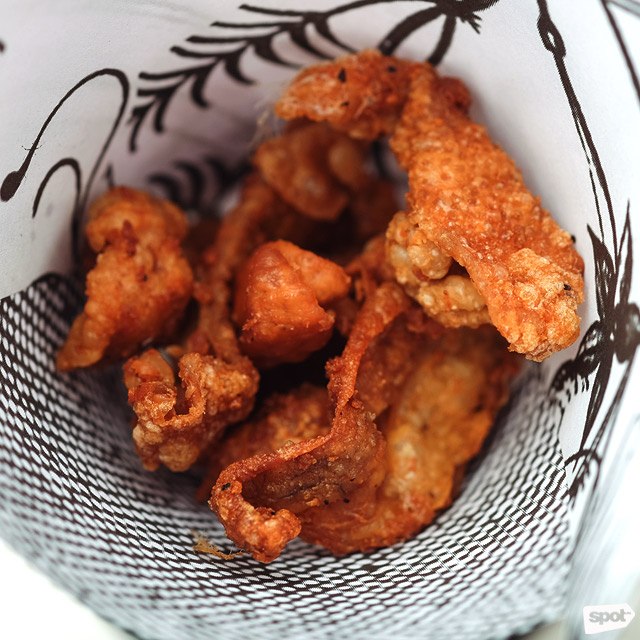 Crunchy Chicken Skin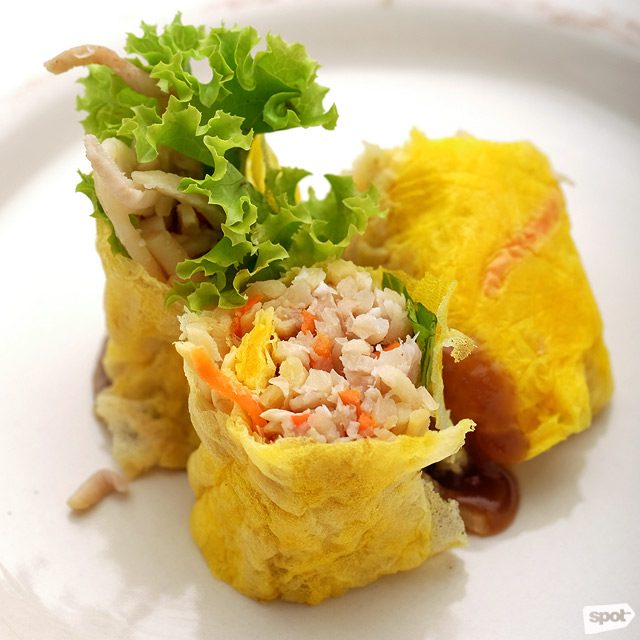 ADVERTISEMENT - CONTINUE READING BELOW
Lumpiang Ubod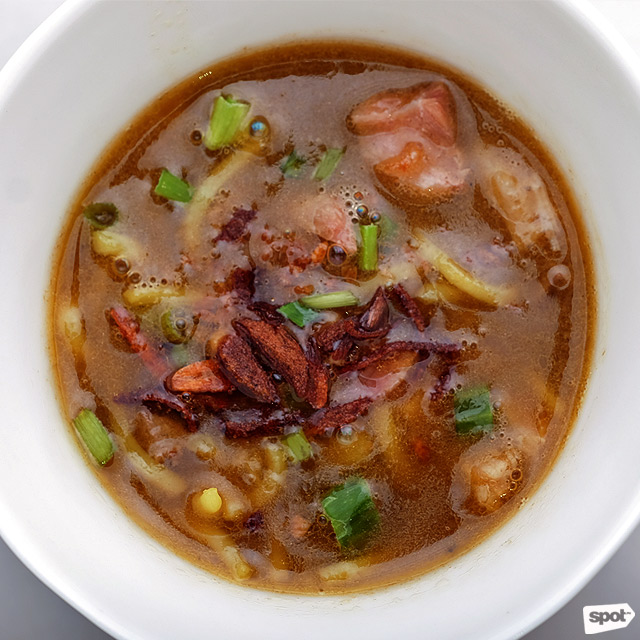 Batchoy
The Crunchy Chicken Skin stays true to its word as it yields a shrilling sound when bitten. Fresh with a mild taste is the Lumpiang Ubod served with what seems to be a tasty browned peanut sauce. Meanwhile, the Batchoy is a spectacular take on Bacolod's favorite soup. Every spoonful has decadent cubes of liver and pork, diced spring onions, round noodles, and semi-sweet roasted garlic. According to Chef Bambi, she cooked the dish "the French way," which explains why you'd get the feeling it's a cross between a beef stew and batchoy.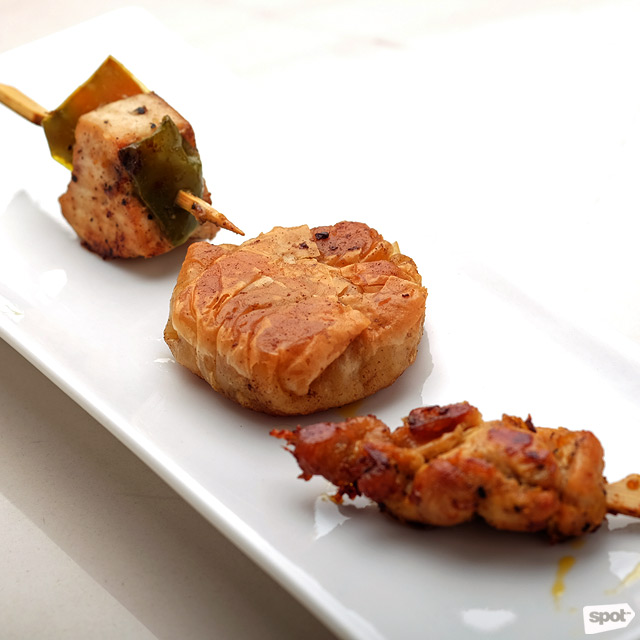 ADVERTISEMENT - CONTINUE READING BELOW
Chicken Inasal, Panara, and Grilled Marlin Skewer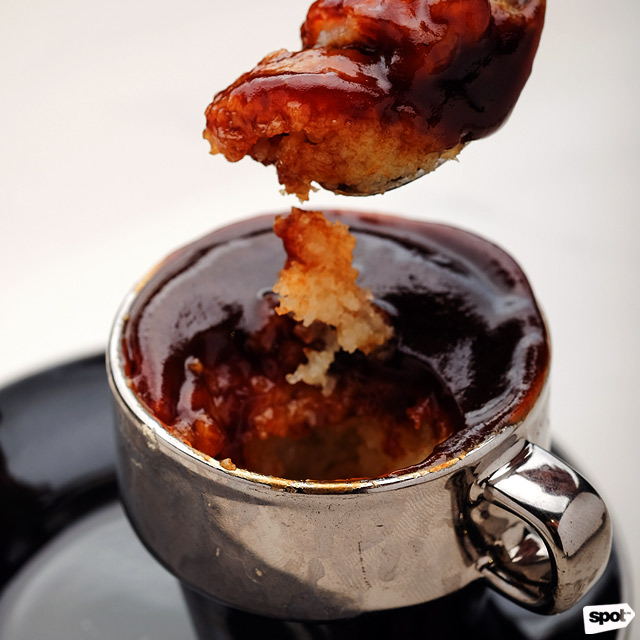 Cassava Cake
Another skewer was presented but this time, made of Chicken Inasal, Panara, and Grilled Marlin samplers. The chicken and fish were marinated in a ginger-laden liquid while the panara was Chef Bambi's rendition of the classic Bacolod delicacy. Instead of using rice wrapper, she used filo pastry to produce a buttery taste and a more crumbly texture.
The Cassava Cake was the perfect sweet dessert to end the degustation. Topped with a darkened coconut jam, the confection was far from cloying. You'd get a distinct macapuno and langka concoction once you've reached the middle of the pastry, which makes the cake more special.
"The dishes are a pride of place and that's what we're claiming—that part of Ossorio was Pinoy," says art restorer and exhibit curator Liliane "Tats" Rejante Manahan.
"Chef Bambi always over-prepares," someone quipped after the degustation, meaning it in the best possible way. It was a night to not only appreciate the culinary prowess of Chef Bambi, but also the extraordinary life and opus of the artist.
ADVERTISEMENT - CONTINUE READING BELOW
Photos by Majoy Siason
Load More Stories