These Wicked Dogs are the stuff of your crazy childhood fantasies
But the new Poblacion branch is no children's playground.
Wicked Dogs
2/F Lokal Hostel, 5769 Ebro Street, Poblacion, Makati City
Open daily from 4 p.m. to 2 a.m.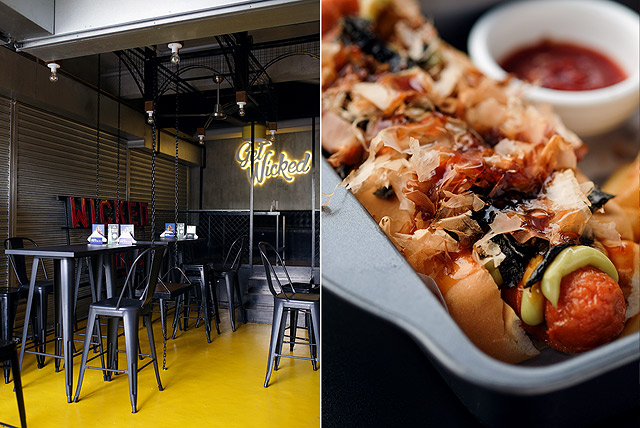 (SPOT.ph) There are hotdogs, and then there's Wicked Dogs. This hip hotdog stand first opened in BF Homes, Parañaque City in 2015, quickly making a name for themselves because of their hotdog sandwiches that come overloaded with all the good stuff—from classics like bacon, chili con carne, and eggs to more out-of-the-box toppings like bonito flakes and wasabi mayonnaise.
ADVERTISEMENT - CONTINUE READING BELOW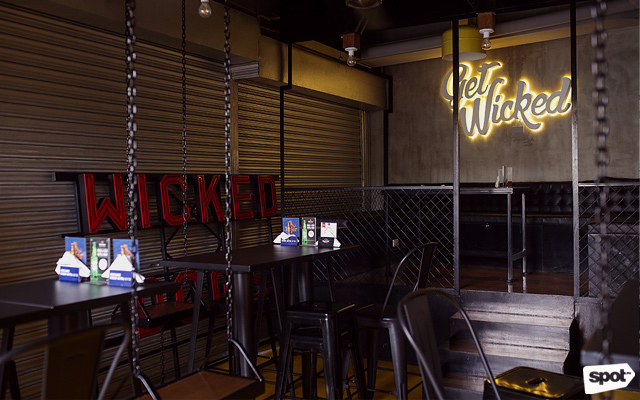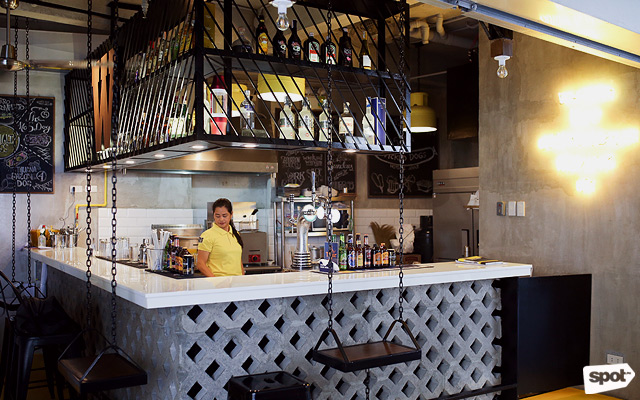 ADVERTISEMENT - CONTINUE READING BELOW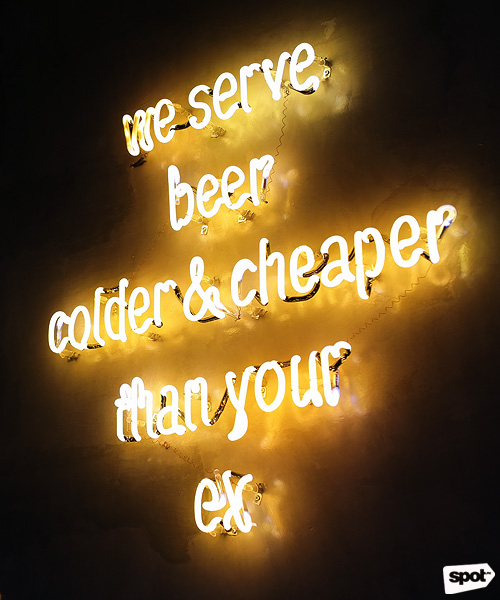 Two years later, Wicked Dogs now has a second branch in Poblacion, and they've traded their wholesome and charming interiors for a darker, edgier look. The giant swings that make you feel like a kid in a playground are still there—but black is now the overall motif of the décor, punctuated by neon lights that announce that the beer is "colder and cheaper than your ex." There's a full bar, too—with swings by the counter. It's the definition of a playground for adults.
ADVERTISEMENT - CONTINUE READING BELOW
Of course, Wicked Dogs' well-loved Signature Dogs are here—this branch shares the same lineup as the one in Parañaque City. What sets their hotdogs apart is their quality, which shines through despite the crazy amount of toppings. The hotdogs here are deliciously smoky and snappy—the perfect complement to the soft French bread buns. After all, Wicked Dogs didn't make it to our Top 10 Hotdogs list for nothing.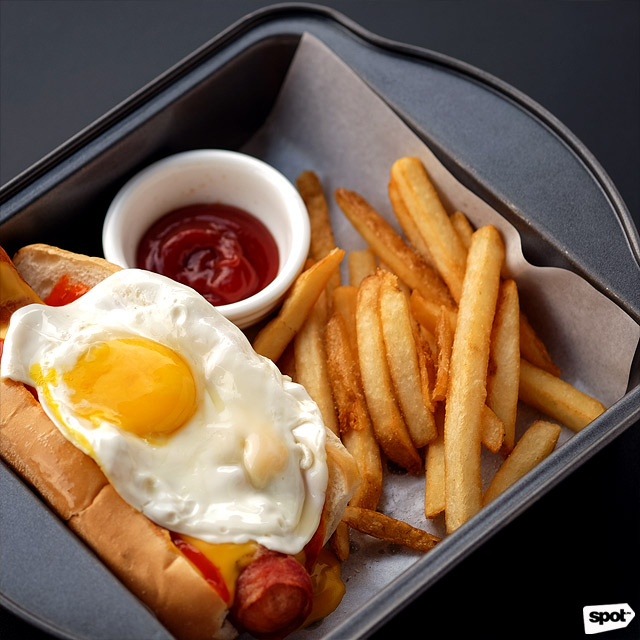 ADVERTISEMENT - CONTINUE READING BELOW
Tijuana Bacon Dog
The Tijuana Bacon Dog (P275) resembles your childhood chili cheese dog, which will hit you with a wave of nostalgia. It's a classic levelled up with a bacon-wrapped frankfurter, chili con carne, cheese sauce, and a runny fried egg that makes this sandwich even richer.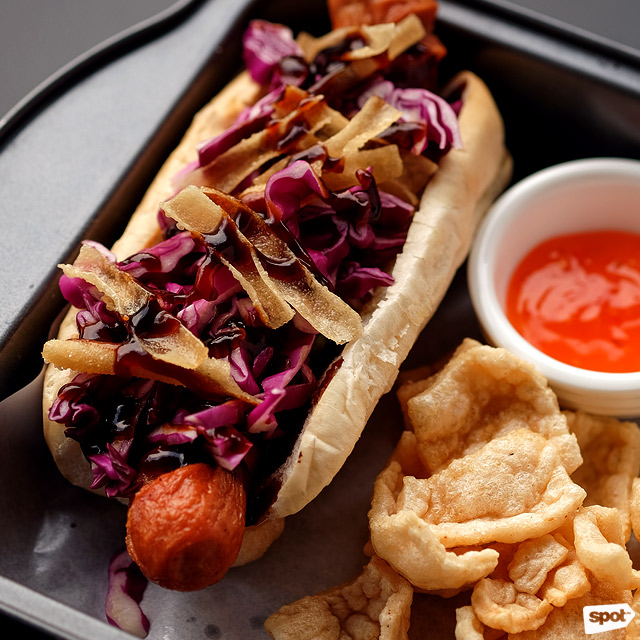 No. 5 Dog
ADVERTISEMENT - CONTINUE READING BELOW
For punchier flavors, the No. 5 Dog (P275) won't let you down. A Schublig sausage is encased in a buttered French bread bun, then topped with red cabbage that's tossed in vinaigrette for a lip-smacking tang. This sandwich also comes with leeks and fried wanton chips for crunch and finished off with a sweet-spicy chili-hoisin sauce. It's a delight to your taste buds with its playful layers of flavor and texture.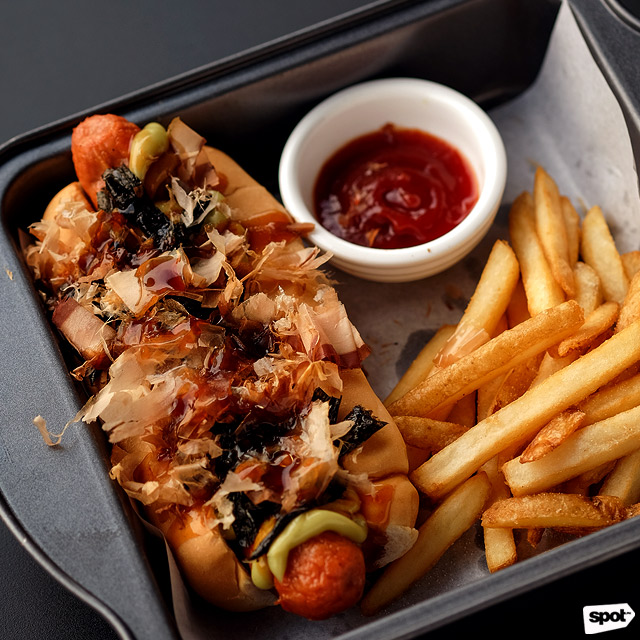 ADVERTISEMENT - CONTINUE READING BELOW
Wasabi Dog
Perhaps what will surprise you the most about the Wasabi Dog (P275) is the wasabi mayonnaise, with only a whisper of heat that barely hits your sinuses. It's perfect if you want to get that hint of flavor but can't handle the spice. Katsu sauce, bonito flakes, and seaweed chips complete this sandwich, which bursts with umami in every bite.
New to this branch are the Non-dogs or Wicked Dogs' non-hotdog items. "Since we added a full bar here, siyempre when you're drinking you need items that are suitable for drinking, not just hotdogs," shares owner JB Potenciano.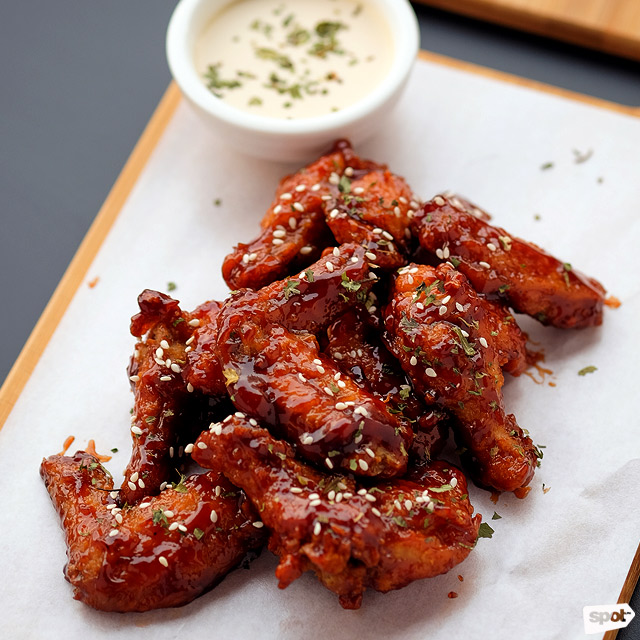 ADVERTISEMENT - CONTINUE READING BELOW
Wicked Wings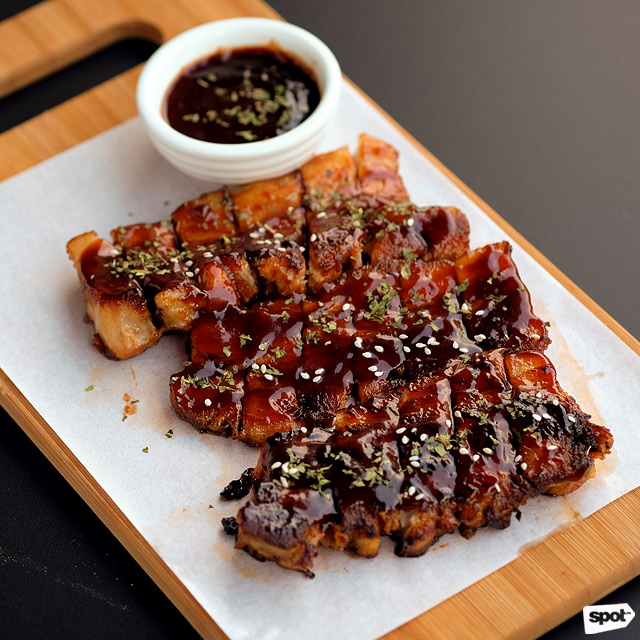 Bourbon Pork Belly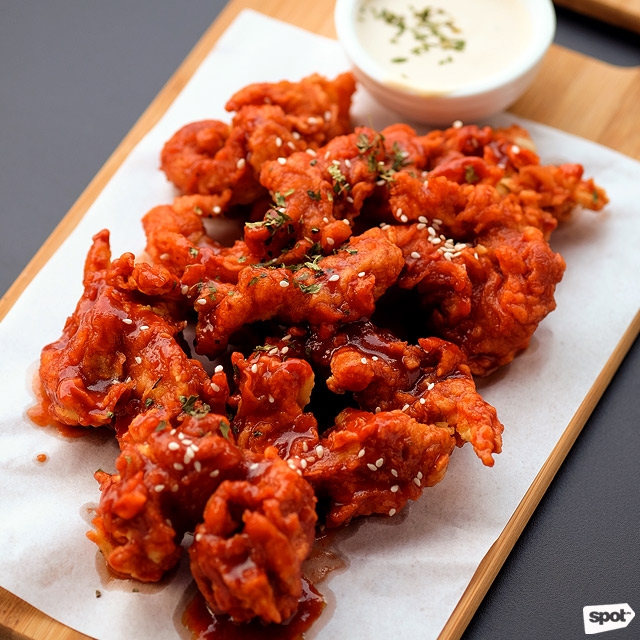 ADVERTISEMENT - CONTINUE READING BELOW
Chicken Tenders
The new items are still dishes you'd expect from a summer backyard barbecue. The Wicked Wings (P270) come deep-fried and coated in a bourbon barbecue sauce for a sweet-smoky flavor that'll have you licking your fingers. The sauce makes a reappearance in the Bourbon Pork Belly (P290). A plate gets you three rows of pork belly, with the perfect meat-fat ratio that makes this dish gloriously indulgent. You'll be reaching for a bottle of ice-cold beer in no time. You can also get the same pork belly as a Bourbon Pork Belly Rice Bowl (P195) because, we guarantee, that sweet glaze is begging for rice. If you enjoy fiery flavors, have the Chicken Tenders (P270), served with a blue cheese dip to temper the heat.
There's nothing like a good hotdog sandwich to make you feel like a kid again. While you can't exactly relive your childhood, hanging out on one of Wicked Dogs' swings with a chili cheese dog sandwich could be the next best thing. You can pair it with an ice-cold beer, too—that's one perk of adulthood.
ADVERTISEMENT - CONTINUE READING BELOW
Photos by Majoy Siason
Load More Stories