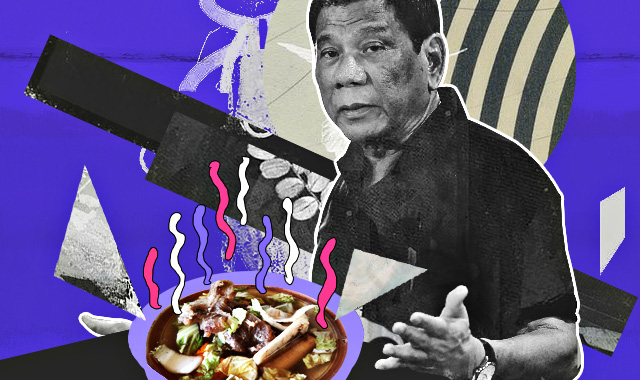 (SPOT.ph) Attitudes toward our president's latest grunts and utterances run the gamut. Depending on who you ask (or listen to), his word is either messianic or typically entropic. His demeanor, too, is subject to incongruous views: For some he is an Orang Besar, a highly regarded strongman ordained by our social order; to others he is simply an orangutan ordained by our social order. Polarities are without limit.
ADVERTISEMENT - CONTINUE READING BELOW
As our minds succumb to encumbrance, our senses can seek refuge in food. Food delivers a much needed levity; for some, mere talk of it is cathartic. Musings on presidential victuals—food associated with the president, are thus welcome distractions.
Davao, the Carabao, and the Banquet
Davao food, also known as foods or puds in the koboy country, is a straightforward subject. Fineries of traditional bamboo cookery and the like aside, Davao cuisine is Davao's natural plenitude underscored by settler appetites and aptitudes—the Cebuano's tongue dominates, so does his taste. The migrant is ingratiated to the terrain but mostly to the sea; the festooning of his food is often gingery and riddled with green chili as well as leek; and his dip is partial to the toyo-suka diptych. Such dispositions are manifest in the kambingans, ihawans, balbacuahans, and bulalohans that pepper the cityscape.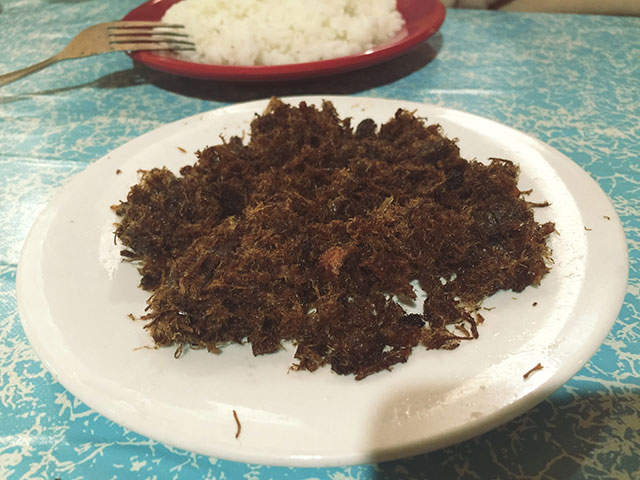 Tapa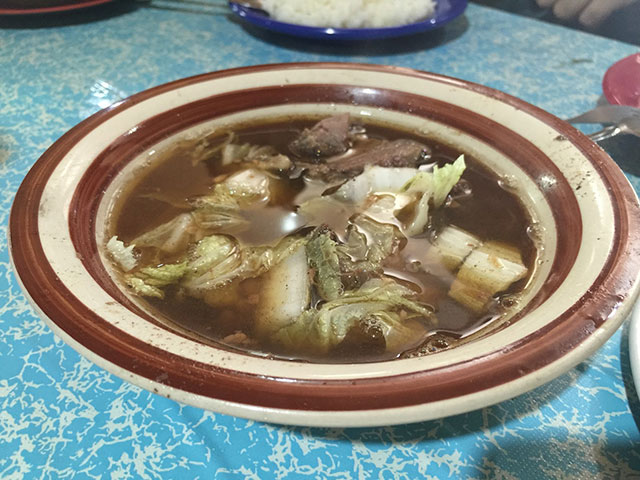 Hinalang
A presidential favorite among such places is Sana's in the Boulevard area. Sana's is a proper kabawan, a place that serves kabaw or carabao (their overtness is noteworthy since a number of restaurants disguise the lower priced carabeef as beef). Kabaw is prepared either as hinalang or tapa. The president's fondness comes as no surprise; both are expressions of masculinity: discernible and strong. Their hinalang, from the Bisaya word for hot or spicy, satisfies and stifles simultaneously—scalding broth, fistfuls of MSG, lemongrass whiplash, and meat that time alone can tenderize. The tapa is its dry and shredded variation taken with smears of briny fish guinamos and casual calamansi squirts. Patrons are welcome to eat in kinamot fashion—with their fingers; there's no room for effete subtlety at Sana's (its size doesn't offer much elbow room either). Side note: The president's preference may somehow resuscitate the carabao's status as unofficial National Animal, although some people are a lot more deserving of the honor.
ADVERTISEMENT - CONTINUE READING BELOW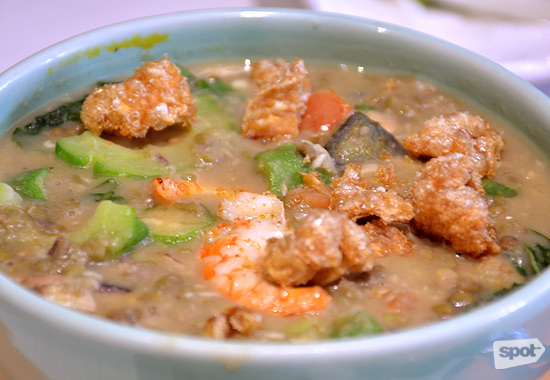 Another eatery endowed with presidential favor is Thrunks Place in Davao's Doña Luisa Village. According to the owner, he is partial to their monggo, pancit, paksiw na isda, and gizzard—all of them bona fide proletarian provisions befitting a man of purportedly scant tastes.
The President's choice in gizzard (ordinarily with chicken liver—guinisa and simmered in its own juice with toyo plus hard-boiled egg for complementary texture) is of particular interest: the carinderia staple's similarity with an offering in the Malolos Banquet unfurls historical filiality. On the 29th of September 1898 the fledgling Philippine Republic hosted a banquet in Malolos to celebrate the promulgation of its independence. The banquet was prepared in the French manner since, as Clinton Palanca notes, "...at the turn of the 20th Century only a French banquet was a real banquet...not only was French the culture of world diplomacy, but also the language of revolution..." The menu was replete with posh selections like saucissons and vol-au-vents—all part of an effort to legitimize the new government's existence. Among the choices was the conspicuous Abatis de Poulet a la Tagale (chicken giblets in its own juices). Its inclusion in the menu could've been a local adaptation of a classical French offal preparation, or it may even have been an honest effort to indigenize the foreign feast (or someone important simply loved his adobong atay at balunbalunan). Whatever the reason, the inclusion of the distinctively domestic dish in the menu is farcical and indicative of the native's atavistic tastes—tastes like those of the current president's.
ADVERTISEMENT - CONTINUE READING BELOW
The nosey Pinoy naturally takes presidential interests as a matter of interest. Quirino supposedly had a fondness for fried chicken and pinakbet. Marcos had pinakbet cousin, dinengdeng of shriveled vegetables, as his dish of choice. However, in contrast to dinengdeng's modesty, the luxurious ludong aka President's fish was also allegedly liked. Fellow Northerners Magsaysay and Ramos surely shared his fervor for frugal flavor. Quezon had a liking for both the local and colonial; aside from having a thing for pinangat-like preparation of fish steamed in taro leaf, the Commonwealth kingpin likewise found pleasure in the mestizo cocido. Devotion to the colonial culinary vestige was revived in Macapagal-Arroyo's time as evidenced by its presence in the Palace's Sunday spread. He may have a view of history disparate from her's, but Estrada is also said to adore the high-born sort of grub his successor savored. Food of the Palace is thus food that is transported there by its transient liege; to him it is familiar—friendly. Felice Prudente Sta. Maria takes note of the characteristically human practice, "Filipinos carry their varied and comforting culinary culture with its tropical island savors wherever they go." The current president's has taken the farthest trip so far.
ADVERTISEMENT - CONTINUE READING BELOW
Simplicity, Imaginings, and Inanities
The president's ways simply have popular appeal. News of his casual conduct and almost religious vow of simplicity offers a steady supply of intoxicating and potent opiate hits for the masses who have been desensitized by tokenism long before he came to power. Ours is a milieu wherein the pull of popular appeal, perhaps rightfully, is apparent and real. It is a time when we tread the plane of the plain (or plaid?). Koboyness is key.
Could this atmosphere then, in which we hie and hustle toward hasty debate, quick fixes, and fortissimo of vox populi, herald an era of a populist cuisine? It wouldn't just be the aliment of the street and countryside documented and analyzed; rather, it would be a celebration of food that most people in our country actually eat. The cuisine (and its imbricated gastronomy) would be one without heirloom airs and nostalgic panegyrics for arcane varieties and recipes. It won't be a cuisine that extols the exclusivity of someone's great-grandmother's yaya's kare-kare or lentejas. Instead, a populist cuisine would be one that proudly embraces the accessible present: paksiw of fish from the palengke or talipapa (cheapest in season) seasoned with guinisa mix (garlic flavored if there isn't any loose change left for garlic sold tingi), NFA rice soaked overnight to subdue its obdurateness (Vietnam varietal), Jollibee as banquet alternative to prized livestock, and of course, the latest instant noodle innovations. It will be food that the people enjoy and endure on their table, not comestible imaginings immured in cosmetic coffee tables.
ADVERTISEMENT - CONTINUE READING BELOW
Though many are disinclined to accept that our nation's present situation is intrinsic to a concatenation beyond individual grasp, and in spite of contagious hate and humorlessness, we can still turn to many things that offer respite. Food, at least talk of it, with all its many colors (yellow, red, white, and blue among others), is almost always an agreeable affair. And as for the profound inanities inspired by the president's profanity, there too is an odd comfort in looking back at Quezon's quip upon coming across a cross-eyed local leader in one of his political happenings, "Hoy, p*****ina mong duling, what are you doing here?"
Sana's Carinderia is at Juan Luna Extension, Barangay 26-C, Davao City. Thrunks Place is at Doña Luisa Phase 1 and Quimpo Boulevard, Ecoland, Davao City.
Share this story with your friends!
---
Help us make Spot.ph better!
Take the short survey
More Videos You Can Watch
Load More Stories